Some vehicles seem to hit the sweet spot and for Audi the SQ5 is amongst the most popular choices in the premium midsize SUV sector. We check out the latest version.
Audi Sport models sure are popular here, accounting for over one-quarter of total business, and so too are the SUV coupes, comprising 40 per cent of Q3 sales, for example. You can get these two aspects in one vehicle, as with the SQ5 Sportback you can see here. And while the S clearly stands for Sport – RS means RennSport or Racing Sport – it could just as easily mean special, for that's what this SQ5 SB is, a particularly well rounded offering.
At $140,500, you'd want it to be. Course there are other Q5s but this is amongst the most popular. There is something just right about the SQ5 that really does make it rather desirable. Big enough but not too big, fast enough but not stupid quick, and economical enough that you don't think twice about fuel bills or giving it a squirt every now and again. If you want more speed in your mid-sized SUV, you need to go elsewhere because there's no RS Q5 variant.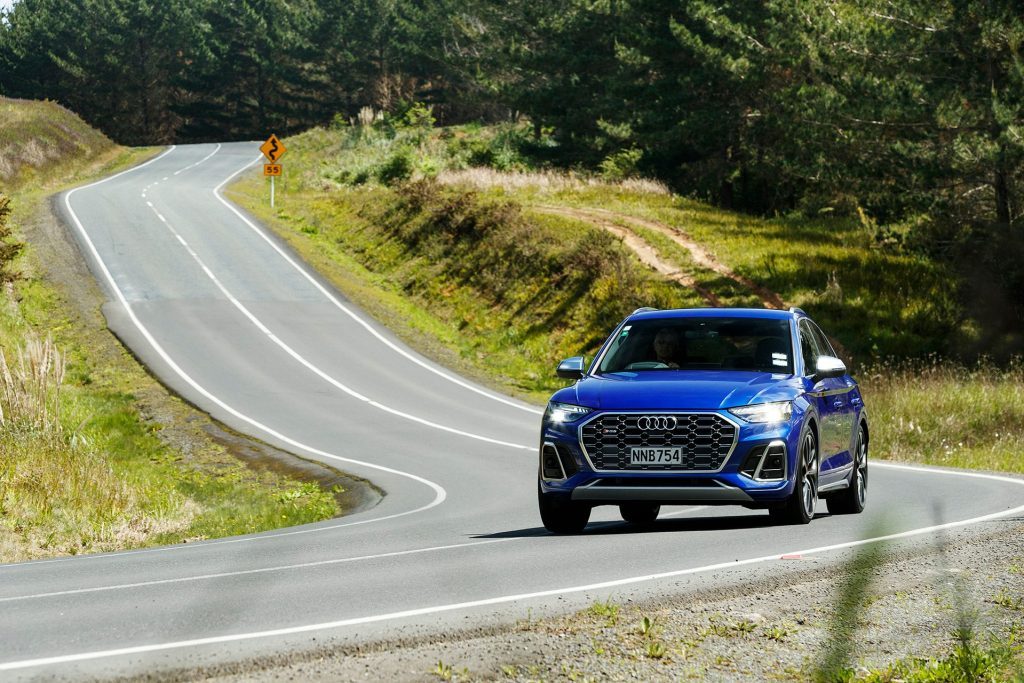 Diesel done Vorsprung
What makes this a bit different is the fact that it is a modern diesel, not just any old diesel. This is a Vorsprung unit, whip smart and Euro6 clean. Yes, in some quarters diesel is a dirty word, but the haters tend to be on the other side of the planet, where ICE power is becoming the equivalent of persona non grata.
Back here, all of the best selling new vehicles in New Zealand are powered by diesels, Ranger, Hilux etc. And truly modern diesels with their selective catalytic reduction (AdBlue) technology have much lower oxides of nitrogen emissions levels, along with CO2 emissions, the latter because they're diesels. The SQ5 has double catalysts, one of which includes a particulate filter.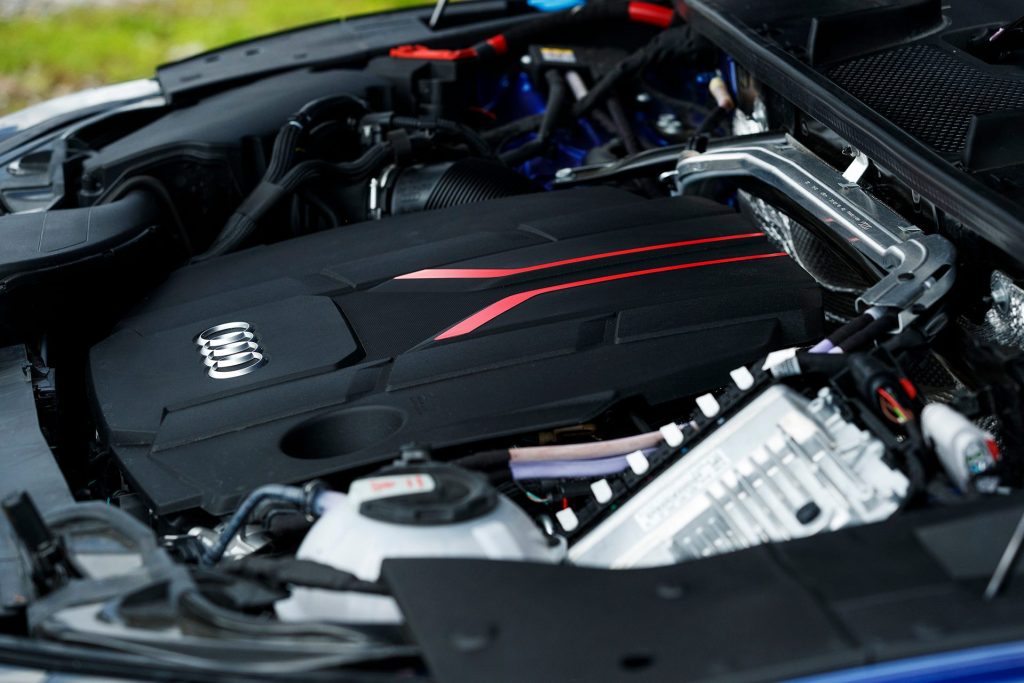 And there's more. This runs a 48V system and has an electric compressor to help shore up low-rev boost so there's little in the way of turbo lag off the line. Not none, but sod all. The brakes regenerate up to 8kW of energy which is stored in a lithium ion battery. Moreover, there's a belt starter alternator which allows coasting for upwards of 40sec, and gives a helping hand when required. Fuel efficiency benefits, with a long term average of 9.5L/100km for this machine. Oh, and there are also digital sound generators that make the 3.0-litre V6 diesel sound more like a V8. No, truly.
If after all this you're still a diesel doubter, the Q5 Sportback can be had with an alternative petrol powertrain, in the form of the $112k 45 TSFI Sportback S Line. Its 183kW/370Nm output falls behind the SQ5's 251kW and 700Nm, but the lesser Q5 SB still dashes to 100 in just over a claimed six seconds, only a second adrift of the SQ5's 5.1sec.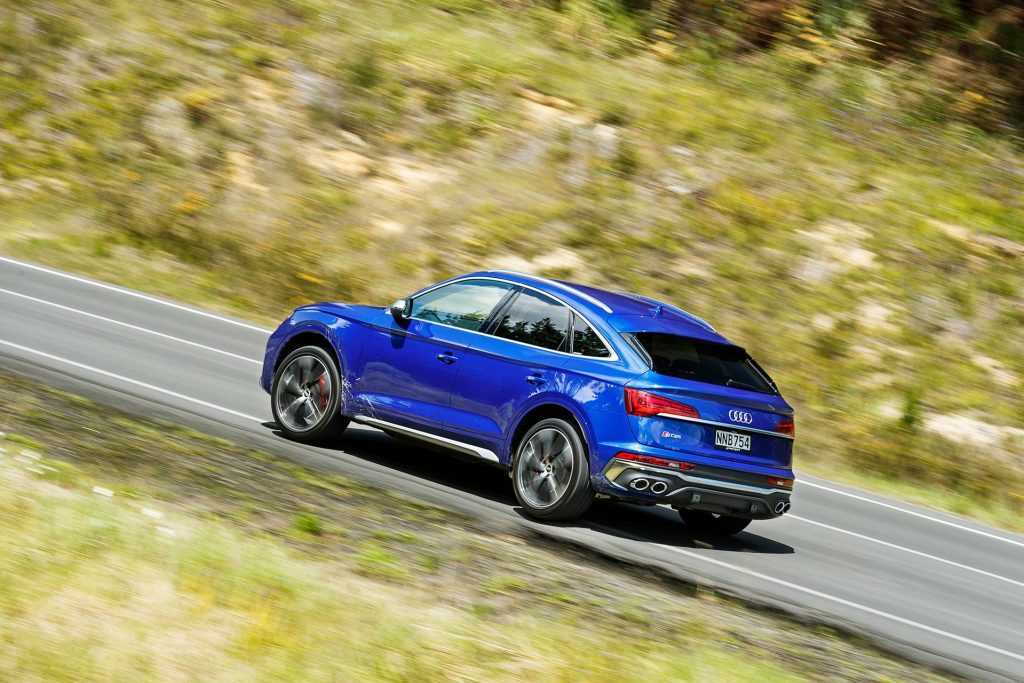 Flash but also practical
And there's one other thing. This model favours form over function, not that it is exactly wanting for the latter, given the hold takes 510-1480L, to the roofline and it seats five, not generously but comfortably. If you're not enamoured with the fastback styling, there's always the regular SQ5 if you prefer, with similar luggage space. Perhaps there's a cowlick more headroom though. In each the legroom is variable in the rear.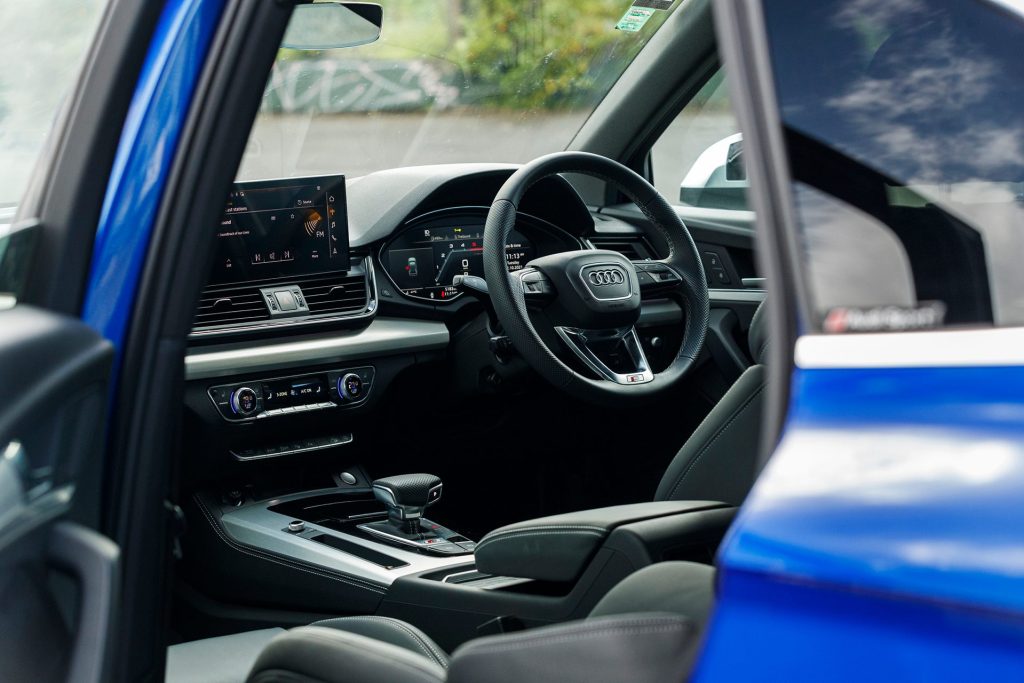 The SQ5 is a proper performer. With its extra assistance off the bottom, it gets off the line with vanishingly little lag. And on the run it has serious pace, with seemingly little effort. The 700Nm of torque is on tap from 1750 to 3250rpm, so even from just 2000-3000rpm you're getting along in fine style. It goes even harder in its Dynamic mode, just one of seven on offer, though Auto is great, as is so often the case with Audi machinery. But then Comfort works well too. This has sports suspension with air springs, which means Comfort offers a great mix of ride quality and body control, good for just about any eventuality. We'd imagine most of its many drive select modes will never be used, especially the off-road one, given this runs PZero rubber. Not your ordinary paddock fodder then.
How fast is it against the clock? Audi rates both the Sportback and SQ5 at 5.1sec, which it manages easily, and this turn of speed is matched by an overtake in the low 3s. That's really tramping for a diesel and the sound in Dynamic mode is more than a bit interesting too, not that it emerges from the four faux pipes lining the rear bumper; the actual twin exhausts exit stage left, hidden behind the diffuser.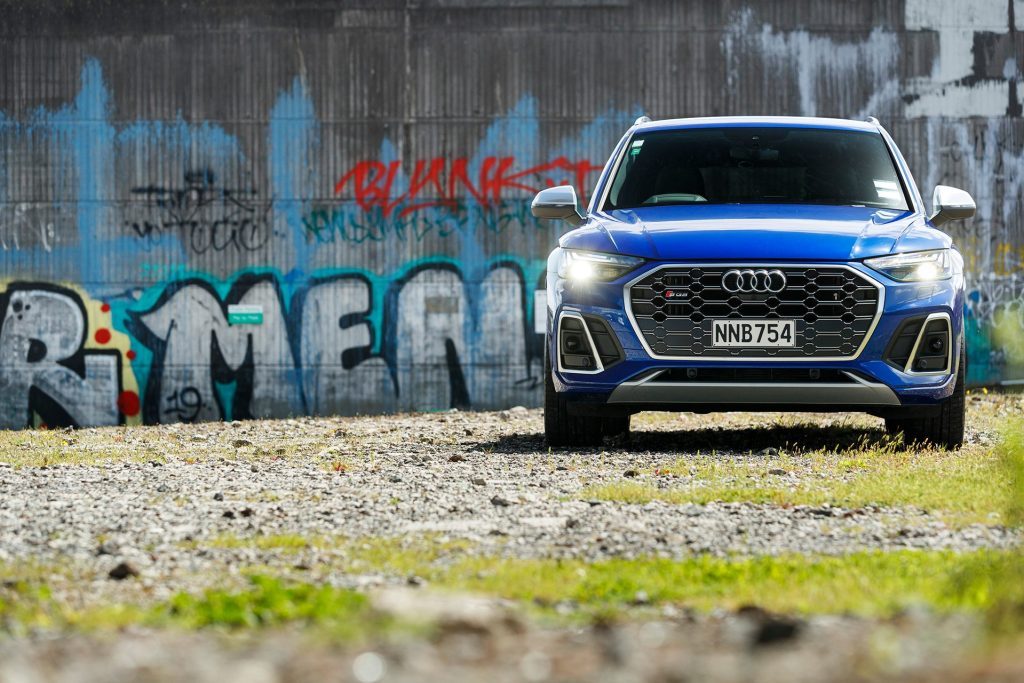 Corners carved
Running the show is an efficient and quick shifting eight-speed auto, so the paddles affixed to the wheel don't see much action. And action is what the fast-looking SQ5 Sportback is up for; it hoovers up corners. It's either that or its braking ability; both are at a high level. You'd really not credit how this straightens roads. Height adjustable suspension means in Dynamic mode it rides some 35mm lower than a regular Q5, which helps, as do the Pirelli PZero 255/40R21s it runs. The quattro system divvies up the drive 60/40, biased rearward. And it can go further, up to 85 per cent rearward in certain circumstances. Moreover, there's torque vectoring by brake on both axles, which largely explains why it has such a neutral cornering stance. And if you really want to go crazy, there's an optional $3800 torque vectoring sports diff available, which is probably overkill. On the other hand, Audi asks $3300 for an OLED rear light show. Frankly we'd rather spend that on an OLED TV. At least you get to see something with a TV; it's only those following that get to see your light show. More expensive Audis have tricksy scrolling indicators gratis anyway, so maybe that smart rear diff which actually does something palpable would be the go if you just must tick an option box or two. We'd be more tempted by the $2000 spend on a Bang and Olufsen premium sound system.
We admired how simple some of the commonly done things are, like rejigging the odo (push a button on the left side of the instruments) and cancelling lane keeping (same only the button is on the end of the indicators). And if everything becomes too difficult you can always ask for AI assistance. One guess as to how.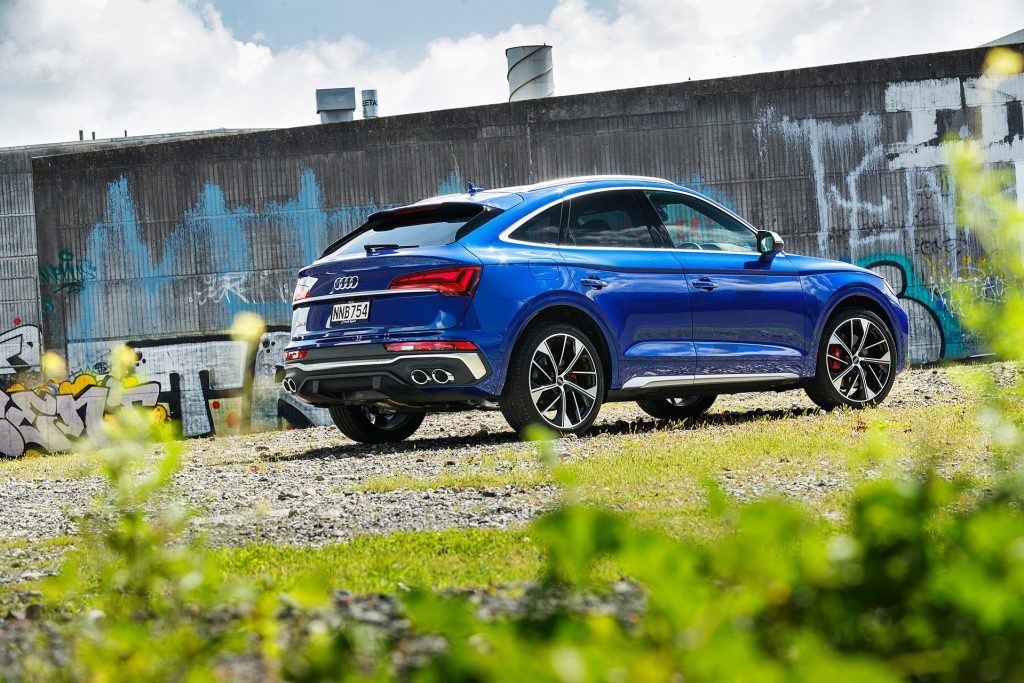 Alternatives? Well there's the like-priced X4 M40D if you prefer inline sixes or the GLC 43 Coupe, also similar on speed and price, if it's petrol that spins your crank. Only expect it to use about half as much fuel again as the Audi. While you cannot get an RS Q5, after driving the S variant we can kind of understand why not. If you really must have an RS SUV, the RS Q3 at $120k is awfully trick but then there's a real jump in price to the next model. Otherwise you're looking at the RS 4 at $158k.
| | |
| --- | --- |
| Model | Audi SQ5 |
| Price | $140,500 |
| Engine | 2967cc, V6, TDI |
| Power | 251kW/700Nm |
| Drivetrain | 8-speed auto, AWD |
| Fuel Use | 7.1L/100km |
| C02 Output | 186g/km |
| 0-100km/h | 4.86sec |
| Weight | 2010kg (claimed) |