Furstenfeldbruck Airbase, Germany: "Ground control to BRAVO MOTOR WERKS: V10, you are cleared for immediate take-off, sector five clear 1500 metres."
"Roger, ground control. Launch control activated…100 kays, 4.7 seconds…200 kays, 15 seconds…270 kays, 25 seconds…and we have lift off…"
Lift the foot off the throttle, that is, and get hard on the brakes! Accelerating to 270 km/h and stopping in less than 175 metres is impressive in anybody's language, let alone when you are talking about a 1830kg luxury saloon car. And that's just for starters. If you still need convincing, then how about a sub-eight-minute lap time – admittedly unofficial – around the infamous Nürburgring!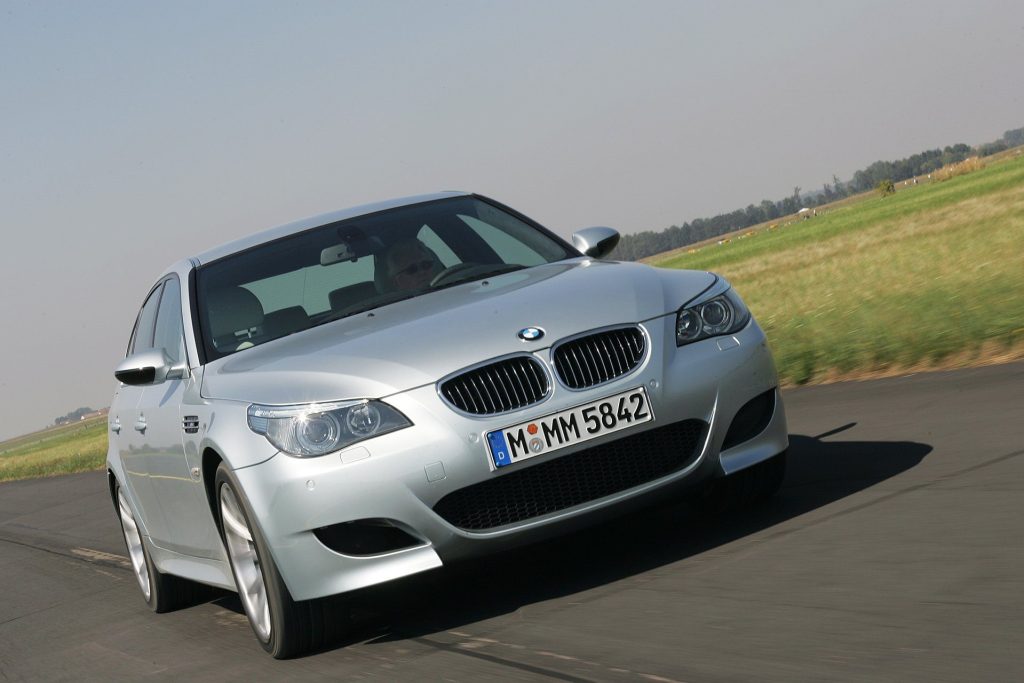 Staggeringly fast, BMW's all-new 373kW V10 M5 eats Porsches for breakfast and snacks on HSV's for lunch. Electronically speedlimited to 270km/h, BMW claims it will top 330km/h unrestricted.God only knows what it consumes for dinner. No other normally aspirated four-door saloon car's performance comes even close in comparison. While the M5 may be bad news for its erstwhile German competitors, it's even worse news for Maserati, with its stylish, new, four-door Quattroporte, which has only just started to get traction in export markets. Having now driven both the Quattroporte and the M5, I'd say that unless you're salivating over the stylish looks and the sheer Italian-ness of the big new Maser, and that's perfectly understandable given Maserati's new lease on life (see my column p.9 ) the M5 absolutely hangs it out to dry in most other respects. The BMW possesses a superior ride in comfort mode and, equally important in a luxury sports saloon, a more sophisticated automatic mode for its comparable electrohydraulic manual-style gearbox. It also possesses seven forward speeds versus the Maser's six, and a 373kW 5.0 litre V10 versus a 300kW 4.2 litre V8. Furthermore, it weighs a claimed 1830kg where the Italian's actual kerb weight [as tested, see p.66 – Ed] is 2030kg. In performance terms, BMW claims a 4.7s 0-100km/h dash, and while we obviously have not yet put it to the acid test it feels entirely believable. We couldn't better 5.5s for the Quattroporte, though the factory claims 5.2s.
If the M5's performance is not your single biggest motivator, then the price difference for choosing the Italian job over the über-wagon – around $50,000 – may very well be. Like all three of the preceding M5s, BMW's latest Q-car is built on what is essentially a standard 5 Series body. In the case of this, the fourth-generation M5, the vehicle passes down the identical production line to the other 5 Series saloons, all built at BMW's Dingolfing plant, close to Munich. The same philosophy drives all four generations: to build fabulously fast four-doors that look tame – in other words, wolves in sheeps' clothing.
The M5's 'body in white' is not in fact completely the same as the regular 5 Series, but there are plans to incorporate some of the M5 changes, like larger rear wheel arches and a strengthened rear axle location, to all future 5 Series models. In volume, there will be little or no cost increase to BMW, whereas at the moment, the comparatively low volume of the modified 5 Series M body is considered to add unnecessary build costs. They're clever chaps, those Germans, what ho! But seriously, you have to applaud their thinking.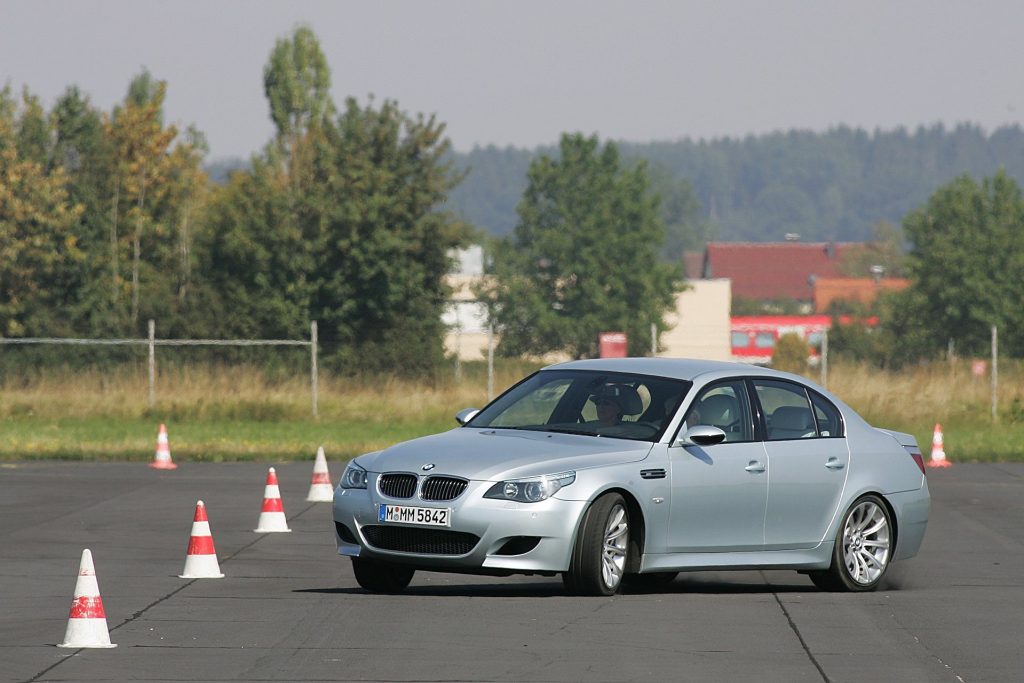 There is a new boss at the helm of the M-division by the name of Ulrich Bruhnke, who is determined that BMW's sports arm will become an even bigger threat to AMG (his ex-employers). I had the opportunity to ask him a few questions.
Mark Petch: "Herr Bruhnke, why do you think Mercedes-Benz is switching from superchargers [compressors] to turbochargers?"
Ulrich Bruhnke: "Because the compressor is not as efficient as the turbocharger; it uses too much energy to drive it compared with the turbo, which is essentially just recycling spent energy."
So there you have it, straight from the horse's mouth, as the expression goes.
MP: "So why then doesn't BMW – in particular the M-division – use turbochargers, given their increasing popularity?"
UB: "We believe – and I personally believe – that there is no substitute for the unrivalled linearity of throttle input delivered by a good, normally aspirated petrol engine. When you compare the new M5 with, say, an E 55 AMG, you will know immediately what I mean: one is a sledgehammer whose torque is unrelated to the rising revs, so you have to artificially control the traction and stability of the vehicle, even for a very experienced driver. Four-wheel drive helps, but then you have the problem of excess weight over the front axle."
"We at BMW believe a true driver's car should not use the front wheels for anything but steering, ensuring it is uncorrupted and precise, and at the same time the vehicle weight must be split equally over each axle, to achieve the best dynamic balance of the chassis."
MP: "So no M-series turbocharger then?"
UB: "No, at least not in a petrol engine. If we decide to offer a diesel-engined M-car in the future, then yes, of course. We already have the best turbocharger solution for such engines, as I think you know".
MP: "On a related topic, will we see an M2 [the coupé version of the new BMW 1 Series]?"
UB: "Well, we cannot comment about future cars, as I'm sure you know, but let me ask how many cylinders do you think such a vehicle should have, if we were to build such a car?"
MP: "Four maximum, 2.5 litre double VANOS with a 9,000 rpm cut."
Ulrich didn't bat an eyelid as I looked him in the eye, waiting for a response. He'd make a good poker player.
My move still.
MP: "OK, if you deliver a six-cylinder M2, it would have too much weight over the front axle, so that is not the best solution either."
UB: "No, you are right. We can agree on that point."
And on that note, he quickly changed the subject.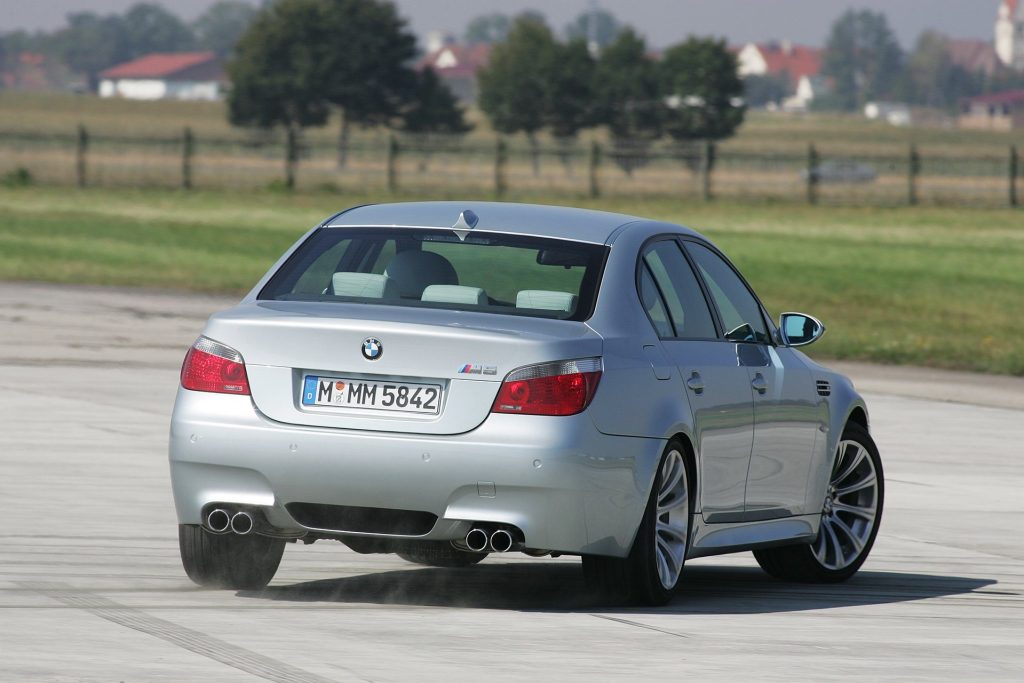 But back to the utterly intoxicating M5. Any gripes, you might be wondering? Surely, it cannot be perfect? Well, I do have two. One is in relation to the transmission. While it's better than Ferrari/Maserati's similar solution, it's still overly savage when you select the master-blaster option, i.e., launch control or full 'sports' mode. It also requires a slight feathering of the throttle between shifts when driven in fully automatic mode.
My other gripe relates to the dash design: its drawing-board look is very sensitive to material choice, and it varies widely depending on colour and texture. Our test car didn't cut it for me. A mean sports machine like this needs a similarly mean-looking dash layout and design; black on black would be my pick.
If I were buying such a car, I would opt to personalise the whole interior with a bespoke choice from BMW's Individual Cars division. Leather everywhere, please – just like the original M5 my old mate, Bill Fulford, had back in the mid-80s. Even the hood lining was made of the stuff. The smell of a full leather interior is intoxicating, surpassing even its look and feel – and, indeed, the sumptuousness of the Quattroporte cabin is one area in which it scores extremely well. Still, with an extra $50,000 to play with, you could also make the interior of the M5 rival the Maser's superb ambience.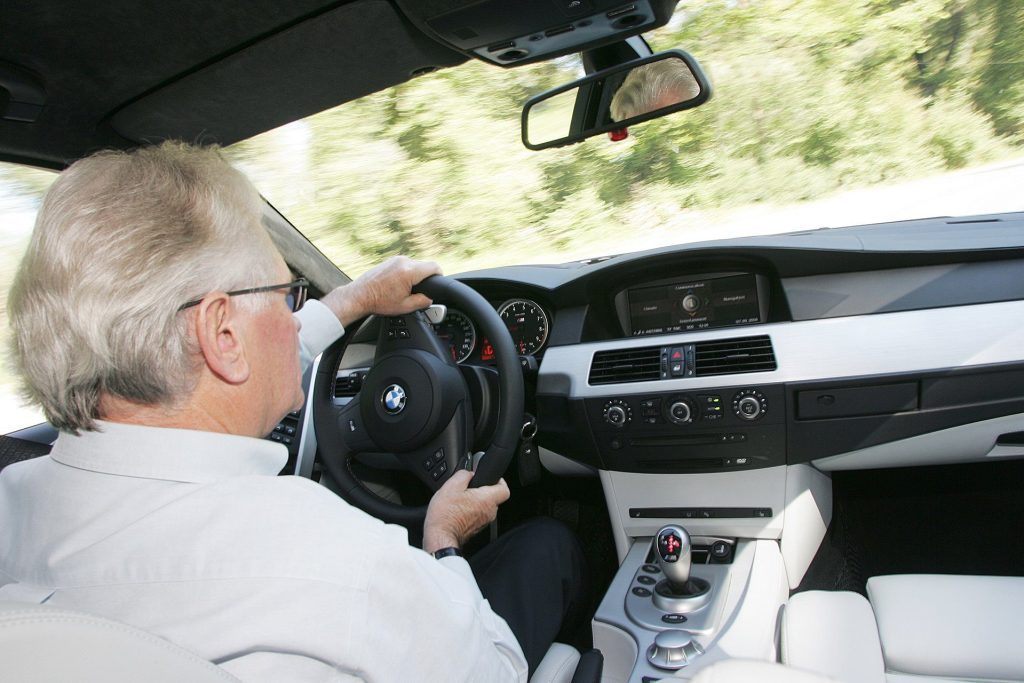 I'm sure most readers will agree that the new M5's a real Q-ship. Only the double set of twin exhaust pipes and discreet badges give the game away. Indeed, if the truth be known, the deliberately restrained look of the new car caused us some heartache as we tried to come up with an eye-catching cover picture. We finally settled on an almost rally-style shot because we wanted the picture to say everything about its sheer grunt – the joy of drifting such a car with the ease of a go-kart. We hope you agree.
And yes, with all safety systems armed, you could safely let she-who-must-be-obeyed hack the car down to the nearest shops. Thankfully, the M-division has simplified BMW's controversial iDrive command centre, at least with respect to selecting the essential sports functions. When you first sit in the driver's seat and turn on the ignition key, the vehicle assumes full dynamic safety control as its default start-up mode. To explain further: the car starts without the power button activated, so the throttle position limits the engine to 400 horsepower; the dynamic stability control (DSC) is automatically engaged, as is the electronic damper control (EDC) set for maximum comfort. The driver therefore only has to fire up the engine via the conventional ignition key, select 'D' for fully automatic forward drive, release the brake, squeeze the throttle, and waft along one's journey without any fussiness whatsoever.
On the other hand, if you really want to emulate a 'robber's dog' and frighten more than just the chickens, you can do the following. Press the power button – which lights up, and a graphic on the dash panel reading 'power' also alerts you of the car's status. Next, select 'sports' mode via either the gear knob or the small 'M' button on the spokes of the steering wheel, and dial up all six quadrants on the selection button immediately below the gear-shift lever. Choose first gear, via the right-hand paddle (marked 'plus') sited behind the steering-wheel rim. Look left, look right, in fact look every-bloody-where, because when you mash the throttle, things are going to get quite violent, believe me.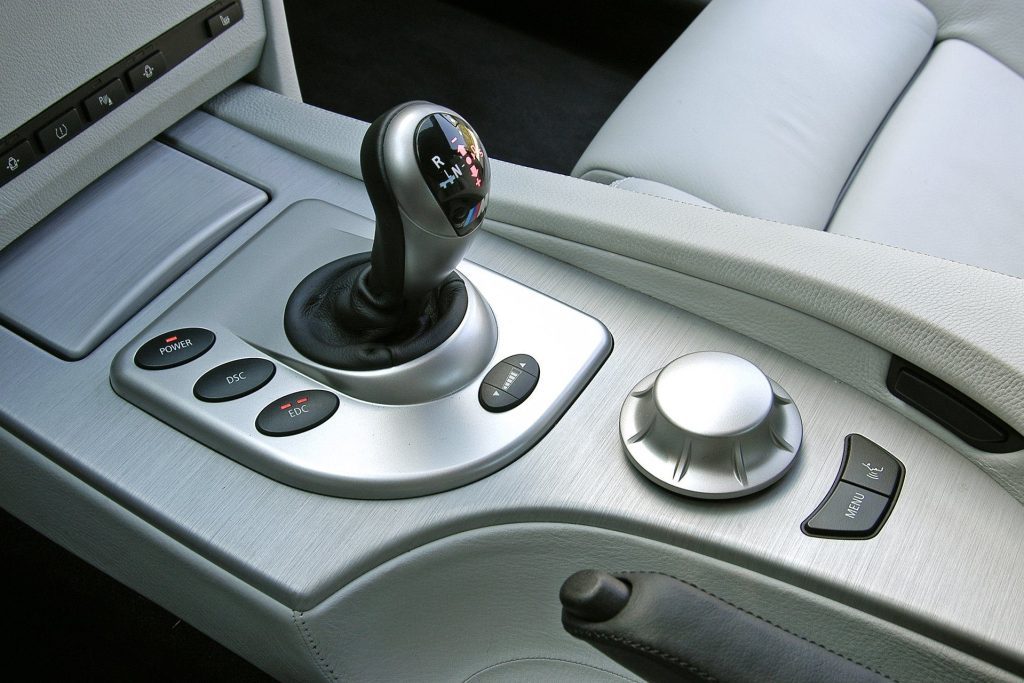 If you want the ultimate drag-race set-up, turn off the DSC button, push and hold the gear knob fully forward in sports mode, release the brake, floor the throttle to its full extent (in this mode the engine is limited to 4500rpm to provide for optimum traction), and hold it there. When the light turns green, simply release the gear knob and keep your foot hard on the loud pedal. The shift shock is brutal between gears, but in launch-control mode it's bye-bye to almost any other car – even if it can genuinely beat a 4.7s dash to 100km/h, it's not going to be easy to launch. Ask Kyle and the good Doctor Louisson (our regular road test editors), and you'll find that it still takes them several runs to be able to nail the best time in every vehicle we test. Whilst under optimum conditions a Porsche Turbo is quicker than the M5, even with four-wheel drive it still takes practice to dial up a 4.3s run. With the M5 your mother could achieve a 4.7s run – it's that easy! Oh, lest I forget, please make sure the roads are absolutely dry. Otherwise, you will be looking back at where you were coming from before you can say "shite".
After spending a couple of days and several hundred kilometres behind the wheel of BMW's fastest car ever, I found the best solution for daily commuting needs is to drive in auto mode with the power button off and with three graduations of the shift-speed selection. This resulted in responsive but relaxed progress. In auto mode, you can still override the previous setting in the blink of an eye, simply by pushing the power button and selecting sports mode via the small 'M' button, which leaves you again in near maximum attack mode.
Want the full nine yards? Then dial up all six shift-speed quadrants, select 'sports' suspension via the EDC button, and now you're nearly ready to go club racing. You can also switch off the DSC of course, but I would strongly recommend you leave that option for the track only. It's also possible to opt for a more sporty DSC option that will allow a certain amount of attitude without being scolded. To activate it you need to use iDrive, where it can be selected via the central control knob in much the same way you would click on a computer mouse. While the process is easy enough to accomplish, in truth it's still a pain in the arse, when just one more button or a double click on the existing DSC button would be much easier. Come on BMW, Munich – can you hear me, Major Tom?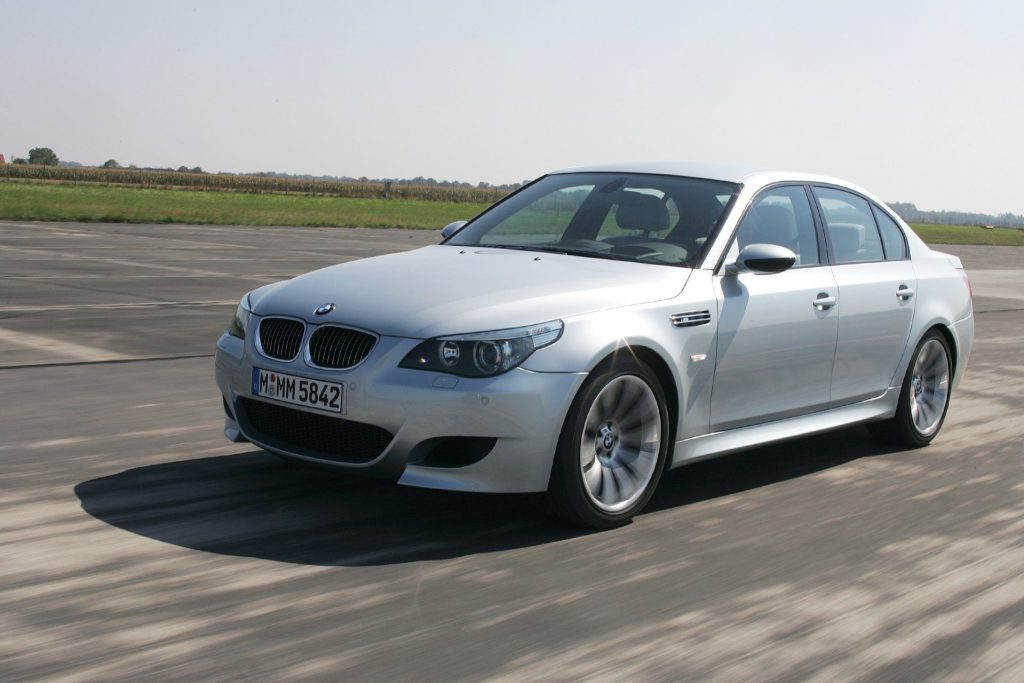 Golly gee, that's my third gripe with BMW's new toy. Fortunately, I just love everything else about the M5. Even the latest Servotronic steering, which I have never been a huge fan of, now benefits from having two different control maps activated by the electronic damper control system: one for a very sporty steering response, as dictated by the sensors for the EDC, and the other for more assistance at low engine and road speeds, as required for parking, etc. While it is a big improvement over its predecessor, it's nonetheless not as good a steer as the new 1 Series BMW, but still pretty damned good for such a Jekyll and Hyde vehicle. The brakes are also mighty impressive, with great pedal feel and no apparent fade. BMW claims a 100-0km/h stopping distance of just 36m. Please note: our own testing takes the driver's reaction time out of the equation, so we would expect a comparable stopping distance of approximately 31m. In theory, the new M5 should equal our current stoppie champion, Maserati's 2030kg Quattroporte saloon.
Both the BMW and the Maserati have excellent chassis balance. The M5 boasts a 50/50 front-to-rear weight split, despite its longer V10 engine, whilst the Quattroporte has nearly 53 percent of the vehicle's weight over the rear axle, due no doubt to its transaxle drivetrain layout.
The real difference between these two high-performance luxury sports saloons is to be found under the bonnet. BMW's all-new V10 is as close as you will get to the performance of an all-out pukka racing engine. There is no caminess usually associated with 500hp-plus normally aspirated engines. That's thanks to BMW's double VANOS variable cam timing system on both the inlet and the exhaust camshafts. But in all other respects this is indeed an ultra-high-performance engine of superlative design and outstanding quality. Ten individual butterfly inlet valves allow precise control of the electronically activated drive-by-wire system, which is smooth as silk in operation.
Compared with the previous third-generation 5.0 litre V8 engine, the V10, with its two five-cylinder banks arranged at 90 degrees to each other, produces over 25 per cent more power. The ultra-light alloy two-piece block uses an F1-style 'bedplate' design for the lower crankcase to provide maximum rigidity for the crankshaft. The crank itself runs in six grey cast-iron inserts, which in turn house the bearing shells. These inserts reduce the influence of thermal expansion within the aluminium block and bedplate castings. According to BMW, the forged steel crankshaft weighs a mere 21.8kg. What the bob weight of the rotating mass is, it is not saying, but you would also expect it to be ultra-light, given that the Mahle forged pistons are said to weigh only 481 grams, and the fracture-split trapezoidal conrods weigh 623 grams each. BMW claims the entire V10 engine assembly weighs virtually the same as the previous 5.0 litre V8 engine, which means there is very little, if any, weight difference on the front axle. We will, of course, tell you exactly what the front-to-rear weight split is in due course when the M5 arrives in New Zealand.
The new engine sports a very high 12:1 compression ratio. However, due to its extremely sophisticated active knock control, it can tolerate 96 octane fuel, although this will dull the engine's ultimate performance somewhat. Active knock control is achieved by measuring the individual cylinder pressure via the ionic current present in the combustion process; there is a sensor within each spark plug. A secondary benefit of ionic technology is that it allows the engine management system to optimize the spark and fuel mixture of each individual cylinder, not only for maximum engine performance but also for optimum fuel efficiency and low exhaust emissions.
Power is transmitted to the rear axle by a new seven-speed SMG sequential gearbox which, as previously mentioned, has six programmable manual shift modes, as well as five in automatic transmission mode. Gear changes are effected by electrohydraulic activation of both the clutch and the selector mechanism. The rear axle incorporates a sophisticated torque-sensing limited-slip differential, which increases the degree of lock-up as it senses increasing differences in the speed of the rear wheels. As you can see by the accompanying images, I certainly put it to the test – and yes, it really does work.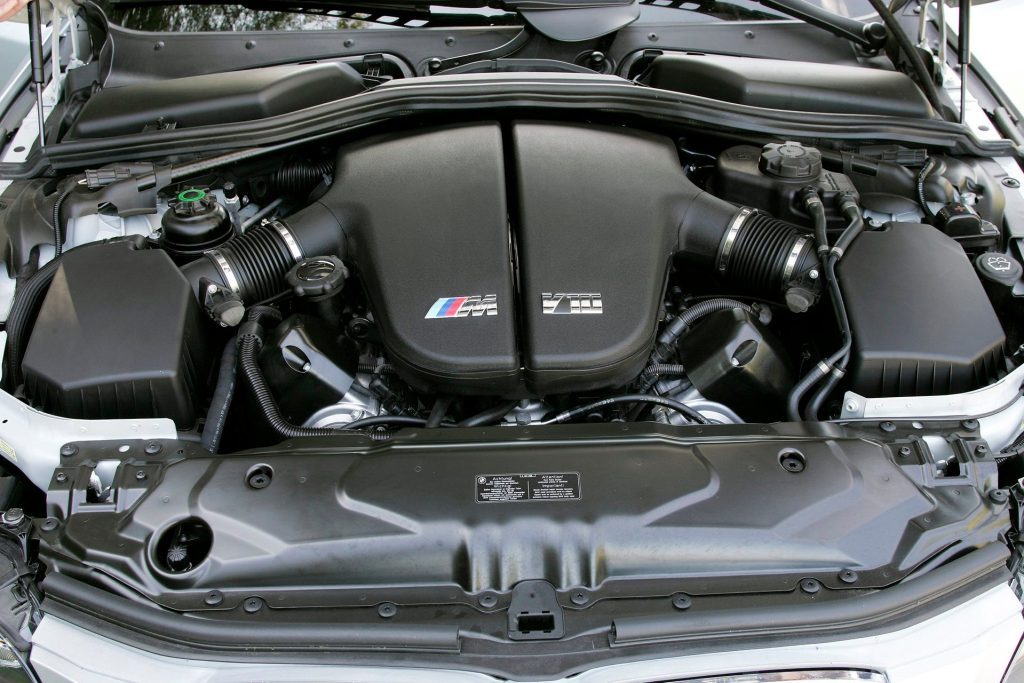 It's a testament to the new 5 Series that little has changed in the basic suspension components and their geometry in the M5 version. Bigger brakes and better cooling, naturally, but the real change in the M5's dynamic abilities over the standard car is the development of its electronically controlled shock absorbers. Working with German firm Sachs, BMW has produced what it claims is a world first in true adaptive damper technology. When you select either the 'comfort', 'normal' or 'sports' mode, the valving within the damper body changes for each selected mode, constantly adapting to both the road conditions and the speed of the car. These changes occur across the range of both the bump and rebound functions of the damper unit. In operation, BMW's new EDC system is very impressive in all three modes, and endows the M5 with an ability to perform chameleon-like changes in its ride quality and dynamic response, the likes of which I have never before experienced. Bravo BMW – and not before time, I might add. I would like to see such sophisticated suspension systems available, at least as options, on all BMWs, particularly the Z4 and M3, which we have criticised in the past for being too harsh on our secondary roads.
In summary, I have rarely been so impressed by a comparatively large four-door luxury sports saloon. In terms of its all-round performance, the new M5 takes the cake, as far as I am concerned. It also sets a new benchmark for any would-be competitor. No, it's not as pretty as the new Maserati Quattroporte, nor is it so overtly sporty. But if you want a real wolf in sheep's clothing, the new M5 is the meanest, baddest wolf yet.
And yes please, I do.
Model
2004 BMW M5
Price
$225,000 (est.)
Engine
4999cc, V10, EFI,
373kW/520Nm
Drivetrain
7A, RWD
0-100km/h
4.70sec
Weight
1830kg
This article originally appeared in the October 2004 issue of NZ Autocar Magazine.