Cabriolets (officially defined as a two-door convertible) are traditionally expensive little beasts to buy, but they're falling in price as more alternatives hit the market.
The same thing happened with MPVs and SUVs, if you recall. They were once the preserve of the well-to-do, but now there are big, small and medium offerings available at most price points.
So what exactly is the least expensive cabriolet on the New Zealand scene? The Renault Mégane Cab costs $49,990, but is beaten out by the VW Cab, starting at $47,990. The Peugeot 206CC, at $42,990, might have you ready with your finger hovering over the buzzer; however, don't push it yet because Citroën has just released its Pluriel Cabriolet, costing $34,990 for the 1.4 litre model and $39,990 for the 1.6 litre Sensodrive five-speed version. Not only do the French offer the most cabs on the rank, but they dole out the least expensive as well.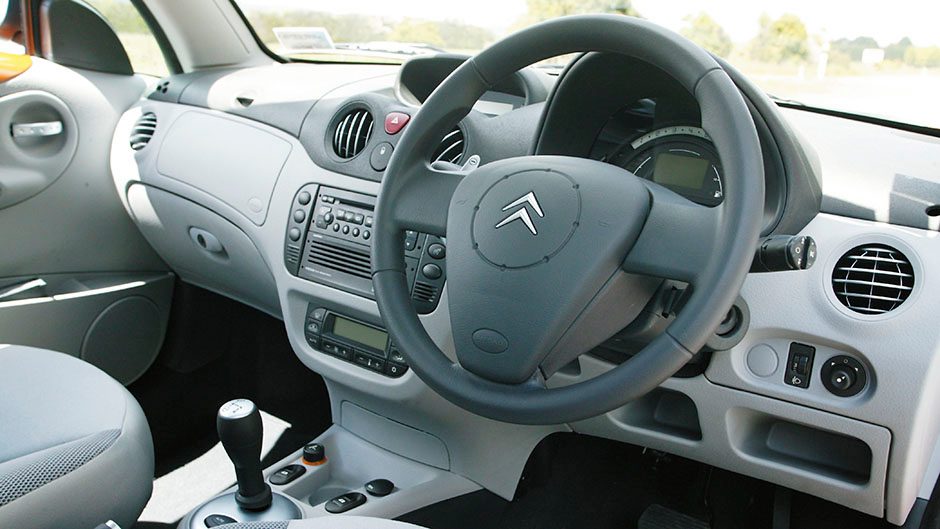 Pluriel means 'plural' in French, as you might remember from third-form days. It is said to be five cars in one, though that's a bit of a stretch of the imagination. We count the three-door Cabriolet (top up or down), and a Panoramic saloon with the top down and the roof rails in place. The Spider pickup? Theoretically, as the boot-lid hinges at the bottom and folds down flat, as do the rear seat backs. But few will actually use it as a ute; owners are more likely to sit on the tray when putting their golf shoes on, and to use the split-fold facility for the clubs and trundler.
Whatever the theoretical number of configurations, moving between these is a reasonably simple process, once mastered. The soft-top concertinas down, all at the turn and push of a button, and in settled summer weather the roof rails might disappear for a time. Better hope it doesn't rain while you're out though – without these, it's a fixed 'open' vehicle.
Of the C3 variants, Pluriel is probably the one you'd most covet, particularly if you're of an extrovert persuasion. Personally, I'd take the excellent wee diesel, and not just for environmental reasons: it's the only C3 with real midrange. The Pluriel isn't blessed with much, despite its five-speed semi-automatic transmission. A 1.6 litre 80kW engine is asked to propel a vehicle weighing in at 1228kg, 138kg heavier than the C3 synchro. That's 15kg for each kW. Citroën reckons it's good for 0-100km/h in 12.6 seconds, but our example managed a respectable 11.88s, and produced an 80-120 overtaking time of 8.57s – better by 2.0s than the 1.4 C3.
Its motor is a bit bigger and smarter than that of the base C3, being a multivalve twin-cam 1.6, but it turns shouty above about 5000rpm, and really needs around 4000rpm showing for decent performance. That's where the semi-automatic five-speed transmission comes into its own. You can elect to drive it automatically, in which case it shifts up and down as it sees fit. Or, if the pitching on upshifts upsets your sensibilities, you can shift manually, ensuring that the gas is eased off as the next cog is selected. We liked using the paddle shifters. Citroën picks up another award here for offering the least expensive vehicle with this form of shift mechanism on the NZ market.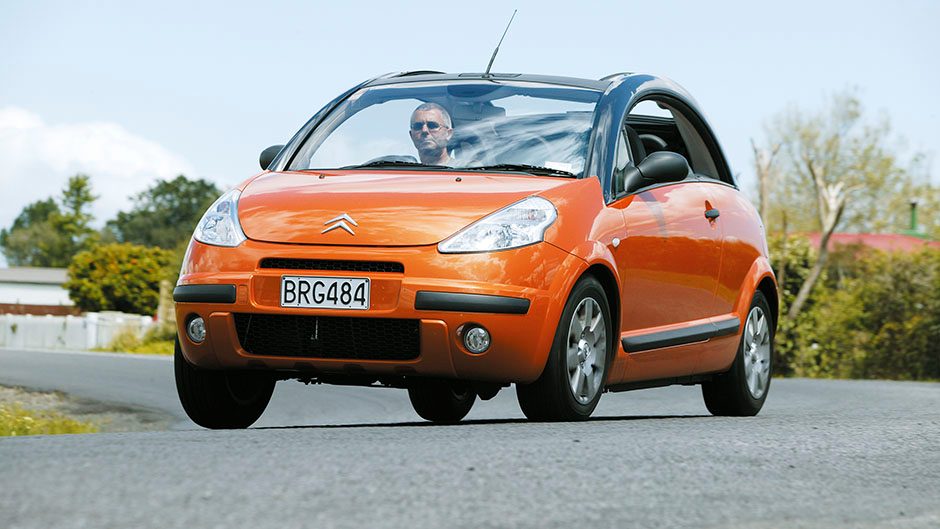 Pluriel comfortably upstages the other C3 variants when you decide to bend it through some testing corners. Just check out the images; there's much less roll than in the hard-top C3s. And with the roof rails in place, no creaking or groaning from the chassis. There's little impression of extra steering-column shimmy. It's actually quite fun to punt this, with surprisingly good front-end grip from its eco-friendly Michelin Energy rubber, and modest understeer. Progress is not quite as sofa-soft as that of the other C3s, but we'd gladly sacrifice some pampering for a little dynamic ability in what is essentially the fun car of the range.
It may be the only cabriolet under $40K, but it's hardly threadbare on specification, which runs to climate-control air conditioning, ABS brakes, front and side airbags, power windows, a five-disc CD changer and rain-sensing wipers. Seats are better than I remember in C3s we drove earlier, but we're not keen on the hard plastic trim your left knee rests against. While this would seem to be hazardous, the Pluriel has received a four-star NCAP rating. The seats themselves are finished in Technotrim, a fabric that doesn't seem to attract and trap dog hair like most velours do.
Arguably the one real Pluriel drawback is its limited rear legroom, which essentially means these pews are reserved for small people. But unlike many cabriolets, there's pretty good luggage space left after the hood is stowed away beneath the artificial floor.
So, French flair or folly? We think most people will be chuffed with Pluriel. The roof system works well, its miscellaneous body formats are charming, and about the only average aspect is its powertrain. At the price, it's a cab many will want to hail.
| | | | |
| --- | --- | --- | --- |
| Model | Citroen C3 Pluriel 1.6 | Price | $39,990 |
| Engine | 1587cc, IL4, EFI, 80kW/147Nm | Drivetrain | 5-speed auto, front-wheel drive |
| Fuel Use | 6.6L/100km | C02 Output | n.a |
| 0-100km/h | 11.88sec | Weight | 1228kg |