Audi's facelifted S4 sees it with a more appropriately aggressive look and extra spec. It's even better than before, especially in the wet.
We exited the S4 Avant 3.0TFSI and an hour later were back in COVID-19 level 3 lockdown in Auckland. So back to working from home again. At least the dogs are happy. It was a busy few days when we had the S4, and we'd left it late to actually drive the wagon in earnest. After the government announcement the night before, it was a matter of driving in the come-what-may conditions. Come what May is right, the roads drenched, the wipers beavering away automatically.
And yet it was one of the most invigorating drives in such conditions I've had for ages. It also just shows to go how well a lowered sport wagon can get by compared with all the hulking high-riding SUV 'sport' wagons we're exposed to these days. The only ones that come close, to my mind, are the RS Q3, a joy to drive, and the oh-so capable Porsche Macan.
Well, so was this, only it goes even better without the nod to the high driving position. They're all roughly the same for speed and cost too, so it's down to what your priorities are. If you like the cool and stealthy lines of the S4 Avant 3.0TFSI, to use its full name, and the more grounded dynamics that come with a lower attack height, then you might well prefer this.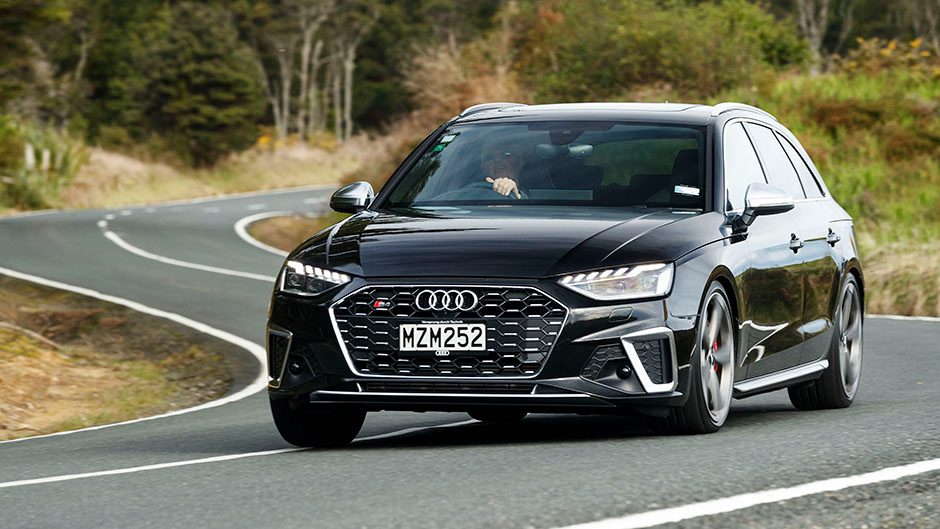 It's not startlingly different from its forebear, but then this is a facelift; it's more a spec upgrade, partly explaining the slight price rise. The numbers are much the same – it's still pretty quick, unless you've just driven the likes of the monstering RS 4. But you save yourself the better part of $30k here. The question is whether you can handle the ribbing you might get from your mates at the club for "cheaping out".
We'd suggest it's easily justifiable. So it manages a sprint time in the high fours rather than high threes; that's still more than quick enough, especially on the overtake. Anything that requires less than 100m to shift from 80-120 is not hanging around. And in this you merely pull the shift lever back, whereupon it hunkers down three gears in S transmission mode and goes nuts past whatever's in your way. The exhaust valve opens in this mode too, letting forth a lovely gurgle from the quad pipes out the back. They will know what's overhauling them is a bit special. That, the rear lip spoiler, 19-inch alloys and the matt silver mirror caps are how you pick this car from lesser A4 Avants. Otherwise, it is subtly lower (the ride height is reduced by 23mm) and wider, and naturally looks meaner in black. We like the bonnet nod to the Audi Quattro too, a wee gap below the leading edge reminding that this too has rallying genes.
Not that we went down any gravel roads during our time with the car, but certainly this is most entertaining in the wet. There's enough going on at the rim of the flat-bottomed sports wheel that you're aware of when grip is about to go west. Everything is nicely telegraphed, and with permanent AWD and a smooth approach to proceedings this is genuinely fun to helm in iffy conditions, and has grip in reserve.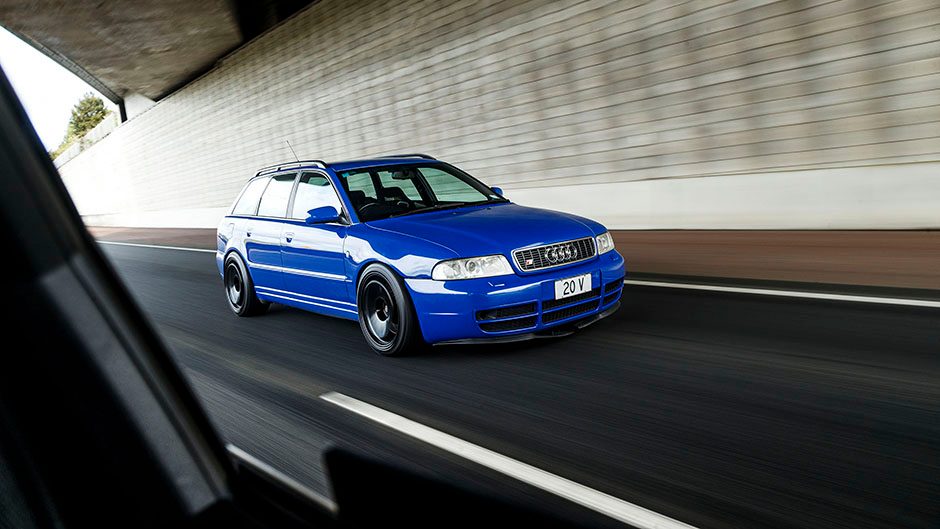 Audis have often been typically nose heavy in the past, and a touch heavy overall as well, which is why we've often picked like-priced BMWs in prior comparison tests; they're generally closer to 50:50. But Audi has been making progress on this front. And the S4 now has a 55/45 weight bias. Plus its centre diff has a static rear torque bias (40:60) but can apportion up to 85 per cent of the drive rearward if need be. It's only when pushing to the grip limit in the dry that understeer is uncovered on road, and the optional torque-apportioning sports rear diff would likely sort that…at a price. As it is though, this is pretty convincing. So too the sports brakes, hauling to a stop from 100 in fully wet conditions using just 35m of road.
Crikey it's quick too. Not so much in a straight line where it knocks off the 100km/h dash in 4.7sec, nothing too dramatic there, but in how it knocks off point-to-point dashes. With eight cogs to cycle through, the top few gears of this torque converter auto are overdriven, 100km/h a relaxed 1500rpm. Keeping to the legal limit is not easy in this, such is its quiet progress. Activate dynamic cruise control and 100km/h seems like the S4 is straining at the leash to be liberated, like an unruly puppy. Into the fun roads and you'd select Dynamic for best progress, the ride quality still more than acceptable but, as is usually the case with Audis, the Auto setting seems the best of the Drive Select modes, with little diminution of dynamics for an even plusher ride. So the transmission isn't automatically set in the S mode but that's just a pull of the stubby shift lever away.
With a single twin-scroll turbocharger, this engine has grunt to burn too; some turbos like a few revs, some don't need that. This is in the latter group, pulling well from basement revs, and with real intensity from 2000rpm, more so again from 3000rpm in a progressive rather than stepped fashion.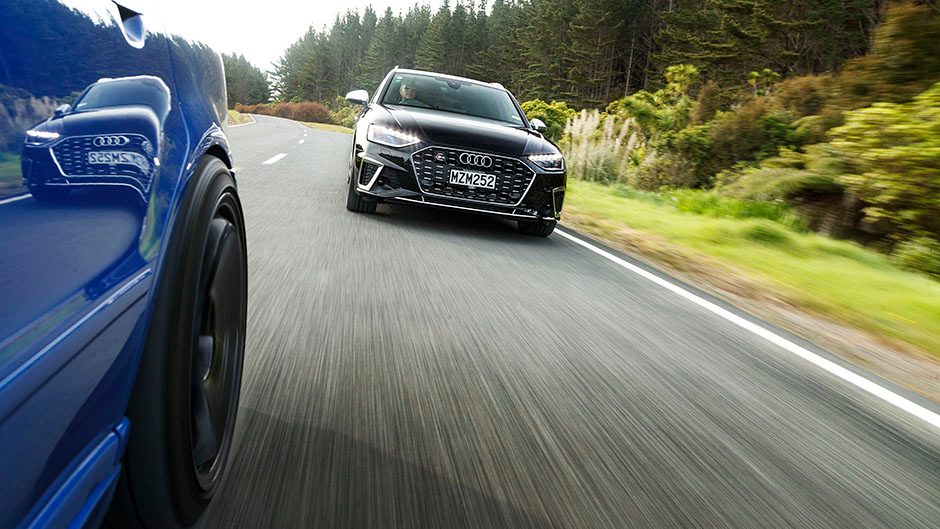 Despite a good turn of speed, we still saw fuel use averages in the 12s easily enough. Keeping to the legal limit using active cruise and single figures are a snip.
So it goes well and drives the same, but how's the cabin? It's an Audi so that should give you some idea; aesthetics are cool, especially the beautiful quilted leather seats. We're not a crazy big fan of the new touchscreens and their haptic lack of sensitivity, but the images are well resolved, the screen now 10.1 inches with 10 times the computing power evidently, and in a longshanks like this (almost 4.8m) it's handy having a 360-degree surround camera. Not that sonar and great rearward visibility aren't also helpful. Full smartphone integration is now featured too.
About the only ergonomic booboo otherwise is where Drive Select hangs out, over by the passenger and up under the centre console. It would be handier on the wheel. Comfort is exactly that for town and motorway use, and Auto best for the rest. Even when you set the distance to the vehicle in front on its closest setting, the active cruise leaves too much of a gap we think. It's the same for the overly conservative collision warning light.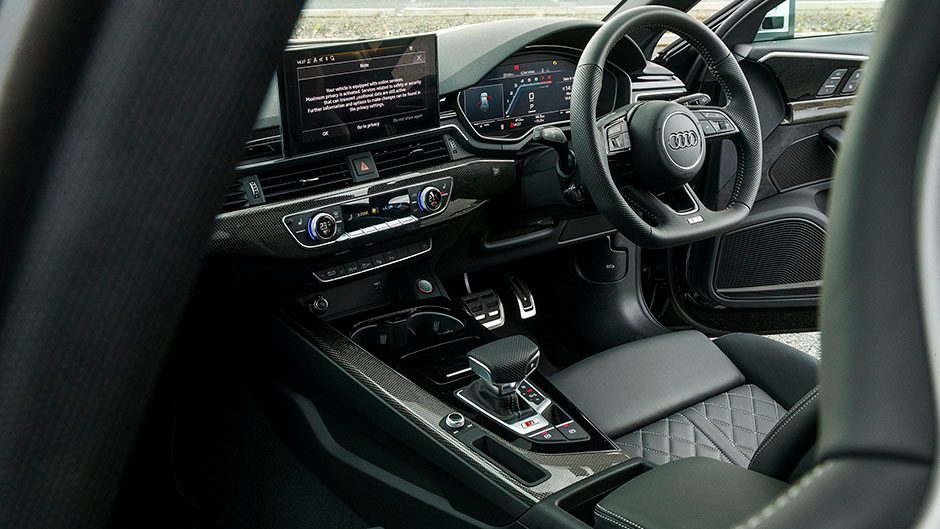 The cabin we're more than okay with. The driving position is great, low, and seats are wonderful over the long haul. Those in the back don't get huge leg room but there's a substantial amount of luggage space, almost 500L, accessed by a powered door.
Spec is good too, running to a head-up display, Audi Virtual Cockpit (is this the clearest, most comprehensive instrument layout in the business?), heated pews, comfort entry and pushbutton start, tri-zone air, matrix LED headlamps with autodipping, B&O premium sounds, and every drive assist device known to safety ratings agencies.
Options include a panoramic sun roof ($4200; definitely not where you need more weight), a sports diff ($3800, maybe to dial out the last nth of understeer in the dry), Dynamic steering ($2800 – it's already dynamic enough), decorative inserts in carbon (they do look nice but not for $2850) and steering wheel heating ($500). I'd be perfectly happy with the car as is, and at $122,500 it's a more well rounded offering than the harder-edged like-priced AMG C 43 Estate.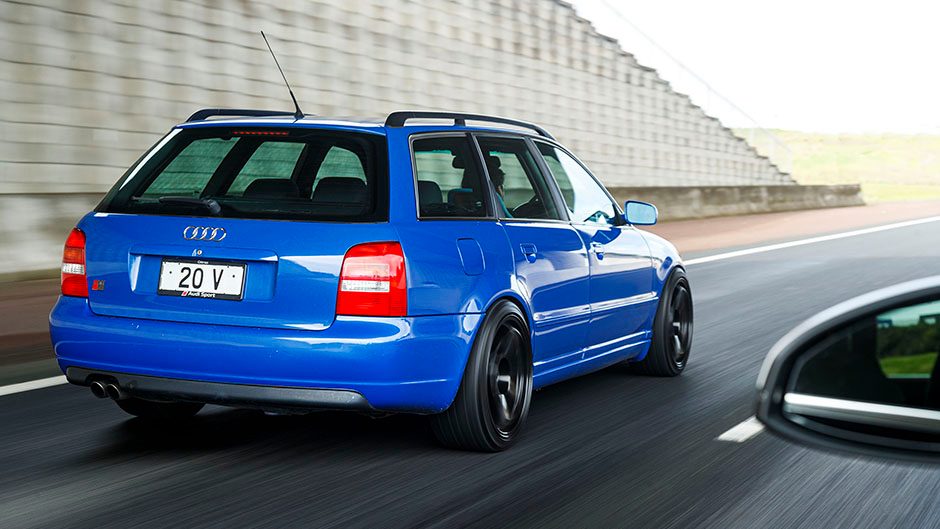 I've owned this S4 for nine years, but my interest in Audi's B5 generation of the A4 dates back to when they were new.
I like cars that have some motorsport pedigree, good styling, interesting engineering, and then any other box they can tick is a bonus. Audi had success in motorsport with the A4 STW and the S4 in the SCCA World Challenge.
I think styling wise, the B5 has aged quite gracefully. And given the latest-gen RS 4 has returned to a 2.9-litre V6 twin-turbo, I'd say the engineers at Audi were ahead of their time with the 2.7 V6 bi-turbo motor. As much as I love the atmo-V8, for me, Audis are at their best when turbo'd. I've owned a few turbo Audis, and found the engines quite bulletproof, though regular maintenance is important. Modifying an S4, you can achieve 500-600hp fairly easily.
When I set out to find mine, it had to be an Avant. I also really wanted one in Nogaro Blue, the name Audi gave to the Porsche RS Blue paint colour that it used on the legendary Audi RS 2, which kicked off the brand's obsession with fast wagons.
I bought this while I was living in the UK. When planning my return to NZ, I found that a 20ft container wasn't much more expensive than shipping my stuff back in boxes and so home the S4 was sent.
What's the B5 like to drive? Well, it's quite typical of Audis of the era; with its engine sitting over the front axle, it tends to understeer. And then there is the relatively poor body control. That being said, I find the car has a whole lot of personality. It develops its power from low down in the rev-band and overtaking often doesn't warrant a down-shift.
To fix some of those less than desirable dynamic flaws, I've installed H&R adjustable coilovers, a thicker rear anti-roll bar with rear subframe reinforcement, while a JHM short shifter helps reduce the long gear lever throws.
Next up I'm uprating the braking department with a set of Porsche Cayenne six piston front and four piston rear monobloc calipers.
The Racetech seats will also be re-trimmed in Audi sport cloth, to match the rear, using fabric sourced from Audi Tradition. – Alex Schultz
| | | | |
| --- | --- | --- | --- |
| Model | Audi S4 Avant | Price | $122,500 |
| Engine | 2995cc, V6, T/DI, 260kW/500Nm | Drivetrain | 8-speed auto, all-wheel drive |
| Fuel Use | 7.5/100km | C02 Output | 179g/km |
| 0-100km/h | 4.70sec | Weight | Xkg |
| | | | |
| --- | --- | --- | --- |
| Model | 1998 Audi S4 Avant B5 | Price | $130,000 |
| Engine | 2671cc, V6, T/EFI, 195kW/400Nm | Drivetrain | 6-speed manual, all-wheel drive |
| Fuel Use | 11.3L/100km | C02 Output | 271g/km |
| 0-100km/h | 5.90sec | Weight | 1609kg |