Ford has again updated the Ranger line-up which now comes with the option of a new 2.0-litre diesel and an off-road monster called Raptor. But which to choose?
A wee while back, I was sitting inconspicuously in a Ford dealership waiting patiently for a test car, and overheard a conversation about utes. One burly bloke said to another, "I thought about that ute from those guys over there", pointing across the road at the Volkswagen dealership, "but, #@%&, it's only got a two litre, you know?" The other burly type nodded sagely.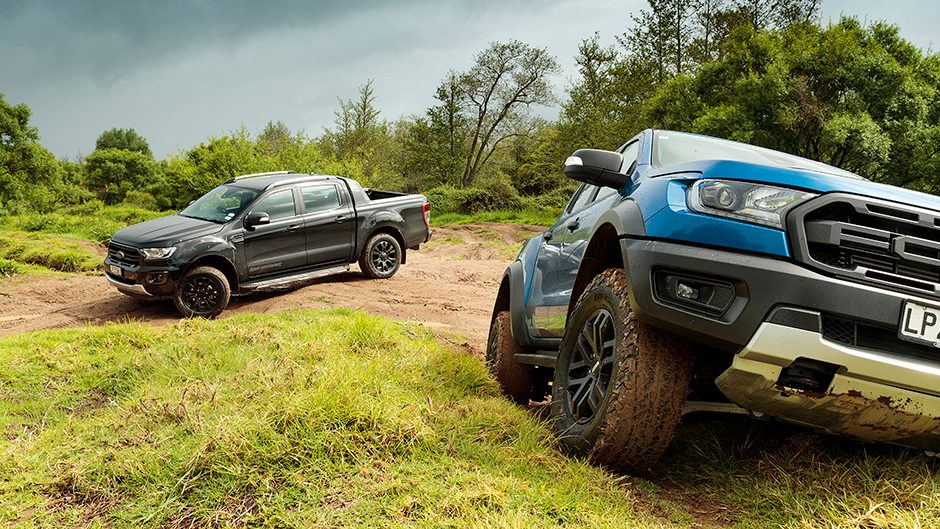 The pair must be scratching their balding heads now that Ford is offering up a 2.0-litre in its top-spec Rangers. There are a few reasons behind Ranger's success here; rugged looks, capability, good deals, the way it drives and a big capacity, torquey inline five. The engine's an endearing lump, giving Ranger a truck-like growl.
And so while the best seller has been updated again, with revised looks and a few more spec bits and pieces, Ford NZ has decided to keep the old 3.2-litre as the mainstay of the range, only offering the new 2.0-litre as an option for Wildtrak buyers. And those who opt for the wild Raptor. But is it any good? Here is our tale of the two litres.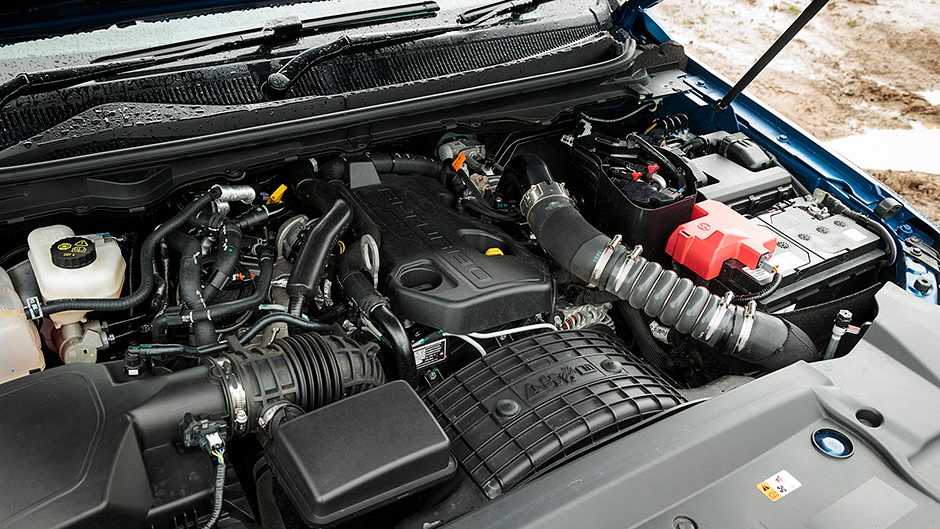 The two point oh
Wildtrak buyers now get the choice of either the tried and true 3.2, or the new 2.0-litre. The former still proudly displays its capacity on the front guard, the latter makes no mention of having a two point oh, rather the fact it's a bi-turbo. This four cylinder uses a two-stage blower system with a small, high pressure turbo to get things pumping early and a larger low pressure turbo.
In the low- to mid-range, these work in series but as revs increase, it's just the big turbo doing the puffing. And here technology outpunches capacity, the four outputting 157kW and 500Nm, up 10 and 30 units, respectively, on the 3.2. The 2.0-litre is part of a high tech double act as it pairs with the 10R80, the same ten-speed they use in Mustang.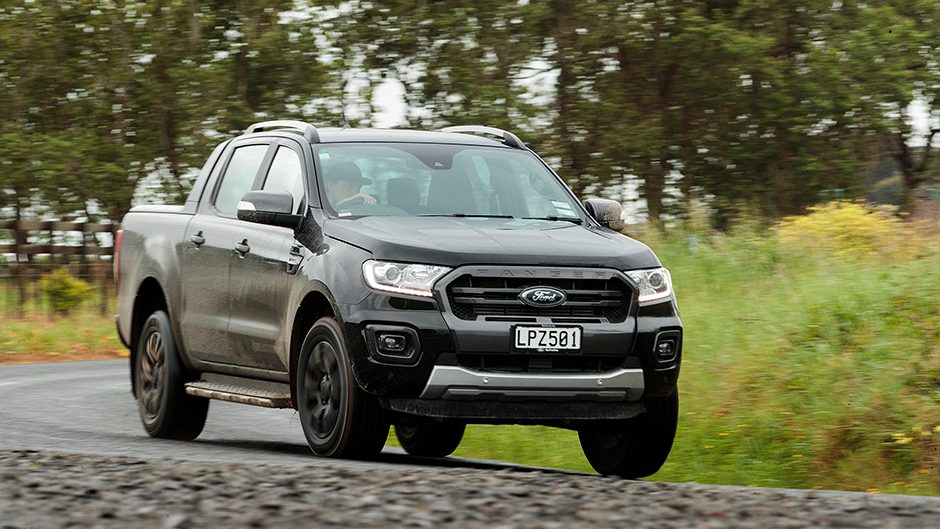 A smaller donk usually drinks less, at least during lab testing. Where the 3.2 Wildtrak is rated 8.9L/100km overall, the number for the bi-turbo is 7.4. It fares even better during the urban test procedure with a figure of 8.4L/100km vs 11.4 for the the 3.2. Other Ford supplied numbers show it's a little lighter overall with a claimed mass of 2239kg vs 2271kg. We measured it at 2241kg while the last 3.2 we had was 2264kg. Tow capacity remains 3500kg for both, with a combined mass of 6000kg.
But how's it go?
It builds boost rapidly, so the torque ramps up quick smart. The smaller unit revs freely too, and there's a good spread of urge through the engine's range. It doesn't slug away down low like the long stroke 3.2, though both register peak torque at 1750rpm. Still, the 2.0-litre can lug in gear, pulling from 1500rpm in eighth cleanly while it delivers more power at the top end. And yet those stuck in a capacity-is-king mindset are unlikely to be swayed. Until we tell them how much quicker the 2.0 Wildtrak is.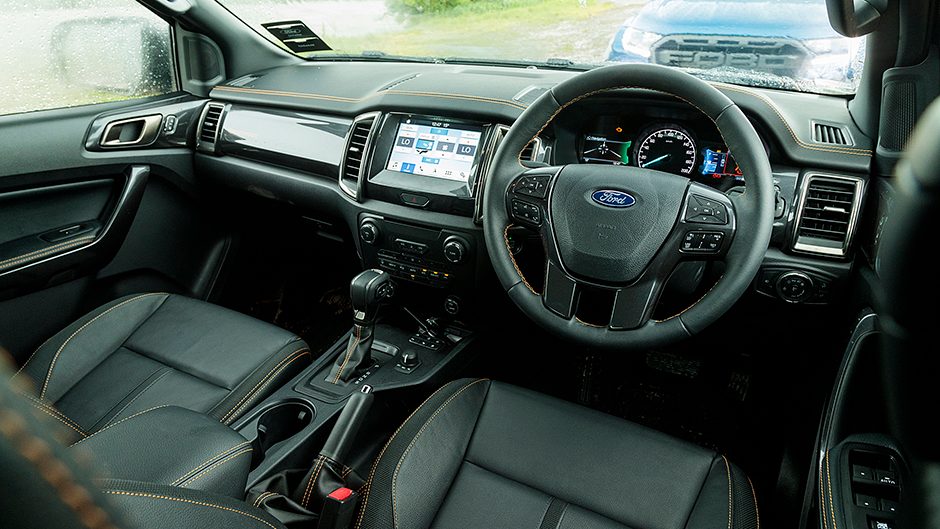 The ten-speed auto is a perfect ally, its close ratios keep the oiler spinning optimally so it's always on boost, ready to surge. With foot pinned, it's slick through the gears, and has seen Wildtrak leapfrog the likes of Navara and Colorado in feats of acceleration, registering 9.3sec for the 0-100km/h sprint, down from 10.8sec.
Overtakes are equally as swift, now a second quicker at 6.9sec. Pointing it down a stretch of testing turns, the bi-turbo Wildtrak proves a little more troublesome for its traction control while the brakes get warm having to arrest the added velocity. We're not sure it's any more nimble on the turn but it sure is faster off the bends, always ready with 500Nm at your disposal. The Sport mode has the auto shuffling through the ratios quickly, holding the engine in its 2500-4000rpm zone of brawn, so it's never caught off boost or lacking for a gear.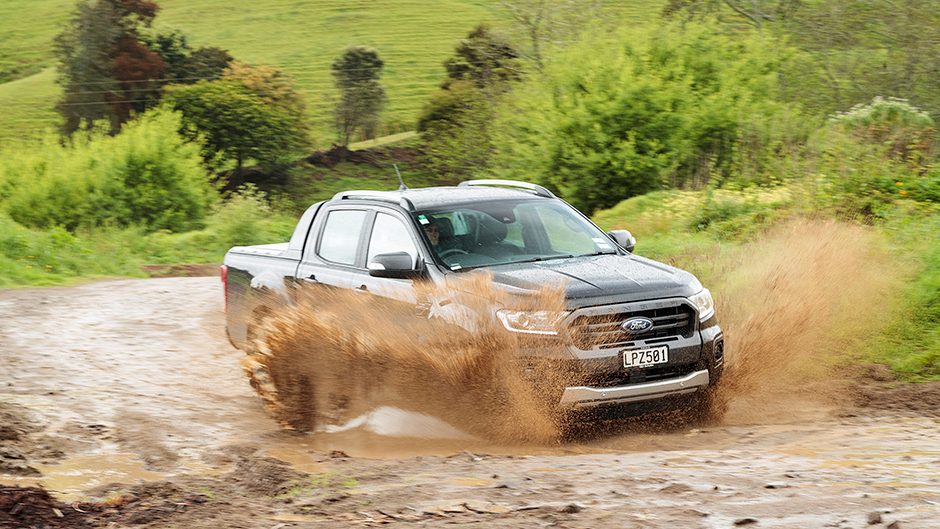 While our fuel use was up in the 11L/100km range due to a lot of leadfooting, a reset around town suggested that a nine-point-something average seems achievable, unladen at least. Here the bi-turbo is quieter than the 3.2, though the noise isn't as hearty. There's stop start, which doesn't annoy in operation though can cause that moment of hesitation off the mark if you want to get going quickly. But otherwise there are few occasions where the powertrain is found wanting; the off-the-mark lag is minimal with little hesitation or indecision from the auto when you need to crank things up a notch.
It carries a $1000 premium over the 3.2 at $71,990, which seems reasonable given the added pace, better economy and improved drivability. Those into serious towing might stick with the unstressed, easy going 3.2 but, like all Rangers, the four-cylinder, is covered by Ford's new five-year 150,000 kilometre warranty. And we'd happily opt for the bi-turbo option here, even if it's only a two litre, you know?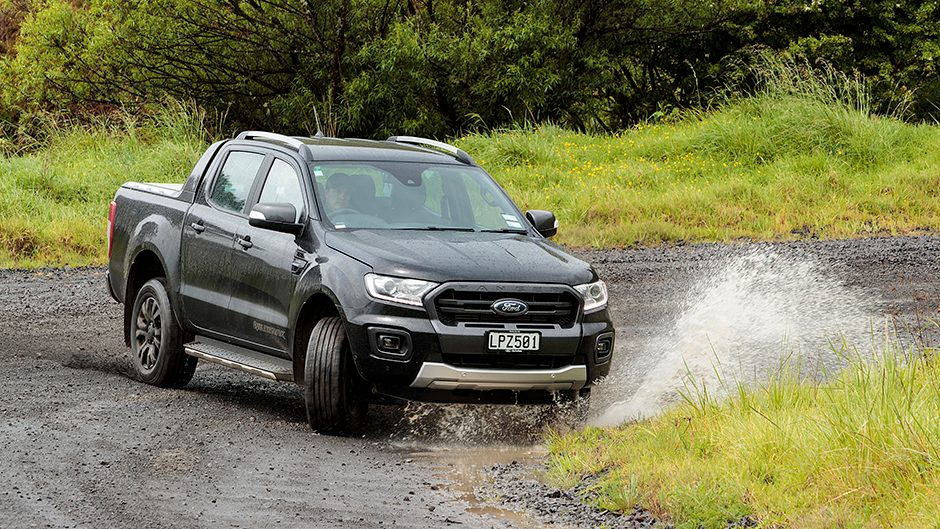 The wilder brother
Sitting atop the Ranger line-up is Raptor, Ford's factory-built off-road racer. No mere Wildtrak with a lift kit, it's developed by Ford Performance which sets about fortifying the chassis and replacing the suspension.
There are the famous Fox shockers, a 150mm increase in track and the rear axle is located by trailing arms assisted by a Watt's linkage and coil springs. There are vented 332mm discs all around, and huge 33-inch BF Goodrich tyres. Ground clearance ramps up 50mm to 283mm. If you want the full Raptor run down, search out our report from the international launch at autocar.co.nz.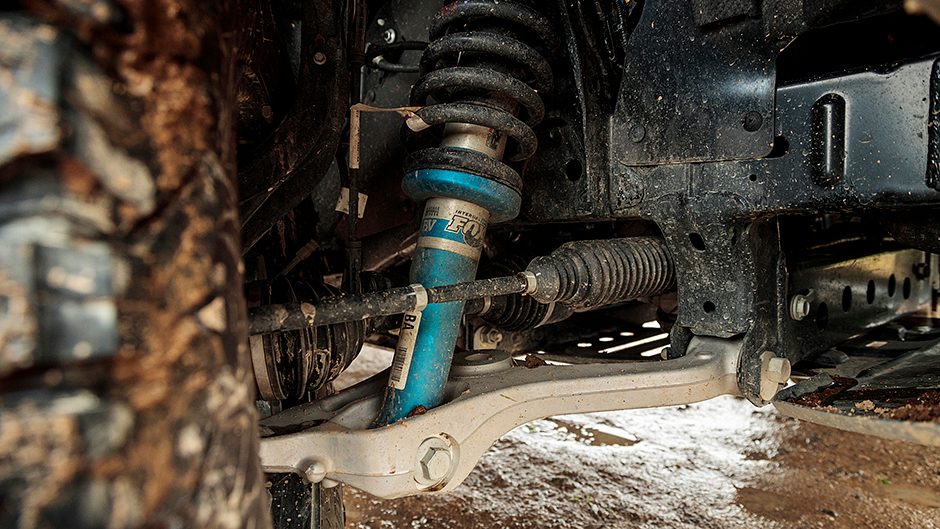 From that initial drive in the back blocks of Australia we wondered if Raptor's talents would be wasted here in New Zealand. It's been designed as an off-road racer yet the opportunity to fly over dunes is fairly limited here. But as it's born to conquer uncompromising desert terrain, it's also pretty handy on road and remarkably civilised.
Tarmac terror
While the big Fox shockers are there primarily to soak up punishment off road, by design, they also provide stellar ride quality. Well, for a full chassis ute anyway, but bumps literally dissolve beneath this set-up. It initially feels weird, almost floaty, as if it would squirm like marshmallow in a bend but as soon as you start to turn in, it settles and body roll is minimal considering the ride height. Raptor isn't a racer down the straights (more on that in a moment) so some corner commitment is required to keep the momentum flowing. And Raptor duly obliges.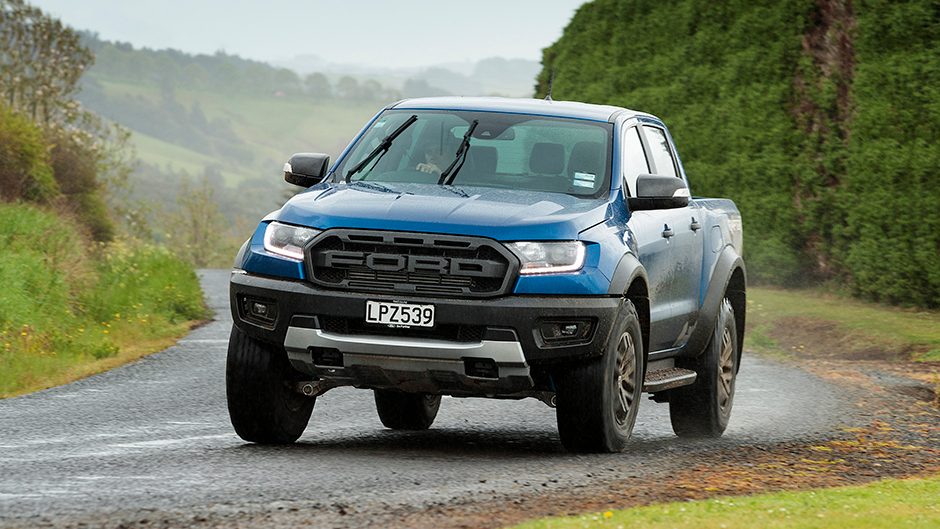 Wider tracks provide a solid foundation while the modified rear end soaks up any drama to all but eliminate bump steer up front. There's still 2300 kilos of truck here, so it can't corner like a Cayman. Get rough and you'll rouse the ESP so it's better to be quick but smooth. Hook it into a left hander and you'll hear the tread blocks on the front right squirming, wishing they were in the soft sands of Baja rather than being tortured on tarmac.
On dry paths, these are rather feelsome as there's bugger all sidewall deflection to corrupt the feel for the grip limit, and that helps to stave off the ESP interventions. There are no electronic chassis aids here, just a well sorted chassis that responds well and delivers amusing cornering antics.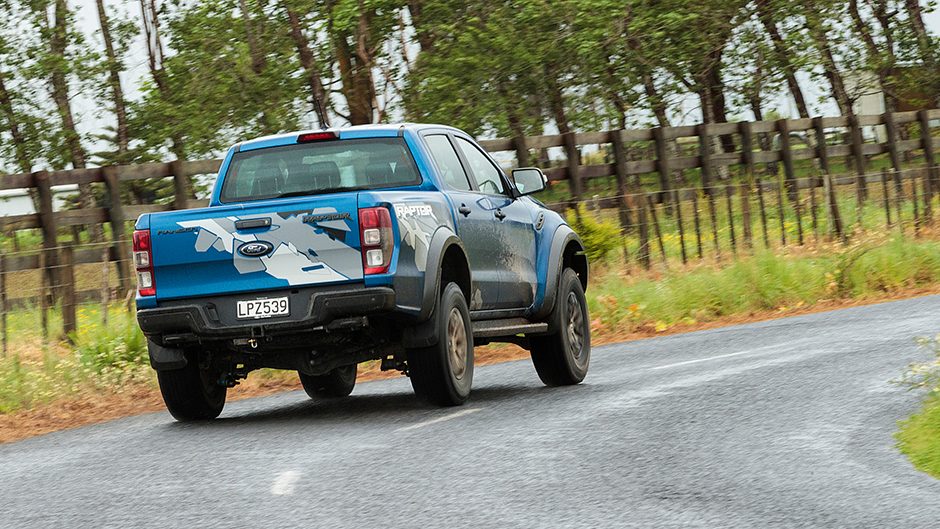 The uprated brakes are effective too. Hit them hard and the front end will dive, but finesse your pedal poking and this helps transfer the weight nicely on to the front for added bite into bends. Raptor also tolerates left foot braking, unlike the Wildtrak where you get a safety message and a muting of the power. Chunky all terrain rubber and wet roads don't always mix and while the grip levels of the Baja Champions do diminish in the rain, they don't vanish, though that limit does arrive more abruptly.
Raptor Rapid enough?
Raptor uses the same 2.0-litre as Wildtrak, but is heavier. It also has the same 3.73 final drive ratio, though that 33-inch rubber effectively increases gearing, blunting acceleration further. So it's not as rapid this, recording a 10.39sec run to 100, and a 7.83sec 80-120km/h.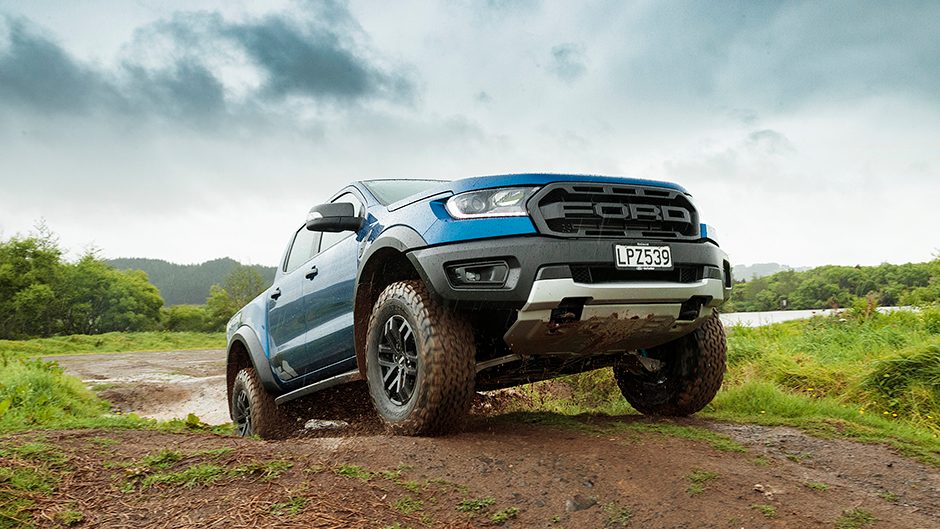 While you'll have to follow dawdlers a bit longer before a decent straight presents itself, the auto keeps the 2.0-litre singing in Sport mode and, as it does in the Wildtrak, there's usually the right gear selected to ensure it's good to go. But yeah, it could do with a giddy up for sure.
Mud marauder
Off formed paths, the Baja Champions chew through mud and slush. Selecting 4 hi and the Mud and Snow mode, Raptor romped wherever we pointed it along the muddy riverside tracks while the Wildtrak was slipping all about the place. And while it was bucking and crashing over the rutted trails, Raptor simply absorbed the punishment, removing the bounce and cushioning the landings.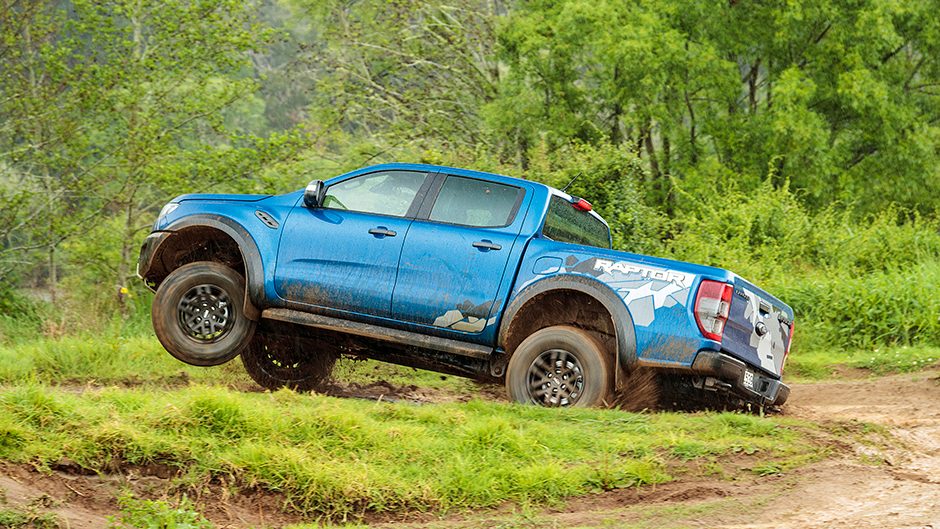 At one point we gassed the Raptor up to avoid being sucked into a boggy hole, but then it quickly gripped again, which spat us up over a ridge to give us the giant air photo. While it looks impressive, it didn't seem all that dramatic in the cabin, landing without a thump, no vertebrae crushed, no panels or suspension parts bent. We can't think of many that would perform as well in such muddy conditions straight off the showroom floor; maybe the SportsCat, or a Wrangler Rubicon?
Gravel gobbler
While local desert terrain is pretty scarce, we're blessed with lots of gravel roads, which are perfect for Baja mode. Raptor devours these trails where the treads dig in to the greywacke to get the front turning sharply in the loose. You can keep your foot in it too as Baja mode delivers a racy progress on low grip surfaces to get the rear end rotating nicely. And then you're pointing in the right direction to peel off the bend.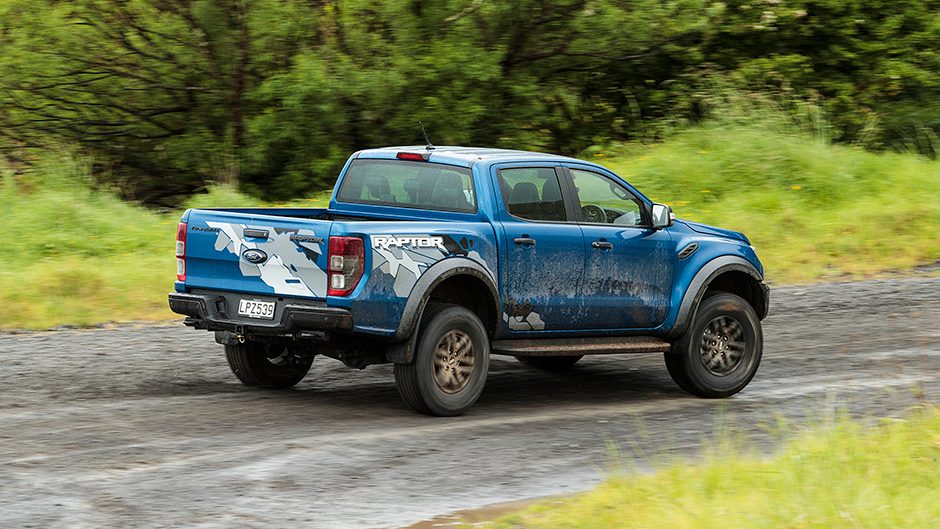 It's seriously grin inducing, especially as the ESP remains in the background ready to help catch any untoward slide. And where those awful gravel road corrugations had the Wildtrak shaking and sliding about, the supple Raptor smoothed them out sweetly.
Trucking round town
Urbanites will love Raptor's ride quality too. Nothing with a full chassis rides quite like this, or devours speed bumps as effectively. Raptor gets underway briskly, the 2.0-litre having no trouble moving this brute about in traffic. The turning circle is wider than Wildtrak's but not by much, and the added ground clearance means the side steps will be useful for some while others will likely graze their shins trying to jump in over them, as we did.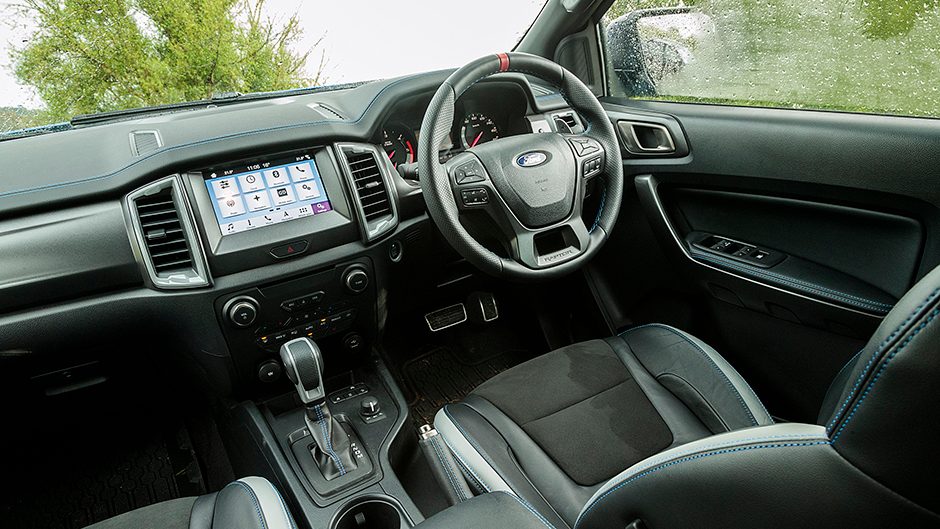 Raptor's seats support comfortably while the added bolsters and grippy suede-like trim keep you secure during those air time moments. Raptor misses out on the active cruise and AEB of the Wildtrak, and the self-park feature too as it lacks front sensors. But like Wildtrak it comes with lane keeping, speed sign recognition and a smart key, while gaining a unique steering wheel with big shift paddles, racier instruments and the Raptor-specific drive modes.
Wildtrak or Raptor?
It won't be a biggie for those with the money to spend on a $72k Wildtrak to stretch to the $85k Raptor, but should they? Not if they need a ute for real work. The Raptor is rated to haul a maximum of 2.5 tonnes due to the softer rear end, and the payload is reduced to 758kg. So if you need a ute to pull and haul, you'll be needing the Wildtrak.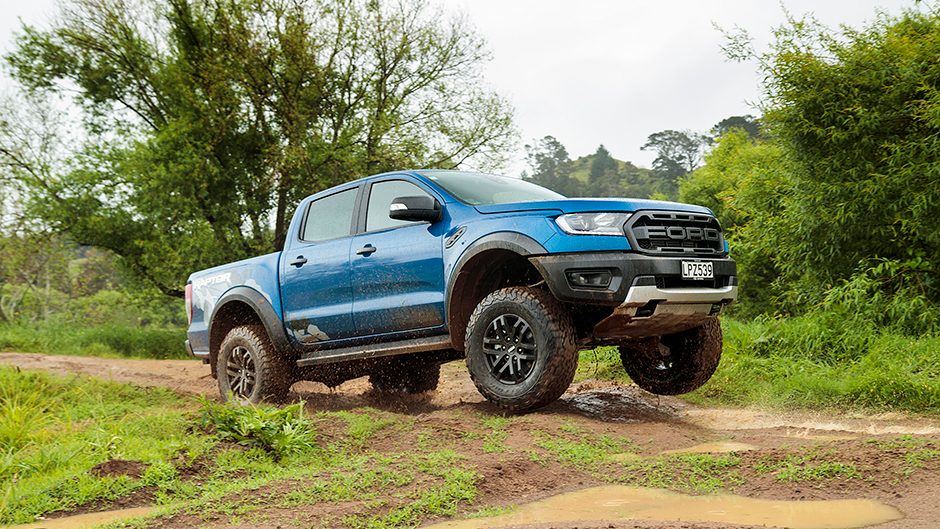 Payload aside, the internal tray dimensions are the same so the usual aftermarket canopies and tonneau covers will fit. Yep, you can still go bananas on accessories but don't go and bogan it out with a set of 20s, please. Raptor's not really a truck you need a job for, but we can't think of a reason why you should look elsewhere. It's great that it exists, and will be the truck to be seen in this summer.
| | |
| --- | --- |
| Model | Ford Ranger Raptor |
| Price | $84,990 |
| Engine | 1996cc, IL4, TDI, 157kW/500Nm |
| Drivetrain | 10-speed auto, switchable 4×4 |
| Fuel Use | 8.2L/100km |
| C02 Output | 212g/km |
| 0-100km/h | 10.39sec |
| Weight | 2372kg |
| | |
| --- | --- |
| Model | Ford Ranger Wildtrak 2.0 |
| Price | $71,990 |
| Engine | 1996cc, IL4, TDI, 157kW/500Nm |
| Drivetrain | 10-speed auto, switchable 4×4 |
| Fuel Use | 7.4L/100km |
| C02 Output | 195g/km |
| 0-100km/h | 9.30sec |
| Weight | 2246kg |