As hatches evolve they seem to take on more high-tech gadgetry from their more expensive sibs. They also generally grow internally, if little externally. Two such examples are new Scala and Focus.
It wasn't such a long time ago that features like lane keeping, adaptive damping, active cruise control, and head-up display, let alone push button start and comfort entry, were the preserve of luxury expresses. Not any more, active cruise now available in some Swifts. But the list of gear a class up, especially in the upper echelon models, rivals that of cars costing six figures from a decade ago. Small wonder the two you see here are closer to $40k than $30k.
In each case, they're the top of the line variants, one being the Skoda Scala Style ($38,990) and the other being Focus Titanium ($41,990). They're also the type of vehicle that those used to medium or large cars might adopt if they're downsizing; these still accept a couple of adults in the back, and have genuinely useful luggage capacity.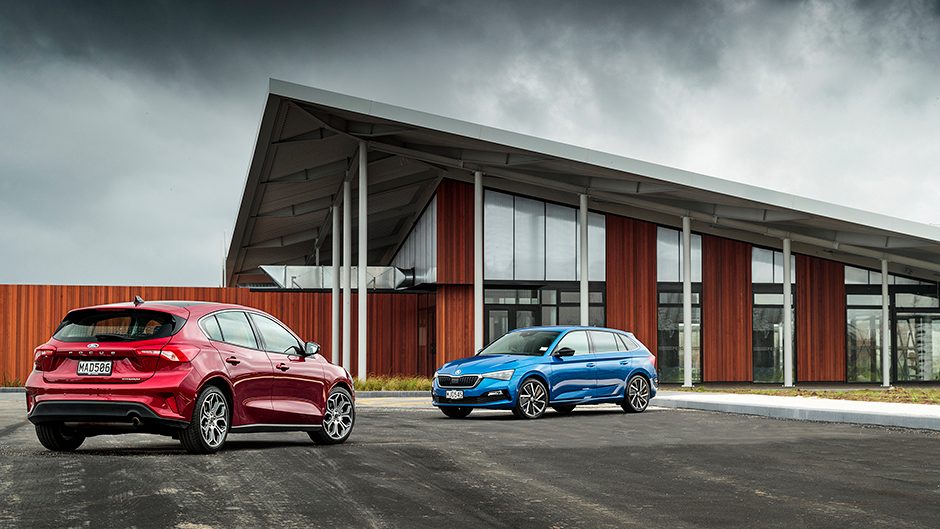 Meanwhile, the gear count, both literally and figuratively, impresses. The Focus asks more as it is slightly better specified. True, it misses out on the adaptive damping of the Scala Style, but it alone comes with head-up display, tilt and slide panoramic sunroof with electric blind beneath, leather-clad heated and powered seats, and blind spot monitoring. There are also a few tricky devices in the Focus like evasive steering assist (helps with avoidance manoeuvres if a crash is deemed imminent) and post-collision braking, underbody smoothing and active grille shutter for a Cd of 0.27 (Scala 0.29). Be that as it may, this is no quieter on the open road than the Skoda, both with in-cabin SPLs of 74dB, at worst.
The Scala also has some of its own gadgets, the one that sticks out being adaptive damping. It's easy-going enough in Normal, with a well damped ride, and is a bit more controlling and firmer in the Sport mode, as you'd expect. Like the Focus it also holds gears for longer in the go-harder mode, but unlike the Ford has no shift paddles for manual control. It does have a separate shift gate at the lever, however. Either way, we never bothered using either system for they're not needed.
Other gear specific to Scala includes an umbrella in the driver's door, driver fatigue alert, adaptive LEDs, and four USB-C outlets. Each comes well equipped with 18-inch alloys, LED headlights, sat nav, dual zone air, comfort entry and push button start, AEB and lane keeping, compatibility with both smartphone types, and multifunction wheels. Both have a EuroNCAP five-star crash rating, the Focus also acing the local ANCAP version. Mention of five, they both come with extended warranties, out to five years, with no limit on kays travelled for the Ford, 150,000km for the Skoda.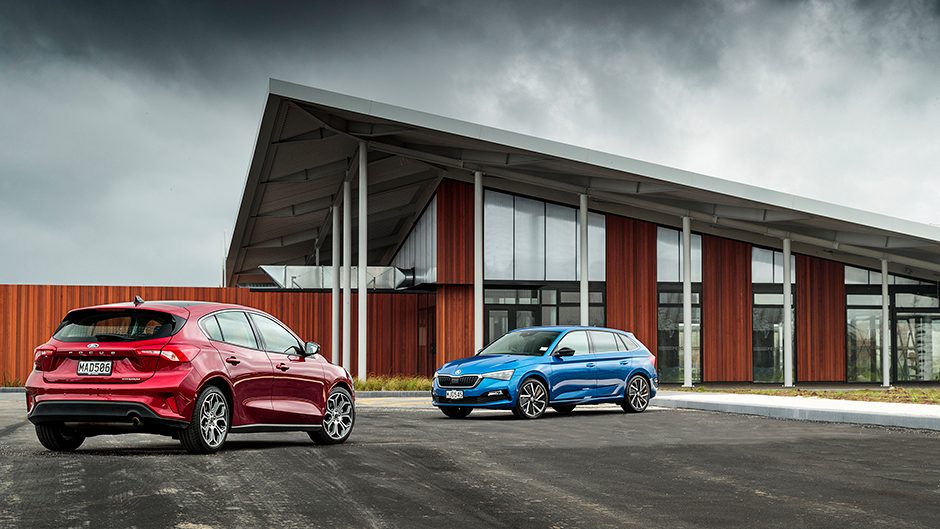 Both of these are marked stylistic improvements on their forebears. The Ford looks right up to speed with short overhangs, nice curves and no bad angles, while the Scala is also rather appealing. Like Rapid Spaceback, it's not quite a hatch and nor is it a wagon, more like a half-way house. Whatever, it's much more pleasing to the eye than its predecessor. Much the same could be said for the interiors, the Ford's brighter on account of its enormous glazed roof, not that that does it any favours on the weight front, being 130kg heavier than the lightweight Scala.
Both this and Focus ride on new platforms, optimised for interior space. They're both about the same length, with wheelbases of 2650 and 2700mm (Skoda/Ford) and they offer generous rear seat legroom, along with surprising hatch space, 467-1410L in the Skoda, 443-1320L in the Focus. Both feature easy 60/40 split folding that results in a two-tier load area.
On the performance front, it's genuinely difficult to separate this pair. They both run 1.5-litre turbo engines and are front-wheel drivers, but there the similarities end. One is a four-pot (Skoda), the other a triple, one with a twin-clutch seven speeder, the other with an eight-speed auto. Power output favours the Ford (134 vs 110kW), while torque goes the way of the Skoda (250 vs 240Nm). Both have quick shifting autos and they each manage an 80-120 overtake, the most accurate measure of accelerative prowess, in 5.5sec. It's much the same for the zero to 100 measure, a bit over 8sec apiece.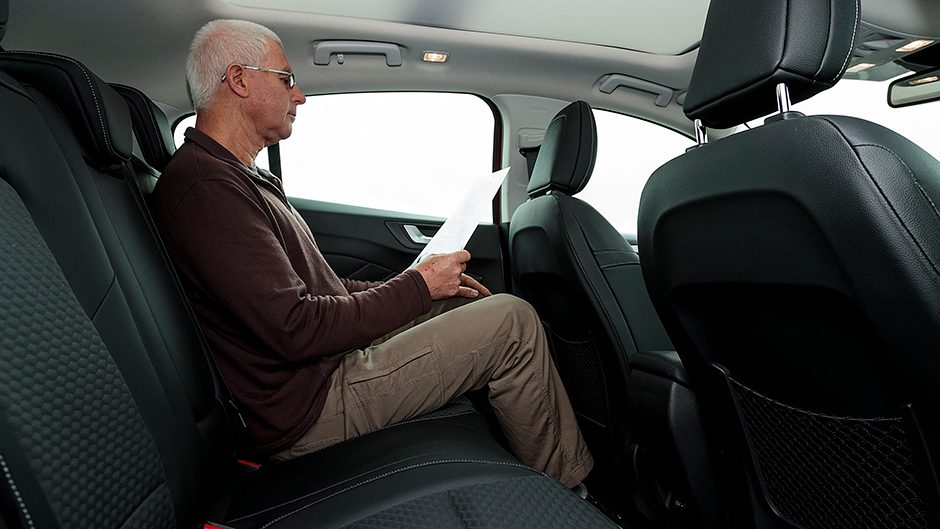 Interestingly, a common feature is displacement on demand, defaulting to two-cylinder operation under light loads. The lighter Scala seems to use less fuel overall, though under duress they both run into double figures.
As to ease of driving, little separates the pair. They offer bulk grunt from low revs, the Skoda perhaps with the edge in day-to-day driving because of its lighter weight and slight torque advantage. And also its nifty Sport transmission setting, a simple pull of the shift lever away. On the open road, they're both strong across the midrange. Occasionally when mooching, the Ford's eight-speeder takes its time musing about what gear to select. It's also slower off the line but its stop and go system works quickly, especially in heavy traffic.
What separates this pair primarily, and again the differences aren't that marked, is dynamics. The Ford has always been at the pointy end of the compact pack and despite a move to a torsion beam rear end that remains the case. It also has a new steering rack, the result being this is about the most analogue feeling a digital system can be. There's no real feeling of artifice about the weighting, which is lighter than that of the Scala, and there's a genuine sense of road feel where it is more muted in the Skoda. But it's the zeal to turn-in that characterises the Focus drive, and while the lowered sport suspension is fixed, it deals with irregularities better than the Scala at open road speeds. At the grip limit it is also unflustered by lift-offs which tighten the line, where on occasion the Scala can transition to roll oversteer.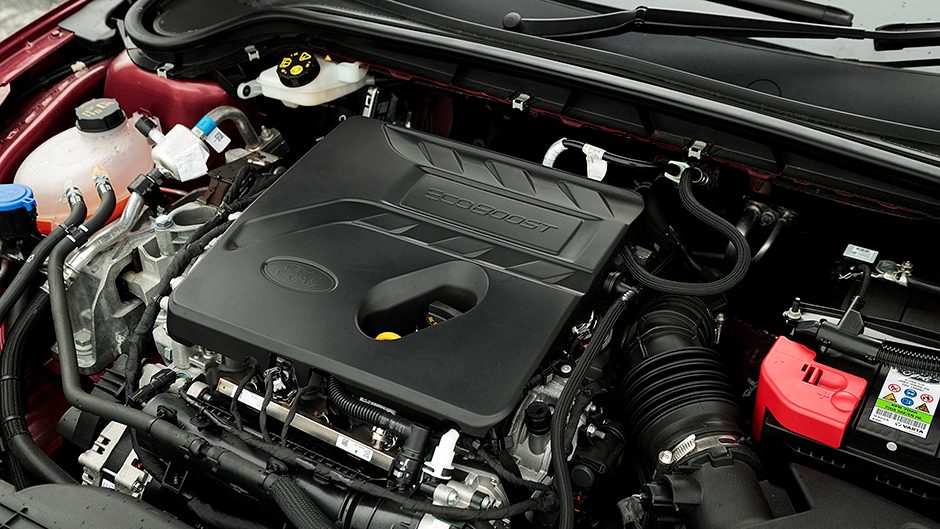 Back in town, the Skoda in 'Normal' mode is a little more forgiving of surface lumps and bumps. But the Focus seats are markedly better than those of the Skoda, more supportive, encompassing. As to how easy the minor controls are to operate, at least from the pilot's seat, they both have their moments. Each has a central touchscreen, most of the HVAC controls in the Skoda relegated to this, though temperature remains controllable by either passenger using a rotary knob. On the Focus, all such controls are separate from the touchscreen.
We prefer the pushbutton starter of the Skoda. It's located right where the key might once have been inserted, so there's no need to go looking for it. By contrast, the Focus start stop button is a left handed affair, located at an odd angle behind the steering wheel.
Between the main instruments in each car is a drive function screen, the Skoda's a bit more logical in use than the Ford's. However, turning off lane keeping in the Focus is a one-touch end-of-the-wand affair whereas it's a bit more fiddly in the Scala. You're probably getting the feeling that there's not a huge amount to differentiate this pair, but there's enough of a difference that those chasing fuel economy and additional space will probably be drawn to the Scala, while others after dynamics and style may well lean towards the Focus.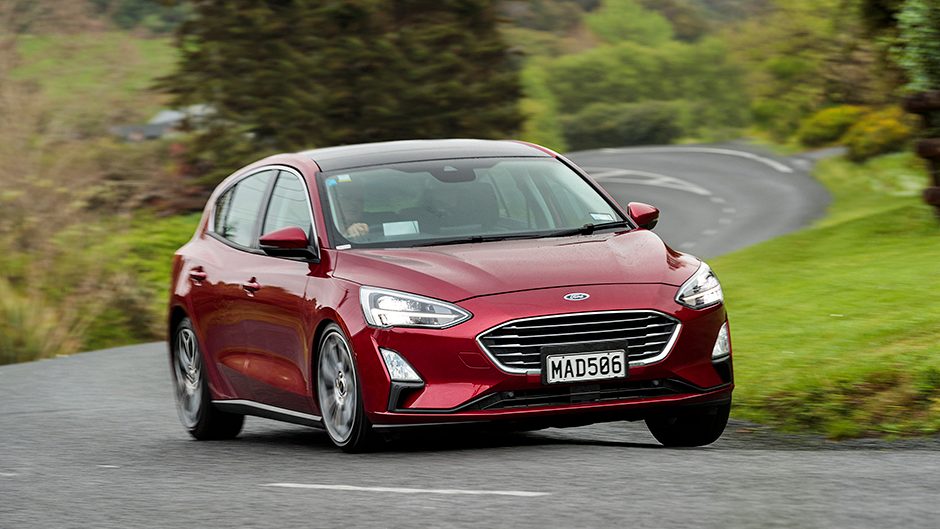 Yes, the Ford is $3k more expensive, but there are also ST-line and Active Hatch variants for $36,990, or if you prefer a diesel wagon at $37,990, while Scala alternatives include the less dynamic Sport model at $34,990 and the 85kW/200Nm 1.0L triple turbopetrol Ambition for $29,990 which represents a lot of space for not a huge investment. The base Focus, by way of comparison, is the Trend petrol at $31,990, packing the same engine and transmission as the Titanium model $10k away.
One other vehicle we should mention that treads a fine line between these two is the Mazda3, available in hatch or more comely sedan, at slightly higher comparative price points, though for spec, performance and build quality that's arguably justifiable.
| | | | |
| --- | --- | --- | --- |
| Model | Ford Focus Titanium hatch | Price | $41.990 |
| Engine | 1496cc, IL3, T/DI, 134kW/240Nm | Drivetrain | 8-speed auto, FWD |
| Fuel Use | 6.4L/100km | C02 Output | 147g/km |
| 0-100km/h | 8.25 sec | Weight | 0000kg |
| | | | |
| --- | --- | --- | --- |
| Model | Skoda Scala Style | Price | $38,990 |
| Engine | 1498cc, IL4, T/DI, 110kW/250Nm | Drivetrain | 7-speed twin-clutch, FWD |
| Fuel Use | 5.7L/100km | C02 Output | 129g/km |
| 0-100km/h | 8.10 sec | Weight | 1265kg |