Holden and Ford still battle for buyers of large vehicles but now people are more interested in big SUVs like Trailblazer and Everest. Is Ford's only seven-seat option worth its hefty premium?
Nowadays we call anything with an inch of added ground clearance an SUV yet that hasn't killed off the real 4×4 wagon. Many manufacturers still offer a rugged option, or a ute with a boot, like these two. Ford's Everest is underpinned by the T6 Ranger platform while the Colorado donates its bits for the Holden Trailblazer.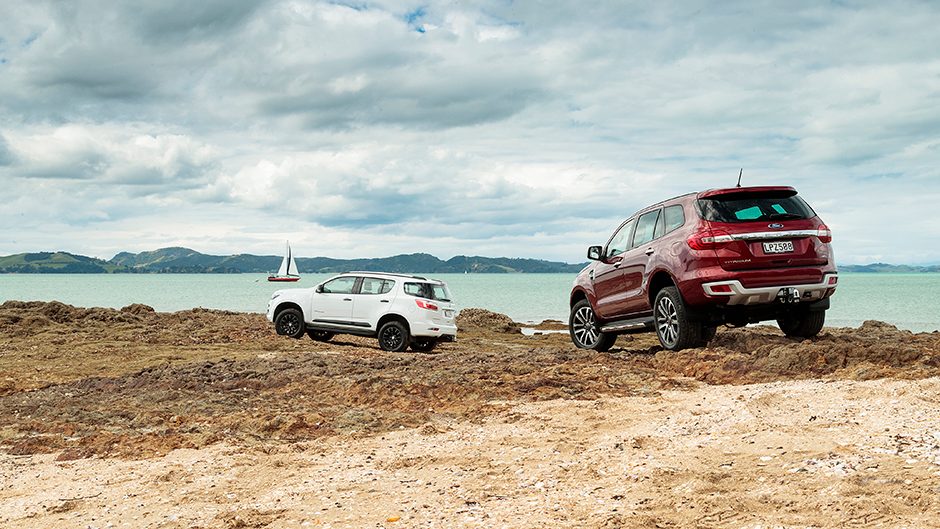 The old formula is still used for transforming a pick-up into a wagon; the engine and running gear carry over while the chassis is a bit shorter overall and the rear axle is located via trailing arms, a roll bar and coil springs. This improves the ride quality for passengers without sacrificing too much in the way of axle articulation, ground clearance or towing capacity.
These are made for cross country adventures, yet many city folk like 'em too. Maybe they need to tow something a crossover can't, or they live on a street with annoying speed bumps, as these things sail straight over them. As kid carriers they aren't as refined as a unibody crossover, like Holden's new Acadia for instance.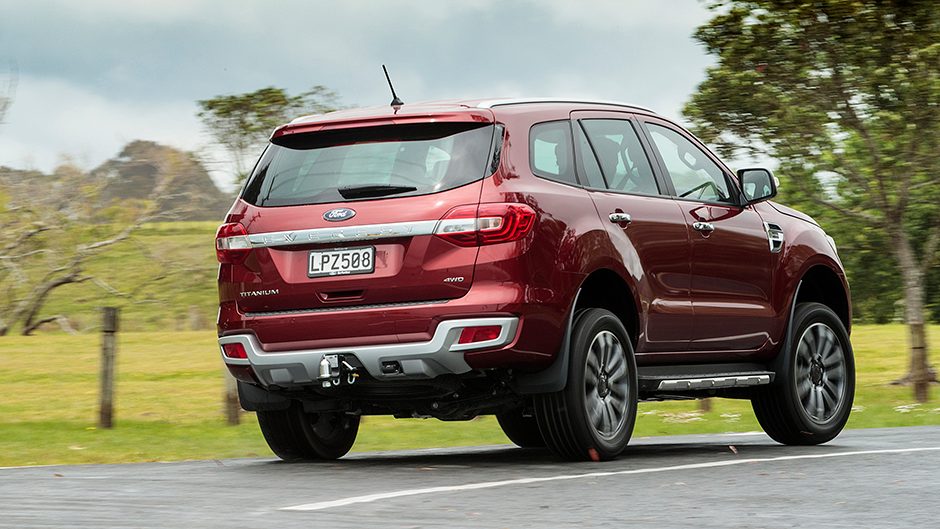 But for Ford, Everest is the only seven-seat option, and it has recently been updated. Its market brief aims a little higher than the usual ute-based competition with added hardware, refinements and specification which also brings a heftier price tag. We confess that when we concocted this comparison we thought that the price of Everest was closer to the $80k mark while the Trailblazer, in top Z71 trim, was around $70k. Should have checked the price listings beforehand as the Everest is $88k, while the Z71 is a relative bargain at $65k. So is the Everest worth the extra?
Everest updated
Most of the work to Everest has been done under the skin where the new 2.0-litre four-cylinder bi-turbodiesel replaces the 3.2-litre five-potter. While there's been a reduction in capacity, output increases and there are now a heap more gears with the substitution of a ten-speed auto.
The bi-turbo delivers more power (plus 14kW) and torque (up 30Nm) and so where the old 3.2 Everest was stretched to break 100km/h in 11.8sec, it now stops the clock at 10.2, and completes the overtaking run in 7.7sec, down from nine seconds. Claimed fuel consumption is reduced from 8.5L/100km to 7.1 on average. Win-win then.
There's just one Everest now, the full monty Titanium which has gained a few extras with upgraded driver assistance features, a smart key and a hands-free power tailgate. The infotainment uses Sync3, which enables the use of Google and Apple maps when you plug your phone in, though there is in-built nav should coverage drop out. Physically, they've restyled the grille and the 20-inch wheels while inside there are new colours and materials.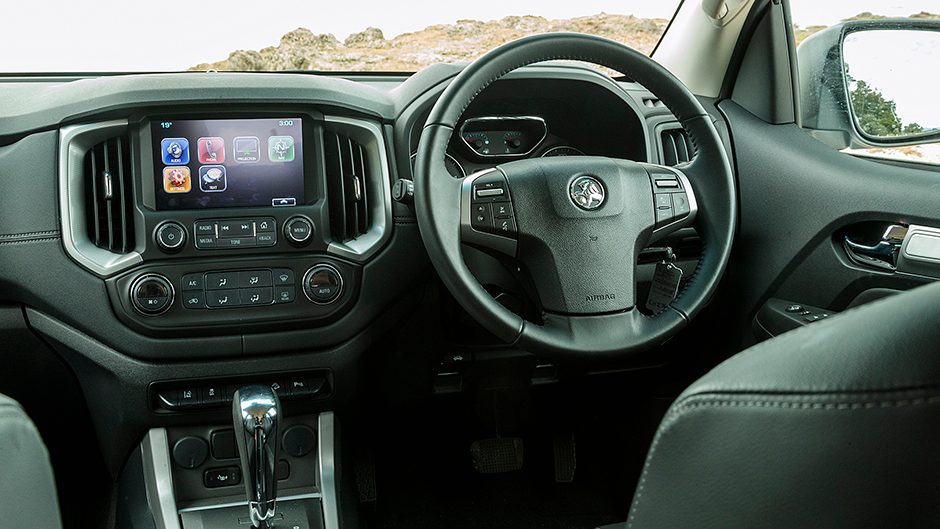 Holden's Trailblazer Z71 is a styling kit for the LTZ, adding black details and the big bonnet decal. Otherwise Trailblazer is as it was when it launched in 2016.
Tough looks outside and in
Part of the appeal for buyers is the look; these appear ready to scale mountains with XL ground clearance and short overhangs. We reckon Everest wins the catwalk parade, with classier finishing touches about the place, though there's still too much hard plastic for the price asked. However, compared with the 'Blazer, it does impart a more upmarket feel, offering more robust build quality.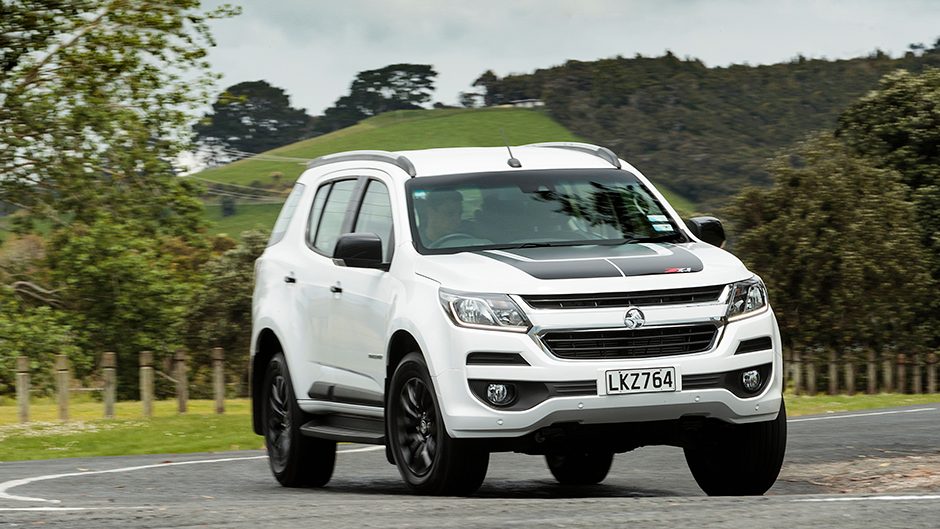 The higher price brings more gadgets too, like a smart key, a hands-free powered tailgate, active noise cancelling, tri-zone air, a panoramic roof, acoustic glass and a self-parking function, handy for getting this big truck into tight spots. There's improved AEB with pedestrian detection, a blind spot minder and active cruise and lane keeping.
The latter is a bit lax in operation, allowing Everest to wander out of the lane before activating, or not at all, despite well defined road lines on both sides. The cruise performs better, though isn't of the stop and go kind, deactivating below 20km/h. Trailblazer gets collision, lane departure and blind spot warning systems but nothing active, while front and rear sensors and a rear camera are the only onboard helpers. Both however carry a five-star crash rating.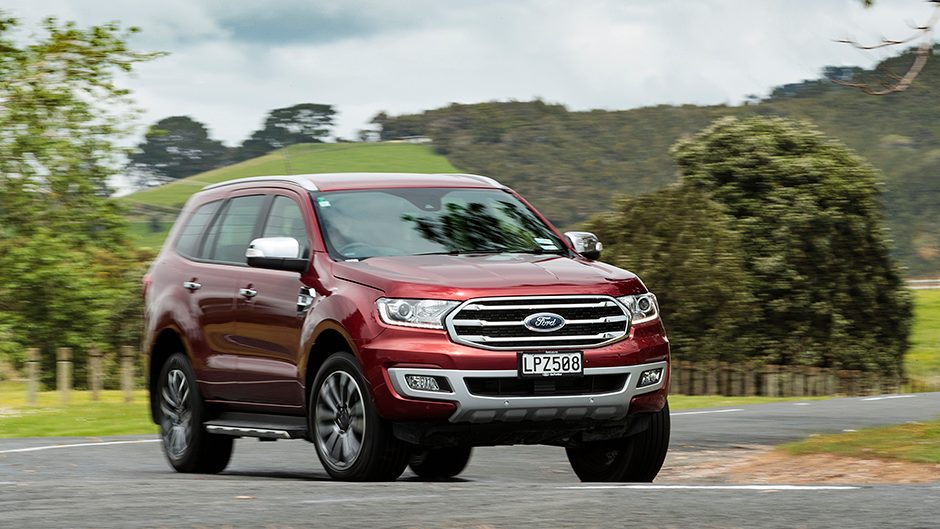 The driving position in Everest is better, with more adjustment and a softer, more supportive seat, yet neither has proper steering adjustment, both lacking for reach. The Ford's infotainment system has more features and better resolution, though takes its sweet time to fire up first thing. Both support smartphone hook up. Everest gets Ford's new five-year unlimited kilometre warranty while Holden counters with three years/100,000km of scheduled servicing.
All-terrain troop carriers
With a big chassis and concessions to ground clearance, these don't have quite the same interior functionality of a unibody crossover, yet there's still useful room in all three rows. Both back benches are split 40/60 with a recline function but the Ford's can also move on runners, giving passengers more lounging space when pushed right back, and the seating positions are more sumptuous, complete with a 240V power outlet and a third zone of air con.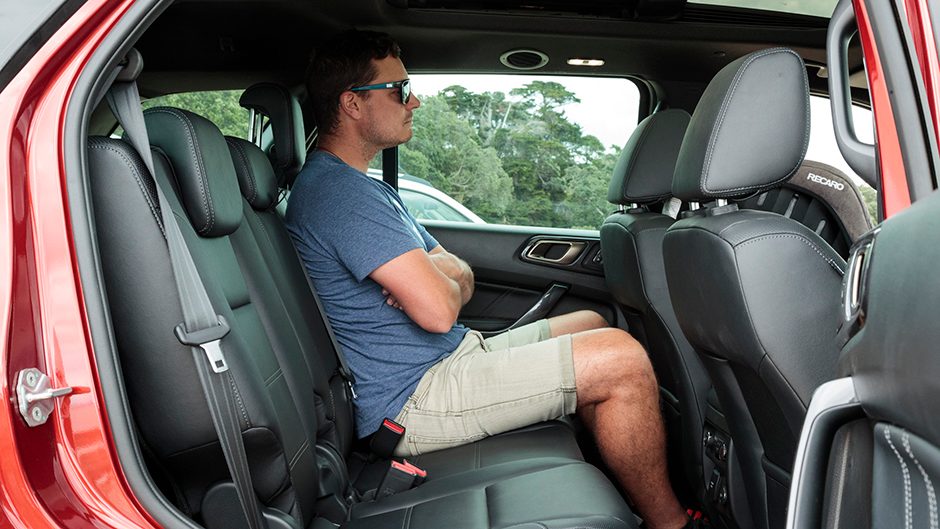 Access to the rear pair of seats is reasonable but not as good as in Trailblazer where the middle-row seats tumble forward. Everest has a powered third row, each pew motoring up and down at the touch of a button. The seats are quite upright, with minimal padding and, as usual, a better fit for the kids.
We suspect any adult perched there would start squirming after half an hour. In the Trailblazer there's a touch more space given over to feet, which means your legs fit better, though there's not as much headroom. The boot space is about even, each with similar width, length and height. There's not much room left with all seats in place, just enough to squeeze in a few overnight bags.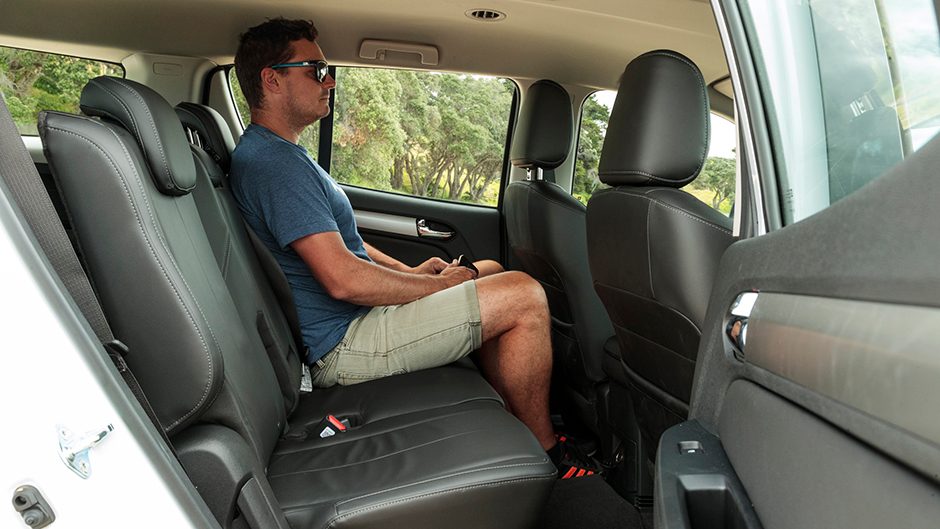 Town and country
Neither rides as serenely as a crossover, the body-on-frame construction transmitting a few jiggles along the way, but Everest isolates more of the road beneath. The Trailblazer has a firmer urban canter and its 2.8-litre diesel is rowdier too. The new four-cylinder in the Everest is not without the odd clatter but is generally quieter, especially when working hard. Each rig has easy, well assisted steering, the Ford's action a little lighter and both have more manageable turning circles than utes. Neither is cumbersome in traffic or car parks, and there's good all round vision from the command driving positions, both with decent mirrors and a wide angle backing camera.
The Everest's bi-turbo builds boost quickly and the ten-speed hooks up smartly. It's quick with the changes both up and down the ratios, making sure the engine's always good to go. That's handy when you roll up to a Give Way sign and you know you'll make the gap, where the six-speed Trailblazer takes a moment longer to do the same thing.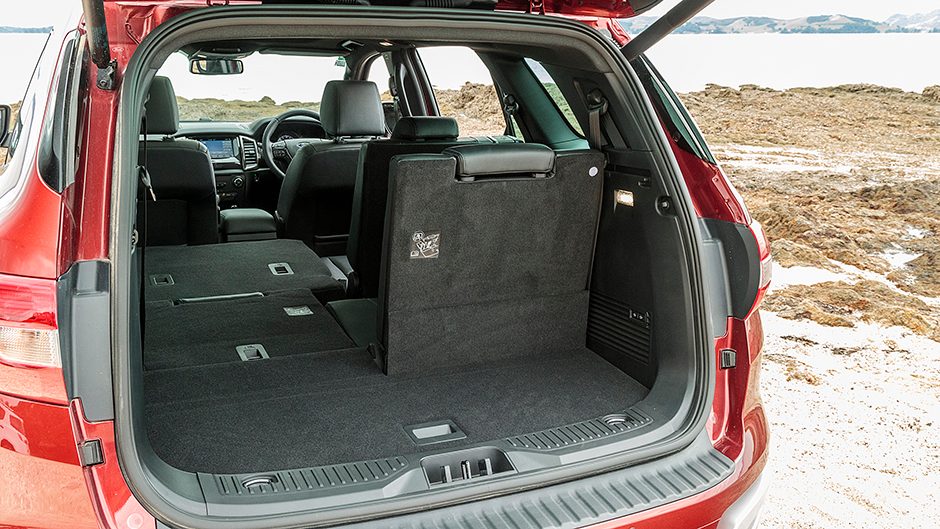 While it'll pull from 1500rpm, it's best from 2000rpm where the 500Nm of torque really ramps up, while Everest feels good to go from 1500rpm, the delivery is smoother, and it has more gears to ensure the engine's always in the zone. But it's still heavy, all 2400kg of it, giving the Holden a weight advantage. And so it does Blaze a Trail on road. It's quick for this type of rig, though the Ford is now nipping at its hooves.
Out on the loose, the 'Blazer shows a decent turn of pace when it's on boost and in the right gear. Occasionally it gets caught between ratios but there's still enough torque to pull it right. It's firmer ride sees it roll less, though the more rigid rear end can induce some bump steer at times. The Everest's more forgiving ride means there's more roll, and so both will end up understeering when pressed, though each has good steering so is easily managed.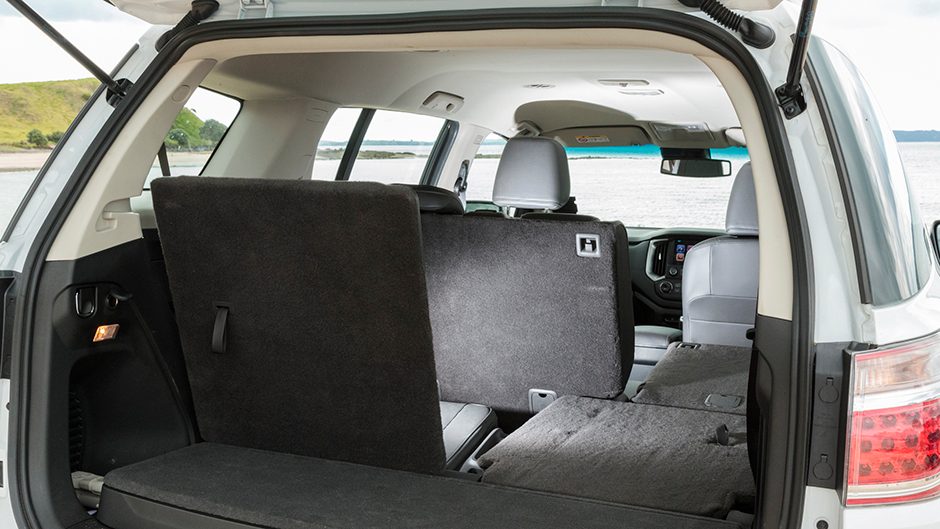 While they both challenge the ESP at times, neither gets unruly. We did note in Everest that some of the larger bumps would cause it to spring up on the rebound and sometimes it was enough to arm the ESP into oh-my-god roll over mitigation mode. Everest's brakes get more of a workout too with its extra weight. As to fuel use, both will return around eight-point-something on the highways and in the 10s for commuting.
Toughing it out
Like most urban owners, we didn't trouble the off-road hardware but both get a low-range transfer case, the Everest with a rear diff lock and a terrain selector with a sand, snow and mud and a rock crawler mode. Its full time AWD set-up gives it a traction advantage, though with a proper LSD, the Trailblazer does pretty well in 2 Hi.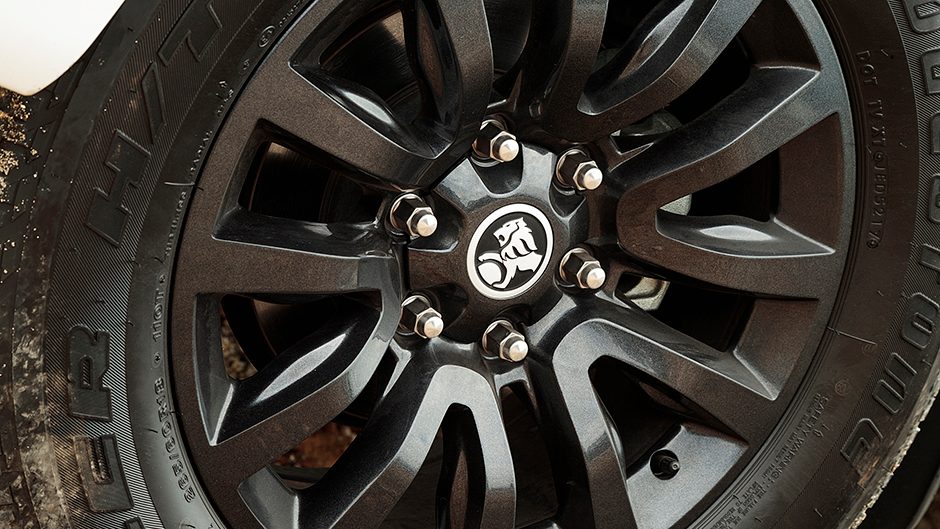 However, its 4×4 mode is a constant 50/50 split, where as the Ford's is variable, and so there's no binding of the driveline. And the Holden's 4 Hi is only really recommended for loose surfaces. The Everest comes with a tow hook as standard and can haul 3100kg, 100kg more than Trailblazer.
So worth the extra?
For value hunters the $20k disparity will rule Everest out, as Trailblazer does everything it's asked reasonably well. But Everest is the better truck in most regards; more refined and capable, more laden with helpful features and its powertrain is superior in operation, if not quite straight line speed. While there's not much in it for cabin space, the Everest is a nicer truck to travel in. So if the money's not an issue, yes it's the better truck.
| | |
| --- | --- |
| Model | Ford Everest Titanium |
| Price | $87,990 |
| Engine | 1996cc, IL4, TDI, 157kW/500Nm |
| Drivetrain | 10-speed auto, AWD |
| Fuel Use | 7.1L/100km |
| C02 Output | 184g/km |
| 0-100km/h | 10.17sec |
| Weight | 2488kg |
| | |
| --- | --- |
| Model | Holden Trailblazer LTZ |
| Price | $64,990 |
| Engine | 2776cc, IL4, TDI, 147kW/500Nm |
| Drivetrain | 6-speed auto, switchable 4×4 |
| Fuel Use | 8.6L/100km |
| C02 Output | 228g/km |
| 0-100km/h | 9.29sec |
| Weight | 2203kg |