Here's a delectable trio of machines, all sharing the diamond badge. We talk Evos with a passionate custodian.
Warren Currie has probably been an Evo guy longer than most. His connection to Mitsi's most famous performance line stretches back 23 years when he bought his Evolution II with just 27,000km on the odo.
He'd just had his Series 4 RX-7 stolen when a mate turned up in an Evo II RS. "I was sold on it. They were only about three years old and there weren't many of them around at the time."
Warren didn't want an RS with its pared back interior and after some research discovered the GSR grade with its relative luxuries like the Recaro interior, carpet and air con. He found one on Autotrader and has had it ever since. "It looked aggressive parked next to cars back then, and I still get a good feeling when I look at it now."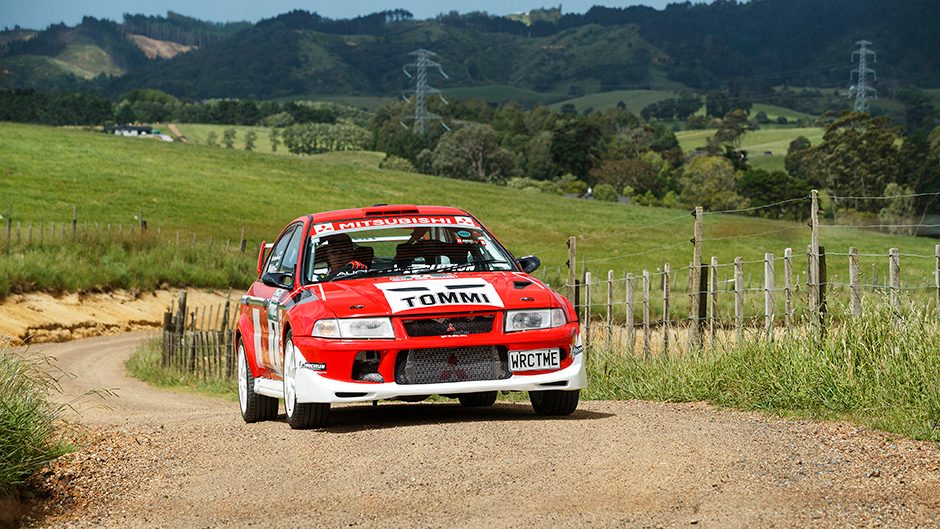 The Evolution II debuted in 1994 and, as the name suggested, it was an update on the original. Extra boost, a freer flowing exhaust and better valve lift helped the 2.0-litre 4G63 make 191kW at 6000rpm and 309Nm at 3000rpm. Kerb weight for the GSR was a claimed 1250kg. The main aim of the Evo II was improved handling, and redesigned struts and lower arms helped relocate the front wheels forward by 10mm to increase the wheelbase. The 205/60R15 tyres were wider and taller, increasing both ride height and track. The front sway bar did away with the rubber bushings, a quicker steering rack was installed, the front camber was tweaked and the shocks tuned. A lower front air dam and a wicker element to the base of the rear spoiler helped improve aeros. Mitsubishi made 5000 IIs to comply with the rules, and it notched the Evo's first WRC victory in 1995 at Rally Sweden.
This Sub-eating Evo was his daily for many a year, and it has racked up 279,000km now. In the early days he did what all boy racers did – modify it for extra power by removing some of the restrictions and tuning it up. He took in a few track days with it at Taupo on the old circuit and Pukekohe prior to the days of the kink, where he reckoned he could hit about 230km/h wringing it out. The interior looks remarkably clean, but that's because he found a near new one on Trade Me recently. Someone had converted a road car to rally spec back in the day and just happened to keep all the bits. "I've got quite a few bits stockpiled around the place," he says as they get ever harder to come by.
It still has its original running gear but over the years the engine has needed a top-end rebuild after the cambelt snapped, the gearbox has been reconditioned and the notorious Mitsi roof rust has been seen to. It rides lower, as Warren says the Evo II looks like a tractor with its factory ride height whereas his has a bit of a stance. The 15-inch OZ wheels are stock, though he's got some 17s for the track with a lower profile tyre. "You don't get the roll out of those tyres. This you turn and wait but you put on the 17s and it's much quicker to turn."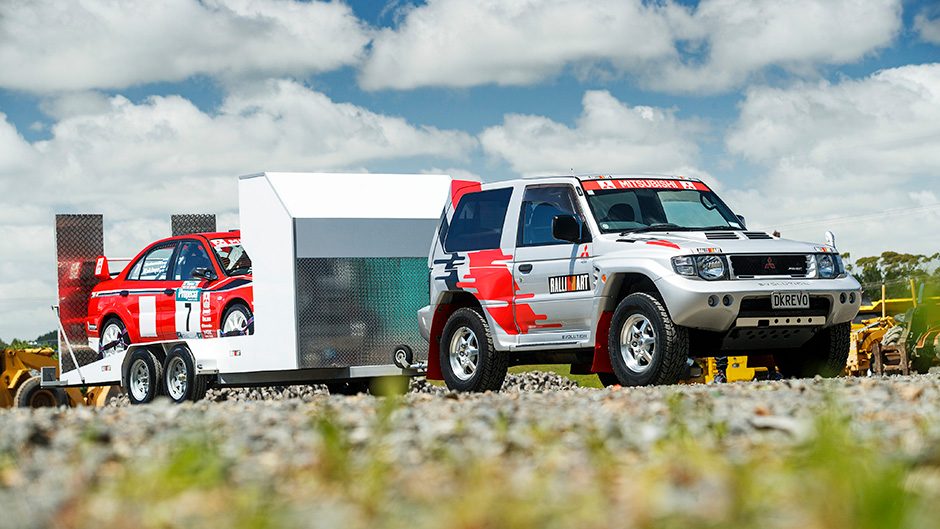 And this runs a bit quicker than stock too after the engine finally spun a bearing at 250,000km. "For the rebuild, I had plans to make it into a bit of a sleeper." While the work was underway on building a stronger bottom end, Warren was in at Mitsubishi getting some parts when he came across one of the then new Evo X Final Edition models for sale. He would end up bringing home more than a few new bits with him from that trip, adding the Evo X to the garage. That changed the plans for the Evo II. "I realised I should try to keep it as original as possible. We still had some fun with the engine with some porting and other bits though."
We had a brief strop in the old girl, and found it still fast enough for a 'classic'. It pulls well once the boost is fully tapped at 4000rpm and spins strongly up past 7000rpm. The exhaust note is loud, the accompanying 'woosh' of the blow-off valve decidedly 90s. The Evo still has a nimble feeling about it, being a relative lightweight by today's standards.
But its mission in Warren's life changed somewhat a few years ago. "When I was on the track, I had a moment and realised something could have gone quite bad. I realised I needed to find a track car; I couldn't put the poor Evo II through too much more."
He didn't want to drive the X on track, so spent six months trying to find a IV, V or VI specifically for track use. With the blessing of his 'tolerant wife' he looked at about seven or eight across the country. "Boy, a lot of them were in bad shape." Then he came across an Evo VI rally car on Trade Me. "When I realised it was a Makinen Edition chassis, it was a light bulb moment. I went down to have a look at it but knew I was going to get it because it was a Tommi." Warren's plan was to turn it into a tribute to Tommi Makinen's rally car from the 2001 Propecia Rally of NZ. "I remember when we took the Evo II to that actual rally, chasing Makinen around. So I thought I can do a tribute."
This TME landed in NZ in 2004, and was turned into a rally car a few months later. According to the log book, it has been through quite a few hands in its time. He collected the car from Nelson, and couldn't resist stopping in at Manfeild on the way back to Auckland to turn a few laps. "It was set up for gravel with the ride height jacked up to 5000 feet, but it was great fun."
Warren only had six months to sort his Makinen tribute in order to reveal it at the Mitsubishi Owners Day. It got the once over at his mechanics, the brakes were uprated, he sourced some original Tommi rims and sorted a few other bits. But the main thing was to get it looking red again. "I had lots of body work to sort out, which took a lot of late nights. I turned the carport into a paint booth – it looked like an episode of Dexter. I've never painted anything before so I learnt a few things along the way, but got there in the end." Warren managed to sort the decals too, getting some made up using the old supplier. He ended up finishing the car just a few days before the big event.
"We made it through the parade but then out on the track, we promptly broke the transfer case." Warren admits that while it looked the part, he didn't really know the quality of what he had at that stage. He was a tad downbeat, putting the car in the garage for a couple of months. "I'd spent all that time, money and passion for the damn thing to break. I was on a high, because I'd not only turned up to the event with the Tommi but also the Evo Pajero."
Another of Mitsubishi's nineties homologation specials, the Pajero Evolution was designed to comply with Dakar's T2 class which required a build of at least 2500 vehicles. Produced between 1997 and 1999, it used the SWB Pajero with double wishbones up front and a more robust multi-link set-up at the rear. It had switchable 4×4 with Torsen differentials front and rear. Powering it was the 3.5-litre Mivec (Mitsi's variable valve timing system) V6 making the requisite 205kW as per the Japanese limit.
It's dressed with pumped-up guards, the bat wings around the back and, being a homologation special, the scoops and vents are all functional. In 1998, the Evo not only won its T2 class but took outright victory in the Dakar. It was one of the Pajero's 12 titles over the years.
Warren needed a tow car but didn't want a big ute. "I was searching for the tow ratings of vehicles and the Evo Pajero came up. I thought; 'how cool would it be to have an Evo Pajero towing a Tommi?" He found one in good condition, added the decals and although it was primarily intended to be a tow vehicle it has become a daily driver. "I never planned it to be. The V6 sucks gas, so I might have to get a Ralliart Colt or something for the drive to work," he jokes.
But back to the TME. Warren managed to sort the broken transfer case and set about building more of a track car. It now has Cusco diffs front and rear to improve traction on tarmac and every nut and bolt on the suspension has been sorted or replaced while the axles and driveshafts have been rebuilt. Over the Covid lockdown, he cleaned up the interior and managed to find the right steering wheel, at great cost he reckons. "I'm hands on, I like to do as much of it as I can. I'm a computer engineer, but I like working with my hands, and like to be able to show some effort for work done."
Speaking with a former owner of the car, he learnt the original engine parted ways with the chassis at some point and was replaced by an Evo VIII engine. The turbo has been changed from the original 20G deemed too laggy for rallying to a smaller 18G to get it spooling quicker. It has a Motec M4 controller making it easier to tune. The clutch he describes as either on or off but 'it's what you expect from the sort of car it is'.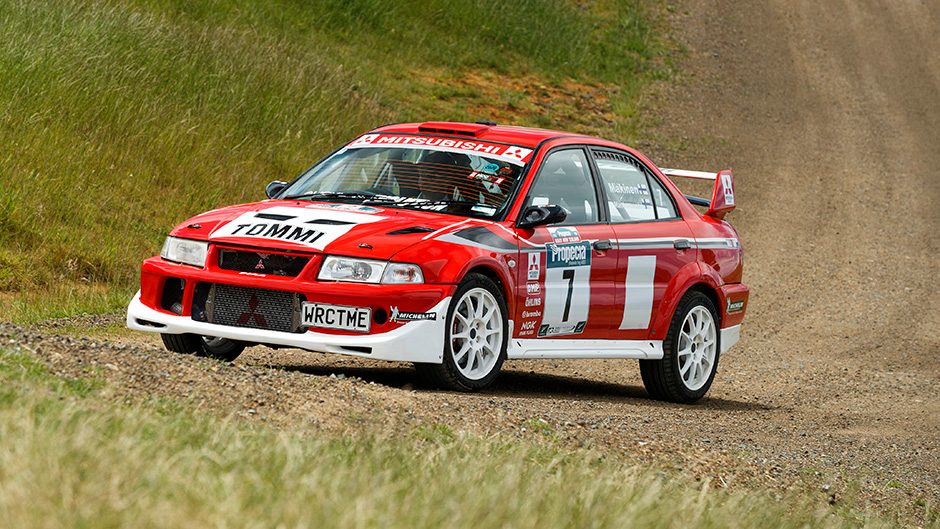 He says the engine is still a work in progress. "I've got it to a point where I can get some laps in. The plan is to get it on the dyno, and figure out what we need to do to make it stronger for enjoyment over the summer. I've been a marshal at a lot of motorsport NZ events and one of the reasons to get the car was to be on the other side of the fence for a change, to be in a hot race car, rather than being in hot overalls on the side of the road."
With prices of old Evos rising, is he tempted to part with the Evo II? "No, I've met so many people over the years by having it. My job is to keep enjoying these cars, preserve them and help others out by being a source of information for those in the club. It's just money, and I have an understanding wife. It's my passion and I'll keep following it."
Thanks to Andrew Hawkeswood for the use of Jacks Ridge.