Ducati has been working on the new MotoE machine for some time, and recently released the technical details of its "V21L" racer.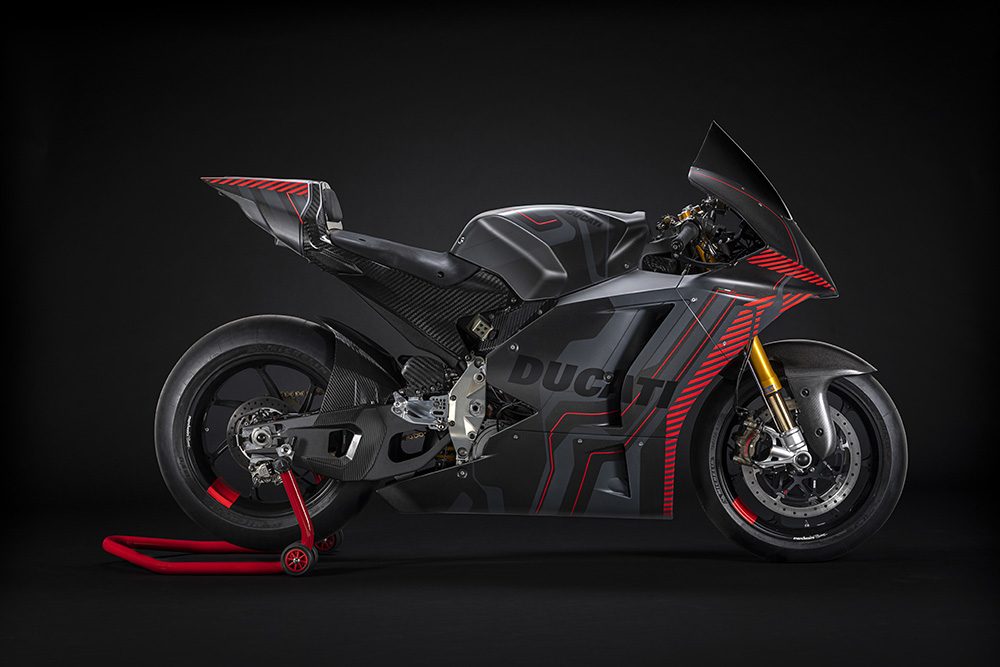 There are different ways for motorcycle makers to get into the electric bike game. One is to undertake years of R&D, and sell the result for moonbeams. Another is to agree to develop a prototype on the understanding that 18 of them will be sold for a series that will form part of the MotoGP circus. And then base your road on this…and also sell it for moonbeams.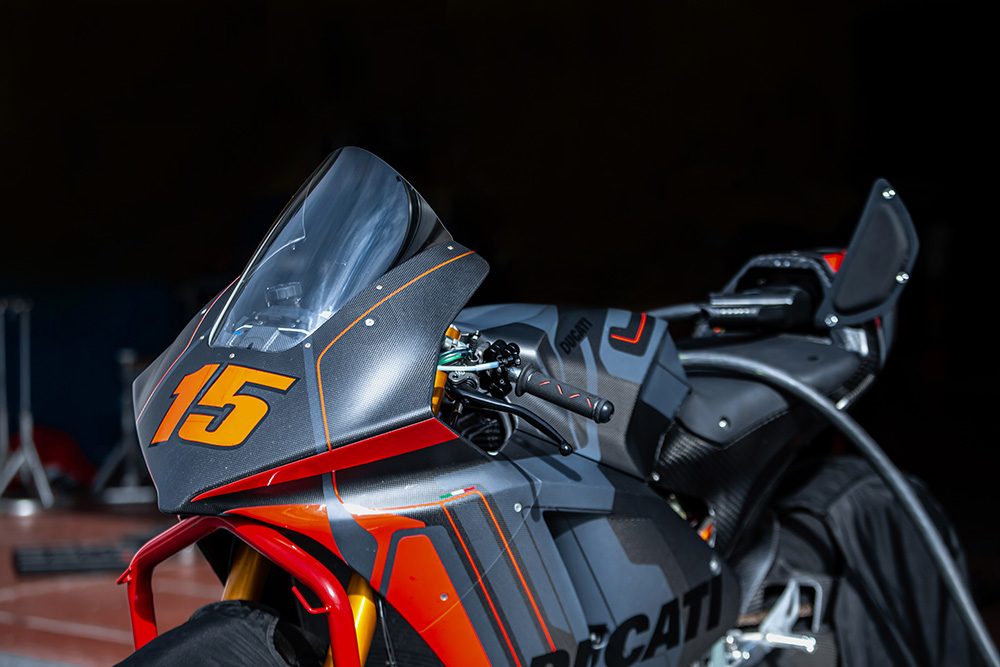 The V21L is Ducati's first electric motorcycle, and as of next year will form the basis of the FIM MotoE World Cup. It is the sole supplier of these electric racers.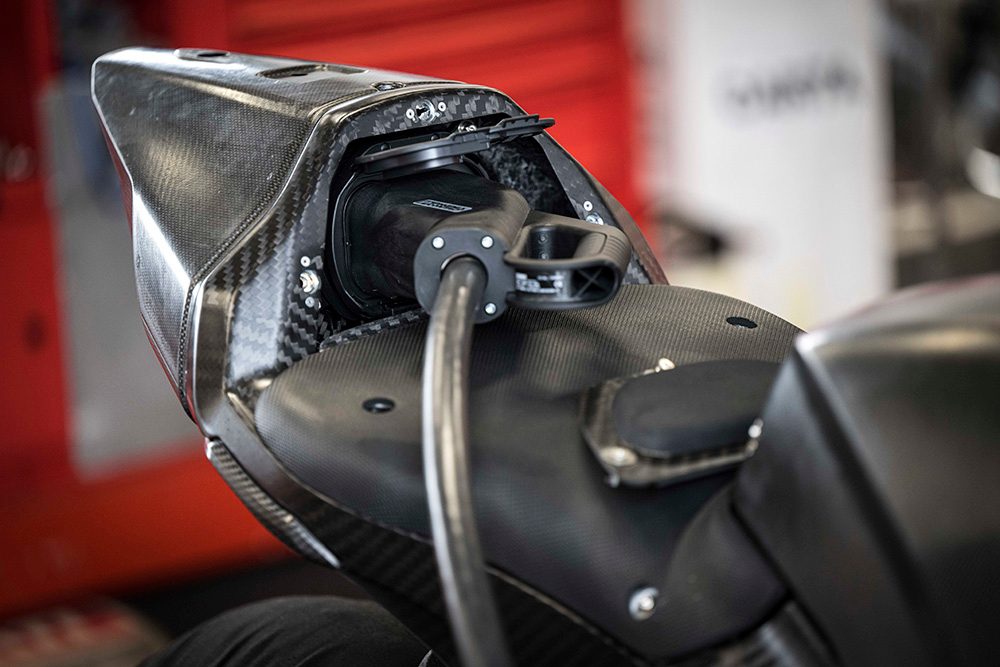 The situation is ideal for the Italian, allowing it to use the technology for a future electric roadgoing motorcycle.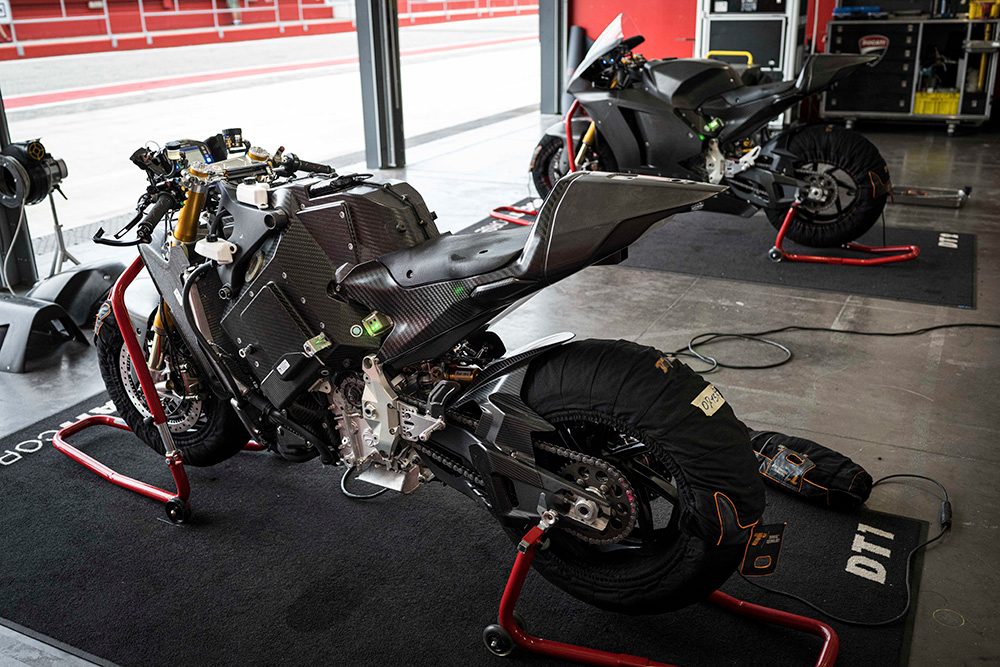 Claudio Domenicali, Ducati CEO, rode the bike recently and commented "I immediately realized that I was living in an historic moment…reducing CO₂ emissions and at the same time keeping faith with our DNA linked to racing. This project is a laboratory in which to build our future. When I returned to the garage I felt a deep sense of pride for what we were once again able to achieve."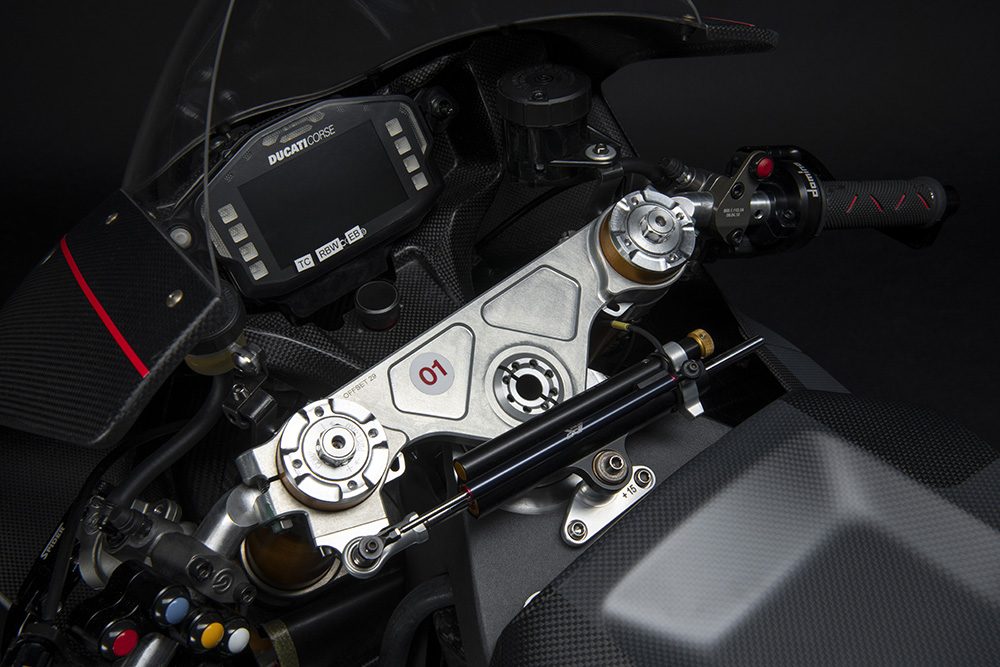 Ducati R&D took care of project management and motor development and simulations, while Centro Stile Ducati looked after design and livery. Ducati Corse handled electronic parts design, software, and simulations of dynamics and aerodynamics, along with assembly, testing and data acquisition.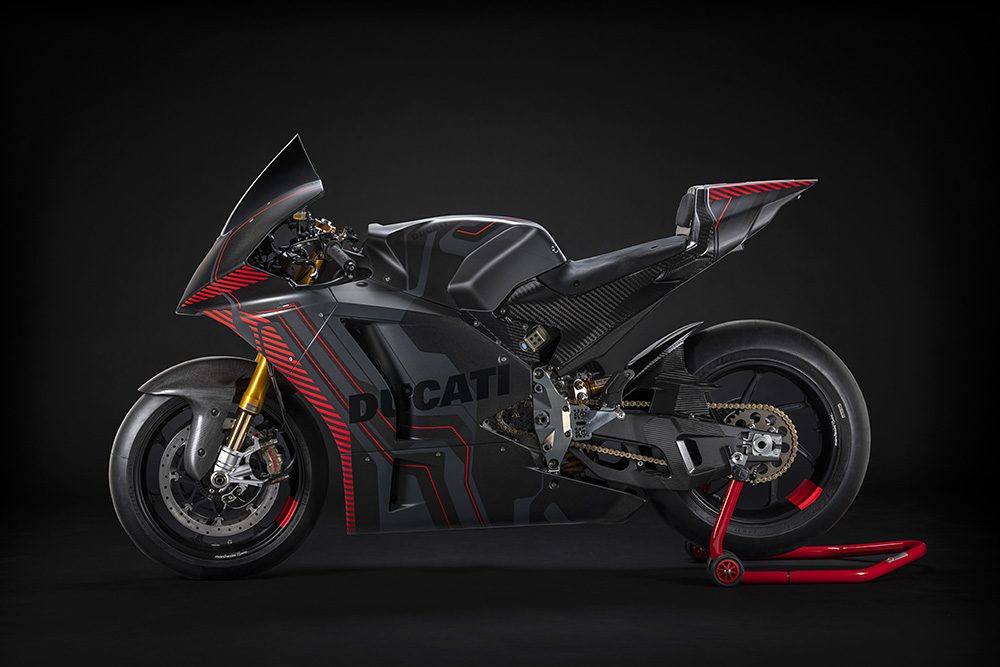 The result is a bike that weighs 225kg with its 18kWh battery pack, with peak power and torque figures of 110kW and 140Nm respectively. Top speed is 275km/h.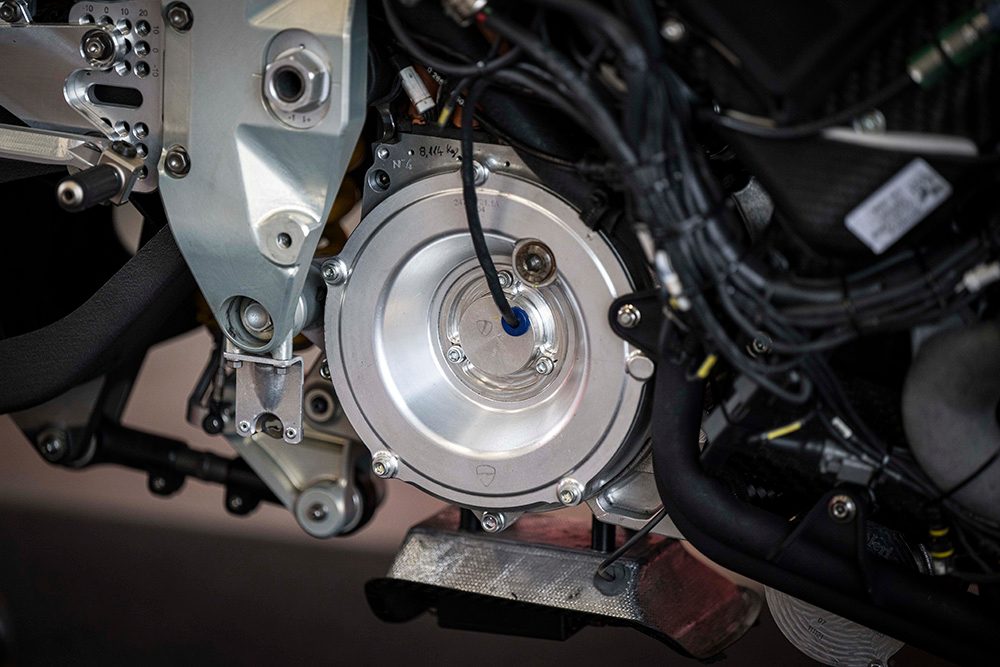 The battery pack shape 'follows the natural course of the middle area of ​​the bike'. This alone has 1152 cells, weighs 110kg and has a 20kW charging socket integrated into the tail section.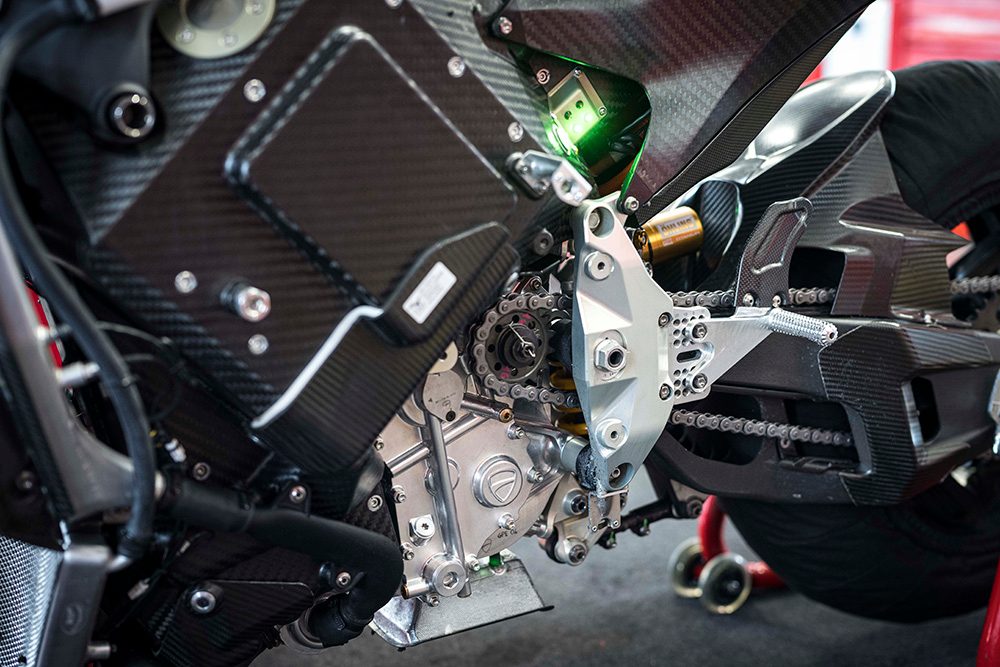 The motor weighs 21kg and spins to 18,000rpm while the electrical system runs at 800V for improved efficiency. Liquid cooling is used for the battery pack and motor, ensuring consistency of performance and quicker charging times. It takes around 45 minutes to recharge it to 80 per cent from exhausted.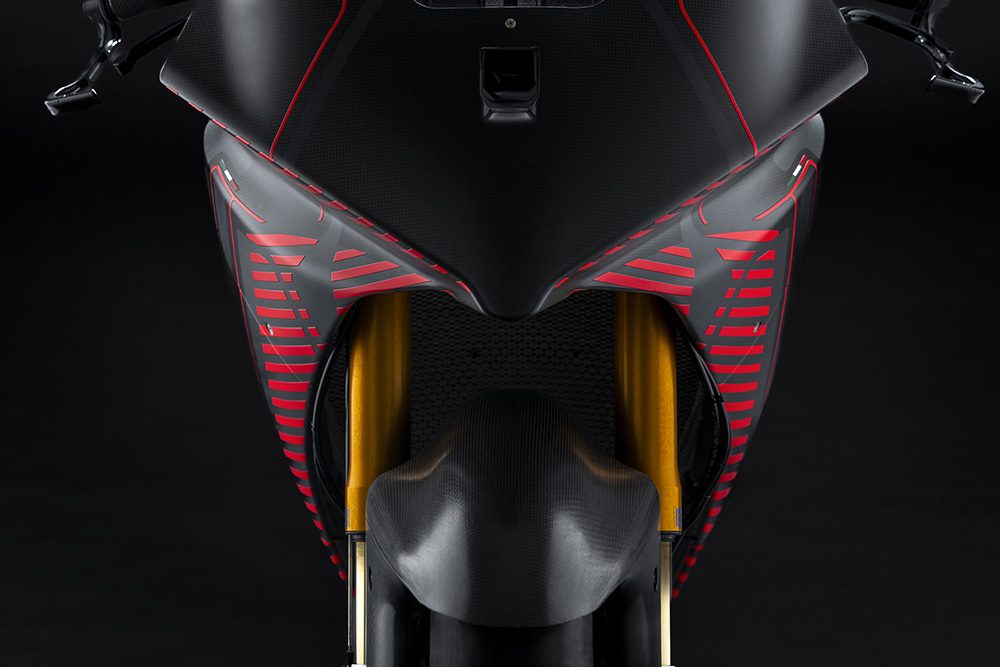 The battery pack is encased in carbon fibre which is also a stressed chassis component. A compact aluminium monocoque frame up front weighs 3.7kg. Its aluminium swingarm is heavier, weighing 4.8kg.
Top-shelf fully adjustable Ohlins suspension is used, and there's an Öhlins steering damper as well. Brembo brakes comprise double steel discs up front with a diameter of 339mm. Internal fins are used for disc cooling to limit fade under race conditions. Calipers are GP4RR M4 units activated by a radial master cylinder. There's an optional rear brake control positioned on the left handlebar.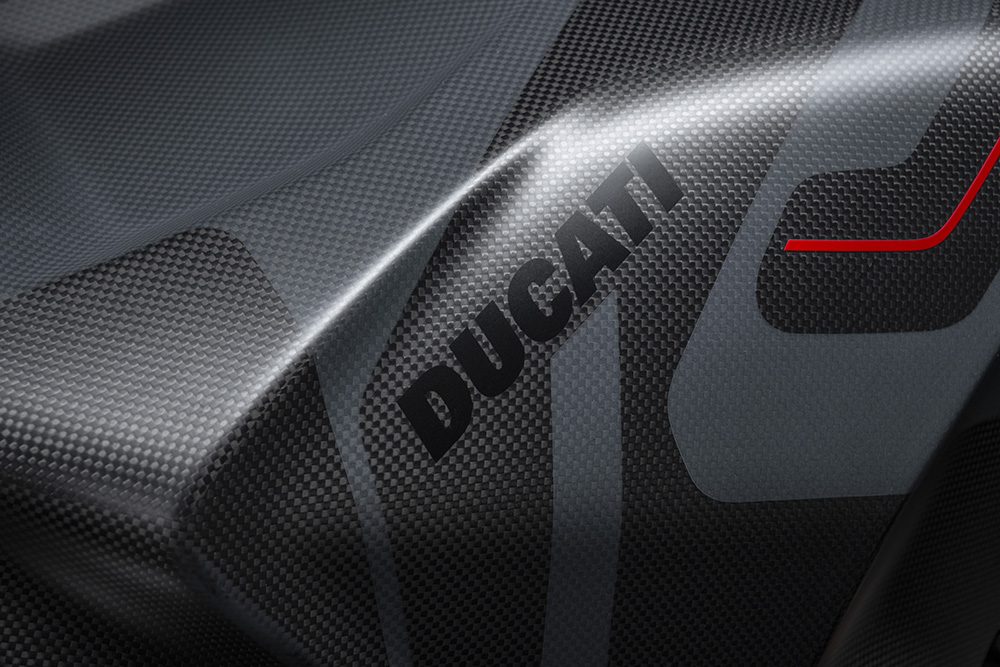 Development riders included Michele Pirro, Alex De Angelis and Chaz Davies. The aim was throttle and electronic response similar to that of an ICE powered racer.
The final chapter for Ducati is to develop an electric motorcycle that is sporty, light, exciting and able to satisfy all enthusiasts. Ideally, it would sell for discounted moonbeams.