Ducati has launched updated V4 members of the Streetfighter family, being the V4 and V4 S while also introducing a new numbered V4 SP2 entrant.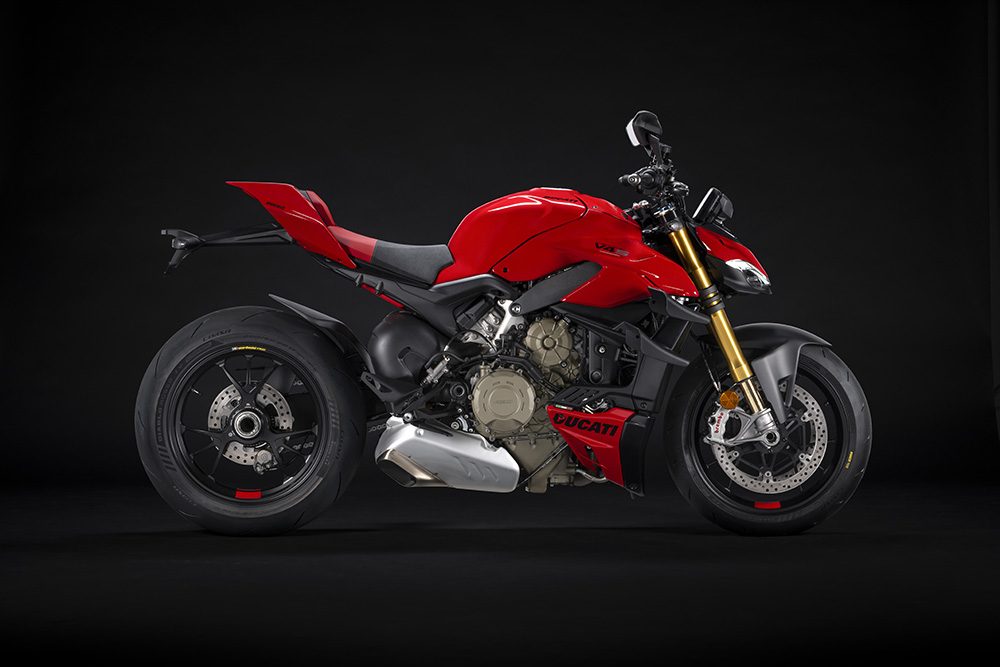 Initially released in 2020 with a face inspired by that of the Joker, Streetfigher V4 features a naked visage, high wide handlebars, 178kg of dry weight, a 208hp/123Nm Desmosedici Stradale V4 engine, biplane winglets and the latest generation electronics package pioneered in the recent Panigale V4 update.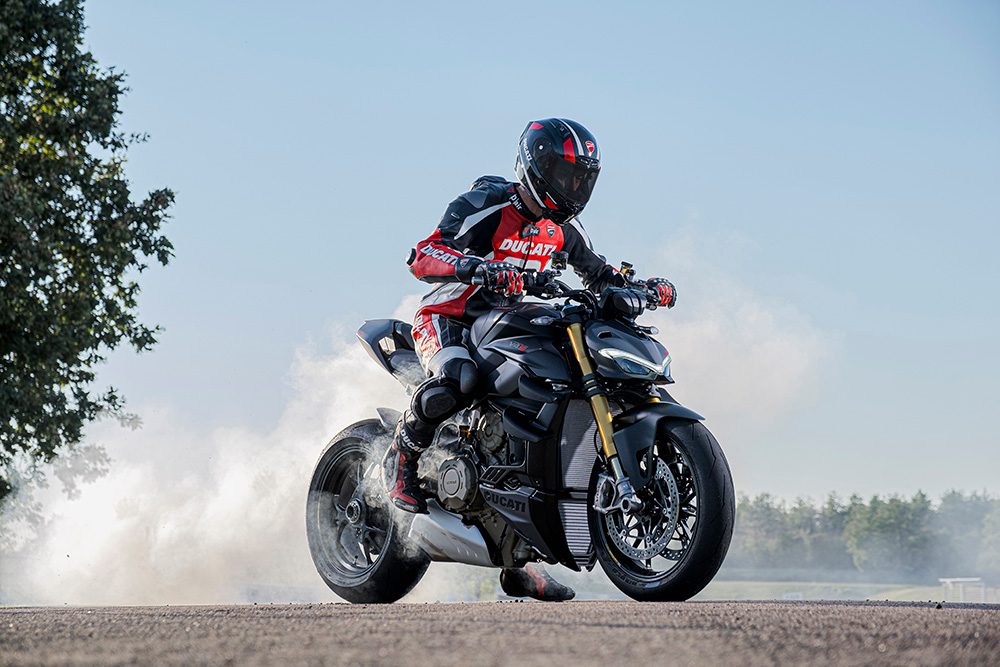 The latest Streetfighter V4 is a the standard single-seater configuration, with pillion saddle and footrests supplied.
Up front is a full-LED light assembly and V-shaped DRL similar to that of Panigale V4. The forward-canted front gives the bike a predatory look.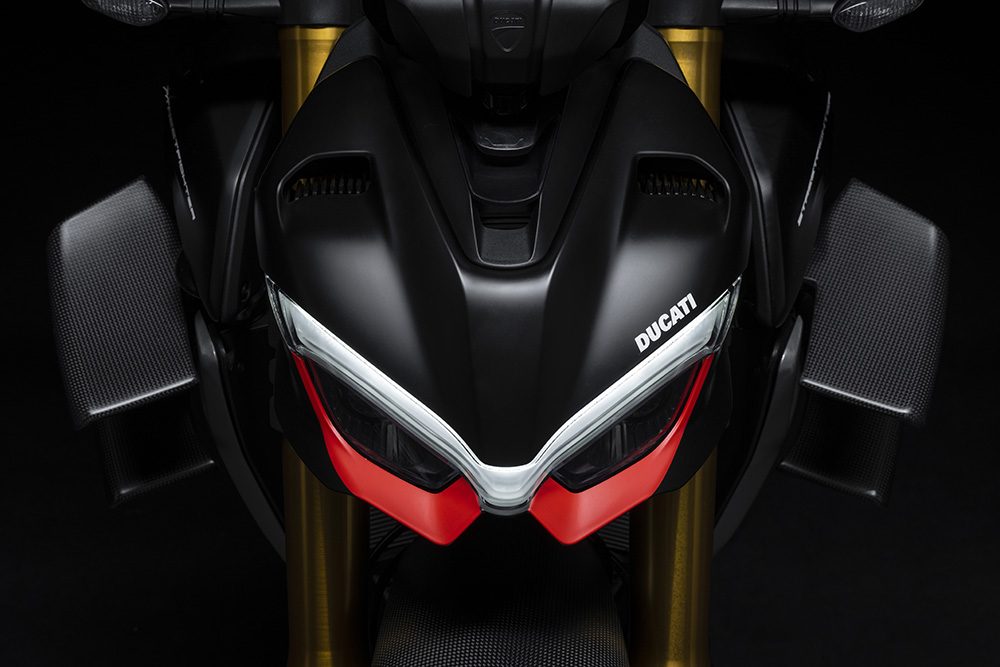 The fuel tank is redesigned along the lines of the latest Panigale V4, to encourage better rider support during braking and cornering. Capacity is enlarged to 17 litres and the tank is flanked by new side covers.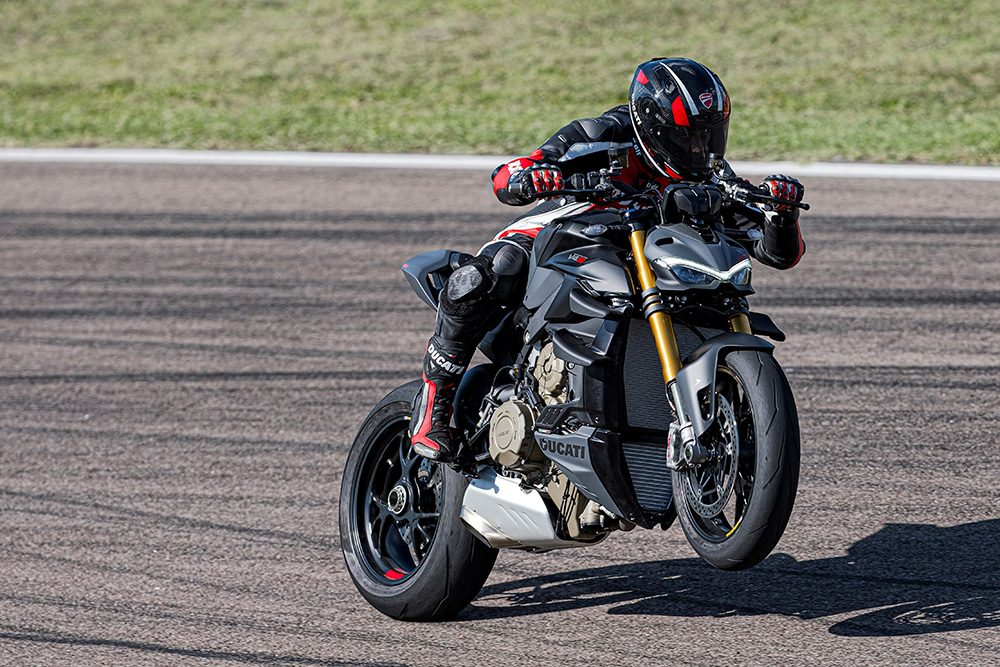 The minimalistic aluminium "Front Frame" and the engine are left as open as possible. In the V4 S version, the Streetfighter 2023 is available in a new grey livery for a more aggressive look.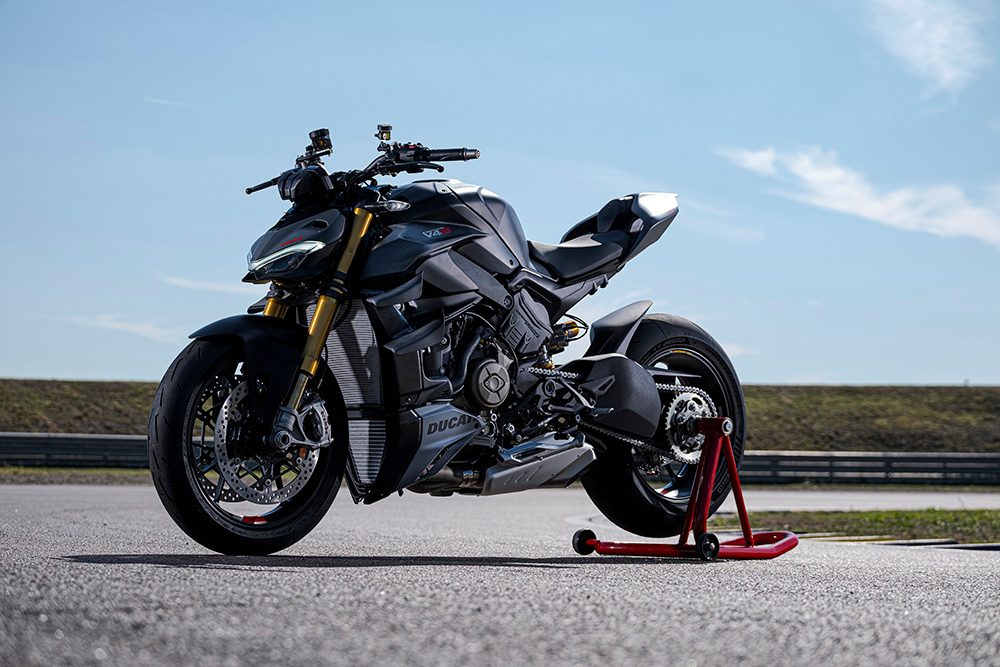 The new Streetfighter V4 features four engine operating modes, Full, High, Medium and Low. Full and Low are new, while High and Medium have been tweaked. There's also a new Wet riding mode. Recalibrations ensure optimum torque for the conditions.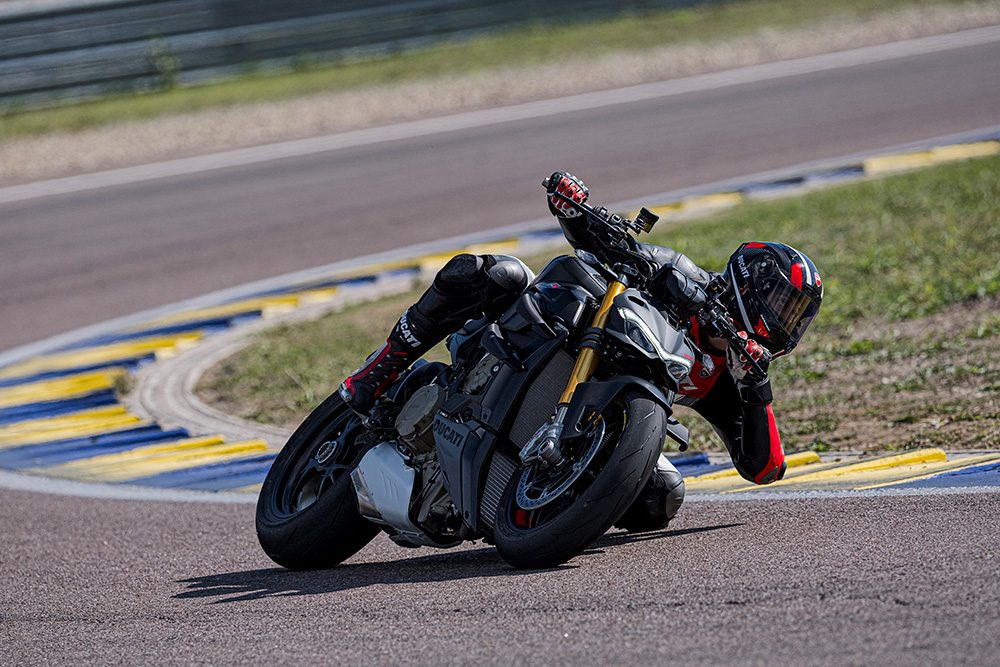 The dashboard of the new Streetfighter V4 features enhanced graphics that are simpler to take in at a glance, especially using the MotoGP-devised "Track Evo" mode. Gear shifts are indicated by a green LED.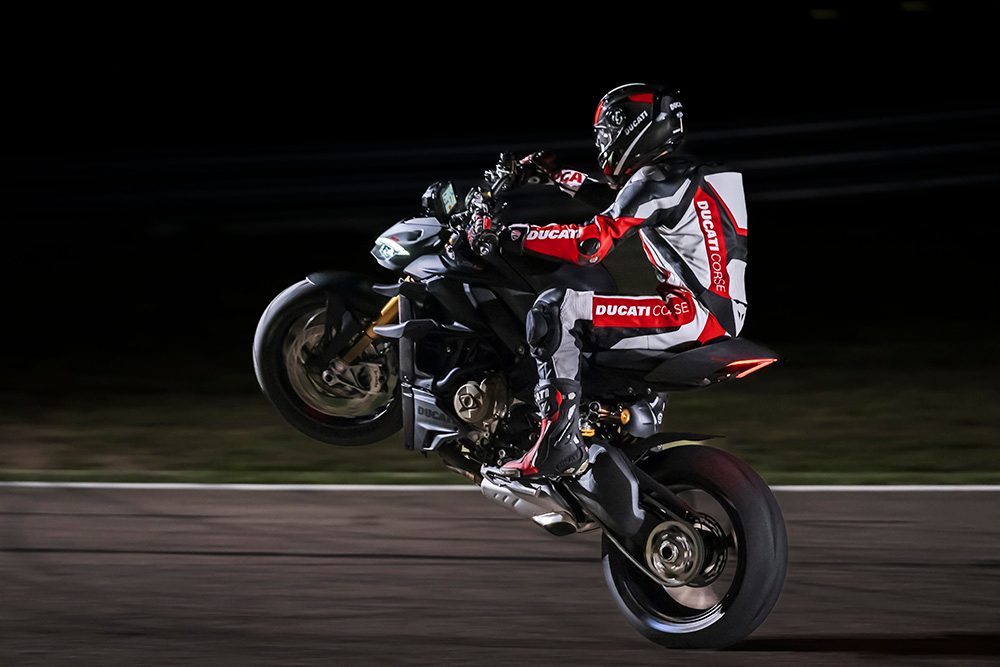 A new Engine Brake Control software strategy ensures better stability, precision and directionality in the braking and corner entry phases, with three selectable levels. It also helps prevent locking of the rear wheel in the most demanding braking sections.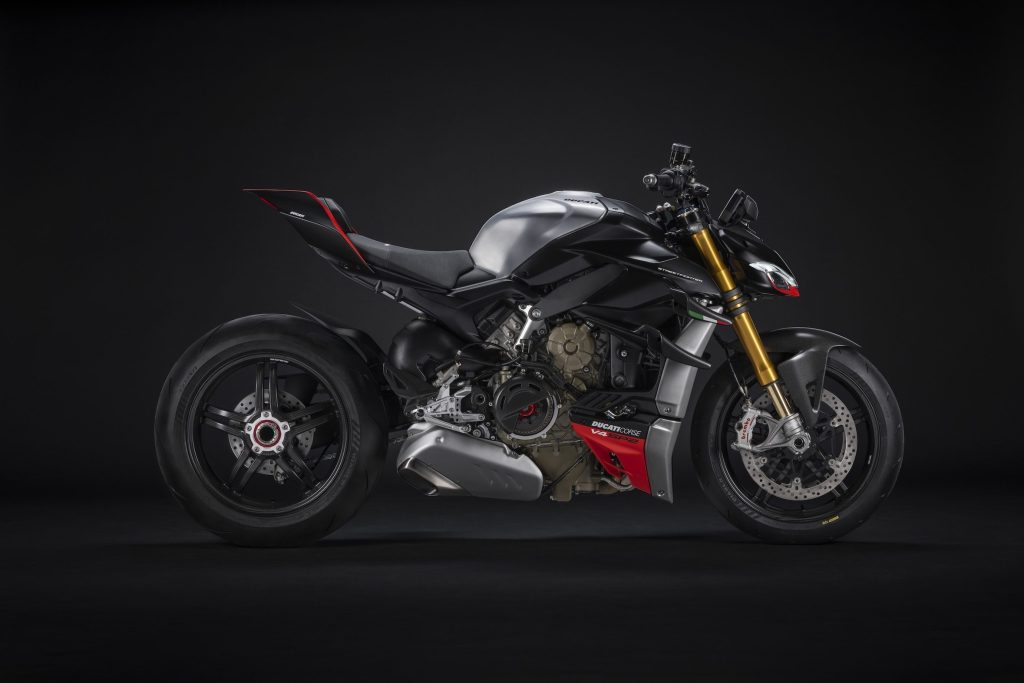 The Ducati Quick Shift mechanism has been tweaked for smoother operation while the cooling fan control ensures better management of operating temperatures on road.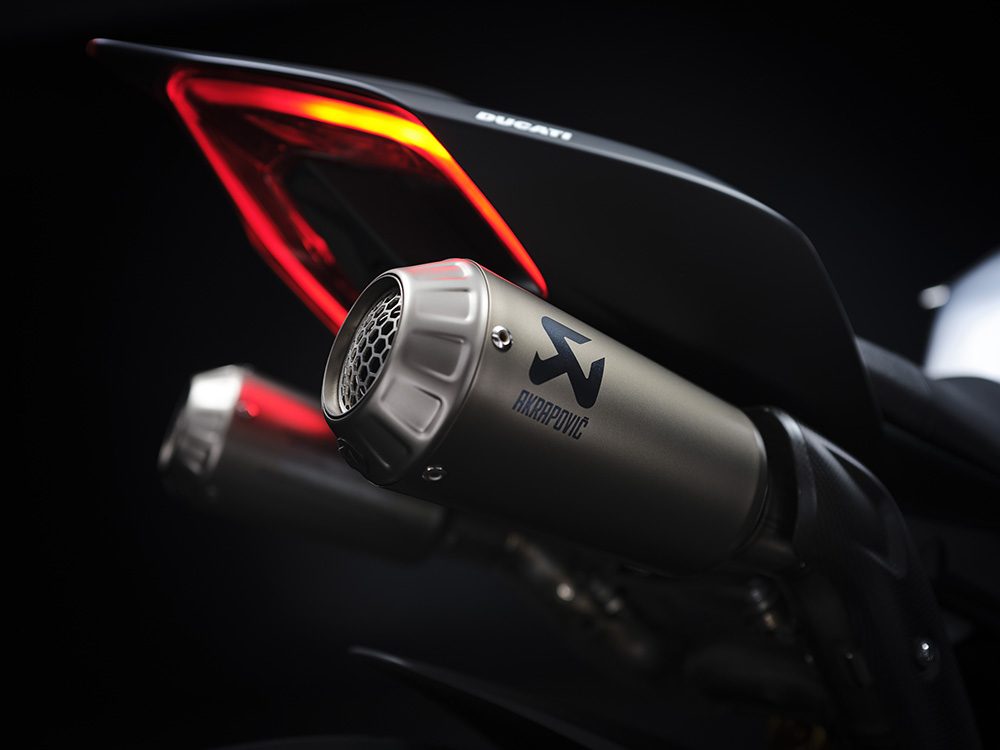 The base SF V4 has a manually adjustable shock whereas the V4 S features semi-active Öhlins suspension, and lightweight Marchesini forged rims for improved direction changes.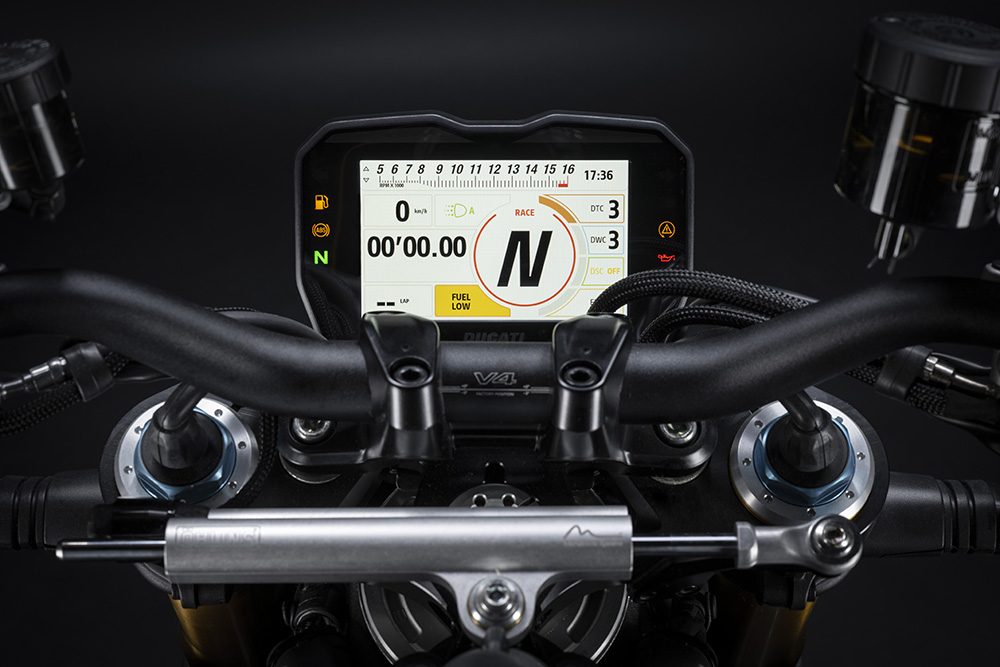 The swingarm pivot is now positioned 4mm higher, increasing the anti-squat action meaning greater stability, precision and the ability to maintain the trajectory on corner exit. Weight distribution is also shifted forwards for increased accuracy and speed in corner entry. The wet weight of the Streetfighter V4 S is 198kg.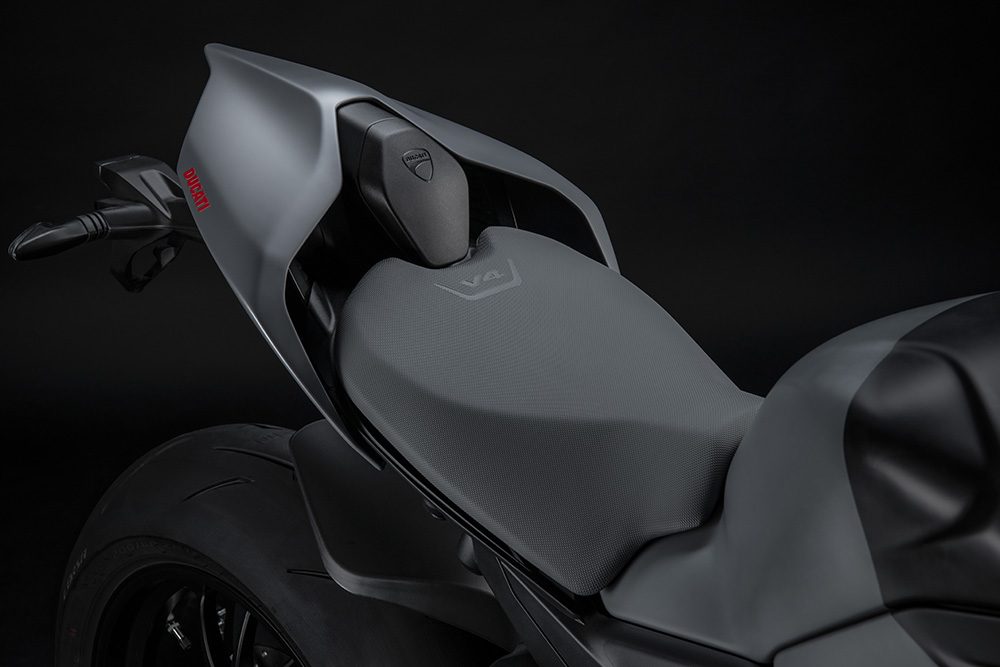 At the top end of the range is the new Streetfighter V4 SP2, optimised for track work. Finished in matt black bodywork and matt carbon for the rims and wings, there are contrasting bright red accents with an exposed brushed aluminium tank. Special bits include lightweight carbon rims for easier direction changes, Brembo Stylema R front brake calipers, and a dry clutch for better slipper action. Öhlins suspension features springs and hydraulics identical to those of the Panigale V4. There are also adjustable aluminium foot pegs for greater lean angles, and a carbon front mudguard.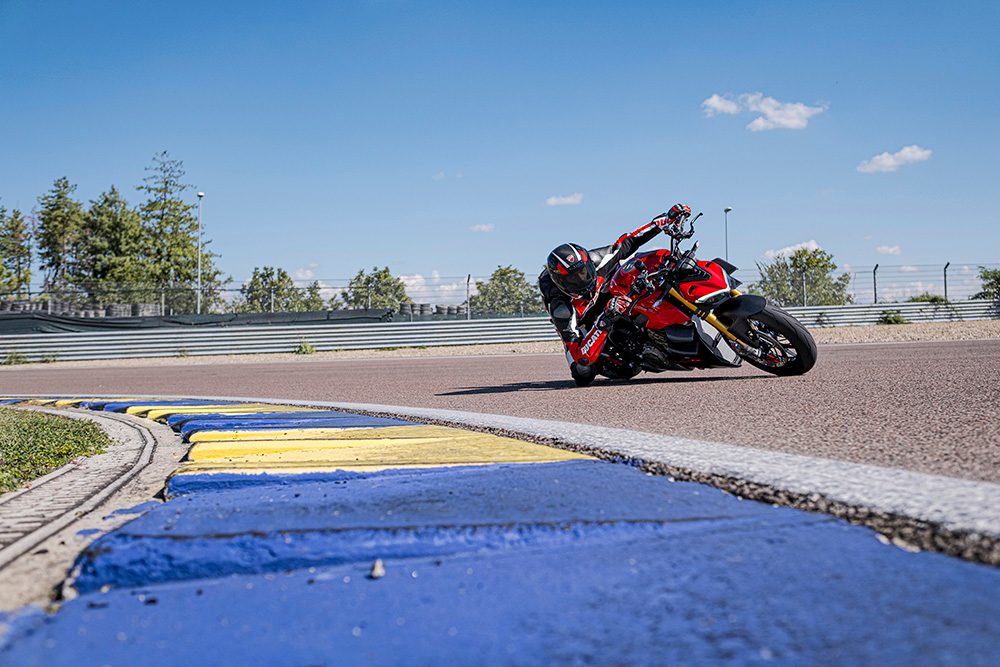 Accessories include a full Akrapovič race exhaust, dropping weight by 5kg and taking maximum output to 220hp, an aero kit and carbon fibre frame and crankcase protections, billet aluminium controls, and tyre warmers and stands.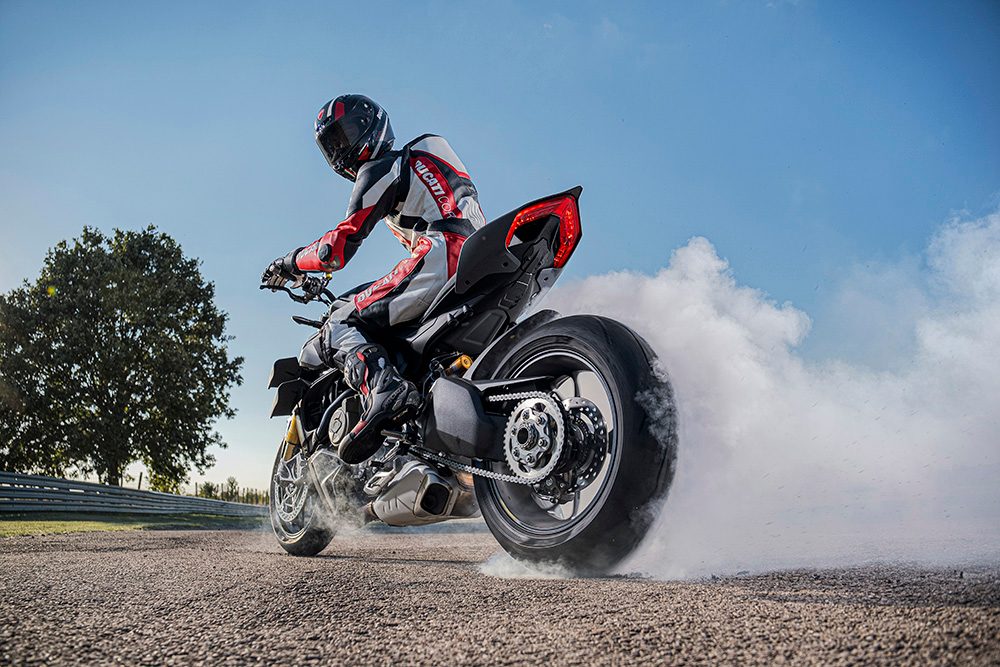 Deliveries kick off in Q1 of 2023.