We had to collect someone from the airport and they asked, what car will you be driving this week? I said it's a Cupra Formentor, they said a what-a-what?
I may as well have been speaking Swahili. That's a problem for Cupra, for it's largely an unknown here. And the Formentor is not easy to define. I said to look out for an SUV-ish sort of vehicle that kind of looks like a shark. The Formentor is certainly a unique beastie, and one we quite like.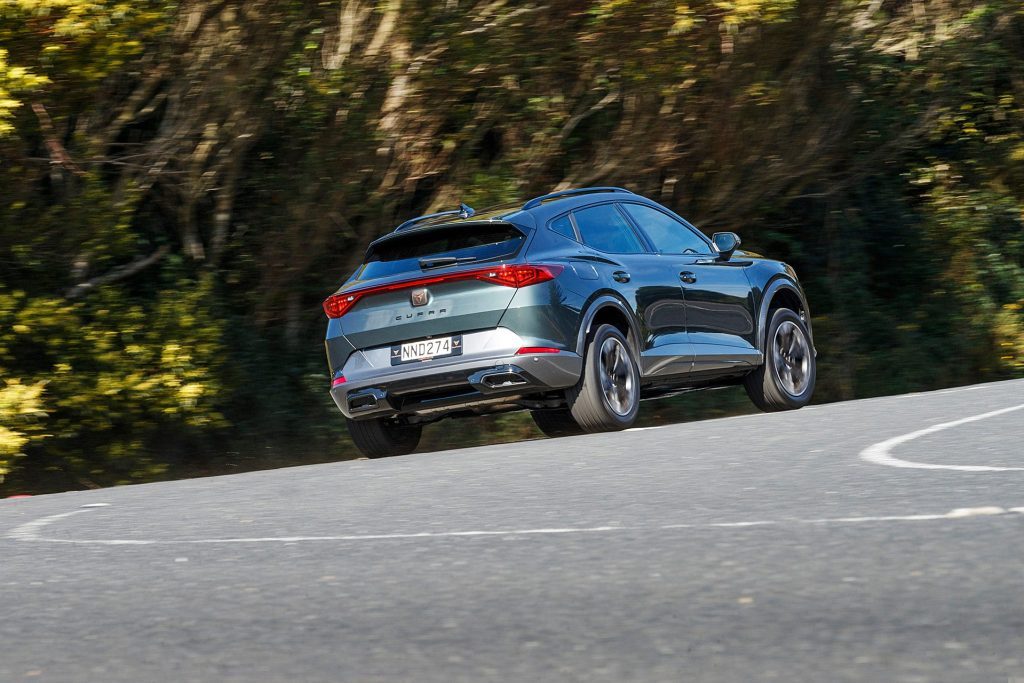 We reported on the speedy VZ last month, and now we're in the V. It's the 'lesser' Formentor, but it's no less likable. It too has a 2.0-litre turbo, but with less spunk (140kW/320Nm vs the VZ's 228kw/400Nm). Fuel consumption they list at 6.9L/100km, but you're more likely to see 10L on average for generalist use. It's quick enough, though it's not something you'd call fast.
There are a few other differences between the variants but you get the same overall look. Formentor is related to the likes of Tiguan and Karoq but is more wagon-like in appearance with its long bonnet. Overall it is much lower yet still has a (slightly) raised ride height to ease entry. Think of it as kind of a mid-point between something like the Octavia RS and a Tiguan R. It'll be a good size for most with decent rear seat space while the boot capacity is usable too. It's not cavernous but still practical with a decent tailgate opening and easy folding rear seats.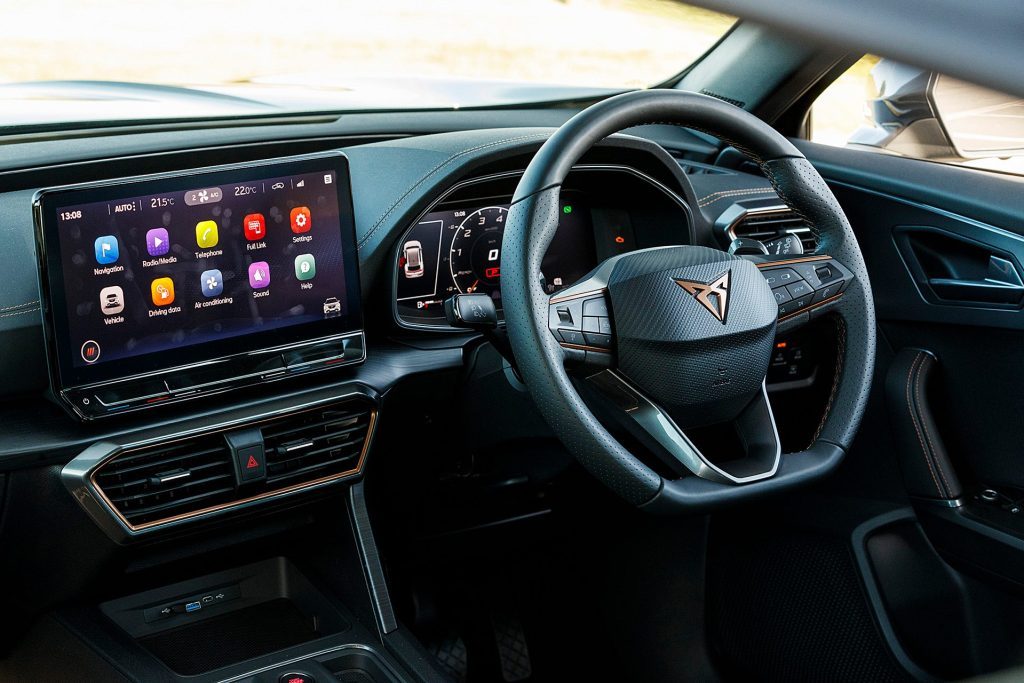 In the cockpit, it adopts the VW Group's minimalist approach to in-car control with its lack of buttons and the touchscreen lording it over most functions. The fact the test car had a quick reference guide for the system in the door pocket suggests it's not immediately intuitive. And it's not, but once you discover the nuances, you'll get there. A few things had us flummoxed, like trying to find the idle/stop kill button. And the demister button is way over on the right where the light switches are. But all the Group's products are now (or will be) like this and we guess fewer buttons makes 'em cheaper to build.
While the Formentor V misses out on a few spec items compared with the VZ, it still has plenty of nice-to-haves like a configurable digital dash, active cruise, smart key, a hi-res screen with sat nav and decent connectivity with myriad USBs. Cupra/Seat doesn't seem to be allowed the use of the Group's best plastics; these always tend to be a tad harder and harsher in places and there are fewer lined storage bins and soft grab points too than you might find in something with a VW badge on the front. This Cupra has a sporty themed interior, all dark and grey, while the seats gain above average bolstering.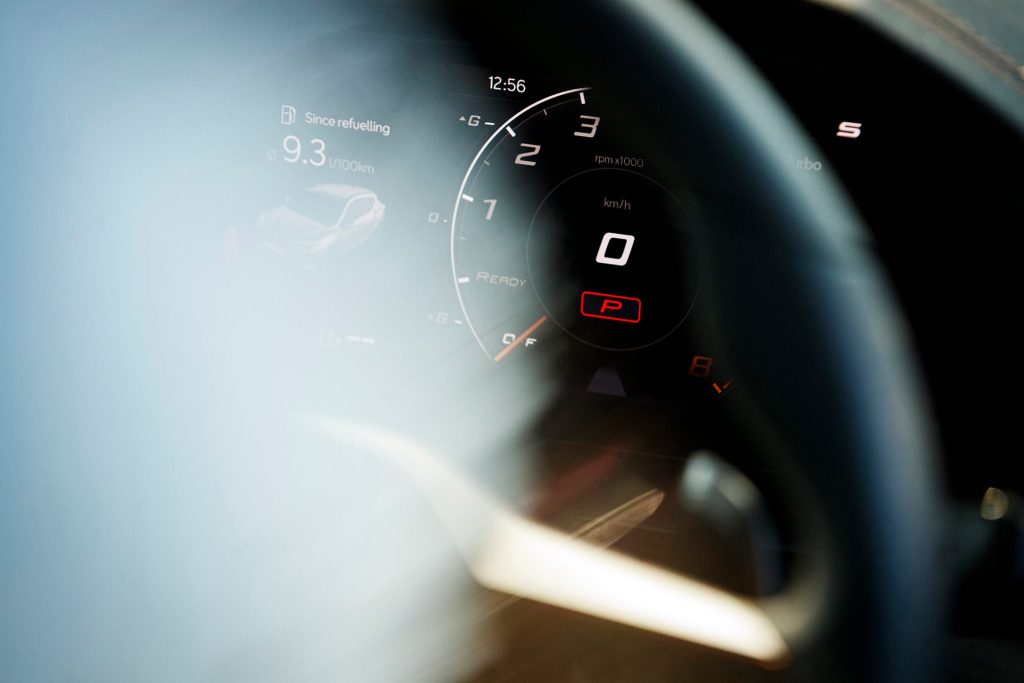 Formentor is something you'd buy if you're after a decent drive. Seat products are always sports-minded, and Cupra turns that character up a notch further. The V's powertrain is okay, with a good turn of torque in the midrange, though the twin clutch is slower than desirable on the uptake, while the idle/stop function is a little too dutiful. Where the VZ has a drive mode button on the steering wheel for ease of switching, here you have to poke at the screen three times to affect a change. So you leave it in the default Normal and be done. If you're in a hurry, click the stubby little gear selector into S which helps nudge things along. But it's the chassis and ensuing drive that delivers here. The V gets fixed rate dampers but these are well tuned for both a decent ride and top rate handling. Being a Cupra, the round town ride has a slight sports edge to it, but it's hardly awful. It works well as speed rises too, diffusing bumps commendly and keeping the movements well in check. It's the fine tuning of the chassis characteristics that delights. Bend it through the turns and you feel the rear end has some life in it, set up to help the front turn and neutralise understeer when pressed. This turns sharply, and on bends you know well, if you keep the steering lock on a little longer than desired and lift off the throttle, the rear will unload in a way that no other SUV on this platform would dare do. So it's a fun thing to drive. With AWD, this has an enthusiastic thrust off the bends and the steering has the right amount of feel and feedback to encourage a keen driver along. The Formentor is alive in the way the competition simply isn't. There is a bit of tyre rumble, but we like that the wheels are not over-sized for marketing's sake while the tyres have a bit of a sidewall that looks like it could brush off an encounter with the kerb stones.
For $54,900, it's a thoroughly decent package, but you might want to peruse the spec list to see what options you'll need to add.
Model
Cupra Formentor V
Price
$54,900
Engine
1984cc, IL4, T, DI
Power
140kW/350Nm
Drivetrain
7-speed twin clutch,
on-demand AWD
Fuel Use
6.9L/100km
C02 Output
157g/km
0-100km/h
7.1sec
Weight
1596kg