We rated the Cupra Ateca, the company's first offering, when it arrived not so long ago, and now there's an LE version. Is it worth the $15k extra?
Back when Cupra became a standalone company, separate from parent Seat, a hot Ateca was the first product, which was probably a sensible move. Globally people cannot seem to get enough of SUVs, and that has led to a host of sporty versions emerging.
The Cupra Ateca is essentially a high-riding VW Golf R, mechanically speaking, though naturally it looks nothing like the car that donated its bits and pieces for alternative use.
At the time, we were well impressed with the first model spawned by the new copper-infused company. For it kind of carved out a nice niche for itself. Here was a right-sized (for the compact city family) tidy European modern elevated hot hatch selling for $63,900, with a five-year, 100,000km warranty and no real competitors. It handled as well and was as quick as SQ2, GLA 250 and X2 M35, all of which cost at least $20k more. Japan had no real answer either.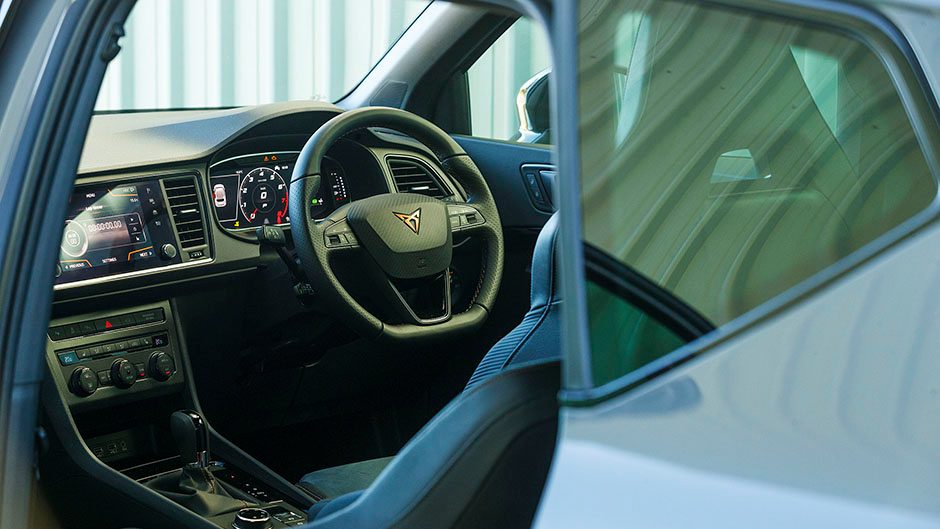 We admired its standard specification, hot-hatch pace, ride/handling breadth thanks to adaptive damping, and its natty looks. Back then the company was also promising a special edition which we'd kind of totally forgotten about, until it actually arrived on our doorstep, so to speak.
It's called Cupra Ateca LE, or limited edition variant, because there is only a handful coming here of the 2000 odd built for global consumption. So the extra $15k asking price includes a degree of exclusivity, which is rather hard to put a price on.
What makes this an LE? Also a handful of things, as it happens. Foremost amongst those, and the least seen is the Akrapovic titanium exhaust system, which is said to constitute one half of the package's value. It also shaves 7kg from the overall weight of the vehicle. If you recall, the original Cupra Ateca had a quartet of pipes poking out from under the rear bumper and this does too, though they look more sports oriented in this instance, with slightly larger perforated outlets. But, like most Akrapovic product, don't expect this to bark like a bored out Harley. On the other hand, nor is there any drone.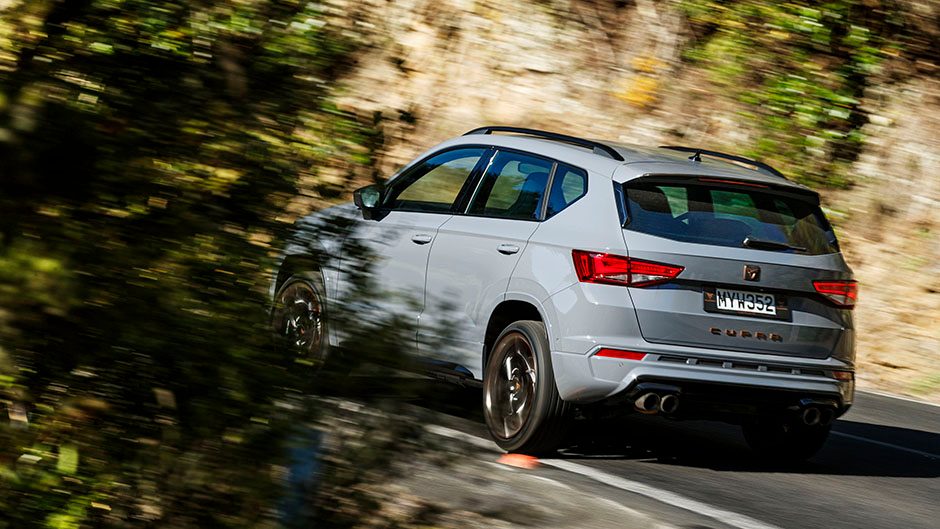 No added haste
The sound difference from how we recall the original is, at best, subtle. In the Sport modes, there's a brarp on the upshift and that's about it; no dramatic increase in dB or pops and bangs on a dead throttle. No more power either and that's confirmed by the fact that there was no significant difference in the real test of sheer power, the overtaking time. Previously our best was 3.24sec and this time it was 3.23. We managed to clip a couple of tenths off of the previous 0-100 time but that's neither here nor there. Still, a best sprint of 4.67sec is pretty dramatic. We recorded 2.99 and 4.53sec, respectively, for the Golf R, so this is well in that ball park. The Cupra weighs precisely 100kg more than the Golf R so in a performance sense it really does do awfully well. Especially when you also consider how strong it is at everyday, real world revs, around the 1500-3000rpm mark. Any need for added pace is just a tug of the shift lever away, the Sport transmission setting adding instant energy and vitality.
But what a stopper
Next on the list of special additions to the Cupra Ateca SE is a set of Brembo brakes, borrowed it would appear judging by the four rings emblazoned on the disc inner, from a sister company also under the VW Group banner. These are genuinely a bit special, in that they are composite brakes, the inner carrier part comprising what looks to be aluminium, the outer regular drilled and vented steel discs. As to how they function, again no real gain quantitatively against what we found with the original. In fact, we were off by about half a metre, the likely reason being climatic conditions; it was pretty cold on the day we did the test, not conducive to great emergency stopping distances.
But qualitatively, these are special picks, brimming with power and bite right from the top of the pedal travel and with great sensitivity underfoot. No signs of fade either after a few emergency stops. If it was these or the exhaust on offer separately, we'd opt for the uprated brakes every time. And these are, as it happens, now available as a $4700 cost option. It's something we'd seriously consider on a vehicle this quick and effortless.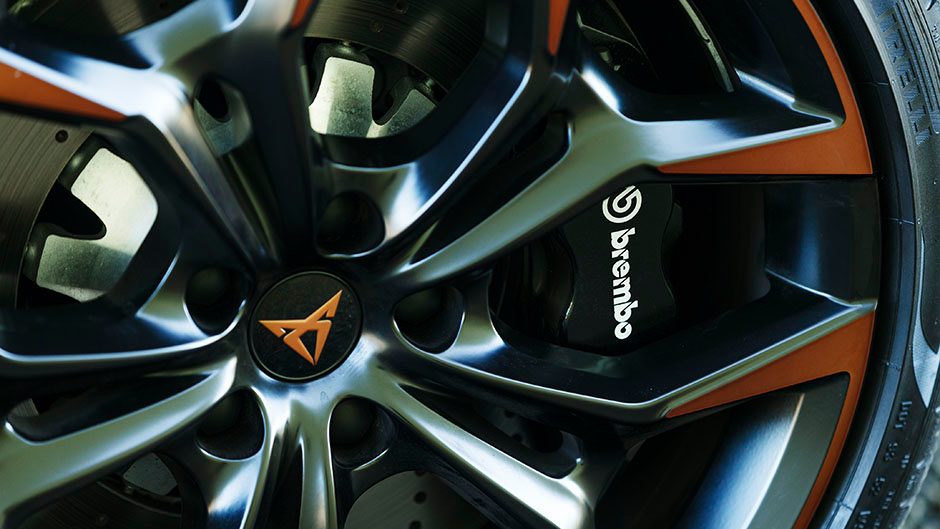 Firm and controlling
Even though the SE wears 20-inch copper coloured alloy wheels draped in low profile 35 aspect PZero rubber, the ride in the comfort mode is pretty decent. It certainly bones up in the Sport and Cupra modes, but 99 per cent of the time this will be driven in Comfort where it still exhibits almost no roll and so it goes like the wind through corners.
One other thing; we don't recall the original Cupra Ateca being quite this dynamic, and perhaps the new rubber and the extra 10mm of track make a slight difference. So too torque vectoring by brake. Whatever, this really did make a mockery of our reference hill road; I can recall few other crossover/SUV types that have impressed like this. RS Q3 is the only one in recent memory that comes to mind. And that costs half as much again.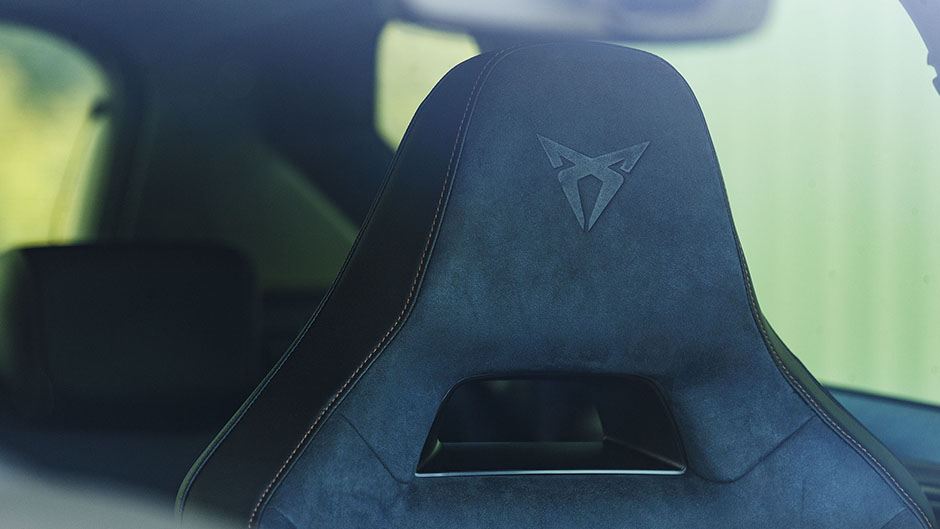 Myriad cosmetic updates
The rest is essentially more cosmetic; you can pick out the special Ateca by its carbon fibre mirror caps, copper coloured rear lettering, and the copper carbon fibre rear spoiler. There's a dusting of CF inside too, on the vent surrounds. Lustrous graphene grey paint is also said to be unique, and it does look particularly well applied.
There are also special seats and seat coverings, the shape good, the operation electric, at least for the driver. Petrol-blue Alcantara is the primary surface on front and rear seats and also the door cover inserts.
Other features include a virtual cockpit with four views, an electric tailgate hiding a 485L luggage compartment, full LED headlights, seat heaters, Qi charger, shift paddles, multifunction sports wheel, full phone link to eight-inch touchscreen, nav, wireless charging, Beats audio, active cruise and a five-star Euro NCAP rating. Figure also on a smart key, self parking, surround camera, and progressive steering. There's a five year warranty and all.
Seven new Cupra models are planned within the next 36 months. The company's first standalone vehicle will be the gorgeous Formentor crossover coupe, a plug-in hybrid due here in Q2 of next year.
| | | | |
| --- | --- | --- | --- |
| Model | Cupra Ateca LE | Price | $78,900 |
| Engine | 1984cc, IL4, T/DI, 221kW/400Nm | Drivetrain | 7-speed twin-clutch, on-demand AWD |
| Fuel Use | 7.4L/100km | C02 Output | 168g/km |
| 0-100km/h | 4.67sec | Weight | 1615kg |