To enliven gm's faltering image, the us automaker turned to lotus engineering. Together they created one hell of a performance option for corvette, the ZR-1.
A Spot of History
GM was in a rut in the mid-'80s, losing market share to the Japanese while innovation was not a word associated with the General at the time. To boost its image, GM honchos set about devising a new Corvette halo model for the brand, a sportscar to beat the best. Being low on the know, GM turned to Lotus Engineering to devise such a machine, the British firm (that was owned by GM at the time) responsible for developing the drive train and handling package that would be known as the ZR-1 special performance package.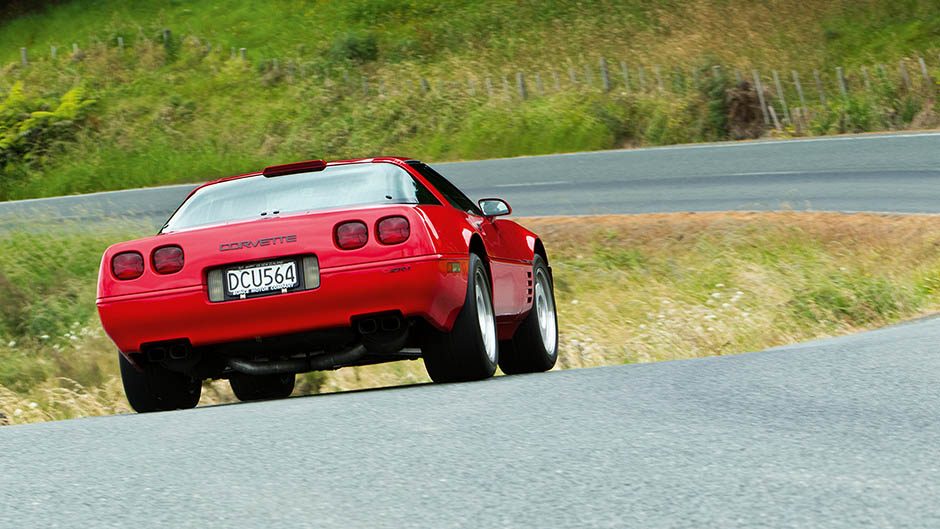 The ZR-1 option
GM was tinkering with the idea of developing a turbocharged V6 for a range-topping Corvette but the decision was made to ditch the hairdryers and develop a properly serious V8. The resulting LT5 was not merely a hotted-up small block, but an entirely unique engine designed by Lotus Engineering. GM wanted a 5.7-litre V8 that would fit the existing engine bay of the C4 Corvette and it demanded the engine's bore centre spacing match that of the regular, mass produced L98 small block of the time. This would allow them to use the LT5's free flowing heads on a regular V8. These restrictions forced Lotus to alter its initial design which resulted in a lower output than originally envisioned. GM never did use the top end for anything else.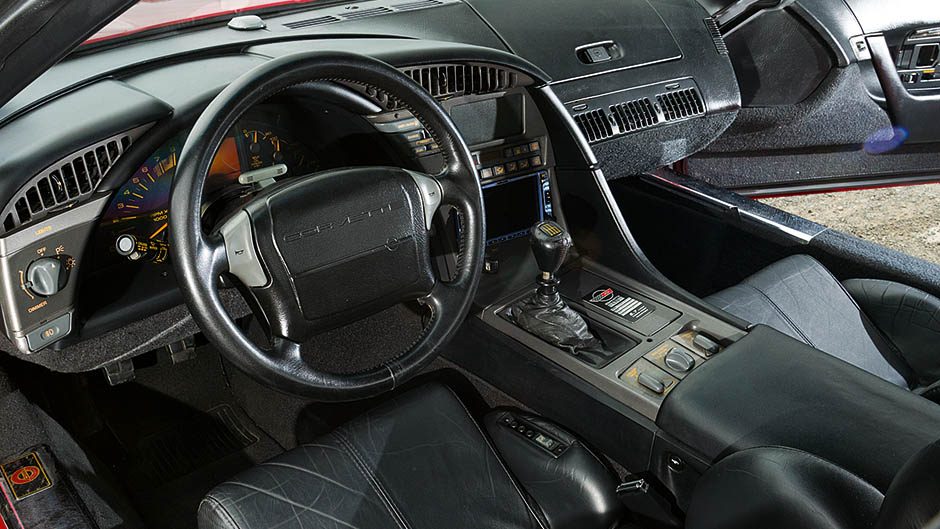 The LT5's alloy block weighed 40kg less than the standard L98 cast iron anchor, but the added valve train components and more complex head design and injection system meant it weighed around 18kg more when fully dressed. The short stroke V8 (99mm x 93mm) revved past 7000rpm while specifically shaped combustion chambers allowed for a high 11.0:1 compression ratio even when digesting low octane gas.
A feature of the engine is its induction system with a variable inlet and separate tracts for each of the 16 inlet valves. The engine has two power modes. In 'Normal', eight of the injectors are idled, and when switched to 'Full', all 16 injectors come on line above 3500rpm thanks to a vacuum actuator. In Normal, power is rated around 185kW (equivalent to a regular L98), whereas Full summons the total 375bhp (280kW) and 500Nm of torque. The high-end eight demanded certain build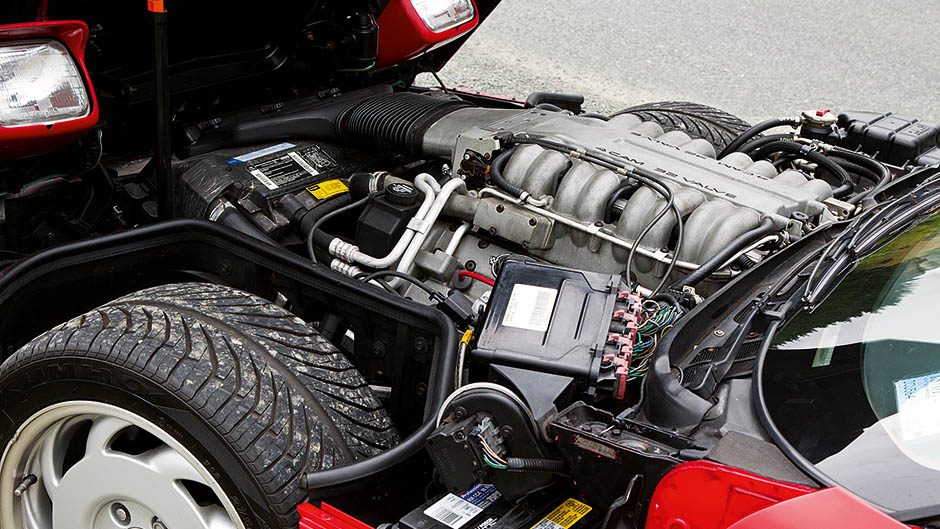 The other ZR-1 bits
Lotus Engineering also tuned the chassis, honing the Z51 handling kit to shore up the C4's double wishbone front and trailing arm rear suspension. The Corvette retained its famous plastic transverse monoleaf spring at each end. Higher rate springs were added to complement the newly developed Bilstein adaptive dampers, complete with three ride settings. To ground the power, a set of 11-inch wide rear wheels with 315/35ZR-17 Goodyears were bolted on, and this meant the ZR-1 needed additional body work, with unique doors and rear quarters added. Other alterations included an upgraded power steering system, larger 330mm brake rotors up front, a tyre pressure monitoring system and a ZF-built six-speed manual transmission.
The ZR-1 option wasn't cheap, and at around $US30,000, it effectively doubled the price of a Corvette when the buyer ordered it. The option was first introduced in 1989, boosting the Corvette's performance to world-class levels. It turned in 0-100km/h passes in the low fives, ran the standing quarter in just over 13 seconds and was clocked at over 280km/h, putting it in the same league as the Ferrari Testarossa and 911 Turbo. In 1991, it received a mild facelift, in '92 traction control was added, and in '93 the LT5's output was bumped up to 405bhp (302kW) and 520Nm. Production ended in 1995 with 6939 C4s rolling from the factory fitted with the ZR-1 option.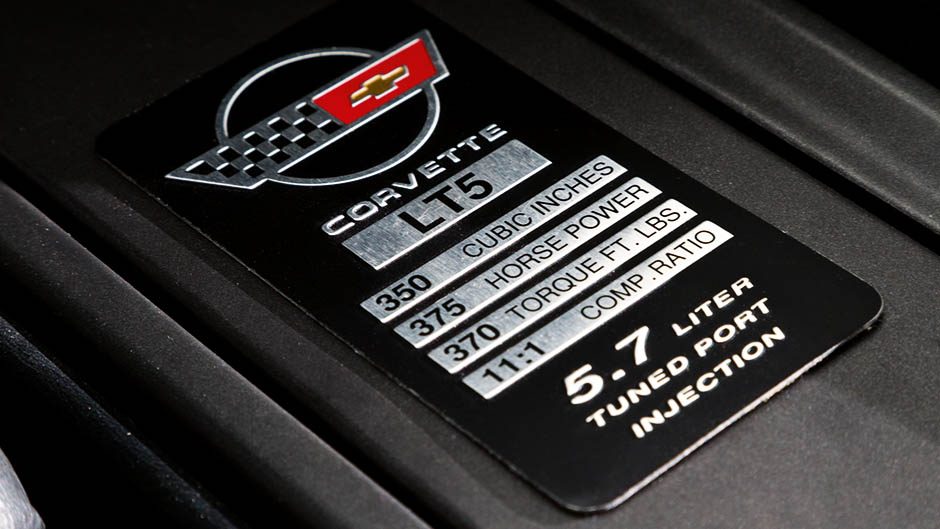 Still world-class?
This car is now 23-years-young, and the dilemma with driving such 'classics' is they invariably pale in comparison with newer machinery.
The biggest single difference between modern go-hard sportsters and their forebears is torsional rigidity. And that's the thing that gives the game away here; the Corvette feels almost flimsy by today's standard. A stiff chassis is the foundation of a car, allowing the newest models to both handle and ride the bumps brilliantly. This ZR-1 handles, remaining flat-ish through bends and rides reasonably providing the road is smooth but it just doesn't like the bumps, which send a shudder through the body.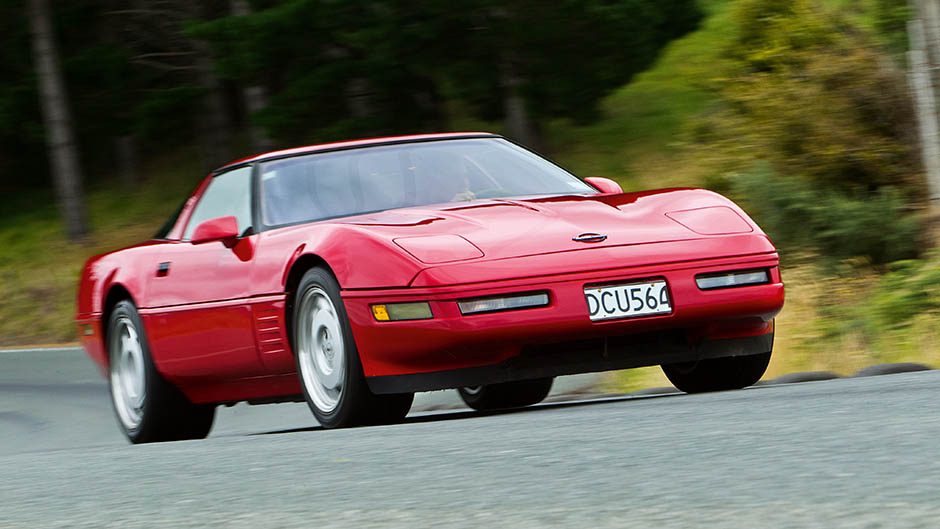 That's not to say it is a disappointing drive experience, however, for this ZR-1 still has legs. With the full 375bhp on tap, there's enough go here to impress. The eight likes revs and needs to be kept up above 4000rpm, but it spins quickly and keeps on delivering as that eighties-style tacho points towards 7000rpm. The LT5 makes a great noise too, somewhere between a chest-beating small block and rev-happy euro eight as the revs rise.
The six-speed ZF 'box is fitted with a solenoid-activated skip shift (to help save gas) blocking out second gear when you're mooching about and slotting you straight into fourth. But drive it with your foot flat and the gate remains open. With a narrow gate, your shift action requires more of a deft touch than forceful muscle, and it's still quite fluid for its age. Second, third and fourth are the action gears, fifth and sixth being noticeably taller. The brakes are woefully inadequate, another area where cars have improved out of sight over time. You need to hit the pedal hard and early to make sure it slows sufficiently for the bends.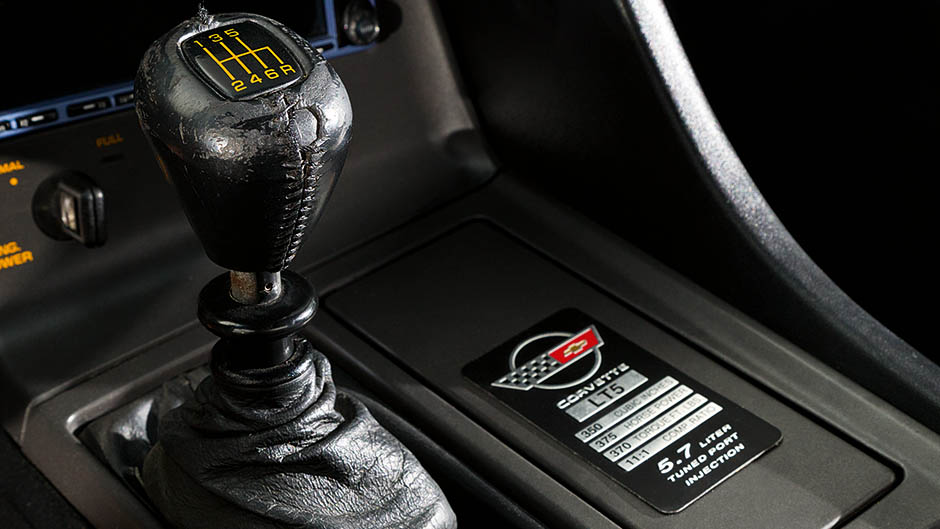 The pedals are well spaced, and both the clutch and brake have plenty of sensitivity but the footwell is cramped, making it hard to move your feet about. The cabin is wide, but the transmission tunnel dominates, while entry and exit are a bit of a mission with a big sill and only just enough clearance between the wheel and the low slung seat. If you're carrying a bit of mid-section beef, best to look elsewhere. Once you're in though, there's plenty of vision, and with a big boot, this is a fairly practical two seater.
 The steering is surprisingly accurate; it's light but not overly assisted, and is delicate enough to allow those mid-corner adjustments when need be. The turning circle however is huge. Blame the big fat rubber for that, but with 275s on the front there's plenty of grip, which keeps everything under control. With those huge contact patches and the V8's linear power delivery, it's not a scary car to drive, brakes aside. It's generally well balanced, and nimble too with most of the 1550kg mass inside the wheelbase. In a contemporary world of computer-guided rocketships, it's refreshing that the ZR-1 actually requires your care and attention behind the wheel. It's no point-and-squirt machine reliant on all the electronic geegaws to keep it on the road.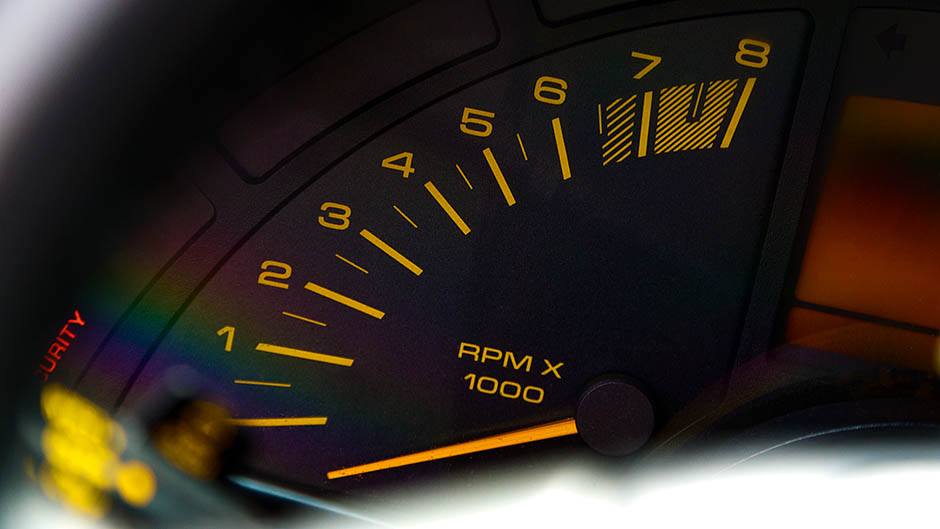 This particular 1991 ZR-1 was for sale at Bunce Motor Company for $39,990 which, judging by cars on eBay in the States, is a fair price for one that is already here, registered, and ready to go. It's not a minter but it's in a well looked after original condition. Given the age of these vehicles, with any potential purchase you'd want several thousand more dollars in your budget to spruce up the suspension, freshen the driveline, and upgrade those brakes. Then you'd have yourself a fast and usable classic.