To celebrate the 50th anniversary of those raging bulls from Sant'Agata we drive the original supercar, the Miura.
There's a delicious irony to the fact that Ferrucio Lamborghini started making cars because he thought the Ferraris he was buying were too raw for road use. He felt they were too closely aligned with race car design to be practical on European highways. Ferrucio, a successful tractor manufacturer, even tried to persuade Enzo Ferrari to build a GT-style touring car that could be used for comfortable but fast touring. The irony is that the company he started 50 years ago to produce comforting GTs has a notable history of making some of the most impractical and outrageous cars the world has ever seen. After an argument with Ferrari about the mechanical weakness and harshness of the Ferrari GTO he'd recently purchased, Ferrucio became determined to prove that he could build better cars. The first few models he produced, starting in 1963 were exactly what he intended. They were conventional, front-engined V12 coupes. Fast and sophisticated certainly, but not particularly ground breaking cars. All the while he had been guiding his designers and engineers down a path where he thought he could do better than Ferrari. Little did he know that after a couple of years, his design team, lead by the 27-year-old Marcello Gandini, would start working secretly on a radical road car that would alter the company's direction forever. This car would later be named the Lamborghini Miura, and it was undoubtedly inspired by Le Mans winning race cars of the time, like the Ford GT40 and Ferrari 330 P2.
When Ferrucio eventually saw the secret Miura he approved of it immediately. He thought it would make a good promotional gimmick for his company but also thought they would be lucky to sell 50 of them.
The Miura is often mistakenly attributed with the title of the world's first production mid-engined road car. In actual fact they were beaten to that title by the little known Matra Djet in 1962, and then De Tomaso, who made a run of 50 Vallelungas starting in July 1965. Certainly with a production run of 764, from 1966 to 1972, the Miura was the first mid-engine car to be made in any sort of volume and certainly the best known of those early cars. The Lotus Europa then came out soon after in 1967, followed by the strikingly beautiful De Tomaso Mangusta.
What can never be mistaken though is the impact the Miura had on the automotive industry at the time. Despite being priced at nearly four times that of an E-Type, the wealthy were entranced by this exotic "race car for the road" and they fell over each other to buy it. Rock stars, royalty and movie stars just had to be seen in one. To add to its allure, journalists also declared it to be the fastest production car in the world. Despite the Miura's relatively low volume of sales, there really hasn't been another car since that's had such a ground-shifting influence on sports car design. It's so easy to list all of the elite cars that followed in the Miura's footsteps, most notably Ferraris, but think of even affordable cars like the Fiat X1/9 and the Toyota MR2 that can trace their design inspiration back to Italy in 1966.
Lamborghini went on to follow the Miura with the introduction of the Countach in 1974, cementing its position as the world's most ostentatious and flamboyant car maker.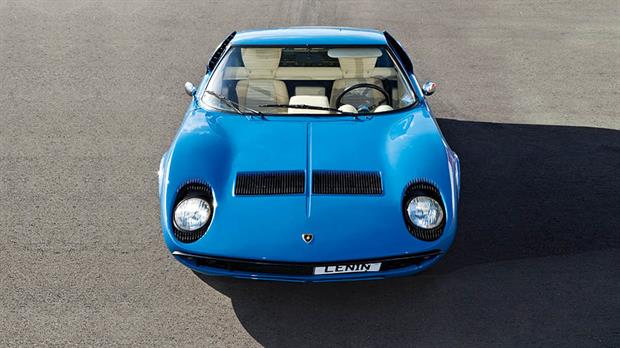 We got to drive one of these fabulous cars thanks to a Kiwi kid who used to draw pictures of the Miura in his high school books and never let go of the dream to own one. Many years after his high school days and with a lot of hard work behind him, Tony Olissoff finally found a Miura for sale in California and brought it back to New Zealand. Despite there once being three Miuras in New Zealand, it seems that Tony's car is now the only one still in residence here. His Miura is one of the early ones, made in 1967.
Tom Gasnier and I were waiting for Tony at the Hampton Downs racetrack, standing beside a Lamborghini Gallardo that had been lent to us by Freeman X Supercars. Our conversation stopped abruptly as we heard the distinctive, raspy V12 sound coming along the infield road. We both stared at the approaching apparition without saying another word. Even with the driver trying to be discreet and modest, the car's entrance was so theatrical and flamboyant that I felt like bursting into applause as Tony pulled in to stop beside us.
The Miura is a tiny, low, delicate looking car. It is so dainty and exquisitely beautiful with its sinuous curves that we were happy to continue just standing in the sun appreciating its form. It's also a remarkable piece of packaging. The V12 mounted transversely across the back of the passenger compartment means the car is remarkably short in length, and low.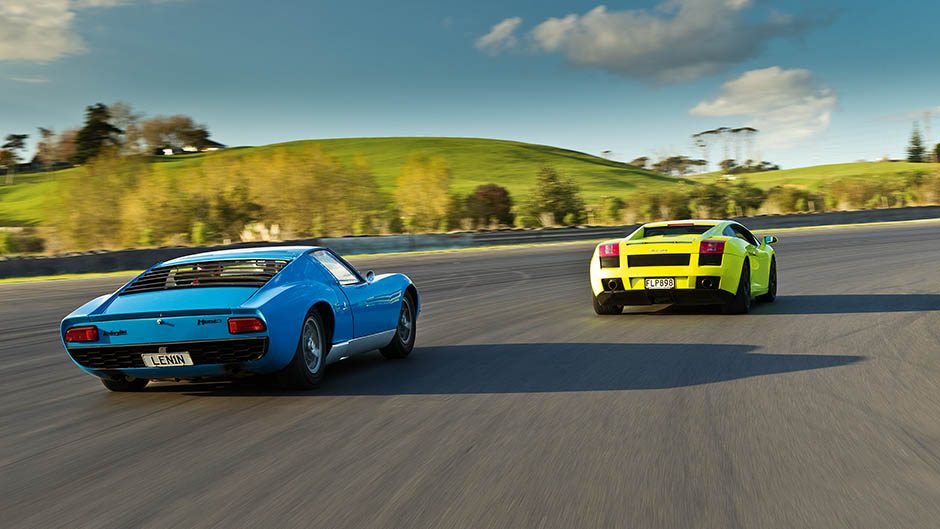 The superstar aura radiating from this car is from a different era, one without stringent safety rules. Sitting in those small, minimalist bucket seats for a ride round the track with Tony made me feel like we were back in the 1960s. The sound track from the V12 was so immediate and unconstrained that it gave an almost motorcycle-like connectivity to the engine. It wasn't offensively loud, but it seemed like every piston stroke could be sensed through your body. I noticed when I drove the car later that I could look in the rear view mirror and watch all the Weber throttle linkages moving up and down as I moved my foot on the accelerator. The feeling of personal mechanical involvement with this car was phenomenal.
I'd read that the Miura was uncomfortable to drive and sit in. Surprisingly, I found it quite natural and conventional. Even modern Lamborghini's, like the Gallardo we borrowed, have the pedals slightly offset to allow for intruding wheel arches. The Miura's interior was light and airy, especially with its cream leather trim. The elegantly thin windscreen pillars ensured wide forward vision that modern cars just don't have. Moving the wooden topped gear lever through the formidable looking chrome gate was relatively easy and not too clunky. Even the unassisted steering wasn't heavy, especially at low speeds and it didn't load up while cornering.
Something else I didn't expect from a sports car like this was such a soft and compliant ride. The tall profile tyres help give a wonderful elasticity to the suspension that can't be matched by the current cars. In fact it reminded me of the modern McLaren MP4-12c, which is the only modern supercar to have an almost magical combination of supple ride with a flat handling attitude. Our lime green Gallardo had the conventional, iron-firm ride that we now normally associate with these sort of modern supercars.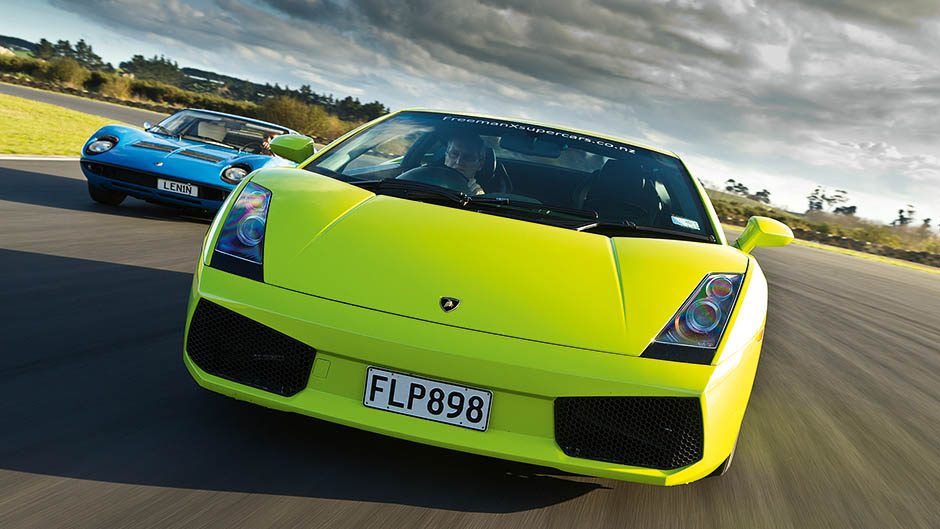 Getting back into the Gallardo for some comparative laps reminded of how cosseted and cocooned we are in cars now. The intervening years between these two Lamborghinis has brought vast leaps in safety and security on the road. Even though the Gallardo is more rowdy than cars like a 911 Turbo or an Aston Vantage, it imparted a stiff, solid, insulated feel that I wouldn't have appreciated so much unless I had jumped straight out of the Miura.
The other thing that I appreciated anew was how strong and reliable Lamborghinis are now. They have moved so far from the highly strung and finicky Italian cars of old. In fact, the Freeman X owned Gallardo spends the majority of its days circulating around Hampton Downs. It's one of the fleet of Freeman X Supercars that can be hired and driven at the track, so it doesn't have a garage queen lifestyle. According to manager, Jamie Potter, the Gallardo has been exceptionally reliable despite the demanding life it leads.
Like many things in life, we take so many steps forward with our new technology and sophistication, but often other valuable things can be discarded along the way. At some stage in the past 50 years a lot of car manufacturers have lost the ability to create the magic and the intense feelings that their earlier cars created. Unfortunately, that may be gone forever and we may never travel those exciting roads with them again.
So, happy 50th anniversary to everybody at Lamborghini. Thank you for astonishing us and enhancing our world with your vision and cars like the Miura. Thank you for continuing to show us how emotion and passion should be put into design. But most of all, for showing us how ordinary metal and glass can be turned into charisma, charm and glamour.