This clean Ford Escort duo reside together under the same roof. For owner, builder and driver, ElliottFframe, they're the culmination of dreams, inspiration and good old fashioned elbow grease.
If you're reading this, chances are you probably consider yourself someone who has more than a passing interest in all things automotive. As individuals with a collective interest in cars, the bug that infects each one of us is born of emotion. Mundane traits like practicality, economy or reliability rarely sit at the forefront of the mind when considering a "toy car". Rather, the thrill of what might be, or what once was, or perhaps just a heightened curiosity regarding the oily bits entices the enthusiast towards their chosen target.
For 24-year-old Elliott Frame, owning a pair of mid 1970's Ford Escorts represents something of a departure from the usual modified street cars his peers drive. You won't find Frame whipping up and down the Southern motorway in the dead of night in some late-model turbocharged performance vehicle. Instead, he's more likely to be fiddling with carburettor jets or double checking valve clearances. It's a little left field for a younger enthusiast, but chatting to Frame reveals the germination of a notion that grew into an Escort fascination. Elliott, along with father Mark and family, emigrated from their native London to New Zealand in 2005, but the prevalence of the Ford scene in the UK isn't by default a defining factor.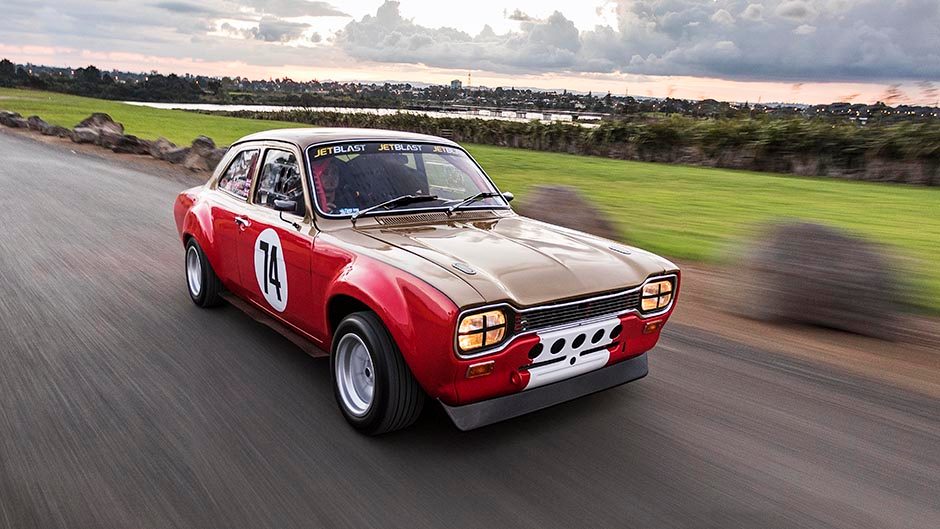 In 2007 Mark began assisting with the conversion of a friend's Mk 1 Escort road car into a racecar. Elliott, at somewhere around 14 years of age at this point, recalls he got the invitation to come along and lend a hand. Of course, this sort of immersion into a relatively new and exciting world of tinkering with classic metal often proves life changing. As well as spinning spanners and grazing knuckles, Elliott began to spectate at grassroots motorsport events. The venerable compact Ford boasts an extensive, massively successful motorsport record on all levels, and watching the myriad local examples in competition soon had the father-and-son duo "hooked on Escorts."
While not quite of driving age, Elliot's car fate was already sealed. Mark, like all responsible car-loving dads, thought a Mk 1 posed a perfect base for an introduction to the joys of motoring. Compact and easy to handle? Check. Simple mechanicals, ripe for learning to repair and maintain? Double check! Is it a Ford Escort? You bet!
Thus, the search for the right start commenced. Any classic car aficionado will attest to a search never being quite as straightforward as when looking for your average uninteresting daily driver. In these situations patience prevails, with the search initially geared towards purchasing the more sought-after two-door.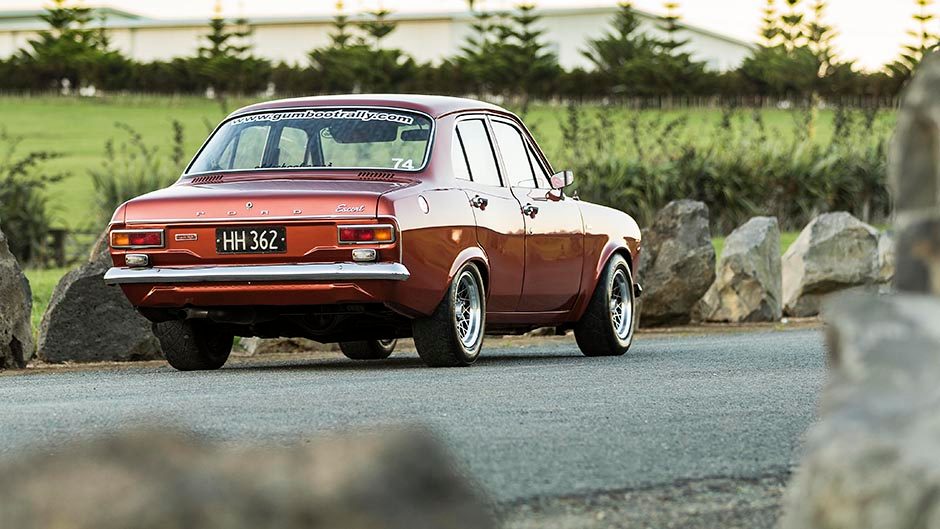 It quickly became apparent that with the budget in hand, a tidy two-door wasn't going to happen and Elliott soon found himself inspecting a Waiuku-based 1974 four-door 1300XL. Sold new in December 1974 by Grange Motors to a Piriongia customer who owned the car until the early 2000s, the Escort's second owner had put the car up for sale following a period of minimal use. Clean and original in bronze, the Escort still packed the original Kent 'Crossflow' engine pumping a modest 61 horsepower through its original automatic transmission.
Supplementing the period exterior hue the Escort featured an equally original cream vinyl interior, infamous for searing legs on a hot summer's day. Topping off the initial package, a set of 14-inch Minilite alloy wheels sat neatly among virgin wheel arches, not yet tainted by a hammer or a bolt-on fibreglass flare. A deal was struck – for $2800 – and Mark was soon driving home in his son's Escort. Elliot at this stage was still unable to drive, being only 14, but the acquisition of the Mk 1 coincided neatly with his 15th birthday and a successful learner driver's test.
With no real plan for the car other than to drive it, Elliot set about learning the craft of owning a classic car. The drudgery of the factory auto box met its demise early on with the substitution of a four-speed manual, Elliott easing his way into mechanics by equipping the 1300 with simple bolt-on modifications.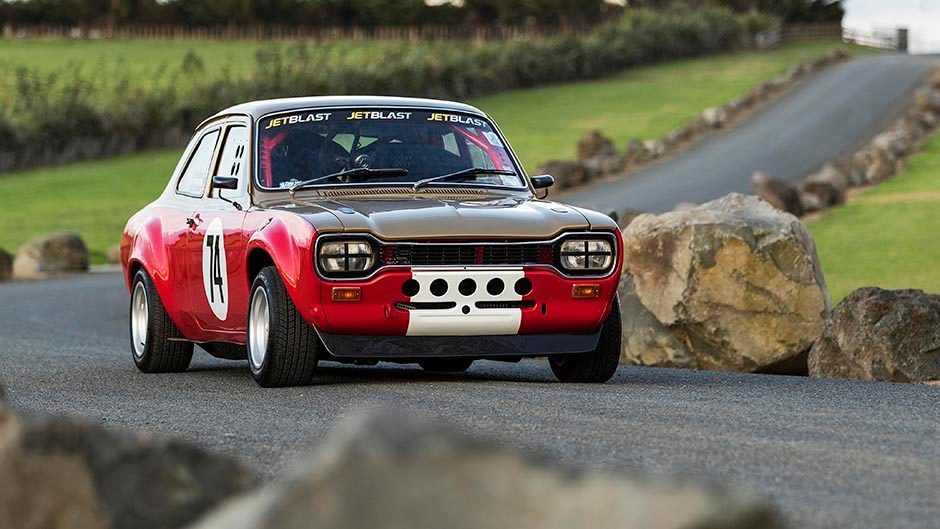 With no established skillset on hand, Elliott's right-hand man proved to be his dad. Running through maintenance procedures, Elliot would absorb the techniques and have a solo crack the next time around. Throw in the beginning of an apprenticeship as a fitter turner and as the Mk 1 developed, so did Elliott's arsenal of skills. While he describes the majority of his friends owning later model Japanese cars that required little maintenance and afforded an easy supply of parts, the opposite proved the greatest challenges for a young classic pedaller.
The Escort was, and still is, his daily driver and most of the time it ran like a Swiss watch. Those times it didn't, an electrical or mechanical gremlin was generally responsible. Sourcing parts often wasn't cheap or easy. The four-door evolved over the years, and while the original 1300cc served faithfully for some time, the current incarnation of the car sees the larger 1600cc Kent four-cylinder beneath the bonnet. Rebuilt with some extra fruit, the "711M" block now displaces 1620cc and houses a BCF2 Kent cam. The crossflow head flows better now thanks to larger valves and a port job, and an evergreen 32/36 Weber DGV twin throat carb delivers the right fuel/air mixture.
Extra ratios were also found courtesy of a Type 9 Sierra five-speed gearbox, mated to a shortened English axle rear. Elliott has sharpened up the chassis with the addition of a quicker rack, homebrewed adjustable coilover suspension at the pointy end and reset leaf springs with adjustable dampers at the slippery end. The 14-inch Minilites are gone, replaced by period 13×7-inch Hotwires, and are home to a set of Capri vented rotors clamped by Wilwood calipers.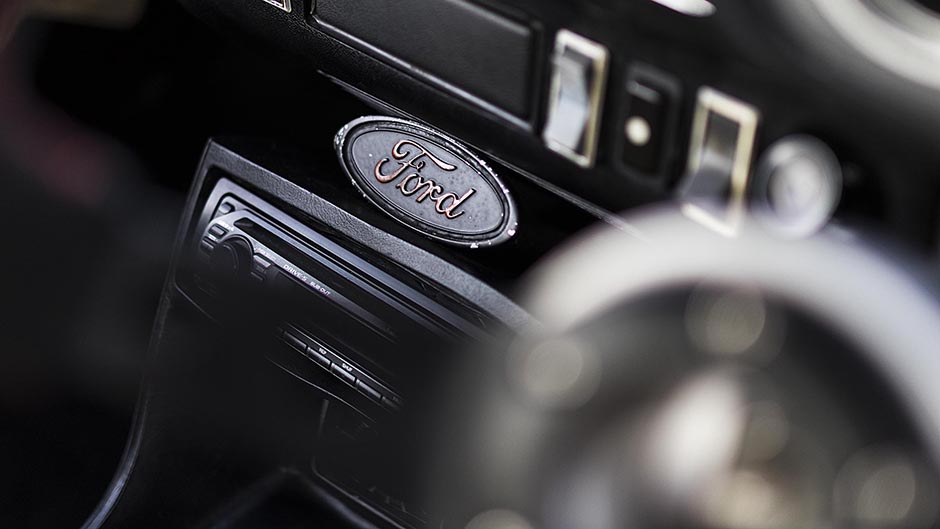 Has it stopped evolving? Elliott reckons probably not, but over the course of his ownership the car's seen daily service, and been on some epic road trips, including the Gumboot Rally, a 1000km dash over some gnarly back roads to Taranaki and back, along with 10 other Escort fanatics. The allure of the two-door Escort has always remained and, while Elliott had attempted some track days hunched down in the Racetech bucket of the four-door, it was never going to suffice by virtue of its road-going primary intent.
Enter project Alan Mann. It could well have been named Project Déjà vu – the two-door arrived in the same bronze hue, again a 1300cc automatic sold new in 1974. In early 2010 the car came into Elliott's ownership with the intent of restoration, but after some prodding and inspection the shell revealed itself to be in less than perfect condition. Rust, lots of it, needed tackling. Dissatisfied with both the performance of the four-door on track and the condition of the two-door, the call was made to go full-blown race car with no guilt over desecrating an original car. Stripped to bare metal, replacement floors, doors, guards, pillars and front panels all found their way into the Escort.
Working as an apprentice meant saving to buy parts on a payday-by-payday basis, but the upshot of this meant new-found skills and workshop availability to hone them. Beneath the gussetted and seam welded shell, Elliott pieced together his own underpinnings, beginning with a self-built six-link rear suspension arrangement and turreted shock towers. Quality Bilstein inserts fill a pair of modified Capri 2.8i struts, now also height adjustable. The rear diff is a shortened Hilux example, with a readily available Cusco two-way LSD ensuring plenty of grip under acceleration. Initially the car ran a mild 2.0-litre Pinto engine, pulled from a Cortina. For a year, Elliott made do with 100bhp, before the current 2.1-litre build found its way between the front struts.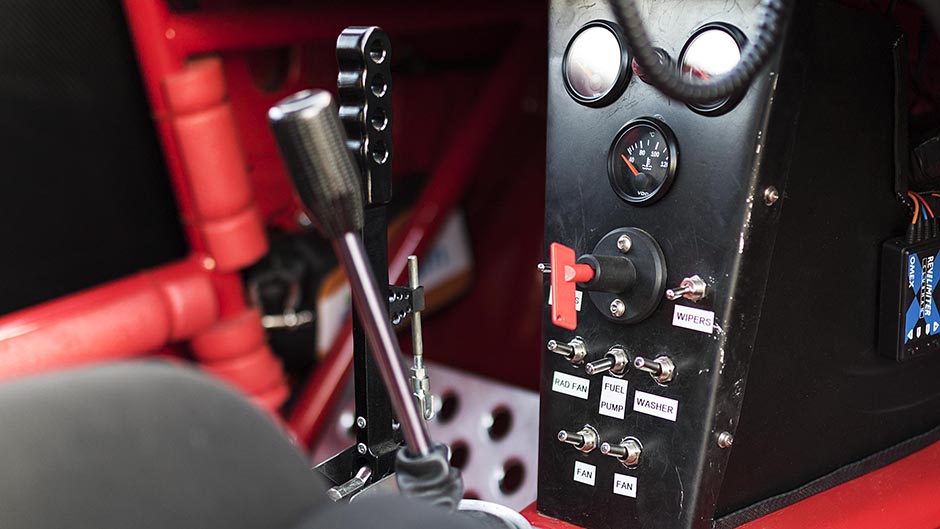 The 205 Pinto block is O-ringed, with Crower rods and CP pistons forming a strong bottom end and a 10.5:1 compression ratio. A ported big valve head from a 1.6 litre Pinto does the top end honours, with locally produced Kelford A116 cam and accompanying Vernier cam pulley finishing a stout long block. What classic Escort club racer would be complete without a brace of Weber carburettors slung off the side? Elliott's installed a pair of 45mm DCOE side drafts, while on the other side of the head Pacemaker headers expel the spent gases into a 2.25-inch exhaust, barely muffled, endowing the Mk 1 with that classic Pinto rasp. Peeking inside, it's testament to the time spent getting the car right. Six years is not a short build, but the quality is on par with professionally built race hardware.
It's clean throughout, from the carefully "swiss cheesed" door frames, to the carbon fibre dash panel and dimple-died passenger foot brace. Standing back and taking stock of the exterior, the big bubble arches containing 13×8-inch Revolution wheels are dripping in a colour scheme familiar to touring car faithful. A chance encounter with a RetroFord magazine back in 2008 set the theme for the build, with Elliott first discovering the Alan Mann Racing Escort. Dominant in the 1968 and 1969 British Touring Car Championships, the Inca Gold and Monza Red scheme is the stuff of legends, and Elliott had the two-door coated in a tribute to the famous small Fords. Right down to the period correct decals, criss-crossed headlamps and Lexan windows, the Escort is a deserving tribute.
Only last year did the Escort finally spark into life for the first time since the build commenced. Satisfying would be an understatement, Elliott reckons. Hitting the tracks in a functional but unfinished state, Elliott got his head around some minor set-up niggles, and ironed out a few issues before disassembling the car. Final refinishing and reassembly followed, and Elliot, Mark and the Escort hit the track throughout 2016 at several events, ranging from bent sprints to tarmac rally.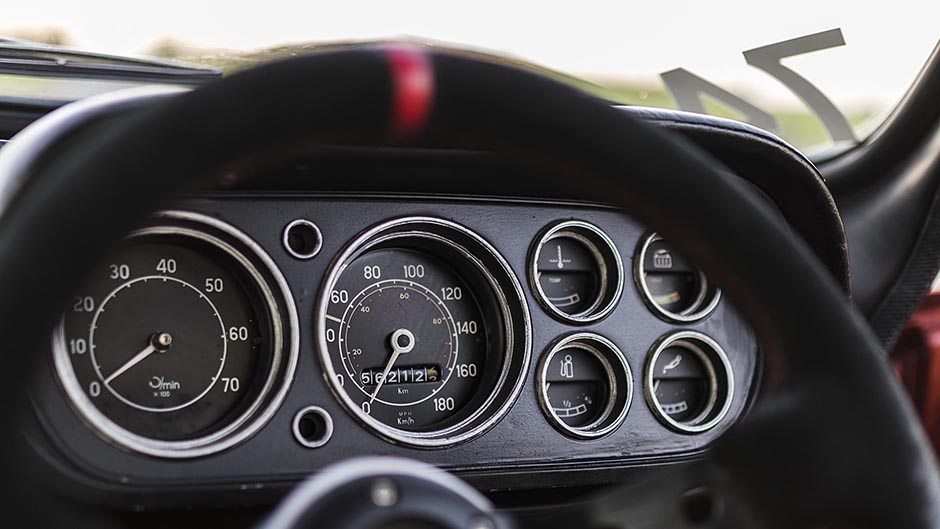 This year, Elliott was invited to the annual Leadfoot Festival. The prospect of sliding up Rod Millen's mile-long driveway in the Escort proved a highlight in the car's short competition tenure. With 140hp from the new 2.1 engine fitted only weeks before, Elliott made the most of the weekend, dropping five seconds over the course of the event. The tight uphill corners made for some flamboyant sideways antics, and coupled with the Escort's immaculate finish it won both competitor and spectator approval.
So, what next for Elliot? At this stage, the plan remains to keep both cars on the road and running. Developing the race car into an even more potent package is a possibility. For this Escort-mad father and son team however, don't write off the prospect of a third example joining the fleet!