The emergence of autonomous vehicles could help to reduce congestion in big cities. Citroën, Accor and JCDecaux have teamed up to form The Urban Collëctif, dedicated to future mobility that addresses numerous roadblocks. They have developed a new mobility concept, dubbed Citroën Autonomous Mobility Vision.
It is centred around an autonomous and electric mobility platform, the Citroën Skate, upon which various pods are fitted for various applications. The Skate can move such Pods on demand using a dedicated track. Three different pods have been developed for three different user types.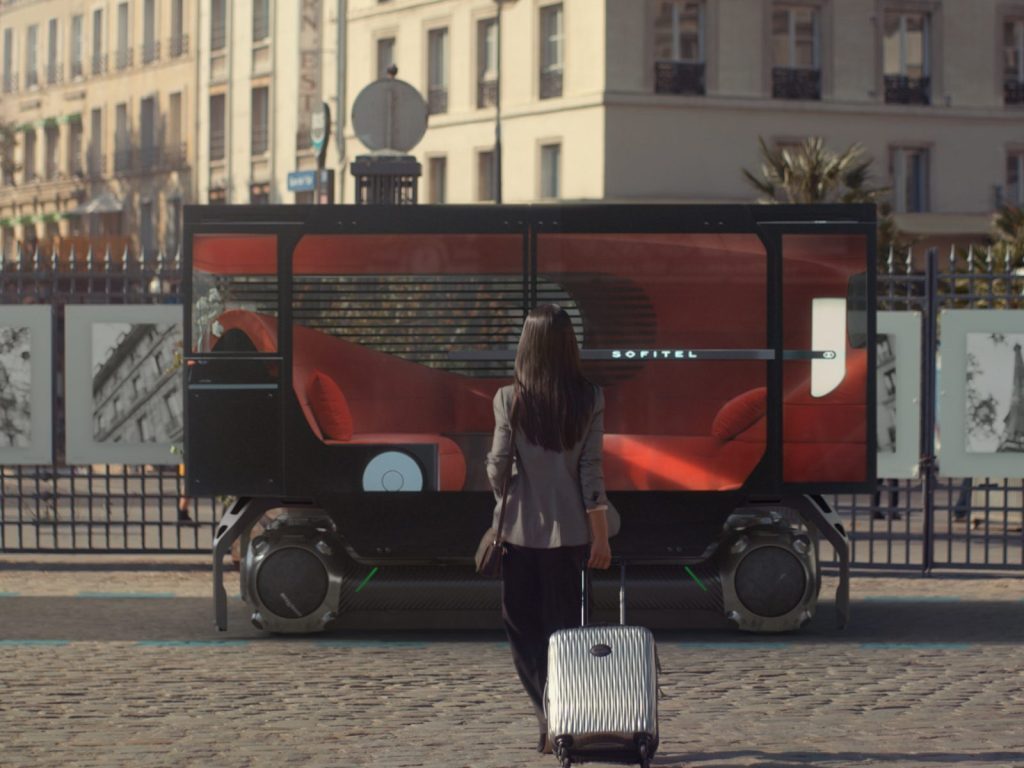 The Skate itself has a motor within each wheel, so can turn on a dime, and can be charged by induction at dedicated bases so can operate almost continuously. Various Pods can be positioned from above onto the Skate platform in less than 10 seconds. Its top speed is limited to 25km/h while the speed can be configured according to how the Pods are used.
The Skate itself is 2.60m long, 1.60m wide and 51cm high. Embedded systems detect pedestrians, cars, cyclists, scooters or any other object ahead. For ultimate comfort, the Skate is fitted with movable hydraulic cushions.
Autonomous mobility can adapt to demand. Citroen envisages a fleet of transport robots that move around cities non-stop and are paired with Pods that offer unique experiences. It is anticipated that the fleet can improve traffic movement by about one-third because the Skates would travel in dedicated lanes.
Sofitel En Voyage, the first Pod born from the collaboration between Accor and Citroën, features automatic glazed sliding doors, and the Pod allows up to three passengers to sit comfortably on board together, with their luggage in a dedicated compartment. An interior scrolling LED strip displays information in real time, including news, weather, arrival and travel times.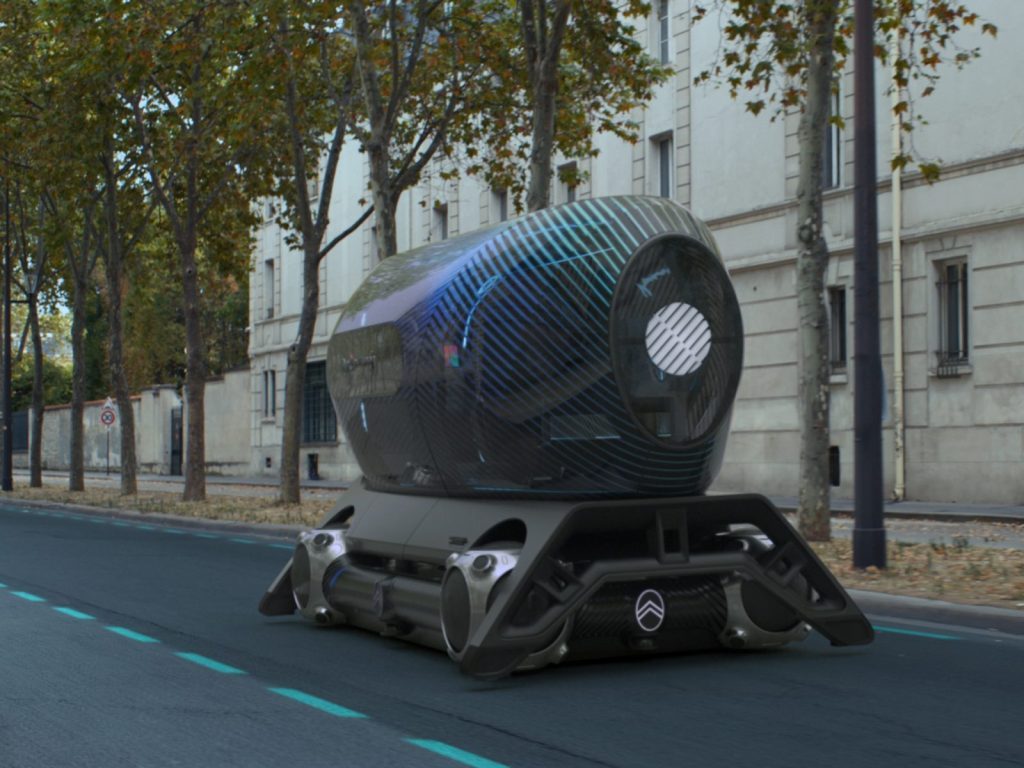 Other features include a bar for drinks and snacks, a sound system, induction chargers and a configurable mood lighting. A touchscreen allows restaurant or theatre bookings to be made.
Another pod reflects Accor's 'vision for boundary-pushing fitness'. The Power Fitness programme mixes exercise with mobility. A user could exercise independently and privately with a rower on one side and a bike on the other, while travelling through and viewing the city. Music and light are customisable in the pod.
A digital coach assists with exercise, route information and entertainment. Exercising would have a secondary benefit of charging the Skate's batteries.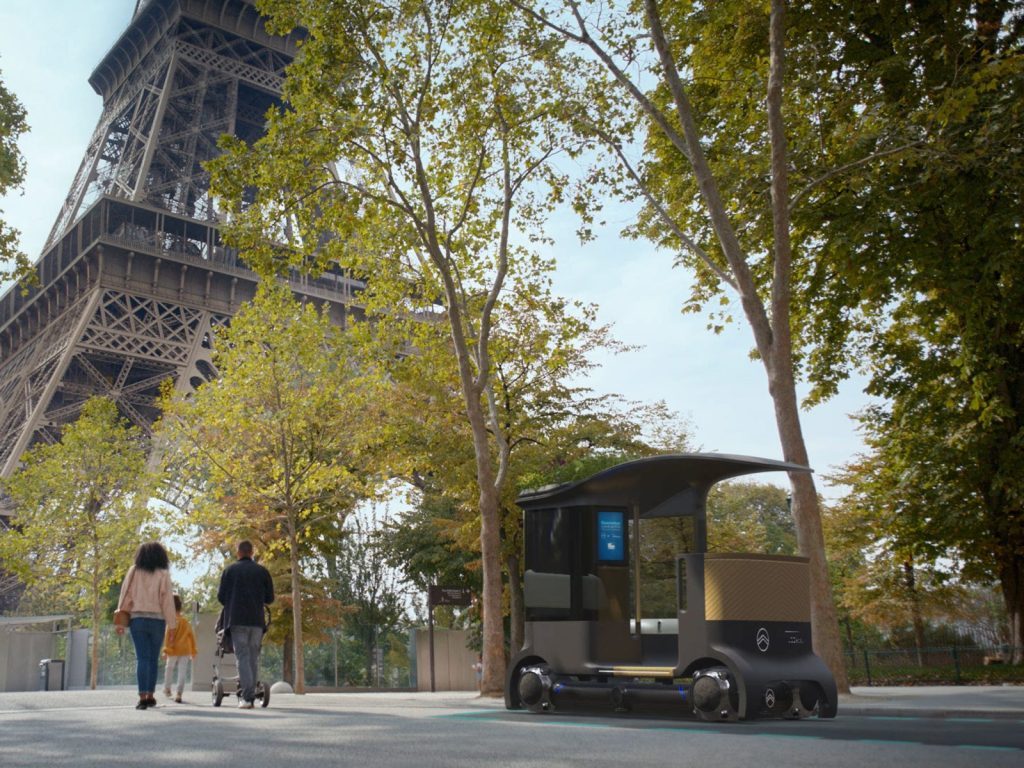 Another partner in the collective, JCDecaux, wants to be a major player in the smart city sector and sees an opportunity in the Skate and pods as an innovative on-demand urban transport solution. Easy to board by passengers with luggage, a pushchair or wheelchair, the City Provider is a solution accessible to anyone. The Pod ensures the best route as determined by autonomous technology, while also offering a pleasant journey.
The CP pod has space for five, either open to or protected from the weather. USB sockets for charging and interactive screens enhance the mobility experience.
Anyone can develop a Pod compatible with the Skate and these could be used in places like airports, factories or convention centres. They could also be used for medical practices, food dispensers, food trucks and security.