It's here for the first time officially in RHD format, and the Corvette C8 is formidable. We discover what a lateral G each way feels like.
We've met a few new brands in our quarter century of driving fresh metal but seldom have we ever test driven for the first time a model that has been in production for over 60 years. And that's because the eighth generation of GM's headlining sports car, the Corvette, is the first to go into RHD production.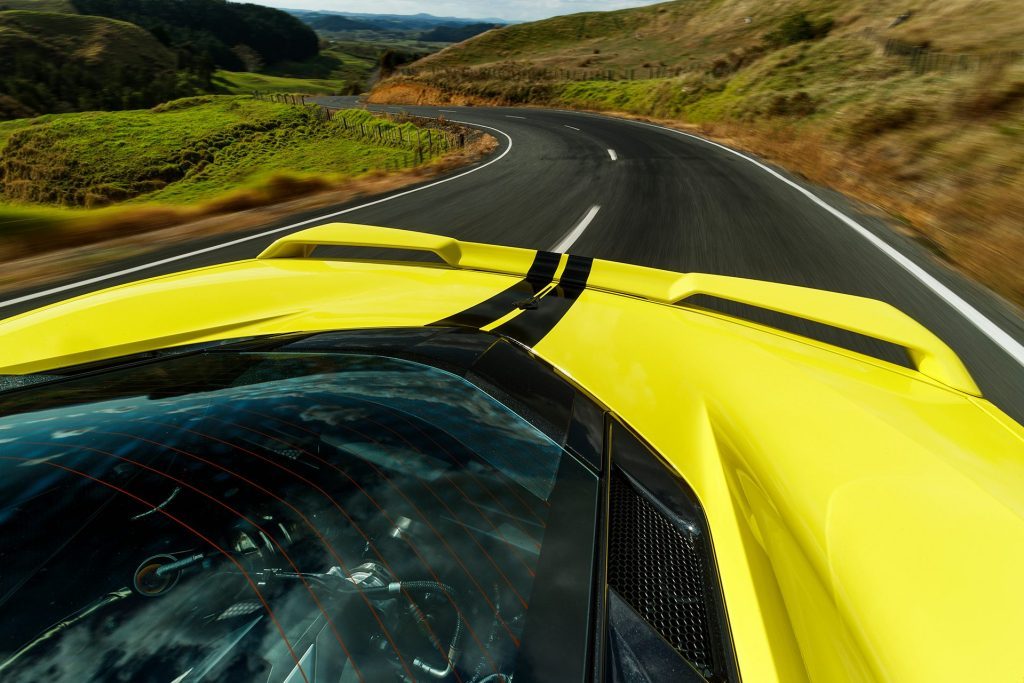 Herein, we get to check out the Stingray in 3LT Coupe guise. At $170k it is a far cry from the original 1953 model that sold for under $US4000. Not that there aren't some parallels but it's essentially only the number of wheels and the badge.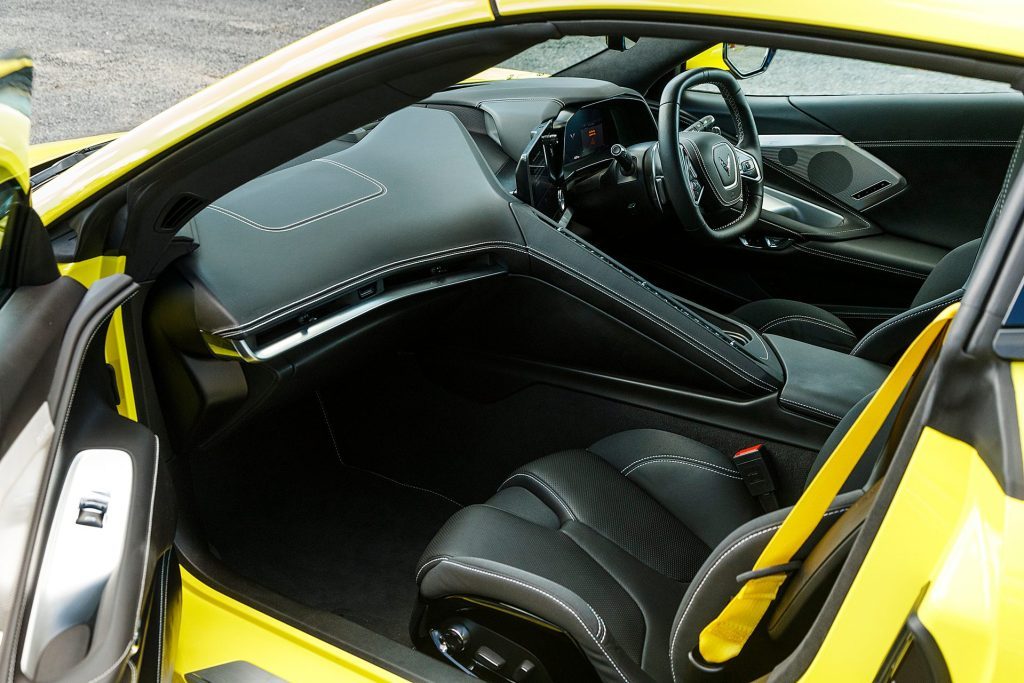 What sets this one apart is the location of its engine, and with that the styling is radically different too. Because it's now a mid-engine layout, so the cabin moves forward by 40cm, the short bonnet is all but invisible from the driver's seat, and there are all sorts of air cooling ducts. The engine is housed beneath a glass cover, Lambo like. It looks exotic too with hidden door handles, and DRLs shaped like Cat Woman's ears. Inside not quite so much, despite special seats that look the part, as do the body-coloured safety belts, the infotainment screen heavily angled towards the driver and the unique layout of the climate control buttons, atop a buttress that separates the cockpit from the passenger. Little canoodling possible in this conveyance. Besides, it's a two-seater, only with a difference. It's a Coupe one minute, and a convertible (of sorts) the next. The removable roof section is attached to the chassis by three handles, each easily released and it's then just a matter of opening the rear hatch and fastening the panel into the luggage compartment. Lower the hatch and electrics lock the lid automatically.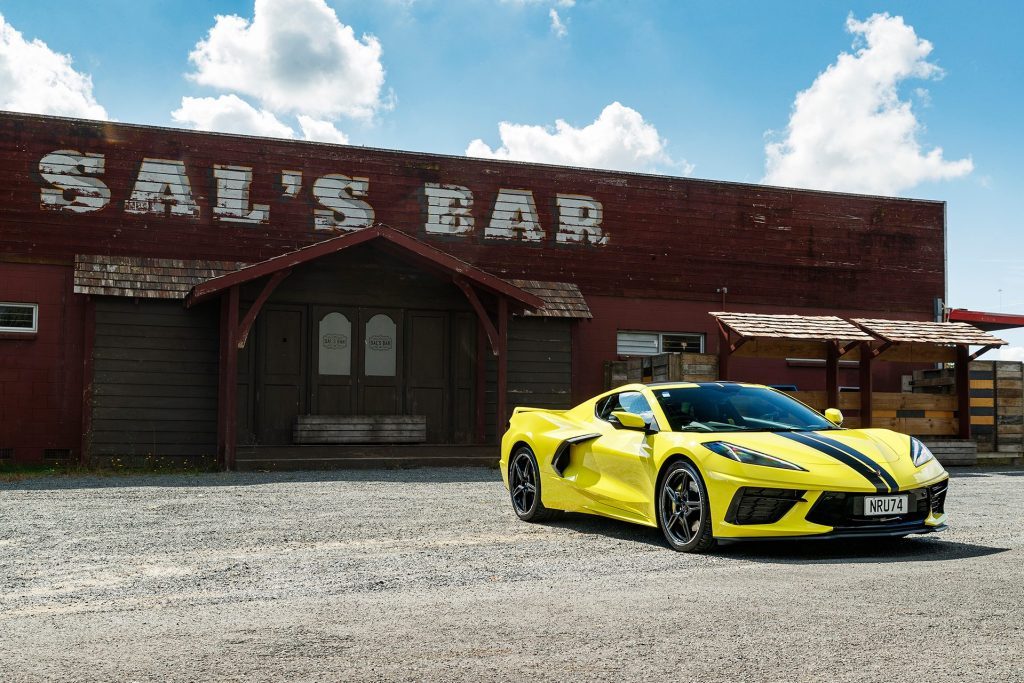 Reversing the process is just as simple. Or you can order the Convertible for an extra $15k and it does all this itself within 16sec. You lose rear luggage space in the coupe when stowing the top, but not in the convert. Both have a frunk, deep enough to take a couple of day packs.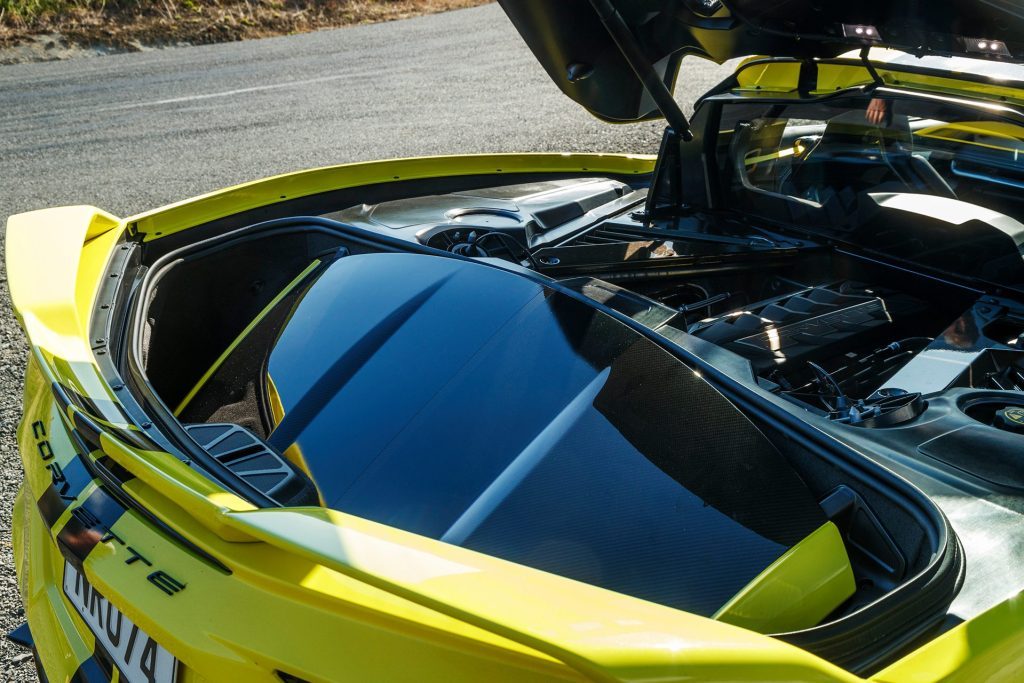 From the front you get a sense of how low and wide the car is and there's a hydraulic lift feature to protect the splitter when entering uneven driveways. There's evidently a sat nav setting that will remember such locations and raise the front automatically when you return to the scene. And this is very much a car that will work as Monday to Friday conveyance. So there are significant blind spots in the B pillar area but the rear camera mirror and BSM circumvent that. There's a regular reflecting internal mirror but it shows precious little.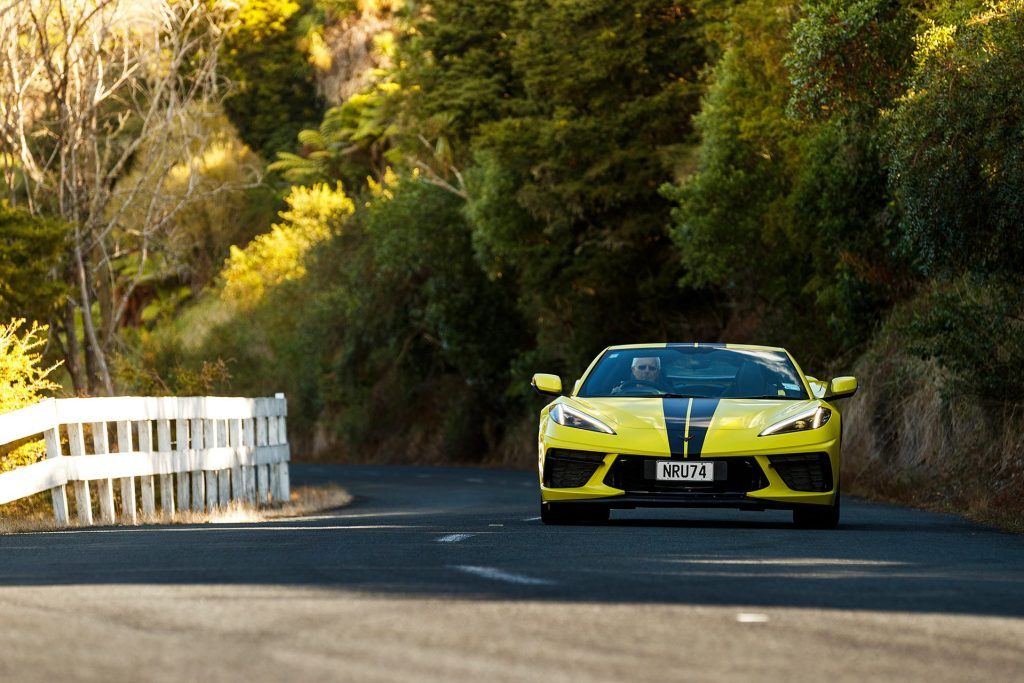 Expect plenty of attention going to work, especially when your ride is finished in Accelerate Yellow Metallic.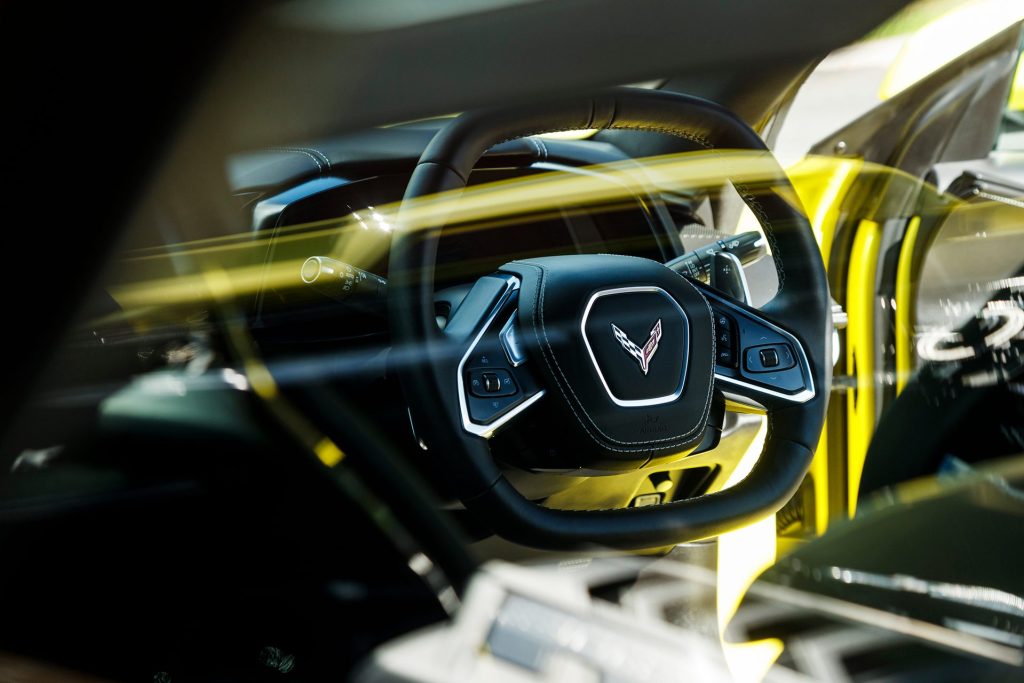 How fast is the C8 Chevrolet Corvette?
Perhaps that's a good time to talk about how this gains pace because that's part of the reason GM decided to go mid-engined anyway. They'd pretty much done everything they could to make previous generations hare-like off the line. By slotting the engine behind the passengers, there's an instantaneous gain in traction, the V8 a handy paper weight to help get the Vette underway.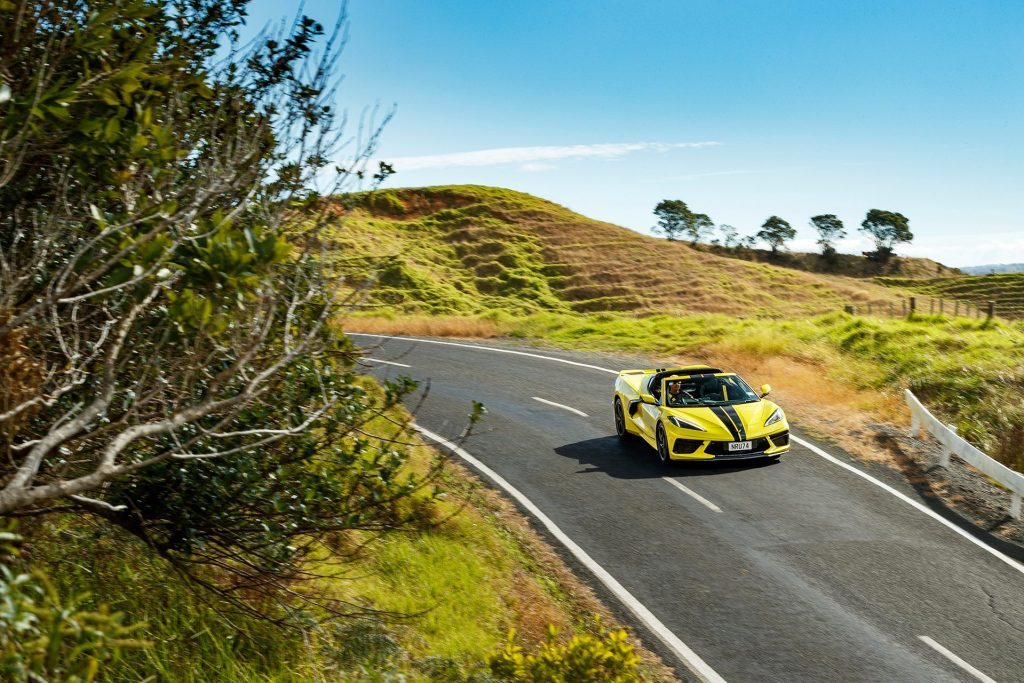 Despite its 'small block' status, the 6.2-litre V8 is still a powder keg, and on our first attempt at a zero to 100 we activated launch control with TC off and that immediately resulted in a burnout. Even still it produced a sub-5sec run.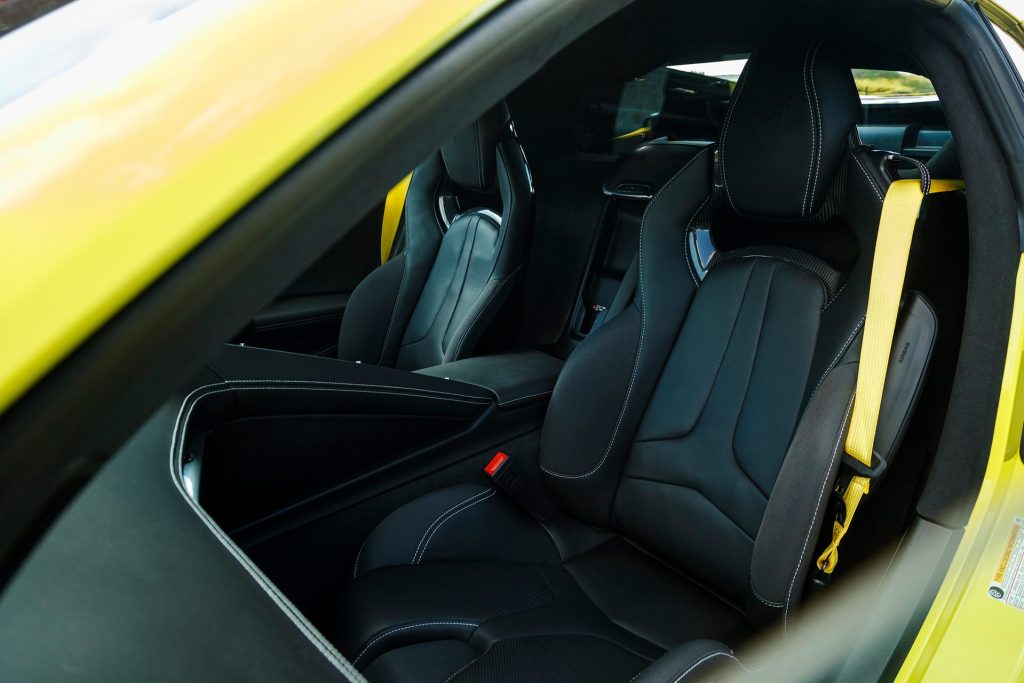 GM and Ford don't like to advertise acceleration numbers while the internet variably said somewhere around 3.6sec. Given it effects an overtake in 2.2sec that seemed about right to us.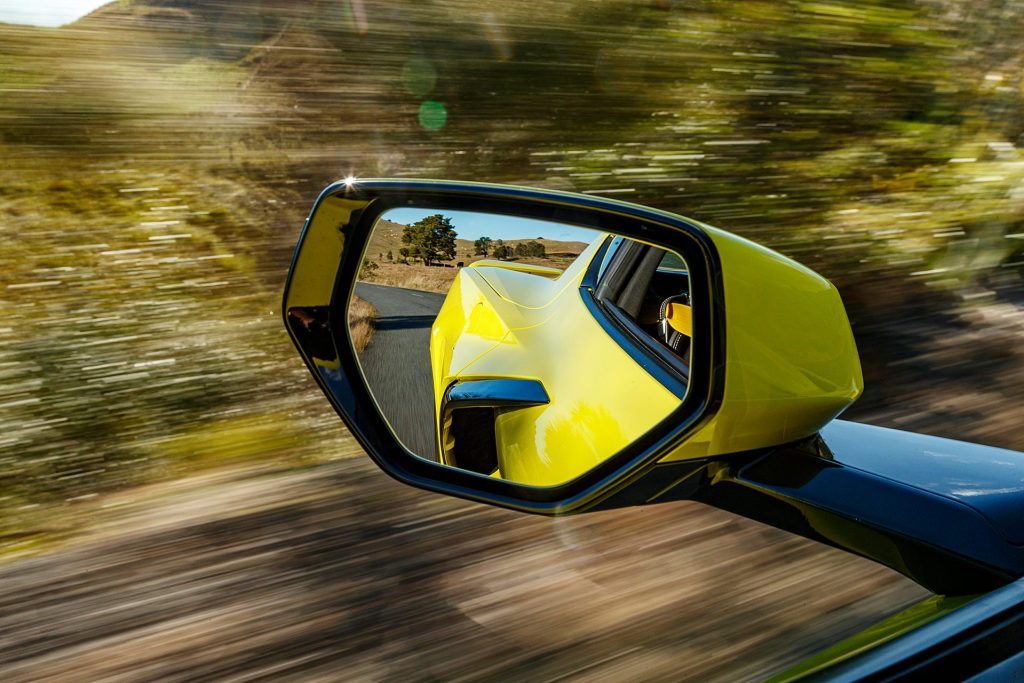 What we can tell you is that without launch control, you won't better 3.9sec, feeling soggy off the line. But with launch control active it lets rip at about 4000rpm and the rears just want to over-rotate. Best to dial up Performance Traction Control, Dry. On our average chip seal surface the tyres weren't hooking up properly for the launch but a 3.5sec run still puts it amongst some pretty impressive company. We reckon it might run low 3s on a good surface. It was much the same for the emergency brake tests too, all in the 34m area. On hot mix, we'd expect low 30s. The brakes are adjustable for pedal feel, by the by.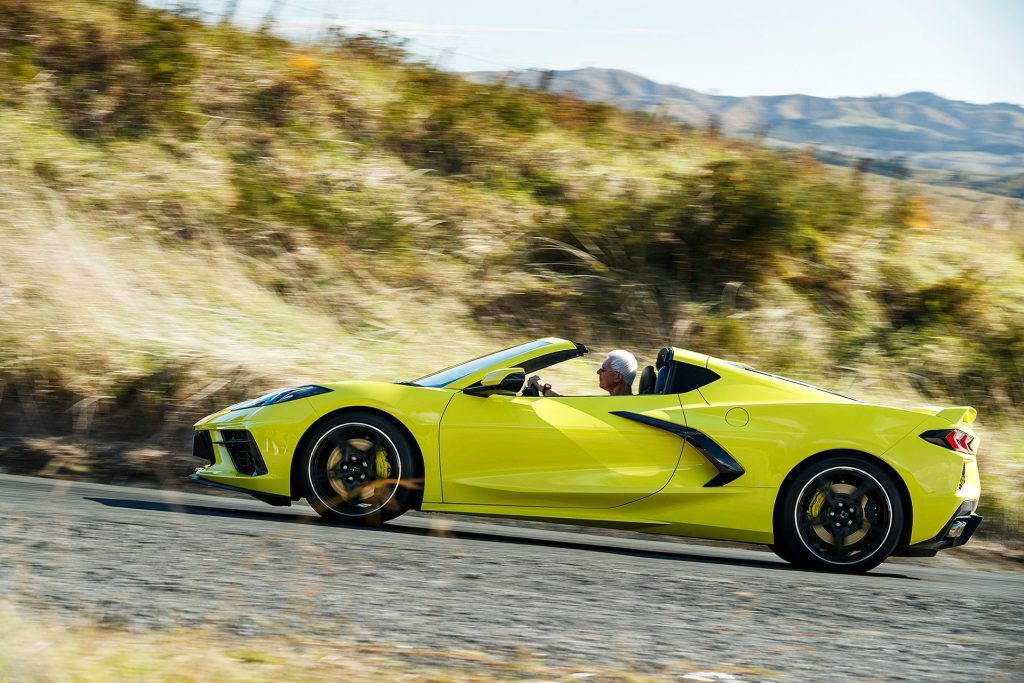 Drive modes galore 
There are two 'flexible' drive mode settings (configurable Zed and My Mode), aside from the four regular set-ups (Tour, Sport, Weather and Track). No Eco here, except that in low load situations the eight will adopt the V4 setting where we saw single figures, at least for instantaneous fuel use. The average was around 11-12L/100km in our hands.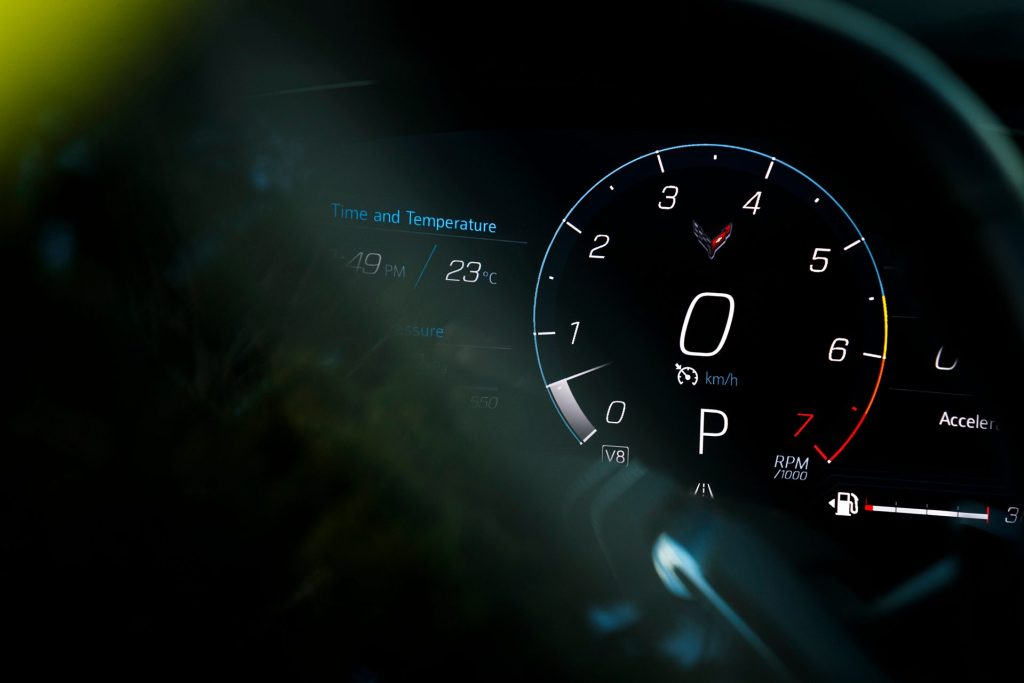 The dual-clutch transmission gets the best from the V8, with a seemingly uninterrupted 369kW of power and 637Nm of torque. In everyday use it's very friendly. We alternated between Tour which is like Comfort mode for other brands, and Sport which is a bit more amped all round but not too much so because you have the Track and Zed modes for the full-larrikin experience. In Tour mode, this shifts beautifully or you can use the oversized stony cold stainless shift paddles that will dutifully obey your commands. Hold the left shift paddle, and the tranny selects the lowest possible gear for the corner you're approaching. But that's probably best reserved for track use.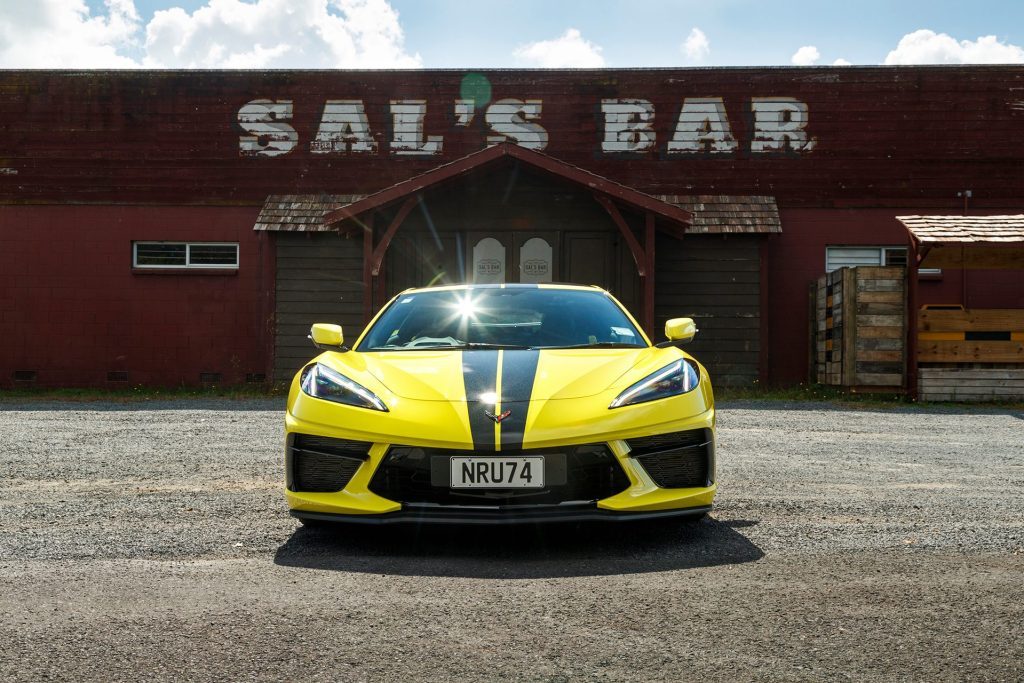 It's the meat of the naturally aspirated V8's midrange that packs the best performance/economy/sonics mash up, thanks in part to variable valve timing. Anything more than about 2500rpm has the engine on full alert and you're away laughing. In Zed and the Track modes this makes a pleasing noise both inside and out. Get rid of the Targa panel whenever you can to make the most of the V8's resonant bark.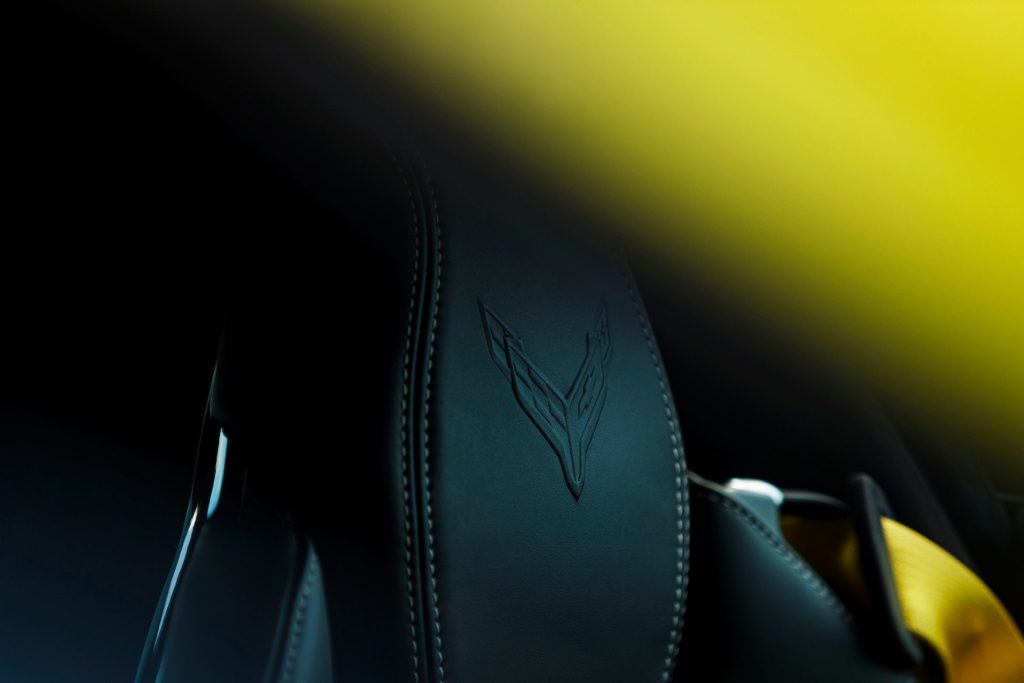 Standout features
There are a couple of truly outstanding aspects to the Corvette C8; the ride and handling. Take one look at this and you'd almost expect it to be firm and unforgiving but it's really not, especially at open road speeds. Even in the Sport mode there's inbuilt compliance which is a bit unexpected given it rides so low to the ground and is so up for cornering capers, even in the Touring mode. That also gives some hint as to its GT status, as it actually has a reasonable luggage capacity as well (for a two seater and providing you don't always drive around lidless). You just need to be aware of too much speed on rumpty secondary roads. Occasionally it will use up all the travel. But on the whole this rides in sublime fashion, as is typical of magnetic ride adaptive damping set-ups. It's particularly impressive given the lateral dynamics of which this is so clearly capable.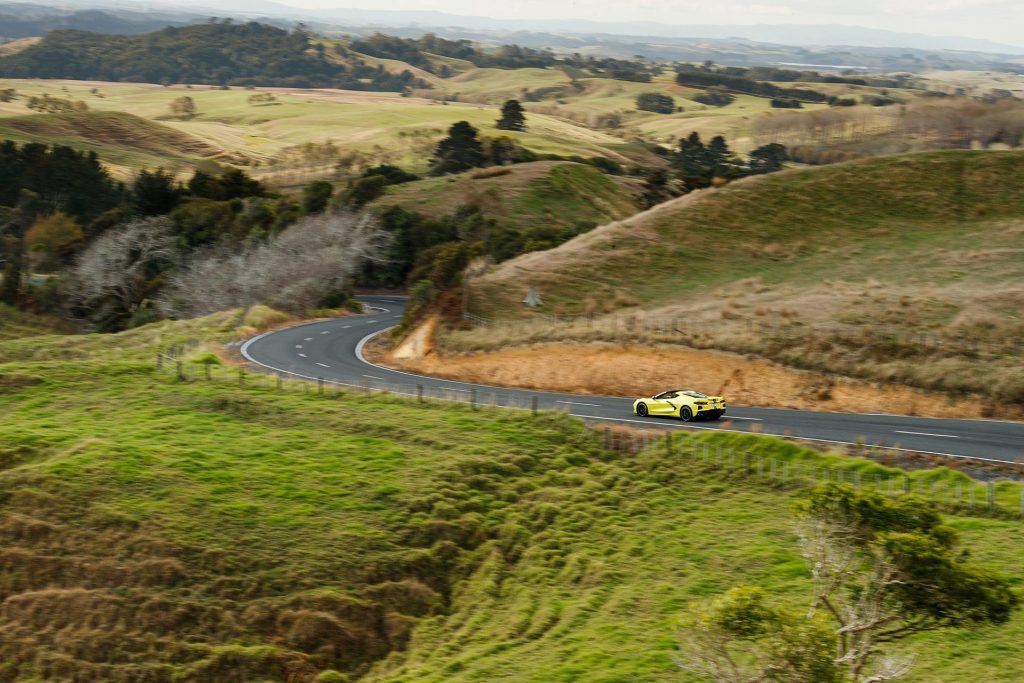 Getting your G groove on 
Anything that comes with a lateral g meter is obviously able to hold corner speed better than your average bear. Years ago we first drove a WRX STI with a g meter and had all sorts of trouble attaining a single G of lateral acceleration. Well this has rather more rubber – 245/35ZR19s and 305/30ZR20s of the Pilot Sport 4S persuasion – along with a race car-like 40/60 front/rear weight distribution so is more up for developing serious cornering forces. On the bend we used for photography, we saw a maximum figure of 1.16G and it pulled more than 1g each time we headed in the downhill direction. In tight corners with a decent surface it isn't so hard to exceed a g of lateral acceleration. So this is a cornering talent. In the Track setting there's a bit much wheel heft for road work but Sport mode is ideal. We also enjoyed Zed mode in which you can configure settings to your heart's content. For many we imagine Touring will become default.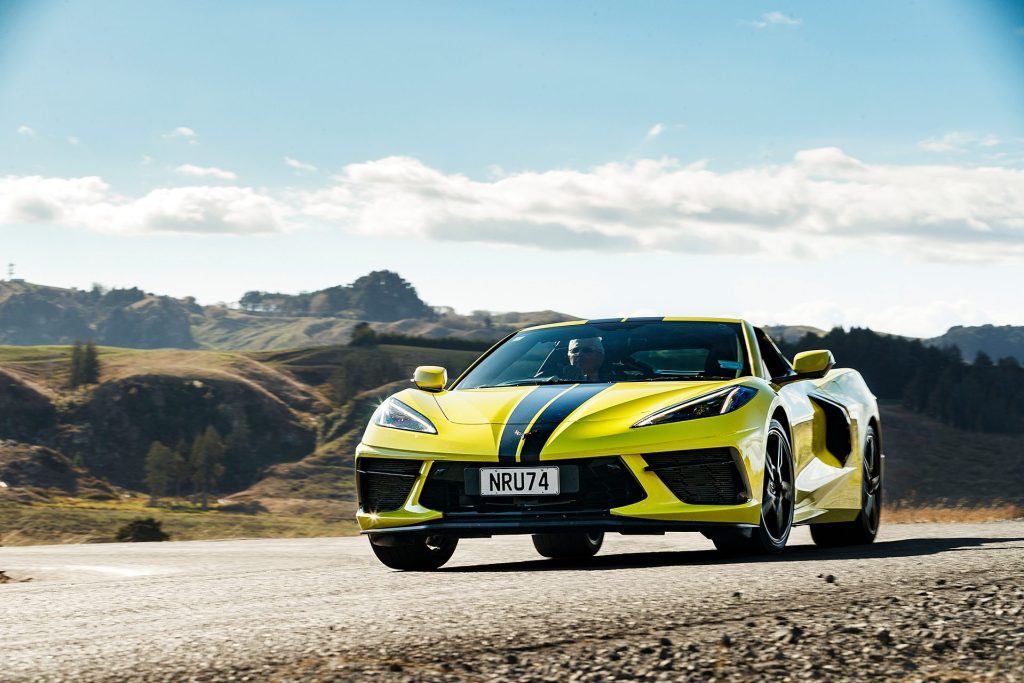 And as for that odd-looking squircle of a steering wheel? Actually, it works a treat, the steering sharper than its 2.5 turns lock to lock might suggest. Because it's unencumbered by weight up front, the C8 turns almost intuitively. Another notable aspect is undercooking corner entry speeds because it's so balanced and fast midcorner. The C8 reacts as positively to backing off at corner entry as it does powering through it, both tightening the line.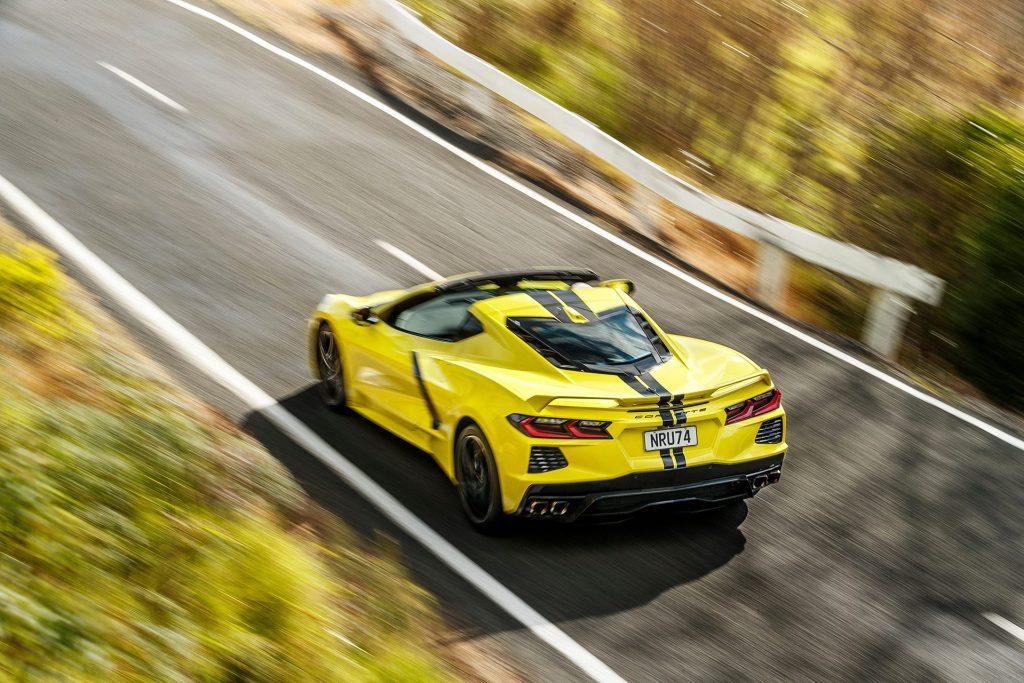 Well stocked
Anything that could stand to be improved? It's sensible having a head-up display – not the best we've encountered – but not having adaptive cruise on a car costing the thick end of $200k would seem shortsighted. So too now AEB. The indicator wand is not only sited too far from the wheel but also has disappointingly vague action. And while the GT2 bucket seats look flash, the fully pumped lumbar adjust feels a bit bony after a time.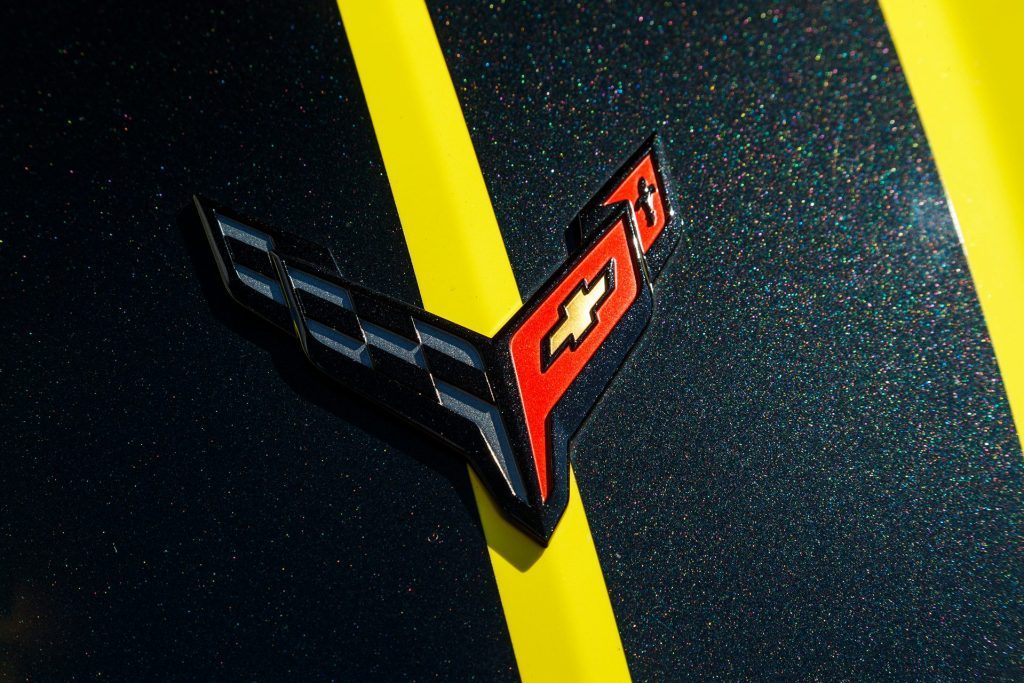 There are a few gimmicky things too, like the powered door openers, clearly not to be trusted as there's a manual override on the floor. And some of the performance aids didn't function quite right, though maybe this was user error.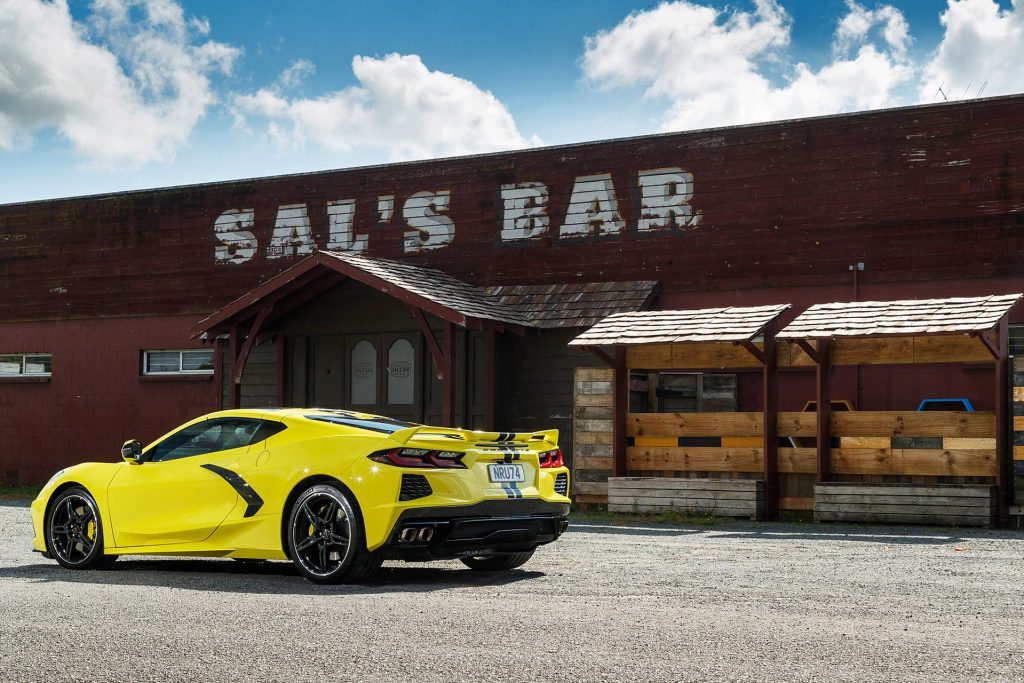 As to other standard-fit bits, figure on a powered steering column, wireless charging, a Bose 14-speaker sound system and in the 3LT extra leather trim for the dash and door panels, and suede microfibre from the A-pillar upwards.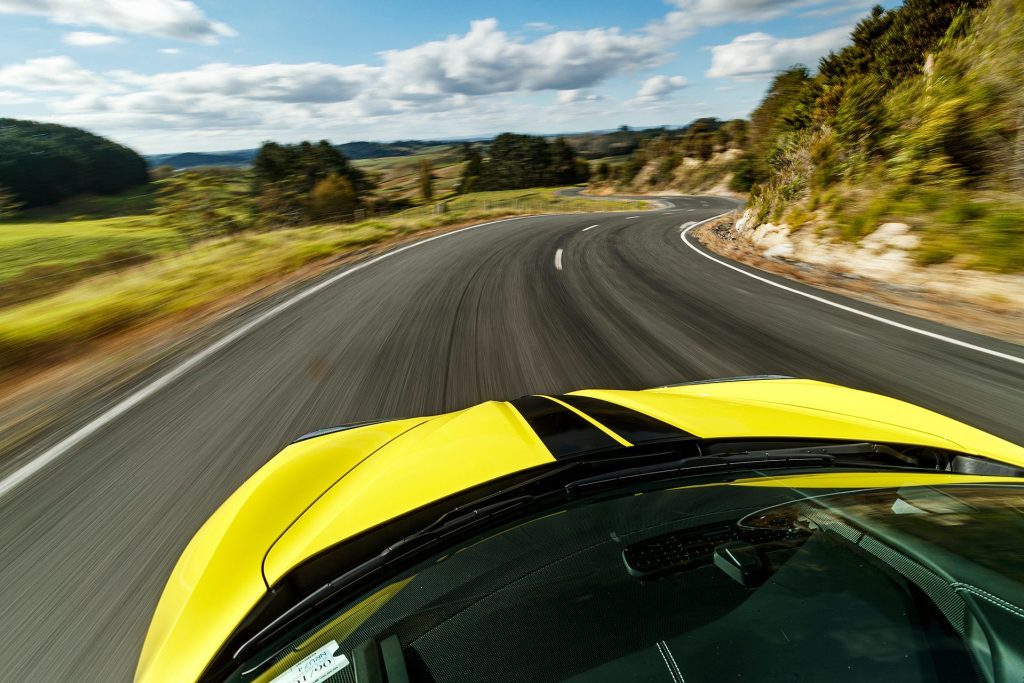 The Z51 performance pack is standard fit, and includes adaptive damping, the front lifter, electronic LSD, a rear spoiler, extra cooling provisions, a specific go-faster rear axle ratio and performance exhaust, brakes and suspension. Pricing for the 2LT kicks off from $154,990.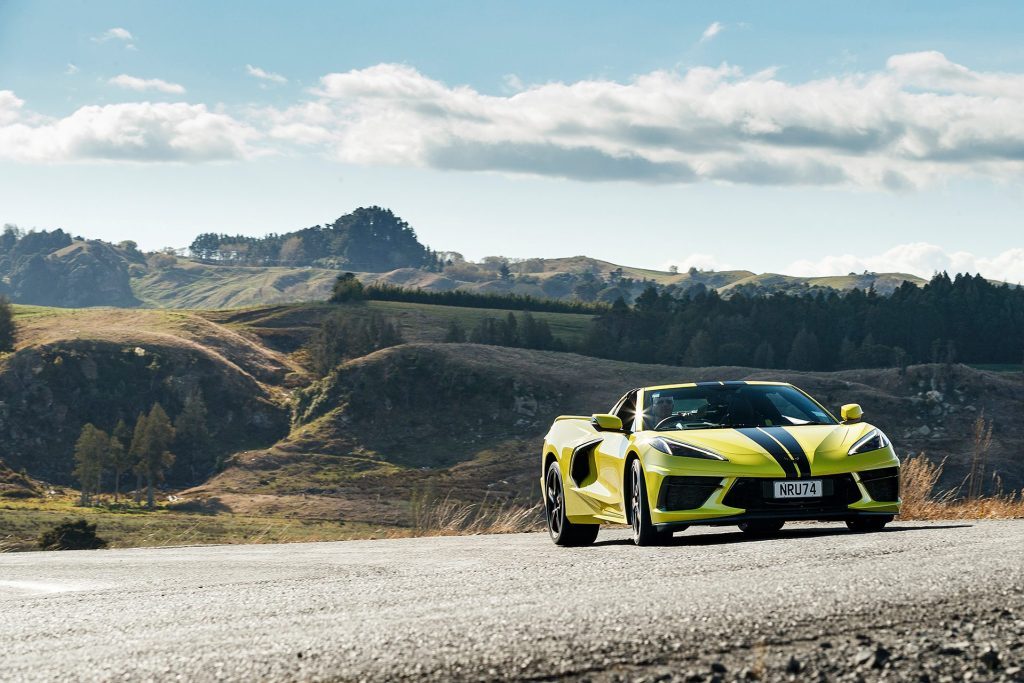 Given this looks exotic and Italian, at a price that's roughly half (or less) of what you'd expect to pay for a similar performing Euro competitor, most will be happy to overlook the minor foibles here. In C8, GM has fashioned something of an 'affordable' supercar, if there's any such thing. Truly, it's this good. As to what the formidable Z06 range topper is like, and it's coming here, we can only imagine.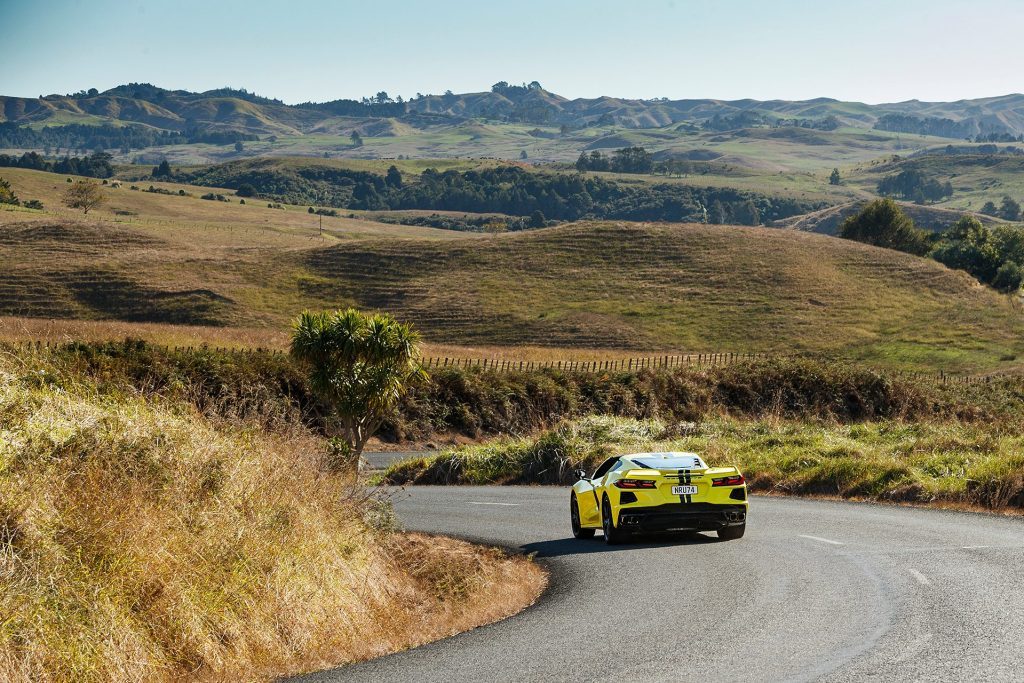 Model
Chevrolet Corvette Stingray
Price
$169,900
Clean Car Discount
Fee + $5,175
Engine
6162cc, V8, DI
Power/Torque
365kW/631Nm
Drivetrain
8-speed twin clutch,
on-demand, RWD
Fuel Use
15.1L/100km
C02 Output
349g/km
0-100km/h
3.55sec
80-120km/h
2.28sec (74.85m)
100-0km/h
34.34m
Stability systems
ABS, ESP,
Safety
BSM, LDW, RCTA,
ALK, AHB
Luggage Capacity
240L
Tow rating
453kg
Warranty
3 years/100,000km
ANCAP rating
Not yet rated
Weight
1527kg (claimed)