From a wild child to a mature concept in three generations, what was once an oddity has spawned a whole new class of vehicles. We drive the latest BMW X6.
A couple of BMWs over the years have pushed the styling boundaries and we've no problem with that. Half the population thinks they look fantastic and the other half wonders what they were thinking. Examples include Bangle's 7 Series of 2001, and the original X6 that emerged in 2008. It was famously likened to a squatting dog.
BMW had the last laugh though,selling roughly one million of the 7 Series and half a million X6 examples. Which kind of shows that radical designs appeal to a certain subsection of any population.
And now the Bavarian has introduced the third-generation X6 that features slightly more aggressive and even less controversial coupe SUV styling, updated technology – taken as read – and additional connectivity.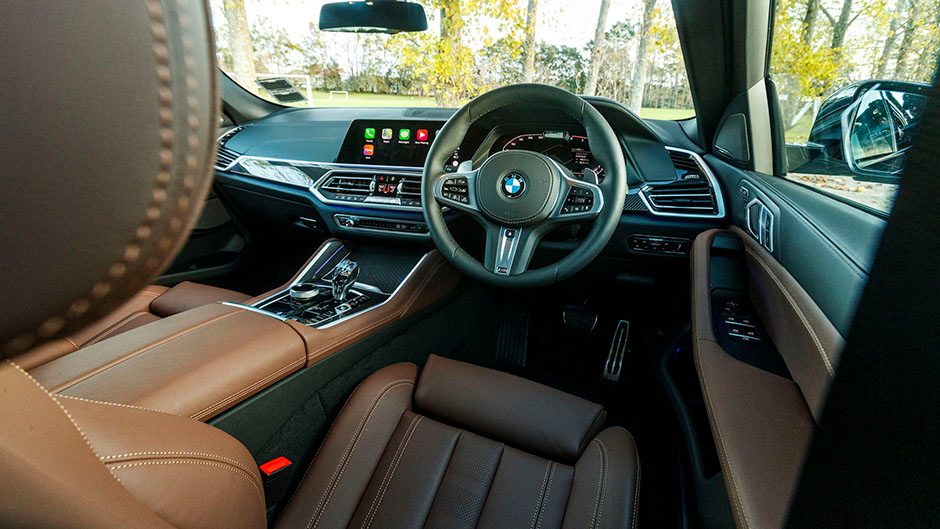 A starry new feature is the optional "Iconic Glow", an illuminated grille. And the kidney grille itself is bigger than ever, with both halves of the design framed by a common surround.
The overall outline of the X6 remains unmistakable but it's toned down, and from the tail it bristles with a muscular outline, big haunches. My better half felt it was an outlandish look but this seems an improvement to my more experienced eyes. The thin slit of a back window remains, limiting rearward visibility. But a 360-degree camera, a huge central screen for the reversing camera and a memory of the last 50 inward metres (so it can automatically retrace steps) make parking chores a snip.
Step inside and you can appreciate why you might have shelled out $150k for this big mover. Not that the coffee-colour Vernasca leather trim would necessarily be our pick. The auto retracting steering column simplifies entrance and exit, and the sports seats with added torso support are really appreciated at max G-force times, especially on the optional 22-inch alloys this was running.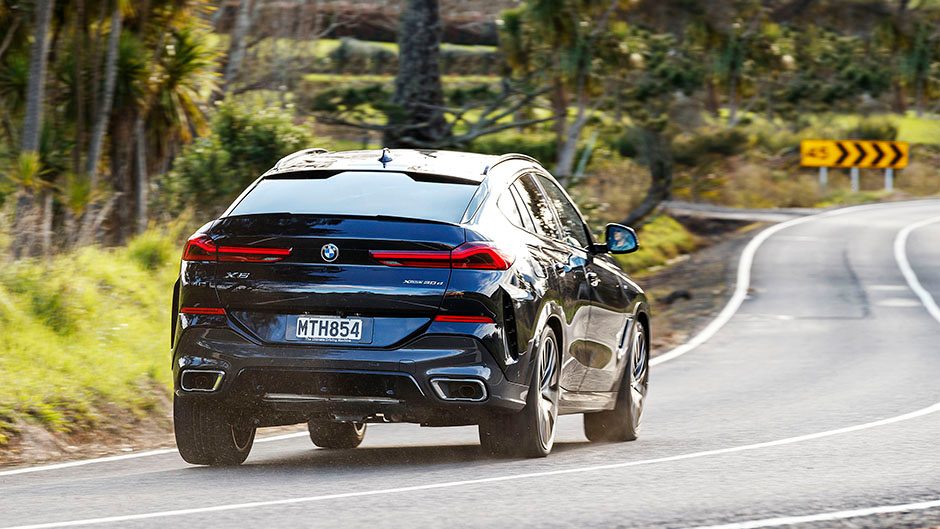 The central screen faces the driver and all manner of information is shown on the head-up display. Naturally the fifth door is self opening and closing, and the luggage bay, while not that deep, is quite lengthy and good for 580L of guff. That's up by 30L on its predecessor and with 40/20/40 rear seat back split folding that can expand to 1530L.
Extra luggage space is the result of increased length and width overall, out by 26 and 15mm, respectively, while the wheelbase has stretched by 42mm. A slight reduction in overall height plus the extra width probably explain why this seems more grounded than before. That and the standard M Sport package which adds visual muscle.
And mention of that, there's more than a bit of muscle under the hood, the flow of torque processed by a liquid shifting eight-speed auto. You've also a host of modes to sort through, along with a separate sport transmission setting. This means you can ride in Comfort mode but get livelier performance simultaneously.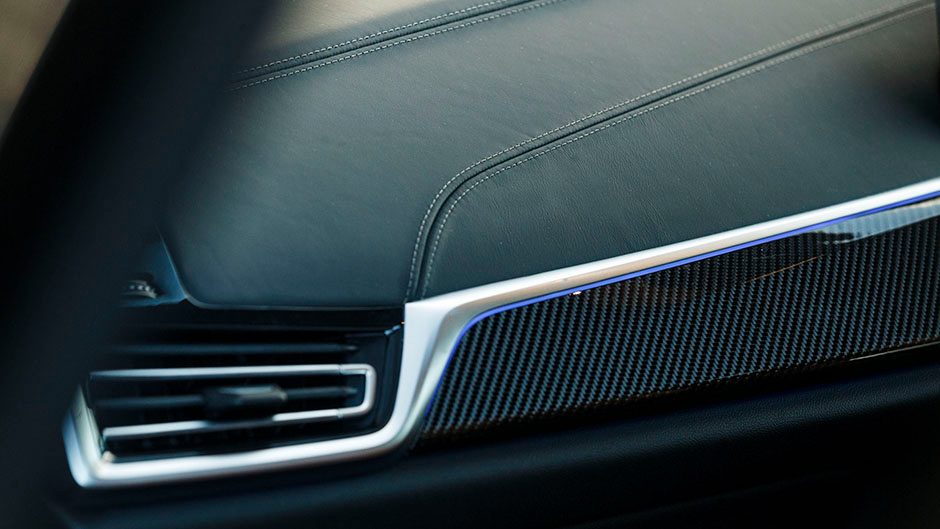 The powertrain is like that fitted to the mechanically similar X5, and we found the performance was near enough to identical. That hit 100 in 6.18sec and we got 6.19sec with launch control active. BMW NZ conservatively claims a best of 6.5sec. Oddly, the company's global website claims 6.10sec but that's with the very latest generation of 30d engine, the one that produces 210kW and 650Nm and runs AdBlue. We get the previous iteration here, with the same output as the second-generation X6 at 195kW and 620Nm. Whatever, it still provides solid performance considering this weighs in at over 2.2 tonnes. It can also lug braked trailer loads of up to 3500kg. Kiwis are likely to see the updated cleaner 30d engine next year.
Modern diesels really can deliver astonishing performance. The X5 3.0d last year registered a best overtaking time of 4.68sec when left to its own devices in Sport mode and we replicated this exactly on the very first run. But if you do things manually upshifting early, so the entire run is done in fourth gear alone, you can whittle that back to below 4.2sec. And all the while this large and in charge vehicle is sipping fuel at a quoted overall rate of 7.1L/100km. We averaged 9.6L/100km in town and country running. Instantaneous fuel use is around 7.0L/100km at 100 on the flat. Lofty gearing helps. The engine even sounds interesting, gruff under the pump, gurgling at times with its standard M Sport exhaust, while at others it's virtually inaudible.
Performance when you're not even trying is equally satisfying. No great need for many revs here as it feels burly and bull-like from 2000-3000rpm. Pushing the shift lever left adds instant zest for rapid overtaking.
You'd not credit how well this corners and sticks, up to a point. That's mainly because its weight is so well distributed, 48.9 per cent to the front, and it features adaptive damping. So it's buttoned down best in Sport mode, unquestionably, but the Adaptive mode rides a bit easier without losing much in the way of dynamics. Even Comfort, which BMW describes as a "balanced setting", is entirely satisfying for brisk running, and obviously is the best round-town mode.
It's hushed too, despite the enormous 315/30R22 rears, in cabin SPLs registering a worst of 72.5dB, and generally in the late 60s. And that's in part thanks to optional acoustic glazing. It was cold during our time with the car so the heated wheel was pleasant too, even if the M Sport wheel is too thick of rim.
It's a clever bus this, the smart key unlocking the doors as you approach the vehicle all by itself, doing the opposite as you walk away. Few other manufacturers offer this sensible feature. Other handy items not already noted include reversing assistant, semi-autonomous drive functionality, gesture control, the Hey BMW voice control system (slower to react than the opposition's), active cruise, self parking, a Qi charger and even more ConnectedDrive services than before, including real time traffic updates. Features new to X6 include adaptive LED headlights, heated and cooled cupholders, and heated front seats. Our vehicle had $21k of cost options, the most interesting being its laser lights, taking night visibility out from 300 to 500m. Air suspension is available if you need height adjustability but the metal boingers work pretty darn well.
Some may still see this as a polarising design but there are plenty of other imitators around now, mostly German of course. Anyway, like a good book, it's the contents not the cover that count, and this is a beauty beneath. X-alted even.
| | | | |
| --- | --- | --- | --- |
| Model | BMW X6 xDrive30d | Price | $149,400 |
| Engine | 2993cc, IL6, TDI, 195kW/620Nm | Drivetrain | 8-speed auto, all-wheel drive |
| Fuel Use | 7.1L/100km | C02 Output | 186g/km |
| 0-100km/h | 6.19sec | Weight | 2252kg |