Recently we rode BMW's S 1000 RR superbike with variable valve timing and it was a ripper. The supernaked misses out on Shiftcam so is it left wanting?
Most modern superbikes are packing in excess of 200hp and weigh under 200kg, and could almost be seen as too much of a good thing. Great if you're track addicted perhaps but top superbikes don't necessarily make top road bikes and many have opted for less weaponised but no less sophisticated adventure bikes for road work instead. These offer almost as much usable power but much greater levels of comfort.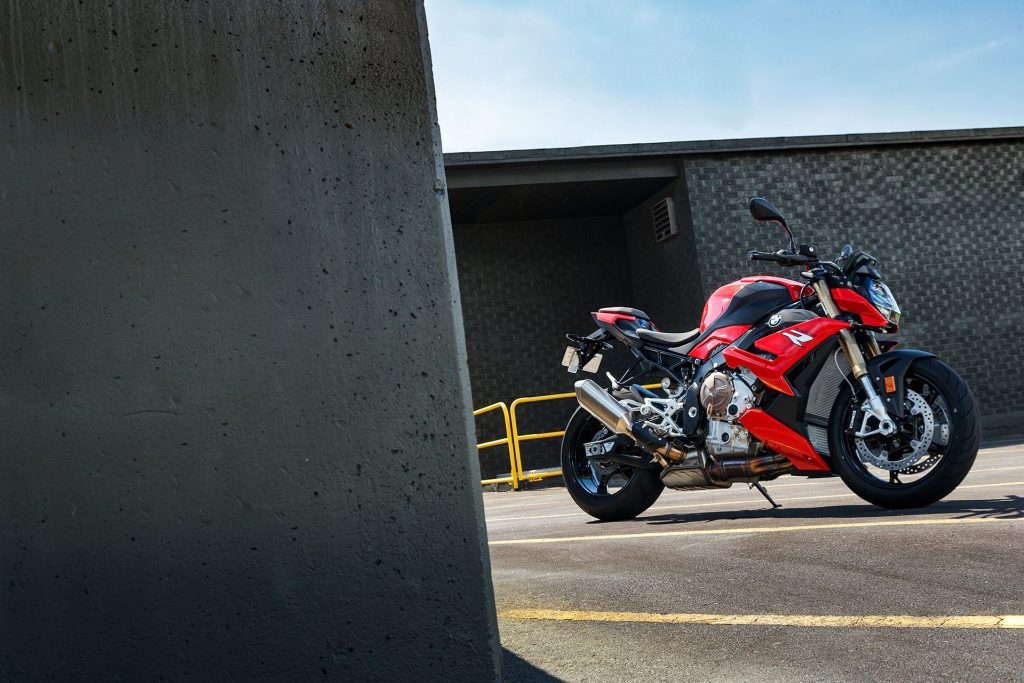 That said, the supernakeds based on the superbikes are a different animal altogether because most are retuned/detuned or a mixture of both. Like this here BMW S 1000 R supernaked.
We were champing at the bit for a ride since we recalled how good the previous iteration was. Despite being 'nobbled' to a mere 160hp, it could still get to 100 in under 3sec. This latest one, we were duly informed, had an uprated engine, though without the variable valve timing of the superbike. It was more of an emissions update to Euro5 status, with 165hp/114Nm output more or less unchanged. Like the RR we rode, this only had a few hundred km on the odo so was governed to 9000rpm and therefore wouldn't be breaking any acceleration records during our stint.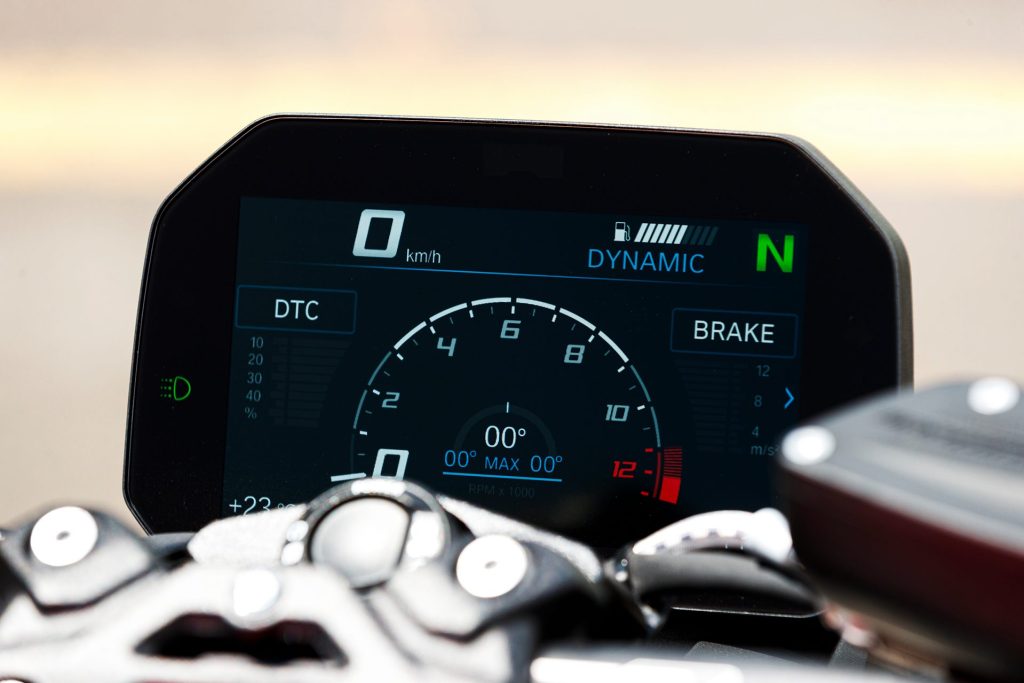 Other significant updates include a lighter transmission, and a revised 'Flex Frame' based on the RR's aluminium skeleton. Both engine and frame shed weight, the bike now scaling up at just under 200kg wet. There's a new and improved single headlight up front, with integrated daytime running light.
So engine output is roughly as before, and while it's not the most potent of the supernakeds none of them is exactly starved of grunt. There's not the brimming midrange of the S 1000 RR but this pulls from down low extremely well, the R trickling about town in top right down to 45km/h, pulling away without hesitation from 1500rpm. So it's no wimp. At the other end, well, hard to know given it coughs out at 9000rpm. A shame that because from 8000rpm it is just starting to head dramatically into its zone of rapture, accompanied by a musical wail.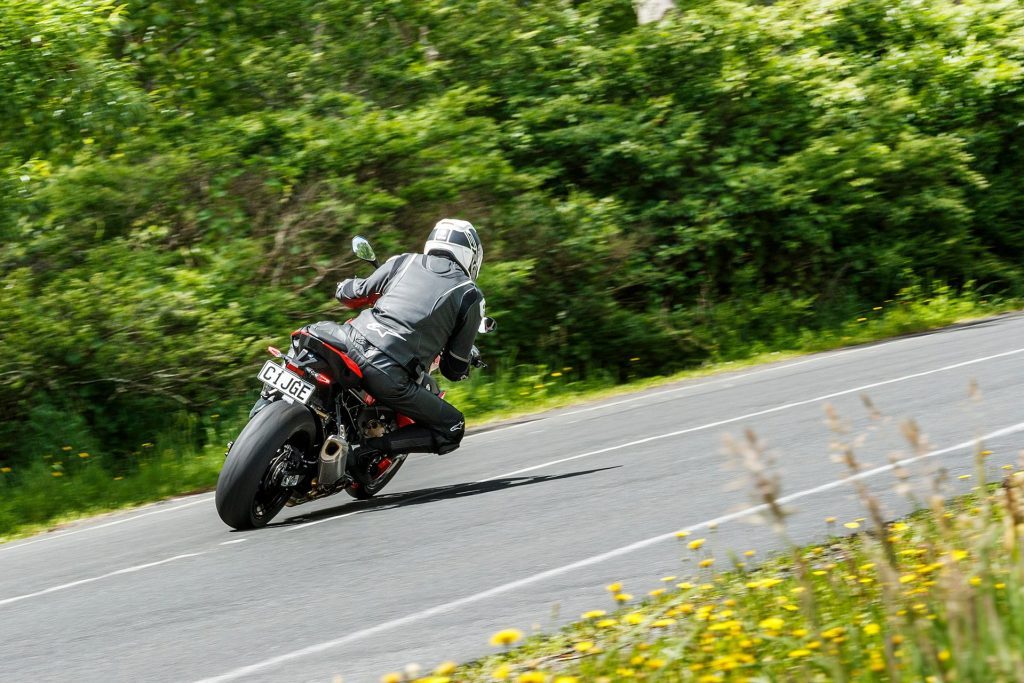 Even without access to the final third of the rev band, and with an upshift this managed a 0-100 of 3.25sec. It's the overtake where it paled against the also rev limited S 1000 RR superbike. But a best of around 1.5sec, while about 0.25sec behind the more powerful machine, still beats all but the very fastest car we've tested.
A greater difference is how the two fare on road. We reckon the litre superbikes are sometimes a bit much for Kiwi roads, but this supernaked isn't. It's better suited for the job, lack of weather protection almost a bonus, helping to keep things real. You the rider dominate the aeros and become the inbuilt speed restrictor.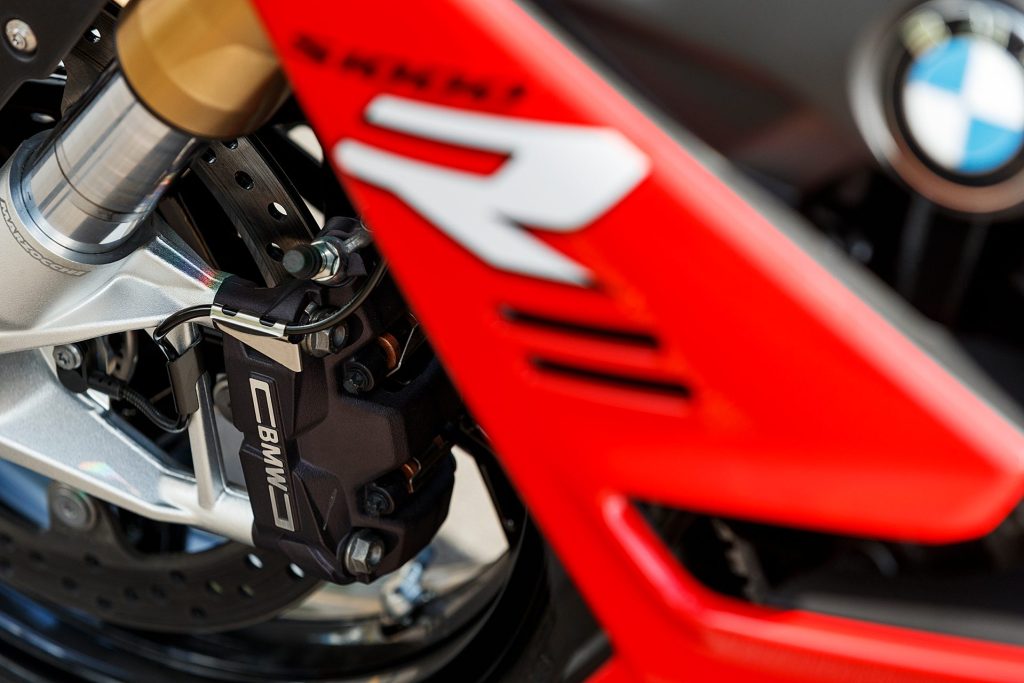 Naked bikes are seldom quite as magical to behold as the better dressed superbikes on which they're based and that's the case here too. However, like the latest RR, the bizarre looking asymmetrical headlights have made way for something more singularly inviting. Overall it's still not as easy on the eye as the fared and sleeker RR though.
Once you're on it, of course, that's of little relevance. There are lots of similarities with the more expensive machine, but more differences to be frank. This one is much less headstrong – the retune means it is less likely to take flight when launching from a standstill and equally you can give it full noise when accelerating from 80-120 through the gears, the front wheel going light but not pawing the air like the RR does.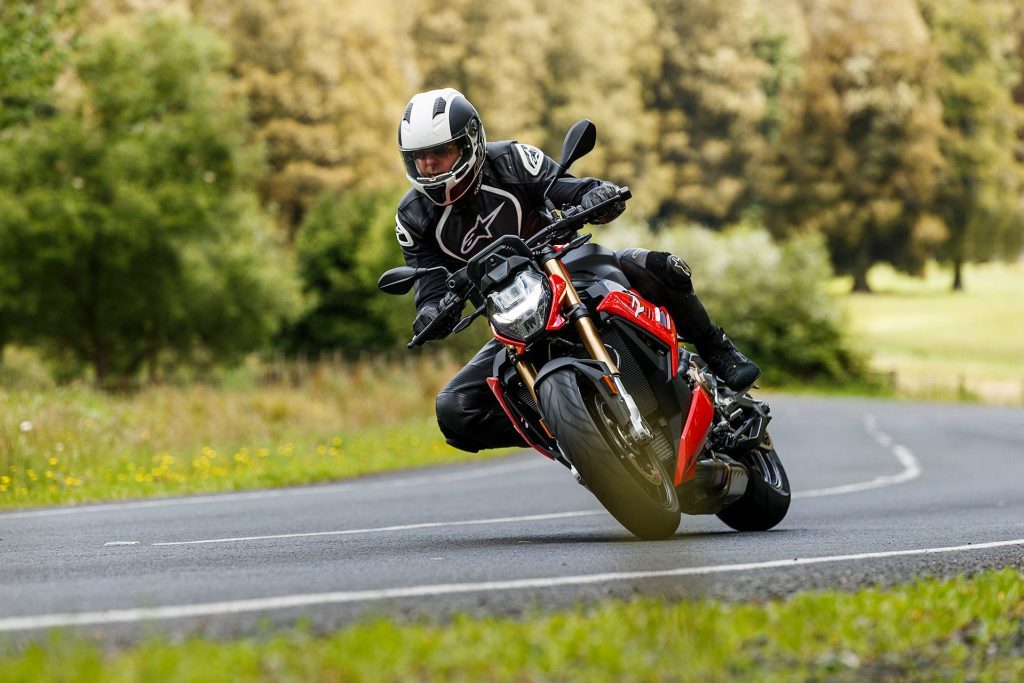 Plus, this has so much gung-ho grunt in the low to medium rev area that you seldom find yourself wringing its neck. Short shifting at 4000 or so puts you into top gear at 100 and it will literally pull up any incline by just applying more throttle, even from about 70km/h or less. It's a pretty smooth mill too, with only a smattering of high frequency bar vibes at legal cruising speeds where it's sitting right on 5000rpm and feels very relaxed. The nice thing is you don't often find yourself doing silly speeds on this so it has a more relaxed gait.
It's much easier to ride than the S 1000 RR in other ways too, being not as complex with just three modes – Rain, Road and Dynamic. Road we used most of the time, though we rather liked the Dynamic engine setting mixed with the Road suspension tune. Simply hit the button with the spring icon and it swaps between the two ride settings. Right alongside that there's a TC off switch too so you really don't need to use the iRide rotary controller that much if you choose not to. And we didn't because it is not that intuitive to use, at least compared with some others.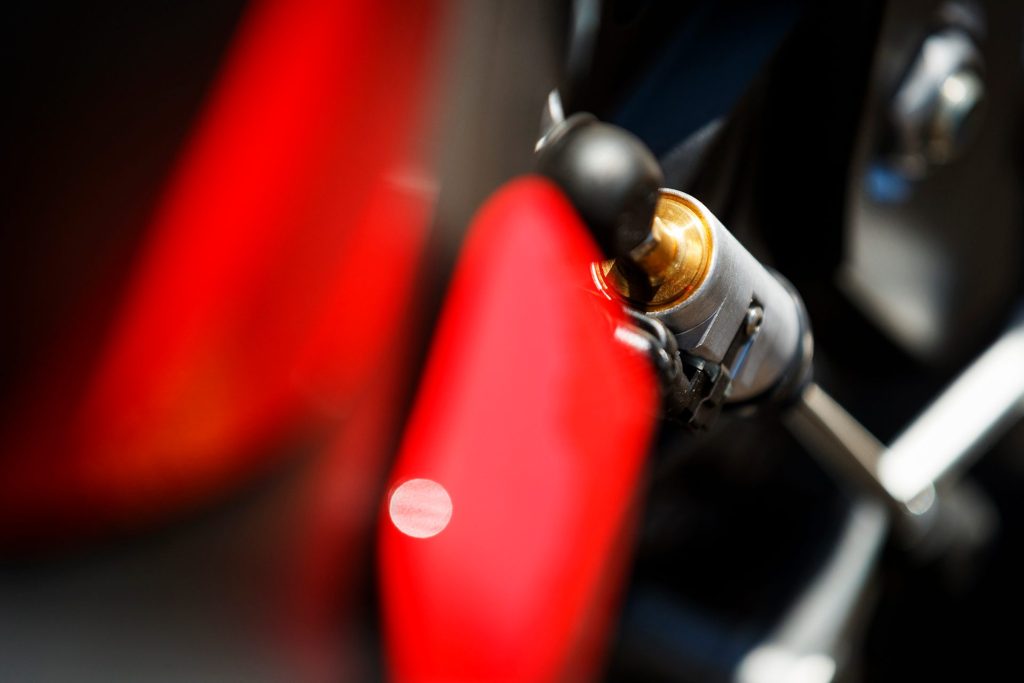 So configured you get the sharpest throttle response but don't have to suffer the indignity of rising up off the seat in anticipation of the bumps ahead. The Road setting is still quite firm mind you, but less prone to doing your back a real disservice. Dynamic ride is best left for race track-type surfaces. And there you'd probably rather be on the RR anyway, tucked in out of the main wind blast.
Perhaps the most telling thing about the R is that it's a proper riot on road. It handles up a storm, the new frame and Dunlop Sportsmart Mk3 rubber giving it some stick in the dry. This railed through the corner we used for photography at speeds that would have even sporty SUVs crying quits.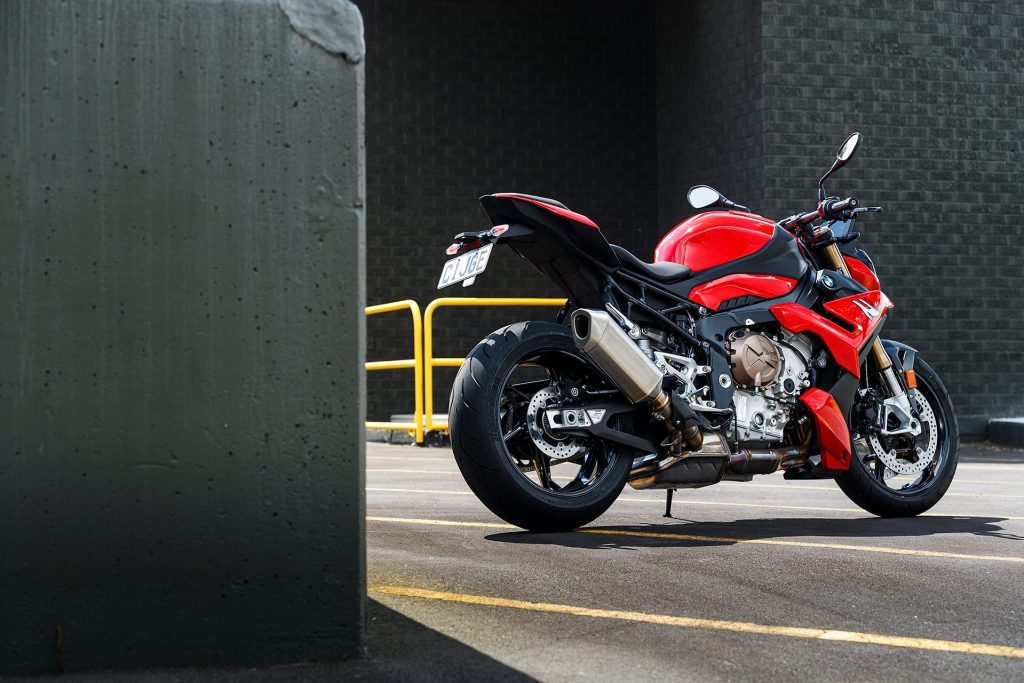 Last time we rode it, the cost was $26k and now it's $31,500. It's still dripping with gear though, getting the same 6.5-inch TFT screen as the RR. There are also heated grips, cruise control, a bidirectional quickshifter, adaptive damping and headlight, BMW's trick lube-free endurance chain, and engine brake control. There's dynamic brake control and ABS with cornering function too.
We really liked the last S 1000 R and this is even better. Add a wee flyscreen and enjoy a summer of unbridled fun.
| | |
| --- | --- |
| Model | BMW S 1000 R |
| Price | $31,500 |
| Engine | 999cc, liquid-cooled, fuel injected, IL4 |
| Power | 120kW/114Nm |
| Transmission | 6-speed, chain final drive |
| 0-100km/h | 3.25sec |
| 80-120km/h | 1.55sec |
| Weight | 202kg (claimed) |