BMW Motorrad's R 1200 R melds an old-school engine honed over almost a century with modern electronics. It works in spectacular fashion. Who says old means old hat?
Having reviewed the leading lights from last year's new test bikes, we eventually picked our 2016 winner, the BMW R 1200 range. And that includes this one, the R 1200 R, which is essentially the naked version of the RS.
The R without the Sport then? Not really, for it merely loses the panniers and half fairing and gains a wee flyscreen instead. The rest is essentially the same, though trail is a bit sportier for the RS.
It doesn't come cheap at $26,490 for a naked bike, but then it's hardly stripped in the specification sense. Not only are you getting one of the most sophisticated standard bikes available (or 'roadsters' in BMW speak) but you're also getting one of the most fully equipped as well. So yes it costs, but you're actually getting a lot of motorcycle for your money.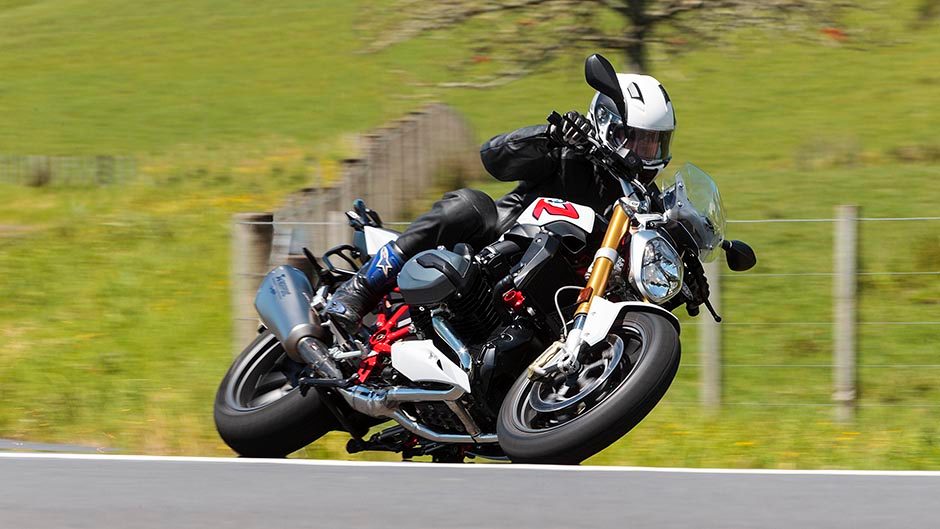 We used the term 'sophisticated' because it's the technology aboard that makes it so. And we'd use the quickshifter as an example of this. In 2010 the first devices were crude but the technology has quickly come of age, and clutchless downshifting was soon on the agenda. It wasn't until I rode the R 1200 R that I had come across a quickshifter that worked peerlessly in both directions. Effectively you use the clutch to get underway and in heavy traffic but otherwise you don't go near it again. It makes for a sweet compromise between an automatic and manual transmission.
The bidirectional quickshifter is a blast, upshifting through the gears with a natty blat from the Akrapovic pipe, and blipping perfectly, matching engine revs to road speed for the downshift. It is seriously sophisticated.
But wait, there's more gear. Kiwis get pretty much the whole shooting match of overseas options fitted as standard on the R 1200 R, including electronic control of suspension damping. There's sophistication even for the small things, like starting the bike. First place the key in your pocket and leave it there until you've finished your ride. How do you release the steering lock? Glad you asked. Simply push on the button where the ignition key would normally insert. Repeat to lock. Clever huh? It's the same difference for the petrol cap.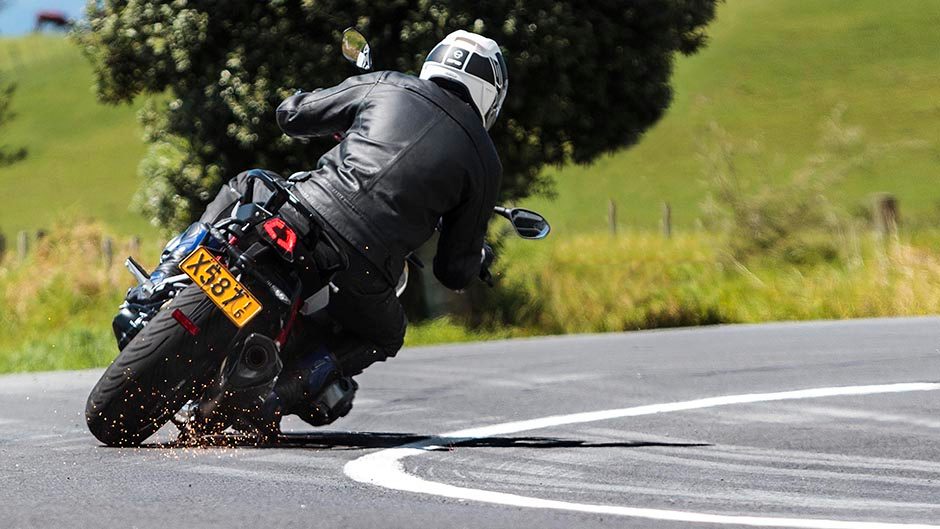 The instruments have an almost bewildering amount of information on display but that's because this bike is so replete with gear. There's ABS braking and traction control, naturally, but also the ability to alter preload and damping electronically, and a range of engine modes (we left it on Dynamic most of the time). There are also three LCD screen styles, though none had everything for me. I'd want one with digital readout of both engine revs and speed, none of which had that. Never mind, because there's an almighty analogue clock alongside the TFT screen for speed checks.
Just in front of all that is a gizmo I'd not encountered before, so I don't really know what to call it. Essentially it's a trip computer cum stat nav screen. Most of the time it shows exactly where you're going but hit the 'home' button and then 'trip' and it shows you all the info you're able to scroll through in the TFT screen, but presented all at once. So 16 fields, full of numbers, including info like odo reading, max speed, average and instant fuel consumption. Just remember to look up every now and again.
So there's this motorcycle with a host of up-to-the-minute tech, and yet under the tank is an engine that's essentially been around since the first BMW motorcycle launched almost 100 years ago, the R32. BMW is still about the only bike maker to employ this flat-twin architecture in a major way, and by far their biggest selling models (R 1200 GS and R nineT) use the horizontally opposed mill, one liquid-cooled, the other by air. How come? Simplicity, smoothness, and low C of G.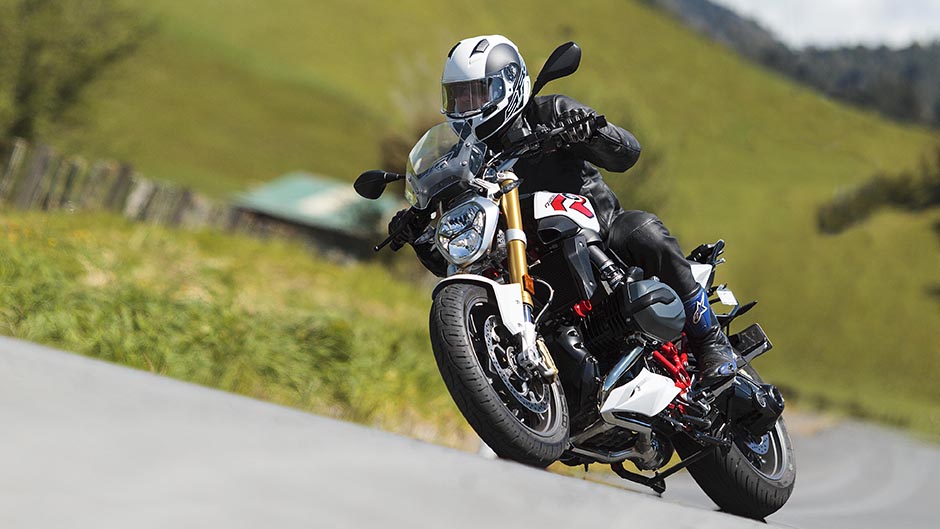 There's naturally the potential for engine head damage in the event the bike goes down the road, and torque reaction is also a minor issue, especially if you're a wheelie nut, but those are about the only real disadvantages of the boxer twin. Its 180-degree crank means equally spaced firing intervals for smooth operation. And it produces good torque across the low and midrange, meaning no need for billions of revs, so the engine lasts longer. In fact, BMW has about the best reputation for longevity in the industry, and that's why boxer twin BMWs retain their price so well in the used market.
Essentially this engine is the same as that in the R 1200 GS, water cooling implemented a few years ago (when it won our BOTY award) so it could meet increasingly tough emissions targets. But it also meant more power and torque. The former rose by 15hp to 125hp, while the latter, 125Nm is right up there with most superbike outputs, only it happens at 6500rpm. Furthermore, there's over 100Nm on tap by 2000rpm, and that's what it feels like, pulling away comfortably in top from there. Below that and it judders less happily.
Because of tall gearing which has the bike doing 3400rpm at 100km/h, fuel use is modest, with an average during ordinary running in the fours, and careful owners might get it into the threes. Abstemious this is.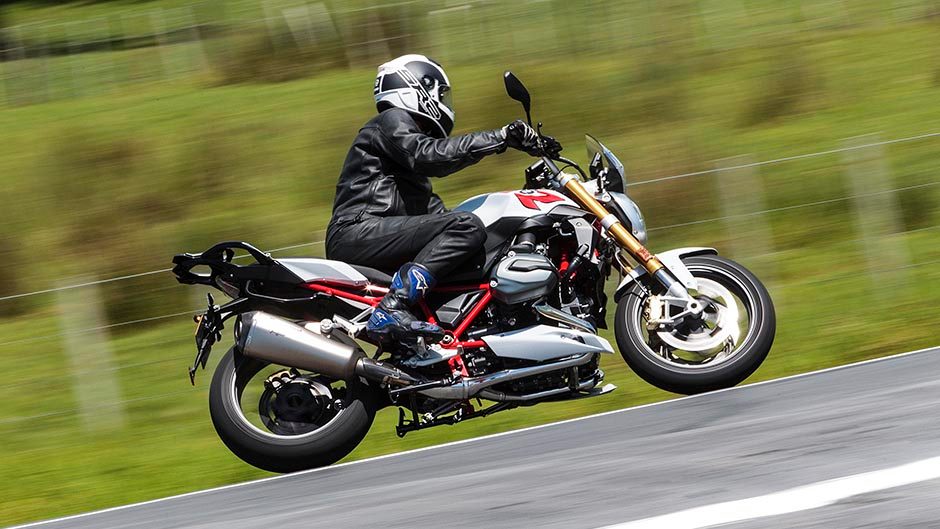 How does it go then? Well, not so very different from the RS really. Without the panniers and fairing, the R is 20kg lighter, at 234 vs 254kg, but it's not as though you'd notice. It was the amount quicker you'd expect of 20kg, roughly a poofteenth. But it's still sneaky fast; the air-cooled boxer twins used to struggle to break 0-100 in 4 sec, but this one, with a much stouter clutch, eased its way down to 3.28sec, with an overtake done in 1.68sec. This reminds of a young boxer's energy and speed, canine or human.
But what's so wonderful about the R 1200 R, just like the others in the family, is the way it handles (and rides). There's something special about the location of the engine, all that mass centralised so low, and everything seems to pivot beautifully about it. Changes of direction are almost instinctive, and with Pilot Road 4 rubber there's grip aplenty. Before you know it the pegs feelers are scraping on tarmac, at which point it is fairly well heeled over.
And it does it all so gracefully, tipping in readily and holding a line through lumpy corners. For a biggish bike it performs feet-up U-turns like a ballerina. The Road setting offers one of the best rides in the business, absorbing all and sundry on the fly. If the road's a mess, you'll feel it in Dynamic so the latter setting is better on smooth surfaces.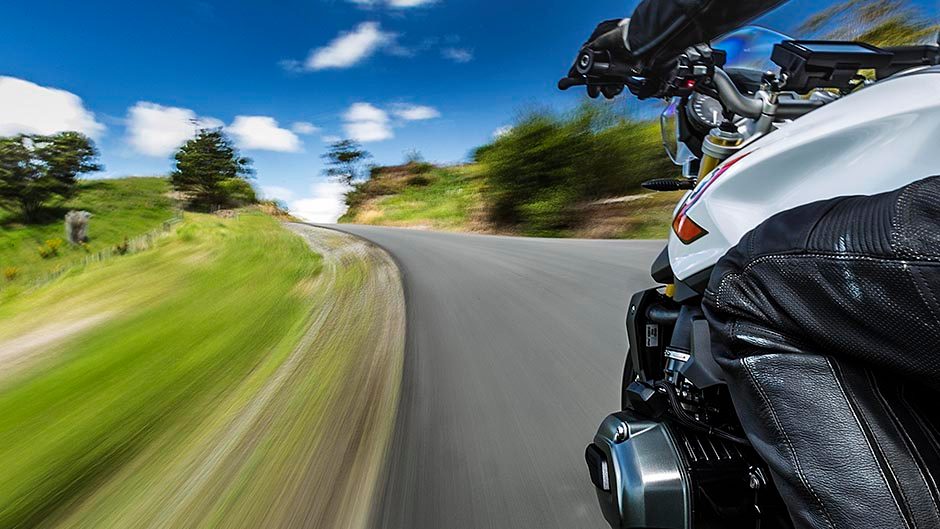 Because of such confidence inspiring handling, there's not much need to slow for bends but when the unexpected happens, the radial mount Brembos are up for it, backed by cornering ABS. Electronic suspension adjusts damping on the fly, even when braking. We had a brief moment of panic where someone decided to hang a right turn unexpectedly and the brakes hauled the bike to a stop with heaps more road left than I expected.
Great stuff and this unexpected mix of state of the art electronics with old school engine architecture makes for a brilliant ride, the entire range of R 1200s up for a spot of commuting or long haul touring at a moment's notice. Not cheap as we might have mentioned, but it is fully specified, including cruise control, shaft final drive, heated grips, adjustable levers, Sachs 45mm forks from the S 1000 RR, an effective fly screen, and centre stand. Compared with any four-wheeled BMW it's a total bargain.
And it's that contrast of old and new, plus great build quality that makes this special, and you'd not quibble about price knowing how boxers retain value. Another winner from BMW which is why the award goes as much to the R 1200 R as it does to the RS. Keep a look out for our upcoming review of the magical R nineT.
| | | | |
| --- | --- | --- | --- |
| Model | BMW R 1200 R | Price | $26,490 |
| Engine | 1170cc, liquid-cooled, fuel injected, flat-twin, 92kW/125Nm | Drivetrain | 6-speed, shaft drive |
| 0-100km/h | 3.28sec | 100-0km/h | 39.4m |
| 80-120km/h | 1.68sec (49.9m) | Weight | 234kg |