At the top of the performance tree for BMW currently is the M8. Is this the ultimate xDrive?
BMW's M8 Coupe Competition might not look like the Bentayga V8 we also drove this month, but they're more similar than you might think. Both sport biturbo V8s linked to eight-speed automatics, with roll controlled by active sway bars. They cost much the same too, each going for the thick end of $350k. There the similarities kind of begin and end, however, the Bentayga being the sumptuous luxo SUV, the M8 the two-door 2+2 coupe favouring dynamics over a pillowy ride.
There's one other aspect that sets the pair apart, though both impress in their own ways, and that would be their astounding turn of speed. The Bentayga is ridiculously quick for something weighing 2.5 tonnes, racing to 100 in something beginning with a three. The BMW is half a tonne lighter and has almost 60kW more power from its extra 400cc of displacement, so clocks in with a low three-second sprint time, making it the fastest BMW on offer at present. No doubt they'll be doing an electrified version of this in future, for that's the way the class is heading.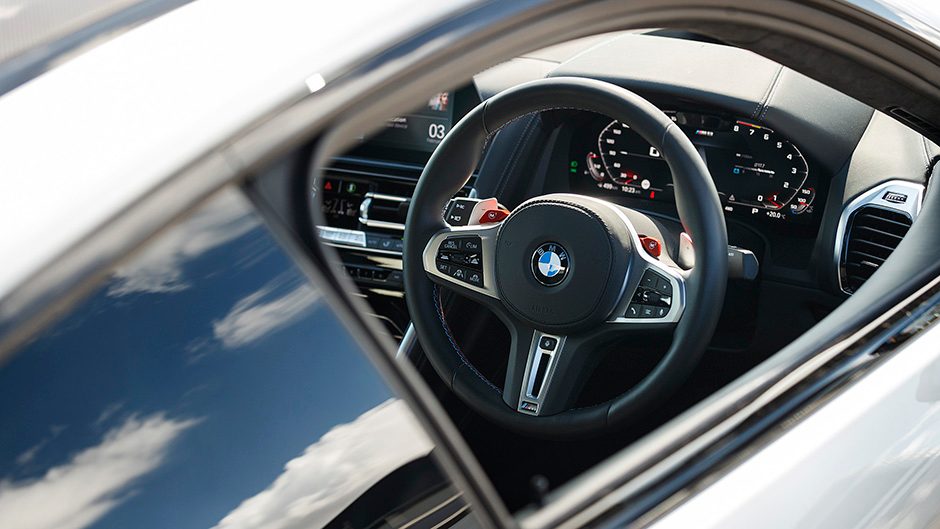 Meantime there's this arrow-like apparition, the profile a sleek swoosh, appearing long, low, musclebound and ready for action. Approaching the M8 it auto-unlocks with a jarring electronic alarm bleep, which you can probably turn off in the sub-menus of the drive system, but, like we didn't have all day.
The M8 isn't shy of revealing its intent, with a standard carbon roof and engine cover, and aero-optimised mirrors. Our drive car had extra carbon lashings, adding $7500 to the bottom line. Even the central tunnel of the chassis is composed from carbon fibre. There are also the double twinned exhaust outlets, laser lights for safe night sorties, the 20-inch wheel designs wearing Conti's best, divine leather clad sports seats with heating and ventilation, and a high tech cockpit that can seem a bit bewildering at first glance. Just like any M car then.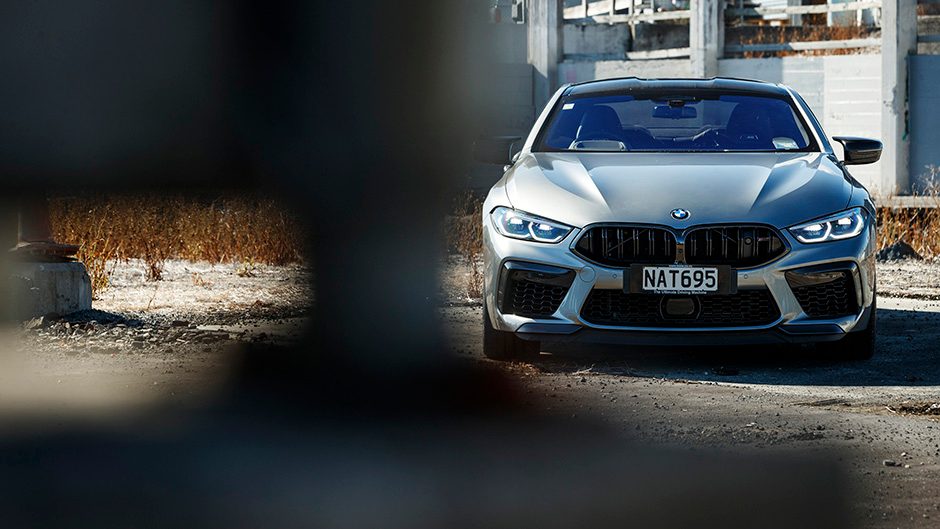 Good to go
The M8 is ultra-adjustable and operation can be tricky to fathom. At least launch control is now simpler to operate. Not so long ago when M cars were rear drive it was a 10-step procedure akin to aircraft takeoff whereas this system we managed on the second go around.
Without launch control you'll never achieve the quoted 3.2sec needed to reach 100 from standstill; our first attempt netted a 3.55sec run. Quick but no victory cigar. Turning to the handbook then and the four-step procedure worked first time, the little race winning flag of launch control goodness showing up on the dash as the M8 mounted a truly momentous launch. A mere 3.11sec later and it's job done.
We'd initially attached the GPS satellite uplink to the windscreen but signals couldn't penetrate the acoustic glass. That's needed to control road noise generated by the Conti Sport rubber. Despite the sound-deadening a reasonable amount of road rumble still penetrates the cabin, with SPLs averaging 75dB. That's bordering on loud over the worst surfaces we could find, but on the whole background noise levels are reasonable, given how this grips and rips.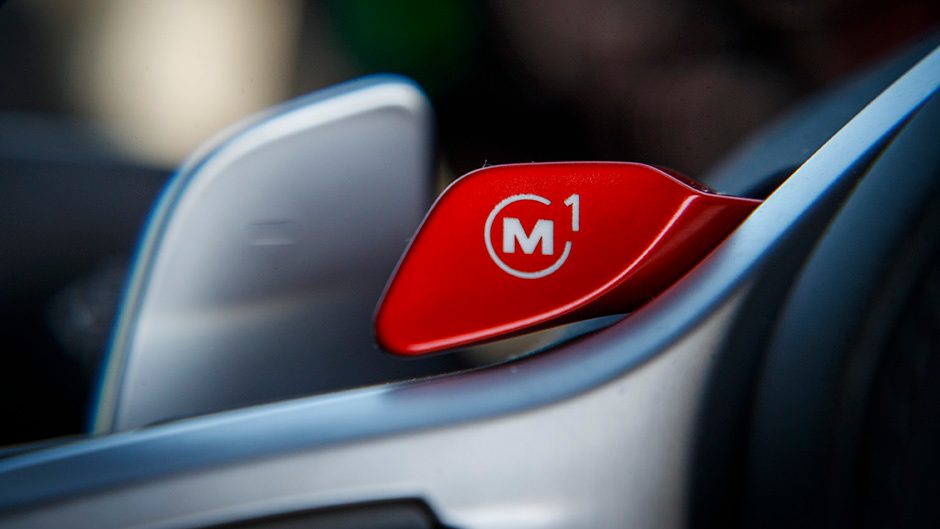 Speaking of, this produced a sensational 80-120 figure. The M850i we checked out a couple of years ago managed 2.25sec. Quicker yet was the M5, at 2sec flat but this M8 is next level, the very first run netting a 1.85sec time, the second and final one taking just 1.77sec. If you think there's enough room to execute a sneaky pass, rest assured there will be (only 50m needed). Time exposed to danger is cut to the quick here.
But then so it ought to be when you're spending over one-third of a million dollars on a two-door; actually, the price rose last month to $342,900. As a point of comparison we cannot avoid making, the M5 Competition (admittedly not as rakish but still pretty horn) is all but as quick, costs $100,000 less, and you get an extra pair of doors and seats for that too. But you do get lots of kit here, right down to soft close doors, laser lights, premium B&W sounds, heated seats, wheel and armrests. Customisation options, some of them at no-cost, are almost limitless.
Rounding out the M8's feats of performance are its stellar brakes. Huge ventilated and drilled discs look like they might do the business. Unusually, (or perhaps not on the M8 Competition) its stoppers are adjustable. No, truly. At the push of a set-up button you can run them on Comfort mode, where the pedal actuation results in predictable (and reassuring) retardation whereas in the Sport setting the brake effect is initiated higher in the pedal travel and is more commanding. During testing, the M8 produced consistent 100-0km/h distances of just over 30m which is outstanding for a vehicle weighing just over 1900kg. If you really want to dazzle your pals, you can option up the carbon ceramic stoppers ($15,000). These probably won't improve emergency brake distances any but for sure the alloys will always be looking pristine and dust free. That's important when they're suspending something that looks like this, and when they're so fiddly to clean.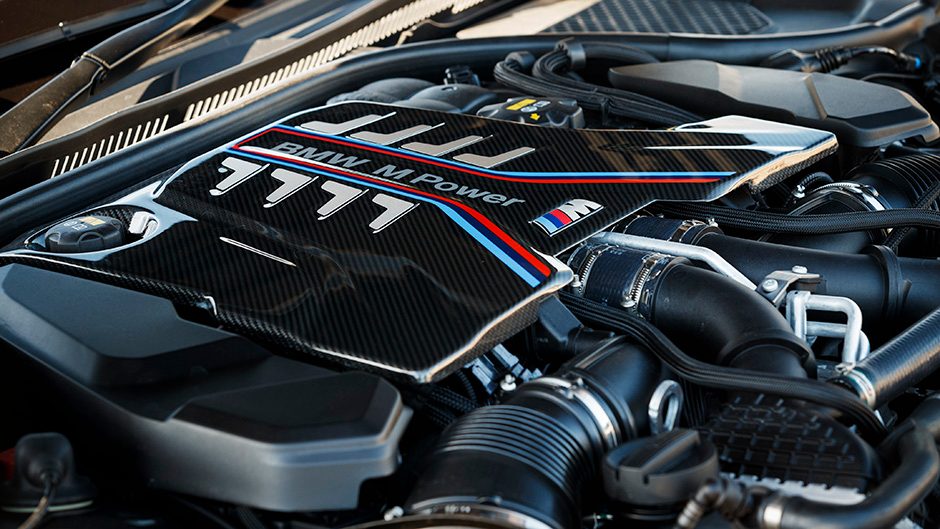 Mixing and matching
As mentioned, the M8 is almost infinitely adjustable. To be honest, we're still not sure we got to the very bottom of the M8's set-up scenario but essentially there's M-Mode with three settings (Road, Sport and Track) and then there's a set-up menu where you can mix and match engine, chassis, steering and brake settings, choosing between Comfort or Efficiency, Sport and Sport Plus. So it's possible to have the engine simmering away on Sport and the chassis set to Comfort. For Kiwi roads, this is a great GT style set-up, with almost enough compliance to handle most of the horror bumps you might encounter and almost enough body control to ensure a sporting time is had by all. Everything in Comfort is perfect for urban use, and with others aboard for longer distance travel. The sheer muscle from around the 2000rpm mark means low revs are the order of the day, most of the time, and it keeps fuel use real too.
That said, the Sport engine setting is splendid, allowing spirited behaviour when called upon occasionally – it's adaptive so follows your lead – and offering calmer but still boisterous enough progress the rest of the time. The sports exhaust note lifts too, but is rather muted, just a brief pop on the upshift. Given how well Sport mode works, you really don't need to bother the paddle shifters much, if at all. The Sport chassis setting works fine on smoother surfaces but good luck finding many of those on Kiwi back roads. Bigger or sharper bumps aren't quite so well handled in this mode, and Sport Plus you'd reserve for circuit work.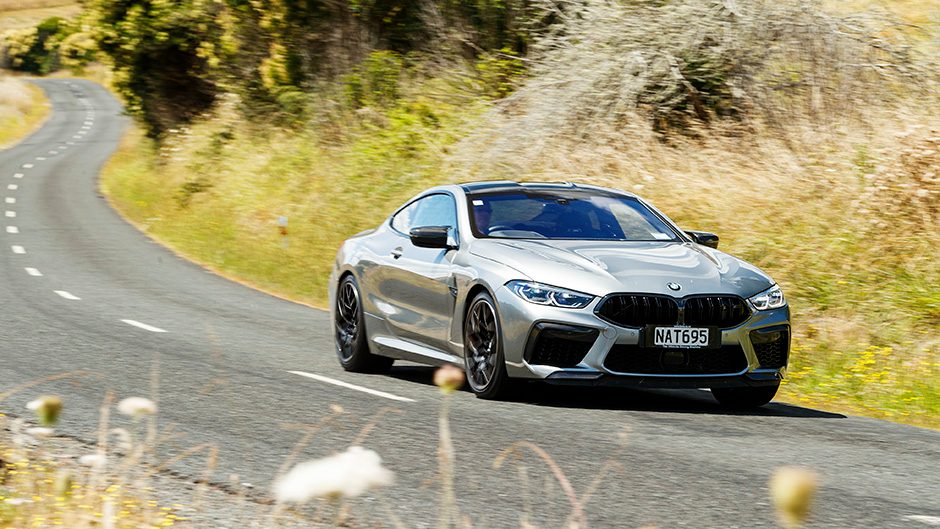 While all this is going on, you will be dazzled by the grip the M8 Comp affords. It's stuck fast, and easing back on ESP really isn't necessary as the light barely flickers anyway. That said, Sport ESP sends even more drive rearward, aiding steering duties. With the active roll bars, active rear differential, sticky rubber and almost even weight split, this simply adheres to your chosen line until it doesn't. And then you'd better hope all those safety features do their business. If you're either brave or touched, you can dial up rear-drive only, with ESP off, but good luck keeping that show on the road. We'd suggest you reserve that also for track outings. ESP off in AWD mode is another thing altogether, but should be reserved for those with lots of driving experience.
This has plenty going on at the beefy rim of its sports wheel, but not so much that it draws attention to itself like the M5 used to. BMW seems to have got this about right now, along with weighting in both Comfort and Sport settings. Moreover, the autonomous steer aspects that keep it centred in the lane, handy in use with active cruise on congested roads, can be negated at the touch of a button.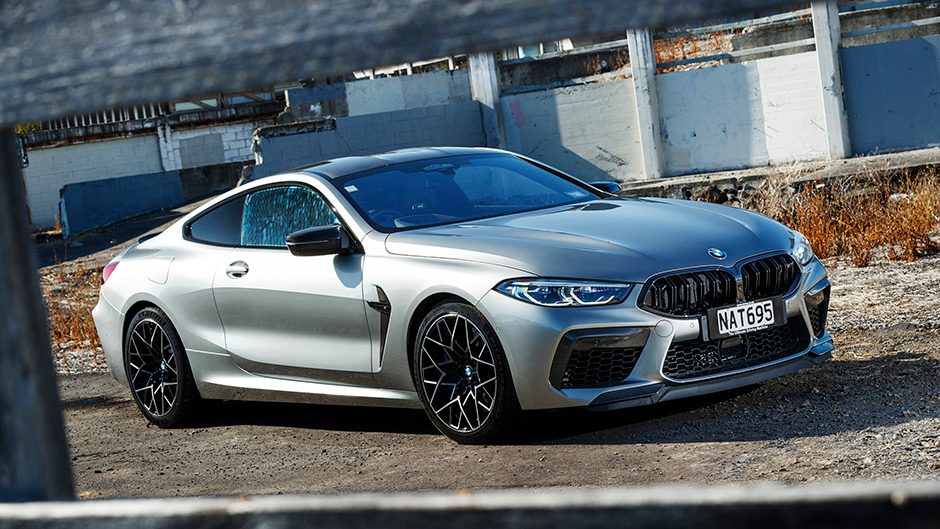 Bottom line?
Naturally the interior is lovingly constructed, and it's not even that hard to access, apart perhaps from the safety belt which is a stretch and the rear seats which are for abbreviated humans only. The boot is really quite sizable, accessed by a powered lid, the only downside being that the entrance is relatively tight. It's good evidently for 420L of gear before split folding. That's about one-fifth less than you'd get by opting for the M5 variant.
So what else should you probably consider for this sort of coin? The standout would be Porsche's Taycan, available as a Turbo model for $290k with a similar sprint time, and a Turbo S model costing $367k. That can dash to illegal speeds in roughly 2.7sec. And if you really want astonishing bragging rights, Tesla's Model S Plaid+, a five seater, is evidently capable of a low 2sec sprint time and has a list price of $NZ258k. It has just gone into production, and should also have a similar touring range to the M8's, though refills will take somewhat longer. But it does bear thinking about.
| | |
| --- | --- |
| Model | BMW M8 Competition Coupe |
| Price | $342,900 |
| Engine | 4395cc, V8, T/DI, 460kW/750Nm |
| Drivetrain | 8-speed auto, all-wheel drive |
| Fuel Use | 10.4L/100km |
| C02 Output | 239g/km |
| 0-100km/h | 3.11sec |
| Weight | 1917kg |