Fancy a medium-sized dual-purpose tourer that doesn't cost the earth to buy or run and is ideal for discovering out of the way places? This humble Benelli may be it.
Benelli is such a musical name brand, and this year it celebrates its centenary, the company's first motorcycle built in 1921. After some hard times towards the end of the last century, it's the Chinese we have to thank for the continuation of the brand. And while Benelli is no longer making superbikes as it was at the beginning of the new millennium, the rejuvenated brand is now growing steadily, its latest release being the macho 752S naked bike.
However, it's a more practical Benelli we got to ride recently, after the nationwide demonstration period, and it may be the company's best yet. Dubbed TRK 502X, it goes without saying that the X refers to the fact it's a crossover of sorts, able to operate pretty well off or on road. The wheel and tyre complement is the giveaway, a 17-incher at the rear, a 19 at the front, both wire spoked. These are clad in Metzeler Tourance rubber so it's at home on both the street and dirt roads.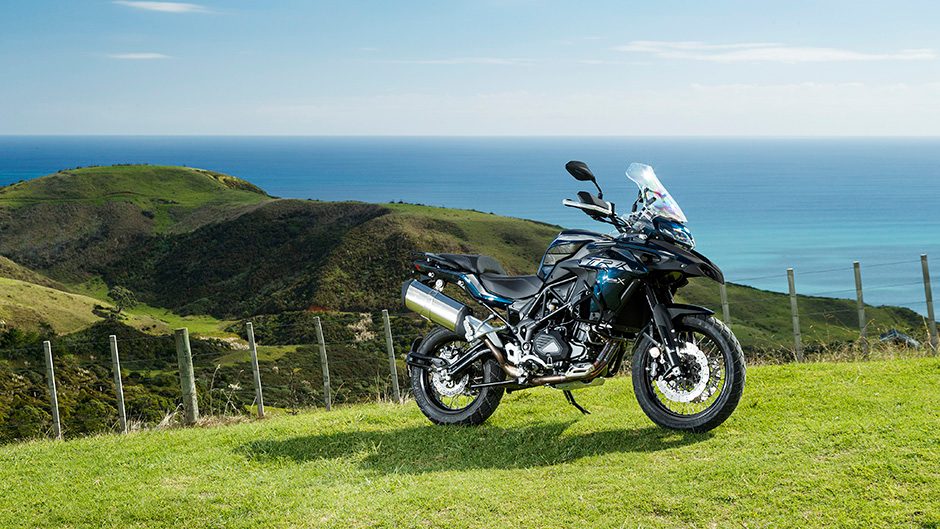 This dual purpose bike looks pretty interesting too, with a hint of Triumph Explorer in there. Fire it up and you'd swear you were listening to a boxer twin. So Benelli is kind of hedging its bets with this one; the look of a 1200 Explorer, the sound of a 1250 GSA. Clever stuff. Only it doesn't cost the better part of $30,000, nor even $20k. Why you get change from $10k, though not a whole lot, sufficient for a non-gourmet pizza. Better yet, if you're not really wanting to do all-road adventuring, you can save yourself another $600 and buy the TRK 502 base model which has 17-inch wheels all round with Pirelli Angel road rubber. It also has a smaller, better concealed muffler; that of the X variant is bigger but also exits higher so is less likely to touch down in the limited off-road riding you might do.
Both come with a luggage rack as standard and each can be had with panniers, big capacity and all (helmet ready), adding roughly $1300 to the bottom line. Then you're all set to tour. Both come with engine protection bars, and a sizable, well designed fixed touring screen that produces little in the way of unwanted noise or buffeting. They are also blessed with generously padded rider and pillion pews, along with hand protection to keep the digits functioning properly in winter.
Both rides are also LAMS approved, power supplied by a 500cc parallel twin, good for 35kW of output, peaking at 8500rpm and, more importantly for ease of use, 46Nm of torque at 6500rpm. The X variant is 10mm taller than the regular 502 and at 183cm I can just balance astride this big guy, meaning those shorter of instep might want to consider the non-X variant or perhaps the Leoncino (same powertrain) instead with its 785mm seat height (vs 800 and 850mm with the TRK 502 and 502X, respectively). If you're less nimble and flexible than you might once have been, the shorter variants might also appeal for they're easier to swing a leg over. Mind you, mounting and alighting using the footpeg as a step overcomes this issue, providing you haven't parked it on a slope using the kick stand. Or you can do the same with the bike upright on its standard-fit centre stand.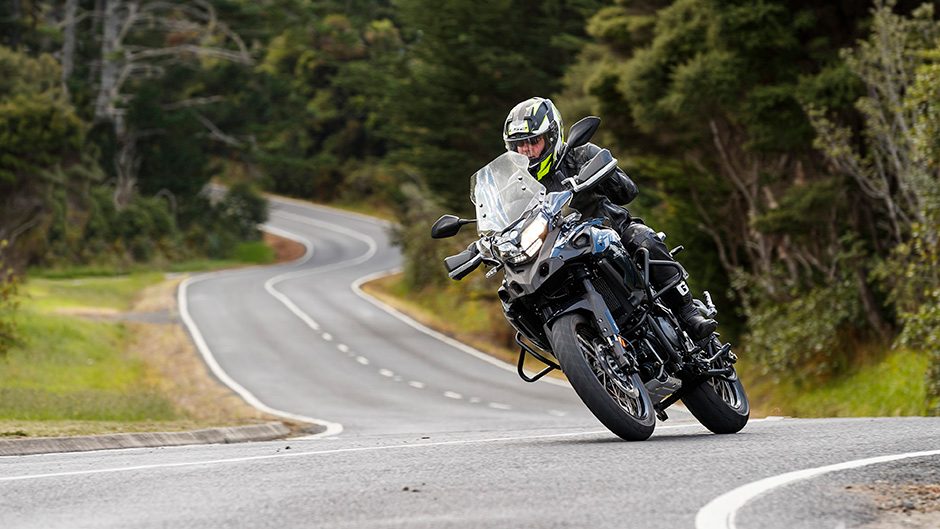 The TRK compared with Leoncino is much better oriented to touring with its larger 20L (vs 13.5L) fuel tank.
On first encounter, you will recognise that this is built to a price; making a bike lightweight involves extensive use of aluminium and there's no great preponderance of that here. The rear rack and muffler are lightweighted but not much else, while crash bars, a centre stand and 50mm forks contribute to taking the stated dry weight of 213kg out to nearly 250kg once fully fueled. Being a longshanks, that weight carried high is noticeable if you're parked on a slight incline, the bike needing a decent haul off the side stand to assume the vertical.
On the other hand, for something costing four figures, there are a few surprises, like adjustable levers both sides (a pity that they're both still an excessive distance once adjusted inwards, rendering the whole exercise null and void), 50mm inverted forks, and decent Tourance tyres. Further ahead and down lower is a pronounced beak. You can't not have one of these on your modern dual-purpose machine.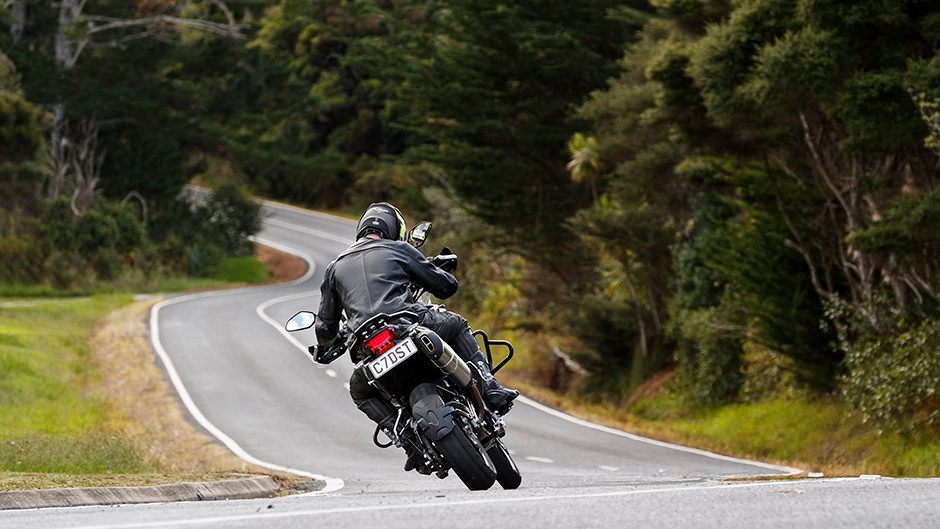 So it looks okay and surprises on price and fitout, but it's weighty and with only a 500cc engine, does it do the business? Well, actually and somewhat surprisingly, yes it does, so long as you're not expecting miracles. The twin is optimised for midrange, as you'd expect of something with more Nm than kW. So from 4000rpm where it noticeably comes alive to about 7000rpm are where the best work is done. Above that it seems to trail off, and the buzzing gets worse anyway. However, at cruising speeds there's very little in the way of vibration, certainly nothing of note at the rubber-mounted bars, just a few tingles at the pegs. Speedo accuracy is a bit better than with the 752S but hardly stellar; 110 indicated is exactly 100km/h verified by GPS. It will happily cruise at that, at an indicated 6000rpm, and doesn't feel stressed in the slightest. Given a prod, it takes a bit over seven seconds to hit 100, and overseas publications reckon it will top out at 160km/h, given a long enough straight.
The brakes, as is so often the case, are probably the least impressive aspect of its performance, not helping with the wide-set lever, but we managed a best panic stop from 100 in just a whisker under 40m. In everyday use, they do warm to the occasion but with just two-piston calipers you need to exercise the lever with a fair amount of enthusiasm and best to use the rear brake vigorously as well. ABS is the only electronic safety aid fitted. It's switchable for any trail riding antics you might not undertake.
On road, the ride borders on sublime; with plenty of travel each end. The sturdy suspension which is largely unadjustable works a treat on our generally hit and miss backroad surfaces, aided by a generously padded seat. Moreover, there's plenty of room to move fore and aft for a stretch on longer trips. The pillion seat, set on high, looks just as cushy.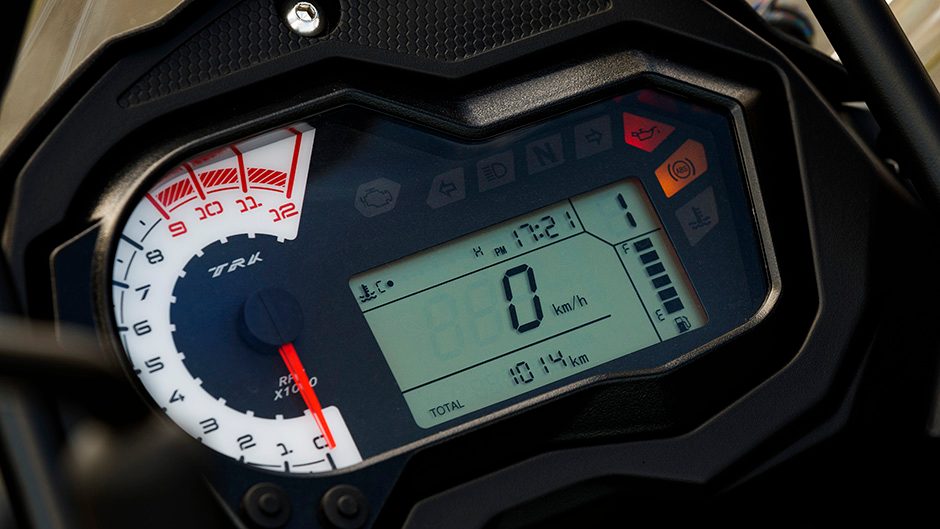 We had a fun time riding this; the handling aims for stability over agility so it doesn't turn all that quickly but if you use your knees actively to give the tank a push in the desired direction that helps sharpen the steering. Wide bars also give it a bit of added leverage so you can thread your way securely down winding stretches of road. A few stints on gravel showed how secure this is too. But forget about producing giant rooster tails here; there isn't quite the power for that.
So a big surprise? Sure is. For ease of running on road trips this beats out the ADV 390 from KTM, a single, but off-road there would be only one in it. Still, for an amazing value ADV-cum-tourer, this heads the list at present. You can buy three for the price of a GS1250 or Multistrada. For skint Kiwis who want to do the big round NZ jaunt, this will be the ticket.
| | |
| --- | --- |
| Model | Benelli TRK 502X |
| Price | $9,990 |
| Engine | 500cc, IL2, EFI, 35kW/45Nm |
| Drivetrain | 6-speed, chain final drive |
| 0-100km/h | 7.22sec |
| 80-120km/h | 6.53sec |
| Weight | 250kg |