Amongst a host of new product incoming this year, Audi's wee Q2 might well prove its best seller. We take mellow yellow on a joy ride.
In the compact premium SUV sector, Q3 dukes it out with GLA and X1, all costing above $60k. Now Audi has upset the applecart with its new small premium SUV offering, the Q2. It dots down here as a lone 1.4-litre turbopetrol driving through a seven-speed twin-clutch transmission, with power going to the front wheels only.Hence, Audi describes it as 'an urban SUV'.However, later in the year it will be joined by a quattro version powered by a 2.0 TFSI, presumably its urban warrior doppelgänger. Expect no turbodiesel variant, though other countries get this option.
The 1.4 TFSI Q2 has gone on sale here for $54,500 plus on-road costs, and that puts it up against the likes of the new Mini Countryman Cooper S at $52,990. It straddles the price gap between A3 and Q3, though for size it slots in between an A1 and Q3. Q2 has more cargo space than the A3 Sportback at 405L, and decent enough rear seat room with space for two adults and a child in the middle, though you'd hardly describe knee room as generous.
But it's the shape and the funky interior that will appeal as much as anything. As Dean Sheed, General Manager of Audi New Zealand, commented, "The Audi Q2 is full of charm; it's vibrant, fun, spacious and we expect it to be extremely popular here". The vibrant looks alone may be enough. Audi reckons on moving upwards of 300 Q2s by year end, and from the admiring looks our test example garnered it might even surpass that.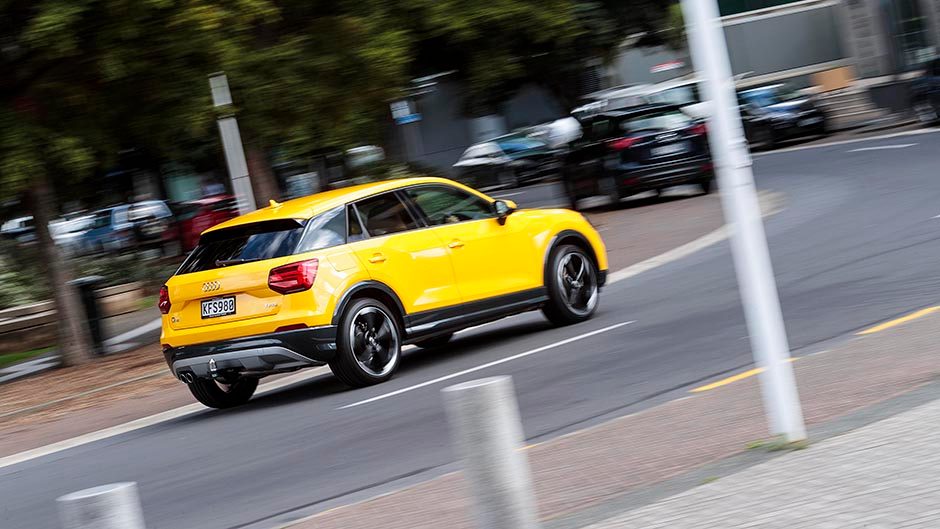 Flasher than
Unlike the Q3, the Q2 doesn't resemble a shrunken Q5; it has its own physical persona and it is eye-catching in the flesh, especially in the brighter colours which highlight the 'polygonal' shape stamped into the doors by way of intersecting character lines. It is a smart looker and recently picked up a 2017 German Design Award in the transport sector.
The entry-level Q-car is squat and coupe-like in profile, the roof ending in a subtle spoiler. Its fresh new aesthetic includes an octagonal take on the large single-frame grille, sizeable air intakes, and wedge-shaped headlights. At the rear there's a diffuser with underbody protection, LED taillights and dynamic turn signal lights.
A contrasting C-pillar blade comes in standard silver, as seen here, with four hues available, while there are 11 body colours offered, and five different alloys. For personalisation it is akin to the A1.
Move to the inside – entry and egress are easy as, typical of the high-rise breed – and the modern funky vibe continues. The sports seats are finished in bright fabric (or leather with heating for $3500), and there's a retractable screen, MMI with navigation, two zones of climate air, and comfort entry and start.Seat heating is extra, and pews are manually operated, apart from the powered lumbar adjust button.
Other features include LED daytime running lights, Apple CarPlay and Android Auto, Audi's autonomous braking (Presense City), and Side Assist (blind spot warning), along with parking sensors both ends and a reversing camera. A powered tailgate is standard, and there are four tie downs and a pair of grocery hooks within. Figure also on four Drive Select settings (Comfort, Auto, Dynamic and Individual).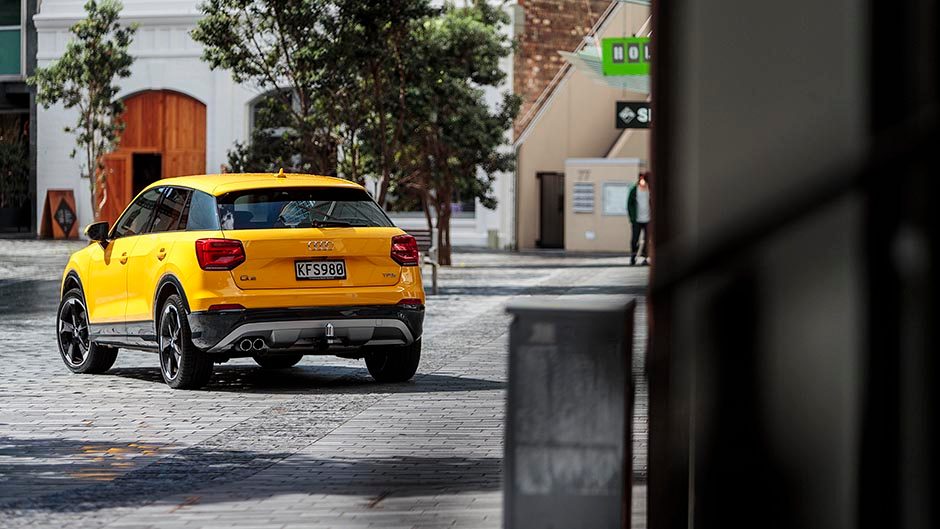 There are also several option packs available, including an S-line dress-up body kit ($4500), Virtual Cockpit and Navigation Plus ($3500), and a driver assistance package with adaptive cruise, park and lane assist and auto high beam ($3000). Audio system upgrades are on offer, ($750-$2250) and there's a panoramic roof available for $2500.
The vehicle we drove had the B&O upgrade, driver assistance and Nav packages, LED ambient lighting inlays, black 19-inch alloys and privacy glass, adding $14,700 to the bottom line. At $69,200 you could easily buy the base Q3 or an A3 Sportback with a much stronger 2.0T engine. It's easy to get carried away with options.
Does the 1.4 get the job done?
Actually, it really does, because the Q2 weighs under 1400kg. The 110kW/250Nm turbocharged engine works easily and economically in town in the Comfort setting, upshifting early and lugging away easily at revs between 1500 and 2000rpm, with just a hint of turbo hesitation off the line.Audi claims a sprint time of 8.5sec for the base 1300kg vehicle and we achieved near to that in our 1395kg example, with a best of 8.58sec. At open road speeds the engine is turning a relaxed 2000rpm and, with just two cylinders operating when not under load, its quoted overall fuel use figure of 5.5L/100km is credible, providing you avoid don't max out on turbo use.We saw 4.0L/100km on flat motorway running, 6.7 on a country cruise and in the 11s at worst.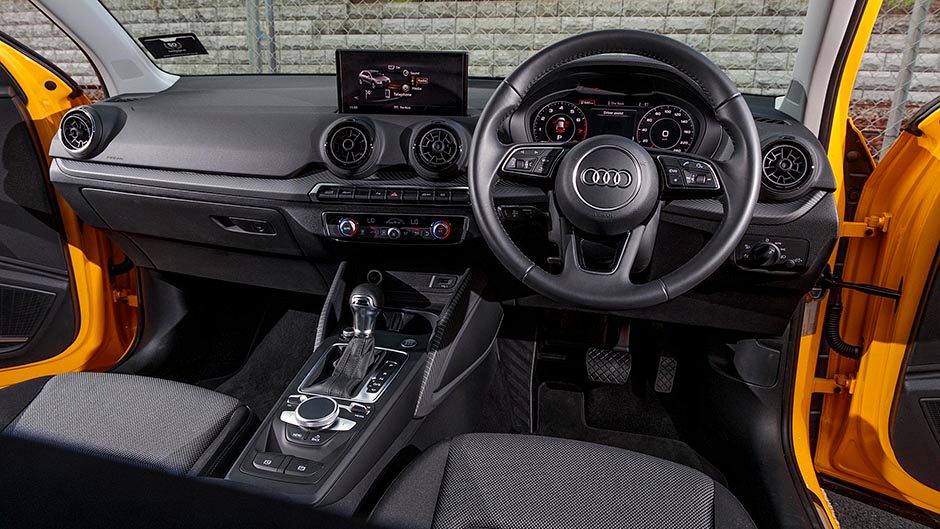 Is it up for a spot of country running?
No question, though in Comfort mode you need to push the throttle down a bit more than expected. However, it produces satisfying forward progress in the 2000rpm range, and is well and truly on the case in the next rev band. Best performance resides in the 4000-5500rpm area, though revving it any higher seems pointless. Mated to a seven-speed twin clutch transmission, shifts are only ever instantaneous. While there are no paddle shifters on hand, there's a manual gate for the shift lever but it's on the wrong side, and also back to front, with a push forward for a higher gear. Therefore, we'd advise not using that, and actually Drive Select is a bit of a waste of space too, given that suspension is fixed, and opting for the Sport/Drive setting on the shift lever effectively changes Drive Select from to the Comfort to the Dynamic setting anyway (okay, so the steering doesn't weight up but so what?) Most automatic Audis feature this handy Drive/Sport function; pull the spring-loaded lever back once for Sport transmission, and pull it again to return to the normal Drive mode, once the overtake is completed or the twisty bits dispensed. That way you get the best from the powertrain when it's needed, and optimise fuel efficiency when simply cruising.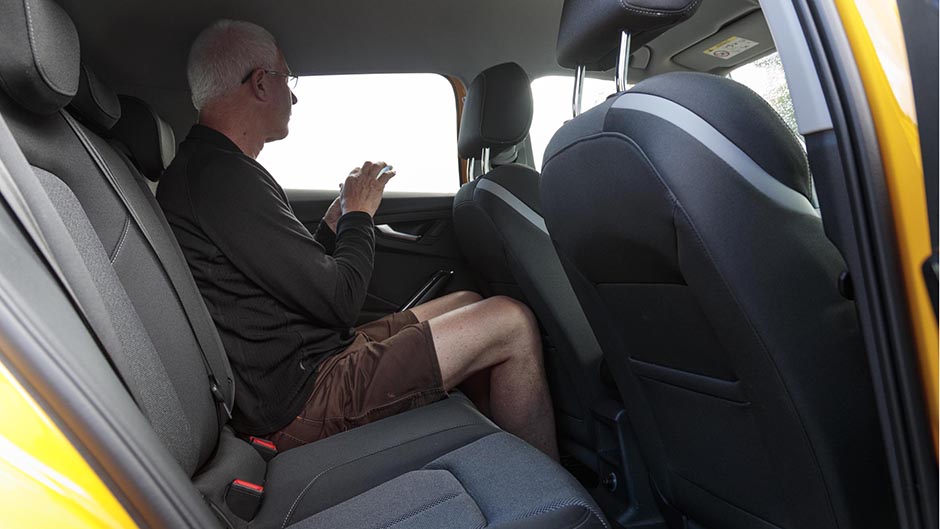 What about straightening the bends?
Actually, this aspect of the Q2 is every bit as impressive as the overachieving powertrain.With a rather respectable F:R weight split of 58:42, something not easily achieved in a front driver, and fast steering borrowed from the S3 (two turns lock to lock), along with suspension that's firm without being unrelenting, the Q2 takes to the hills like a horse to hay. Underpinned by the MQB platform, it also sports low profile Potenza rubber and plenty of it. That's partly why it managed a best crash stop in the low 30's.
There's no trick engineering as such, torque vectoring by brake aside, just a decent chassis set-up and not too much weight. Even the electric steering has a bit of life to it, and with such high gearing it changes direction directly, and with verve. It's a fun drive.
The ride is sufficiently accommodating too, despite the torsion beam rear end (the Quattro 2.0L model gets a multilink rear set-up). It's firmly toned, without ever becoming jiggly. That compact rear suspension layout also contributes to decent luggage space, its 405L expanding by splitfolding to 1050L.
With both style and substance, Q2 may be the surprise package for Audi this year, and help it to crack 2000 units for the first time.
| | | | |
| --- | --- | --- | --- |
| Model | Audi Q2 | Price | $54,500 |
| Engine | 1395cc, IL4, T/DI, 110kW/250Nm | Drivetrain | 7-speed twin-clutch, front-wheel drive |
| Fuel Use | 5.4L/100km | C02 Output | 127g/km |
| 0-100km/h | 8.58sec | Weight | 1394kg |