There was always going to be a sizzling electric SUV from Audi that was a bit more amped than the e-tron 55. Now the e-tron S Sportback has arrived, is it worth the 20 per cent extra?
A strange thing happened recently with the announcement of Audi's first electric performance SUV, the e-tron S Sportback. It was meant to have a partner in speed, the e-tron S SUV. Well, that was the original thinking back a year ago.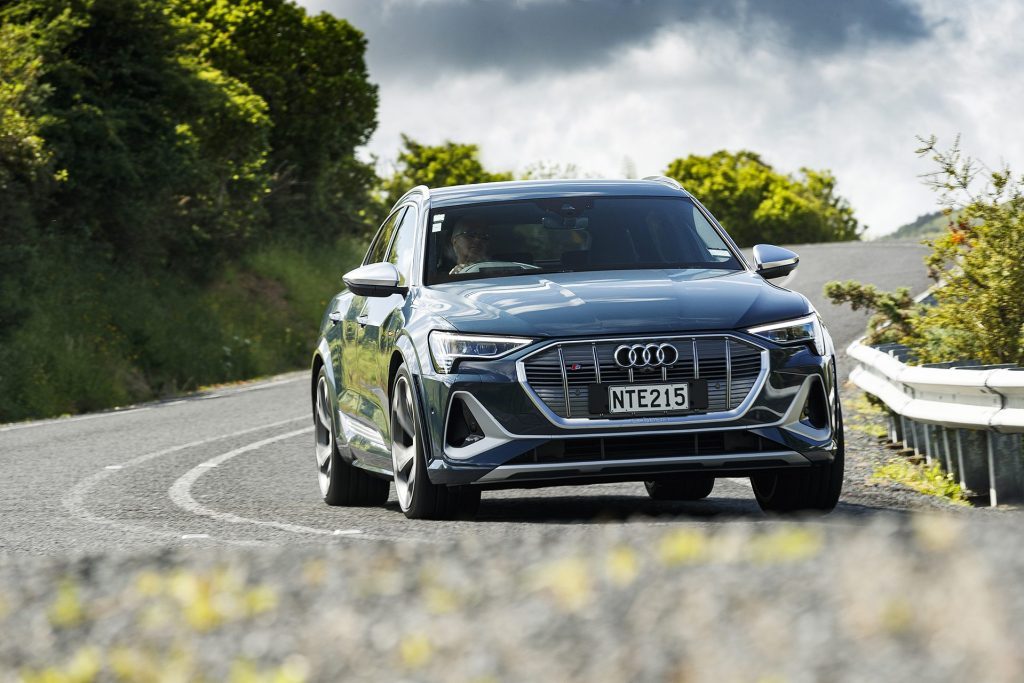 However, in between time it was dropped so now there's just the Sportback version available in S guise. We'd guess that's for a couple of reasons. Firstly, we'd imagine that most people buying the e-tron SUV would have opted for the 55 or the better equipped 55 Advanced so the lesser 45 went by the wayside. But another equally probable reason is that the 45 would have impinged on the pricing of the incoming Q4 e-tron 50 model with 220kW and AWD when it arrives here about a year from now.
The e-tron S Sportback is not alone however, as there's a second variant that features S-line spec. Therefore, it looks like the performance model but instead gets the e-tron 55's powertrain, offering 300kW and 664Nm on overboost, plus touring range of around 430km. The entry to the e-tron Sportback range costs $20k less than the S at $170,500 and that compares with $159,900 for the e-tron 55 Advanced, the SUV that is. The full force S model that you see here costs $189,900.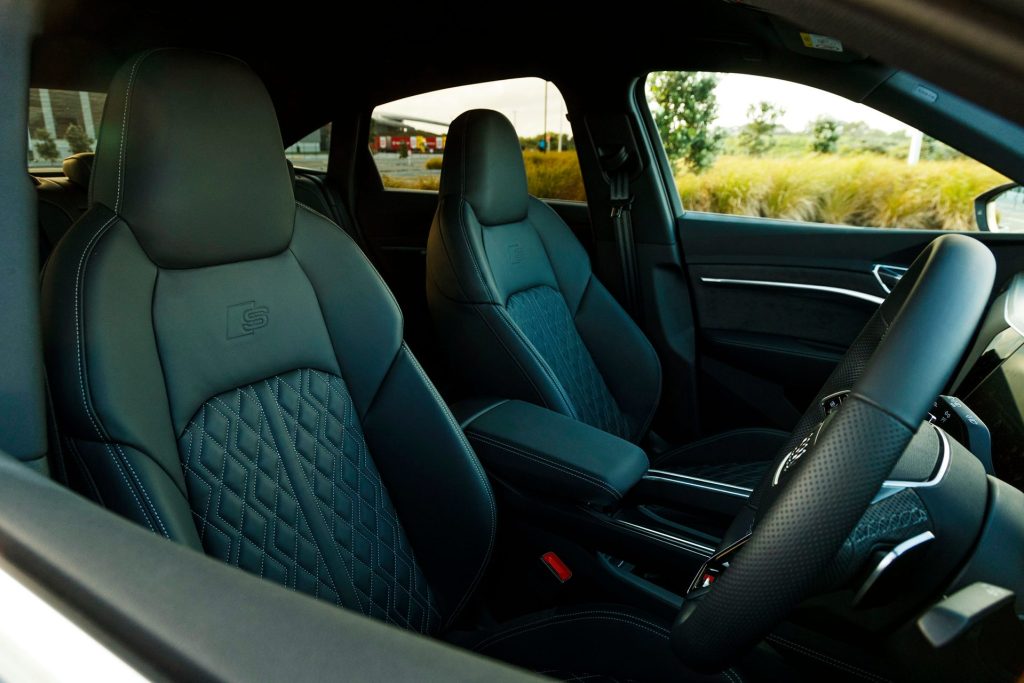 The difference between this S model and the regular e-trons? It has an extra motor, so two driving the rear axle and one for the front, which allows for a more accurate, faster form of torque vectoring than a regular sports differential can offer.
Of course there's also more power and torque here so it really can hustle whereas the regular e-tron is merely quick (0-100 in 5.5sec). In the Dynamic mode you get eight seconds of boost raising the kW count from 320 to 370 and Newts from 808 to 973. Of course you burn up a bit more energy with this mode, averaging around 28kWh/100km. We refueled twice during our three-day tenure, each time from around half charge, to just over 80 per cent and it took 40min when hooked up to a 50kW fast charge. At home with a proper wall box they tell us you'll get a 20-80 per cent recharge comfortably overnight. The battery pack is guaranteed for eight years/160,000km.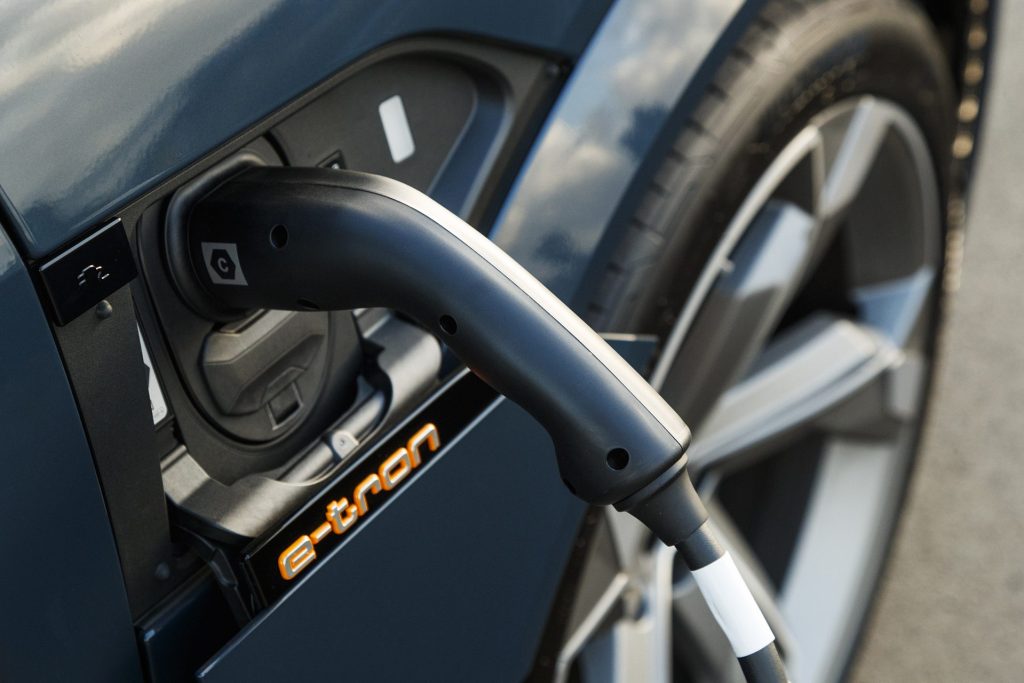 Audi often seems to underestimate exactly how fast their vehicles are, and such was the case here. We only did two 0-100 acceleration runs because they were so close, one of 4.29sec and the other 4.26sec (claim 4.5sec). It simply rockets away from a standstill but also stops astoundingly well too. The brakes are wicked. Not only that but consistent as well, with a best emergency ABS stop from 100km/h of 33.74m. The Hankooks do a stellar job in the dry. Having six-pot calipers up front helps too.
The Audi is no slouch on the overtake either, recording a best of 2.7sec, an improvement of over half a second on the regular e-tron 55. We reckon anything under 3sec, which takes the likes of a Golf R, for example, is getting into serious speed territory. That said, it's no top speed merchant per se, with a governed vmax of 210km/h. Not relevant in the slightest, unless you plan on taking it on holiday with you to Germany.
Despite its heft, this hides it well. You're more aware of the weight when slowing gently where it seems to take its time, until you apply more brake pressure. However, you can often use regen in this situation by activating the left paddle once (or twice; this is a two-step system) which helps to replenish the battery pack. It's rather effective too; even down relatively short hills you can watch the range rise a km or two. Step back on the not-so-loud pedal and the regen reverts to nil, permitting coasting. It's a really well sorted system and you want that with the slightly reduced range versus the regular e-tron.
Using Efficiency drive mode on the motorway you can expect energy usage of around 25kWh per 100km, perhaps a bit less. At the opposite end of the spectrum we never saw anything worse than 36kWh/100km, meaning a range of at least 250km, even if you're going for gold. Audi claims a WLTP range of 380km, down somewhat on the regular e-tron 55 which is evidently good for around 440km driven sensibly.
But good luck with that because this is a vehicle that thrives on being driven not sensibly. It may weigh a fair whack thanks to that 700kg battery pack, but the weight is well distributed. We imagine having just the single motor with single-speed transmission up front helps. With its sport suspension set-up this can hold terrific corner speed. It's best in Dynamic but even in the Auto drive mode it handles with an ability you'd not credit of such a vehicle. Actually Comfort works well too, typical of vehicles with adaptive sports air suspension systems.
This feels well balanced on the go so understeer is mercifully absent, and with two forms of torque vectoring, one using brake nipping on the inside front wheel, the other adding extra drive from the outer rear motor, this maintains a line steadfastly, effectively, confidently. It's not afraid of you hitting the volts early on corner exit either; the active TV sees it right. In Sport ESC and Dynamic mode, there's enough rearward shove to set the wheels spinning so drifting is said to be possible.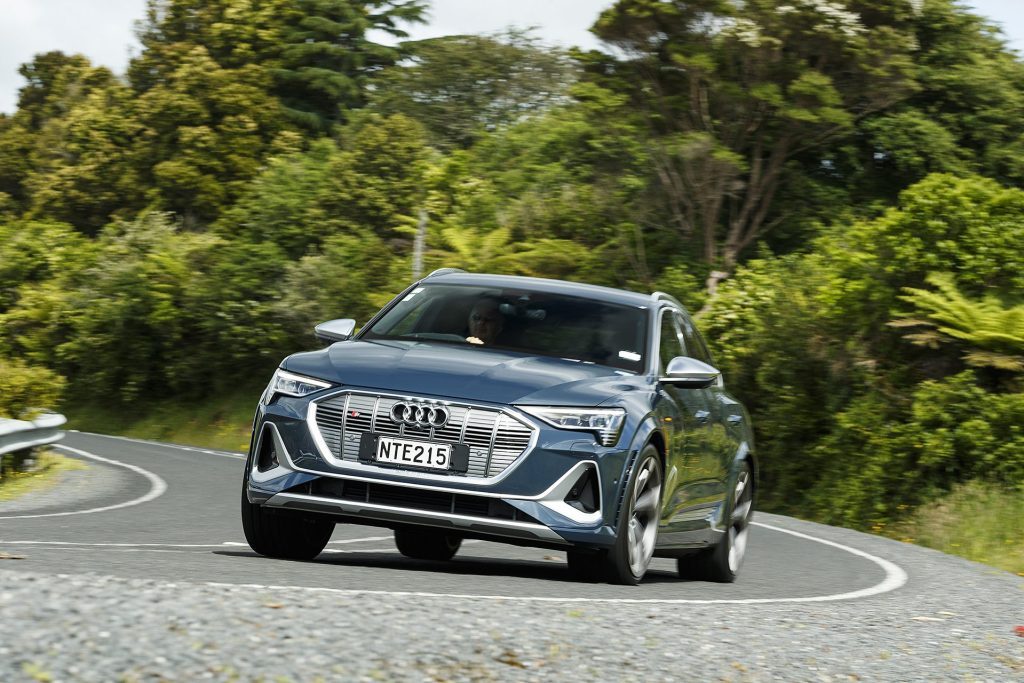 Its steering arguably has a bit much heft in the Comfort and Efficiency modes, and it has a tendency to self centre rather abruptly but the way it turns for such a big vehicle, we think you're likely to let it off the hook on those counts.
The interior is as handsome as the slinky body (Cd a wind-cheating 0.26), with two large hi-res screens sitting one atop the other, both angled towards the driver, and the Virtual Cockpit instrument set-up directly ahead. We're not that fond of the haptic buttons – you need to push and hold momentarily to get them to activate. But otherwise this interior is intuitive. There's even a degree of drive autonomy when on active cruise control, following the lane markings on its own. Don't like that? Just push the button on the end of the indicator wand and you're master and commander again.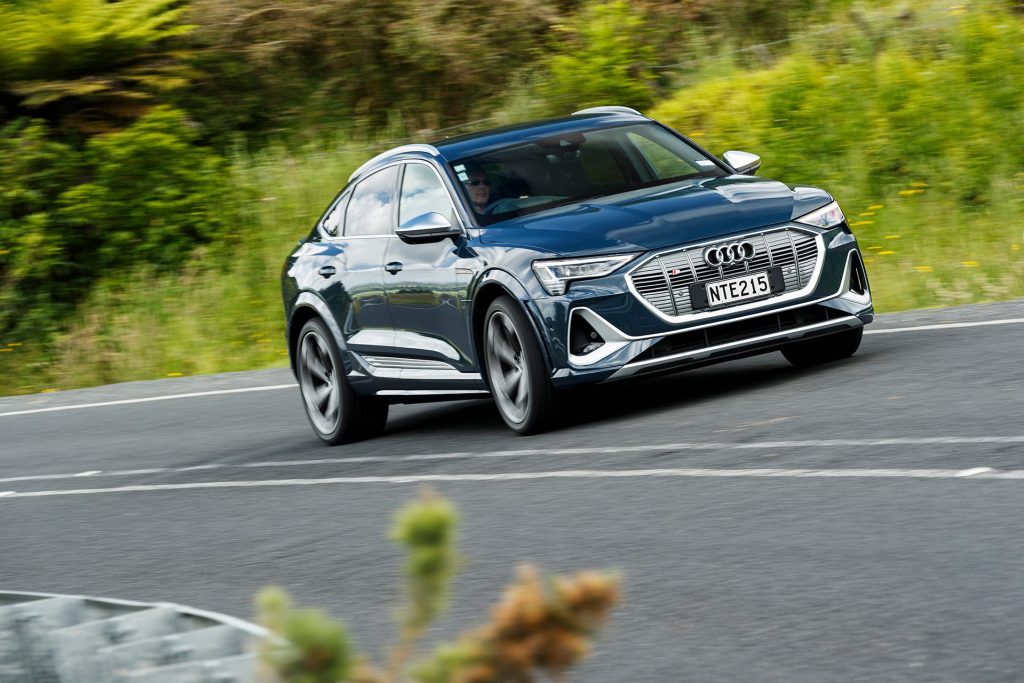 Those in the rear don't suffer from a lack of space either, even the middle seat occupant getting generous leg and foot room, with no trans tunnel to straddle. It isn't quite as voluminous in the aft area as the e-tron 55 SUV, down by 45L, but this too is accessed by a gesture-control/powered fifth door. Moreover, the lightweight cargo cover is easily removed – just give it a yank and it pulls out – and I managed to get my bike aboard after split-folding the rear seats without having to remove the front wheel or lower the seat height. Luggage capacity ranges from 615-1665L, the latter to behind the front pews.
Is this any better or otherwise than the regular e-tron 55 models? Well, yes mainly. If you're after more speed and sport, they come at a cost of $30k over and above the e-tron 55 Advanced. But you also get a sexier outline in the Sportback, along with added kit like sports seats finished in Valcona leather and sports steering wheel, plus all the safety gear you could imagine, including 360-degree camera and head-up display. However, range is somewhat curtailed on account of the extra motor, power and speed delivered, given as it utilises the same 96kWh battery pack (87kWh actual) as the other e-trons.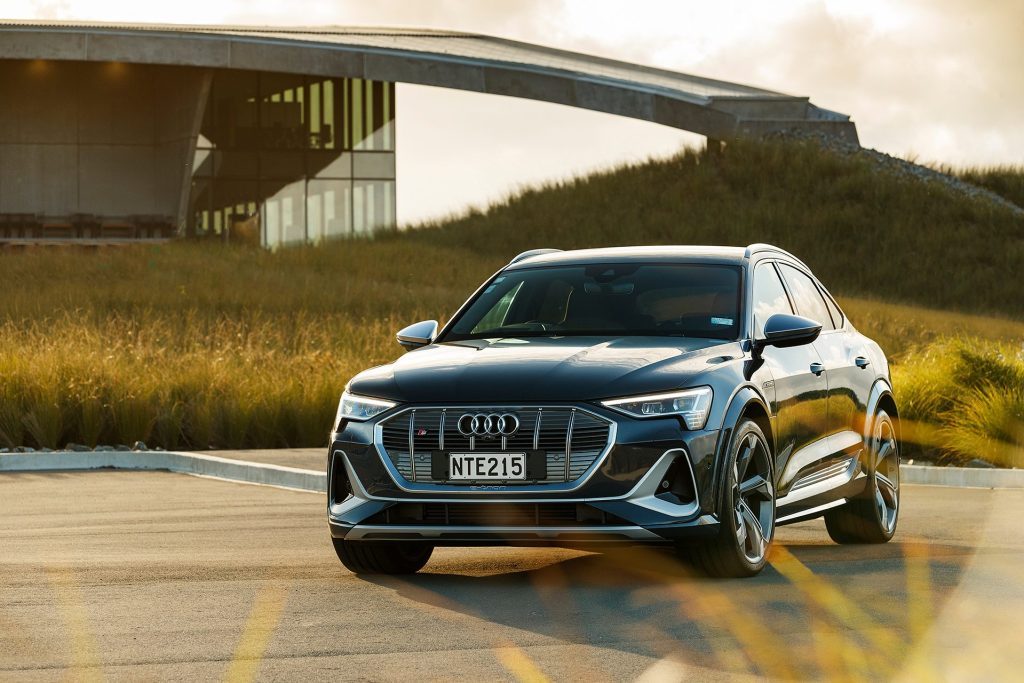 We're fans of the Audi S models, given they're somewhat harder edged than the standard models without being over the top, so the mix of handling, speed and comfort are about right. And that's the case here, plus the look is really something. And you lose nothing much in the way of practicality either, with the same 1800kg braked towing ability and almost as much luggage capacity. In essence it's a matter of whether or not the slight limitation on range compared with the e-tron 55 is an issue, and if it is you can always opt for the 55 SB S-line instead. It's still just as alluring. Or check out the not-so-quick iX from BMW with a bigger battery and more range but one motor less and at a greater cost ($197,900). Alternatively, you could wait for the potentially quicker Tesla Model Y, though price and arrival time are currently unclear.
| | |
| --- | --- |
| Model | Audi e-tron S Sportback |
| Price | $189,900 |
| Motors | three, 370kW/973Nm |
| Battery | 87kWh (net) |
| Range | 378km (WLTP) |
| Drivetrain | single-speed auto, AWD |
| Energy Use | 26kWh/100km |
| C02 Output | 0g/km |
| 0-100km/h | 4.26sec |
| Weight | 2620kg (claimed) |