A few futuristic quirks aside, Audi's first battery electric vehicle looks and drives rather like a regular luxury SUV. But is it the bee's knees?
So it's a brave new world we are embracing, like it or not. With the advent of battery electric vehicles and associated infrastructure comes the concept of fast charging. We're currently driving the e-tron, Audi's first pure EV that's meant to have a range of up to 400km.
Glad there's that 'up to' modifier because we couldn't seem to get it to register anything more than 320km after an overnight top-up with the home charger. Turns out that's because it relies on how the previous 200km were spent, and the driver before me was averaging over 40kWh/100km.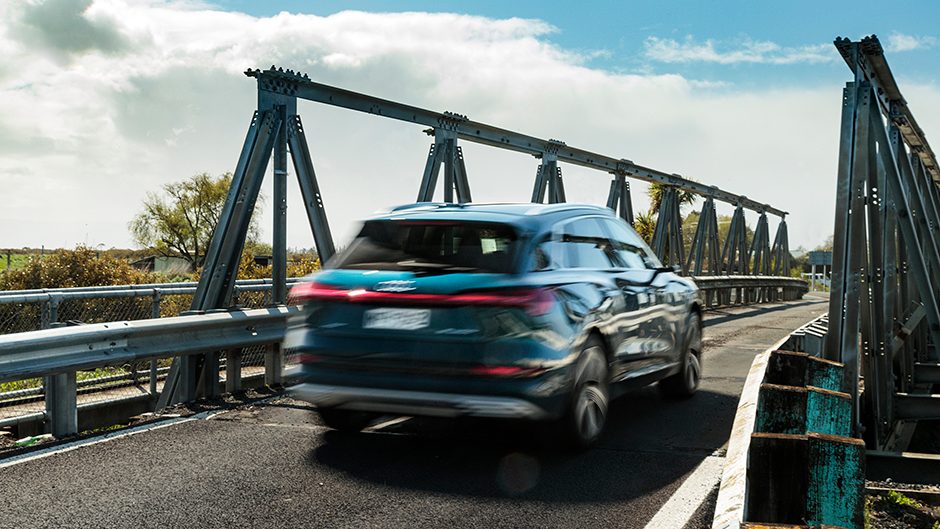 We rezipped the consumption meter (which does not expunge driver history, unfortunately) and on morning motorway cruising we were seeing energy use in the low 20s. We'd imagine most owners with any restraint should achieve 22-26kWh/100km, the suggested average. However, on a windy photo shoot day when we ventured to Thames driving averagely, our mean figure was 31kWh/100km.
That's the thing about EVs; travelling at 100km/h sucks through the battery, despite this vehicle having a Cd figure of 0.27, astounding for something this big. By the time we reached Thames from Auckland, the range was reading 129km remaining. And we didn't go the long way, so had certainly not travelled 181km to get there.
On the upside we had read that fast charging would have it back to 80 per cent in about 30min. Only that's in Europe where their charging units are rated at about three times what ours are. There are some nice eateries in Thames but the one we chose wasn't one of them. Never mind because we returned after about 40 minutes and the battery level was back up to 80 per cent from 46, adding almost 100km in that time (230km remaining).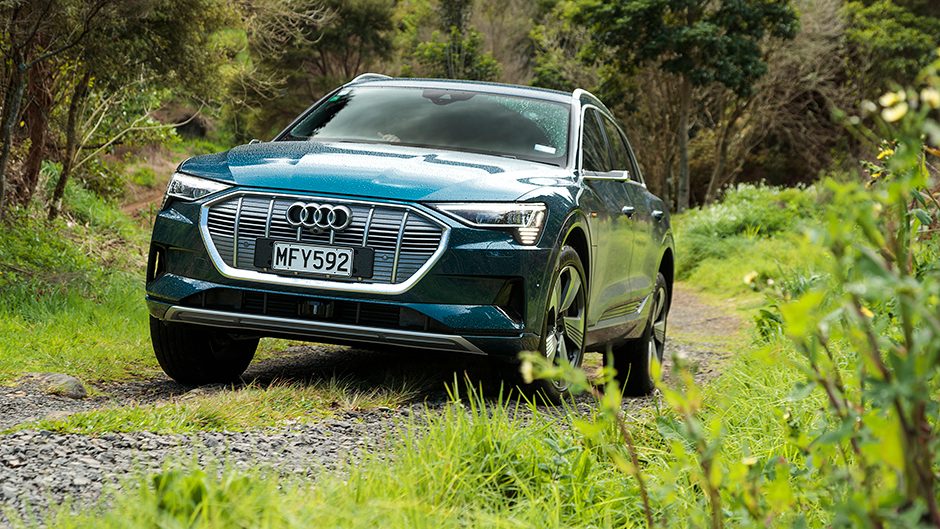 It cost us $17.50 at a Chargenet 50kW fast charger, though at home obviously much less and zip on the free fast chargers in town. Anyhow, it was enough to get back to the madding crowds easily as it turned out. The point is, if you want the maximum 400+ kay range with e-tron, you're going to need to go steady and mainly drive in urban areas where there are more opportunities for regeneration. And evidently almost one-third of the e-tron's range is delivered in this way.
That said, a range of roughly 350km will get you somewhere three hours out of town easily enough. Only you'll need something like a fast charger or a proper wall box for replenishing the battery before your return. We tried overnight at home with the supplied 2kW mobile box and while it can top off the battery easily enough it only added 100km over 12 hours when the pack was more depleted. Owners will be well advised to buy the three-phase 7.5kW charge box for home use. Fast chargers and big battery packs make sense.
The German chose an SUV-like vehicle akin to the Q8 in style and price for its first shot at a BEV, a safe choice then. Safe styling too. Actually, it's rather attractive with those bulging arches, big (optional) 21-inch alloys, and full width lighting at the rear. E-tron's not an off-roader as such; more a city slicker SUV.
The handbook states categorically: 'this is not an off-roader'. One shouldn't set foot in water that's higher than the underbody. So we backed away from the river cross and water splash idea. We really didn't fancy the idea of a $150k machine dead in the water after a 95kWh battery pack short circuit. And I bet the eight-year/160,000km warranty wouldn't have covered death by immersion. Despite that, there's an 'off-road' setting in the drive select menu that raises ride height and offers 208mm of ground clearance.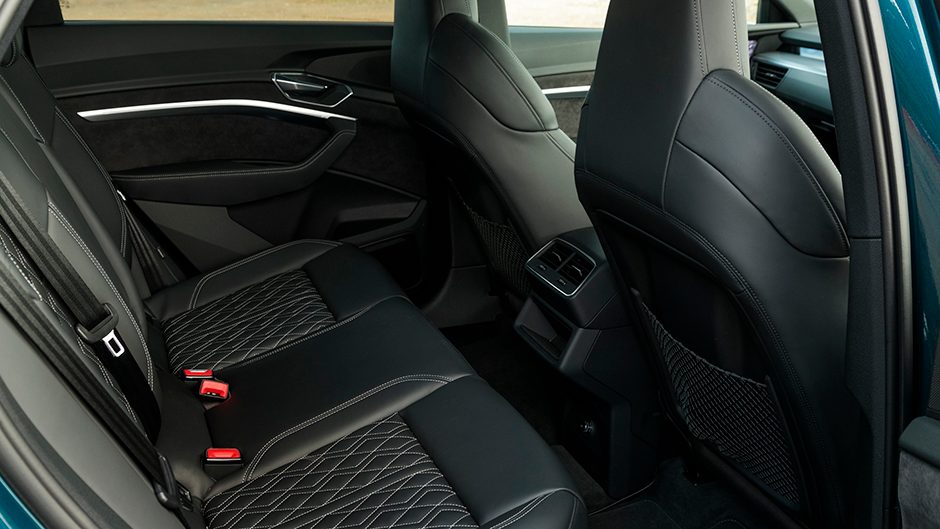 Think of this then as a practical modern luxury vehicle that can handle ski roads with aplomb. It's also quite big enough for five adults thanks to a flat floor in the rear seat area, and with plenty enough luggage capacity (605-1755L), along with an 1800kg tow rating, we imagine this will make sense to well heeled family folk worried about their carbon footprint. Despite the cost – our one was $173k with options – this year's allocation of over 100 units is already spoken for.
Our particular test machine was the Advanced model, which gets a number of luxury extras like upgraded leather, 20-inch alloys, head-up display, extra airbags, a comfort centre armrest, park distance control both ends with a 360 degree camera, and brushed aluminium inserts.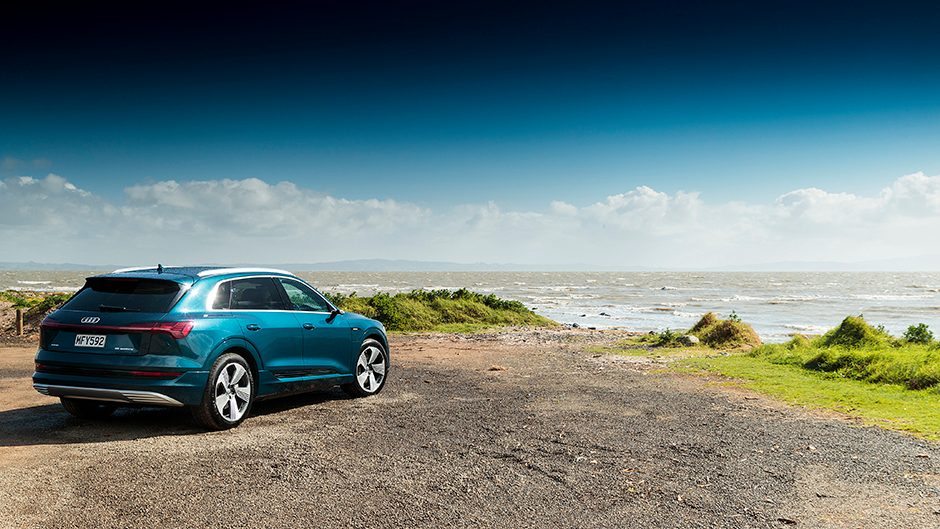 The flash mirrors are part of the $5800 technology and comfort package that includes ambient lighting, and matrix LED headlights, among other things. Our car also featured the $4100 S line sports package, a largely cosmetic upgrade. The camera mirrors look futuristic but aren't as easy to view as the regular ones. We'd go base model with a $400 boot mat for this is adequately specified as is.
If you want practical emissions-free SUV, e-tron is just that, albeit without the range of, say, the similarly priced and sized Q8. For more of a GT experience at a similar price, the edgier styled, lighter, quicker and more dynamic I-Pace EV may well be the go. If it's a truly sporty electric goer you're after, wait for e-tron GT, based on Taycan. Audi promises a stunning look and drive for this enviro blaster, due here next year.
| | | | |
| --- | --- | --- | --- |
| Model | Audi e-tron 55 quattro Advanced | Price | $157,000 |
| Engine | 300kW/664Nm | Drivetrain | AWD |
| Fuel Use | 22-26kWhL/100km | C02 Output | 0g/km |
| 0-100km/h | 5.51 sec | Weight | 2566kg |