It has been a year since the editor pedalled the new Vantage around the Downs, but now we get to check if the AMG-Aston is a worthy 911 rival on road.
Sometimes you pen an opinion piece and someone takes exception. Long story short, I haven't driven an Aston for ages. However, situations change and Astons are back on my agenda. I'm rather glad it was the new Vantage I got to drive too because last time I reported on a Vantage V12 things didn't turn out so well.
Things actually weren't looking all that auspicious this time either but more because of the dismal weather. Still, in our brief time with the car we got one dry day, so managed performance testing in reasonable conditions and also the drive of this high-output rear-drive sports car in appropriately dry and grippy circumstances. What bliss.
There are big changes here too; in place of the anachronistic robotised manual is an eight-speed auto, hooray, and there's a new twin-turbo V8. As before the lack of active cruise control, even as an option, is a glaring omission but with a new powertrain the latest Vantage is a marked step-up on its forebear. Is it a match for its like-priced peers?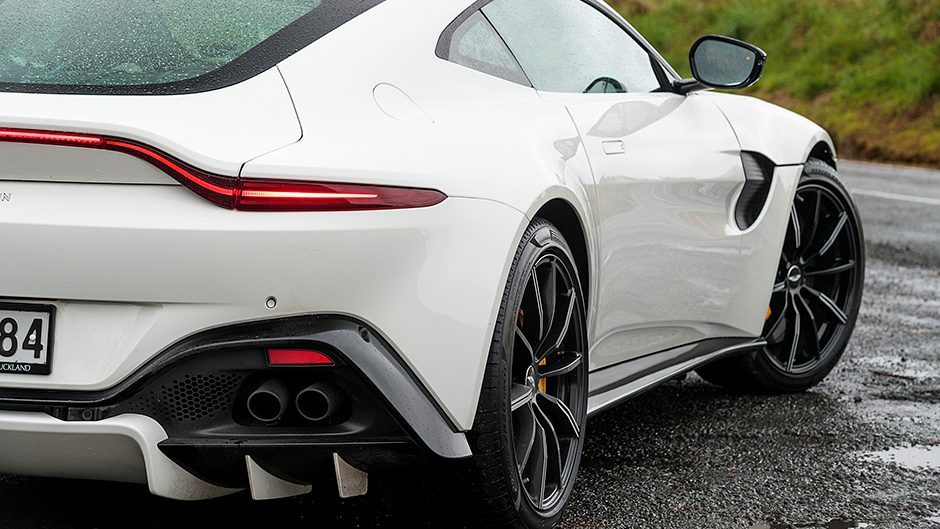 We first encountered the new glamour-puss at a prelaunch session in Aston's glitzy new Auckland home. It has claws to match the new aero look, in the form of its AMG-sourced V8. Packing twin snails between the heads, it offers 65Nm extra over the V12 kicking off at 3000rpm less. Despite a 46kW deficit it promised to be faster than any regular production Aston to date, with a 3.6sec claimed sprint time. Would the new transmission and added low-rev grunt make this happen? All without launch control?
After a briefing on how to drive the car, the centre console of which seems vaguely AMG familiar, and we're away on our own, the sky threatening but not yet venting. Onto the motorway and in the default Sport driving mode, there's a rather agreeable ride happening, firm for sure but the smaller ripples are blotted up nicely, the new ZF auto slurring sweetly. Two other modes are available, Sport+ and Track. In reality, these are closer to Sport and Sport+, at least in their enthusiasm for holding gears and the ride quality afforded by adaptive dampers. The transmission is smart too, with multiple adaptive programmes, so you can make it upshift to higher gears by going easy on the throttle, certainly in the most frequently used modes.
On the way out to the Hunua turn-off we wonder how it is a $250k car doesn't have active cruise control, given not all Astons are driven solely on track, and it's otherwise so daily-drive ready. We're forbidden to go on track anyway and there's a 250k limit. I mentioned the road rules forbid anything above 100km/h but they meant distance, not speed. Oh, right, of course.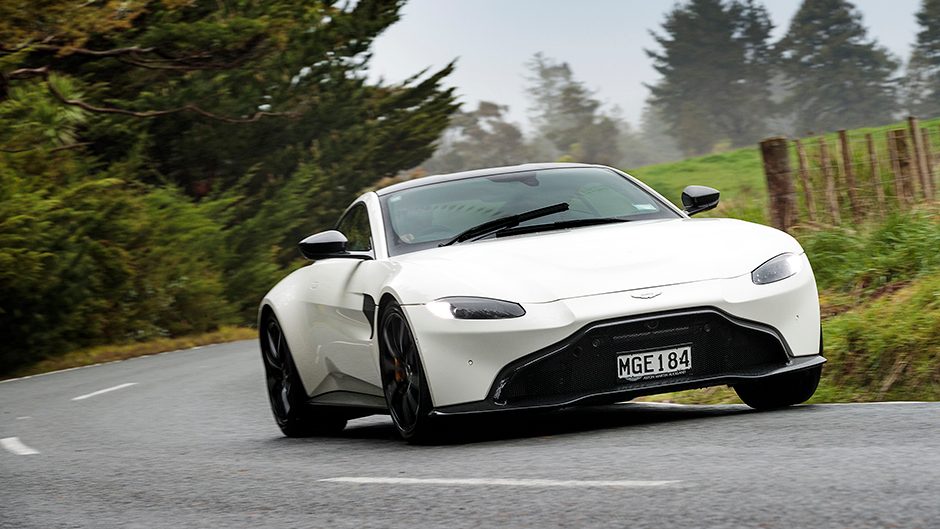 It's meant to top out, by the by, at just under 314km/h, a tick under 200mph. En route to testing duties we discovered it nudges 100 at the top of second gear, and that's a definite bonus for 0-100 times. Keen to beat the rain, we boot up the performance gear and see what she can do. We mess with ESP, and it's slightly quicker in the off position, as expected. With the trans button set to D – there's still no shift lever here – and the footbrake firmly applied, the tacho needle points to 2000rpm. Anything higher, as you'd get with launch control, and the blue vapours might well emerge from the rear wheels. That said, we reckon there's a couple of tenths gone begging without LC.
Be that as it may, we call it quits after achieving a best of 3.67sec, which is just 0.07 shy of the claim and that also makes it the first Aston we've ever performance tested that makes it into the threes. Moreover, that puts it slightly ahead of its cousin, the AMG GT, and not far adrift of the 911 Carrera S's 3.40sec time, elicited with launch control. This pair is even closer on the overtaking test, the Aston on 2.03sec, the Porsche a whisker below 2.0sec. Power to weight, they're virtually identical.
The Vantages of the past have never been in the 911 hunt for speed off the line – few have to be fair – but it is now. That's mainly because of the twin-turbo grunt, a design shared by both. The new transmission is sharper and vastly more refined too, especially in Sport mode where shifts are syrupy. About the only time it gets a bit tetchy is in very slow stop-start going, grinding on the motorway.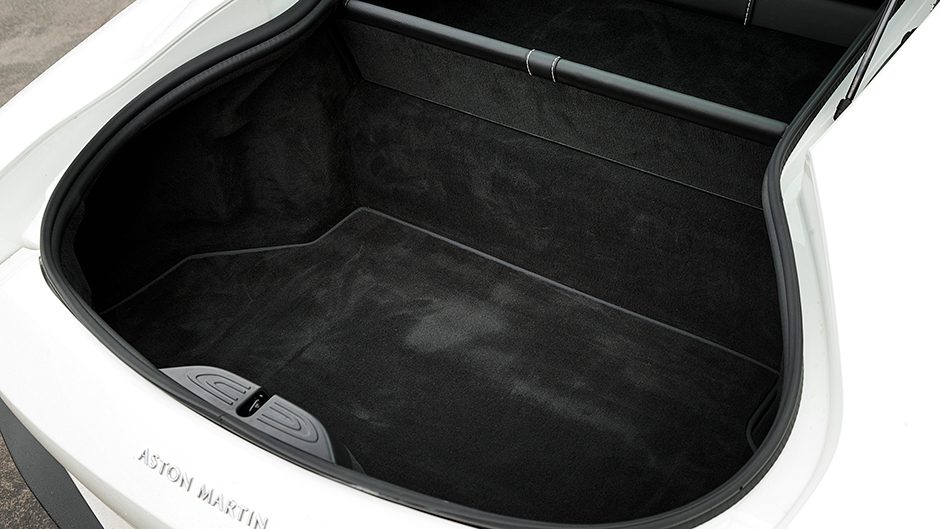 One major change on the last Vantage is the reduction in road-generated noise, the mean cabin SPL down over 5dB, and similar to the 911's figure. The noise from the sports exhaust with active valving is cool too. Hard to match a V12's but this is rorty and rude in go-hard mode, and bangs away amusingly on downshifts. Dynamics always were a strength, and still are. It's very much track ready, the Vantage, as the Ed discovered a year ago, on a drying H-D circuit.
Our test loop was dry and it simply tore this to shreds.
There are several keys to its competence. It is underpinned by a new 30 per cent more rigid aluminium bonded chassis with a massive cross-brace between the front suspension towers. The V8 is set entirely behind the front axle line. Weight balance is essentially even, a hair more over the back axle because that's where the transmission hangs out.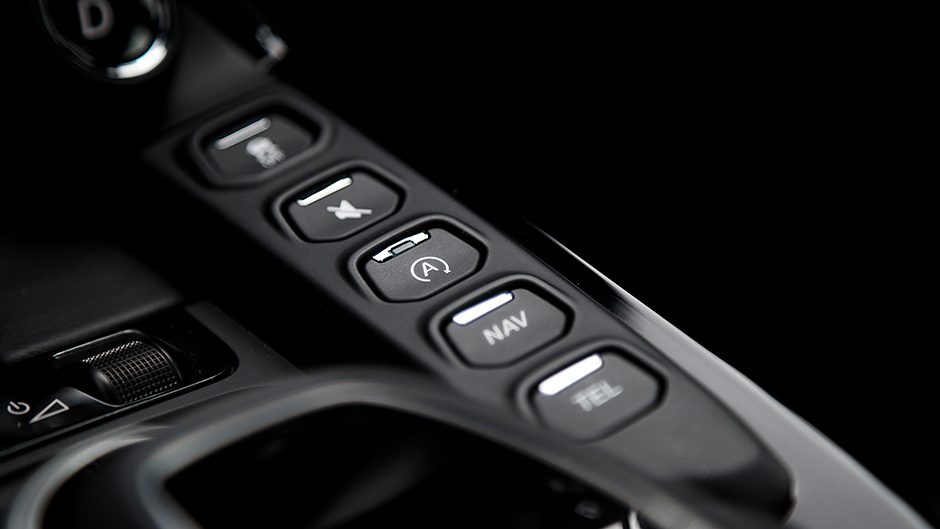 Helping with dynamics is a low and wide stance and premium rubber, PZero 295/35R20s at the rear, 255/40R20s up front. And the final factor is the sorted aeros, foregoing a rear wing for an upkick on the boot lid, and a massive diffuser with air directed rearwards by the front splitter. There's also an air tunnel down either flank, kicking off from behind the front guard where hot air escapes from the engine bay. Even the mirrors are aero designs. From the blurb, there are all manner of aero devices; sill blades, curlicues, venturi vanes, tunnel tamps, double upsweeps and a hidden stirrup. These evidently deliver 'true downforce' and reduce lift, for added cornering agility.
Shouldn't forget the e-diff either, that actively apportions drive to the left or right rear wheel depending on environmental and driving circumstances. Does it all work? And how. Fast into and flat through bends, this hangs tough, the front end stuck hard. We deliberately tried to unsettle it through a fast smooth 90-degree bend, entering a bit quick and gassing it up early. Instead of understeer, the tail simply kicked sideways in progressive fashion until the ESP kicked in. Nice.
The brakes in this you expect are good. These are reference level, featuring six-piston monobloc calipers up front and 400mm cast iron rotors, so it's little wonder really. Registering one emergency stop of 29.63m, the average of 32.05m is seriously impressive, and so too is pedal action, improving markedly after a few decent ABS stops from 100km/h.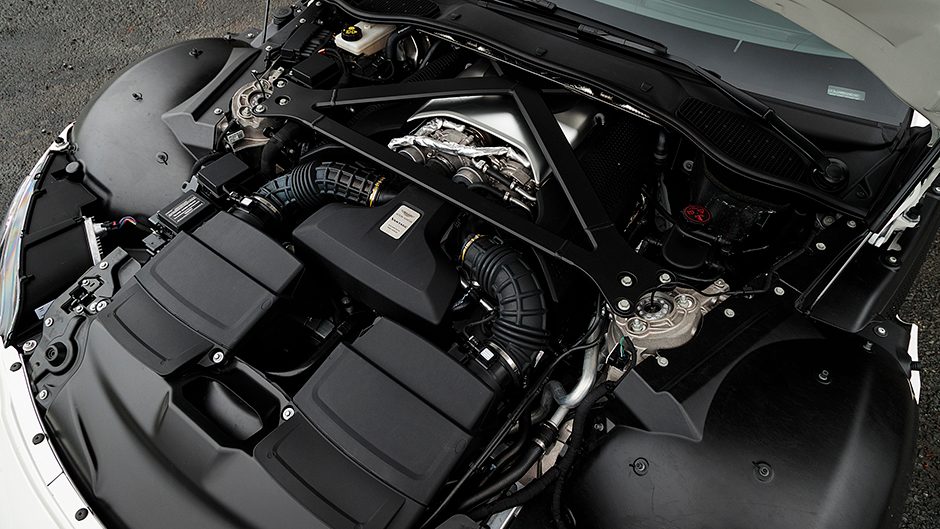 This is a stunner to behold, no matter the angle. Aston calls it's design ethos 'the pursuit of beautiful'. The body kit gives it an athletic look, as do the huge brakes and the exaggerated rear wheel arches while the classic Aston grille is bigger than ever. Arguably its cleverest feature is the door design, the manner in which they open up as they swing out. This and a huge opening contribute to unbelievable entry and egress for a car of this low slung calibre.
We were driving the 508 SW before this and the Aston was, if anything, easier to access. Slide down into the interior and you're met by swathes of leather, the smell intoxicating. Even the map pockets are leather lined, and so too the fixed eight-inch central screen, reminding of an armoured SAS laptop computer.
As with other competitors there's a substantial cost option list. Standard fare includes LEDs all around, e-diff, adaptive damping, dual zone air, iPhone integration, and sports leather seats. There's also positive torque control to limit spins in iffy conditions, along with active torque vectoring. Figure also on push button go with idle stop technology, front and rear parking sensors, that fabulous sports exhaust, knurled interior buttons, memory seats, tyre pressure monitoring, and sat nav.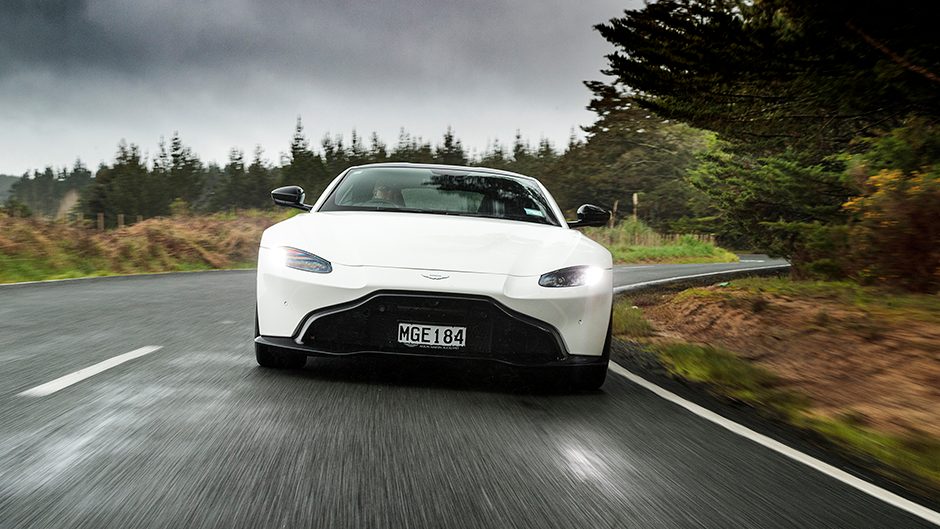 Our car came with $50k of extras, so drive-away pricing began with a three. Admittedly many of these extras were cosmetic but blind spot monitoring adds $950, cruise control is bundled with an electric steering column for $1910, a 360-degree camera adds the same amount again, upgraded sports seats and steering wheel cost $4250 and 16-way power adjustment for the seats, along with heating elements and armrest with stowage beneath add $3450. Keyless entry and auto parking are another $950 apiece. There's more but no room for it here.
Bottom line, this is now well and truly in the fight with like-priced 911 Carrera S and the AMG GT, all of which are roughly as quick and agile. If you need a 2+2 there's only one in it. Otherwise it's down more to personal choice, the look, the sound, the feel. They're all around the $250k mark, but with options realistically you're looking closer to $300k.
If you're into detailed personalisation (Q by Aston Martin) then the Vantage is the clear choice. Next up for Vantage is a roadster variant, but if you're hanging out for a V12, be prepared to be disappointed.
| | | | |
| --- | --- | --- | --- |
| Model | Aston Martin Vantage Coupe | Price | $249,000 |
| Engine | 3982cc, V8, T/DI, 375kW/685Nm | Drivetrain | 8-speed auto, rear-wheel drive |
| Fuel Use | 10.3L/100km | C02 Output | 236g/km |
| 0-100km/h | 3.67sec | Weight | 1730kg |