Last week we introduced you to a new Italian scooter that isn't quite a compact (like a Honda PCX160) and nor is it a middleweight (like Yamaha's X-Max or Honda's Forza 350) but something in between with a 175cc engine. Well now it's here, and we can tell inform you that on price it slips between these sectors as well, the Standard model kicking off at $7490 and the Sport, which everyone will want, an extra $200.
Don't even think about cheaping out because for this you get fancy red wheels, a more dramatic paint finish, bright red or yellow, or jet black, and a smart 'a' on the fairing to show you belong to the Aprilia family.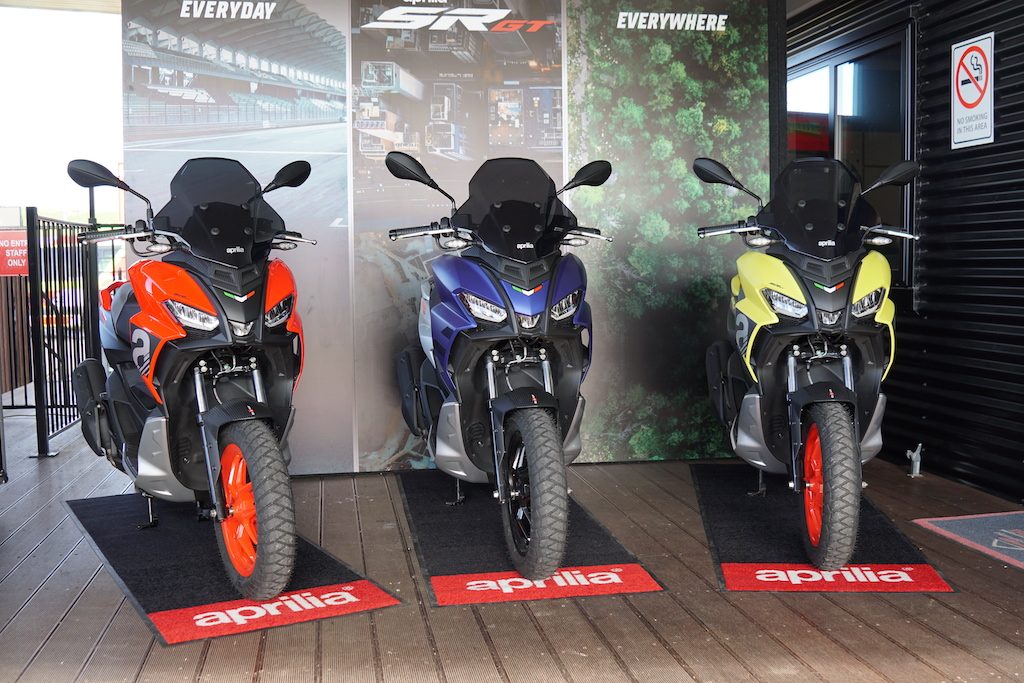 As mentioned, the launch was to be held at Hampton Downs, not on the main track but on the Go Kart circuit, a hilly little number studded with hairpin corners, and plenty of elevation for good measure. Yes, we were a bit skeptical about this plan too and yet it showed just how much fun this little demon scoot could be.
Anyhow, while it seemed as if two versions might be coming to New Zealand, it turns out that the base 125 model will not be offered here, which is probably sensible on two fronts. Firstly, shop pricing wasn't going to be a whole lot less than for the 200 and, secondly, 125s are often at the end of their tether doing 100km/h on the motorway whereas the 200 will cruise happily at that, with a claimed top speed of 115km/h. So there's just the one model, with two spec levels, as mentioned.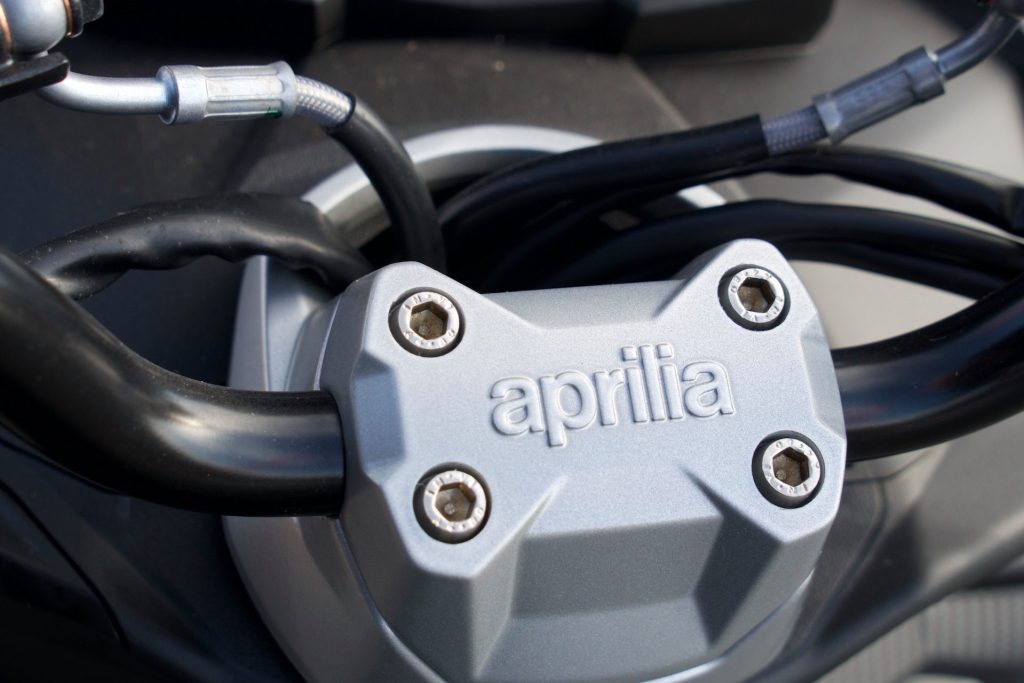 For a quick recap, this is a scooter that kind of thinks it is a motorcycle, despite having the engine hanging over the rear wheel, and a CVT driveline, both of which make it a scooter. So does the step-through nature of the design. There's also the voluminous underseat storage area that can evidently hold a full face helmet providing it's not a jumbo example. Or 25L of other guff. 
The SR GT is a sports scooter that mixes performance, practicality and design elements. You know it's sporty because it has MotoGP-style winglets, only not quite so overt. There's also a sporty grab rail and a trio of LED lights up front, along with an LCD dash.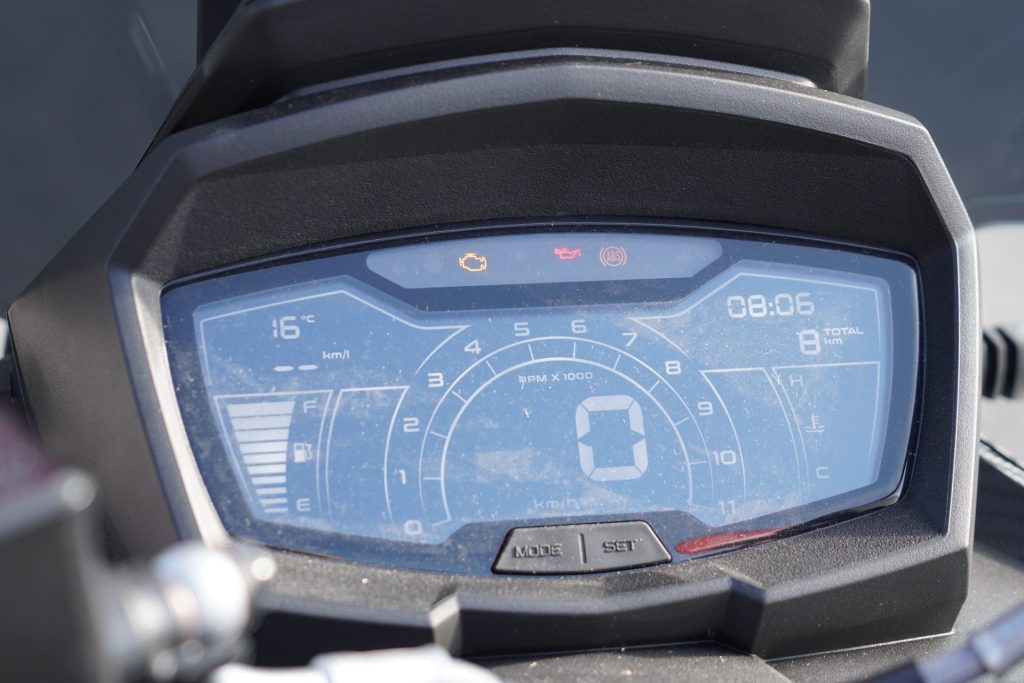 It also has hints of adventure bike about it, with long travel suspension, ground clearance of 175mm and tyres that look almost like they might be dual purpose, but with the emphasis on tarmac. Other unusual features include handlebars on risers and a screen and fairing that offer quite reasonable weather protection. There are also two positions for your feet, flat like on a regular scooter and forward at a 45 degree rise, like on a maxiscooter built for both town and country work.
It's pretty lightweight too at just 145kg wet, but has reasonably robust output, 17hp arriving at 8500rpm and 17Nm chiming in at 7000rpm. So its power to weight is pretty good, the payoff being claimed fuel use of 2.6L/100km (almost 40km/L). And it has one of the biggest front discs for its class, a 260mm petal-style rotor.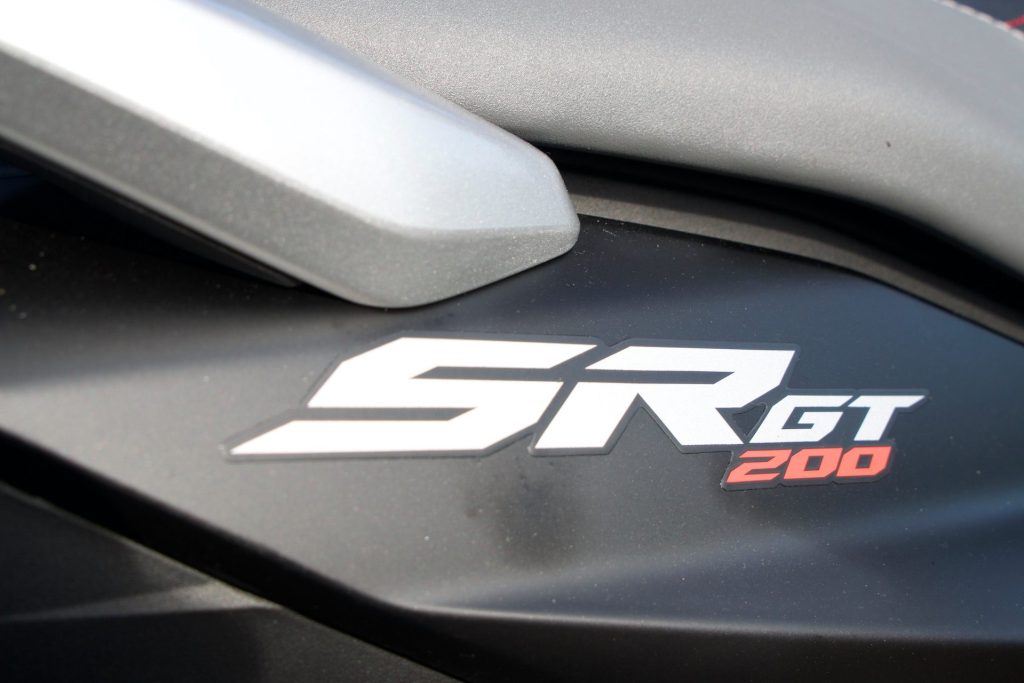 What's it like then?
We arrived along to the Hampton Downs Go Kart track on a coolish overcast day with a bit of wind, fairly typical spring weather for this area.
After a brief photo shoot at the start line, where the sun hid behind clouds the entire time, we made a beeline for the red one, thinking it would be the fastest. Start up is simple…providing you remember to pull in the stubby side stand. There's a centre stand too, which we later discovered occasionally touches down if you enter a corner a bit too quickly.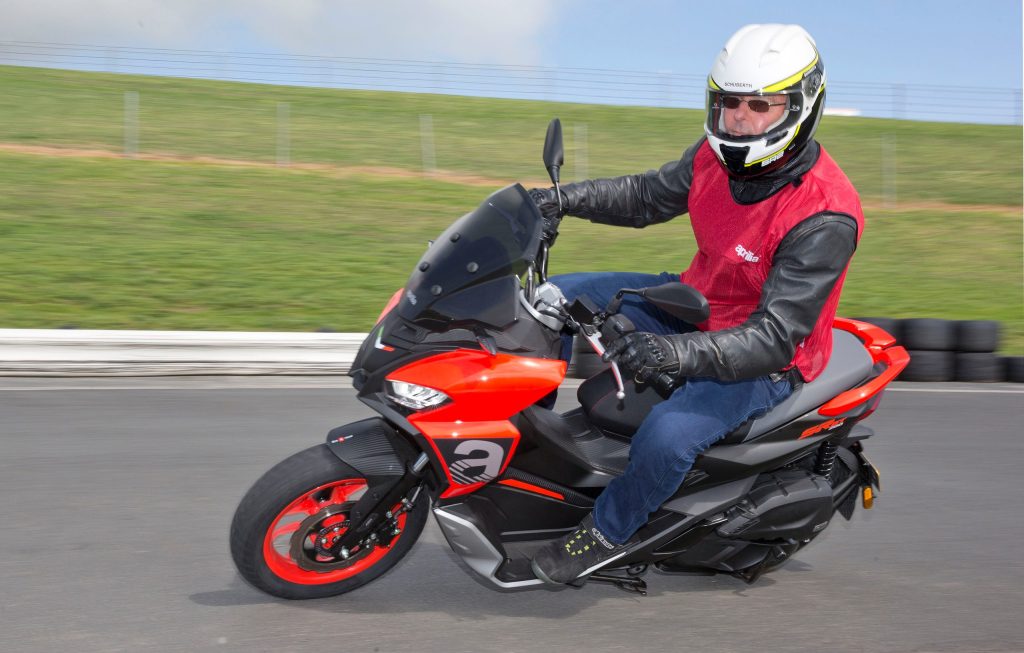 Off and away, and this instantly has a nicely balanced feel to it, unlike many tail-heavy scooters. We went easy for the first couple of laps to warm up the tyres, though others decided to hang with the imposed speed limit which we soon abandoned too on the short straight at the bottom of the track. It's surprisingly torquey this little mill, even without using all the throttle.
As with adventure bikes you appreciate the extra suspension travel and, along with its plush two-person seat, it promises to be a ride revelation in its class. Handling isn't something you comment on much with scooters because most of them are pretty ordinary. Or at least they used to be. Bigger Vespas and the Horwin EK3 were amongst the first to convince me otherwise and this is even sportier than those offerings. It's clear now why Piaggio encouraged its Aprilia distributors to hold the SR GT launch at a Go Kart track. It is a challenge that the little scoot was right up for and soon enough everyone had their charges leaned over like sports bikes, some even hanging off slightly to eke out a little more corner speed. Brakes are also better than the norm, with no sign of fade lap after lap.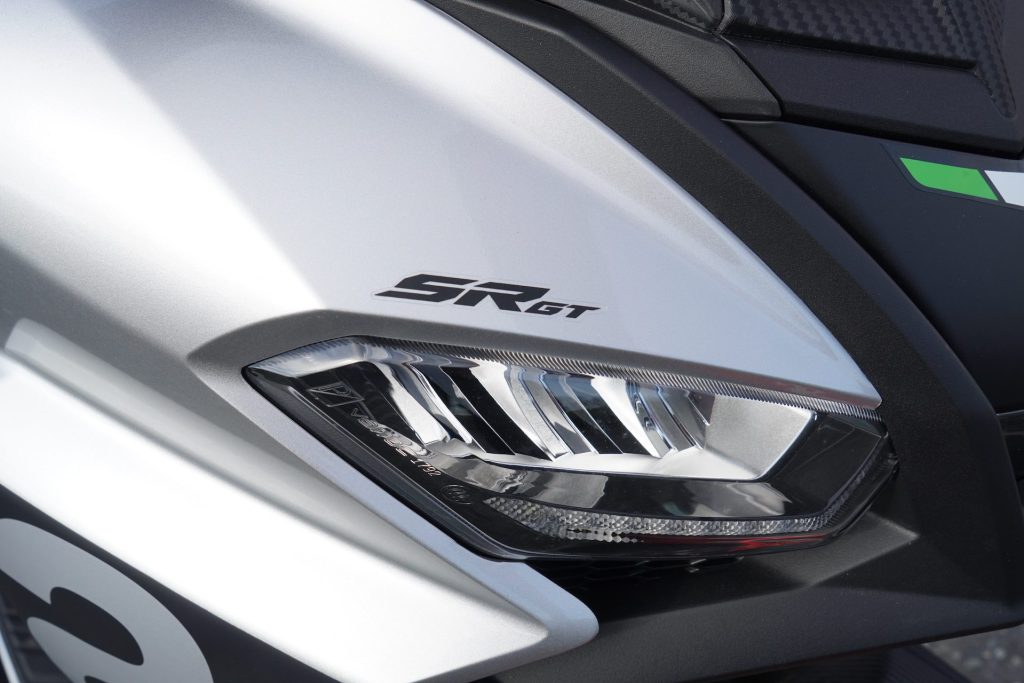 There were two sessions of 20min each and I made sure to partake in both; everyone seemed to be having a ball, on a track that's plenty challenging. 
Designed to turn boring commutes into something more engaging the SR GT should also prove handy when the weather turns foul with windshield and fairing. And if you wish to accessorise there are top boxes, a touring windshield, fog lights and a multimedia app for smartphone connectivity.
Hopefully we will be able to check this out soon in town and country settings, and perhaps on gravel as well, once a demo example becomes available. It's amongst the most versatile scooters of its size I've encountered.