Occasionally you get to drive something a bit quirky and the Abarth 595 Competizione certainly fits that description.
It's tiny, sporty and Italian, but it is also costly, especially in 'auto' guise (technically a robotised manual).
Consider what you're getting for your 42 large. It's just 3657mm long, like a Fiat 500, upon which it is based. Given the retro weenie has been around for about a decade it's not surprising that it misses out on a few of the mod cons most cars costing this much get, like LED headlights, cruise control, dual zone air (single zone only), comfort entry and push button start. And there's no active safety features, just ESC. There's not even a reversing camera, and you need it given the abysmal turning circle. The steering column is height adjustable only and the rear seats are for kids or the compliant. Boot space is 185L while rival Fiesta ST has 311L, Polo GTI 350L.
It only gets five gears as well, which takes you back. The fact that it's an automated/Dualogic manual takes you back further, the 'auto' with the pregnant pause while upshifting. If you hit 'Manual' and use the paddles instead, lifting off the gas as you shift, it's better by far. Or you could spend $2490 less and buy the five-speed manual, which is what Italians would do in a heartbeat. If you need an auto, probably best to look elsewhere.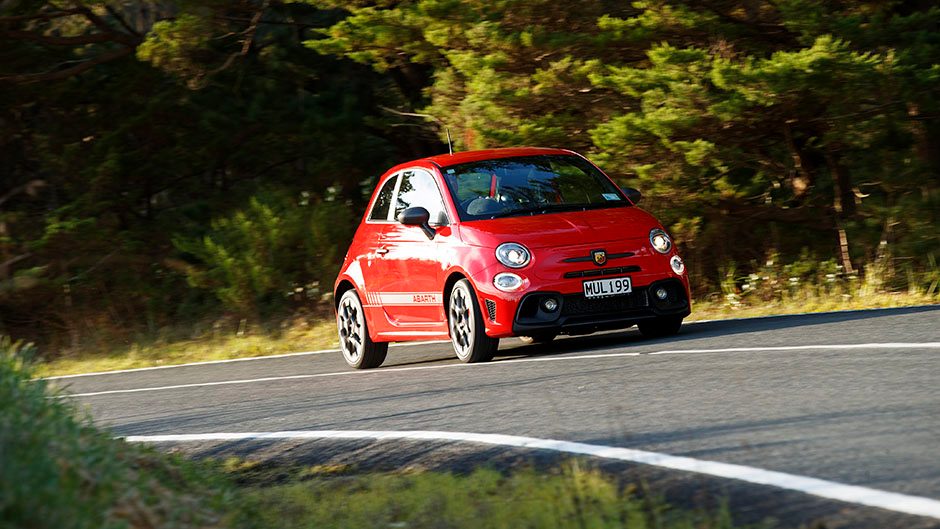 Normally a 500 comes with a wee twin-cylinder engine, but this is an Abarth. It gets a 1368cc four potter with a Garrett turbo attached. So it packs 132kW of peak power, along with 250Nm of torque from 3000rpm. That's heaps given this weighs 1100kg.
Despite the laggy transmission, it manages to scuttle to 100 from a dead halt in 6.8sec. That's not far off the Polo GTI (six-speed twin-clutch, 0-100 in 6.0sec, $39,740) or Fiesta ST (six-speed manual, also 6.8sec but $35,490).
The 595 is no slouch in gear, just outpacing the GTI 80-120 (4.18sec) but not the Ford's 3.8sec.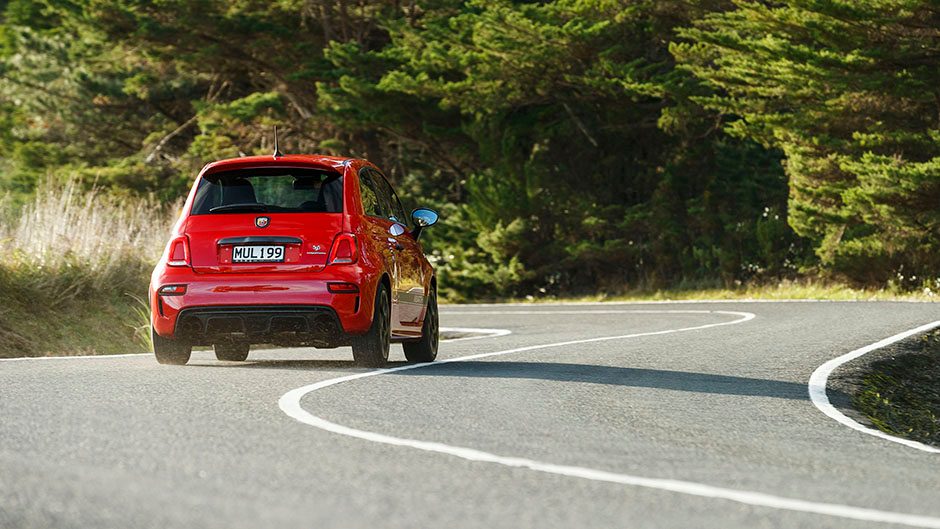 This looks comically aggressive compared with any Fiat 500 ever, Tributo Ferrari excepted. Cute details abound, like the Abarth brand name incorporated in the lower grille, while out back is an unlikely quartet of pipes emerging from a diffuser. It's sports tuned to make the right kind of 'Monza' noise, popping away merrily.
Inside, the infoscreen graphics show the 595 competizione emerging from a track garage. It is sports cute, with its black alloys, leather-covered Sabelt bucket seats, aluminium race pedals and suede- and leather-bound sports wheel with carbon inserts.
Not so much the rest of the interior though, awash in hard plastics; only the armrests and the binnacle atop the lone instrument are otherwise clad.
Still, the engineers have done a bang-up job turning a city car into something track ready, a good trick given there's 66 per cent frontal weight bias. Koni dual action dampers help, as do PZero Nero tyres, though they make a racket on our secondary roads.
This can genuinely hustle, and when it threatens to run wide, it dramatically falls back in line with a brief throttle lift.
Being so short in the wheelbase and so firmly sprung, it's not the most compliant of rides, and you'd say that stability under brakes isn't its forte either. The picks are fancy Brembo four-pot calipers but with all that weight diving forward the rears don't contribute much and so the figures don't reflect how well this slows under non-emergency circumstances.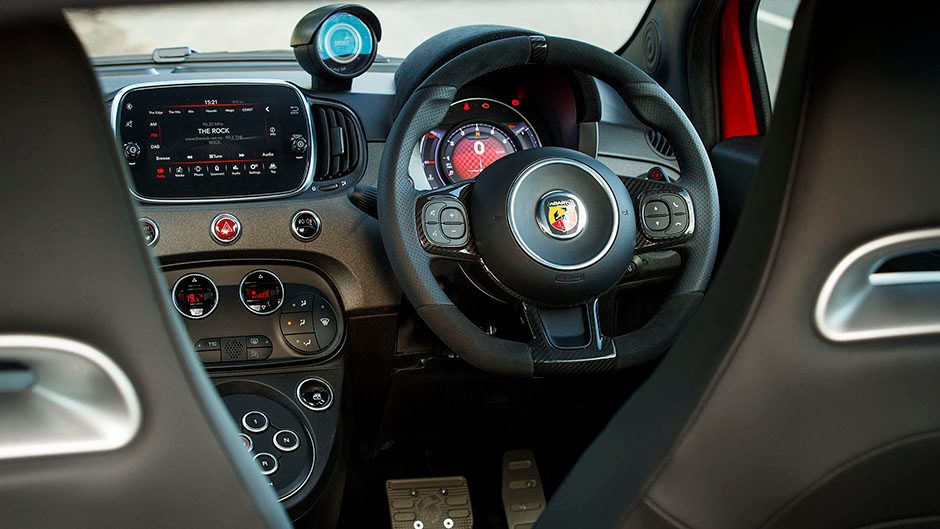 The engine is the heart of this car, and it really is a wee ripper. It goes nicely in its default drive mode for town work, with decent enough pull from below 2000rpm and a kick starting at 2500rpm which is handy as that's precisely equivalent to a hundred in top.
Hit the Sport button mid-dash, and this takes on a wilder persona. You can still access top gear easily in everyday driving and it doesn't seem to affect fuel use much. Plus it goes that much harder.
Mention of which, some describe the ride quality in that way, and it is firm at town speeds, but then we've mentioned why already.
New since last we encountered this is the Uconnect system with seven-inch touchscreen, integrated steering wheel controls, and compatible smartphone mirroring.
Given high performance superminis like Fiesta ST and Polo GTI are more practical, nicer inside, better handling and don't have a transmission that only an Italian engineer could love, the Abarth 595 will find the going tough. We imagine the less expensive manual would be a better bet, and might appeal to that certain someone who didn't want what most other sensible hot hatch fans have.
| | | | |
| --- | --- | --- | --- |
| Model | Abarth 595 Competizione | Price | $42,490 |
| Engine | 1368cc, IL4, T/EFI, 132kW/250Nm | Drivetrain | 6-speed robo manual, front-wheel drive |
| Fuel Use | 6L/100km | C02 Output | 139g/km |
| 0-100km/h | 6.82sec | Weight | 1116kg |