All car makers have a model that put them on the map and for Honda that was the civic. It was a revelation for a Japanese maker, one that saved the fledgling Honda car making division.
While Honda had been producing motorcycles since 1949, it didn't make its first four wheeler until 1963. That was the T360, a small delivery truck that predated the sexy wee S500 sports car by a few months. When 1970 came around, Honda's car division wasn't in great shape. Its N360 was plagued with reliability problems and its 1300 wasn't selling well.
Honda began developing a new car in 1970, with a lot riding on its success. It wanted to design a car to satisfy markets around the world, rather than rely solely on domestic custom, and this car would be the Civic.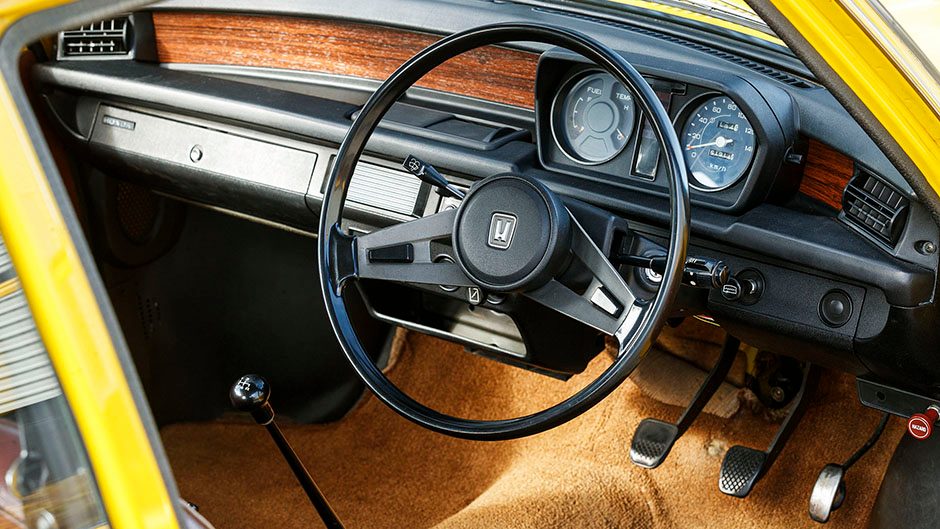 The development teams defined the car as being light, economical and compact while it had to address the fact that the 1300 was a sales flop. Company founder, Soichiro Honda, had been involved in its conception, so with its dry-sumped, air-cooled four cylinder, it was deemed to be technically sound from an engineering point. But it lacked refinement and other comforts that buyers desired. As Honda execs of the day put it, the Civic needed to be a 'more ordinary car that could provide good quality in all aspects'. It was a car 'created for citizens and cities', hence its name.
Honda didn't want to increase the car's dimensions to compete with contemporary rivals, and went about building the car they thought the market required. The formula was for a car that was utilitarian and minimalistic, promoting good performance and economy. The Civic then would be a two-box car with a front-drive, transverse engine layout. This was a departure from the longitudinal, rear-drive competition, with most adhering to a sedan-like form. At the time, Corolla was into its third generation and still using a rear-drive layout, while the Mazda Familia didn't adopt the transverse format until 1980.
Weight was a big issue for Honda to resolve, the team targeting just 600kg while utilising a 1200cc four-cylinder engine. This was a bold task when you consider its smaller kei car was tipping in at 540kg with a 360cc engine. The team shed weight wherever possible, the sheet metal was reduced in thickness and various components analysed and grams removed in the quest for lightness. The final car weighed 680kg-700kg depending on the model, but it was much lighter than the 875kg 1300 it would replace.
The Civic would use a strut-type, independent rear suspension which would increase interior space while also achieving the weight reduction the team wanted and adding increased handling stability to the mix. But the boss, Mr Honda, was set on the usual torsion beam axle for its simplicity and cost of production. It's said the development team kept their independent rear design from the boss for as long as they could. The lead engineer had to plead his case with the boss, who eventually yielded.
One of the reasons the first Civic was so small was because of dealership space in Japan. Most Honda dealers only had small motorcycle shops, so the Civic had to be compact enough to fit on the showroom floor. Honda was also working on a brief that would see the car fit in a space of five square metres or less. This was in line with the Japanese government's People's Car Program that proposed compact cars should fit these dimensions.
Honda originally targeted a car 1450mm in width, but had to increase this to 1505mm in order for the 1200cc engine and gearbox to fit transversely. This then caused a reduction of 100mm in overall length to comply with its overall size target. It was this shrinking of the length that led to the designers deciding to chop off the intended boot of the original concept, and adopt a three-door hatchback design. And so its wide and squat proportions were somewhat unusual for the time, and engineers tried to convince the marketers that the Civic was stable because of its trapezoidal geometry, being wider at the bottom than it was at the roofline.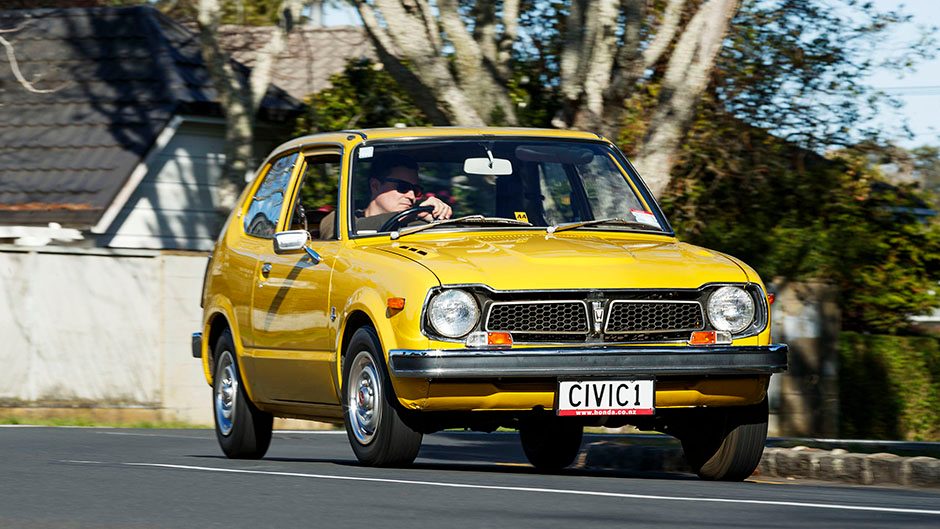 The Civic rolled out in July 1972, taking only two years to develop. It wasn't an initial sales hit, selling just 20,000 units in the first year. People took time to adjust to the unique styling but it eventually caught on with the youth market, selling 80,000 units in 1973 and 60,000 in both 1974 and 75.
Honda's low-emission CVCC engine debuted in the Civic in 1975, and was a welcome relief for markets still reeling from the first oil shock. The Civic was the first car to meet the US's more stringent emissions standards for hydrocarbons and carbon monoxide as big US cities were choking under clouds of fumes from industry and transport. Honda achieved this without the need for a catalytic converter, important at the time as these new devices required unleaded fuel which was being phased in, and at times scarce. Honda used an innovative combustion chamber design on its CVCC (Compound Vortex Controlled Combustion) engine. It was a fuel stratification method that didn't require fuel injection. CVCC engines have normal inlet and exhaust valves, plus a small auxiliary inlet valve which delivered a rich air and fuel mix nearer to the spark plug. Along with a relatively lean mixture drawn into the cylinder via the normal inlet port, this enabled Honda to achieve a more complete combustion process, which lowered carbon monoxide and hydrocarbon emissions.
The Civic was also made available with the two-speed Hondamatic auto in 1973. As Honda likes to do things a bit differently, its auto had gears on parallel axes rather than the more usual planetary gear arrangement, each with a hydraulically-controlled clutch. This was a more compact design with less internal friction and it utilised a lock-up torque convertor, uncommon for the time.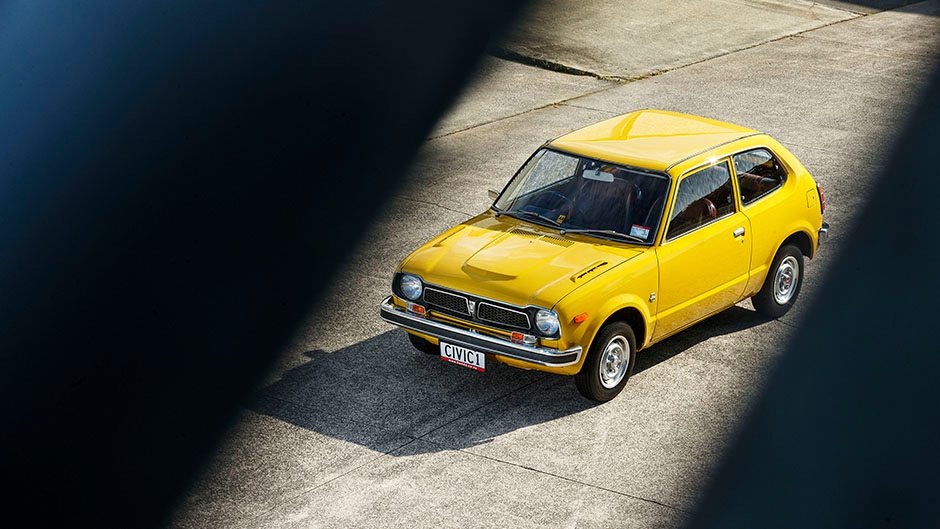 The first Civic could be had in two-door (with a boot hatch similar to that of a Mini's, though hinged at the top) a three- and five-door hatch and a station wagon. It was made until 1979 when the second generation debuted in June. This followed the same formula but was a larger car with a more powerful engine line-up. Civic remained a true compact car for its first six generations before growing to meet market expectations. It picked up six Japanese Car of the Year Awards for Honda, the first-generation model acknowledged for three straight years.
In April 1976, Honda would start assembling its world beater in far off New Zealand. And this 'Bold as Brass' example was one of the very first Hondas assembled here. It was originally owned by Roberta Walton of Wellington, and is now owned by Honda NZ.
It's quite a sight to behold as it's positively diminutive. Especially after jumping out of the hulking Jeep Gladiator on the day. The Civic is just over 3.5m long and 1.5m wide but has a relatively long 2.2m wheelbase thanks to the wheel at each corner design. It's clear that this Civic has had a great deal of influence on Honda's first electric car, the 'e' .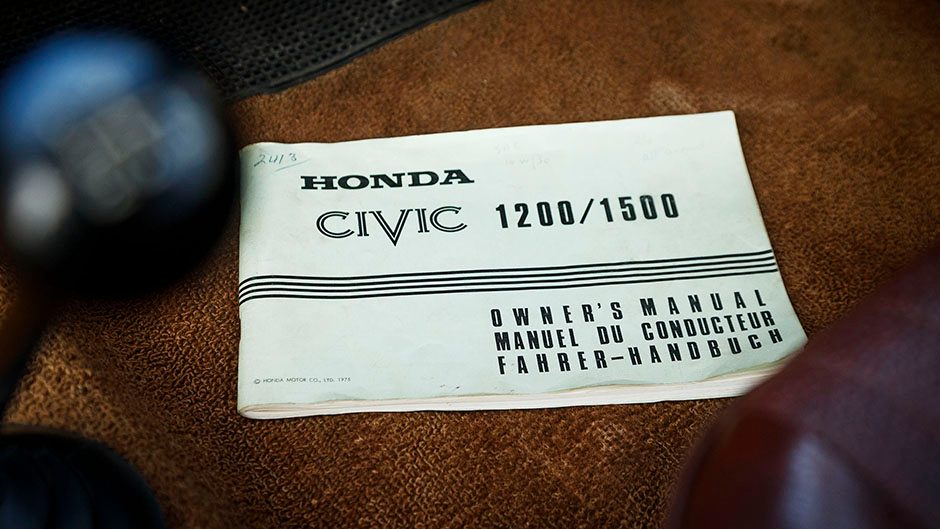 Inside, it's a minimalist's dream; everything you need without the frippery that we demand now. Cue an ashtray, a blanked off spot for the AM radio, fan controls, a choke, a button for the hazards and that's about it. The simulated wood dash is something still replicated to this day (also seen on the Honda e).
It's a four seater, just, though there's not much room in the back but then people weren't as fat or needy back then. There's more space in the boot than you'd expect, and it even has a folding rear seat, the boot accessed via a top-hinged tailgate.
Nothing is powered but being so light, these parasitic accessories are not missed. The brakes require firmer pressure than usual, but it hauls up reasonably well with its front discs. The steering is light enough on the move too, and hardly taxing on the turn around, the dimensions for which are laughably small. Driving one of these in the US in the mid-70s would have proved easy next to hulking Americana tripe. Everything big was good, and stylists just tacked extra metal onto tired old platforms to make them appear modern and powerful yet they were anything but. Especially as their big V8s were choking on an unleaded diet and corked up with catalytic convertors.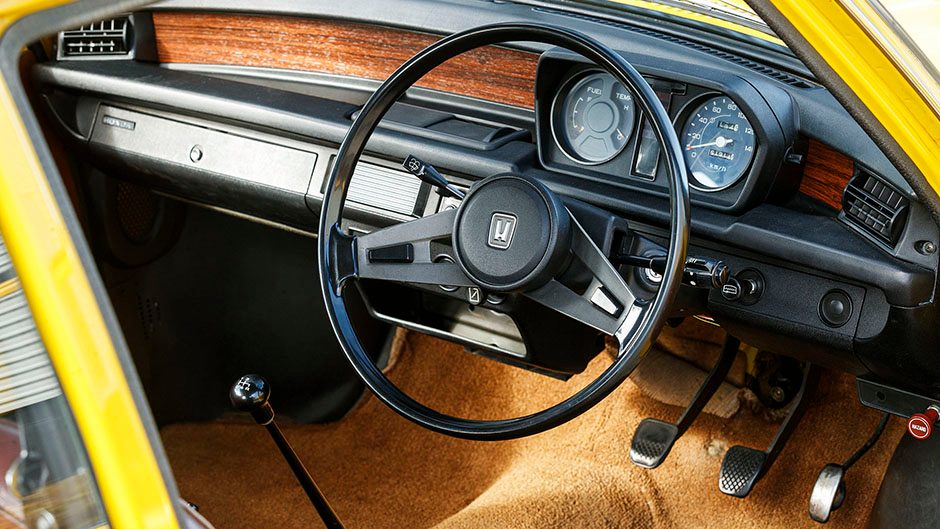 The Honda is so nimble, turning easily and the ride is supple for something so small. There is a lot of clamour; road noise, wind whistle and the engine is fairly vocal too. It's quite snappy below 60km/h, pulling well and it responds quickly to the throttle. The four-speed manual slots its way around the gate, the throw long but the cogs mesh easily. Its footwell and pedals are tight, a shoes-off approach lending a bit more space, and feel for the tiny pedals. There's never any problem with outward vision in these older cars, the glass house unobstructed by big pillars and the windshield seems to be within licking distance from your face.
Civic is now in its tenth generation, but no longer a wee runabout. At 4515mm in length, it's a metre longer, 300mm wider and 660kg heavier. It's also producing three times the power yet is cleaner burning and at 6.4L/100km, probably more economical too. It's not quite as cute however as the original, the car that saved Honda.