Toyota hybrids in past generations have conferred some small benefit in terms of fuel consumption but little in the way of emissions-free motoring.
With the move to a more compact and lightweight lithium-ion battery pack, and redeveloped motor hardware, things have changed for the better in the fifth generation of the firm's hybrid system. It's little wonder then that Toyota's line-ups are increasingly hybrid-only and that over one-third of total sales feature a petrol-electric powertrain.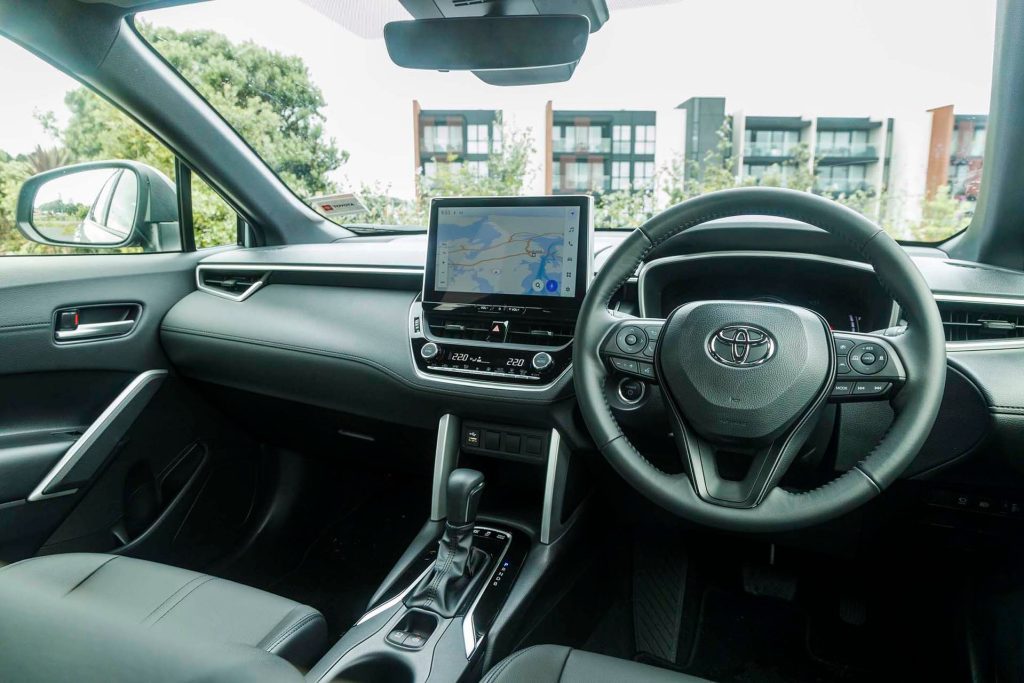 Like for instance, the Corolla Cross quartet, the eighth SUV line-up for the brand, slotting in between the CH-R and RAV4 lines, and selling in the $42k-$52k area where Qashqai, XV, CX-30 and T-Roc compete. Hard to believe that these Corollas have sticker prices beginning with a four or five but that's increasingly the way in our hyperinflated world nowadays. At least the government is offering a clean car rebate, in the case of the vehicle you see here, the midrange GXL, you get around $3k back thanks to a CO2 figure of 107g/km which effectively makes it $42k driveaway.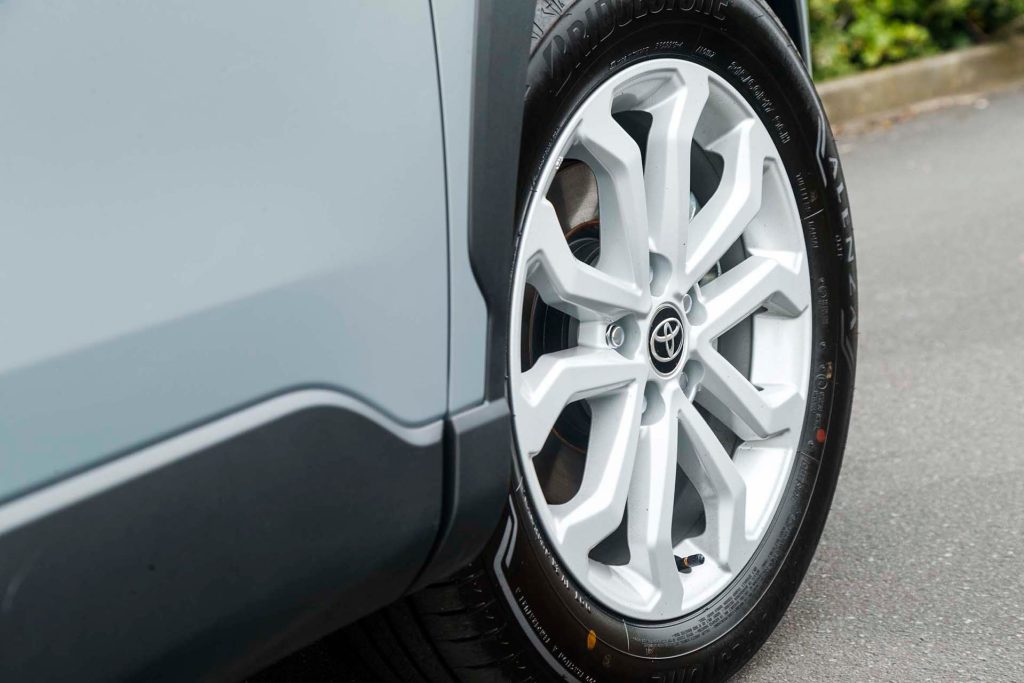 And for that you get a mix of wizard fuel economy and pleasing performance. Only the more expensive Eclipse Cross PHEV and incoming Qashqai e-Power do better for fuel use on paper. We never saw anything north of 4.9L/100km and averaged around 4.5L/100km for our time in the vehicle, most of which was spent in the 80-100km/h zone. Around town you can expect even better fuel use figures as the car starts up and eases away in electric motor mode. In general it won't EV above about 60km/h. However, in the Eco mode it would shut out the engine at speeds of up to 100km/h under downhill or low load conditions. And where the former NiMH battery packs only allowed EVing for distances measured in metres, it's now measured in km.
There's a lot to like about these 'self-charging hybrids', i.e., ones without sockets. Firstly, they don't add all that much in terms of cost at the purchase end compared with plug-in hybrids or EVs, though of course can't do as much in terms of emissions-free running.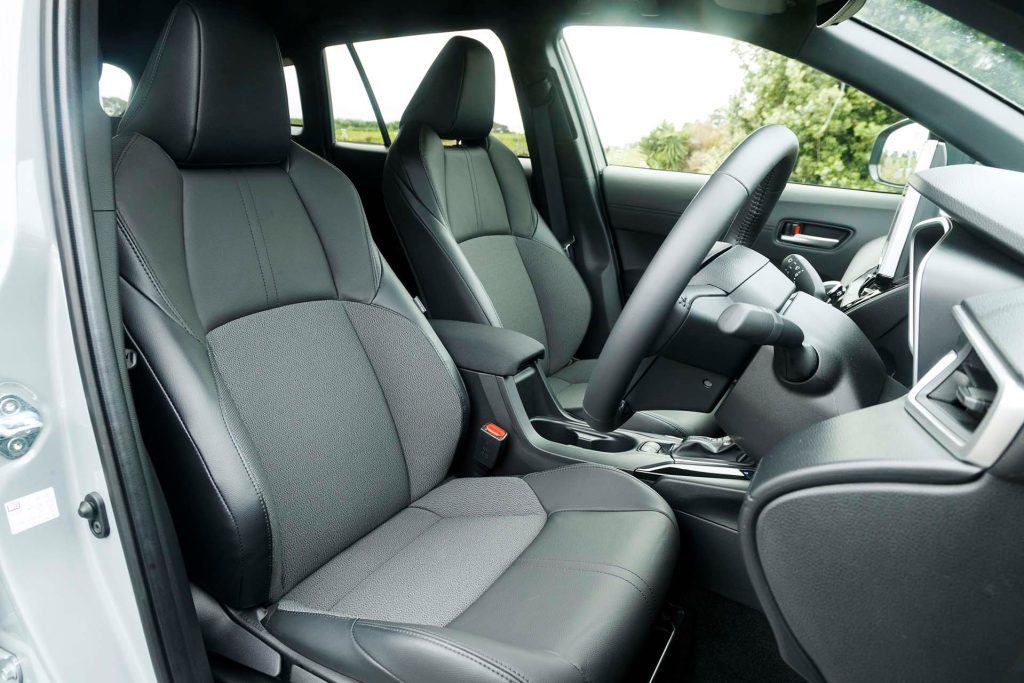 However, there's also not the hassle of having to stop and recharge like there is with pure electric vehicles. Corolla Cross has a range of around 750km thanks to its stated mean fuel consumption of 4.8L/100km, not bad considering it only has a 36L fuel tank. And you can fill that with fuel from the slightly less expensive 91 pump. We drove it around for a week, and returned it with one-third of a tank remaining, not having added any gas. In part that may be due to tall CVT gearing, the motor seldom doing over 2000rpm and the needle points to 1500rpm at 100km/h on the flat.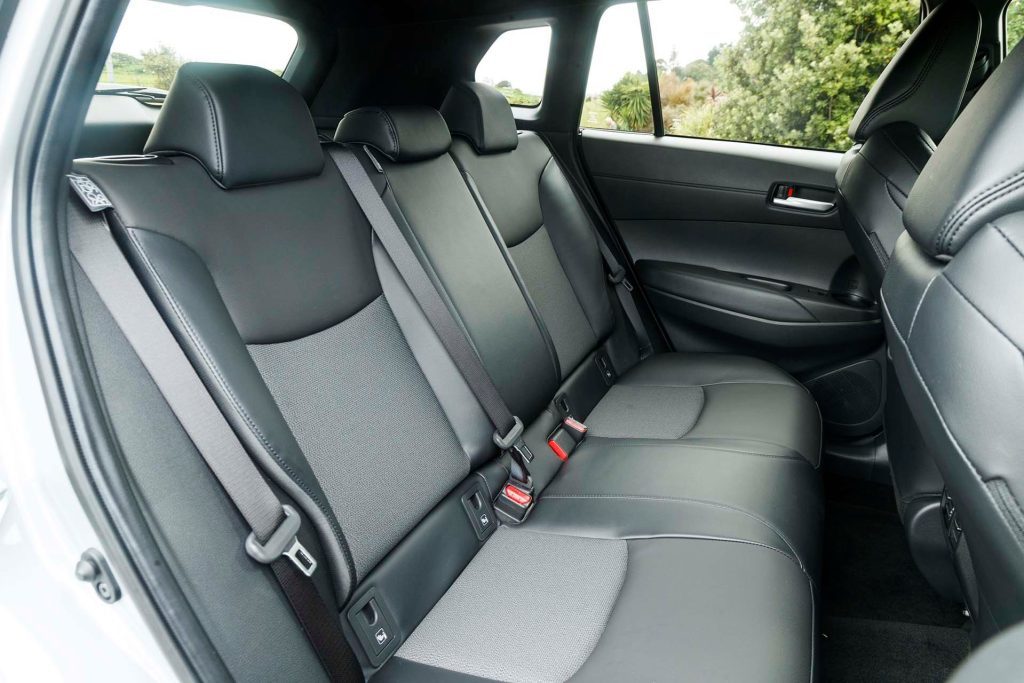 This handily accounts for most entry-level EVs, not only on the price and range front but also for performance, emissions excepted. When the 112kW/190Nm Atkinson cycle 2.0L four and the 83kW electric motor are working in tandem, there's peak power of 135kW although a mixed torque figure, as usual for Toyota hybrids, is not quoted. Still, all CC variants can evidently tow 750kg, and this can get along rather smartly, hitting 100 in 7.6 seconds (claim 7.7sec) using the Power mode, mock shifts of the CVT happening quickly, while an overtake is done and dusted in just over five seconds. Of note, it goes quite well in the Eco setting, unlike some EVs which just feel strangled. We drove GXL much of the time in this mode, which seems to promote EV use more than any other. According to the energy flow meter, it was EVing 40 per cent of the time. And we used Eco both in and out of town. If need be, kickdown does the trick in this mode just fine, as it does in Normal, the default mode.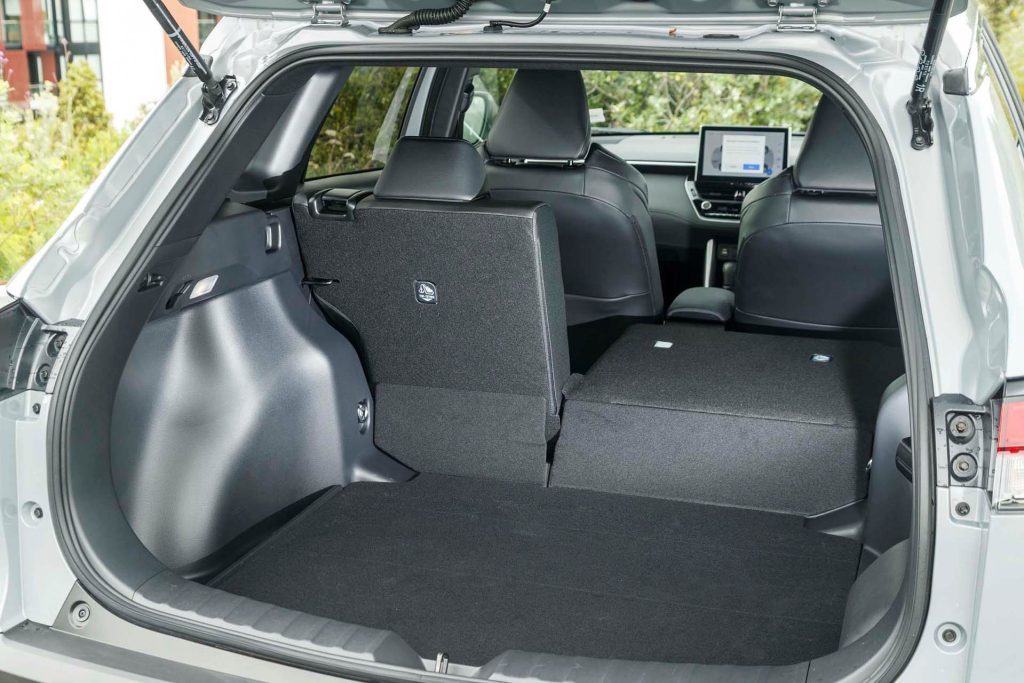 As a drive otherwise, this is also sorted. It regens gently, though this can be enhanced in the B drive setting. Brakes work well, with little of the usual unnatural regen feeling at the pedal.
Being slightly elevated it's a snip to enter and exit, and with Turanza rubber is not only quiet running, with in-cabin dB levels in the low 70s, but easy riding and with acceptable handling chops. It clearly signals when grip is going west, the tyres starting to squeal their disapproval. Despite that, the front driver hangs on well, the steering with no untoward traits.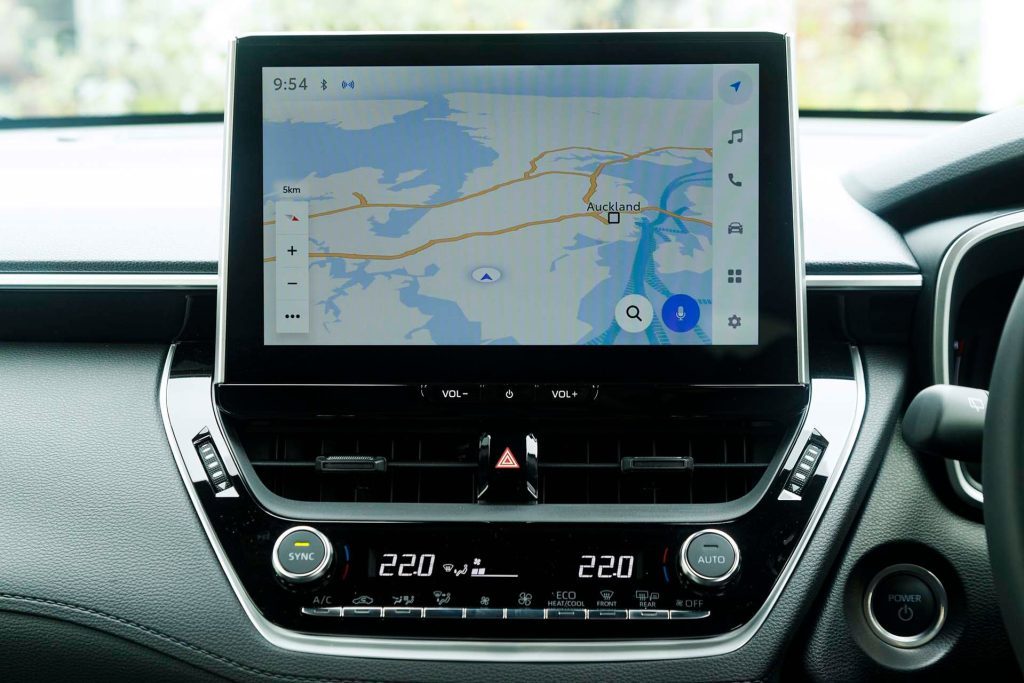 And it's quite roomy too, especially in the rear, while there's 428L of luggage space before having to resort to split folding.
It's a simple car to operate, with buttons for the HVAC system so the touchscreen isn't too distracting, and it has all the expected safety features, down to adaptive cruise, road sign recognition, AEB, and lane keeping (not that easy to nix). Toyota is expecting a five-star ANCAP rating for this.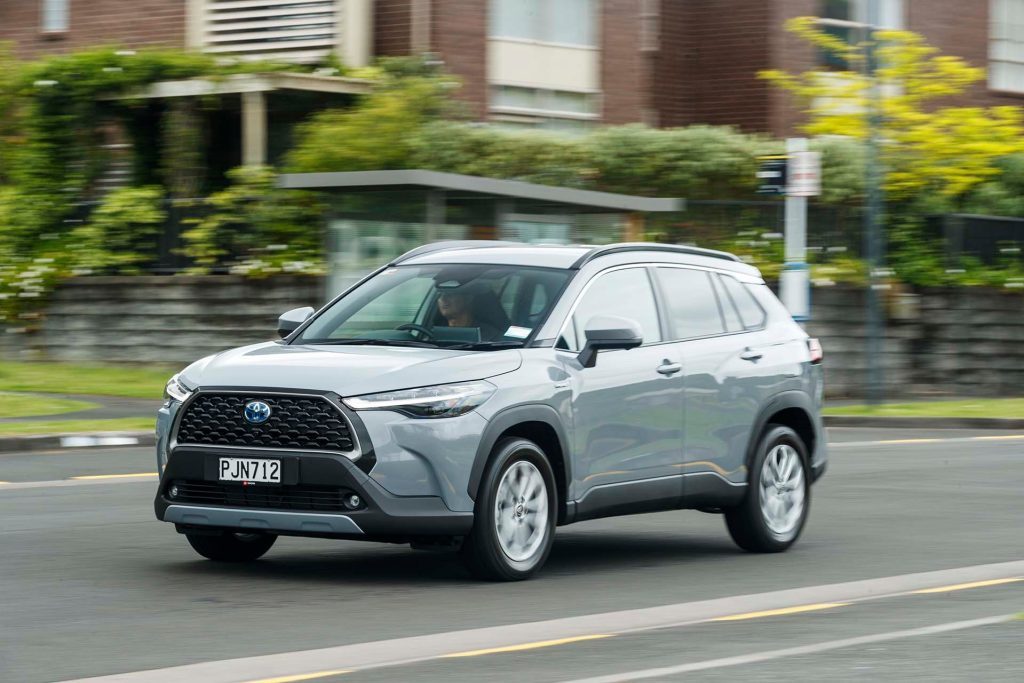 There's also sat nav, smartphone integration, voice recognition, LED lights, a 10.5-inch touchscreen, fog lamps and roof rails. Seat operation is all manual, with no lumbar support adjustability but it wasn't missed. Nor was the lack of a powered fifth door.
There is lots of choice at this price point but this smart car ticks plenty of boxes.
Model
Toyota Corolla Cross
GXL Hybrid
Price
$44,990
Clean Car Discount
Rebate – $3109
Engine
1987cc, IL4, EFI
Total System Output
135kW/n.a.Nm
Drivetrain
eCVT, FWD
Fuel Use
4.8L/100km
C02 Output
97g/km
0-100km/h
7.56sec
Weight
1475kg