Triumph's last Tiger 1200 was an overweight top heavy offering. Forget that as the new one rights all the wrongs.
Tourers used to be modified standard bikes with screens and panniers attached. Now they're simply dual purpose bikes, with the same sensible additions. And they are increasingly sophisticated things, the top offerings with electronic suspension, heated grips and seats, height adjustable screens, multi-mode engines, shaft drive, cruise control and a safety list that rivals that of like-priced cars.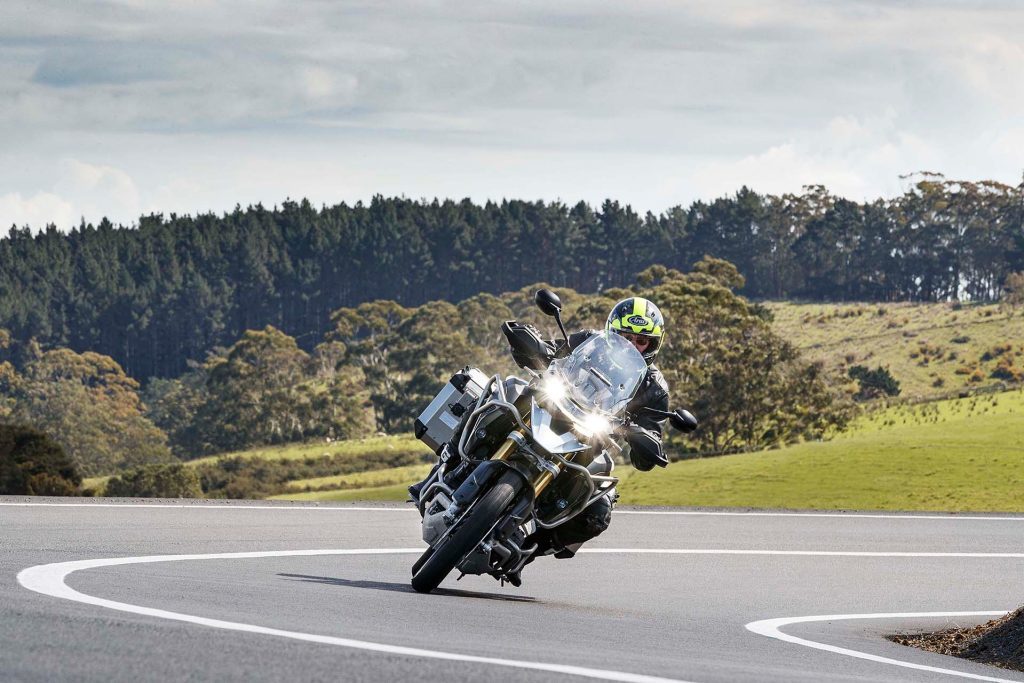 On that, the fully kitted offerings are now around the $40k price point. This one, the Tiger 1200 Rally Pro, is $37,990 and the two panniers, top box and mounts, along with scrolling indicators and upper engine bars add roughly $4k. That's car pricing.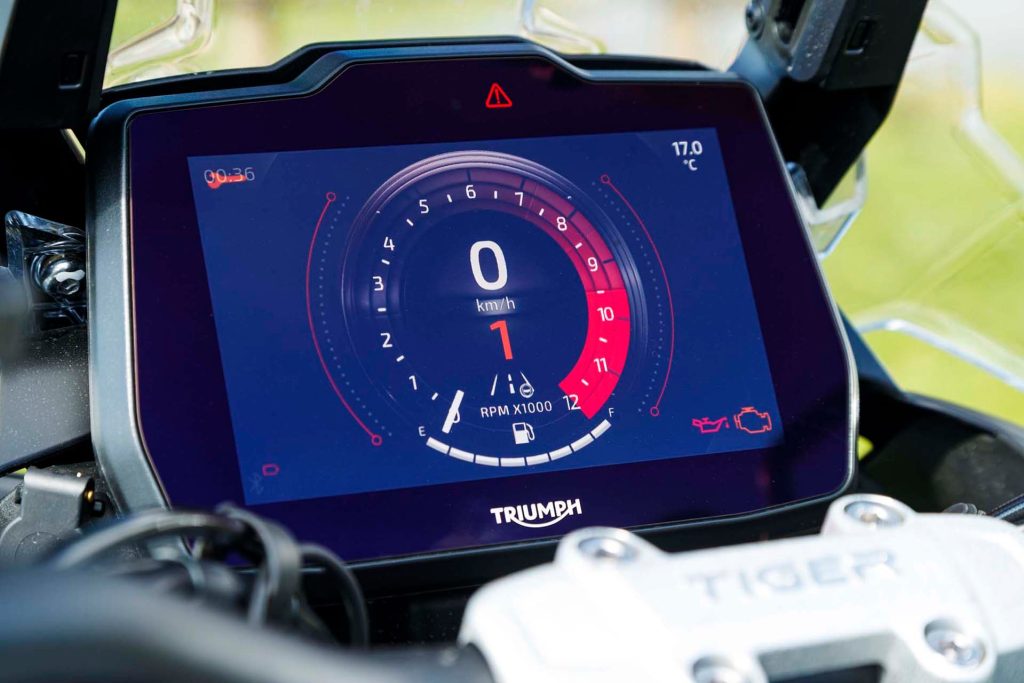 Still, most cars on most trips only ferry a single passenger and therefore bikes are much more fit for purpose. The example you see here is set up to carry two people and all their gear in comfort.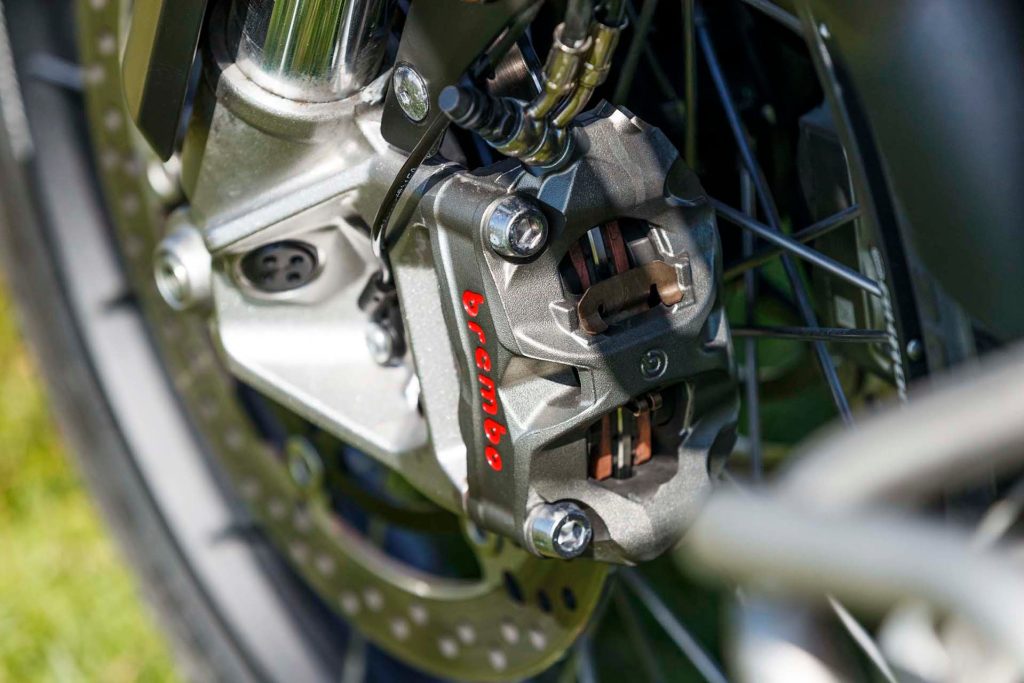 So how does the Tiger 1200 differ from its forebear? The two are similar in name only. The main goal was to shed weight and distribute it better in the interests of handling, performance and efficiency. In a total redo, the engineers excised 24kg of flab.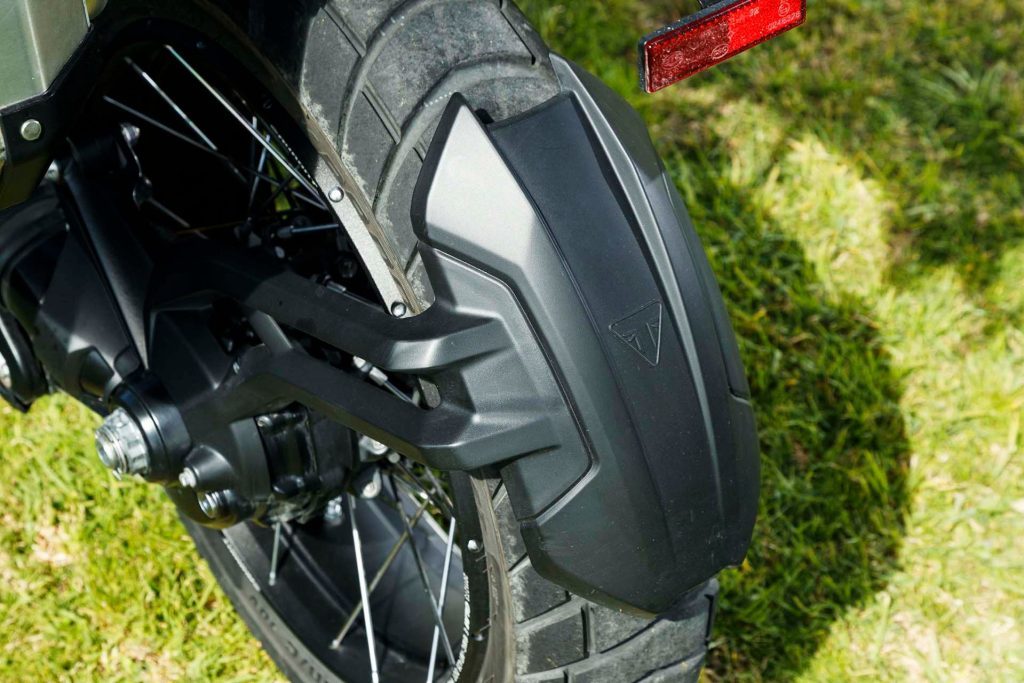 The motor is new too, despite being the same IL3 configuration and displacement, so the fact that the bike weighs in 17kg less than its boxer twin rival from Germany is quite a feat.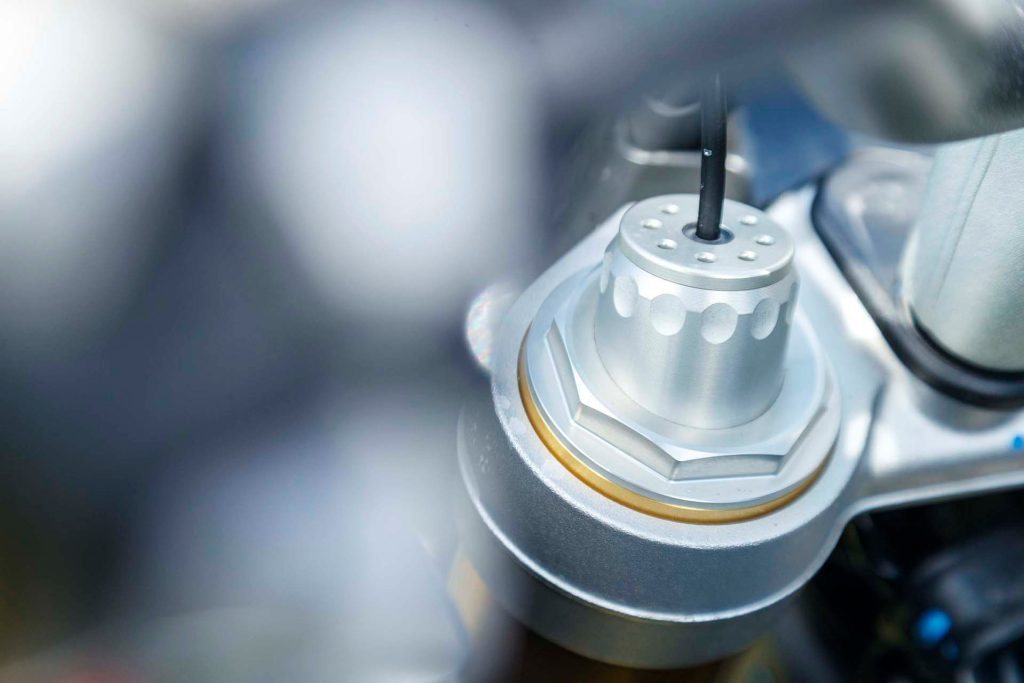 What's also rather nifty about the new Tiger 1200 is its fully electronic suspension. This adjusts automatically to the load aboard, one or two people, panniers empty or full. Moreover, it resets according to whether the mode is set on Road or Sport, the former cushy and the latter firmer (but never harsh) for quicker riding on better quality roads. Adding to a cushioned ride is a plush seat that's height adjustable without tools.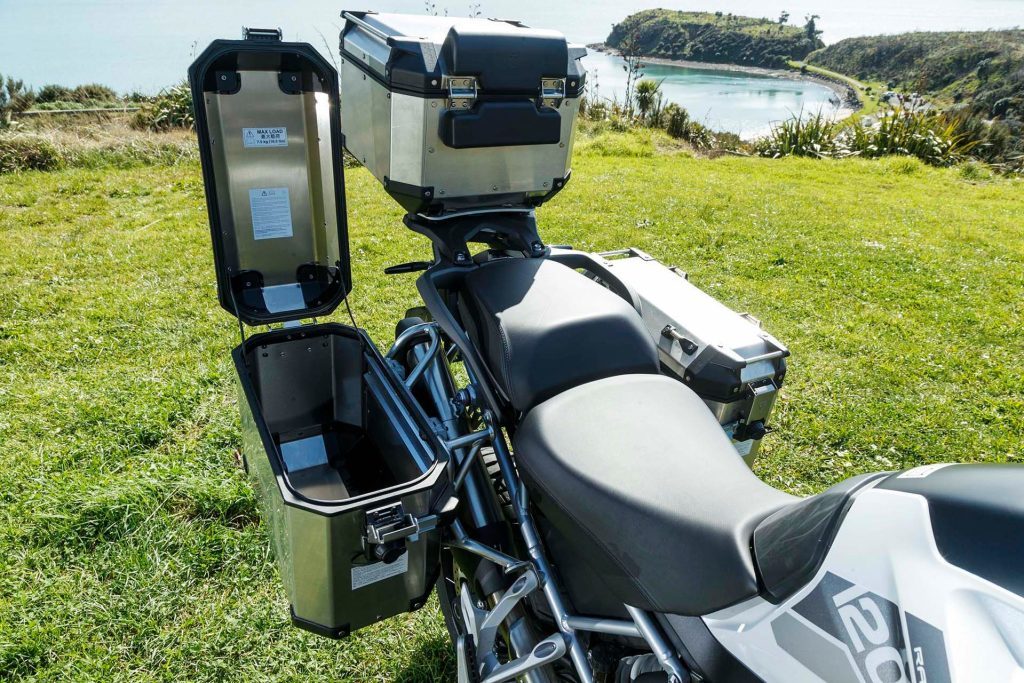 At pick up I found the 895mm ride height unnerving, balancing at a standstill on tiptoes. Lowering the seat 20mm helped heaps. And I preferred the handling too. Not that it made the centre stand any easier to use. If there was a trick, I never learnt it. The side stand is a beauty, however, which partly compensates given you use it more.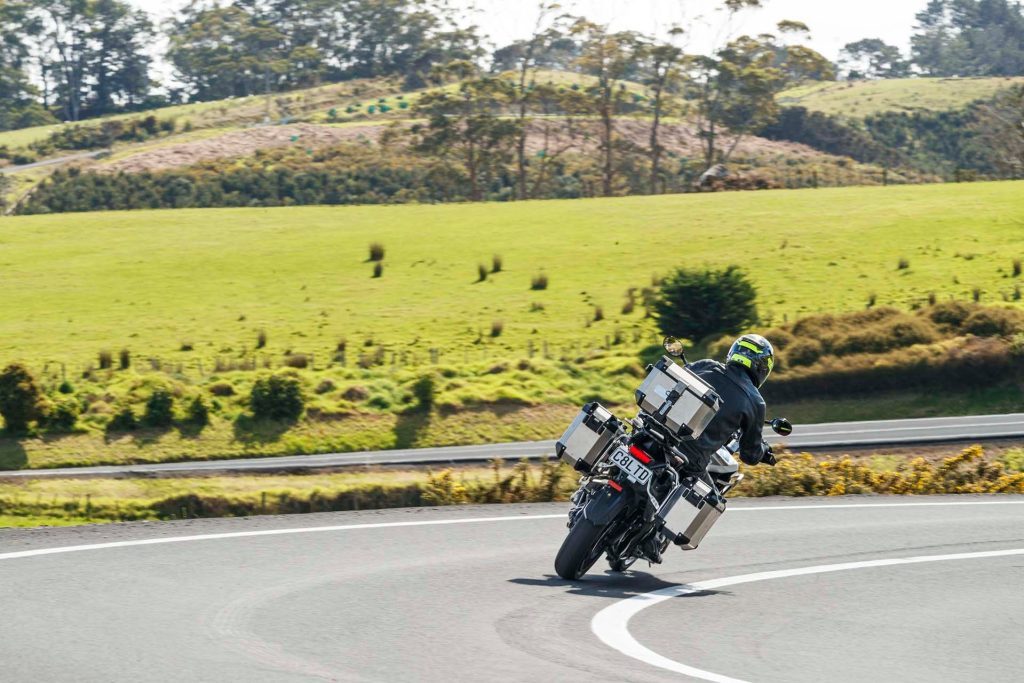 It's still a big bike this, 250kg with panniers, and is not always easy to haul it upright off its side stand. This is the Rally model, aimed for adventure riding, with an extra 20mm of travel each end to soak up ruts and jumps while it has a 21-inch front wheel. We stuck largely to the black stuff where the Rally does an impressive job given its distinctly dual-purpose Karoo rubber.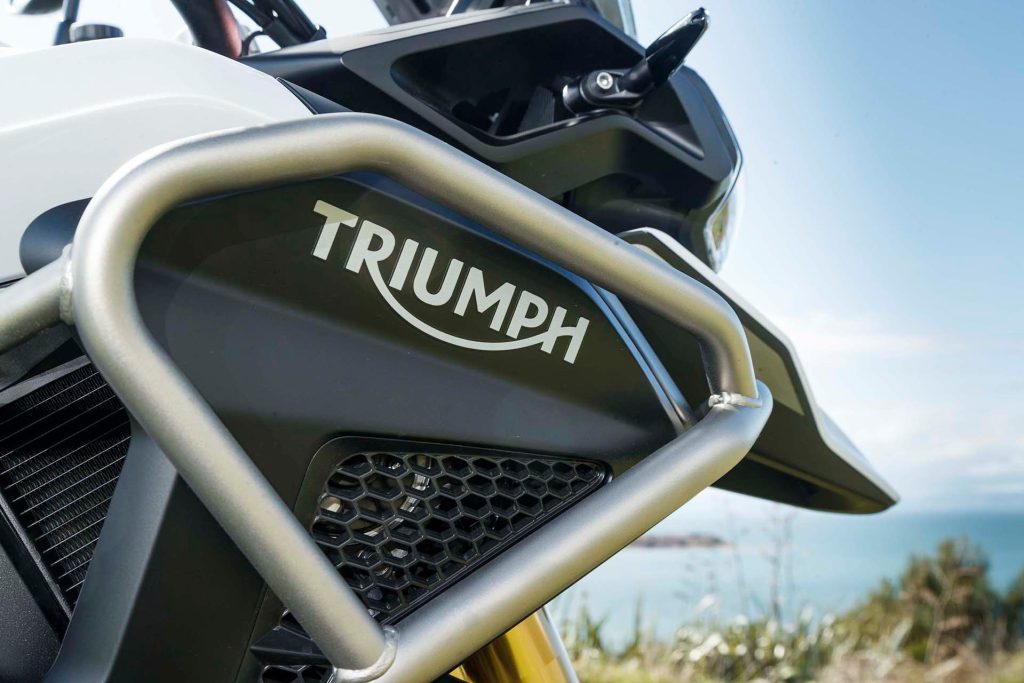 So how does this lighter, more powerful Tiger go? Like a hairy Artemis rocket of course. It gets up and romps like a torquey tourer should, hauling down to 2000rpm without fuss, and then screaming out to five figures of peak revs when you drop the hammer. In sport traction control mode and giving it the full 110kW and 130Nm, it sure wants to wind the front wheel up over the rear. We managed a couple of 0-100s in the 3.8sec area, limited as much by the rubber as TC. We'd say 3.6sec should be possible, given the best 80-120km/h time was completed in 1.59sec.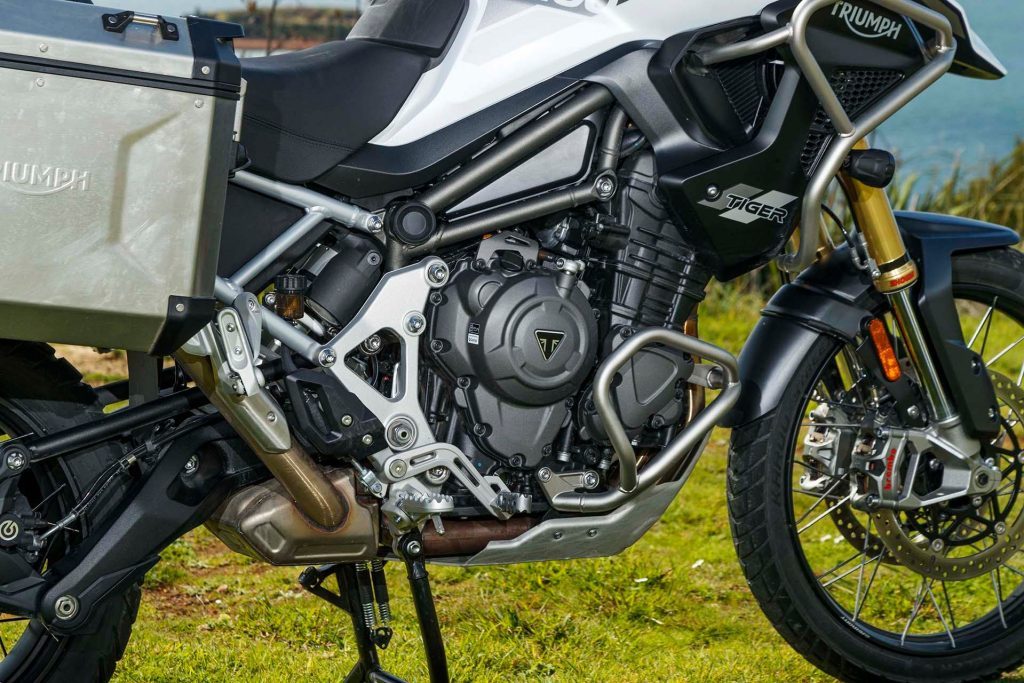 The triple sounds like a feral twin, and the power builds in such a progressive fashion with minimal vibration. For general riding you can short shift between 3000 and 4000rpm, while holding on between 4000 and 7000rpm is more than sufficient for an overtake. The last few thousand revs are just for giggles really. 
And when you need to button off, the radial-mount Brembo Stylemas do a resounding job. Emergency stops from 100 on a narrow front tyre keep the ABS system busy with a best of 41.6m. Regardless, these brakes are superb, the rear just as handy as the strong fronts. On the better shod GT version, they'd be even stronger.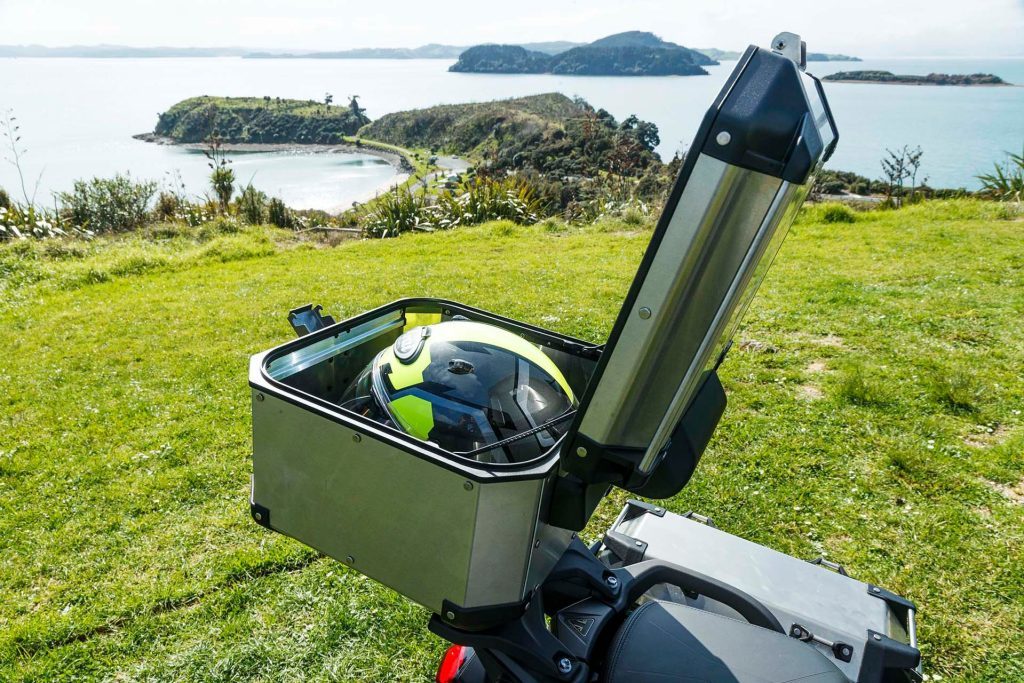 The handling is great. Wider bars offer extra leverage and almost none is needed anyway to initiate a turn. The suspension is fabulous too, firmish in Sport and it's like a lounge chair on the Road setting. The riding position is great too, an easygoing triangle. Standing on the serrated pegs feels very natural for any work you might or might not do off tar-sealed surfaces.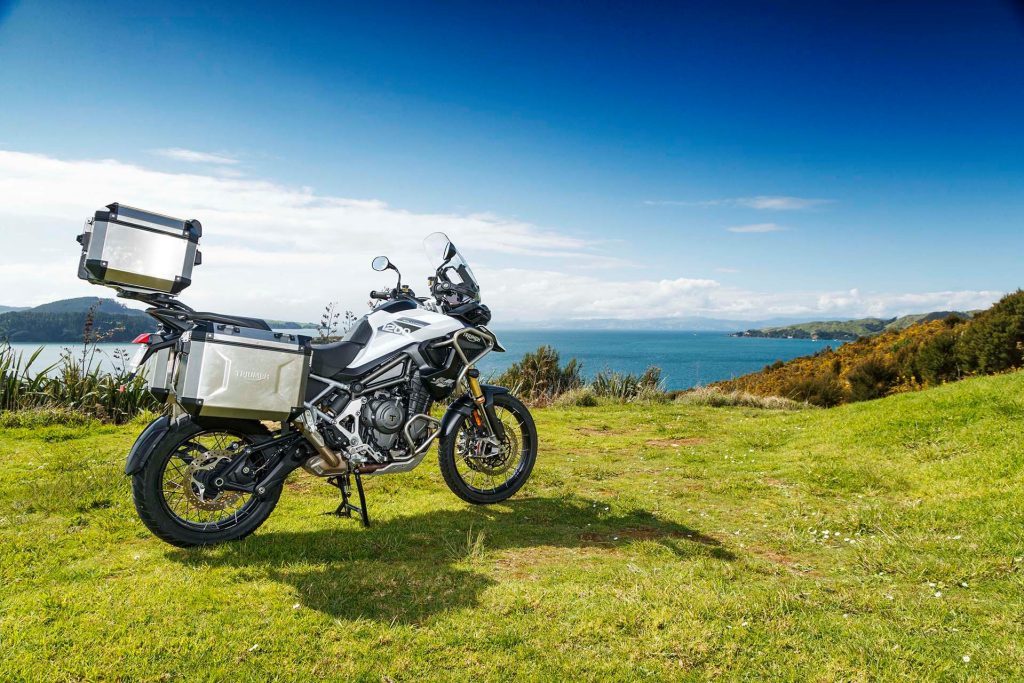 Tiger 1200 has one of the clearest TFT screens I've encountered with critical info all packed close together and easily taken in at a glance. The manually height adjustable screen is great at its highest, especially with the seat set at its lowest, and you'll not get much water on you when travelling in the rain at highway speeds. There's next to no buffeting either. The screen is somewhat noisy at its lowest but better than most. 
In the past you might notice a torque effect of shaft drive but on this bike it is completely drama-free, just as it is maintenance-free.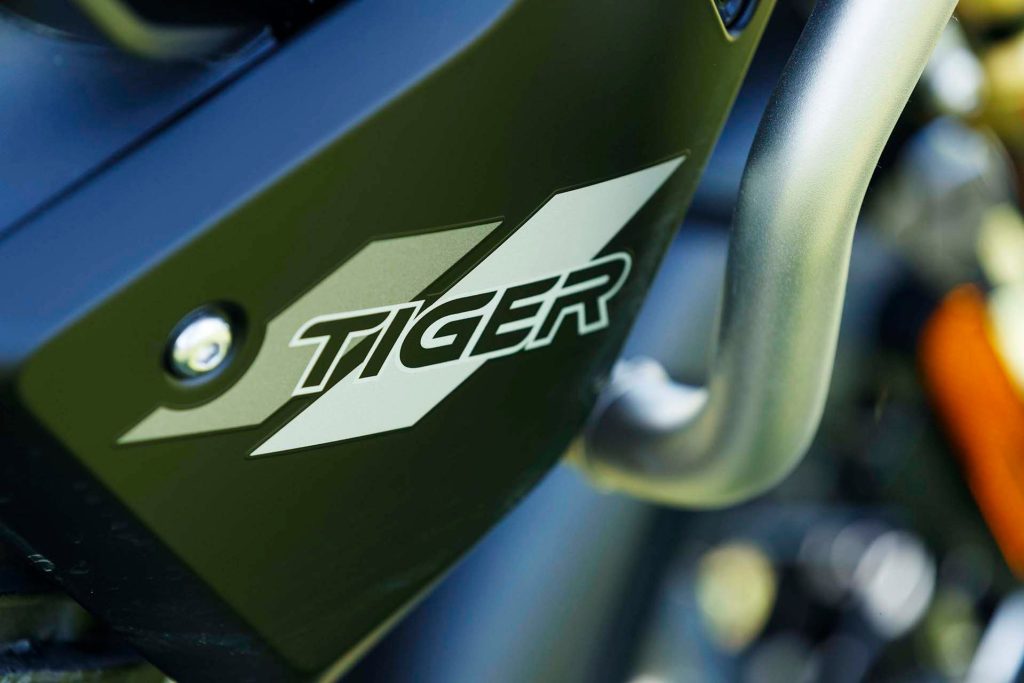 We didn't try the heated hand grips as it's spring now, happily.
The panniers are easy to clip on and off, the top box holding 52L, the others 46L and 33L. With them on, the bike moves around a bit more in certain winds, but that disappears once they're off. It handles that bit sweeter without them too, though there's not much in it.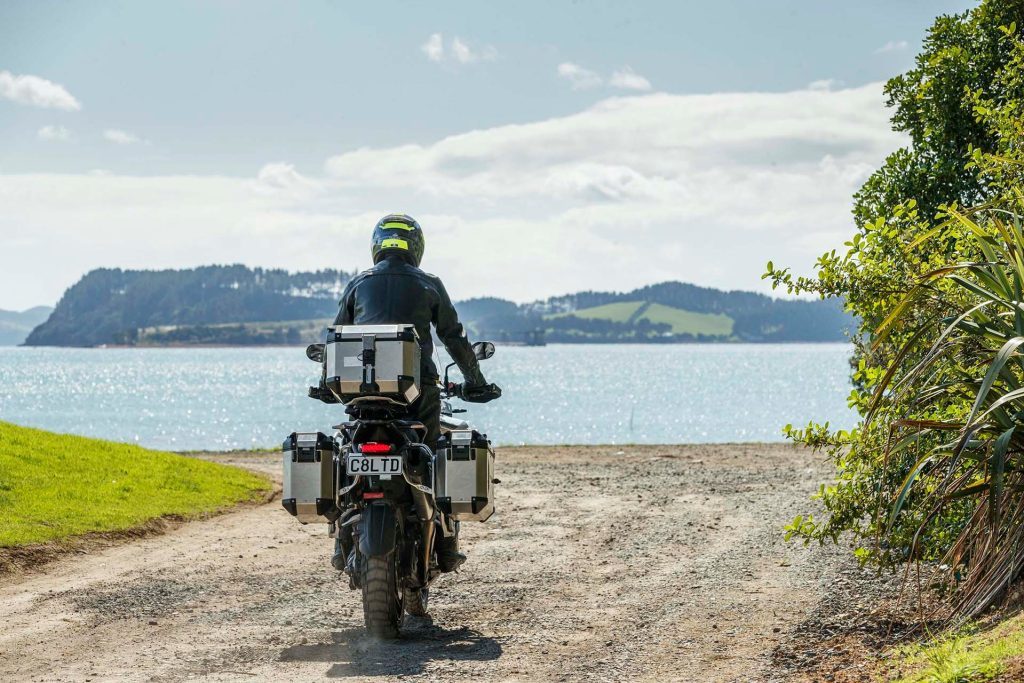 As mentioned on the launch ride, this is now fully competitive with the likes of R 1250 GS and Multistrada, on any criteria you choose for comparison. Us? We'd opt for the GT version with rubber better suited for tarmac work and 20mm lower seat height, plus it's less expensive. Cooler people will no doubt go for the Rally.  
Model
Triumph Tiger 1200
Rally Pro
Price
$37,990
Engine
1160cc, liquid-cooled,
fuel injected, IL3
Power/Torque
110kW/130Nm
Transmission
6-speed, shaft drive
0-100km/h
3.85sec
80-120km/h
1.59sec (44.7m)
100-0km/h
41.6m
Safety systems
ABS, TC, wheelie control
Seat height
875-895mm
Weight
227kg