Triumph adds a jot more road-worthiness to its Scrambler 1200, turning the XE into the XC. So is it XTC on road?
It doesn't seem that long ago that we rode Triumph's Scrambler 1200 XE, an upright dual-purpose retro style bike with proper off-road capability. But that was actually pre-pandemic so yes, some time ago. Well, here we are riding it again, kind of.
Only, this time it's the Scrambler 1200 XC, supposedly the one that's a bit more road than trail oriented but still with enough suspension travel (200mm vs 250 for XE) to have a modicum of dirt-ability. While it might not look much different from before, there have been myriad changes that include lower emissions and better fuel economy with the move to Euro V status, a new swingarm, uprated suspension, more rider aids and a configurable TFT dash.
The XE differs from the XC by having wider bars, reduced suspension travel as mentioned, an extra riding mode (off-road, natch), a longer swingarm, and it gets cornering ABS and cornering TC that are missing on the XC. It's $2k more expensive at $25,990 whereas the XC is $23,990.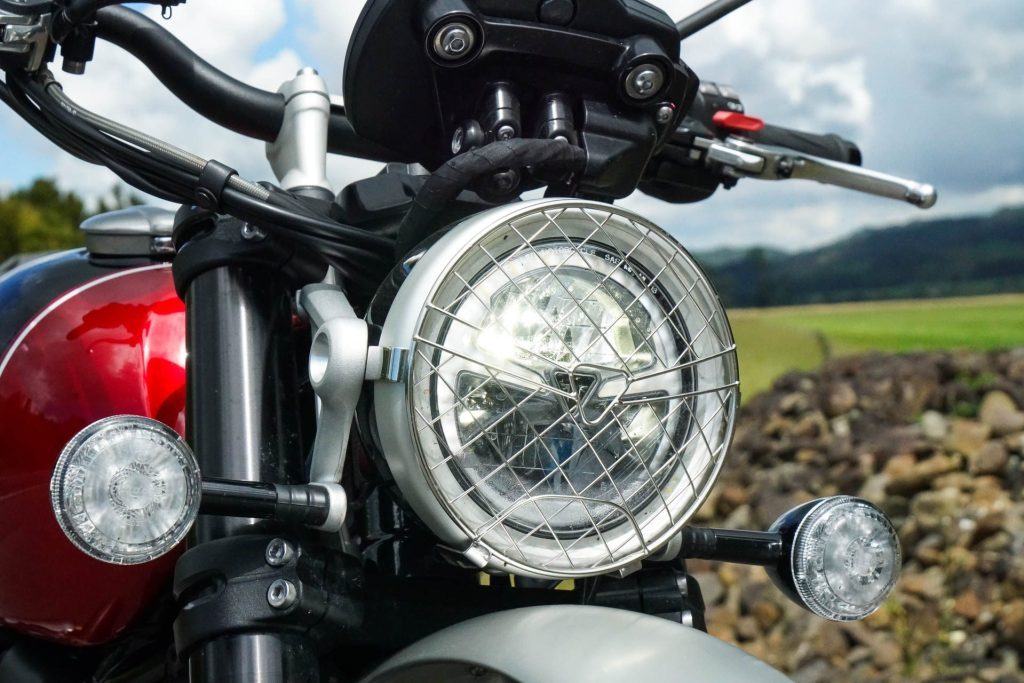 On a High
Practically speaking the XC is much easier to mount if you've a problem swinging a leg over (840 vs 870mm). We could just manage the trick with the XC but really needed a leg up, as it were, with the XE, so that's worth keeping in mind. A low seat is available which might be a good fix if there's a mounting issue.
Our particular XC wore a few accessory options from the Triumph catalogue, including the stainless steel engine bars ($519), a high front mudguard kit ($429), heated grips ($509) and a headlight grille attachment ($179).
The rear luggage rack ($569) and 30L waterproof roll bag ($299) we made great use of, throwing all our kit in this instead of a backpack; it's such a luxury riding unencumbered. The roll bag is strapped firmly to the luggage rack and swallows a swag of gear.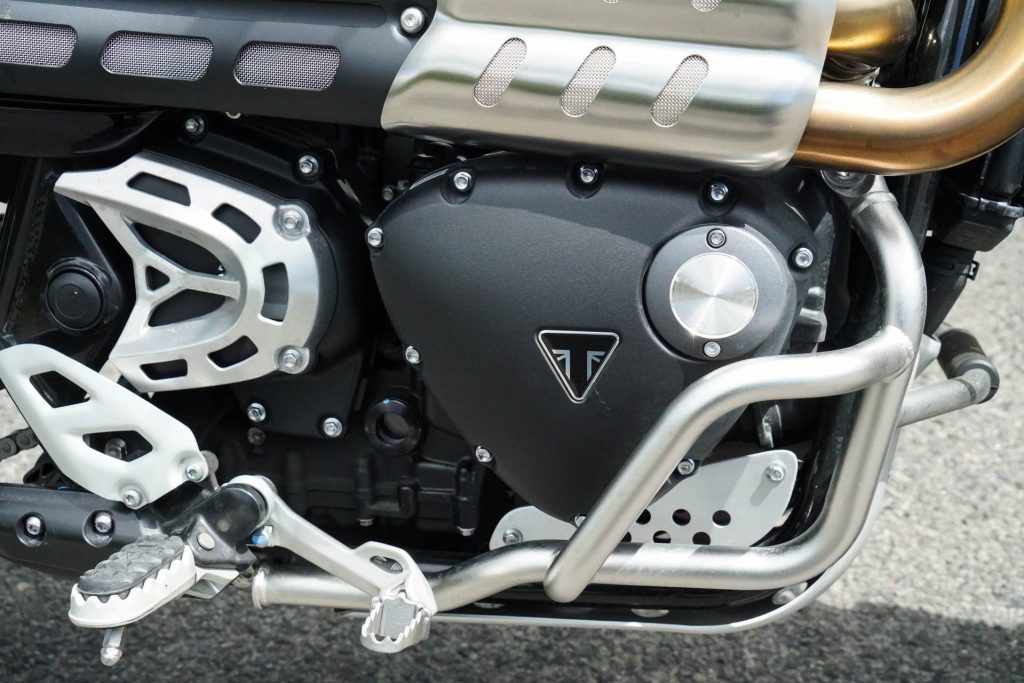 Relaxed Approach
Even just a cursory ride away from Triumph HQ in Mt Wellington reminded of how crazy good the Scrambler 1200 twin engine is, borrowed from Thruxton. If you want a big capacity bike but don't want to overdo things, this is about as unthreatening as large engines get.
Yes, the XC will rear up if provoked but its best trick is just dawdling; it eases along in the burbs at 2000rpm in fourth, pulling with meaning from there, while in top gear 100km/h brings up just 3300rpm.
Talk about relaxed, Trev. And unlike the real big twins, powering monster cruisers, the XC isn't scarily heavy. At 235kg wet, it's not something a novice is going to consider taking off road and getting air time on but we had a bit of a fling down some metal byways where it proved a more than able companion. Give it some welly in Sport mode and it will hit 100 in under 4sec easily enough, while overseas testers reckon it tops out at 185km/h. I couldn't possibly comment on that.
Compared with the XE, acceleration is marginally quicker, probably because of more road-oriented treads, but braking performance isn't quite as sharp. That's hard to fathom given they both have the same four-piston radial-mount M50 Brembo calipers.
Maybe the pads are different but we couldn't better a 100-0 emergency stop of 43m on the XC, yet managed 38m on the XE. On the other hand, in normal operation it is hard to fault the functionality of the XC's monoblocs.
It's only under extreme conditions, emergency stops, that the XC brakes pale, fading slightly, against the XE's which were like those on sports bikes.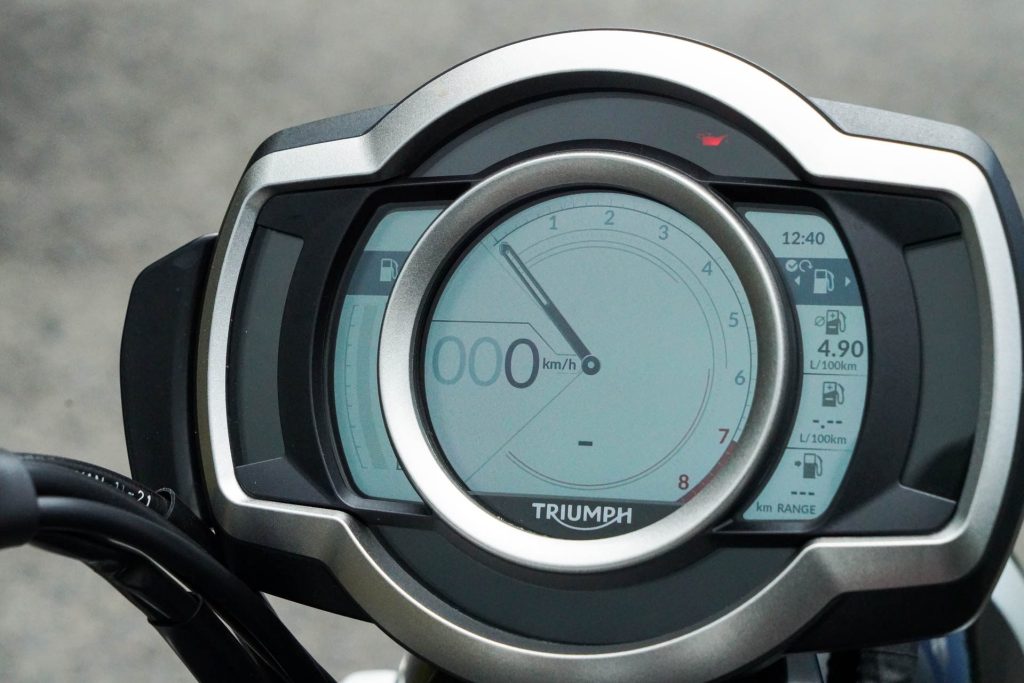 Plush Ride Quality
The XC is one of those sit back, relax and enjoy types of rides. It's stress free so you can take in a bit more of the countryside you're riding through. In this case we stopped by a massive native log that washed down a river in the Hunuas and blocked a bridge on the main road just below the township.
It must have taken a serious piece of machinery to extricate the thing. Onwards and its relaxing nature shines in the balmy Autumn weather. The high-mount exhausts warm your right leg, especially in heavy traffic/ slow running but shields prevent any burning of boots or leathers/textiles. You tend to ride this with knees away from the tank (because of the exhaust heat) but stick-on rubber tank pads are available if that feels awkward.
Engine power builds in a wonderfully progressive fashion and by 4500rpm torque has topped out, the engine power peaking at 7250rpm just before the limiter cuts in (66kW). The sound from the pipes reminds of Contis, a lovely fat twin blat.
Fuel use on average is a claimed 4.6L/100km, which should be easy enough to achieve. At 100 on the flat, it's often in the late 3s. With a 16L tank you're looking at a range of at least 300km, providing you don't go mental. And it's easy not to on this.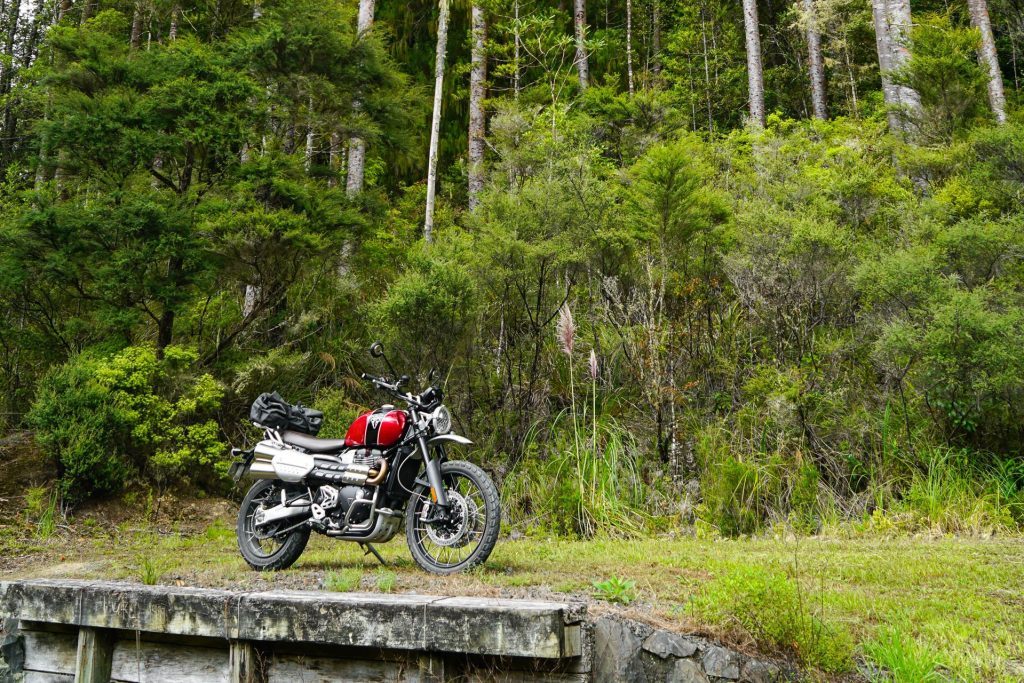 Practical Too
Despite being a 270-degree twin, there's very little in the way of vibration thanks to balancer shafts so the mirrors do more than merely satisfy legal requirements. The flat retro-style seat is plush, with lots of room for the rider and enough left over for a pillion, even with the roll and luggage rack attached.
High and wide bars give good leverage but there's a fair amount of windage when riding the Scrambler 1200. Clear or tinted flyscreens are available for around $160. We'd for sure option in one or the other, especially if you've a spot of touring in mind. And you should (tour, with screen) given how comfy the XC is.
With 45mm fully adjustable Showa USD forks and similar quality Ohlins twin shocks with piggyback reservoirs it doesn't take long to tweak each end for an optimised mix of ride and handling. We backed everything off a few clicks and it was almost perfect, the rear end especially; it dealt to everything in its path and I was completely unaware of what was happening beneath.
When you don't notice ride quality, that's generally a good sign. When it draws attention to itself, it's likely for the wrong reasons.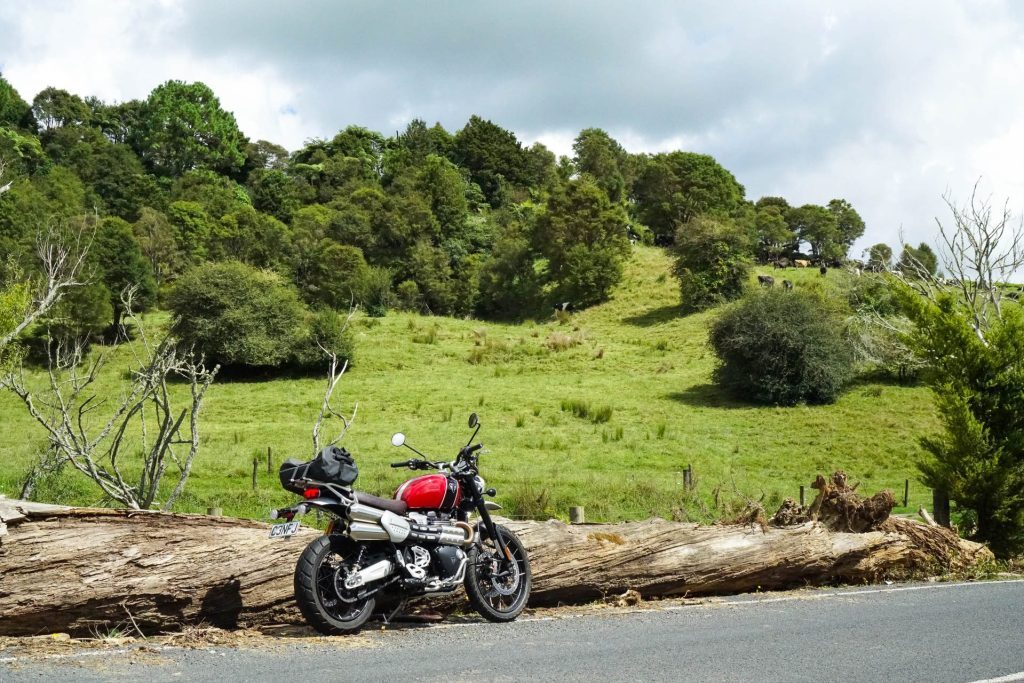 You'll be having too much fun on this to notice ride quality anyway. It's a joy to thread down winding roads, changing direction effortlessly, holding a line nicely, with loads of cornering clearance. The Tourance tyres work well too, though are the ultimate limit to lean angles.
So if you've eyed up some of the biggun cruisers but cannot seem to justify a price tag approaching $40k, here's something that will see them off in a drag race and get the job done in fine retro style for roughly half as much.
It's also built brilliantly with class components and has 16,000km service intervals. In the UK this is one of Triumph's best sellers. It's easy to see why.
Model
Triumph Scrambler 1200 XC
Price
$23,990
Engine
1200cc, liquid-cooled,
fuel injected, IL2
Power/Torque
66kW/110Nm
Transmission
6-speed, chain final drive
0-100km/h
3.73sec
80-120km/h
2.22sec (64.3m)
100-0km/h
43.23m
Safety systems
ABS, TC
Seat height
840mm
Measured Weight
235kg