Ford has revealed its second set of teaser images for the all-new Ranger (click here to view the first set), as its reveal and 2022 launch approaches.
The new teaser image represents our first official look at the Ranger's rear three-quarter view. Slim black plastic wheel-arch extensions and tail-lights inspired by the F-150's both feature. The sculpted tailgate also appears reminiscent of the North American-market Maverick. It's also one of our first looks at the nameplate's glasshouse, which looks very similar to the current model's.
The image and video drop isn't all about the Ranger, mind you, but rather the wrap that Ford is using on the Ranger as it nears the finish line for the new model's development.
Ford says that the camouflage wrap is designed to act as an optical illusion, hiding the vehicle's core character lines while out testing in public. The wrap also features a whopping great QR code on its side (allowing those who scan to subscribe to a newsletter for more updates). If only the Covid tracer app codes at the Maccas drive-thru were this size. 
The wrap was created by Ford's design centre in Melbourne, with inspiration from the blue oval's Bronco R Baja gravel-bashing race truck.
"We were asked to develop a camouflage that allowed you to clearly see that this is the new Ranger but not see it at the same time," said Leigh Cosentino, Design Manager at Ford Australia. "We wanted the design to be dynamic and exciting and build anticipation towards the reveal of #NextGenRanger without looking like a derivative of military camouflage.
"So, we ended up with this design which is dense at the bottom and then the pattern becomes scattered towards the roof. It ends up being a good camouflage, is visually exciting but also gives the pattern a sense of movement. It's not the usual static type of camouflage."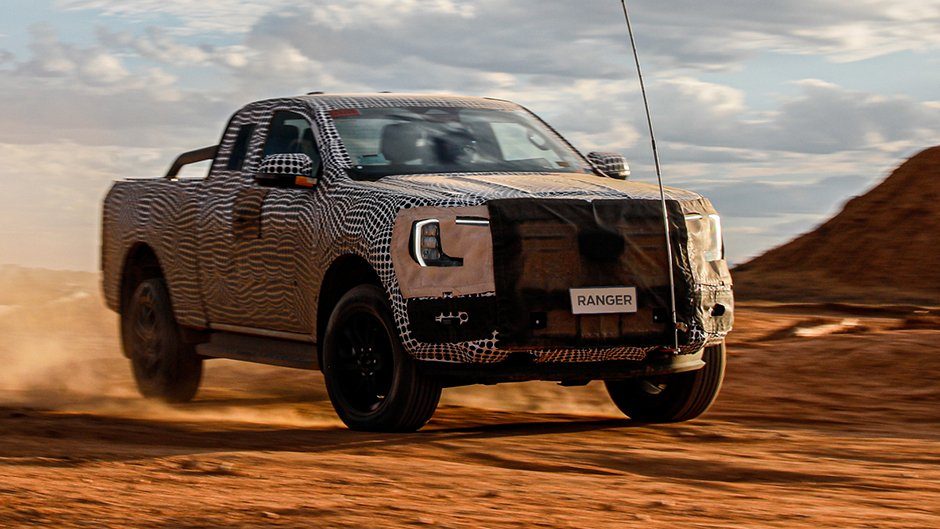 The Ranger's had an interesting relationship with spy photographers thus far. So far, the model has been photographed testing across Europe, with certain shots purporting to show it testing in plug-in hybrid guise. It's also been spotted testing in Australia; most famously parked outside a KFC (Ford's engineers tackling a case of the munchies during a break).
"There's no line work on this camo that aligns with anything on the exterior and that means you can't see volume or shape or lines in the vehicle," added Lee Imrie, the designer behind the wrap itself. "My intention with this design was to scatter your eye so that you can't focus on a specific line; and the colour patching adds to that effect.
"I started with squares rotated at 45-degrees, and scattered them throughout the page, attempting to make a reoccurring silhouette of a mountain top landscape which echoed the lifestyle orientation of the Next-Generation Ranger. When you stand back, it has a clear connection to a digitised military camouflage but with a connection to nature."