Benelli is slowly building on its existing range, and in addition to the LAMS legal Leoncino 500 twins, you can now add a pair of 800s, using a version of the parallel twin found in the 752S.
It's not exactly the same engine, more an evolved version of the original, with thicker crankcases to quieten it down a little.
Anyhow, as with the Leoncino (lion cub in Italian) 500 twins, one of the 800s is optimised for the road, the other for a mix of surfaces, and here we feature the off-road oriented Trail version.
While they're only $500 apart on price, the two look rather different, aside from the bigger 19-inch spoked front wheel of the Trailie, and its dual purpose Pirelli Scorpion Rally STR rubber. For the off-roader gains shotgun-style, high-exit fumigators, the road bike a more traditional two-into-one low mount can.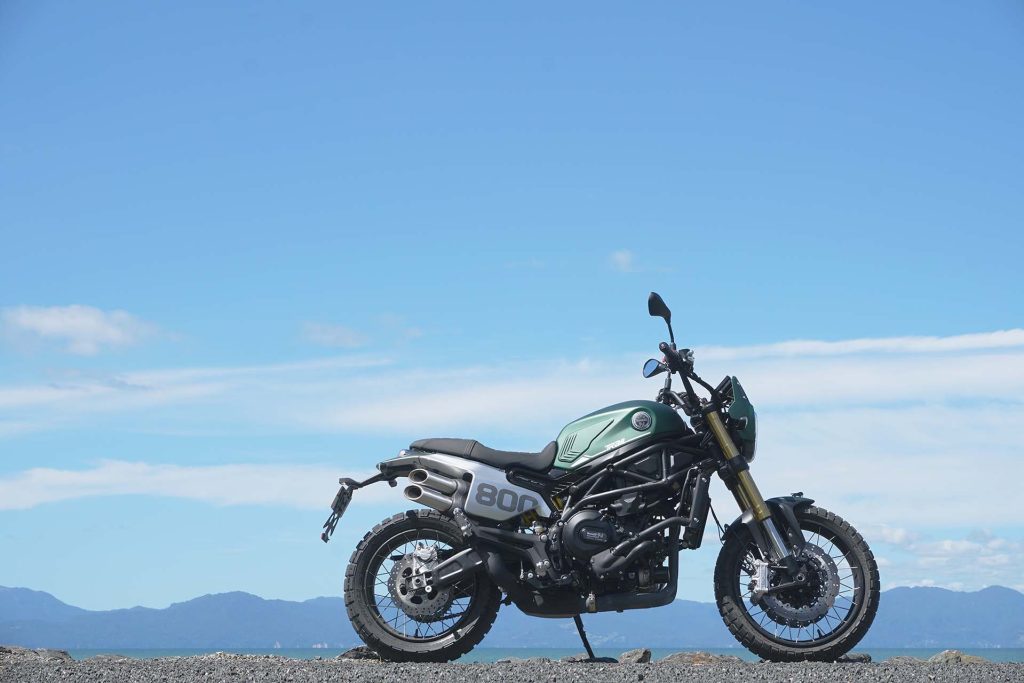 The Trail version also comes with a fly screen surrounding the headlight and a number board on the right side. Rounding things out are added suspension travel at each end, up from 130 to 140mm, higher handlebars, and slightly lower gearing.
It is taller however with a seat height of 834mm so if you'd rather something more earthbound, the Leo 800 with its 805mm seat height and Pirelli MT60 tyres might be more for you. It also has 17-inch cast wheels, and sharper suspension geometry, all for $13,990.
The Trailie goes for $500 more than the regular road 800, so if you want that off-road look and the potential to do a bit of adventuring, this is clearly the model for you and the one we got to check out at $14,490.
The 800cc Euro5 parallel twin has a 270 degree firing order so sounds V-twin like, and is surprisingly loud in town. It has an appealing bark to it. The peak of 57kW arrives at 8500rpm while there's 67Nm of torque at 6500rpm, offering decent performance, a proper step up on the LAMS 500 bikes. It pulls away smoothly from 2000rpm and in town upshifting at 3000rpm is plenty.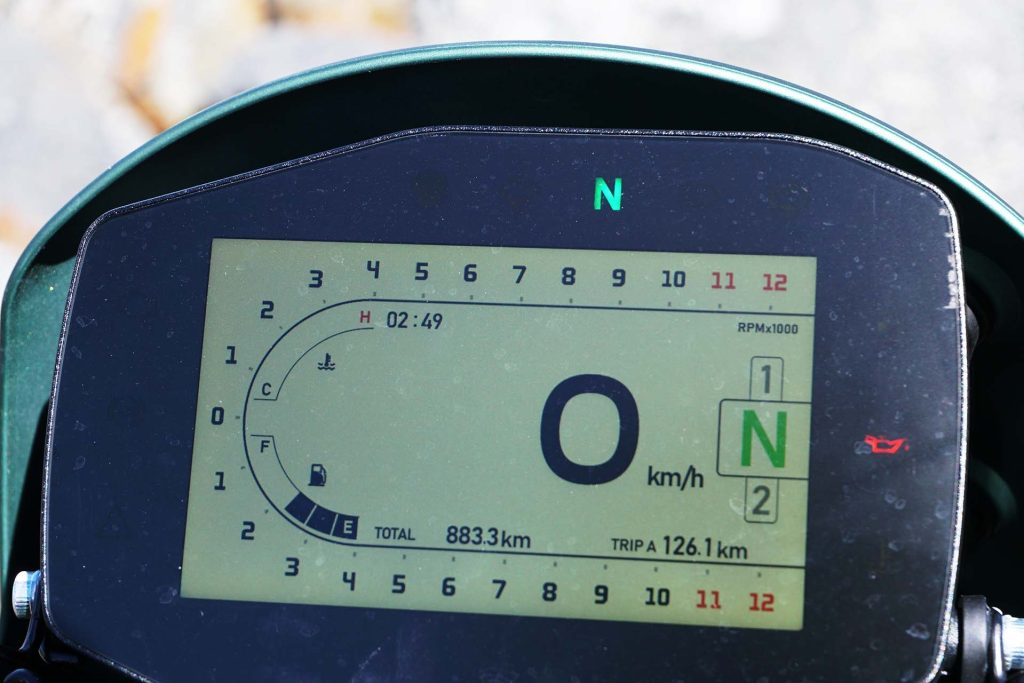 Besides, at upper revs the vibes start to make their presence felt. It's smooth enough to 80km/h, around 4000rpm, but by 100 (4500rpm) the bars are tingling and the mirror images blurry. Pity as the best power starts at 4500rpm – it pulls well in top from there – and there's another kick from 7000 to 9000rpm.
Making it easy to extract the available performance is a smooth six-speed gearbox that shifts easily in both directions. The lower gearing in the Trail model makes it easier to get the most out of the motor. We managed a best 0-100 time of almost four sec flat. That compares with 6sec for the Leo 500.
With stout 50mm forks up front this is up for a spot of spirited riding, though there's no adjustment and damping is a touch overdone, not dealing so well with short sharp bumps. The rear is adjustable and somewhat more resilient.
Radial-mount brakes with four-piston calipers and twin rotors up front offer good stopping performance. Although the bite feels initially soft, they warm to their task nicely. The rear is a beauty, chipping in for a best emergency stop of 42m.
Scorpion Rally STR tyres limit the lean angles on tarmac only a little and this is fun on your fave roads. Weighting the pegs helps make changes of direction seem effortless with the wide bars.
The riding position is excellent too, a nice easy-going relationship between pegs, seat and bars.
Unlike many Scramblers this one is quite easy to mount, despite its elevated seat height. A 5-inch TFT screen is legible but the mirrored tacho readouts top and bottom seem a bit pointless and distracting to us. There's not much other info either.
Like the Leo 500, this is cute, agile and quite capable, with a bit more performance everywhere, although at 233kg wet, it's 25kg more than the Leo 500, so some of the power gain is dulled by added flab. Still, the numbers don't lie; this is significantly quicker than the 500.
With attractive Italian styling and decent build quality at an appealing price, this makes sense to those wanting something with more grunt than what similarly priced LAMS bikes might offer. That said, there's little in the way of electronics – no engine modes or TC – and CF Moto's offerings, like the CF Moto 700 CL-X Heritage, are similar but cost less.
Okay, not quite so quick but without the vibes either. With the Benelli you're paying extra for the Italian design flair. We'd probably check out the higher geared road version too as the vibes are likely to be less intrusive at 100km/h.
| | |
| --- | --- |
| Model | Benelli Leoncino 800 Trail |
| Price | $13,990 |
| Format | Liquid-cooled / Fuel Injected / IL2 |
| Engine | 754cc |
| Max Power | 56 kW @ 8500 rpm |
| Max Torque | 67 Nm @ 6500 rpm |
| Cylinder Head | DOHV / 8v |
| Gearbox | 6-speed |
| Drivetrain | Chain final drive |
| Front Suspension | 50mm USD forks, no adjustment |
| Rear Suspension | Monoshock, preload and rebound adjustable |
| Front Brakes | Twin-piston calipers, 320mm twin disc |
| Rear Brakes | Single-piston calipers, 260mm disc |
| Safety Systems | ABS |
| Tyre Size | F – 120/70ZR19 / R – 170/60ZR16 |
| Tyres | Pirelli Scorpion Rally STR |
| Wheelbase | 1480mm |
| Seat Height | 834mm |
| 0-100 km/h | 4.06s |
| Fuel Capacity | 15 L |
| Measured Weight | 233 kg |
| Weight Distribution | F – 114 kg / R – 119 kg |