The Toyota Prius II and Honda Civic Hybrid have made New Zealand motoring history over the last four months as the first hybrid-electric vehicles available in our market. Which one best suits your needs?
So far only two automakers have made good on the promise to build vehicles that do minimal harm to the environment and make best use of the world's diminishing fossil fuel reserves. While American manufacturers continue to churn out gas-guzzling SUVs to satisfy local consumer demand, those in Japan and Europe are concentrating on minimizing fuel consumption. Each has chosen to follow different paths to this end: traditionalist Europe has adopted the diesel while the Japanese, who we know love a good gadget, has embraced the more technical hybrid petrol-electric path. Toyota first rolled out the Prius in 1997 and Honda had their hybrid Insight up and running in 1999. The first Prius was a purpose-built hybrid, with seating for four to five passengers; the Insight was an ultra-frugal two-seater employing every fuel-saving trick in the book – it was miserly but not family-friendly.
Prius II takes the game a step further, but is still a purpose-built hybrid vehicle, whereas the new Civic, motivated by Integrated Motor Assist (IMA) technology from the Insight, is the first application of a hybrid powertrain transplanted into an existing model. They both use a similar arrangement of petrol engines and electric motors to achieve the Holy Grail of lower fuel consumption and fewer exhaust emissions.
Price/Equipment
While both cars are hybrids, the Honda is a small car whereas the bigger Prius competes in the medium segment, so – all else being equal – you'd expect a price difference. Honda New Zealand's unique single-point pricing has the Civic Hybrid retailing at a super-sharp $33,000; Toyota introduced its hybrid late last year at $43,500. The price difference can also be ascribed to economies in how these vehicles have been developed: Honda has utilised an existing platform for the Civic rather than designing a dedicated hybrid platform, like Prius incorporates. But the overwhelming distinction between them remains their relative market segment. The Prius is simply a roomier vehicle than the smaller Civic.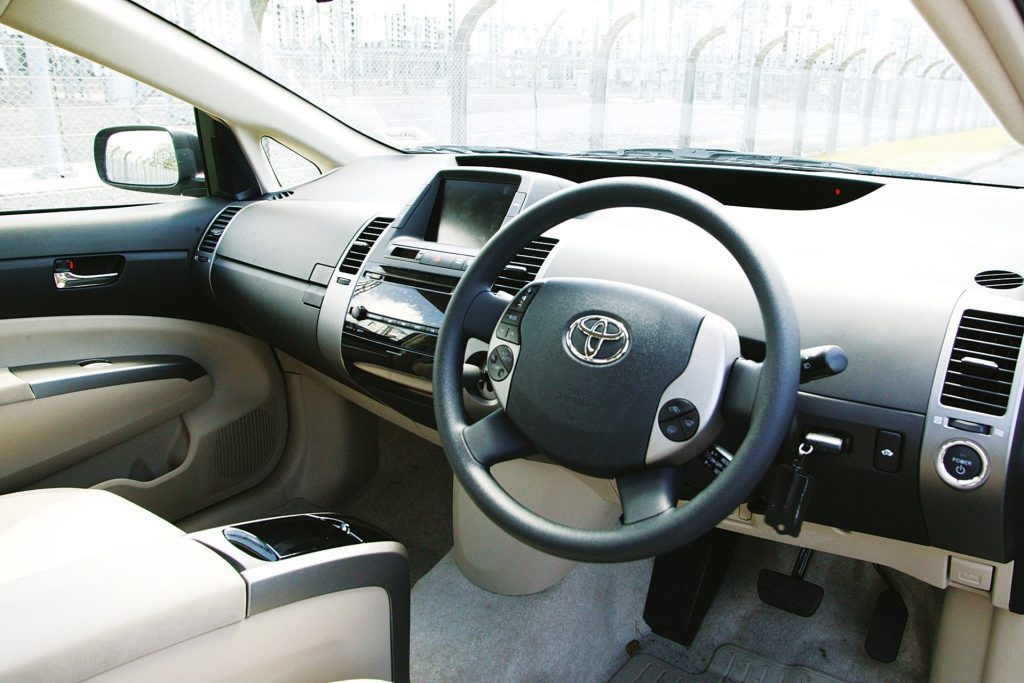 Equipment levels are very similar on each car, with electrics, climate AC and CD audio. Both have a high-grade velour trim. Honda splashes around some faux wood while Toyota uses unique plastics to suggest a futuristic feel. Toyota adds cruise control and a multi-function steering wheel, which controls the audio and ventilation. Both have alloys, remote locking and the necessary safety items as standard, so there's ABS with EBD and brake assist. The Honda has four airbags – two up front and two side-bags – while the Prius makes do with just the two to the fore.
Design/Engineering
Honda's hybrid strategy is somewhat different from Toyota's. In a word, it's simpler – or as a Toyota salesman might say, less sophisticated. Honda's philosophy incorporates a small, super-efficient petrol engine as the main motivation, with an electric motor to boost power when more is needed. This is a system designed to deliver the same driveability as a conventional car, with considerably less fuel consumption and emissions.
Integrated Motor Assist (IMA) is Honda's language for the hybrid powertrain. First seen in the futuristic Insight, this technology took the honours in the 2000 International Engine of the Year Awards. The Honda Civic Hybrid uses the Jazz's 1.3 litre i-DSI engine, coupled with a 60mm-thin, permanent magnet electric motor driven through a CVT automatic gearbox. The claimed result of this set-up is the equivalent of a conventional 1.5 petrol engine and gearbox in size. Like the Prius, the electric motor recaptures energy when braking and decelerating. When the Civic is coasting or braking, the electric motor becomes a generator, converting the forward momentum into electrical energy and recharging the nickel metal hydride battery pack, which is located behind the rear seats.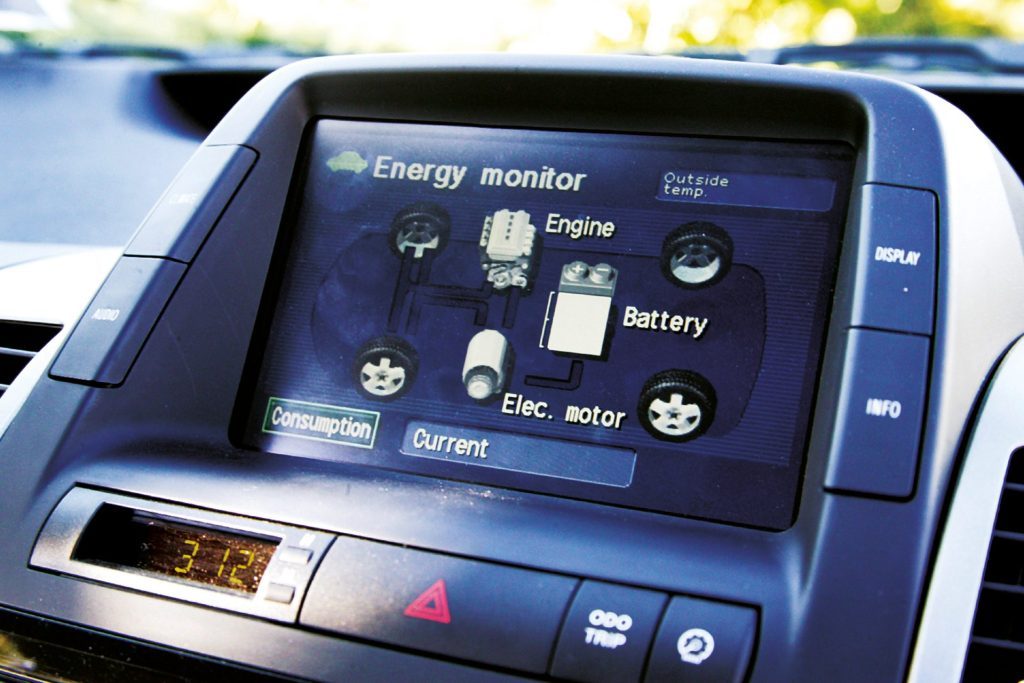 Already a proven fuel miser, the i-DSI engine incorporates a few extra tricks to boost its frugality. The VTEC system has been modified to reduce the amount of engine braking when decelerating. The system closes the valves on three of the four cylinders, reducing the friction on those cylinders and thus minimising engine braking, which gives the electric generator more forward velocity to turn into electricity.
The Civic will also turn off its petrol engine when stationary (if the AC is operating on economy mode and the battery pack has enough charge), further saving petrol. Since the IMA system controls the petrol engine, neither a conventional starter motor nor an alternator is required.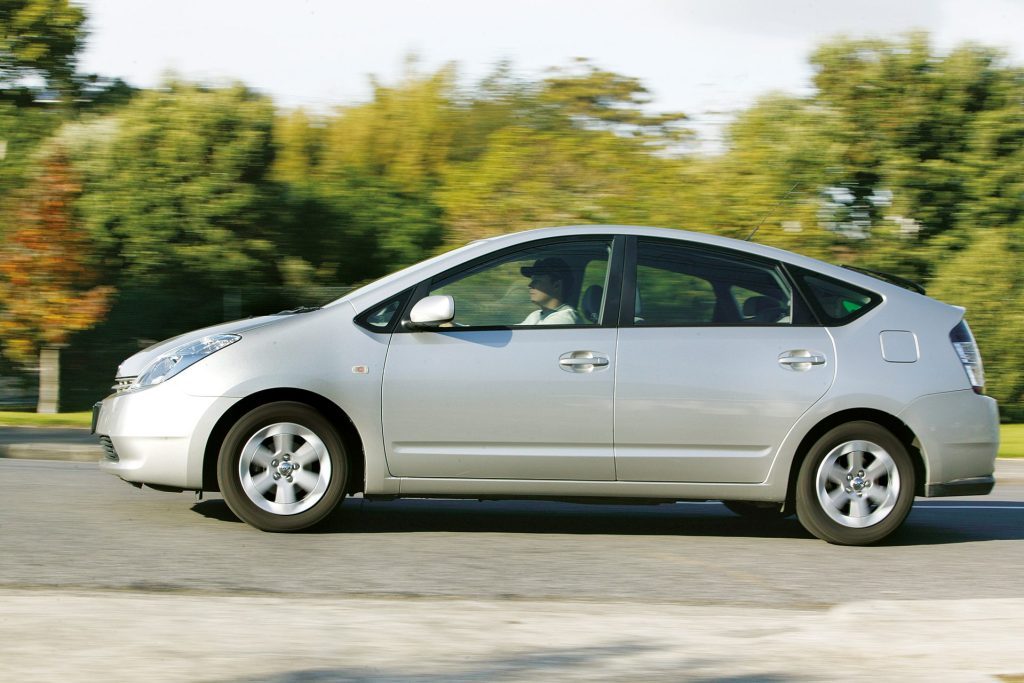 The Civic body gets some aerodynamic enhancements to help cut fuel consumption: the one-piece front bumper has been refined, and there's a boot spoiler and covers and spats on the underbody to let the Hybrid cut the air more cleanly. Claimed drag coefficient is 0.28.
The slippery, purpose-designed body of the Prius has a clean front end, plus underbody covers and discreet spoilers and spats to achieve a super-low claimed Cd of 0.26.
Performance
When both the power outputs are combined, the Prius has the advantage. Toyota's 1.5 litre petrol engine makes 57kW and its electric motor spins up an extra 50kW, bringing the total to 107. Honda's 1.3 litre engine generates 63kW but its small electric motor only amps up the power to 69kW, which almost seems pointless, until you take in the torque figures. Honda's little 1.3 makes just 119Nm, but with IMA, the total is boosted to 146Nm, producing more torque than a conventional 1.5 litre Civic engine – at least until 4000rpm, after which it drops away sharply. It's much the same story in the Prius, with its 1.5 litre engine producing 115Nm at 4000rpm, boosted by a further 400 electrically produced Newton metres. But sadly, they are only available for the first 1200rpm (or 20km/h), with the torque curve falling sharply to around 100Nm by 4000rpm. Useable combined torque while driving amounts to a healthy 200Nm.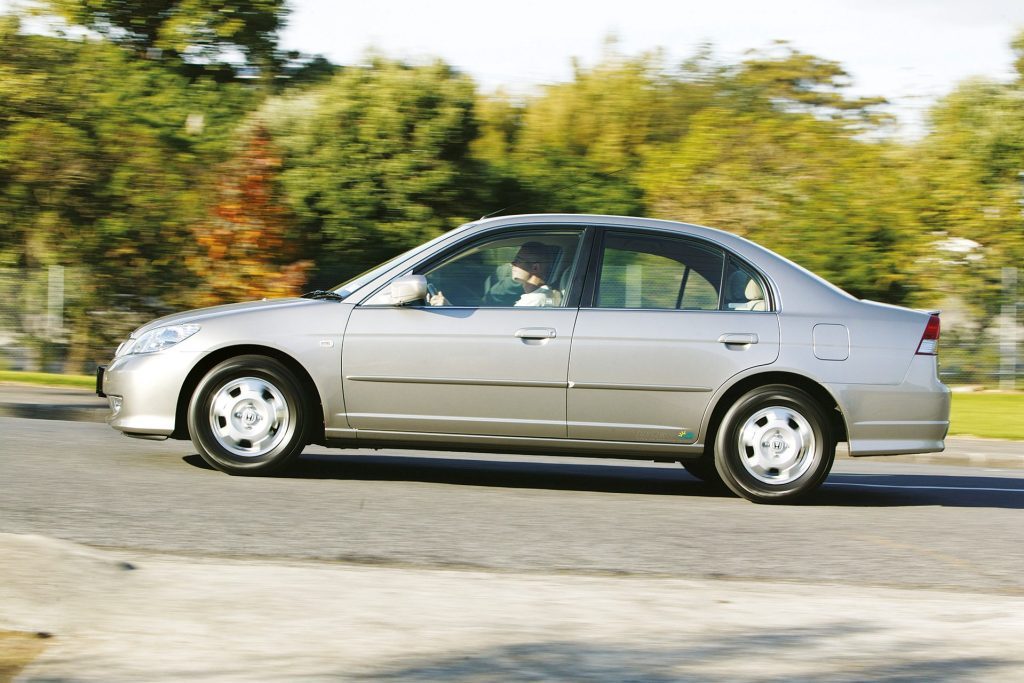 Strapping our performance gear to these green machines revealed the obvious: the Prius was faster in the sprint from 0-100km/h and in the 80-120km/h overtaking move, was faster by 2.5 seconds. Both manufacturers claim that the performance of their hybrids is comparable to a conventional model within their ranges, and we found them to be only slightly slower. Toyota compares the Prius to a 2.4 litre Camry, and in our book, it's not far off. The conventional Camry records 10.42 and 7.43 seconds for the 0-100 and 80-120km/h runs, where the Prius takes 11.10 and 7.91. Honda aligns its Hybrid with a regular 1.5 litre Civic. A comparison of these figures reveals the 1.5 litre Civic takes 12.70 and 10.10s, respectively, while the Hybrid takes 13.04 and 9.97s.
Where both hybrids really perform is at the pumps, and (were New Zealand to require one) the emissions test. Honda states its urban/highway fuel consumption figures to be 5.0 and 4.6L/100km, or 40 per cent better than an equivalent conventional Civic four-door. The Civic Hybrid averaged 4.7 litres in the Energy Wise Rally, an economy run contested on New Zealand roads. The Prius performs admirably, returning a mean 4.0 litres around town and 4.2 on the highway. As for CO2 emissions, the Hybrid reputedly emits 116g/km but is beaten by the Prius, with just 104g/km. Prius' ability to claw through traffic in electric vehicle mode wins it points on the environment scale and saves on fuel.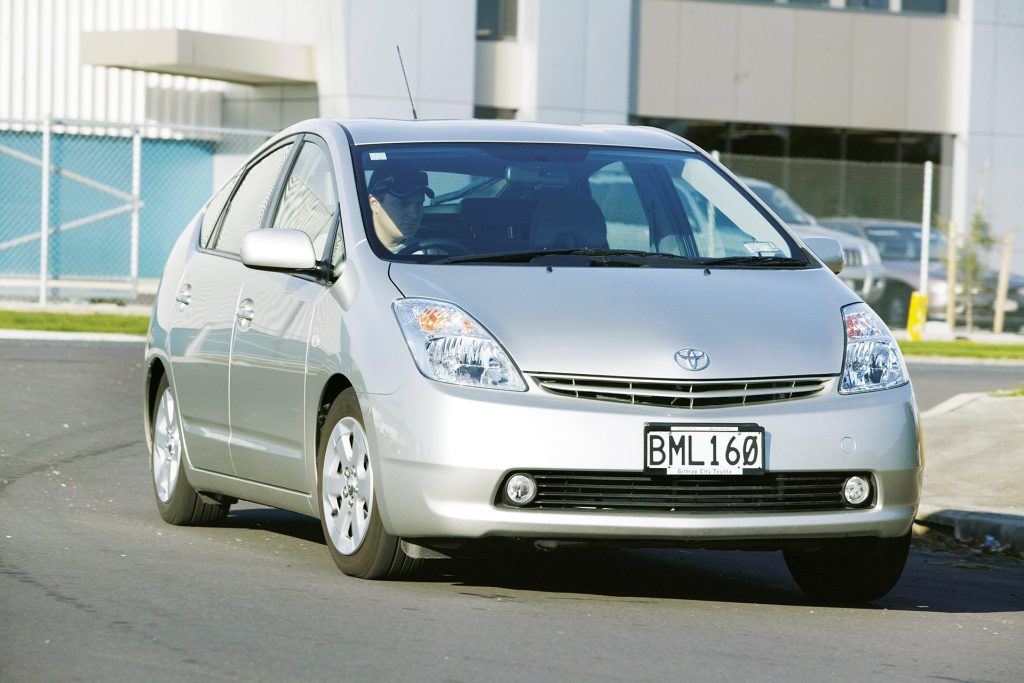 Both these cars release such low levels of emissions that they have been granted exemption from congestion charges in place in London, and will soon be allowed to use Californian car-pool lanes regardless of how many people are in the vehicle. And here's a warm fuzzy stat for the tree-huggers: Honda estimates that ten hybrids do similar damage to the environment as one new car; however, one car of average age (in New Zealand, 12 years old) wreaks as much havoc as 80 hybrids.
Driving Dynamics
Neither is designed to be a harrier on the back road. They're both more at home in inner-city traffic, dropping kids off at school and carting the shopping home. Both have light-weighted electrical power steering that is easy to use (as well as being energy-saving) but they are free of steering feel, a necessary evil in 'economy is everything' hybrids.
The Toyota has the better ride decorum; its softer-set dampers are more adept at soaking up bumps and seams in the road, despite its simple torsion-beam rear axle. The Civic is by no means harsh but its rear suspension in particular has trouble defusing harsh road surfaces.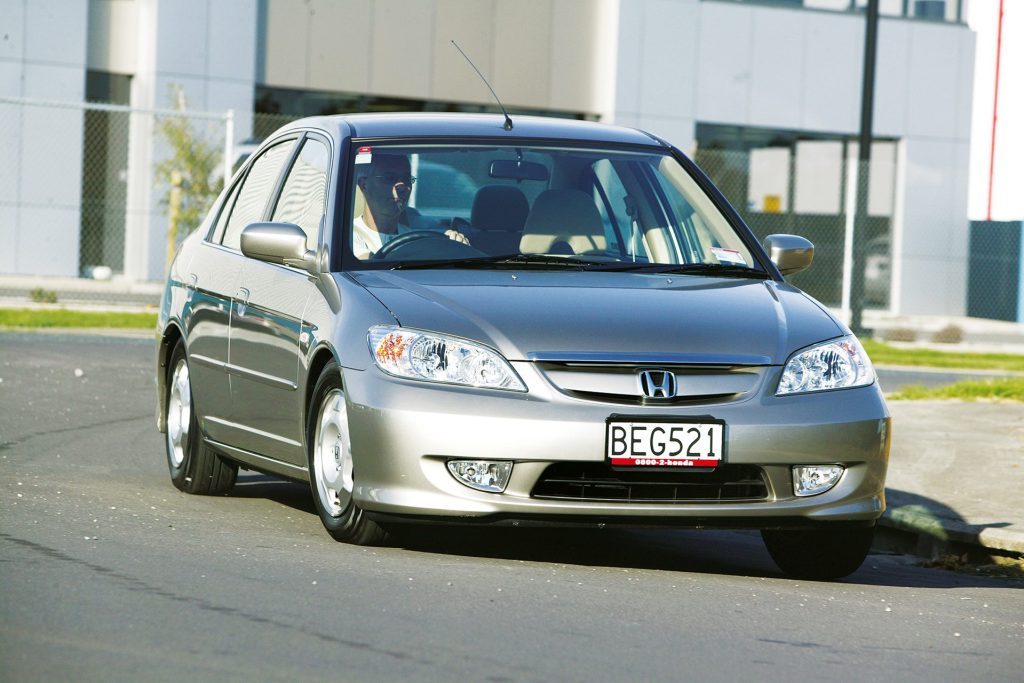 Low-resistance rubber is called for to help reduce consumption, so both get skinny cross-section tyres, but these are compromised in bends. Best to take it sedately in both vehicles. The Toyota is more prone to understeer while the Honda has better turn-in, but threatens at the other end when the twists get tough which could also have something to do with the Honda's less than perfect crossweights. Both cruise well on the main highway, sipping frugally from their gas tanks while the generator makes electricity for the battery pack. And each can cover ground in quick fashion when need be. The Toyota has more urge but the Civic's saving grace is its selectable CVT; if you need some more go, slip the selector through to the 'S' position and the petrol engine works harder with a corresponding drop in fuel efficiency.
Both have a good set of stoppers for their relative performance: the Prius panic stops from 100km/h in 40.52 metres while the Honda does it in 37.62m. Both are compromised by their eco tyres.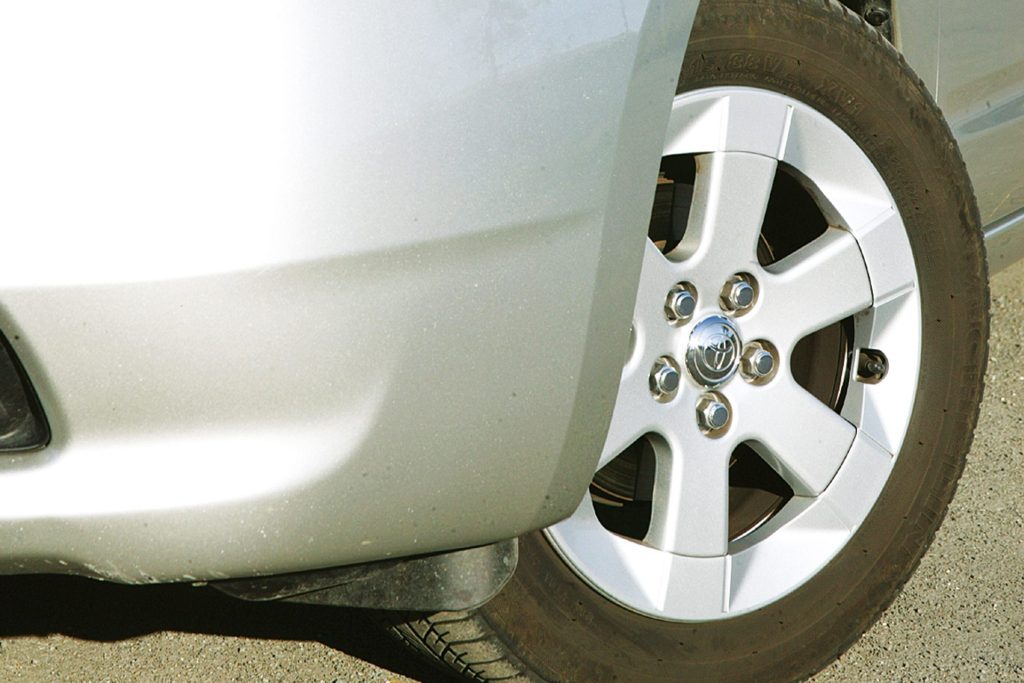 Comfort/Convenience
The bigger car wins this category, with significantly more space and load versatility, a better ride and a comfy cabin. The Prius is said to be comparable to a Camry with regard to interior space – and the statement's not far wrong. Despite having only slightly larger exterior dimensions than the Civic, the Prius offers much more room, and it's the one to go for if you've got a family. The rear accommodation affords excellent legroom and despite the sloping roofline, headroom is adequate for rear passengers over six feet tall.
Boot space makes it a winner as well, with the hatch allowing 410 litres of stowage, although the cargo floor is set high. The Civic's boot is only slightly smaller (on account of the battery pack) than its regular counterpart, coming in at 286 litres, and it doesn't have a split-fold function to boost capacity, unlike the Prius.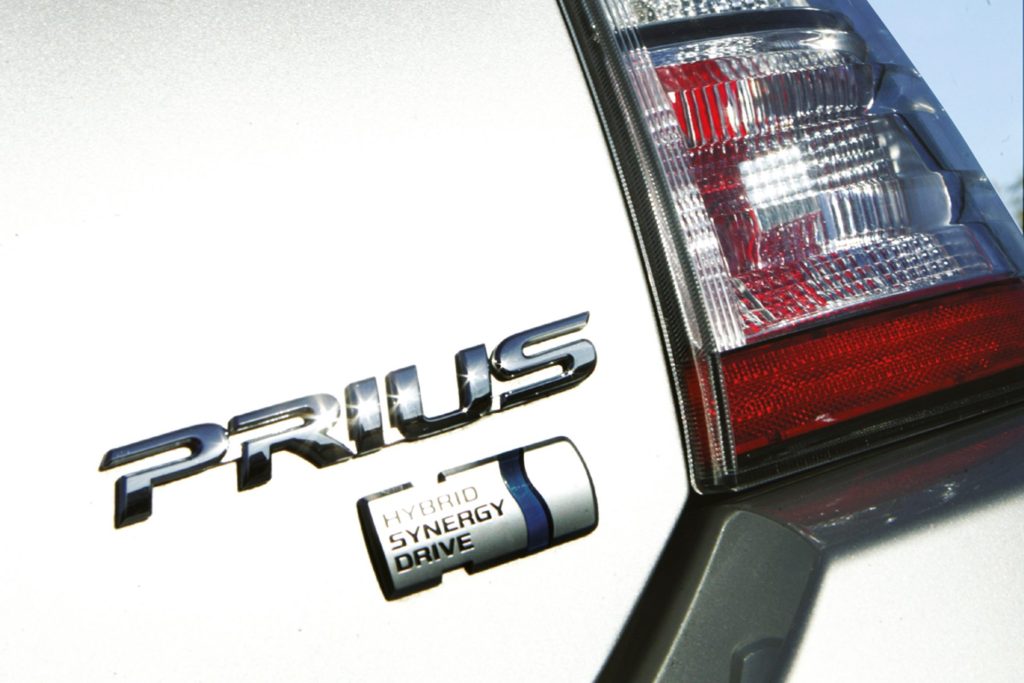 People who like electronic gimmickry will love the central display of the Prius' hybrid system, which shows you what type of power is going where, as well as indicating how much electrical energy has been generated and stored. There is a start-up ritual, which involves start buttons and defaulting to electric mode, then silently moving out of the car park until the gas engine is needed. The Civic starts just like any other Civic, and you would be hard-pressed to tell you're driving a hybrid.
Prius employs the use of a touch screen for the minor controls and in general it's easy to use, but gets marked and is affected by glare. The Civic makes do with regular dials and audio controls and while they are initially easier to find your way around, ultimately the controls of the Prius are more sophisticated, in many ways mimicking luxury cars of five times the price. The Toyota is guilty of overcomplicating things where the Honda keeps it simple and easy. Although the Prius' auto air conditioner remains functioning when the car is stopped, the Honda's annoyingly switches off when in economy mode once the engine cuts out. It all depends how cool you want to be at the traffic lights.
Verdict
Despite the $10,000 price difference, the purpose-built hybrid wins the day with its mix of technical innovation, lower fuel consumption and better emissions. Interior space sets new standards. Honda gets good marks for price and adapting hybrid technology into an existing vehicle. Smaller and less sophisticated, but still a compelling argument for this form of power.
| | |
| --- | --- |
| Model | 2004 Toyota Prius II |
| Price | $43,500 |
| Engine | 1497cc, IL4 |
| Power/Torque | 57kW/115Nm |
| Drivetrain | eCVT, FWD |
| Fuel Use | 4.1L/100km |
| 0-100km/h | 11.1sec |
| 80-120km/h | 7.91sec (224m) |
| 100-0km/h | 40.12m |
| Stability systems | ABS, EBD, TC |
| Luggage Capacity | 410L |
| Weight | 1305kg (claimed) |
| | |
| --- | --- |
| Model | Honda Civic Hybrid |
| Price | $33,000 |
| Engine | 1984cc, IL4, T, DI |
| Power/Torque | 63kW/119Nm |
| Drivetrain | CVT, FWD |
| Fuel Use | 4.7L/100km |
| 0-100km/h | 13.04sec |
| 80-120km/h | 9.97sec (284m) |
| 100-0km/h | 37.92m |
| Stability systems | ABS, EBD |
| Luggage Capacity | 50L |
| Weight | 1225kg (claimed) |
This review originally appeared in the May 2004 issue of NZ Autocar Magazine and was uploaded by request. Is there a historic review you'd like to read? Fill out the form below!
Got a past review you'd like to see posted online?
Our digital archives go back to the year 2000 and we have tested the majority of the new cars released to the New Zealand market during that time.
Let us know which of our historic reviews you'd like to see by submitting the form below.