Being an early nineties baby, most of my favourite cars come from the same era. And most of them hail from the land of the rising sun; GT-R, RX-7, Supra and the MX-5. Notably absent from the list is Honda which, despite making some spicy little hot hatches and coupes, seemed to have a sour relationship with rear-wheel drive (apart from the NSX). That is, until 1999, when the big H revealed a 50th anniversary present to itself, the S2000.
The S2K was first shown at the 1995 Tokyo show as the Honda Sport Study Model concept, a rear-drive roadster powered by a VTEC-imbued 2.0-litre inline-five engine. It had a 'high X-bone frame' which Honda claimed improved the vehicle's rigidity, aluminium body panels and a 50:50 weight distribution.
The production reality emerged in 1999, the S2000 name a nod to Honda's roadster past with the S500, S600 and S800 of the 1960s. The five cylinder was dropped for a 2.0-litre inline four born from the F20 engine family. It was a special version though, specific to the S2000. Codenamed F20C, it produced power outputs between 177kW and 184kW, depending on the market, the JDM spec cars being the most powerful. The 184kW version touted the highest specific output, 92kW per litre, of any normally aspirated engine in the world at the time, only beaten when Ferrari wheeled out its 458 with 93.1kW per litre.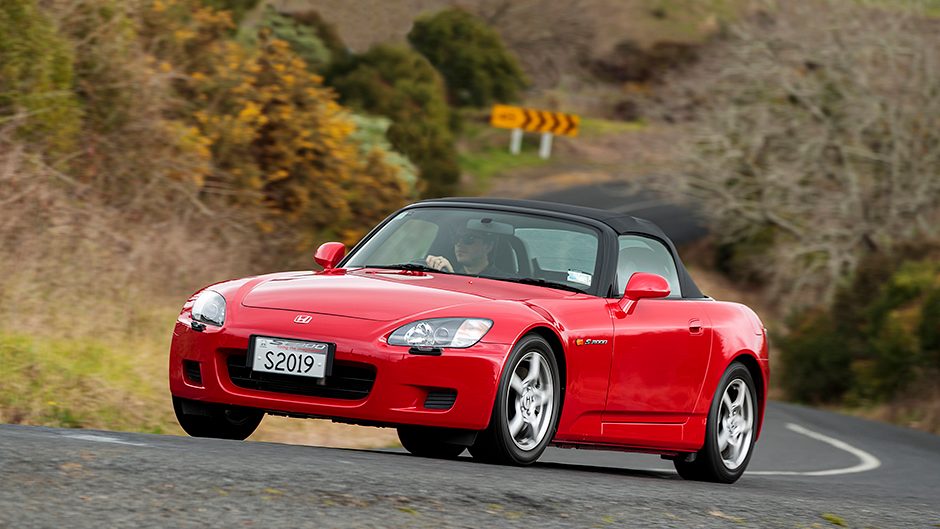 While more of a bike person, I've owned three cars; a turbocharged Toyota MR-2 that tried to kill me on a few occasions and two Mazda MX-5s. So, a roadster with a proper engine, Honda reliability and beautifully understated looks is right up my alley.
This pristine S2000 was the 20th registered in New Zealand and currently belongs to Nobuya Sonoda, Honda NZ's managing director, who kindly threw us the keys for this feature. They say never meet your heroes but, to be frank, that adage can stick it.
Slipping into the S2000 is not unlike getting into an MX-5, but with better, form-hugging seats. For what it's worth, I'm about 183cm, and fit comfortably even if the steering wheel offers no adjustment whatsoever. The driver's position is very much Mission Control; you have access to everything from air-con to audio. In fact, the passenger doesn't even have a glove box to rummage around in.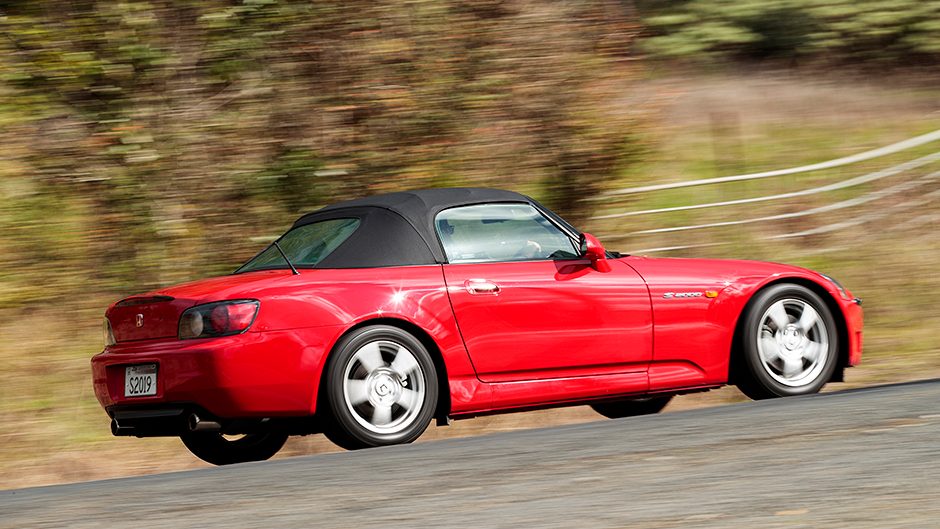 The start-up procedure requires the key and a prod of the big red button before the engine thrums into life. It's a Honda so there are no aural theatrics here, just a light show from the instruments. This S2000 has done just 13,500km, and as I let the engine warm, I try to figure out the interior. Not that there's much to it; it's as minimalistic as the exterior. The controls are tactile and snappy, the original stereo hidden behind a push-to-release door, showing off its cassette receiver proudly. No Bluetooth here, kids. Behind the wheel is that awesome retro-futuristic dash, with a curved bar showing revs and a digital speedo readout beneath.
The gearshift is a wonder, snicking between ratios with oiled precision, the throw about as long as a lightswitch's. It's paired with a pedal box seemingly designed around the heel-toe technique and so Auckland's testing traffic becomes slightly more tolerable. The clutch is lighter than you might expect, too. Break free of the urban jungle and the S2000 comes alive.
No more sub-4000rpm highway cruising nonsense, the beckoning curves ask for fourth-to-third rev-matched downshifts and liberal throttle. The sky-high redline of 9000 hints at a lack of low-end torque, which is accurate. Peak twist of 218Nm hits at 7500rpm, when most other engines would be ripping themselves apart. Just 800rpm later and all 184kW come to the fore, encouraging drivers to disregard the highest two gears and luxuriate in revs.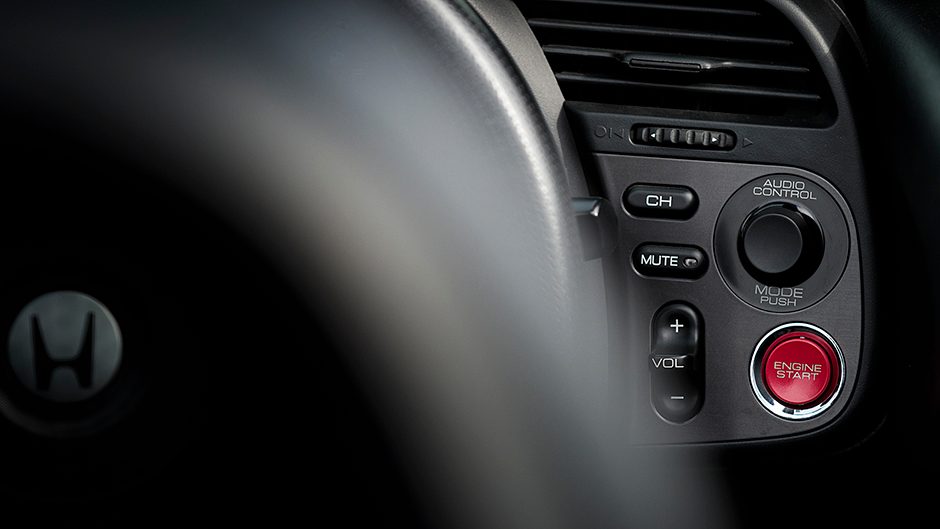 Honda's VTEC system clicks at around 6000rpm, much more subtly than various Youtube videos would have you believe. The uptick in power is there though, urging the car on. A claimed weight of 1250kg helps accentuate what the 2.0-litre delivers.
Double wishbone suspension at both ends offers tight handling, although it can be finicky. Rougher roads prove this, with the S2000 juddering slightly across some corners. Some owners have reported retuning the suspension pays dividends. The brakes are good too, with ABS-assisted 300mm vented discs up front and 282 solid discs at the back.
There's no ESP though and rain was right around the corner so I soon had to rein things in, for fear of binning a mint S2000 belonging to the most important Honda person in the country. Though still modern in the grand scheme of things, it lacks for a few things we now take for granted, like cupholders for one. That would make driving with a coffee an experience. Also, newer roadsters have noticeably more rigidity, and less in the way of intrusive road noise.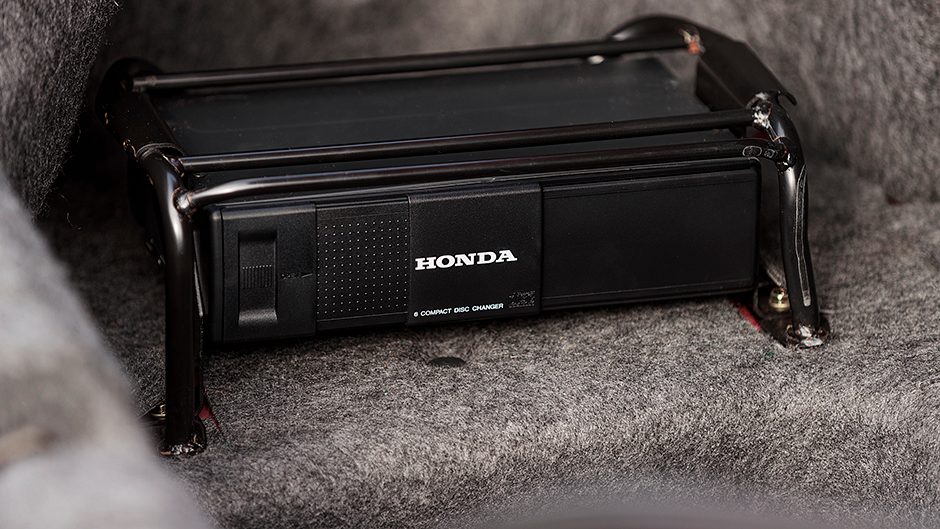 Early S2000s have a plastic window in the soft-top while later models had a glass screen, which seems a better idea to me as it won't fade and yellow. To appease my inner 12-year-old, I wish the VTEC engagement resulted in a louder intake and exhaust noise, though aftermarket items would likely help here.
If you're in the market, look for examples in the 2002 to 2004 range, which the Internet says are the most desirable. In 2004, a revised version introduced better handling while a 2.2-litre engine offered more low end torque but the same power with a lower redline.
Prices range from between $15k to $20k for an early car with plenty of kays on the dial, to upwards of $50,000 for low mileage minters. The S2000 is still a fun roadster twenty years on, a real driver's car, and is a rarity in offering a screaming engine in a rear-drive platform. And that gearbox just tops things off.