Corolla loosely translates to crown, so it's fitting Japan's Drift King, Keiichi Tsuchiya, used an AE86 initially to hone his driving skills. A king is nothing without his crown they say. We check out a near-original Levin GT version of the mighty Hachi-Roku.
Unless you are a JDM tragic, all the alphanumeric model designations are hard to keep track of. But mention AE86, and most will know what you're on about. It's the model code for the plucky Toyota Corolla GT coupe from the eighties. In its heyday, the Hachi-Roku (Japanese for eight-six) made a name for itself in motorsport, mixing it with the more hallowed European marques in Group A and N circuit racing and rallying. Its mechanical simplicity, light weight and balance made it a dream platform for low cost motorsport, and one-make series were popular in Japan.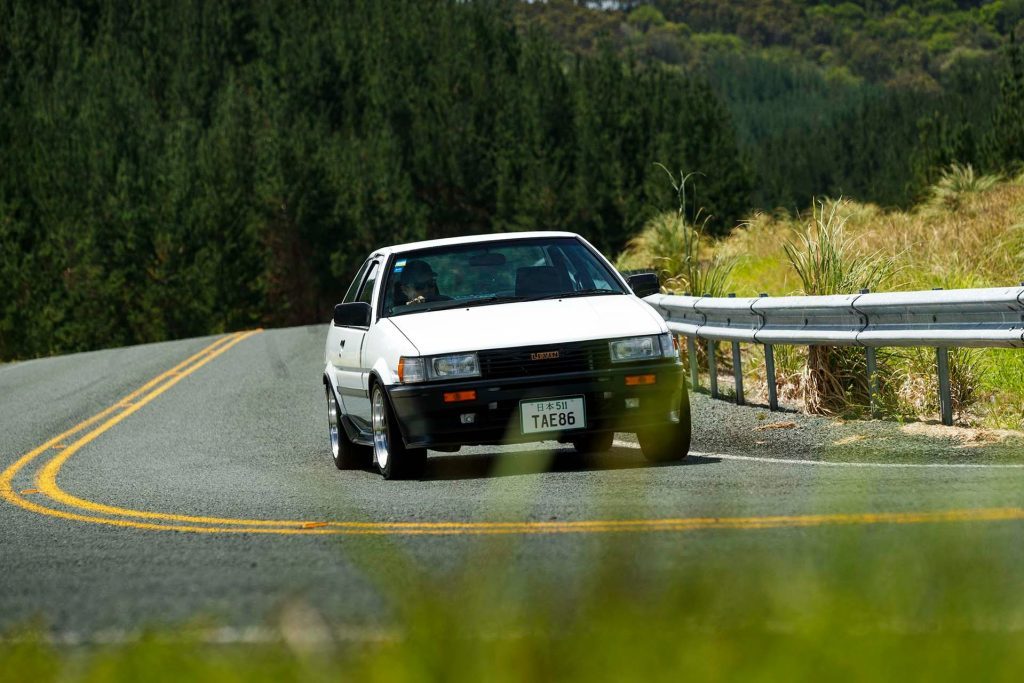 The AE86 was also the weapon of choice for Keiichi Tsuchiya, aka, the Drift King. A young Tsuchiya-san would hone his racing skills on the mountain roads in Japan, sliding his now famous Toyota around and crucially videoing his exploits for all to marvel at. It was a style he took to the track, using the drift as his signature overtaking move. He would go on to make a decent racing career for himself, and is now a certified JDM god, spiritual founder of drifting, and even the inspiration of the Initial D manga cartoons. Sorry, graphic novels. And all thanks to his driftable AE86.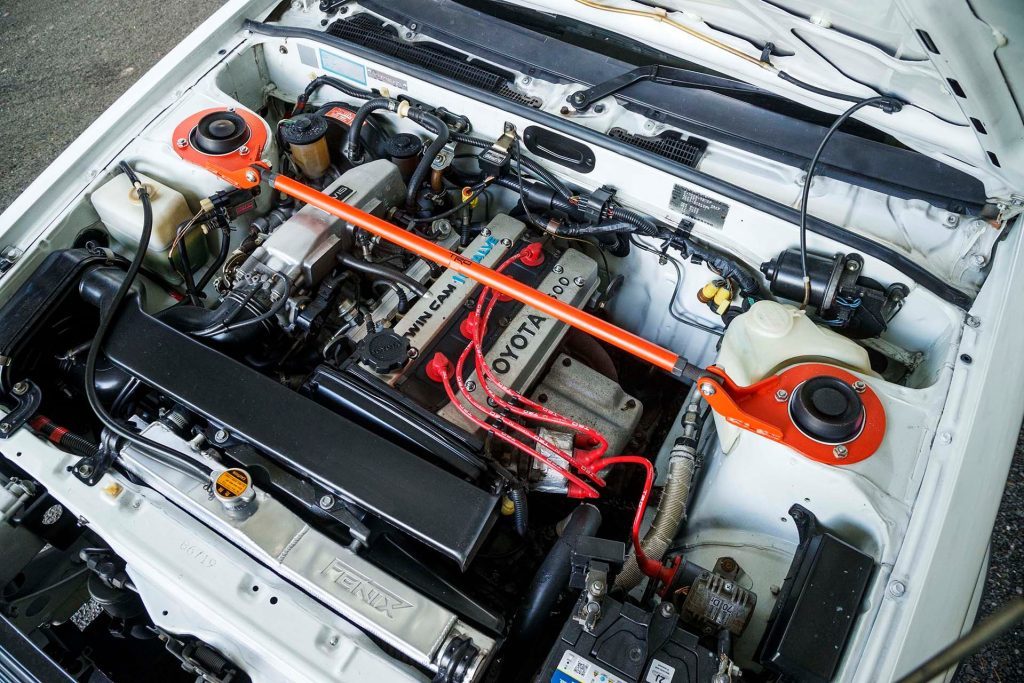 Interestingly, while the rest of the fifth-generation E80 Corolla range adopted the new and more efficient transverse, front-wheel drive format, Toyota decided to keep a longitudinal, rear-drive layout for its Coupe models in the pursuit of the classical driving character. Being a Corolla, it wasn't overly complex with Mac struts up front and a live axle rear, located by trailing arms, coil springs and a panhard rod. Roll bars front and rear were standard while an LSD was optional.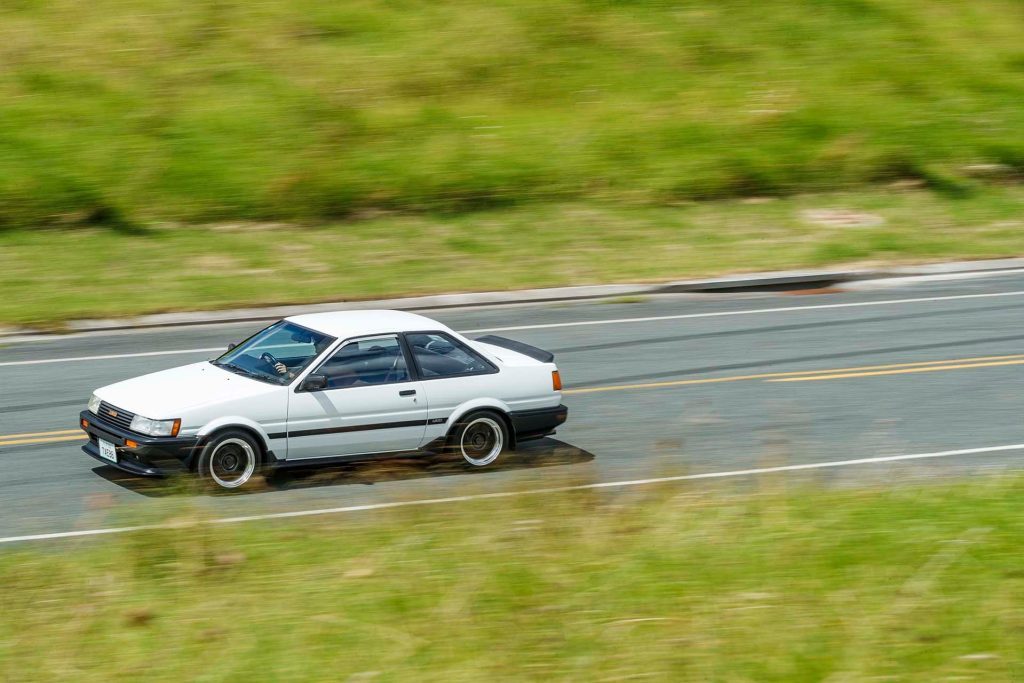 There were two body styles; a three-door liftback and two-door coupe, while each could be had as either the Corolla Levin (which isn't named after the town in the Horowhenua but rather ye olde English for Lightning) or Sprinter Trueno (Spanish for thunder). The latter had different tail lights, and the distinctive pointy front end, complete with pop-up lights. The model ran from 1983 to 1987, with a facelift dropping in 1985. Model grades include the GT, GTV and top spec GT Apex.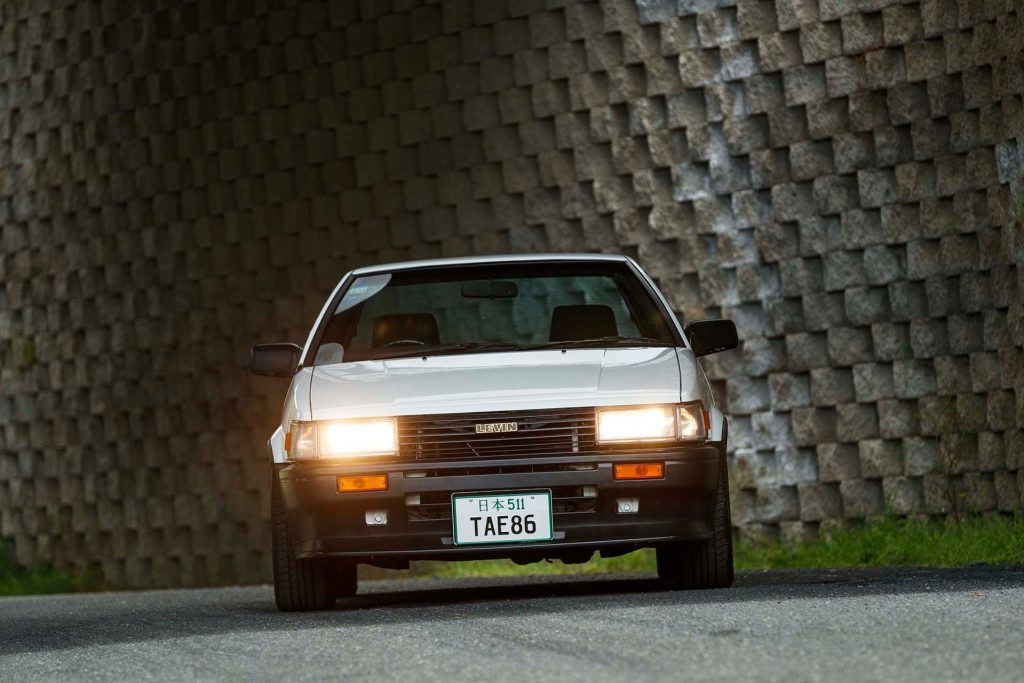 Powering the AE86 was Toyota's new 4AGE, another of those alphanumerics JDM fans know well. The 1587cc four cylinder gained a Yamaha-designed twin-cam, four-valve head. Its construction, with big intake ports, meant it made good power for its capacity (120hp/88kW at 6600rpm), but came with poor low-end drivability. Toyota came up with its variable intake system (T-VIS) with dual intake runners to help improve the torque curve at the lower end of the rev range. But still torque is not the engine's strong point with just 142Nm made at 5200rpm. So it likes a few revs. Interestingly, this engine was used in the front-wheel drive AE82 Corolla FX GT, the mid-engined AW11 MR2 and the AE86. Talk about versatile.
Available in most markets around the world, the GT was even sold here in limited numbers. Toyota made more than 360,000 of its Corolla coupes in both the AE85 (same body style but with a 1.5-litre engine and other run-of-the-mill mechanicals) and the AE86.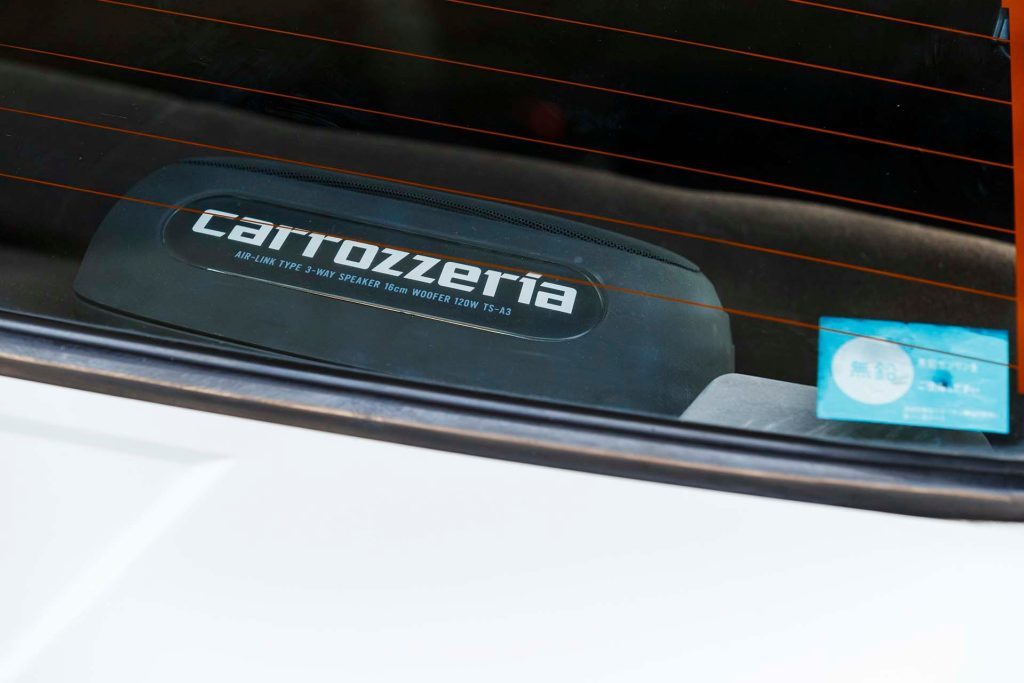 However, because they were so good at rally, racing, and drifting many thousands have been sacrificed at the altar of the motorsport gods. More than a few found their way down here too, NZ the graveyard for many cool JDM cars, thousands of them stolen and/or wrecked over the years. They were cheap back in the day, in the $5000 bracket in the early 90s. But now you can add a zero to the price, at least for a decent one.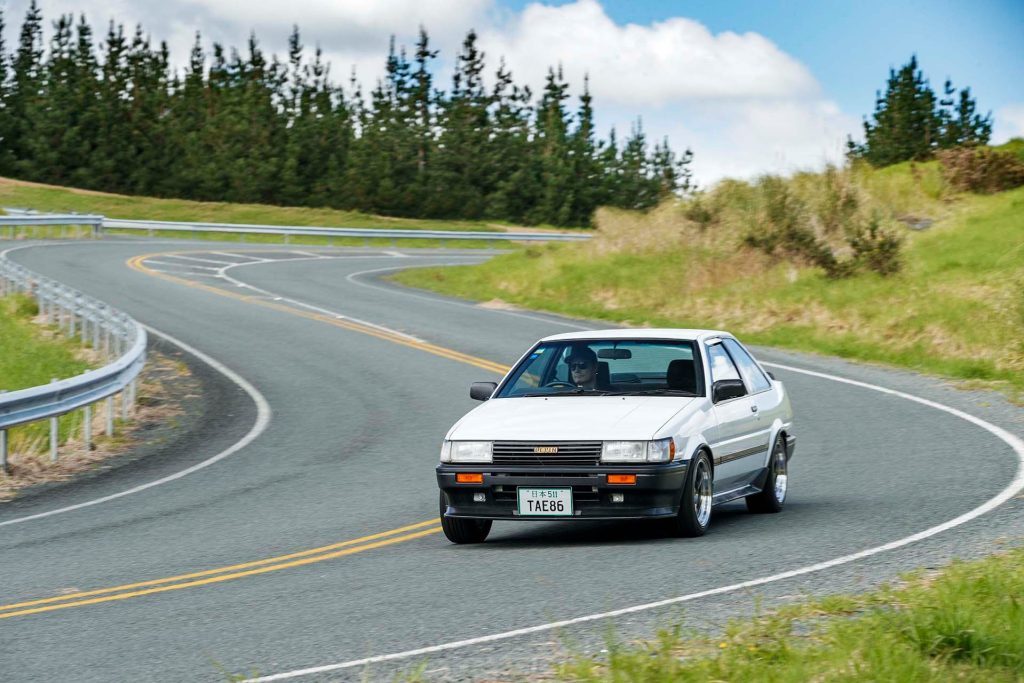 This 1984 Toyota Corolla Levin GT is currently for sale at Auckland's Autospot dealership and, as they tell us, they are getting much harder to find in Japan in their original state, as this one is. While there are still plenty for sale, most are modified, repaired or basket cases. Properly decent ones like this pop up only every six months or so, they tell us. This had done just 66,000km, with most of its original bits intact. It needed a general tidy up to bring it up to the condition you see here, which included a respray, as the original paint was thin in places. The underbody has been treated and resprayed too but there was no need for any major rust work.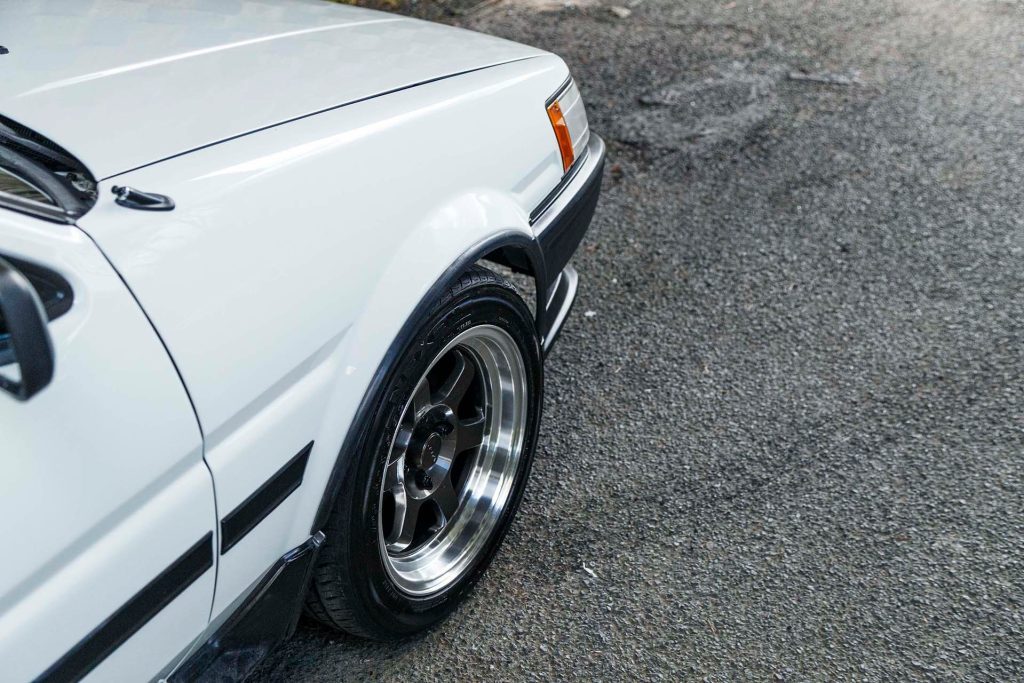 From Japan it came with a set of 14-inch Work alloys, which were in poor shape but now has brand new 15-inch Rota wheels keeping with the period look. New too are the suspension and bushes. Under the bonnet, there's a new radiator and a strut brace.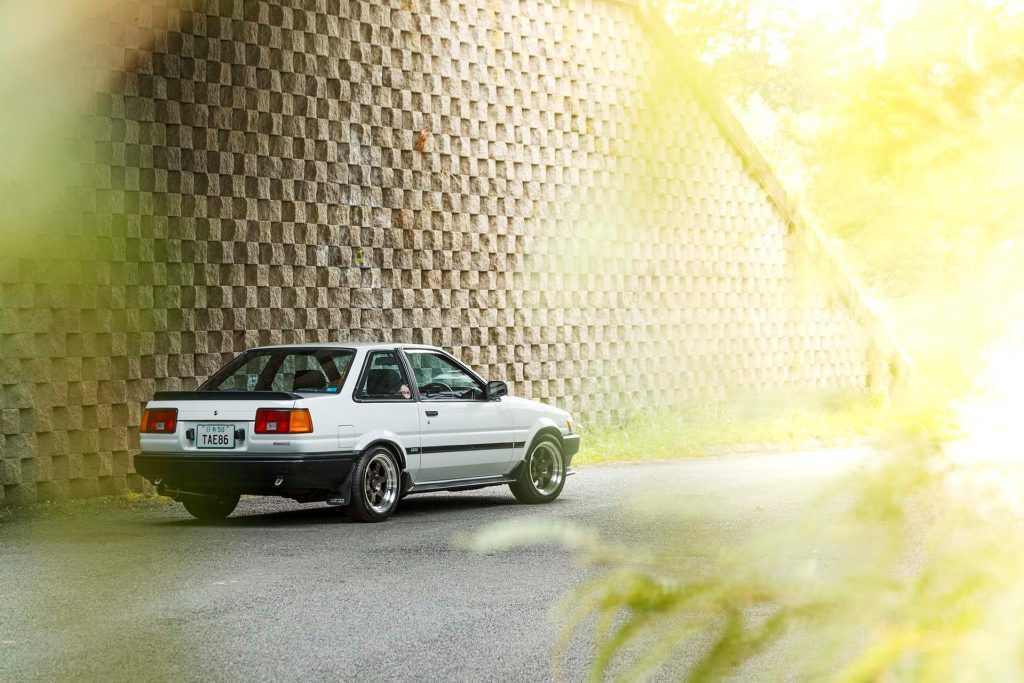 The white and black color scheme certainly works for the AE86, as does the lack of chrome bright work. Inside, the car is immaculate. The door cards are in great shape and are resplendent in their '80s brown and tan color scheme. The seats are in such good nick you can imagine they were removed when new, stored and reinstated for sale. As a base model, the GT wasn't treated to an especially exciting cabin as it was deemed a donor model for race cars. And so they have a similar fitout to the more pedestrian AE85 models. This has managed to find itself a sportier steering wheel but most other things are standard. It has the optional AC and LSD. Without any of the powered items, the Coupe GT was the lightest AE86 at circa 900kg.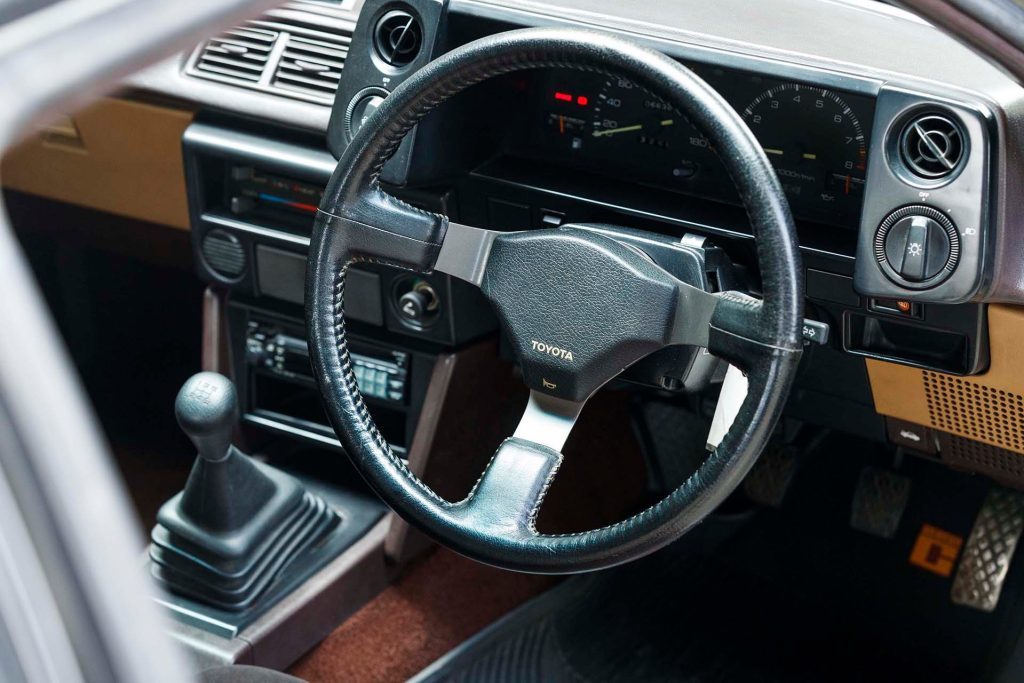 Lucky it is light as there is no power steering but the large diameter wheel gives some leverage to move it around. And once rolling it's not much of an issue. There are lots of vibrations and a heck of a racket for such a small engine; it's from an era where sound deadening wasn't a priority and refinement really was reserved for the luxury class.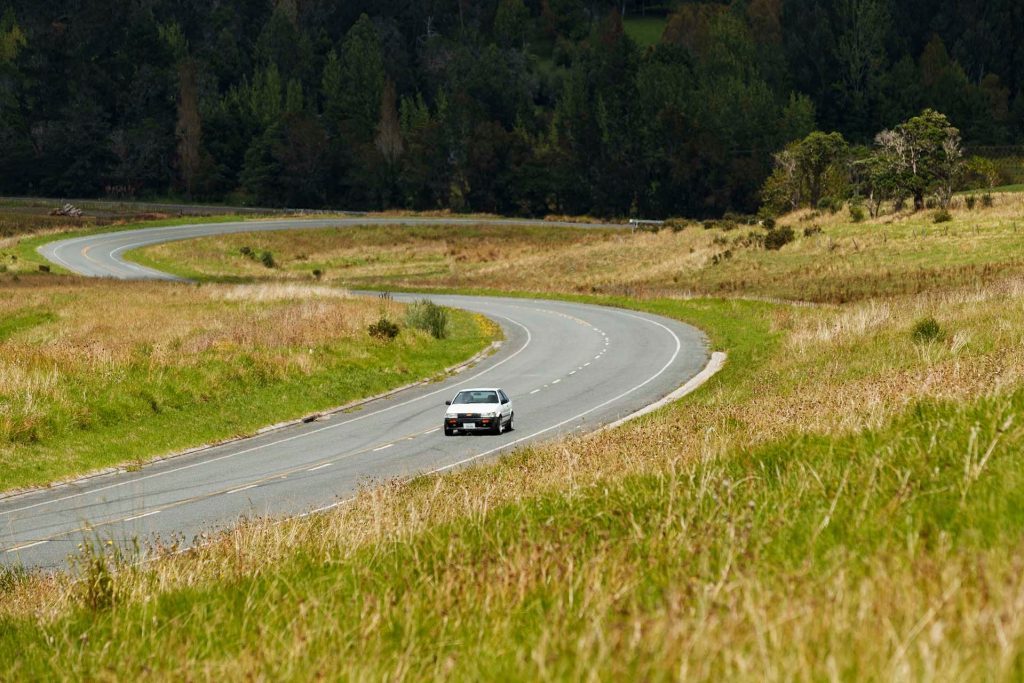 Despite the lack of torque below 3000rpm, the big port 4AGE does tool around okay but doesn't pull with any conviction, at all, until it's spinning. It finally wakes up around the 4000rpm mark, breathing better as it revs eagerly to 7000rpm, where it sounds a whole lot better too.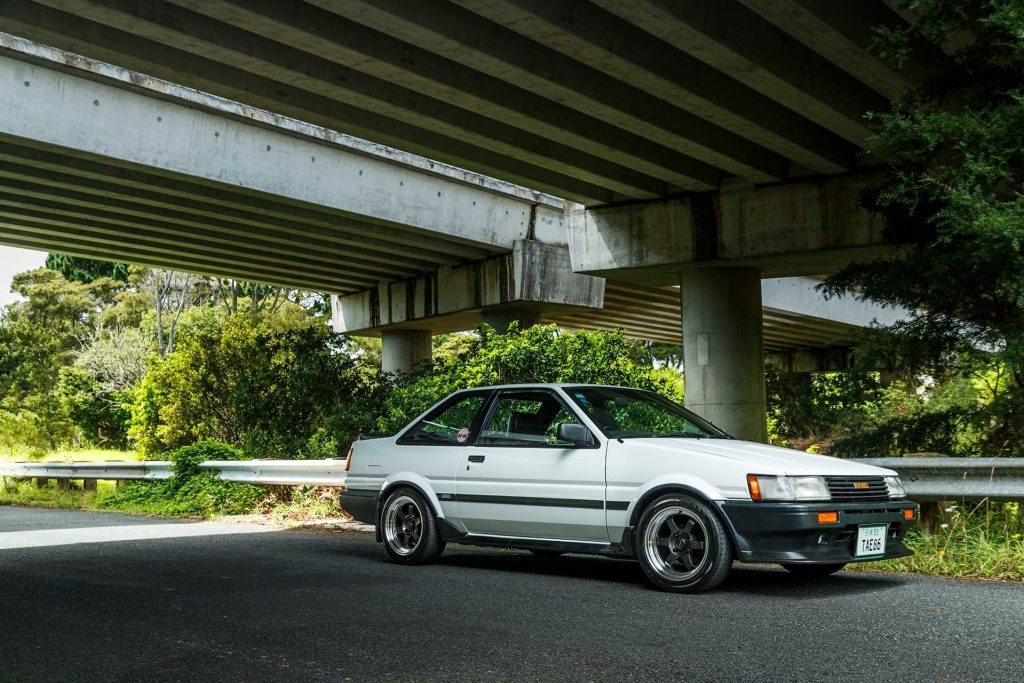 The gear change is easy, a bit long in the throw but it literally slots itself into the gate, no effort required. The ratios are short too; it's buzzing along at 3500rpm in top at 100km/h, while the gears are tightly stacked, each only knocking about 500-1000rpm off with the next change which helps keep that four-pot on the boil. It's not particularly quick, more sprightly given the relative lack of mass it has to move. And the noises and vibrations make it seem a whole lot quicker than it really is.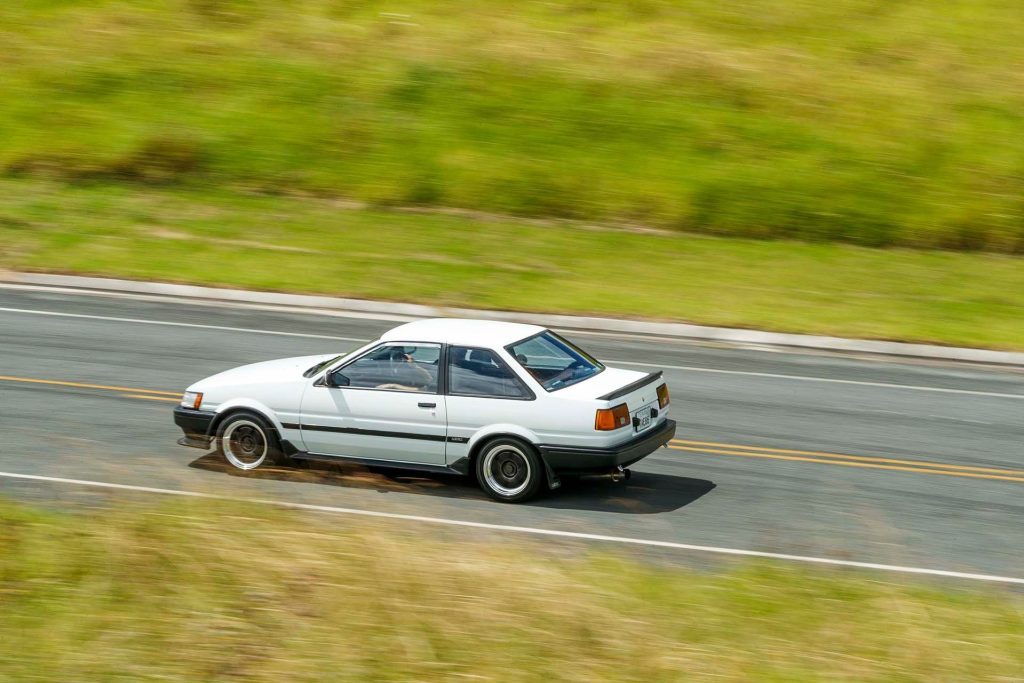 This has relatively quick steering at three turns between the stops. While it's unassisted, it's not heavy, and the AE86 is quick to turn off centre. There's plenty of road feel too, the good and the bad. Despite rolling lower on its new Bilsteins, the ride is still fairly compliant, the new bushes and dampers helping it feel younger than its 39 years. There are a few degrees of lean as you hook into the bends but it turns accurately and the front end has a good bite to it. The short wheelbase makes it feel nimble, one of those platforms that is well balanced, rotating nicely around you, the driver right in the middle of the action. Hold the steering in the turn too long and there's also a hint of roll oversteer from the rear end, which is probably why they were/are part of the original drift culture.
This would be more of a feint merchant/handbrake hack than a clutch kicker/power slider. And you'd need a fair old commitment to get things started. But the pedals are ideally placed to keep the action simmering, the foot well spacious and the driving position good. The basic seats aren't great however; no wonder 99 per cent of them were swapped for a deep bucket to hold you in place better.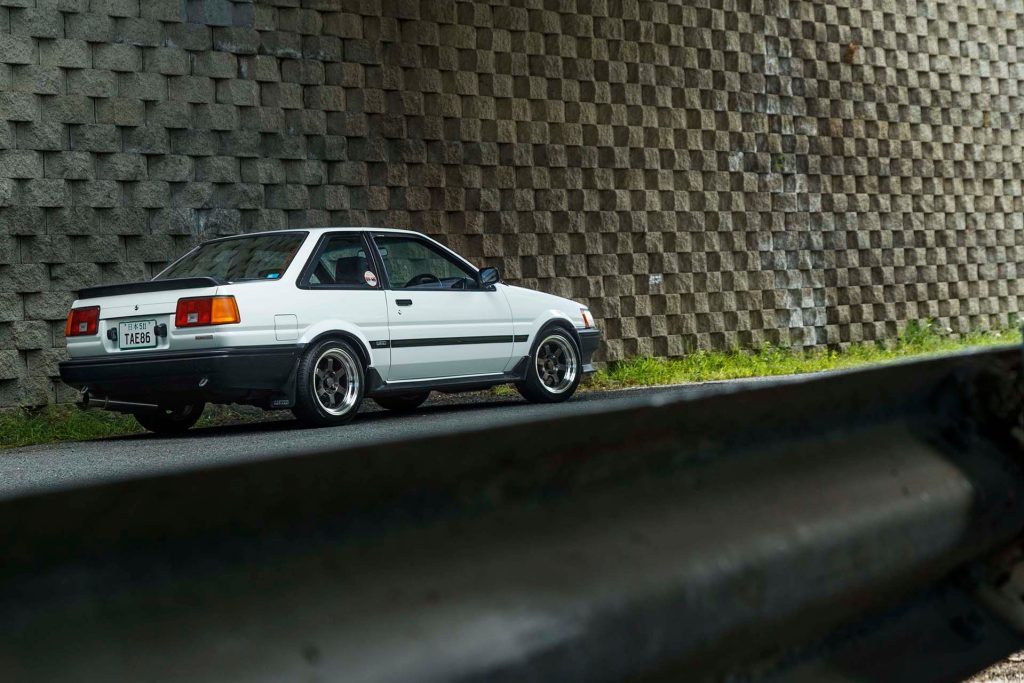 As with all JDM machines of note, the prices are getting crazy for good ones and this is no different, listing at just under $60k. That's some money for a Corolla, albeit a pretty special one.