The original Toyota Celica was a Japanese take on the pony car phenomenon sweeping the US. Here we detail a 1975 GTV hardtop, tastefully modified in a typical Japanese style.

The Japanese car industry has had its innovative ideas but its forte has been perfecting technology, making it work reliably in mass production applications. During the 60s and 70s, Japanese carmakers were not immune to mimicking others' marketing concepts either.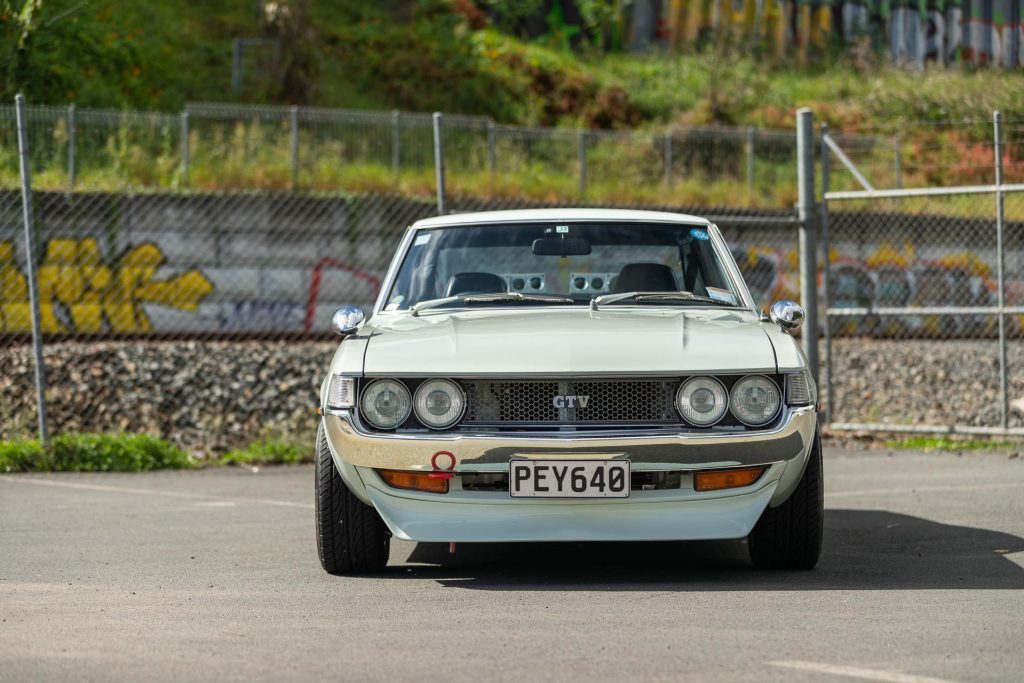 In the late sixties, the American industry was getting a boost from the pony car scene, Ford's Mustang becoming the fastest selling car ever, a success that Toyota wanted to emulate.
And so we got the Celica, a sporty two door that is referred to by Toyota as Japan's first "specialty car". It adopted the same strategy as the Mustang by turning out an affordable but desirable sportster built on an existing platform.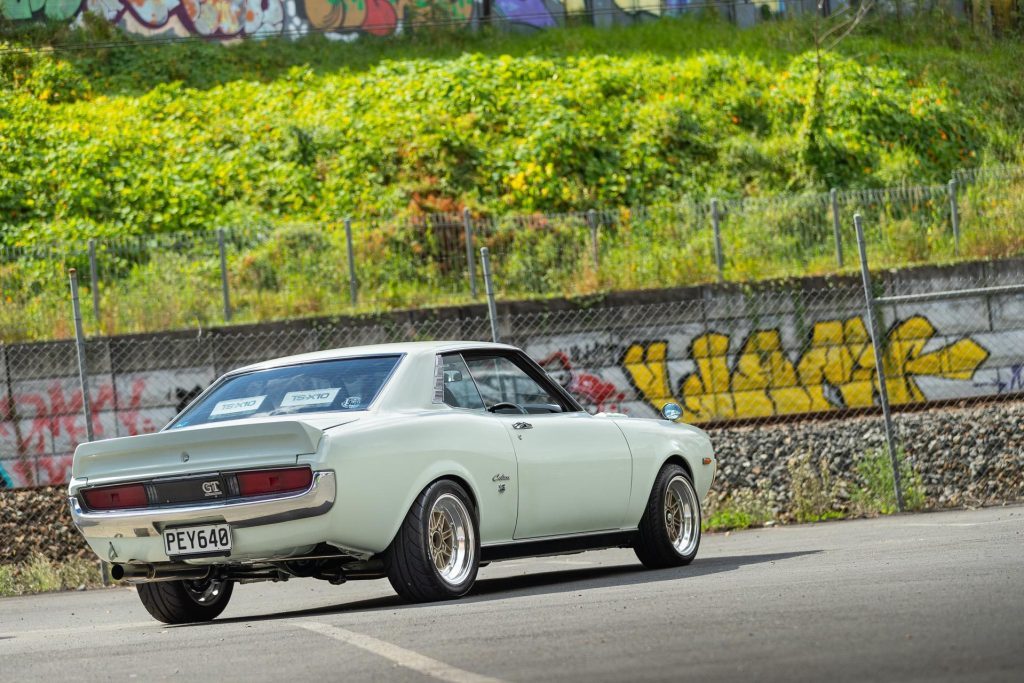 Like the Mustang, which was based on humble Falcon bones, the Celica would spring from the utilitarian underpinnings of the Carina but it adopted sports styling influenced by the popular US pony cars of the day.
Admiring the form of this 1975 Celica GTV in the early autumn sun, we can pick a few of those American styling traits. There are hints of the 67 Camaro in the rear three quarter, and the nose with its recessed grille and headlights is very Dodge Challenger.
Those familiar with the form of the Celica Liftback (more on that in a minute) would agree it's a dead ringer for a Mustang Fastback. And so it's not unusual for people to dub the Celica the mini Mustang.
This car's owner, Japanese ex-pat, Tom Ukai, says that while many Japanese cars were influenced by American design he reckons the Celica has a style of its own.
"It doesn't just mimic the design of those American cars; this has its own balance and style, and it's well proportioned."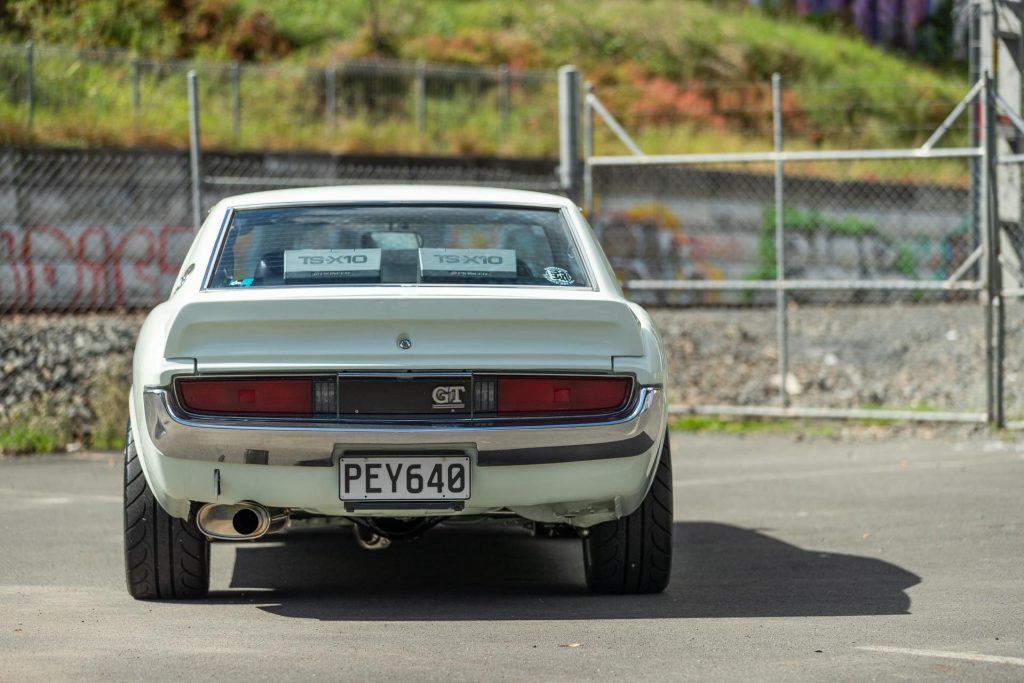 Tom's job has him seconded around the world and when he found himself in NZ, he wanted to add a classic Japanese car to his collection. "I'm more of a Datsun and Subaru guy but I was reluctant to bring one of my own cars out from Japan with me.
I wanted something new and this came up for sale in Japan. It looked good and I liked it but being a Toyota I knew it wasn't something I'd get too attached to, making it a bit easier for me to sell when I have to move on again."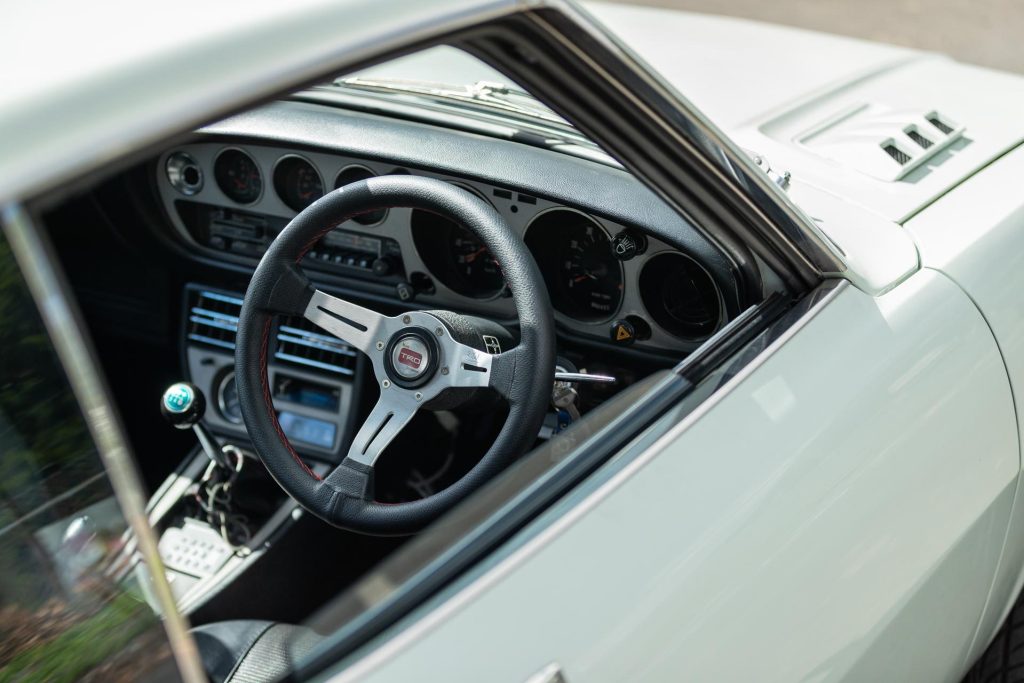 The Celica was first seen at the 1970 Tokyo Motor Show, and went on sale in Japan that same year. While based on the Carina platform, it came with its own unique styling, i.e., it wasn't merely a Carina coupe, while the handling department was given a tune up too.
It debuted as a two-door hardtop coupe, while a three-door fastback version, which Toyota dubbed the Liftback, was shown as a concept in 1971, and reached showrooms in 1973, giving buyers the choice of two distinct styles.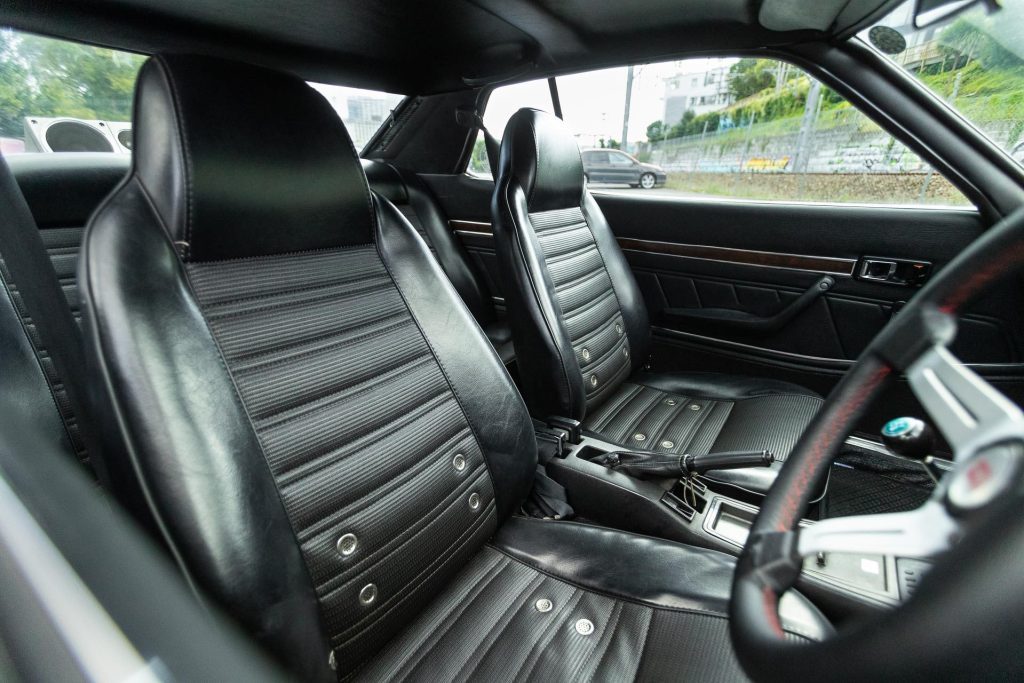 Tom recalls the arrival of the Celica in Japan. "This car was very striking when I was a kid growing up. It was the first sporty car that your Dad might be able to afford, and it had four seats.
You could maybe suggest to Dad 'why don't you buy a Celica, instead of the Corona'; it was that type of car for my generation. Unfortunately, one never showed up in our garage, but we did have the Corona Coupe".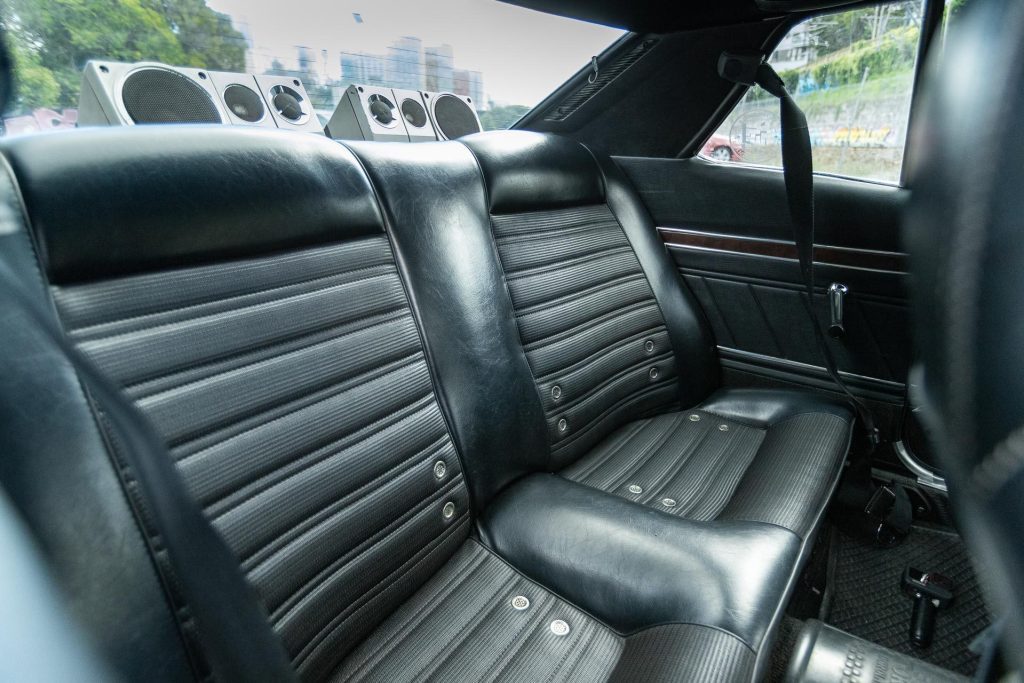 Taking a leaf from the American marketing book, Toyota gave its buyers a greater choice of options for the Celica. This allowed for more customisation of interior trims and added choices in the driveline department.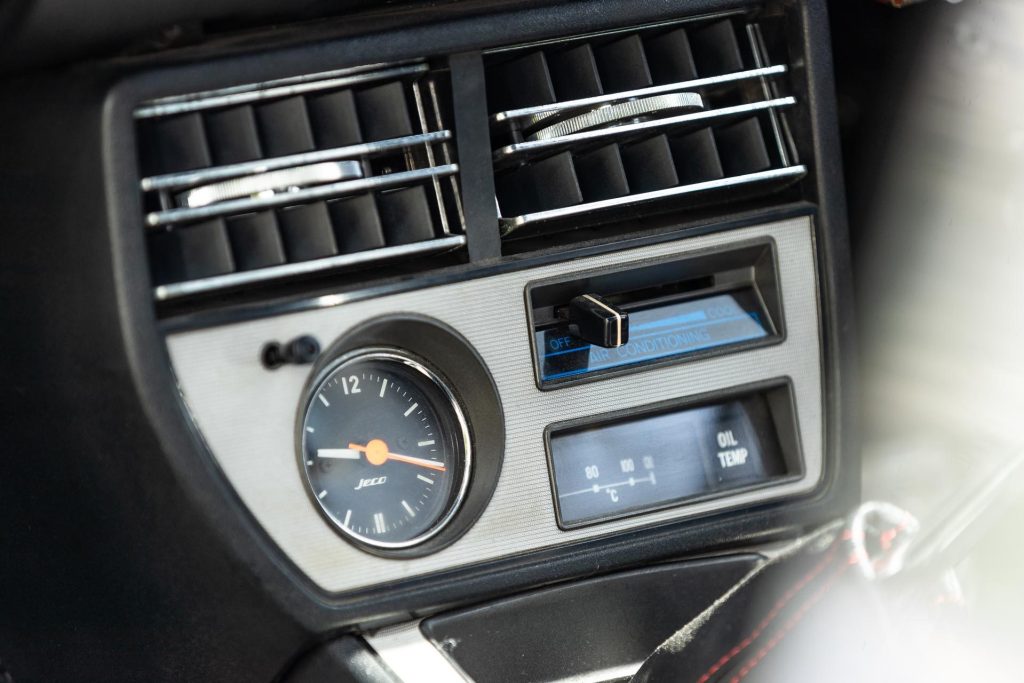 The Celica (evidently Spanish for 'celestial' or 'heavenly') could be had with a 1.4-litre or 1.6-litre four-cylinder engine, and the choice of four-/five-speed manual or a three-speed auto transmission. There were ET, LT, ST and GT model grades available and, for the Japanese market, the GTV was added in 1972.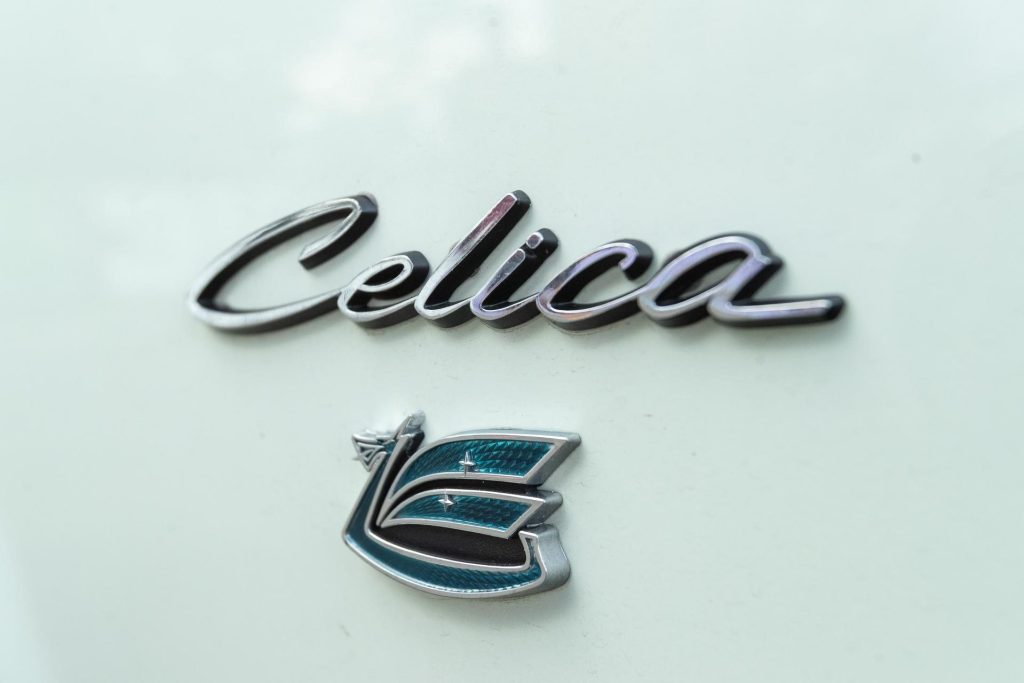 With more of a focus on performance, it lost some of the GT's luxuries in the name of weight reduction while a beefier front roll bar and stiffer suspension made the grade.
As the top model, the GT was powered by the 2T-G four pot, and it benefitted from a twin-cam head developed by Yamaha. This set it apart from the lesser models with OHV engines, letting the GT's 1600cc spin with more vigour, while netting more horses as well.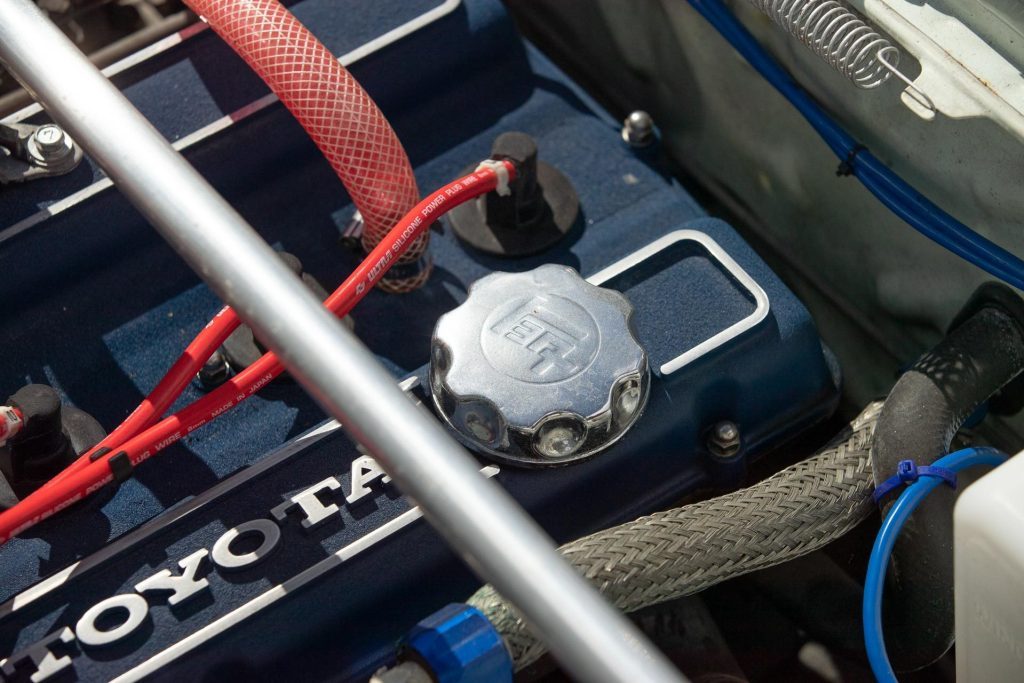 Equipped with a pair of side draft Mikuni-Solex carburettors, it churned out 115PS (85kW) at 6400rpm, 15PS more than the standard 1600 and had a higher rev ceiling of 7000rpm, while 142Nm of torque arrived at 5200rpm.
Tom says the 2T-G is one of his favourite aspects of driving the Celica. "It's only an eight-valve engine, but I like that it was one of the first mass production twin-cam engines in Japan.
Others at the time were reserved for the racing specials like the GT 2000 and GT-R. I think it sounds better than the Nissan L20; you can really hear it breathing deeply."
With just 115hp, it's not the most powerful car, he laughs. "It's okay for everyday driving but on track you'll be the slowest car out there. I do like the balance of the Celica though; it steers well and the suspension delivers enough control while still being comfortable around town."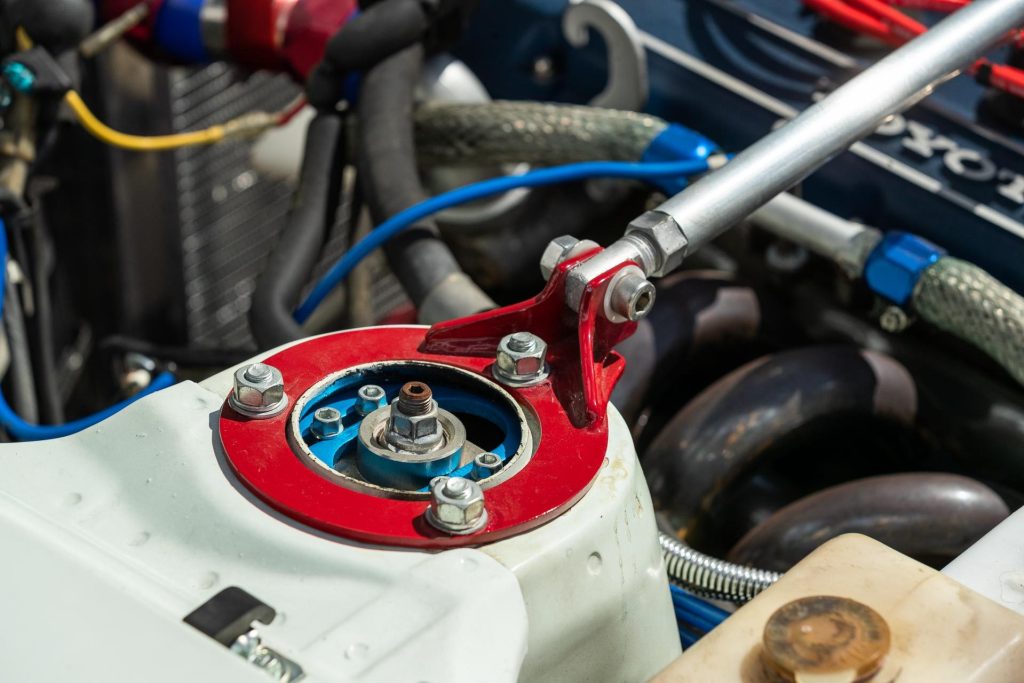 Tom imported the car in 2021 but it took six months to comply, on the road finally midway through 2022. He had to change the front struts and the tyres, as they were rolling on wider rims with stretched rubber.
And, believe it or not, he's actually raised the car, the aftermarket coilovers requiring a low volume cert, along with this Celica's interesting power steering add on.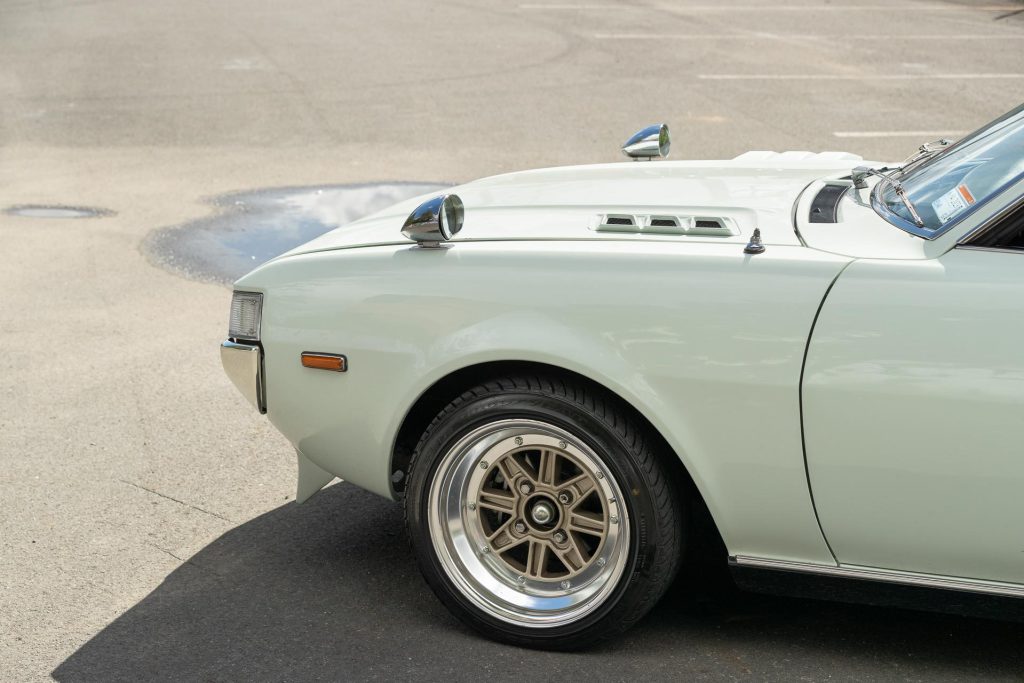 "It's a popular Japanese modification using the electric motor power steering from a Kei car. It's bolted on to the steering column and it offers a little assistance, which is handy for an old man like me, especially with the wider front tyres."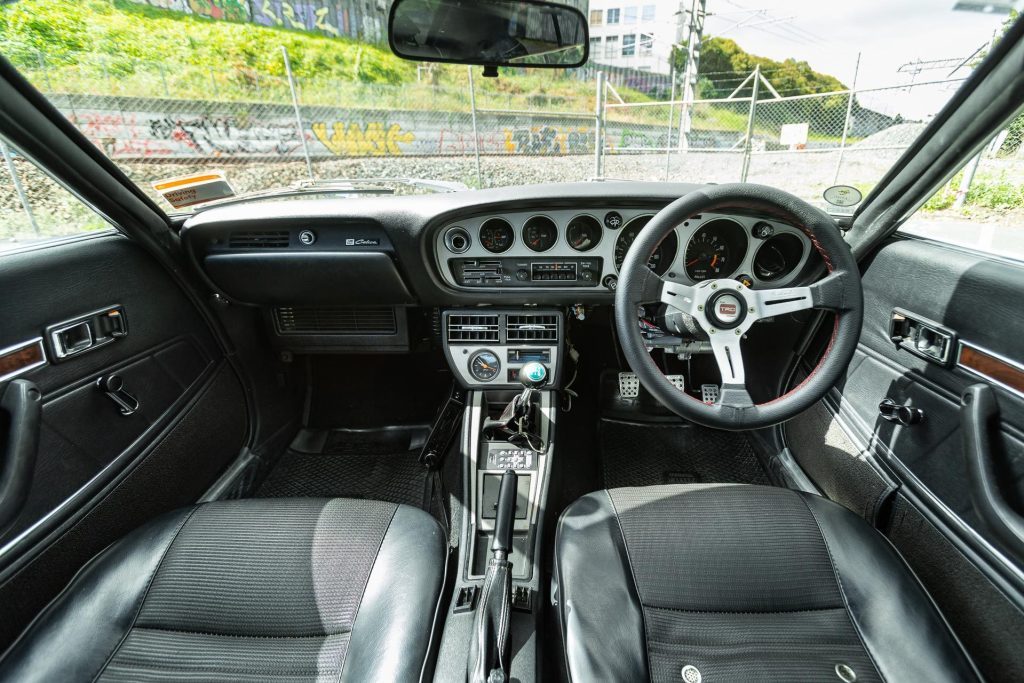 The Celica he describes as being modified in a typical Japanese way for a car of this era. It's fitted with a Fujitsubo stainless exhaust, ('a must on a Japanese classic') complete with equal length headers.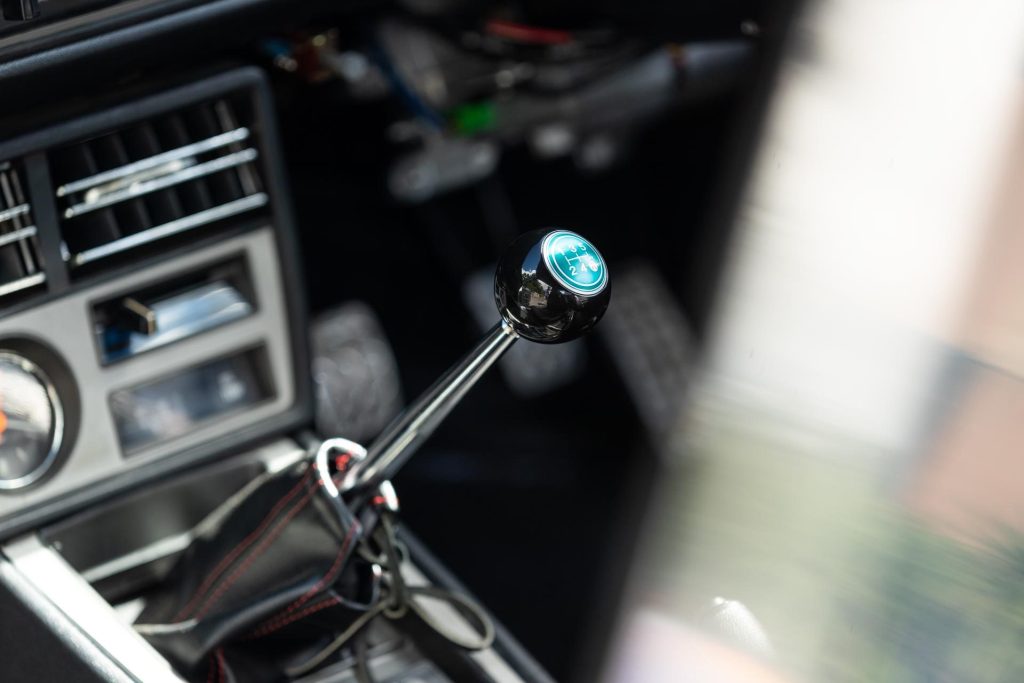 Under the fibreglass bonnet (with its GT specific flutes) is a nice blend of the standard and modified bits, while on the front wings perch a pair of Napoleon Bacca mirrors, a rare and now sought after if expensive period item.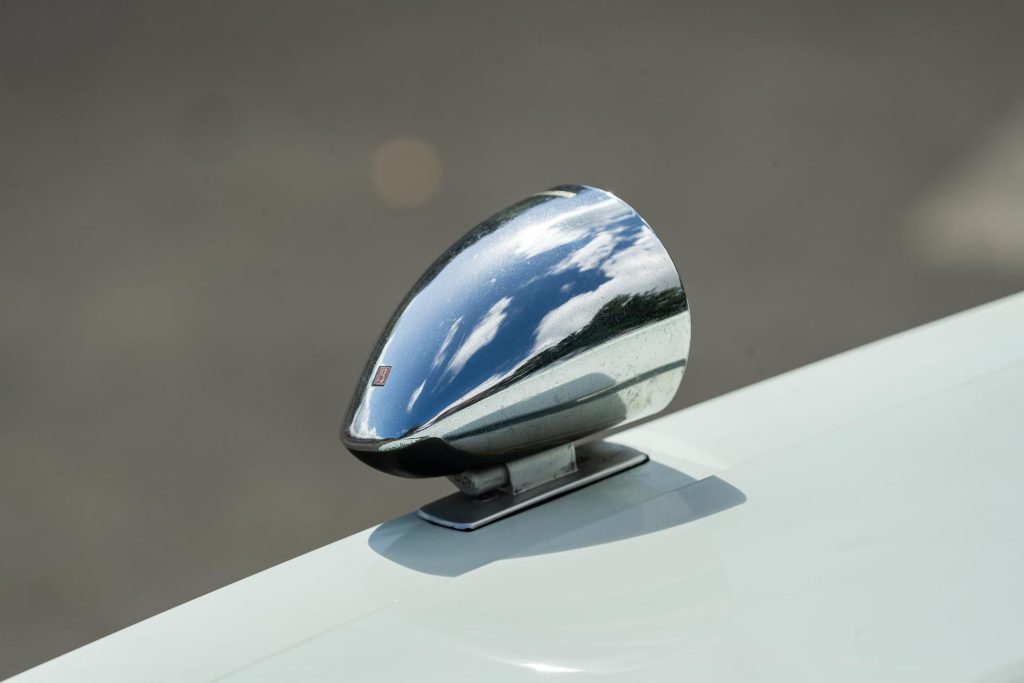 The design of the Speed Star MkIII alloys also dates back to the era, as do the front and rear spoilers, the latter sitting on a fibreglass boot lid.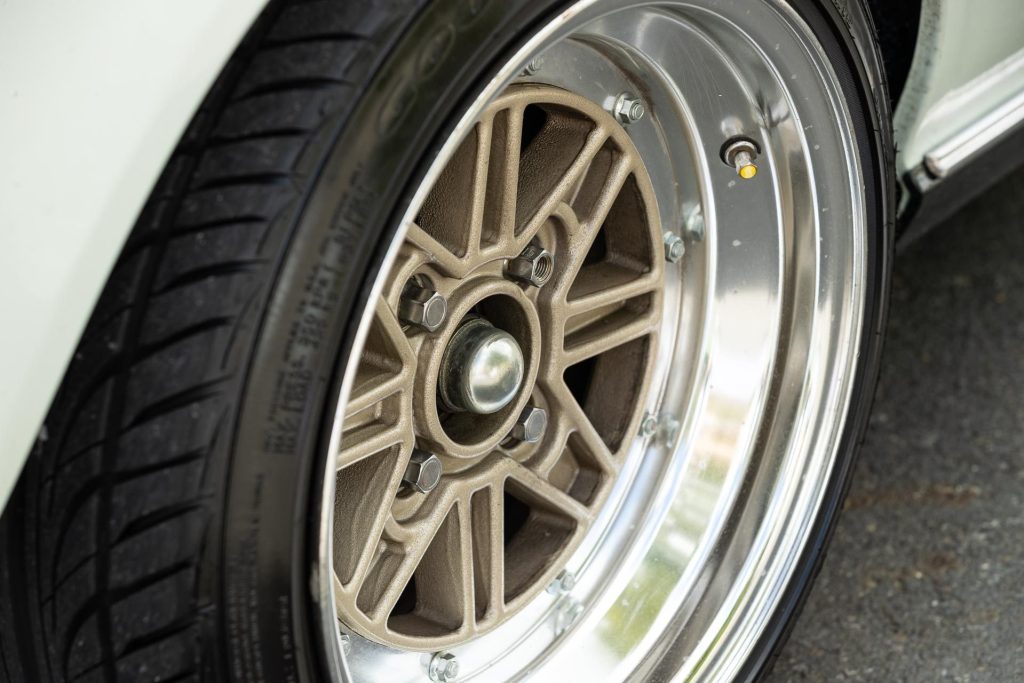 We take a look underneath to check out the rear end – there's a coil sprung solid axle with trailing arms and a panhard rod – and find the underbody is clean as a whistle.
The interior is mint too, the majority of it original apart from a small diameter TRD wheel while the aftermarket Recaros it landed with have been changed out for the original factory seats, which it also came with.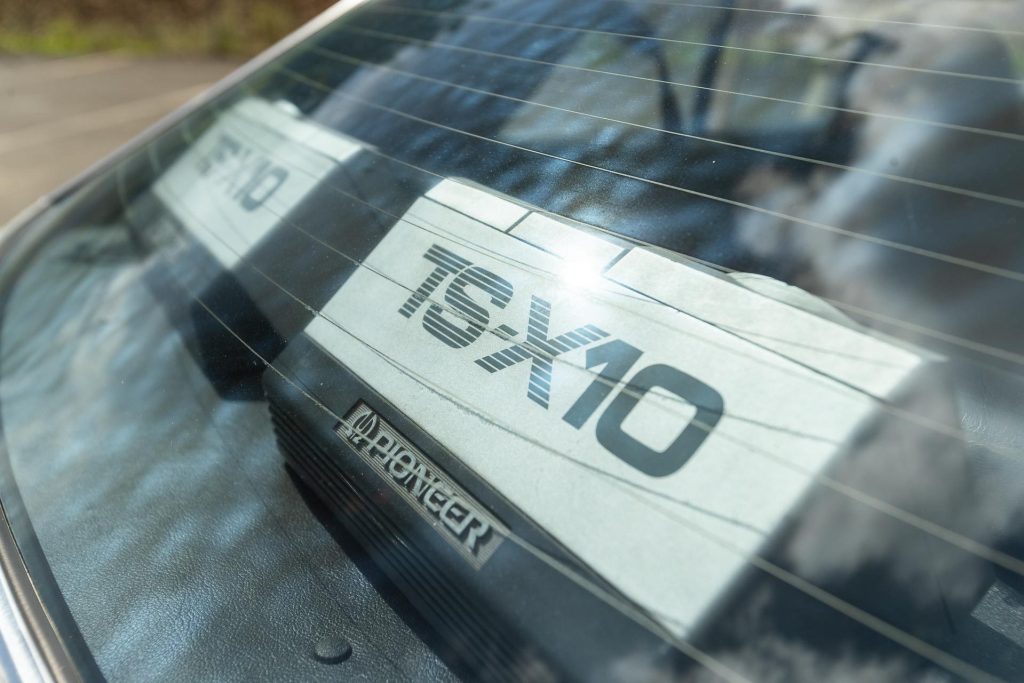 It's clearly been well looked after, and used sparingly with just 80,000km travelled in 48 years.
Tom says owning a classic car in Japan can be expensive as the road tax charge increases as cars get older, encouraging owners to buy new.
"It gets very costly to keep old cars on the road in Japan. You have a paradise here for classics. It's a shame in Japan that they don't respect their heritage, but I love seeing all the old Japanese cars here in New Zealand. It's really quite amazing."