Here we detail the life of a 52-year-old Volkswagen that has seen more parts of the world than most, and still has plenty of life left in it.
o the great unwashed, this is a loveable Vee Dub Kombi. To aficionados, however, it's a 1965 Volkswagen SO-42 Westfalia, a rare right-hand drive original too. To the uninitiated, SO or Sonderausführung in German translates to "Special Edition" and SO-42 marks out this Kombi as one with the factory camper option.
According to the owner of this great looking example, Andrew Bayliss, precious few right-hand drive SO-42 Westfalias are left in the world; he reckons there are maybe a dozen or so. "There are actually two of these in New Zealand, and I've got the other one," he says wryly. What makes these campers particularly rare is that right-hand drive models could only be ordered from the factory as a Tourist Delivery when new. The genuine Westfalias were not offered by VW dealers in right-hand drive markets at that time and those sold by Volkswagen UK were conversions done by Devon and Dormobile.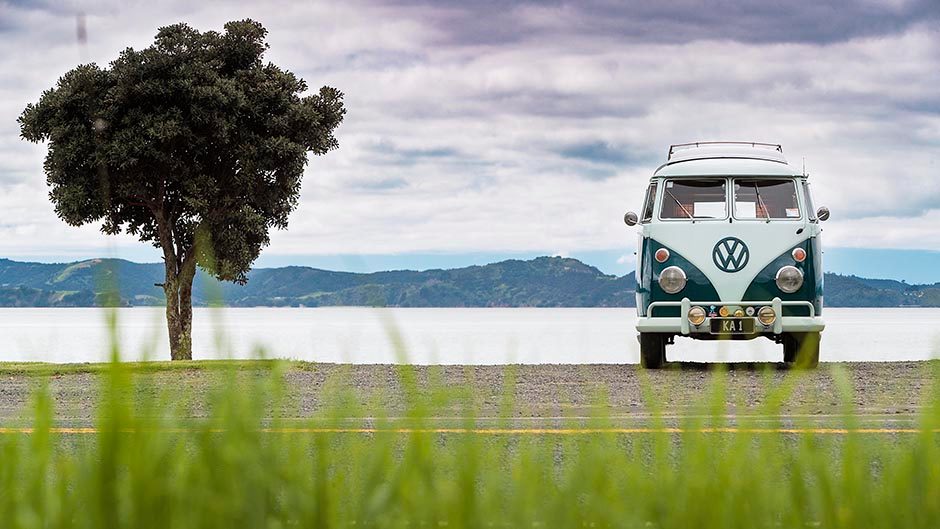 Very few right-hook models were ever made by the factory, and so the layout of the interior featured various modifications to suit the side doors being moved to the left of the van. For instance, the ice box was relocated to the left hand side and so the rear facing seat is offset, not directly opposite the forward facing bench as it is on a left-hand drive model. There is also an additional cupboard door in the wardrobe, for when the table is in use, the front facing wardrobe door isn't accessible.
The cargo doors themselves were simply switched to the left side, and so the scallop on the door to clear the front handle when it's open is on the 'wrong' door on this bus. "The other thing that's really rare on this," says Bayliss, "is that it still has its original big top tent (an enclosed awning that attaches to the side of the bus). It was an option that ran for two or three years only and is all part of the B42 option code which includes the pop-up roof and the wooden rack. That tent alone is worth moonbeams if you can find a good original one."
Along with the louvre side windows, which are unique to SO-42 Westfalias, this one is well optioned with Safari windows up front, which open up and out, complete with the "one-eyed duck", a clip where the hinged wipers live when you open up the windows. This also has an original Hirschmann aerial located on the A pillar which is angled to allow the Safari windows to open. There's also an Eberspacher petrol-fired heater in the engine compartment, a "dangerous looking mother that I dare not use," says Bayliss.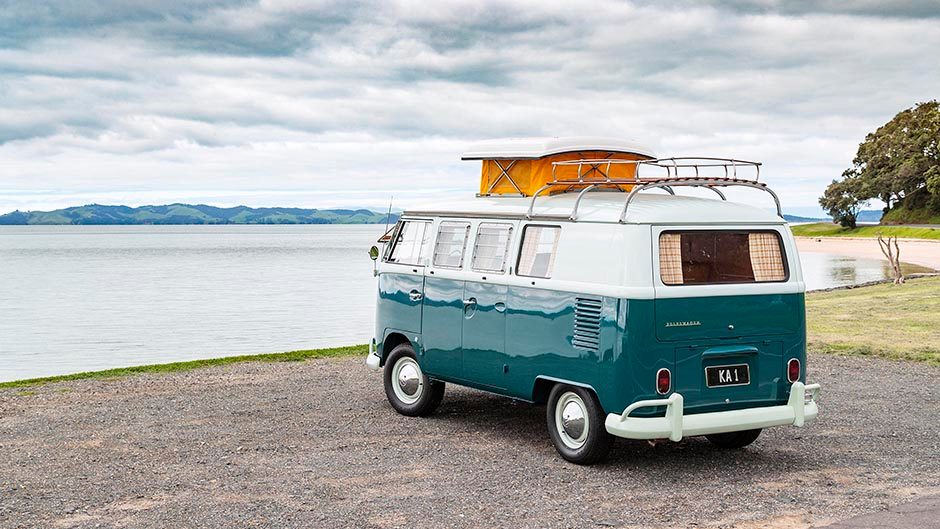 The Volkswagen bug bit Bayliss in the early eighties. "I did an OE in the UK, and like all Aussies and Kiwis at the time, it was mandatory to have a Kombi to drive around Europe in. The first one I had was a later model, with the bay window, which had the Devon camper conversion. I eventually ended up starting a business converting Kombis into campers. I would buy ex-Dutch army left-hand drive models and convert them. These were about nine or ten years old but were mint as the army had nothing better to do in peacetime than maintain vehicles. I used to cut the roof off and I had a mould made for the big Westfalia roof, and I guess the love for them has just grown from there."
Other VWs in the stable include an early baywindow Westfalia ("that's a bit of a project but still nice"), a '58 Beetle ("that one's travelled 59,000 miles from new"), a Karmann Ghia that's in the process of being restored, a one-owner, 1957 right-hand drive beetle cab ("that's a super-rare car; they didn't make many right-hand drive cabs"), and a '61 Beetle cabriolet ("that's the one in the Air NZ safety video with Rachel Hunter and is the wife's car, she loves it.")
And how did Bayliss become just the fourth owner of this particular bus? "I've known about it since it arrived here in New Zealand because the owner approached me about importing it when I was working at the AA. He rang me again last year for a bit of advice about selling it and I said he could probably sell it to me.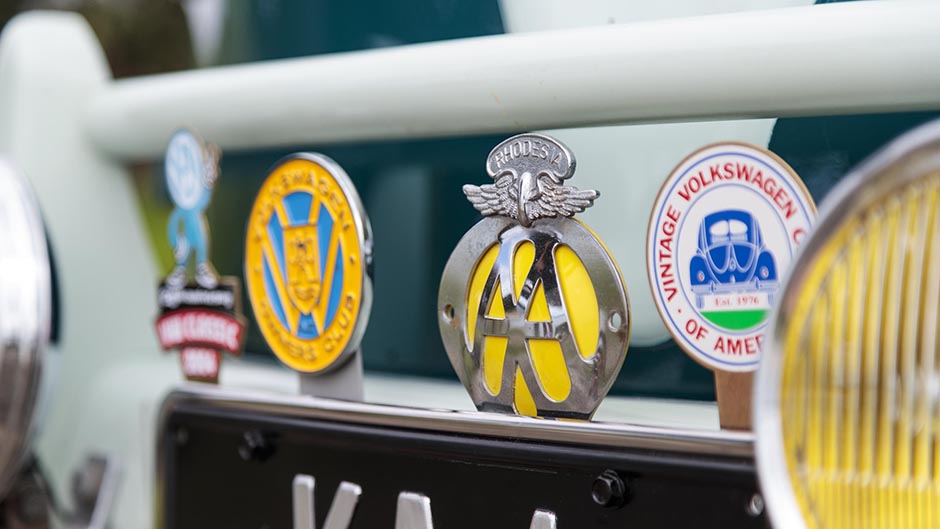 He didn't think I'd be interested in it as I already had another, but knowing the condition that this was in, it was too good to pass up." KA 1 was ordered as a Tourist Delivery from Zimbabwe or Rhodesia back then, with the original owners collecting it on 21 April, 1965 from Otto Glockler Volkswagen in Frankfurt, Germany. The bus still wears its Otto Glockler dealer badge on the left front wheel arch. Also present are the original handbooks and service booklet, which have been a handy record of the first owner's European tour as they collected service stamps from VW agents in Germany, France, Scotland and Spain.
It's thought that the bus then crossed the Mediterranean and continued its epic roadtrip south through Africa back to Rhodesia. It was traded in 1968 and the second owner, Mr J.D. du Plessis, took ownership on May 10, 1968 at 36,143 miles. The third owners, K and H Impson purchased the bus from Mr du Plessis' deceased estate in 2001, and emigrated to New Zealand from South Africa in 2009. It currently has 97,000 miles on the clock racked up over 52 years, and Bayliss says everything is still original, bar the front seat trim.
It's rust-free thanks to the African climate, with no signs of being repaired, patched or restored, though the paint work has been refreshed, the bottom half at least, but the roof still has its original paint.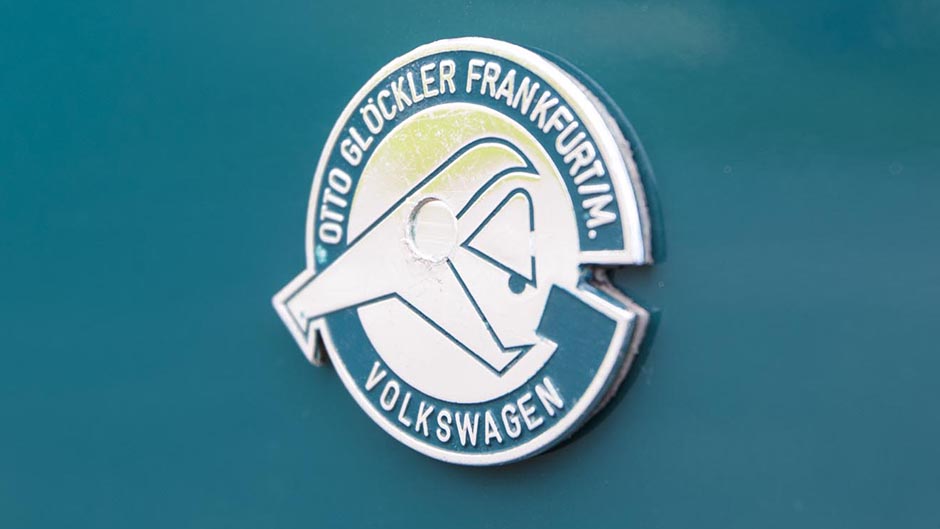 The bus is a treat to drive, starting easily, all the controls delightfully feelsome and unassisted. The air-cooled four throbs away in the back with plenty of low-end torque and it revs nicely too. It gets along fine at between 45 and 50mph, accompanied by the usual vintage on-road clamour. The seats are well sprung to help soak up the jolts the suspension transmits to the cabin, but it's all forgotten as just about every other road user gives you a wave or a smile along the way.
Though Bayliss has the VW insured for $80k, he's not too precious about getting out and about in it. "People say 'isn't it too nice to use', but what's the point of having it just to sit in the shed and say 'oh that's nice'. "I've got more into the VW club scene, and my wife is just as much into it as I am. I wasn't really one of those people to join clubs but we'll be down at the VW nationals in Wellington at Easter. We'll go down in a convoy, pick up a few others along the way, and my son will be taking our other one along too.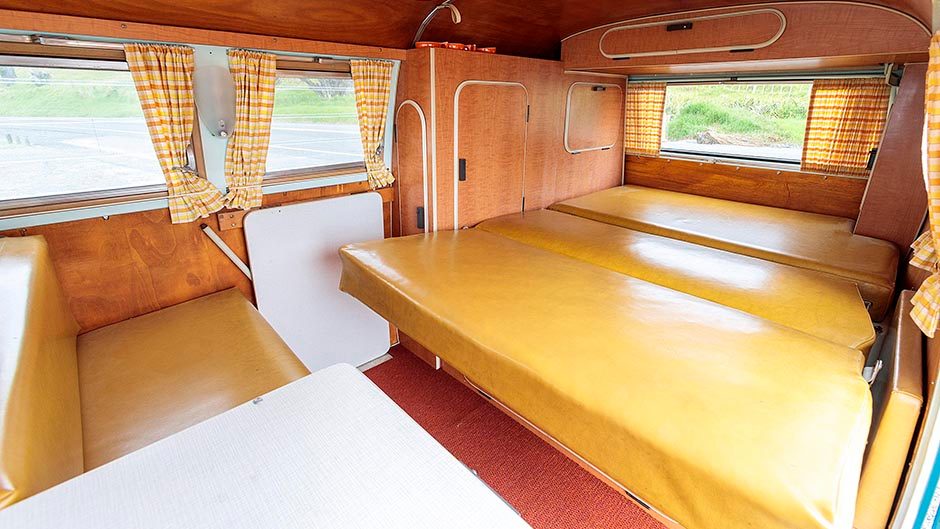 When you get there, you can circle the wagons, have a few beers and tell a few lies, it's all good fun."
"You can drive this from one end of the country to the other and it's pretty reliable. One of the other things I like about them is that they are really easy to work on; I do most things myself, and you can still get everything for them as well."
Seems the adventures are destined to continue for this magic bus.