Ford's big cars of the early sixties had names inspired by the space race of the era. Here we investigate a Galaxie with enough horsepower to launch it into the stratosphere.
In the early 1960s, Ford was in its Total Performance era as the marketing strategy followed the win on Sunday, sell on Monday philosophy. The big three were at it something fierce on the raceways and drag strips around America with factory built performance machines, and they were doing whatever they could to bag the win.
In 1961, Ford withdrew from a gentleman's agreement between automakers to cease motorsport involvement but the company was somewhat behind the eight ball by then as GM and Chrysler had been unofficially supporting the racing effort through privateer teams. Those at the Blue Oval hastily developed a better version of its 390ci V8 for Nascar racing, the 406, but for 1962, its full-size coupe had been restyled and the Starliner's curved roofline had been replaced by a flatter, less aerodynamic notchback design in the style of Ford's popular Thunderbird. It meant Ford was struggling for outright velocity on the big speedway ovals and so a tricky solution was to race a convertible with a special hardtop, called the Starlift.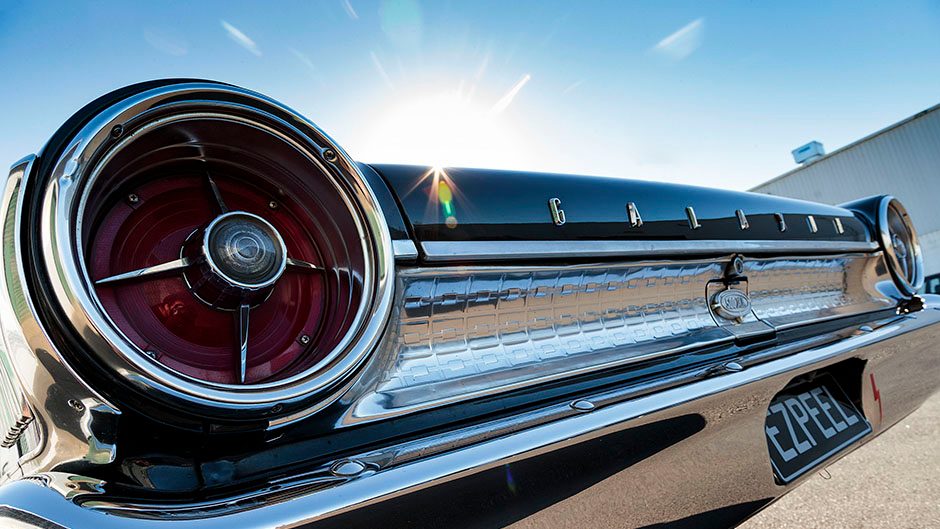 Ford argued that the hardtop was an over-the-counter part that anyone could buy, even if the rear windows couldn't be wound up properly due to the fastback shape of the top. The Starlift won its one and only race before Nascar declared it a cheat. Determined to win, Ford was forced to redesign its big coupe and the resulting 1963 and-a-half (the American car industry's first half-year model) Galaxie 500 Sports Hardtop featured a lowered, fastback roofline which cut overall drag by almost one-third, and it went faster on the banked ovals.
The Galaxie was also fitted with the newly developed 427ci engine and with 23 race wins, it scooped the series in '63. Ford was also intent to put up a decent fight in the NHRA Super Stock class on American dragways and so devised 200 special lightweight Galaxies. These used a 425hp version of the 427, a Borg Warner four-speed manual and 4.11 diff but the performance edge was sharpened thanks to the loss of some 200kg that brought the total mass down to under 1600kg.
These featured fibreglass panels for the bootlid, front fenders and bonnet and the car was fitted with aluminium bumpers. The supporting springs for the boot and bonnet were deleted, as were the jack and spare tyre. Its interior was stripped of radio, heater, carpets, and sound deadening, and the usual bench seat was replaced with lightweight buckets.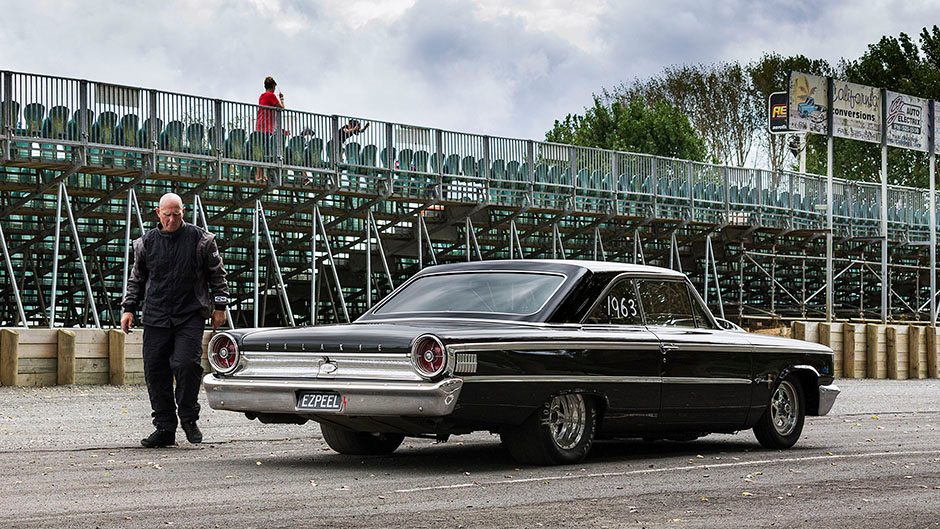 In its day the lightweight Galaxie was good for a quarter mile run in the low 12s. This particular 63 and-a-half Galaxie is not what you'd call a lightweight, scaling up at just over 2000kg, but remaining true to the Total Performance mantra it manages to run the quarter in under 10 seconds thanks to a few upgrades over the years. The big black two-door was first imported in 2007 by its original Kiwi owner and curator, who went about creating a show piece which would win the people's choice award at the Kumeu Hot Rod show.
The current owner, Garth White, has had the car for two years. He says originally it had a 289 V8 though it's had a few engine swaps since then, including a worked 429 before the current monster was added, a 551 cubic inch V8. That's 9.05 litres if you're wondering. White admits to initially feeling a little funny about owning a show car that he hadn't built himself. "I wanted a 70's muscle car, so it took me a few weeks to convince myself to buy the Galaxie. But after owning it for a week I knew it was a good decision."
He's since put his own mark on it by doing a few upgrades to the engine, but he really enjoys driving the car rather than having it sit in the garage. "I've had it for two years and covered 18,000miles. I use it whenever I can as I just really like driving it. It handles well for a big car, it doesn't wallow, it's firm but not harsh and corners well, though it does feel heavy."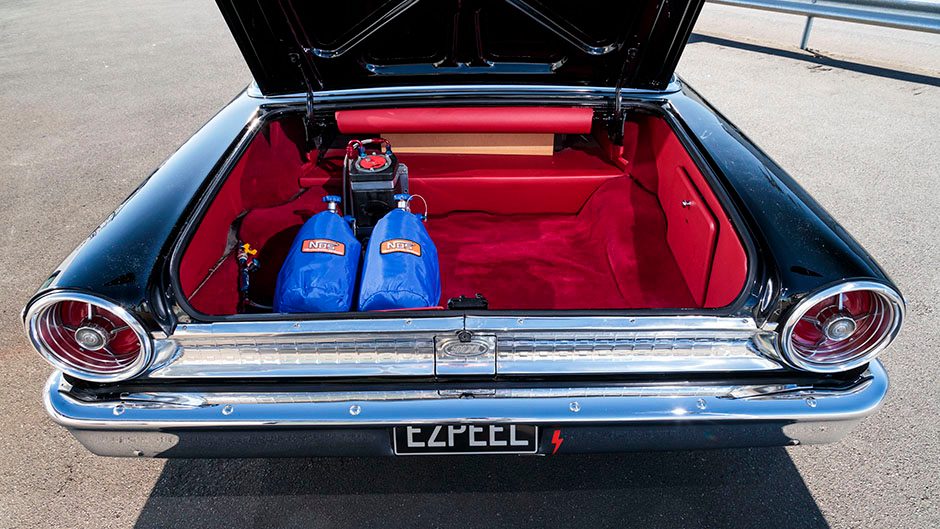 After breaking a valve spring during an adventure at the drag strip, the engine was stripped down by Dave Moyle at Prostreet Automotive for a freshen up and he beefed up the valve train with addition of shaft rockers to handle the pressure. The bottom end is strong thanks to a Bryant crank and a Ford Motorsport block, and it runs a solid flat tappet cam which isn't overly aggressive to keep it streetable.
It's built to take a pounding, which is dished out by the nitrous injection set-up. White has also improved the fueling with the addition of a Dominator inlet manifold and big carb. While not exactly sure of the output, he estimates around 800-825hp, and more with the nitrous. White says while he had never been into drag racing before, he got into the sport because the car was set up for it. "I really enjoy it now but I wouldn't want to go to the next level and take it away from being a street car. The car hadn't been in the nines before but I managed that recently with a 9.93sec run on nitrous and I've snuck into the tens without the gas."
White likes to point out he's broken into the nines a couple of times, "to prove it wasn't a fluke", and says now it's just about getting consistency. The car could be quicker still as White has lightweight panels and bumpers that could be added.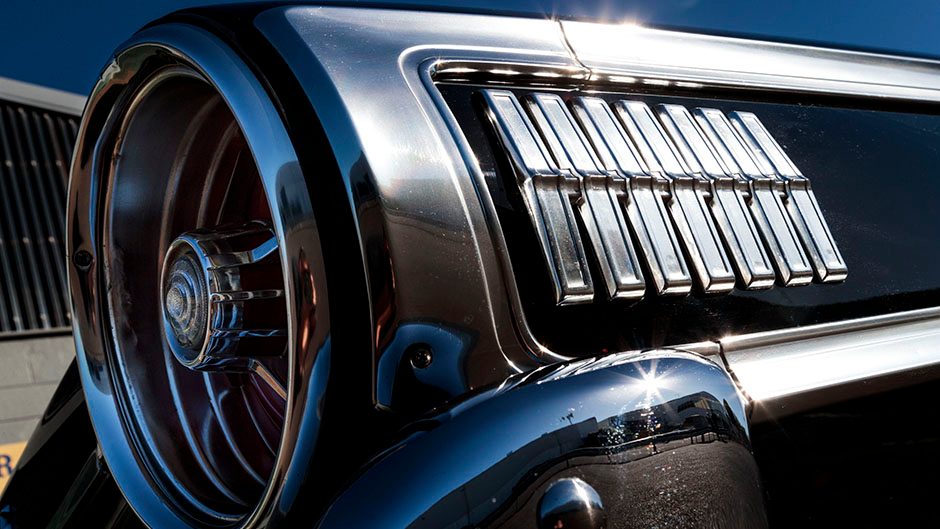 This Galaxie runs a Turbo 400 transmission and there's a new nine-inch diff with a Trutrac limited slip device. It now runs 35 spline axles as when they went to fix an oil leak they discovered it had twisted the 31 spline axles. The Galaxie sits low with a triangulated four-bar rear and coil overs. There are Falcon discs all round and for the street it wears 18-inch Boyd Coddington rims, measuring 10-inches wide on the rear. In race trim it runs 15-inch rims with 28 x 13.5 drag tyres and a set of front runners.
The car sits so low that the drag tyres need to be deflated to get them up under the guards. The Galaxie is still running a show car-like interior, trimmed in red leather and deep pile carpet, the chrome work all shiny while the horizontal speedo has been replaced with Autometer gauges.
The cage is a bolt-in item and requires some patience and dexterity to assemble. The big engine likes a drink; at best it manages about 33L/100km, or 7mpg says White. He's replaced the fuel tank as the original reserve was only 60L.
"It would get to about half full and it could surge and air lock the pump so I installed a 130L aluminium tank which helps me get a bit further between fills."