Classic car enthusiasts all have their reasons for adding a car of the past to their sheds. For Chris Stephens, a schoolyard crush prompted the acquisition of this 1972 Toyota Corolla Levin.
Among the myriad reasons classic car owners cite for acquiring a piece of automotive history, there's a handful that seem to crop up more often than others. Some collect for investment purposes, for some it's a realisation of a childhood dream, while for others it's all about reliving the past, making it an emotive ownership experience.
Tucked away on Auckland's North Shore, this 1972 Toyota Corolla Levin captures a moment in time. It's part of a wider collection, something Chris Stephens has been quietly acquiring over the past couple of decades. Stephens hankered for the classic form of the Jaguar Mark II and before long had indulged, although it wasn't the Jaguar variant he'd initially craved but a Daimler 2.5-litre V8.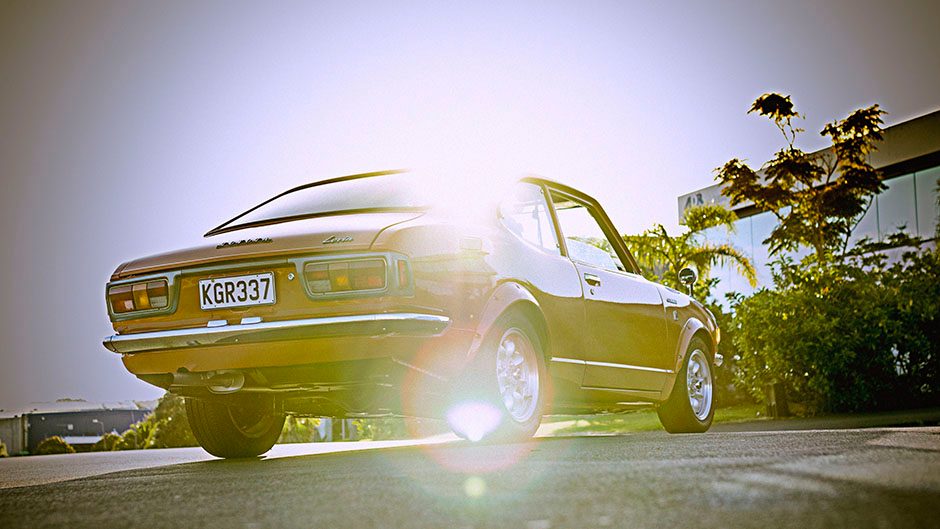 Already restored, Stephens and the Daimler got a few miles of weekend cruising under their respective belts before Australia beckoned. Not the country per se but its cars. Drawing on fond memories of learning to drive, the next car to join the fold was an EJ Holden sedan. Still sporting a factory-applied coat of coral-pink lacquer the EJ held Stephens' attention for a while, alongside the Daimler and the scores of motorcycles he also owns. Most of those bikes are from the 1970s and it wasn't long before Stephens started thinking, "Maybe I should track down some of those cars I thought were pretty cool back in those days."
The first from the seventies to join the fold was a Datsun 240Z. Picked up in Invercargill and duly restored to impeccable order, the 240Z cuts a svelte figure amongst Chris' hoard of mechanical treats. But a schoolyard memory guided Chris towards the Toyota, and in particular a 1972 Toyota Corolla Levin, with the chassis prefix 'TE27.' We'll get back to that chassis designation in a moment but the impetus for tracking down and purchasing the diminutive two-door coupe has roots stretching back to Stephens' early high school years.
One of his teachers, a "strict, not grumpy" character he recalls, 'Doc' Halliday drove to school – pipe and all – at the wheel of a pale yellow KE25 Corolla coupe. Better known by the "SR" badge, the KE25 Corolla coupe packed a twin-carb 1.2-litre 3K-B OHV engine mated to a four-speed gearbox. In period, the little KEs were slickly-styled, affordable dream machines and, as such, they enjoy something of a contemporary cult status.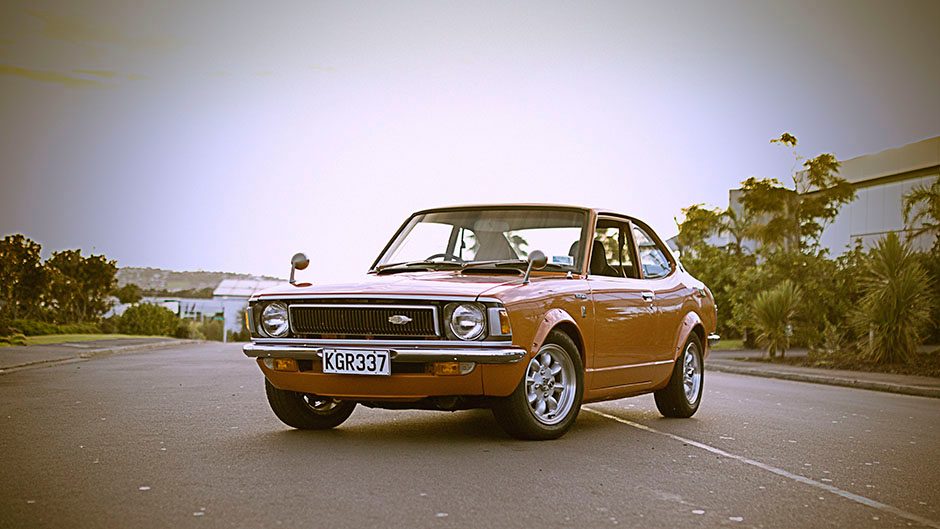 Stephens recalls a schoolboy infatuation with the Corolla, no doubt responsible for the most recent addition to the fold. While the 'SR coupe' had long been an object of desire, finding one that had escaped the clutches of dubious modification was tricky. It was a chance mention during a search – as yet unfulfilled – for an early Mazda Cosmo that brought the TE27 model to his attention. The Cosmos were only really widely available in Japan and during his search he suggested about "maybe looking for an SR coupe" to his contacts. "How about a TE27?"
The question was posed, possibly due to the fact the KE25s are somewhat scarcer on Japanese soil but the much revered stauncher brother, the TE27, while not a cheap proposition was more readily available. But what defines the TE27 from its more pedestrian sib? The early 1970s was a boom time for the Japanese motoring industry, particularly in terms of performance and motorsport development. That's partly because Japanese automotive product was finding its way into international markets, and some pretty special developments were taking shape from the land of the rising sun.
One such development was the foray into twin-cam engines by Toyota in a mass production capacity. Prior to the 1.6-litre 2T-G and 2.0-litre 18R-G (a G suffix on an engine code refers to a wide valve angle twin-cam), Toyota's offerings revolved largely around OHV engines, although the somewhat exclusive 2000GT sports car of 1967 did offer an OHC 2.0-litre six. In 1970, the freshly developed 2T-G ushered in a new era for Toyota. A variant of the pushrod 2T engine, the 2T-G offered a twin-cam head developed by Yamaha.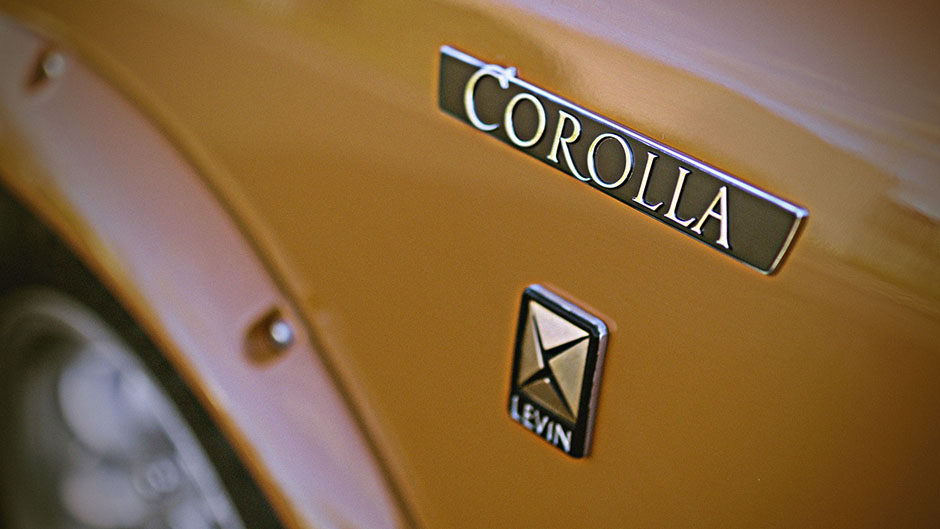 Outwardly, the wide rocker cover evoked the Alfa Romeo engine visuals of a similar period, no doubt assisted by the pair of 40mm Mikuni-Solex side-draft carburettors slung from the driver's side. The 2T-G pumped out a handy 115hp in its initial form, though later iterations complying with emissions regulations would suffer. When plonked between the chassis rails of the TE27 Corolla and TA22 Celica GT, the early 2T-Gs earned a typically Toyota reputation as revvy, reliable powerplants.
So where the Joe-average Corolla coupe selling new in New Zealand featured a humdrum OHV powerplant, the TE27 had the mighty new 2T-G twin-cam, and double the horsepower. While this special engine was, to all intents and purposes, a Japan market-only variant, Stephens happened across his rare pre-facelift Corolla Levin model in the most unlikely of places, and it had an interesting history too.
An Australian car sales website turned up a fully restored TE27, at what Stephens says was "a fully restored price." Regardless, there it was. A TE27, sharing identical coke-bottle two-door lines to the KE25 SR Chris had pined over as a teenager. Radiant in orange (one of the two iconic TE27 paint schemes), this example was also a rare pre-facelift car. Chris had to have a look for himself and was soon winging his way across the ditch for a critical inspection.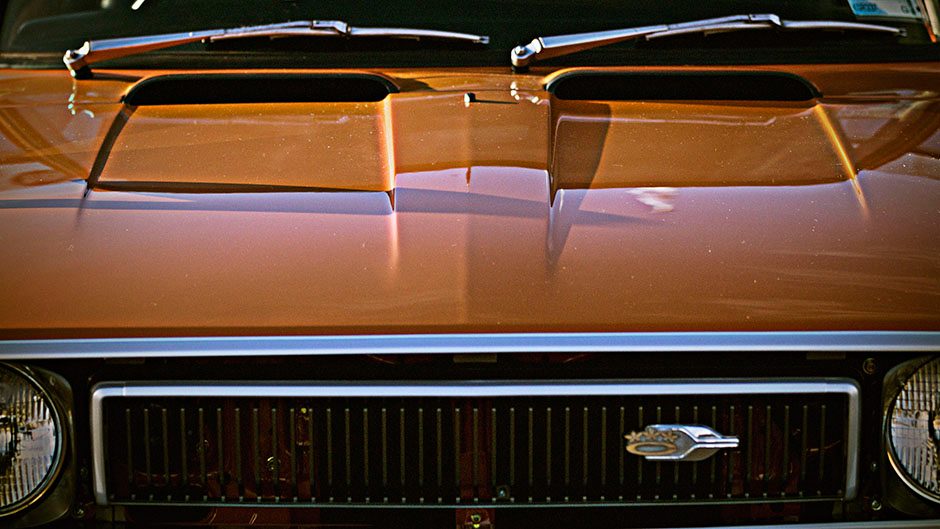 Imported in 1972 by Australian Motor Industries (AMI) alongside a similarly specced Celica GT, the intention for the early example was as an evaluation vehicle to ascertain suitability for a market Down-Under. For reasons only known to AMI the twin-cam Corolla wasn't destined to be sold new in Australia. Before it vanished into relative obscurity, Wheels magazine's Rab Cook managed to steal the car away for a brief road test. In period, the Corolla's eager 1.6 litre with the 7000rpm redline impressed – although not touted as a torquey engine by any means – and equally endeared itself with a slick-shifting T50 five-speed. Noted was a more aggressive suspension arrangement over the garden variety Corolla, comprised of stiffer spring and damper values.
Regardless of journo impressions past, Stephens did his level best to act disinterested. He even flew back home, without striking a deal, and then attempted to forget the Toyota once back on Kiwi soil. Two weeks later a deal was struck, and Chris had the Levin on the water destined for home.
Complied and ready for use on Kiwi roads, the TE27 presents a fine example of the shift toward restoration of early Japanese cars. Defined outwardly by the OEM bolt-on flares, TE27-specific taillights and Levin badging, the early car exhibits a simpler frontal treatment, perhaps not as recognisable as the later "pointed" Levin front end but interesting because of its rarity. The 2T-G sits as it should between the strut towers, crinkle-black cam covers and twin sidedrafts present and correct as per it's 1972 manufacture date.
Inside, the TE27 features its own exclusive touches. Black vinyl abounds, as per the style of the time, with a tacho dash, a competition-style steering wheel and a trio of auxiliary gauges front and centre. In fact, the car is just like it would have been when new, save for a set of period-style 13-inch Minilite wheels. With a handful of "sunny day-only" miles on the car, Chris' driving experience echoes that of the testers in period. It has stiff suspension, with an engine ready to rev, a characteristic markedly different from his 240Z of the same era.
"You feel like you're driving something special," were some of the parting words following our shoot. While the driving experience may be special due to the exclusivity of such a car, putting the foot to the floor and pointing the TE27 down one of his favourite roads is surely intoxicating in another way. It's the realisation of a schoolboy fantasy, and another string to his bow of keeping the 1970s alive and kicking.