Born in the USA, hot-rodding is responsible for just as many tales as any famous racecar. History imbues itself within these four-wheeled artifacts in some extraordinary ways, as the yarn behind this 1940 Ford Deluxe Coupe proves.
The thing about old cars is that they have history. So it stands to reason that the more times an automobile has orbited the sun, the more "history" it possesses, right? But simply being old doesn't make them interesting and so very few cars possess the intangible and intriguing qualities imbued by provenance.
Patinated paint, tarnished trim and feathered wear on a steering wheel can reflect decades spent on the road but genuine provenance comes, by the very definition of the word "from the chronology of ownership, custody or location of a historical object." It's most often associated with race cars by virtue of their famous drivers and a string of wins. But competition isn't a synonym for provenance. Famous names, associations or even simply being in the right place at the right (or wrong) time can ensure a vehicle transcends the sum of its parts.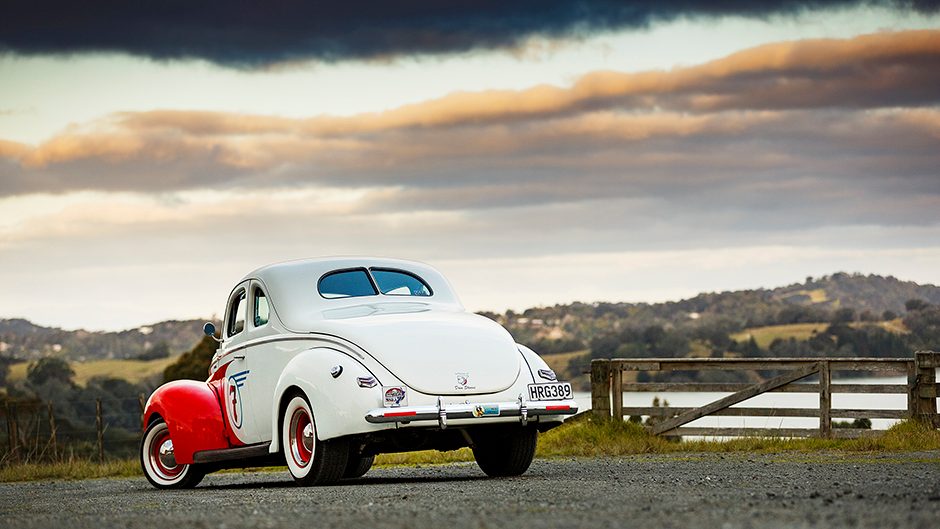 These are cars that stir emotion, that evoke nostalgia and ignite desire. Coming across this traditional-style 1940 Ford Deluxe coupe, the deep-and-meaningfuls surrounding this 'old car' aren't immediately obvious. It has an understated aesthetic that eschews the glamour and millimetre perfection of a contemporary build or period show car. There's a realness to it, demanding further inspection and a chat with the owners to get to the bottom of it all.
Current custodians, Charlie White and Judy Lyons, are both longtime hotrodders. White has a rich hot-rodding past. It's a petrolhead legacy spanning decades, with a specific interest in steel from the US of A, although beginnings behind the wheel were somewhat more modest. "I mean, I liked American cars before I even got a license, but my first car was a Humber 80 or something, because I was young and broke," White laughs.
The English stuff didn't stick around too long however. A brief excursion across the ditch, before returning to NZ in 1976 saw White fork over the dough for his first 'Yank tank,' a Ford Fairlane. "That's where it all started. I've had dozens and dozens of American cars since." For a young bloke into cars at the time, White's tyre-smoking youth was more a lifestyle than a hobby. "We'd drive all over the North Island for meets, sink a few too many beers, sleep in the car. There was none of this staying in hotels or anything. We'd just fall asleep in the car. You made sure you took a pillow so you could lean on the window!"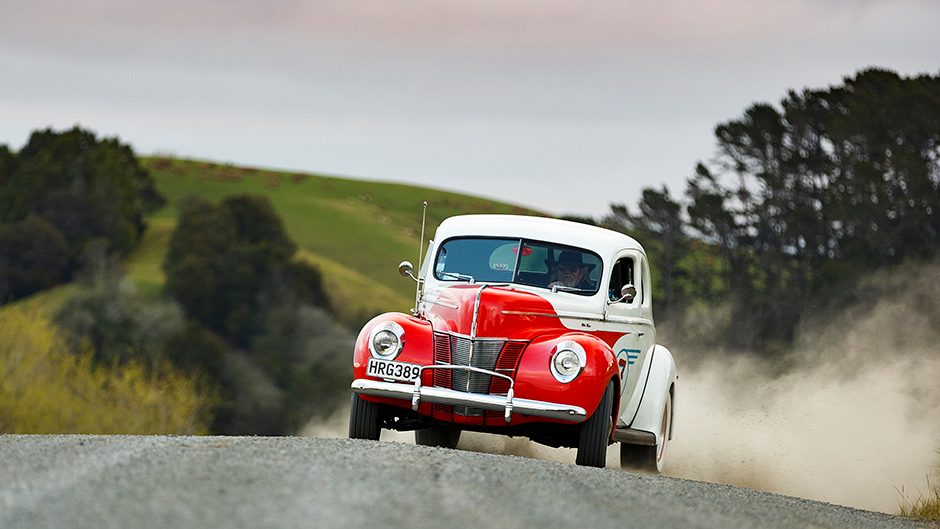 So-called project cars were daily drivers, commuting to work bleary-eyed behind the wheel of 427 cubes with a manual 'box. Twenty years young and bulletproof, with 500 horses under foot. Sometime in the late 70's, White recalls heading to a rod run down Taranaki way. "We didn't know where it was and we got lost," he grins. "It was a National Street Rodders [Association] meet, sort of an outlaw group. Bring ya car and just party!"
Four of them piled into White's Mercury Cougar, and subsequently missed New Plymouth by "100 miles," ending up in Bulls. Nonetheless they made it, finding themselves immersed in this new culture, rich with camaraderie and were introduced to scores of new mates.
To this day, White's still a member of the NSRA, an offshoot of the US-based group of the same name. With two or three runs every year, the NSRA congregate for one big annual meet. Here the focus remains on having a blast with American iron where there is more of an emphasis on the social aspect rather than shining every nut and bolt.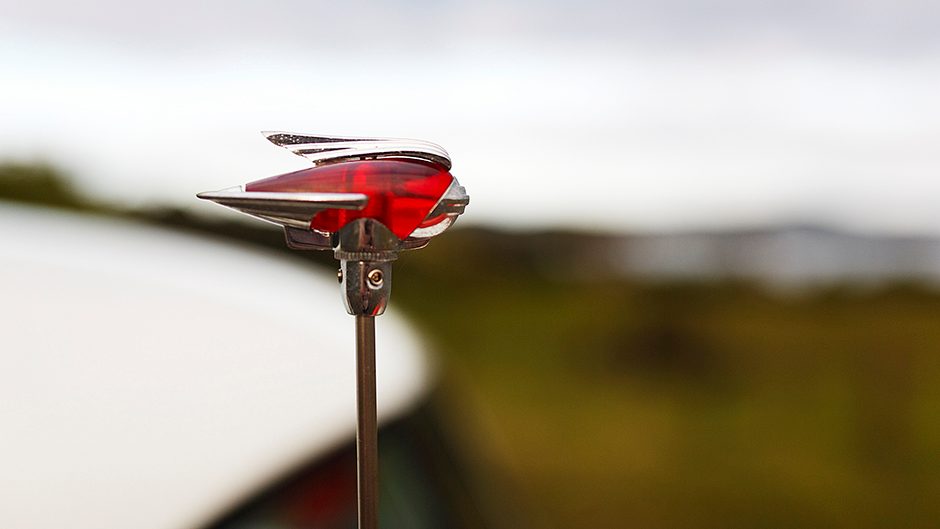 "We've got three generations of street rodders now, with some of the grandkids getting into it," White explains. "It's basically the same as when we started 40-years ago, but maybe not as wild!" The 1940 Ford coupe then perhaps exemplifies the sort of ethos embraced by both White and the NSRA collective. It stands out among the shiny fibreglass "hot rods," visibly wearied by the sands of time, something White explains fits him to a tee.
"I own 'em to drive, I've never been a show rodder. It's not about whether other people like it or not to me; we're all individuals, some people like Chevs and some people like Fords." That said, he points out that at heart, he's a bit of a Chev man, particularly when it comes to the engines.
White had been looking for a '40 Ford coupe for around a year. Although it shares its shell with the '37 through '39 models, there are a few specific characteristics that appealed including the 'corporal stripe' tail lights, the first year for fully hydraulic brakes, conventional-style wipers and a dash that he reckons is a bit more pleasing to the eye.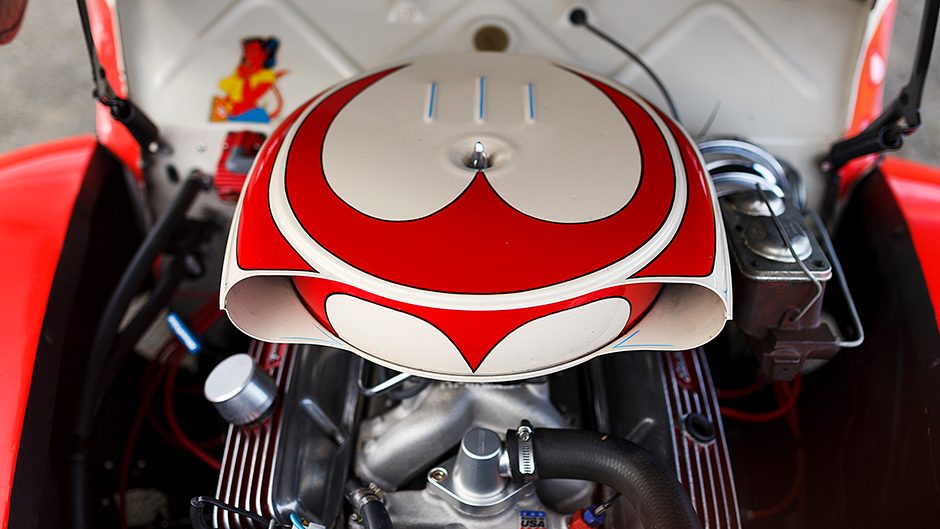 A Craigslist find, the coupe was the unsuspecting victim of a US-based hot-rodder's garage cull. The guy was shifting to Arizona, and had listed the car with a Betty Boop-attired model posed next to it as the header image. Adorned with the same colour scheme as it wears today, White thought "that's actually not a bad old car," not to mention being the right price. Negotiating via email proved fruitless however with no reply. White's old mate, US-based Squeak Bell (of Kiwi Konnection chassis fame) ended up initiating contact, checked out the car, inked the deal and soon enough the coupe was sailing its way Down Under.
Advertised with a 327ci small block Chev and Turbo 350 trans, the coupe arrived instead with a 305ci and a Turbo 400. So a win in the trans department, but a loss under the bonnet. However it had an 8-inch Ford rear and the popular Mustang II front suspension and steering arrangement. While the coupe had been hot-rodded – and had been for a while – it wasn't initially evident just how rich the credentials of White's newly acquired '40 Ford were.
The clue should've been in that Craigslist photo with the Betty Boop look-a-like. Built in the 1980's, the coupe's initial mastermind was a Californian named Dave Stevens. Stevens' claim to fame is not so much in the world of street rods, but in the field of illustration. Stevens' body of work included storyboarding for George Lucas, as well as Michael Jackson's Thriller music video. Despite such accolades, it's Stevens' fascination with eras past that put him on the map.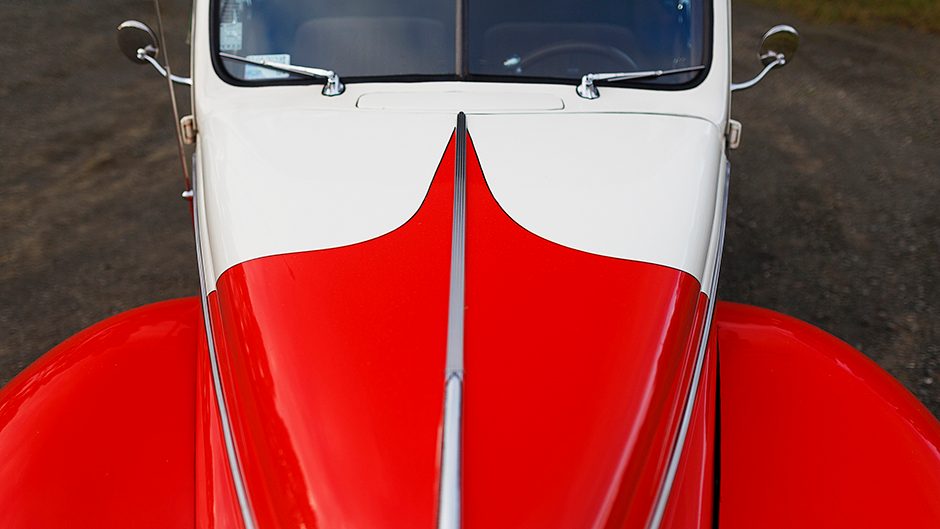 His admiration for and friendship with 1950's pin-up Bettie Page, often referred to as "the Queen of Pin Ups," led to many famed illustrations of, and ultimately friendship with, the highly influential model. In fact, Stevens was known to drive Bettie around in the coupe in her later years, perhaps as a means of wistful nostalgia, such was their close relationship.
Nineties movie buffs will know The Rocketeer, a character based on Stevens' comic illustration dating back to the 1980's. It revolves around a stunt pilot who stumbles across a rocket-pack inadvertently, and tries it on for size. A recurring image throughout The Rocketeer is the Gee Bee Model R, an infamous racing aircraft of the 1930s. Although not officially documented, the scalloped paintwork on the coupe mimics that of the Gee Bee.
The connection with American cultural royalty doesn't stop there however. Along the edges of each scallop, is a thin hand-drawn pinstripe, signed-off with only the word "Itchy," just rear of the engine cover on the drivers' side. It's an early example of Tommy "Itchy" Otis' pinstriping work – perhaps during his time under the tutelage of Tommy "The Greek" Hrones, one of 'kustom' cultures most influential and celebrated pinstripers.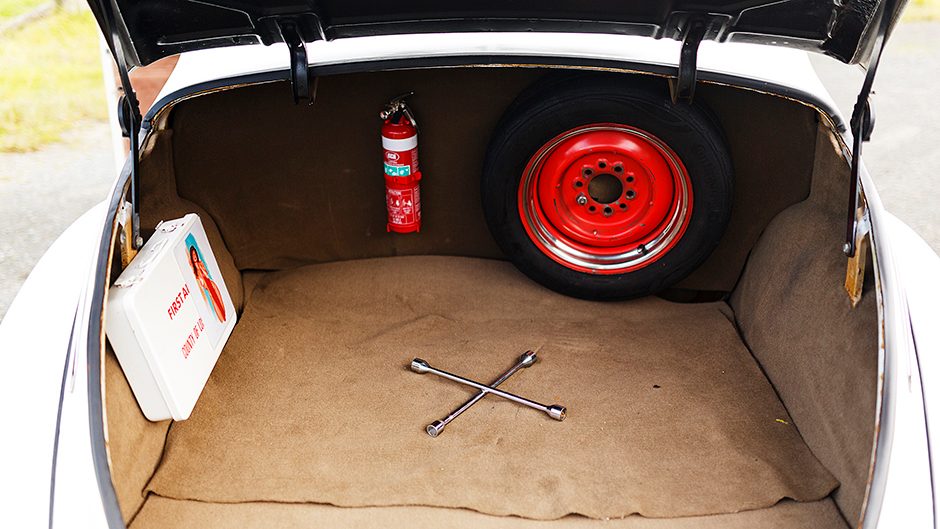 It's just another layer in the story of this Ford, pieced together through offshore contacts, internet connections and scant tidbits of information yielded by people who knew Stevens. While Stevens' passed on in 2008, it's a curious fact of life that an obscure piece of his legacy lives on, half a world away, in a rural Rodney shed.
That's provenance, an absolute authenticity that the Ford puts forth, even if the car, by White's own admission "isn't perfect," thanks to a lifetime of putting grins on faces. Every imperfect panel gap tells a story, as do the myriad faded stickers peppering the windows and interior of the car. Bonneville Salt Flats? You bet it's been there.
With White at the helm, the tapestry's sure to be embellished further. Already clocking up miles across New Zealand, the coupe now runs a souped-up small block crate motor, with an easy 420 ponies through the skinny whitewall tyres. "It's frightening in the wet," White exclaims although the recent addition of a Jaguar front end and a True-Trac LSD diff center at least maintain the ability to point the coupe where he wants it.
From coast to coast, cape to cape, the '40 Ford is likely to see its fair share of action, soaking up NSRA events. And as the script and stylised Rocketeer drawing on the bootlid state, doing it in memory of Dave Stevens, the American progenitor of one of the 'realest' Ford coupes on Kiwi shores.