Luxury SUVs are busy stealing sales from expensive sedans so something needs to change. Volvo's new S90 Inscription T6 bucks the luxury trend with a starting price under six figures. How does it stack up?
In case you're unaware, Volvo by 2020 envisages that no occupant shall be killed in one of its new cars, barring those actually trying to harm themselves. It's a bold initiative but it emphasises the commitment the company has to safety. If that's a big priority for you, Volvo's your brand.
They're known as the safety-first company and their latest creation, the S90, is no different. It introduces Pilot Drive, which is yet another stepping stone to autonomous driving, the active cruise and lane keeping functions allowing semi-autonomous driving at speeds up to 130km/h. It also helps prevent the car running off road, and if it fails to achieve that mitigates injury from an off-road excursion.
There's a whole lot more new safety stuff besides that. For example, the car is now smart enough that it can detect big animals in the far field (they suggest elk, we'd probably worry more about wandering stock), along with cyclists, pedestrians and the like, warning they're out there and to beware. Active LED headlights will help you see them earlier too.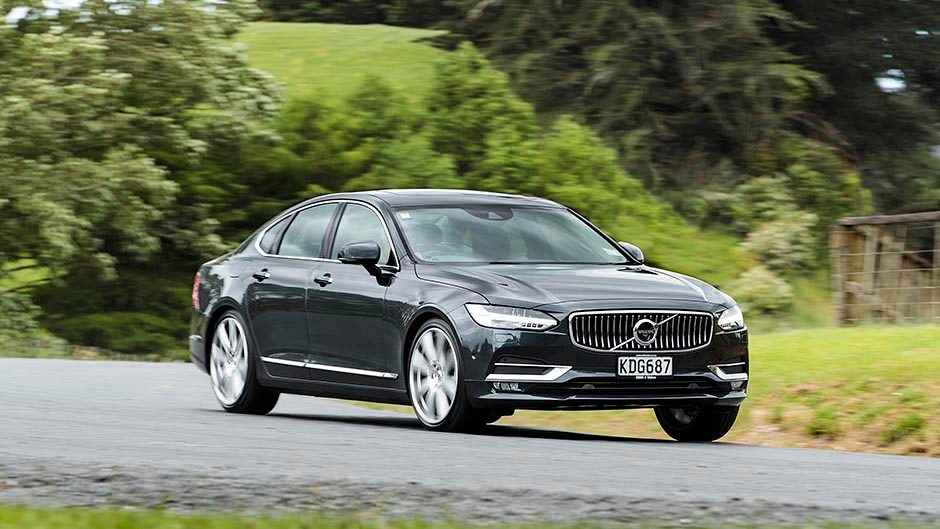 The S90 is part of an $11billion dollar investment programme initiated by Chinese owners, Geely, to help make the car more competitive with the likes of Audi A6, BMW 5 Series, Mercedes E-Class, and Jaguar XF. Helping put the Volvo on a strong footing is pricing for the S90 Inscription that kicks off at $99,900. Its predecessor S80 was $112k.
By contrast, the A6 and 5 Series line-ups begin at over $120k. E-Class and XF both kick off at under $100k but S90 rival models cost similar amounts to the other Euros already mentioned. So the Volvo has a proper fiscal advantage, especially with its standard all-wheel drive.
However, the car we drove came loaded with cost options, stretching the price to $119,625. Included were heated seats (should be standard, $450), electric sunroof ($2915), head-up display ($1890), 360-degree camera ($1590), upscale audio by B&W ($4900), eight-spoke alloys ($1900) and other bits.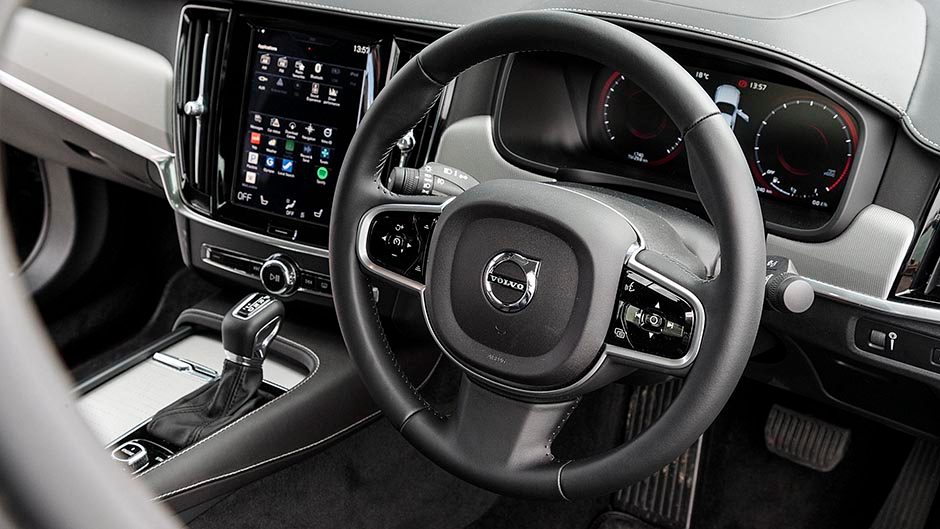 So what exactly do you get for your $99,900? Starting with what's perched atop the front wheels, where there used to be a V8, there now lives a four-pot 2.0-litre four, enlivened by a turbo and supercharger. The 4.4L V8 made 232kW and 440Nm, and had a 0-100 sprint time of 6.6sec. Despite it being half as big, the T6 mill manages almost exactly the same peak power (235kW), and its 400Nm of torque is developed at 2200rpm, half that of the atmo engine. As a consequence, it gets off the line quicker and is rated to hit highway speed in just under 6sec. Fuel consumption, which was formerly a gulping 11.9L/100km, falls to a claimed 7.2L/100km.
The chassis is new too, the same as the XC90's with which it shares 70 per cent of its parts. Dimensions are similar to those of the SUV, the wheelbase the same. It's longer and wider than the S80.
Despite being bigger, it's slightly lighter than S80 because of the widespread use of aluminium and high strength steels. Its weight split is different, nearer to 55/45 than the 62/38 division for the former car.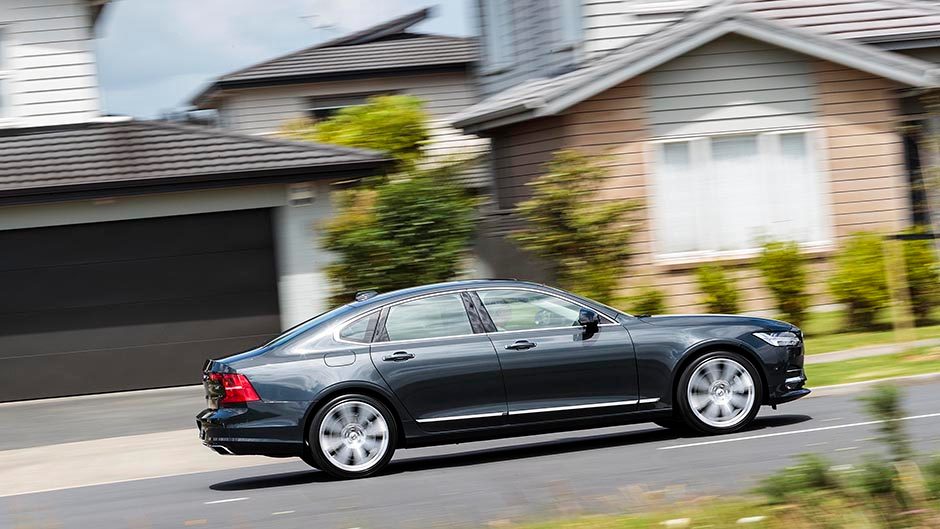 Looking good then? Sure, more stately too. The front mask is bold, with its shapely concave grille, and the lights dramatic with the 'Thor's hammer' shape to the driving lights. It looks long and low, and is a dramatic update on the anonymous S80.
While the exterior is pleasant, the interior is even finer, with lots of XC90 input. There's the iPad-like central screen that's actually somewhat trickier to fathom than the Apple device, but once you've set things up as you'd want them, it's simple enough in use. We turned off all the autonomous drive stuff as it messes with steering. Sat nav presented between the tacho and speedo is distracting so we turned that off too.
Seats in the S90 look amazing and feel the same, so supportive, easily adjustable, and you're seated at about the right height. Those in the back are pampering, almost limo-like, with acres of stretch room. They help make this a swell riding vehicle, though the standard suspension does its bit as well. The ride in the S90 we only ever found to be plush and accommodating, though it's not sloppy or loose like some "Comfort" settings are; there's always a degree of control, and even over poorer B-road surfaces the handling is acceptable if left in the limo setting.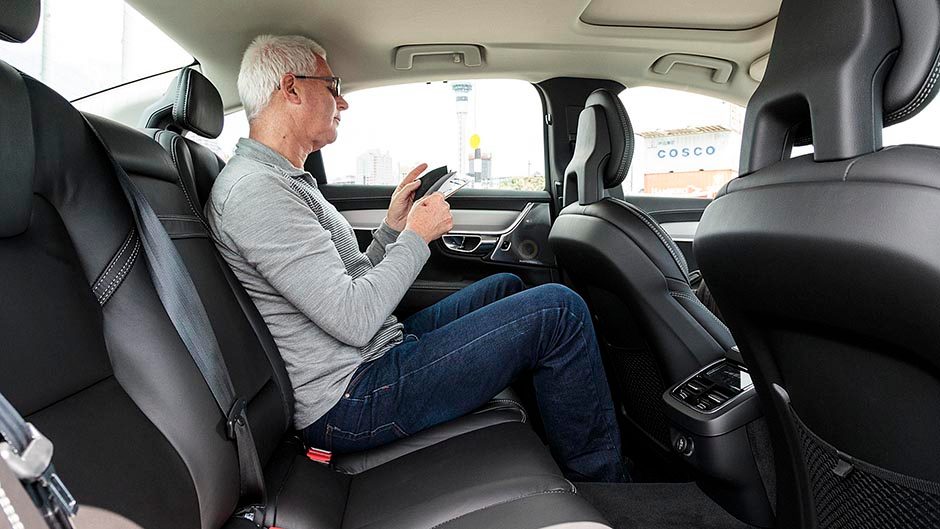 The control for this, to scroll between the various modes, looks good but is functionally awkward. On more interesting roads, "Dynamic" offers even better body control without the ride going to rack and ruin. For a luxury car, Volvo has got the mix just about spot on.
So how does this seemingly incongruous mix of 2.0L four-potter in a luxury car actually function? The sound is only ever that of a four, overlaid with a hint of whirring from the supercharger, so it's a touch out of keeping with its luxury car status. Despite all the charging, it prefers a few revs for best performance too. The competition, in the main, uses six-cylinder power, a bit more dignified, what? Sure, but the Volvo doesn't cost as much.
Does it lose much in translation? Well not for performance, being a half second quicker than the old V8 to 100km/h. It's the same amount quicker on the overtake as well, hitting the mid-threes where the V8 never broke through four seconds. And we didn't think of that as being slow. It's therefore at least quicker than most of its more expensive rivals. The company quotes a best figure for a 100-0 emergency stop of 35m. They're right on the money, our best just a few cm shy of that.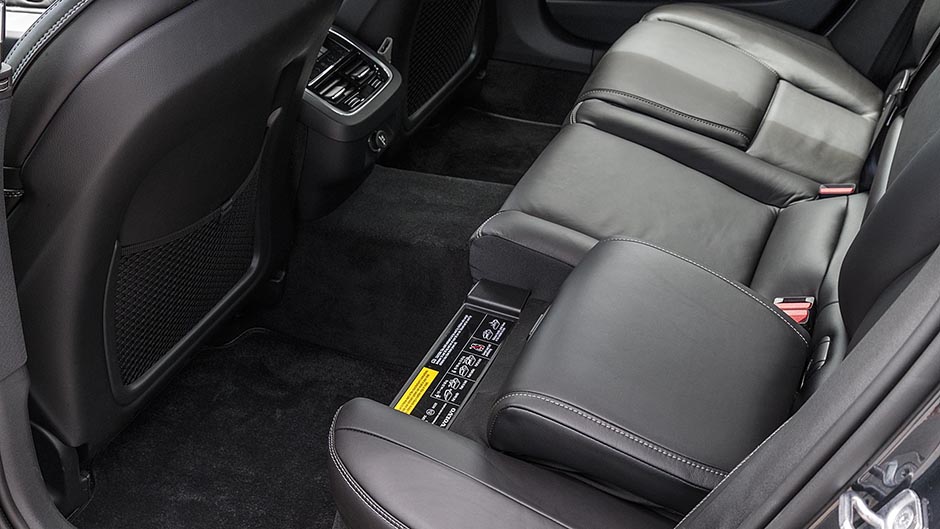 We generally like the idea of twin-charger engines more than the actuality, and that's partly how this goes too; for really vibrant overtaking acceleration, the tacho needle needs to be above 4500rpm. Otherwise, upshifts occur in the twos in town, and from 3000-4000rpm you'll keep ahead of the traffic handily. Away from the stop lights, there's a microsecond delay as the engine refires, and then it's off like a shot.
Forget about using paddles – there are none – and the M/S gate is oriented back to front so nix on that too, but the eight-speed auto responds well to the throttle, which is fortunate. There's really quite a marked kick in performance from the midrange on, and it revs eagerly to 6300. Fuel use is acceptable too, with a low of 6.5L/100km to a high of 11.5L/100km, the latter similar to the average of its V8 predecessor.
On typical Kiwi roads this is a vastly competent thing, as you'd expect being AWD with adaptive damping and quite tidy weight split. Holding speed through corners is no great issue, and it's neutral enough too. We didn't quite gel with the steering which has a snap-back-to-centre feel about it, and is a bit reluctant to move away from the straightahead, though then turns quite convincingly.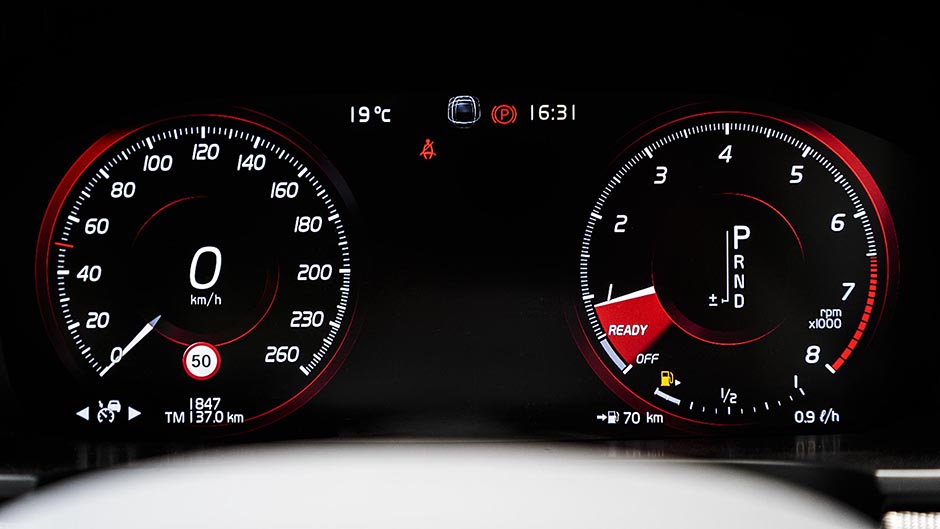 It also displays odd weighting, and not much sensitivity off centre, but otherwise delivers a convincing dynamic performance. So it goes. Back in town, those steering attributes are much less noticeable, but size is so it's handy having all the parking aids in the world. And ditto the Pilot Drive for when the road is log-jammed and progress is halting.
Overall, Volvo has a pretty convincing offering in its new S90, unsurprising given the XC90 scooped our COTY award in 2015. As is typical of the brand, it's a value and safety story, but the S90 doesn't want for performance or style either. Dynamics are also impressive, steering foibles aside. The hard part will be convincing Kiwis that a luxury sedan is still a valid alternative when there's a luxury high rider for similar money (+$10k) right alongside in the form of the XC90. If both are too big, a new XC60 is due at the end of the year.
| | | | |
| --- | --- | --- | --- |
| Model | Volvo S90 T6 AWD Inscription | Price | $99,900 |
| Engine | 1969cc, IL4, SC/DI, 235kW/400Nm | Drivetrain | 8-speed auto, all-wheel drive |
| Fuel Use | 7.2L/100km | C02 Output | 165g/km |
| 0-100km/h | 5.99sec | Weight | 1862kg |