Volkswagen has revised its Tiguan for 2021. Is it still at the pointy end of a very busy pack?
There's a hallowed ground in car sales when you build up a nameplate to the point it becomes something people buy without any forethought, knowing that they're getting something good. In spite of the busy and complex hellscape of the mid-size crossover segment, the Volkswagen Tiguan has managed to become this car. Dieselgate Schmieselgate, the Tiguan has soldiered on to be a local success story for the brand, with little resistance. The last-gen model was touted as something that dealers would sell as quickly as they received it, and things don't appear to be letting up with the arrival of a new refreshed model.
Designed to echo the more squinted design language of the Mk8 Golf and Veedub's upcoming electric offerings, the MY2021 Tiguan is really just a facelift, not a revolution. Four trims are currently offered here, starting at $46,990 and capping off at $68,990. Our tester, a $55,990 front-driven 1.4-litre TSI R-Line, sits somewhere in the middle. This will likely be the volume seller in the pack, with its more accessible pricing, feature set, and exterior styling that looks almost exactly like that of the flagship R models — down to how the R-Line badges no longer have 'Line' on them (learned that cheeky trick from BMW, I see). A fully blown Tiguan R is due later this year, as is the three-row AllSpace follow-up. The $55k price-tag allows the R-Line to flex its Euro heritage and pseudo-premium muscles over more mainstream offerings in the price bracket. For a lot of family wagon buyers, the Tiguan sits at a perfect crossroads between value and quality, with just a hint of extra exclusivity created by a German badge.
Volkswagen's new corporate face has ruffled a few feathers among the chat rooms and social media comment sections, particularly in its application on the snout of the Golf. To my eye, the Tiguan wears the new look, slimline wrap-around headlights underlined by four L-shaped DRLs and oodles of chrome, more convincingly. Its taller grille and less bulbous headlights are more mature and fitted. Even the R-Line's gaping secondary mouth looks resolved here, such are these times of car grilles getting bigger and bigger.
Changes are less obvious at the back; new taillights sit on either side of a new fully spelled out 'TIGUAN' emblem. Everyone is doing this these days, from Land Rover to Skoda to Haval. Hard to tell if it's a flash-in-pan styling fad or here to stay.
As far as the platform is concerned, things are relatively unchanged. It still utilises Volkswagen's proven MQB architecture, which also underpins the Golf. It's a bit of a faithful old friend for Autocar headquarters given the amount of cars we've tested with these familiar bones underneath. Lob it into a bend or two, and the Tiguan is resilient to body roll and other traditional SUV foibles. It'll eventually ebb towards understeer if you lean on it too heavily, but it's worth remembering that it's an SUV, not a hatchback, with almost 200 extra kilograms between the wheels.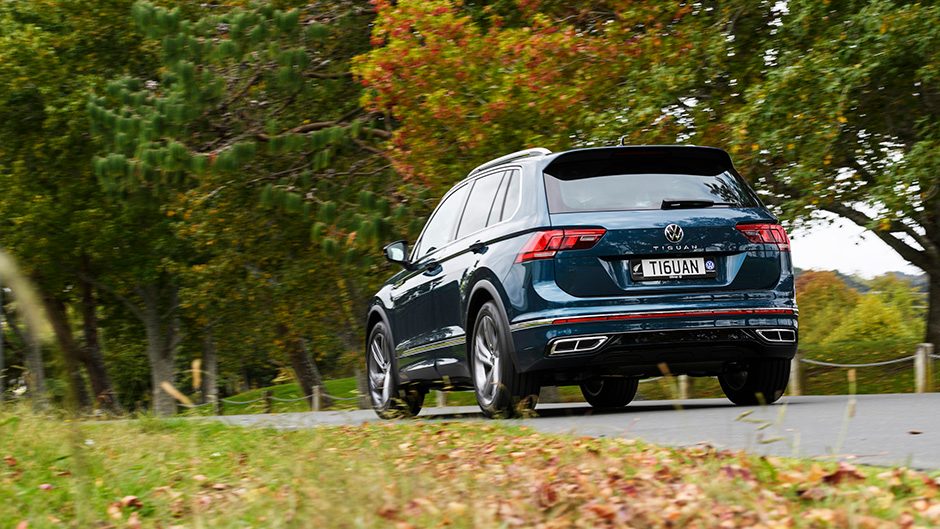 More nuanced and curious is the Tig's engine and drivetrain. The 1.4-litre turbofour and six-speed DSG are carryovers from the last model, continuing the brand's 1.4 2WD R-Line lineage. Power and torque are rated at an unchanged 110kW and 250Nm. Volkswagen claims consumption of 7.6L/100km, while I regularly managed in the ballpark of 10L/100km with a best return of 9.5L/100km. Peak torque landing at just 1400rpm is the diminutive donk's greatest trait, ready to disarm (or at least mildly surprise) cynical passengers. Admittedly the other 2.0-litre models set to land later this year, packing 132kW/320Nm and 162kW/350Nm, would still get my nod. But the 1.4 is a commendable performer … with a catch. It's exclusively paired with a transmission that's showing its age. This isn't simply a knock of the six-stage DCT's lack of cogs relative to other Volkswagen products (2.0-litre Tiguans get a seven-speed). It also carries a lot of little quirks in its operation that age it. Even in the lower ratios the gearing feels somewhat long. Most noticeable is a lag in downshifts at low speed, often playing out just before taking sharp corners. It's not 2021-level intuitive, a fact underlined by a brief subsequent spin in the new Golf with its more current eight-speed auto.
Speaking of the inevitable Tiguan vs Golf comparisons, we have to get to the interior. Much of it is unchanged from the last one, meaning it's still very roomy, silent on the move, and built like a brick house of you-know-what variety. It also means that the inoffensive, somewhat utilitarian dashboard layout remains … a far cry from the space-age looking future-fest in the Golf. The Tiguan's cabin changes are limited to the steering wheel, 10.25-inch digital cluster, updated infotainment, and air conditioning controls. Oh, there's a new gear knob too.
The steering wheel is Volkswagen's jewel in the crown when it comes to the Tiguan update. The spokes at nine and three don't come with traditional buttons, but rather a pair of haptic feedback pads. Either apply a certain amount of pressure to the feature on the wheel you want to use or swipe across it, and it will activate while sending a physical 'click' to your fingertips. If I'm honest, haptic feedback has never been my cup of tea. And this is no exception. If you're not paying attention it's easy to accidentally activate various features while shuffling your hands on the wheel. There's something slightly jarring, too, about using a traditional touchscreen in one moment, then in the next adapting to haptics. I also noted that, oddly, the 'swipe' functionality in the Golf felt more polished. Your results may vary, and those who love the latest and greatest tech may get a kick out of it.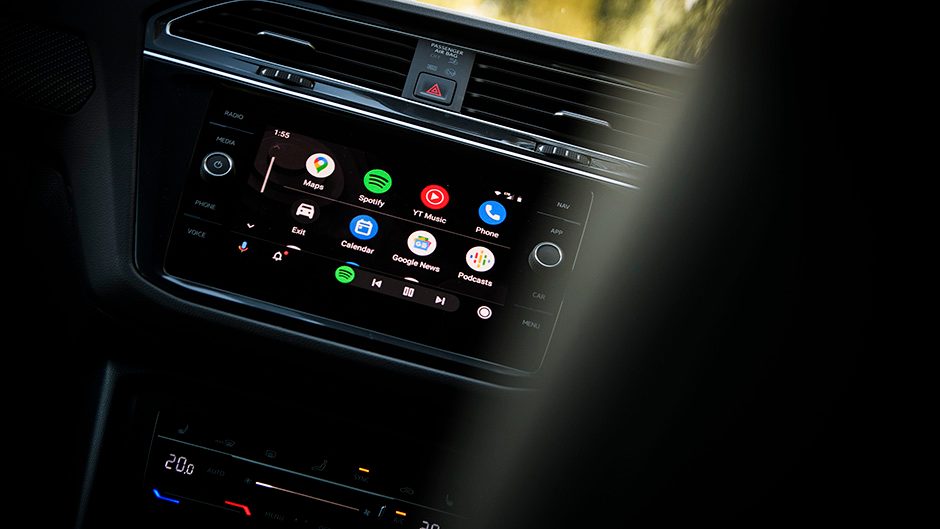 More successful is the updated infotainment (all models get an eight-inch screen, while the AWD R-Line gets a 9.2-inch version). Volkswagen is known for simple, logical tech interfaces (or at least used to be) and this is no different. The best addition, though, is wireless Android Auto and Apple CarPlay. While some car brands have struggled to make wireless connectivity intuitive, Volkswagen has done a good job of it. Once connected the system is quick and can operate apps like Google Maps with aplomb.
Still, it's the fundamentals that are the best bits. There's fabulous legroom and headroom for rear occupants, making this one of the best SUVs in class for hauling adults (reclining second-row seat backs the icing on the cake). The boot is significant, too, holding 615L with the seats up and 1655L with them down. Standard equipment levels are high (nice to see the Germans turning over a new leaf), with three-zone climate control, an electric tailgate, and the aforementioned haptics standard in all models. The base gets almost every available safety feature, too, skimping only on outer rear seat airbags, hill descent control, and a 360-degree camera. Impressive.
It would be callous to say that the Tiguan's success is simply down to the market's unquenchable SUV thirst. A little bit like the Toyota RAV4 Hybrid, it really is the right vehicle at the right time. Aspirational, well made, practical, and affordable (ish), the new Tiguan is a winner. Even with those blasted haptic buttons.
| | |
| --- | --- |
| Model | Volkswagen Tiguan TSI R-Line 2WD |
| Price | $55,990 |
| Engine | 1395cc, IL4, T/DI, 110kW/250Nm |
| Drivetrain | 6-speed twin-clutch, front-wheel drive |
| Fuel Use | 7.6L/100km |
| C02 Output | 172g/km |
| 0-100km/h | N.A. sec |
| Weight | 1411kg |