Fact: kids love vans. Our gremlins get particularly excited when one comes along on test. Turns out they like sliding doors, especially powered ones, and seats they can fiddle with. And they reckoned this van looked cool.
Volkswagen has recently updated its Transporter range, which means a new Multivan is now here. That's the version with all the creature comforts and a cargo area full of seats. The rear is where it's at in the Multivan, well at least if you're a kid. Entry is via twin powered sliders, and these are the godsend of a van-based family car, allowing easier loading in tight carparks. And the driver can control the entry and exit from the comfort of their seat thanks to remote buttons up front.
There are two rows of seats in the rear with a pair of individual chairs sited on sliders. These can either face forward or be swiveled around to face those in the rear row. Each can recline, has a three-point seat belt, Isofix points, a pair of arm rests and a storage drawer underneath.
There is a three-seater bench at the back, but with only two Isofix spots. The whole unit can slide forward to increase boot space, though the seat back is a little upright and doesn't recline. You can remove the two centre seats, slide the bench right forward and then you'd have a massive boot for the family getaway. This is dependant on having 'only' three kids however. The seats slide easily, locking into place in almost any position along the rails in the floor. There's a tray table contraption incorporated into the mix. It pops up when needed, unfolds to present a flat surface, swivels around for added versatility and has drink holders and all that jazz. However, it lacks a certain German robustness, which leads us to think the kids would eventually break it. We only spied two USB ports in the rear if your passengers are forever tied to devices. As mentioned, the sliding rear seat allows you to adjust the boot space from not much to plenty in order to test the Multivan's quoted 676kg payload.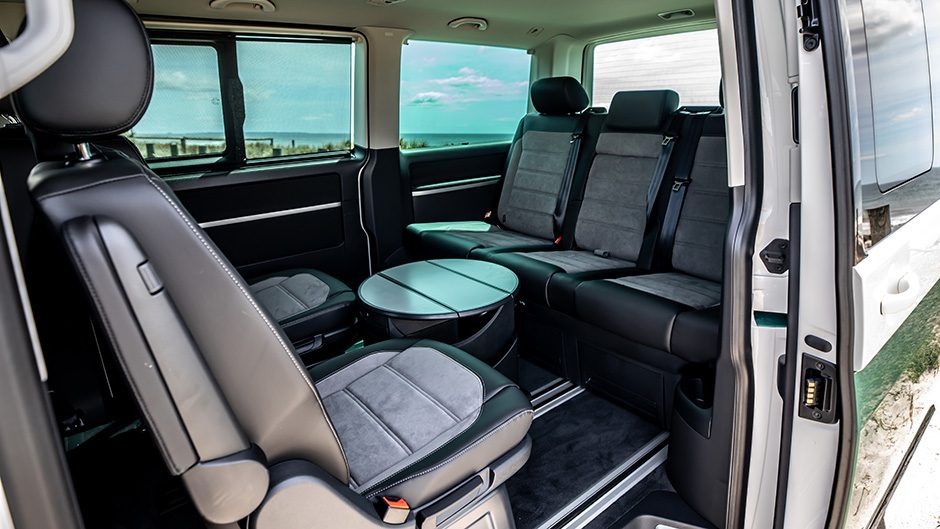 This might be van-based but the trim is pretty swell up front. There are a few hard points, but it looks rather nice considering, especially with its digital instruments and eight-inch touchscreen. The safety minders are present, there are lots of airbags and there's adaptive cruise control, though it won't handle traffic queues for you. The storage solutions up front are minimal but the lack of a centre console makes for a walk-through cabin. Its driving position is appropriately elevated and, given you sit that bit further forward in a van, it allows for great vision at intersections; you can actually see past all those SUVs that usually block your view.
The Multivan's best attribute is a sorted ride quality while the progress is also hushed. Just because it's a van doesn't make it cumbersome. On the contrary, the steering is easy going, as is the turn around. It has big side mirrors, and front and rear parking sensors, though the rear view camera lacks those handy dynamic backing guides which show you just where you'll end up.
The Cruise model featured is powered by a 2.0-litre 110kW/340Nm turbodiesel. This churns through a seven-speed twin-clutch trans to spin the front wheels. There's some turbo lag from idle, made to feel worse by having to set 2300kg into motion. You learn to give the throttle a decent stab initially to get it pumping before easing off when the torque does arrive to save the traction control the hassle of quelling the wheelspin.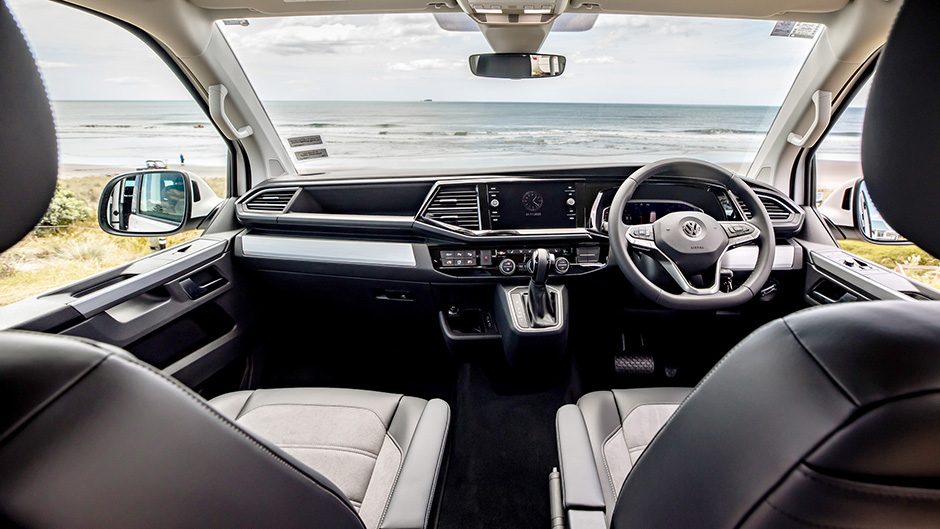 Once moving, the low end torque is readily available, being served up from 1500 to 3000rpm. It will tool around in a tall gear to save fuel, but give the accelerator a decent seeing to and the downchanges are quickly summoned. The trip computer's long term average was reading 8.3L/100km.
There are four Multivan models but we think this Cruise represents the best 'value' if a price tag of $79,500 can ever be deemed that. It has a far more replete specification than the $75,500 Comfortline model, with most of the optional extras available featuring as standard on the Cruise. However, you can opt for an AWD Comfortline ($82,000) whereas Cruise is FWD only. The Highline AWD is $98,000, comes with a 146kW/450Nm engine and has even more gear. The grunty motor is a $4000 option for Comfortline buyers too.
Cruise can tow 2500kg braked, a 70L tank gives a big touring range and it'll go 40,000km or two years between oil changes. It's all covered by VW's 5yr/150,000km warranty too. The real bummer is that the flash paint is a $2500 premium but without it the Cruise is just a van, and one that won't garner the same admiring looks for the others in the car park as a bright, two-tone example.
| | |
| --- | --- |
| Model | Volkswagen Multivan Cruise |
| Price | $79,500 |
| Engine | 1968cc, IL4, TDI, 110kW/340Nm |
| Drivetrain | 7-speed twin-clutch, front-wheel drive |
| Fuel Use | 6.6L/100km |
| C02 Output | N.A. g/km |
| 0-100km/h | N.A. sec |
| Weight | 2324kg |