Much VW hype currently centres on EVs but the Golf soldiers on, now with enhanced tech. Of the two newcomer models, we drive the top R-Line.
What used to be a momentous occasion, the launch of a new-generation Golf, isn't quite the event it once was. Everyone in Europe is more focused on the release of an electric I.D model these days. And here, it's the latest Tiguan.
Nevertheless, the formula that has made each successive Golf better than its predecessor remains; an interior that leads the pack, in this case chocka full of haptic buttons, an exterior that's clean and conservative, practical and yet wind cheating, and a driveline that's both potent and fuel efficient. For the latest Golf 8 release, there's all of these, and it does move the show on, though it takes quite some time to become accustomed to the rather pernickety infotainment screen.
As you approach it and touch some part of the centre console just below the screen you'll likely end up accidentally going to the climate or parking area when what you really wanted to do was, say, turn off the irksome lane keeping system. Familiarity does arrive eventually but you'll do a whole lot of cussing before you get it right. The haptic sliders for volume and temp are okay. Apart from temp control, climate stuff is all in the touchscreen too, leaving the centre console button-free. Some things aren't quite right, like the voice control system – best bypass that altogether as it's a ninny – and we noted the driver-side wiper clacks against the A-pillar annoyingly.
We climbed out of this and went into the made-over Mini Countryman; sometimes there's a lot to be said for sticking with hard controls. Not as sexy, sure, but what cost eyes averted from the road for too long?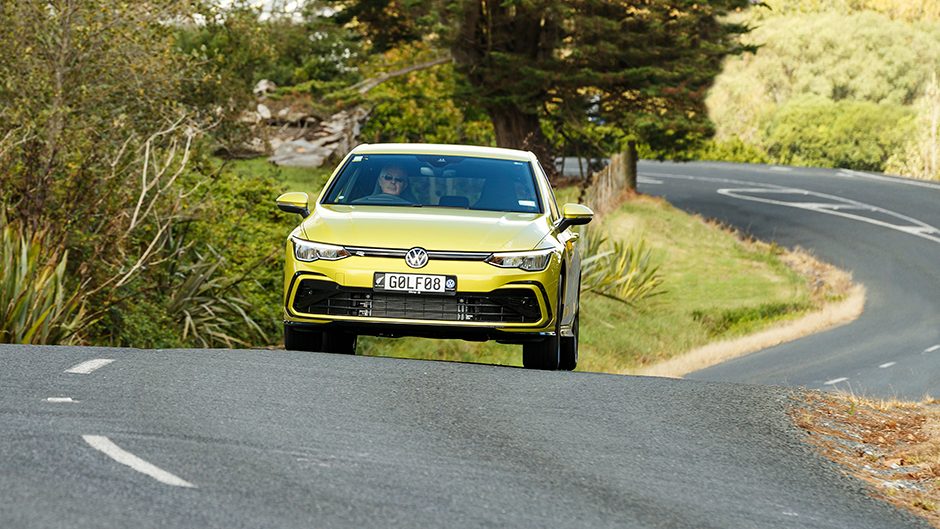 Golf by numbers
Still, there is plenty to really like about the eighth iteration of Volkswagen's most famous model, now having sold more of these than the iconic Beetle (roughly 35million vs 21million), albeit over eight generations. However, Golf is no longer the best selling model for Volkswagen in New Zealand. That honour now belongs to Tiguan in its various guises. And indeed, Tiguan, being a medium SUV, is now the best selling VW model globally. Locally VW used to sell over 1000 Golfs per annum here, but that's no longer the case. However, the distributor is confident that the new model will reinvigorate the Golf faithful and the firm is expecting to sell about 1000 of these within a full year (actually 750 by the end of 2021, so around 1000 annualised).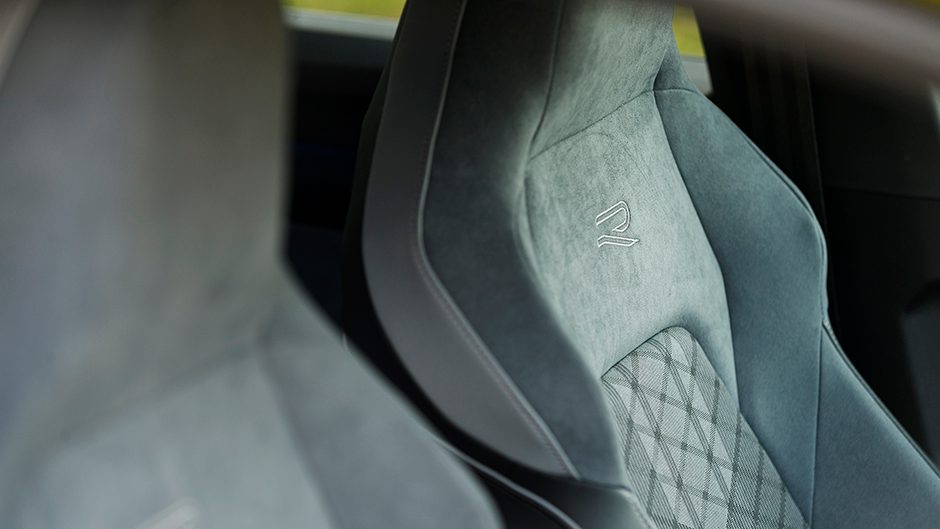 Differences between models
And that's from two initial variants, the base TSI Life and the TSI R-Line, though the $61,490 GTI joins this pair quite soon. The R-Line is better specified than the base Life variant and carries a maximum retail price of $47,990. It gets wheels an inch bigger in size (18s vs 17s) and attractions like driving modes, adaptive damping, head-up display, navigation, sports front seats, stiffened suspension, ambient lighting, wireless connect for your smartphone and three-zone AC.
However, the driveline is no different from that of the $37,990 TSI Life model. And while specification is not as replete, nor is the entry variant exactly wanting for safety or convenience specification. It comes as standard with LED lights and self dipping, AEB with pedestrian and cycle detection, the ever-annoying lane keeping system, BSM and even adaptive cruise makes it onto the spec list. There's also wireless charging, keyless entry, the ultra fashionable and completely pointless ambient lighting, along with comfort entry, head unit compatibility with both smartphone types, and just as much performance and almost as much agility as the $10k more expensive model.
We suspect that just as many folk will be perfectly happy with Life as they are with the slightly more attractive and better specified but significantly pricier R-Line. At least they should be if they consider themselves canny buyers.
Anyhow, naturally we got to drive the more expensive of the Golfs already here. The exterior design of this iconic model doesn't change much from one generation to the next, just enough to differentiate it then from its predecessor. They've learnt a lot from 911 designers, clearly. The outline is unmistakably Golf and from the front the latest variant can be picked by its new sculpted bonnet and minimalist grille, both helping to improve the drag coefficient from 0.30 to 0.275. There are also new LED headlamps with DRLs figuratively looking like eyelashes, while at the rear the taillights are also now DRLs, and a new lateral character line continues right around to the rear of the vehicle. There are four exhaust outlets emerging from the bumper and, oh wait, they're fakes. There's just the lone outlet, hidden from view. GOLF is now spelt out in full at the rear, reminding us of what a truly great sport it is. Just above is the VW badge which still pivots at its equator and serves as the hatch release. A nice feature borrowed from the premium sector is doors that automatically unlock as you approach the vehicle, key in pocket.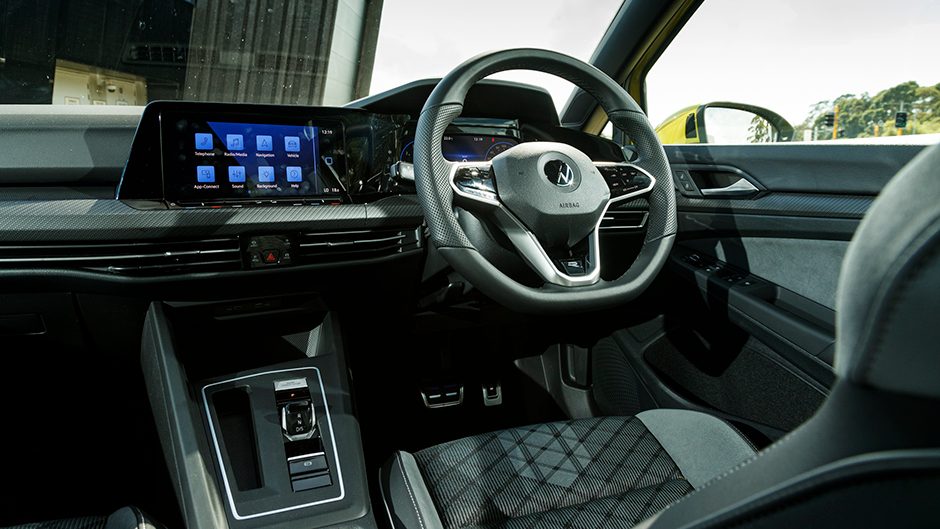 Interior smarts
Where Audi has kind of led the way for interiors in the European premium and upper level sector for a number of years, so too the Golf in the mass market sector. The most significant change inside is the adoption of haptic functions on the wheel (which work okay) and for the temperature and volume controls below the new 10.25-inch screen (depends where you rest your left thumb – best to let it dangle but non-lefties will struggle with dexterity at times).
Some will probably be impressed by the miniaturisation of the shift lever, now a shift-by-wire system. The racy sports steering wheel is also new. R-Line variants come with sports buckets and surprisingly these are rather easy to access. They're not powered in any way, like the hatch, which helps contribute to a lower overall kerb weight for Golf of 1340kg brimmed. We like the little touches in Golf, like the flock-lined map pockets, and rubber lined bins. Oh, and the square-shaped stop-start button, amidst a sea of round ones. Dare to be different VW.
Still goes perfectly well
While things under the bonnet may seem essentially unchanged – power from the 1.4 turbopetrol is still 110kW, torque remains at 250Nm – the output is processed not by a twin-clutch mechanism but by an eight-speed auto instead. We'd expect the reason for this is two-fold; cost saving over the twin-clutcher and an extra cog, not to mention torque converter autos get off the line in smoother fashion. And shift speed for the two different systems is now much closer than ever before.
VW doesn't advertise performance claims but we found it should get to 100km/h from a standing start in about 8.2sec, and despite not being able to find TC off (it's oh-so-well buried in submenus) that's precisely what our GPS-based Q-Starz system recorded. However, we later found TC off and repeated the exercise, ending with a pair of 7.6sec runs, just a tad quicker than the previous model, as was the 5.6sec overtaking time.
And it was a similar finding for the crash stop from 100km/h, a 33.7m distance for the new model a metre better than before. The latest model is 17kg lighter than when we measured a Golf R-Line four years ago. It's claimed mean fuel use figure of 5.8L/100km compares with 5.4 from Golf 7, but we'd guess that has something to do with the move to manufacturers providing more real-world consumption figures. Indeed, we saw plenty of fives during our time with the car, mid-fours at 100 on the motorway, and nothing worse than a high seven following performance testing. Sixes were the norm out of town, sevens in.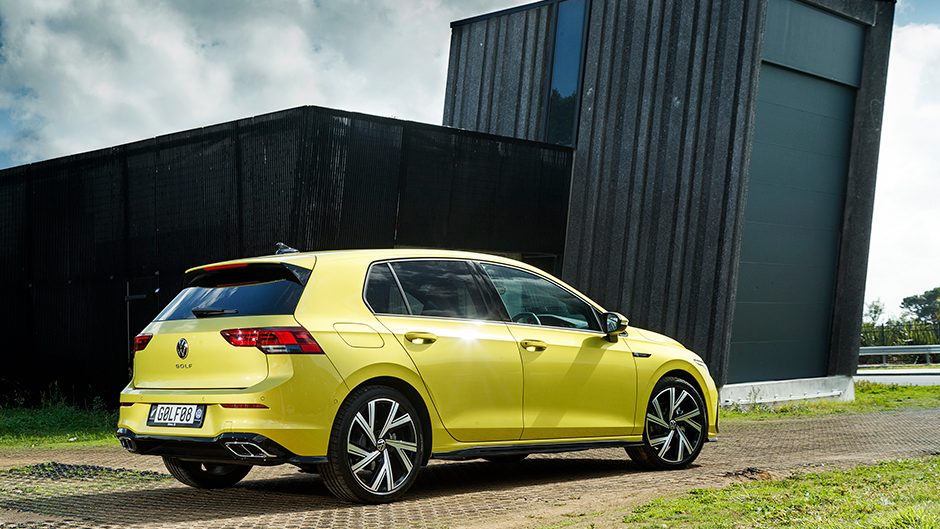 Rock steady on road
It's difficult to say exactly how much better this handles and rides than before but with adaptive damping and various drive mode choices, along with a shift lever that still allows selecting S or D, depending on circumstances, you're spoilt for set-up choice. Like so many modern cars, this handles the demands of back road driving in Comfort mode like a champ, mild understeer nulled by a brief throttle lift. You can opt for a sweet ride and S drivetrain performance for satisfyingly brisk progress. The sports suspension set-up helps in this regard. Or you can just set everything to its top setting and enjoy that as well; it's not like the ride turns to custard in the Sport setting. It just adds another dimension to body control. Around town, poor road surfaces occasionally highlight the firmer suspension settings.
Those thinking of Golf now have other options to consider as well, some also from the VW camp, including the more spacious Tiguan TSI Life which kicks off with pricing much the same as the R-Line Golf and offers 520L of gear carrying space. There's also T-Roc from $40k, which offers boot capacity of 445L to the Golf's 381L, and again similar power and torque to Golf, though from a 1.5T engine.
Nevertheless, in Golf you're getting a high-tech offering and not everyone needs or wants a bigger, high-riding vehicle. This is a highly competent all-rounder. And if they want to spend less, and get an even cushier ride, there's always Life on offer. Hard core enthusiasts will no doubt covet the new $61.5k GTI, with added power (180kW/370Nm), standard electronic front diff and new seven-speed DSG.
Finally, for real Golf nuts, the R range-topping hot hatch model with 235kW/420Nm and AWD status arrives later in the year, priced likely in the mid-seventies.
| | |
| --- | --- |
| Model | Volkswagen Golf TSI R-Line |
| Price | $47,990 |
| Engine | 1395cc, IL4, T/DI, 110kW/250Nm |
| Drivetrain | 8-speed auto, front-wheel drive |
| Fuel Use | 5.8L/100km |
| C02 Output | 132g/km |
| 0-100km/h | 8.24sec |
| Weight | 1339kg |