The CC is no longer, VW's top sedan replaced by an equally swoopy looking four-door liftback, the Arteon. Is this low-slung offering merely window dressing or is there real substance beneath?
At the launch of Arteon, VW's new flagship saloon, the company execs from importers EMD said they expected to sell around 40 examples this year. Most are already spoken for. Later, they mentioned Tiguan sales of 1350 to the end of August, this model accounting for just over half of all VW passenger car sales here. That's how much things have changed in recent years.
Cars are fashionable and trends change. Medium sedans used to account for over 10 per cent of the new car market but folk are forsaking four-doors for SUVs (like Tiguan) or compacts. And by that we mean compact SUVs which are popular currently. About the only positive in the sedan sector is in the premium area. Sales of sedans are still dominated by Camry, but the next few positions go to premium compact sedans like 3 Series and C-Class, the area in which Arteon will compete.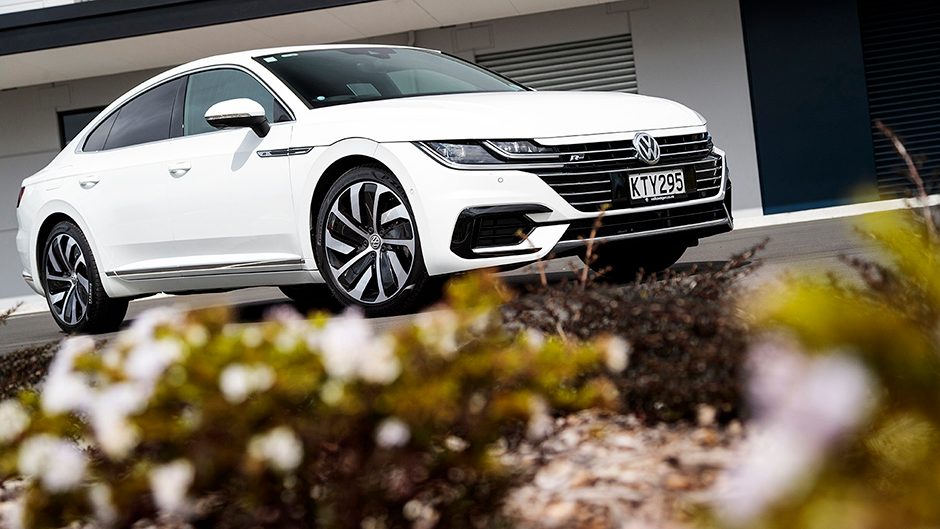 Where does it fit?
With the arrival of Arteon the Passat sedan will no longer be available. In its place is a single highly specified Arteon, an AWD R-Line variant powered by a detuned Golf R engine. VW is now offering only the Passat wagon here. Can't blame them really as the Arteon, which is a brand new vehicle, should suffice on the sizeable sedan front. Much of the business will no doubt be from those who owned CCs before and like what they see in the Arteon, offering better access to the luggage bay.
Alternatively, those getting out of a 3 Series or C-Class because they need more space, performance or AWD can buy Arteon for similar money. Put another way, to achieve the same performance and spec levels as Arteon, you'd pay closer to six figures for the other German competitor brands. There may be some who dismiss Arteon for its lack of a V6 option. However, its 2.0L direct injection TSI engine outputs much the same as the CC's V6 and it's just as fast.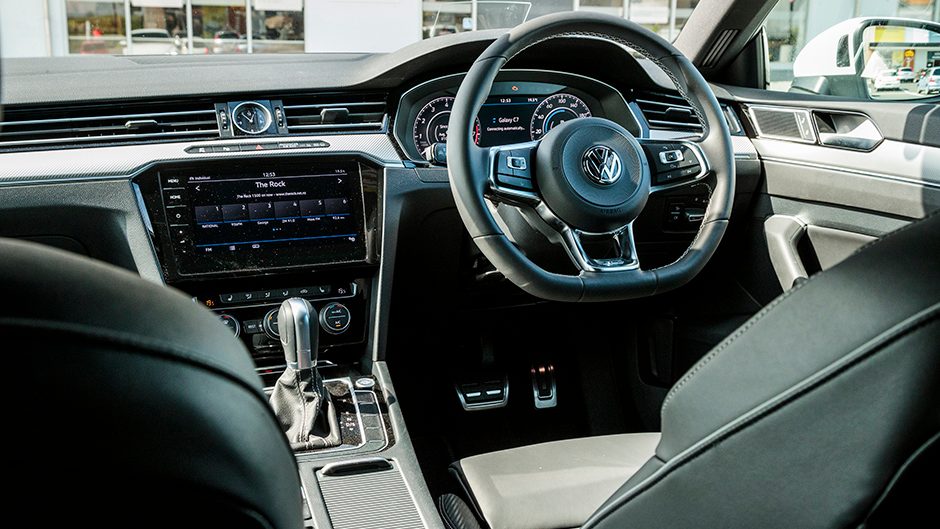 If looks could sell
It is quite something to behold the Arteon. Interesting design features include the wide grille that runs right into those high tech LED headlights, the clamshell bonnet that extends down to the front guards, those bulging hips at the rear and the angular side skirts. It's big too, nigh on 4.9m and almost 1.9m in width, emphasising the low height of the raked roofline at 1.45m. That does eat into rear seat headroom though.
We imagine more so if you option in the transparent glazed roof at $2500. But there's a huge amount of legroom out the back – think Skoda Superb levels – and the luggage bay, accessed by a powered liftback, is enormous, swallowing 563L of gear, and expanding out to 1557L once the rear seats are taken out of play. Carpet quality in the hold is pleasing too, as is the quality of cabin plastics. The interior design is just as eye-catching as the sleek exterior which, by the by, carries an aero Cd figure of 0.27.
We mention that because the interior is incredibly hushed, despite the meaty PZeros that anchor the Arteon to the road. An in-cabin SPL average for the V6 CC was around 75dB. With Arteon we only managed one reading in the 70s, and the mean figure was 69.1dB. Perhaps the extra sound deadening also explains why the Arteon is somewhat heavier than some of the other MQB-based machinery, scaling up at 1730kg. But being AWD it has a reasonable weight split, at close to 56/44, and that pays dividends when you're threading it down interesting byways. On some of our reference bends it held mid-corner speeds as high as any sedan, the big PZeros limpet-like.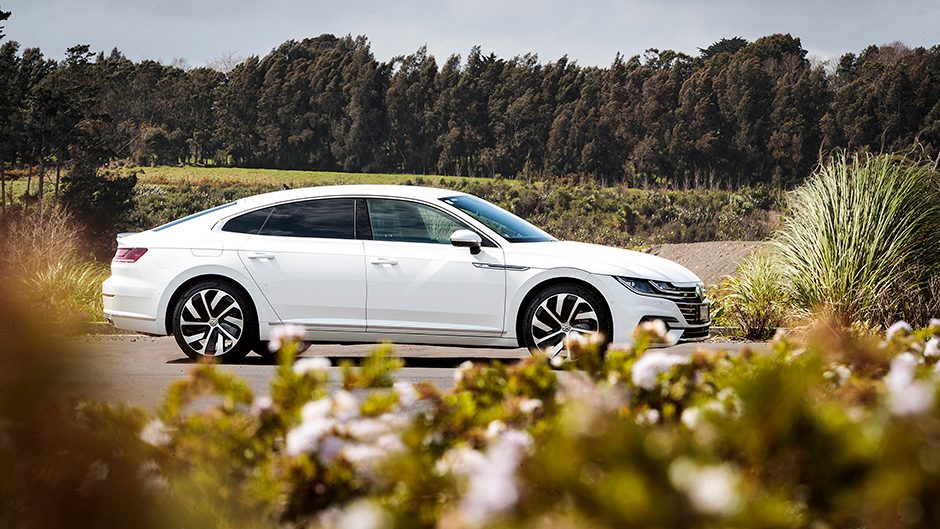 Big Heart
There's no doubt this goes well, feeling effortless in town in the Normal mode, while Sport works best for rural outings. But it's not light and doesn't ever feel especially quick. The engine feels strongest above about 3500rpm, though it's still brisk from 2500rpm onwards, depending on how laden the car is. Using launch control, this handily met its performance claim of 0-100km/h in 5.6sec, undercutting that by 0.2sec.
Third gear is excellent for twisting hill roads. The engine spins freely up to its limiter at 6750rpm, and you can use Sport mode liberally, for there are seven gears and the gearbox adapts to your driving style, upshifting at modest revs if you're not hitting the throttle too hard. And because of tall gearing we saw average fuel use figures of no more than 11.4 out of town, and around mid-sevens when motoring between work and home.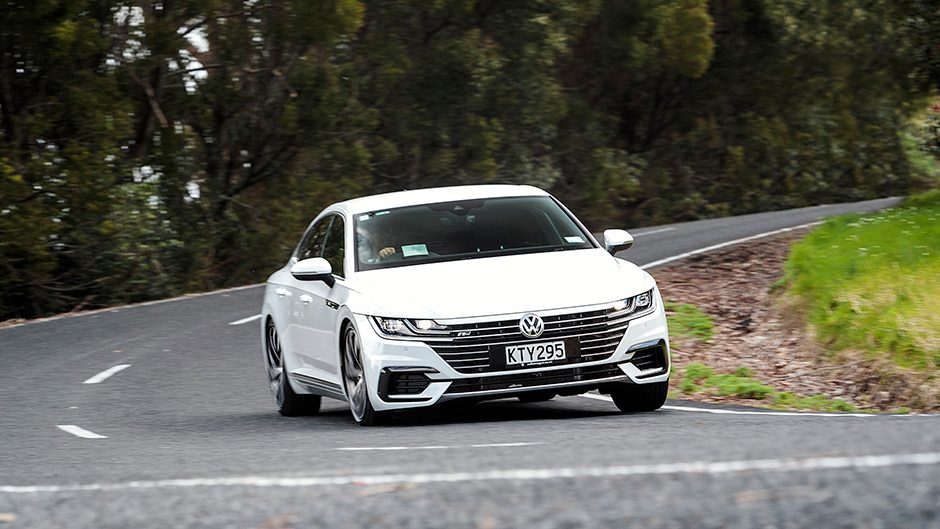 Composure its calling card
Dynamically, most will find this fits the bill well, though it's not quite as sharp up front as 50:50 rear drive aces like the lighter, as-quick Giulia 2.0, and the leaner but slower XE 25t and 420i Gran Coupe. Nothing seems to ruffle its feathers much though, and its mid-corner pace is excellent thanks partly to the lowered sports suspension of the R-Line.
It steers quite well too, up to a point, and weighting isn't overdone. In the Individual mode setting, the adaptive damping can be set via a sliding scale so you can dial in the ride quality just so. Even in Normal mode the body control is impressive, and for most situations this setting is great on Kiwi roads. In Sport it seldom feels overly firm. This and the quiet, roomy cabin make it more a GT than a sports sedan. Variable steering keeps wheel turns to a minimum which helps with parking. Also a boon are front and rear parking sensors, and beautifully clear images from surround view and reversing cameras. It has all the active safety gizmos you'd want too.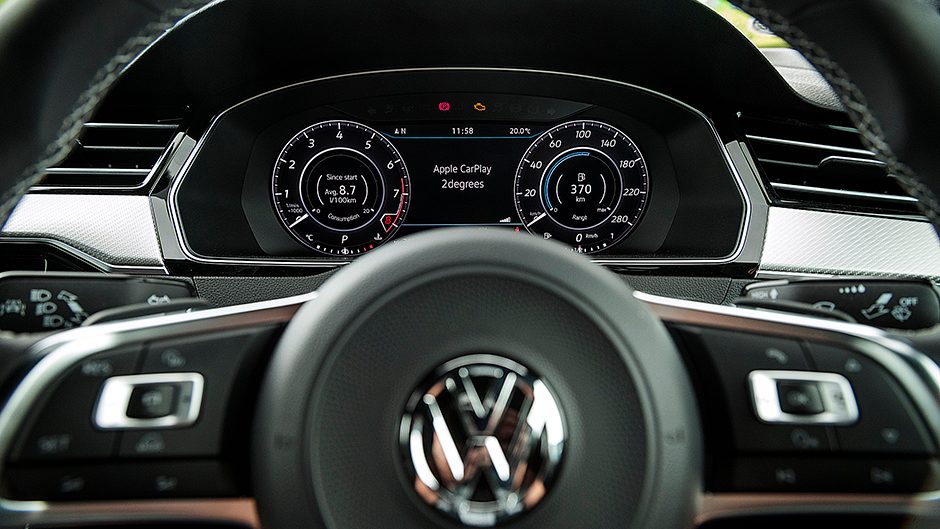 Flash interior
The cabin layout is generally good, apart from the usual LHD to RHD oversights, like the Drive mode button on the far left, hidden by the gear selector. Fortunately, most drive mode changes can be organised on the touch screen, which makes things simpler. It has a glazed surface, like a smartphone, with capacitive functionality. We wish there was a proper volume control on the head unit; the plus/minus jobbies are too fiddly.
Yes, there's a remote on the wheel, but why no mute? While we applaud the fact that Arteon has no mouse controller thingy, touch screens can be tricky to manipulate with your left hand. To us, the elephant in the Arteon room is its name. Arteon is a portmanteau of art and eon, suggesting elegance forever. If it's well designed, and it is, VW really doesn't need to draw attention to that in its name. Worse though, it's awkward to say it out loud. Not that Passat is any better, for obvious reasons. Glad we don't have to conjure up the names for newcomers.
While it isn't quite as light and agile as its European rear drive adversaries, Arteon is better specified and roomier, and with AWD, adaptive damping and a hushed cabin it makes a fine long haul tourer. It would look smart in a ski field car park, no?
| | |
| --- | --- |
| Model | VW Arteon 206kW R-Line |
| Price | $74,990 |
| Engine | 1984cc, IL4, T/DI, 206kW/350Nm |
| Drivetrain | e-CVT, front-wheel drive |
| Fuel Use | 7.3L/100km |
| C02 Output | 169g/km |
| 0-100km/h | 5.38sec |
| Weight | 1730kg |