There is still no bev rush happening here and until there are some subsidies in place we can't see that eventuating. Meantime, used Leafs remain popular, while at the other extreme Tesla rules the luxury EV roost for good reason; it offers superior battery range and is installing its own fast-charging network. Locally range is king because while many of us live and work in cities, we like to be able to venture forth in the weekend and to do that you really need a range of at least 400 real-world kilometres.
So for Kiwis, hybrids make interim sense. Toyota was amongst the first with these, and while early NiMH technology offered no EV range, modern examples can now drive in electric-only mode at speeds of up to 100km/h for a while, and the engine shuts down more often during everyday running. So they're easier on the environment, don't need external charging and are affordable.
Drive it out of town with any degree of elan, however, and the ev range is quickly extinguished.
The plug-in hybrids have a place too, even if there are drawbacks. Like price for starters. In the case of the Volvo V60 estate, you can buy a T5 AWD variant for $74,900 but the 'dual-fuel' version, the T8 AWD like you see pictured here, kicks off at $114,900. Our example had the Premium pack with a 1500wpc Bowers and Wilkins premium sound system, along with panoramic sunroof and window tints for an extra $6500. So that's $121,400 all up, $46,500 more than the T5. That's enough for a low mileage third-generation Leaf EV. Even without the megasounds from B&W, or the burny-head roof, that still represents a 50 per cent premium on the base model T5. Is the Twin Engine T8 worth that?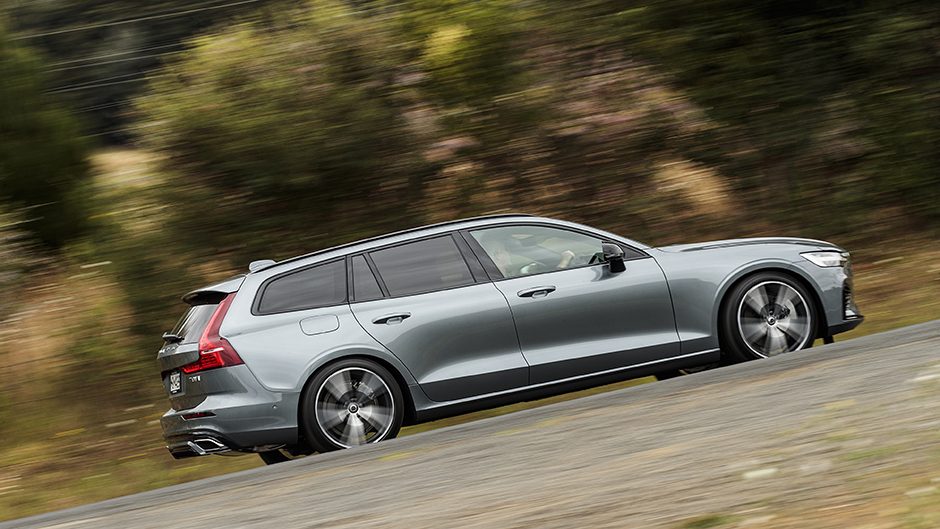 Probably not, we'd say, but some may see otherwise. The mean quoted fuel use figure is 2L/100km, easily achievable if you live in the city and recharge the battery pack on a daily basis. At best there's about 45km of zero emissions travel, though the fuel burner will kick in on occasion to help out the motor. We registered 0.3L/100km over two days of running in Pure or EV mode. It takes about four hours to top up the battery.
Drive it out of town with any degree of elan, however, and the EV range is quickly extinguished (unless you activate the Hold button, maintaining the battery charge for city use). There's always enough charge left or it's replenished on the go for extra zip when needed. But count then on fuel use of around 10L/100km.
With dual types of motivation, this thing sure can hike. Off the mark, it feels hasty at times, the super/turbocharging and electric motor ensuring synergistic torque production, all 670Nm of it. There's evidently just over 300kW of total system power to go too, delivered to all four wheels and enough for a claimed 4.5sec sprint time. We couldn't match that but it's still a solid 2sec quicker than the S60 T5 AWD. And overtakes are effortless, done in a tich over 3sec, and under 100m. Shifts of the eight-speed auto seemed hastier in the V60 too.
As a drive, it's rather similar to the T5 S60, only the steering isn't as communicative, and nor the brakes because of their regenerative function. They really do work when you stand on them though, as evidenced by a best crash stop of 34.5m, about half a metre better than Volvo's claim.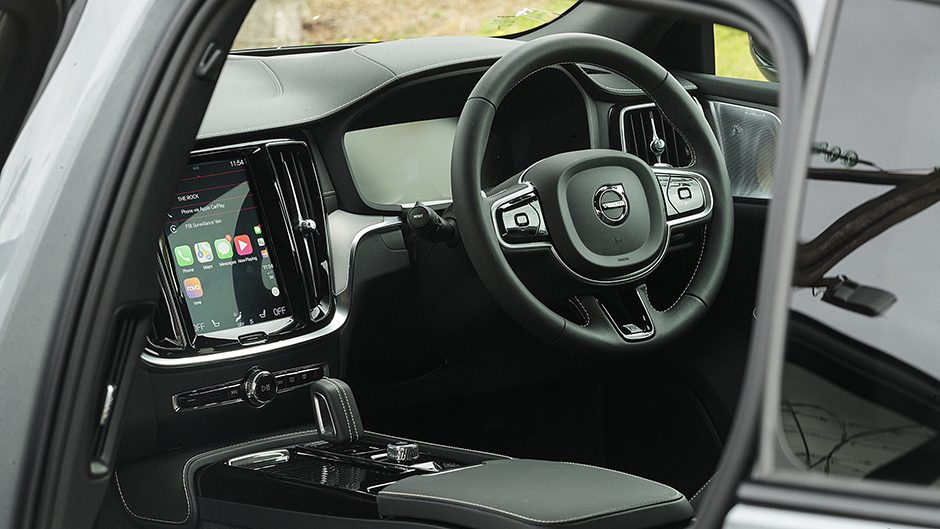 The T8 rides a bit calmer than the S60 T5 too, though still in controlling fashion. It's quiet on the go, seldom breaking 70dB at 100km/h anywhere. Regardless of mode used, and there are four, it only ever feels effortless, torquey as a twister. We left it in Hybrid mode mainly, and Pure (EV/eco) for in-town running. Either way, it uses EV mode whenever that's appropriate, curtailing fuel use.
This looks fabulous, long, low, hewn. Everyone liked it. Volvo describes it as elegant, sporty and versatile and we wouldn't argue with that. It's aggressive in profile, with those sculpted flanks, strong shoulders, big wheels. Inside, it's similar to the S60 T5, and about as user-friendly, the Sensus system offering Spotify and connectivity for both smartphone types. Naturally, the V60 is ANCAP five-star rated and features every safety device known to man, including uprated City Safety to brake and steer you out of trouble, even if you haven't seen that crash coming.
As with the XC60 T8 R-Design, you pay a premium for the plug-in hybrid tech, and most won't see it as justifiable. But as a tech-rich range topper, it might suit some family types who want a zero/low CO2 vehicle midweek, and one that can do long distances economically in the weekends without having to stop at inconvenient places for hour-long recharging sessions en route.
| | | | |
| --- | --- | --- | --- |
| Model | Volvo V60 T8 AWD R-Design | Price | $114,900 |
| Engine | 1969cc, IL4, SC/DI, 246kW/430Nm | Drivetrain | 8-speed auto, AWD |
| Fuel Use | 2L/100km | C02 Output | 46g/km |
| 0-100km/h | 4.84 sec | Weight | 2054kg |