Thruxton is a name with lots of history for Triumph but previous examples have looked the part didn't exactly go like mad things. That all changes with the new Thruxton 1200 R.
How strange. We'd just ridden what is perhaps the most desirable retro bike on the market, the R nineT, and no sooner had we returned that than we get to jump astride its Brexit adversary, Triumph's Thruxton 1200 R, costing almost precisely the same money.
They're not really exact rivals, are they, as one's a true standard, the other more of a cafe racer, with clip-on handlebars, and a single seat. However, BMW is this year releasing a cafe racer based on the R nineT.
As it is, both these bikes cost a touch over $25k, have distinctly retro elements, share 1200cc twin-cylinder engines (one horizontal and opposed, the other parallel and upright) and will likely appeal to similar heritage buyer types. The BMW is almost unapologetically lean on safety technology, while the newer Triumph sports a ride-by-wire throttle and has such items as traction control and ABS, both switchable, if you're a control freak, along with three engine modes (but actually only one gets used most of the time; fire it up, switch to Sport and leave it there).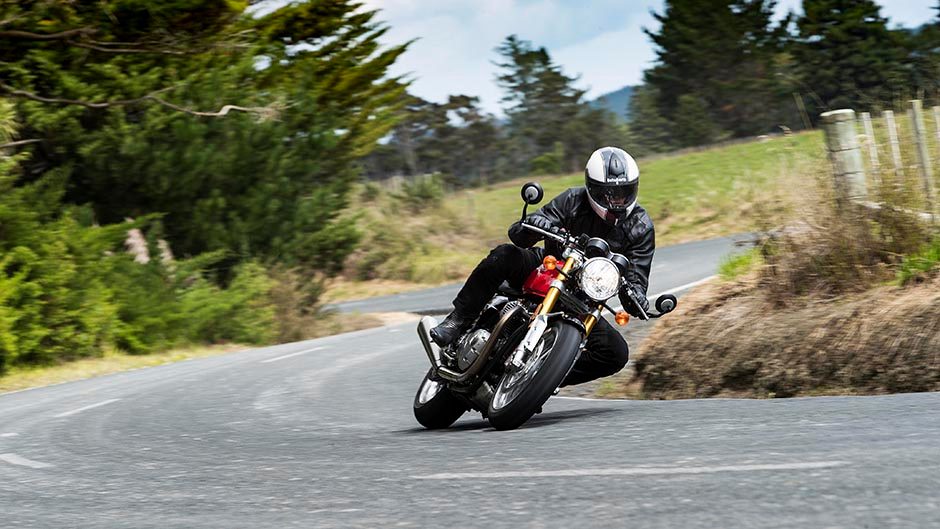 It has been quite some time since we last rode a Thruxton, 2009 in fact. I recall it had an outstretched riding position, and wasn't all that quick, but looked a peach and handled sweetly. Even then it was a retro device, with wire wheels, clips ons, rear seat cowl, polished mufflers.
The new one has visual elements that are no different – literally those same bits, so it still has that retro cafe racer look, especially with the sweet accessory fairing, but it is now less of a rack to ride, despite still sporting the clip-on handlebars. These are higher and the seat closer, so that makes it much more town friendly, while maintaining a quite racy perch for when you're going pell-mell. And that single disc and skinny front wheel? Replaced by serious items, including twinned radial Brembo monoblocs and top-line Pirellis, no less.
Looks the part
It still looks a million bucks, with its beautifully rendered, brightly polished triple clamp, and twin analogue instruments housed in metallic surrounds, just like the former Thruxton. Among the many other lovely features are the gorgeous aluminium swingarm, and the gold coloured suspension at either end, comprising fully adjustable Öhlins shocks at the rear, and Showa Big Piston forks up front.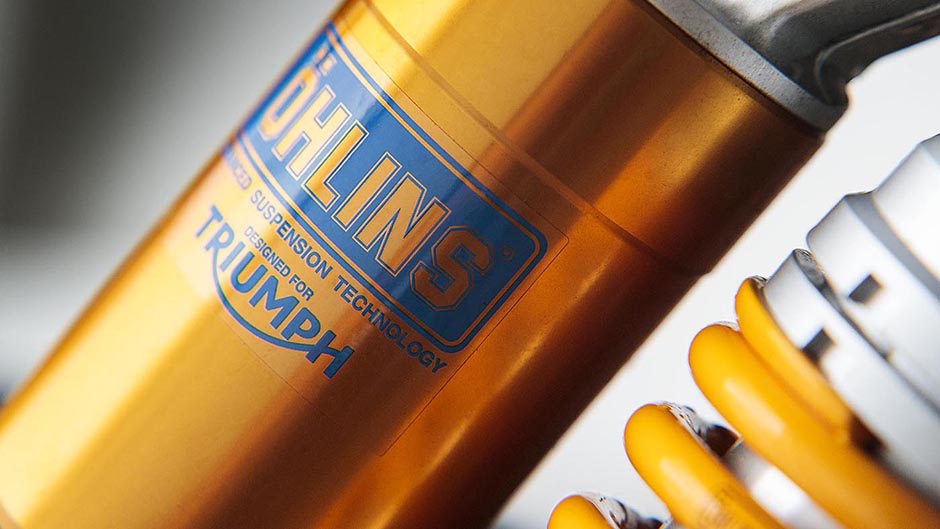 The tank is beautiful, with a functional stylish retaining clip to secure it, and elegant stainless strip up the middle, along with a faux brushed "Monza-style" aluminium petrol cap. But it's way too narrow at the rear, meaning you feel knock-kneed riding it. Still, it's good for 14.5L of fuel (so a range of 200-250km) and is finished in racy red, though can also be had in silver but it doesn't stand out as much. And you want people to see this machine. Instruments look good, analogue both, but the speedo is hard to read, especially when backlit by the sun, as is gear position. There's no digital speed readout, of course. Instantaneous fuel use of 4.0L/100km at 100 is impressive, especially given the lack of air protection.
The seat is finished in a grippy suede-like fabric and if you're tall your bum rests against what looks to be a cowl for the pillion seat, only there isn't one. This is a bike designed for you alone, and that really quite sets it apart from the R nineT which has pews for two, but can be turned into a single seater quite easily. Conversely, the Triumph can be had as a two-seater as well, selecting from the 160-strong accessories list.
This then is a Brit throwback to the glory racing days of the 60s, back when Triumph dominated endurance racing at Thruxton, and was the first manufacturer to average over 100mph at the Isle of man TT. Only it's modern underneath.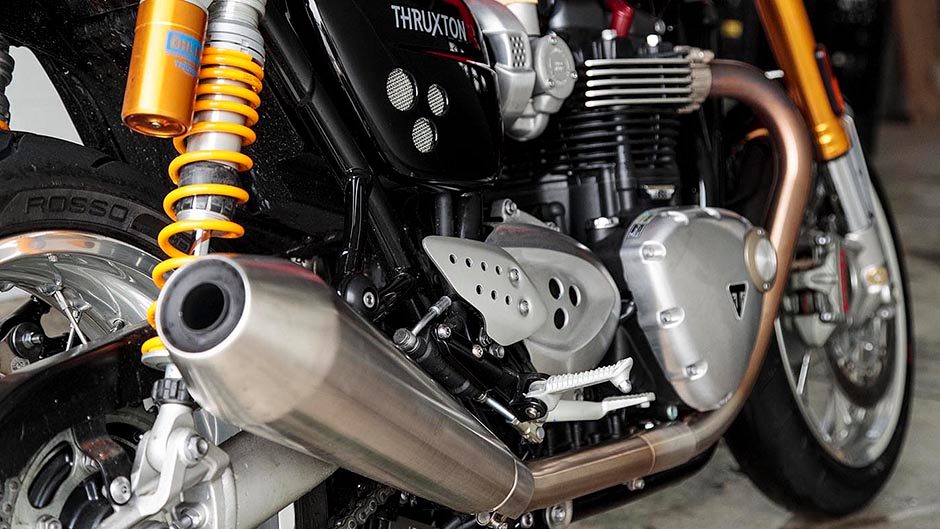 New mill thrills
This latest Thruxton is primarily about its new 1200cc liquid-cooled engine. Some proper performance at last. The 860 of the previous Thruxton was friendly but hardly a fireball, good for just over 50kW and 70Nm. It might have looked quick, but took around five seconds to hit 100 from a standing start, and an overtake lasted for 3sec. The new machine, despite its much bigger motor, weighs no more, at 225kg, but is nigh on a second quicker on both counts, just breaking into the threes in the rush to 100, and low twos for an overtake. It does it all rather easily too, with peak torque of 112Nm arriving just before 5000rpm.
Power-wise, there's nigh on 100hp on offer and with tall gearing it's not threatening, but it's no longer slower than it looks. While it doesn't go quite as hard or quickly as the rather sprightly twin-cam BMW R nineT, it's a far cry from the old Thruxton. Even ridden easily with upshifts before 4000rpm, you're well ahead of the traffic and cruising at 110 is not only effortless with 3750rpm showing but also completely vibe-free, the period-perfect bar-end mirrors giving a clear if limited view of what's not behind you.
At the time we undertook performance testing we weren't sure how to cancel TC but it turns out you do it with the ignition turned on, the engine off, and by scrolling through the info submenu. It would have made little difference to performance figures anyway, as the bike launches cleanly at 4000rpm. The slip and assist clutch is lightweight in action and never seemed under any stress during performance testing.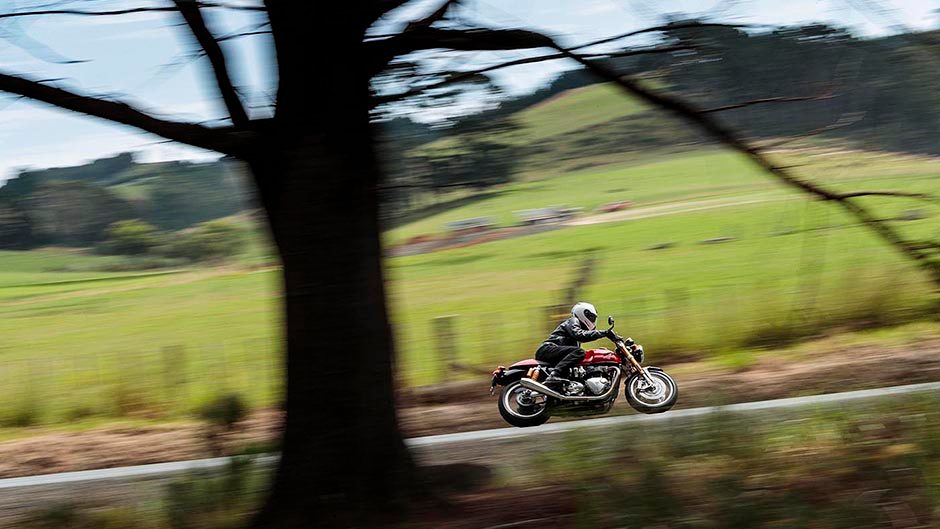 Where the 1200cc engine in the T120 is supposedly tuned for high torque, this is tweaked for high power, but actually it has a great mix of the two. Pulling okay from around 2000rpm smoothly it potters in town happily in fourth gear, and soon gets into its stride as revs rise. From 3500rpm it's on a mission. By happenstance, that's exactly a match with 100km/h in sixth gear and the engine kicks beautifully with a simple roll on for overtaking.
Yes, there's more power available higher up the rev range, best thrust available from about 6500rpm but it all builds progressively and we found for most open road riding engine revs between 3500 and 5000 were plenty, extending tank range.Wish the transmission was as good a match; it shifts better when warm but eliminating clunks on upshifts takes some practice. Allowing revs to drop slightly before shifting helps.
Sounds a hit
Another difference between the Thruxton and R is the less repressed exhaust system, with polished megaphone-style mufflers. They look amazing, sound glorious, popping away on a trailing throttle and with just the right dB level to entertain, without annoying rider or bystanders.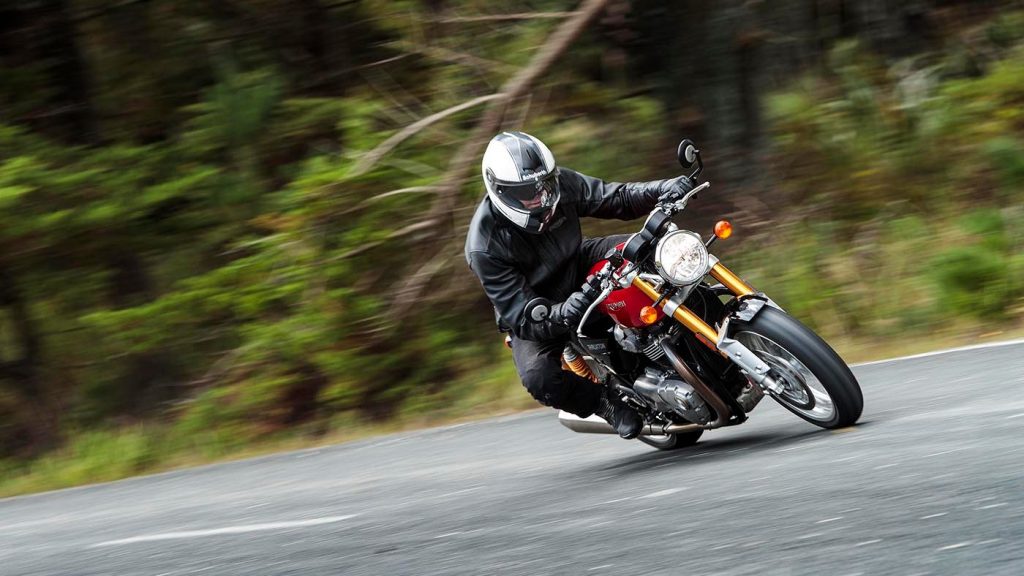 Top-shelf Brembo brakes are fantastic, ideal for a bike with this much performance potential. Even under full ABS lock down from 100 there's almost nothing in the way of fork dive or pulsing at the lever; just gobs of retardation. Top flight tyres help, being sticky Pirelli Diablo Rosso Corsas, and those should give a general indication as to the intent of the R. The base Thruxton 1200 ($22,490) is for general use, more so commuting, whereas the R, with its uprated suspension and brakes, wouldn't be at all averse to the odd track day outing.
Slotting in where?
That's also the primary difference between this and the R nineT. The BMW is a bit more cruisy in demeanour, with a nice chassis balance between handling and ride. The Brit is more the corner carver, and with its racier riding position and sporty springs that's not unexpected. At first, on the motorway, the suspension seemed to amplify any minor ruts and was clearly set up too firm, for me at least. But with a bit of tweaking to rebound and compression settings, easily done both front and rear, the crash and bang over significant bumps disappeared, and this made progress so much more pleasant.
With slightly more upright forks and less trail than its predecessor and entirely appropriate tyre sizes each end, the Brit changes direction and lays over easily and in exacting fashion and, with better ground clearance than the BMW, it's faster through the bends. Bumps midcorner have little effect on line, and only significant side or head winds ruffled its feathers. Steering lock isn't flash but that's not unusual on bikes with clip-on bars. Nor is the sidestand that easy to extend with clodhopper riding boots.
In the global scene the twin-cylinder heritage bikes from Triumph are about as important to the company now in terms of sales as those sportier modern bikes with three-pot engines. The care and attention lavished on the Thruxton R would appear to confirm that. Good things take time to get right and never is that more apparent with heritage bikes. Rest assured the best Thruxton ever has arrived.
| | | | |
| --- | --- | --- | --- |
| Model | Triumph Thruxton 1200 R | Price | $25,490 |
| Engine | 1200cc, liquid-cooled, fuel injected, IL2, 72kW/112Nm | Drivetrain | 6-speed, chain final drive |
| 0-100km/h | 3.98sec | 100-0km/h | 41.37m |
| 80-120km/h | 2.12sec (61.2m) | Weight | 223kg |