Triumph has fared well with its Street triple, and now there's an all-new version with a bigger 765cc engine. Is bigger better? We ride the range-topping RS to find out.
About effing time Triumph.
It's taken a decade for the Brit to bore and stroke its 675 to a transposed 765cc figure. Triumph, sorry, but you've rested on your laurels rather too long. You creamed the middleweight sector for street sales of standards with various versions of the 675.
Then in 2010 you launched the Tiger 800, a stroked version of the 675 but ignored the option of an 800cc Street Triple. Meantime, Yamaha, who must have been looking at the Brit's success with envy, ended up rushing their 850cc three-pot MT-09 to market.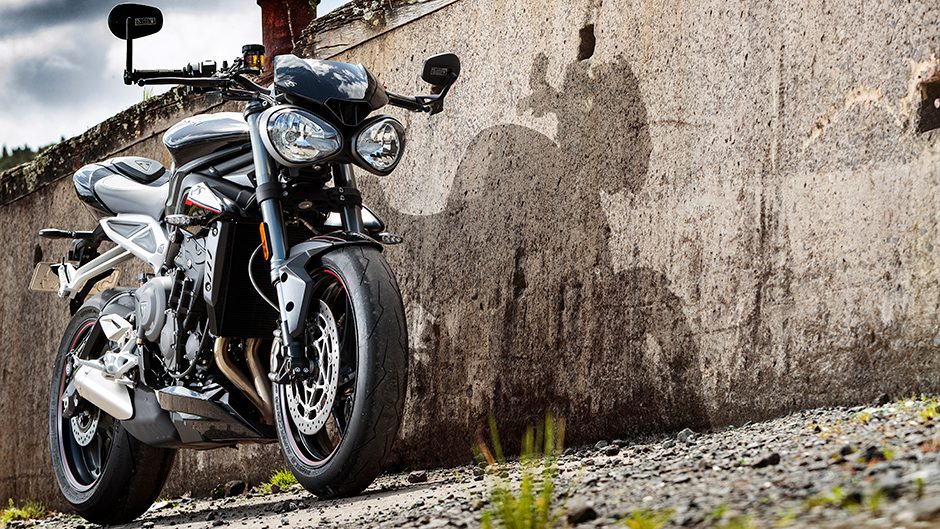 So it arrived with a snatchy throttle response but value pricing made it alarmingly successful, and suddenly the boot was on the other foot. Triumph – a golden opportunity went begging.
Undeterred, however, the Brit has finally done the right thing, with a total overhaul of the Street Triple to come up with, er, a new version. And no, it doesn't go head to head with the MT-09, instead coming in at 765cc.
At least it's an update that isn't just a mildly tweaked version of the original like the 2013 version was but is it enough?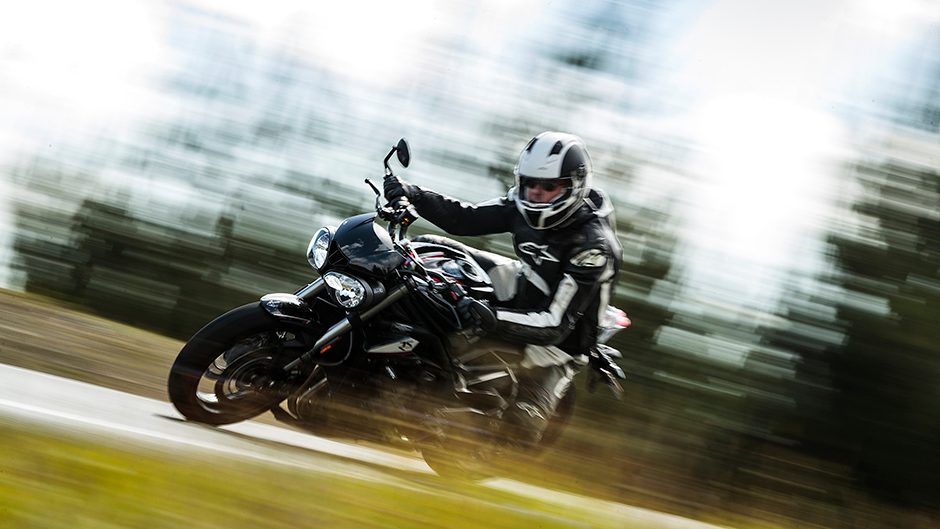 Big changes
This is a comprehensive revamp, essentially a new machine. Course it's not, but then everyone does the wholesale upgrade thingy these days. They take what's already a worthy bike and by redeveloping (lightening) components, and adding more safety and convenience features, end up with a fresh generation of an old warhorse.
So the 2017 Street Triple has different styling but is utterly recognisable because of its twin headlights, similar to those of the outgoing bike. Bet they're not that aerodynamic; most in this class now have slit-eyed LED peepers that are better integrated and look classier than the Triumph's oversized fox-eye oddities. They do get some LED technology but for DRLs, not main beams.
The rest of the machine is more than up to speed, however, or more Street-wise, in Triumph-speak, especially the range-topping RS. This and the R variant get a beaut new TFT screen, unsullied by sunlight.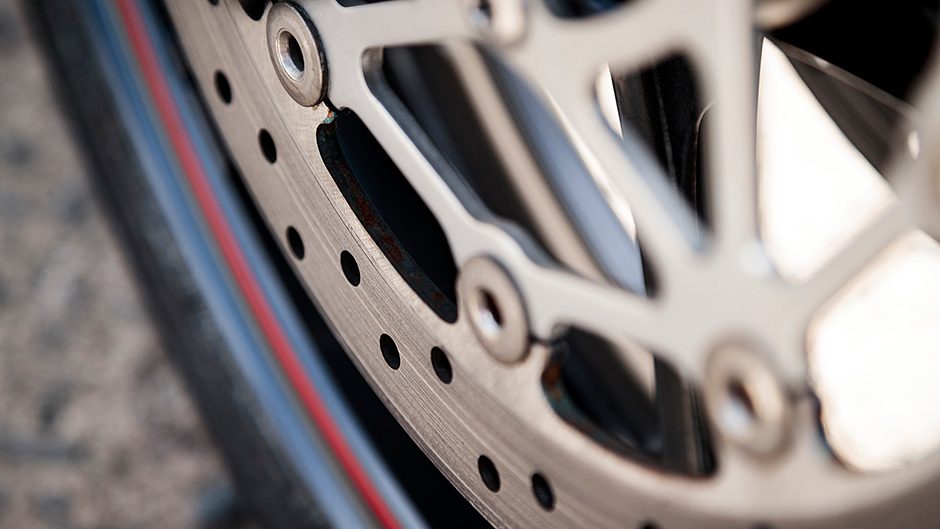 The RS is chocker with other quality bits, as you'd hope for $21,990. Included are radial-mount M50 Brembo monoblocs, complete with adjustable radial master cylinder, full-on Showa Big Piston forks up front and Öhlins STX40 at the rear, a new comfy solo seat, slip and assist clutch, a quickshifter (works on the upshift only), and a host of TC and engine modes thanks to its new ride-by-wire throttle.
Triumph fits some of the best street rubber in the business too, Pirelli Diablo Supercorsa SPs.
Simple to set-up and go
Unlike most, Triumph has created a control system so simple you can decipher it intuitively. There are three buttons/toggle controls adorning the left and right switch blocks and you'll soon figure things out. It's Apple simple.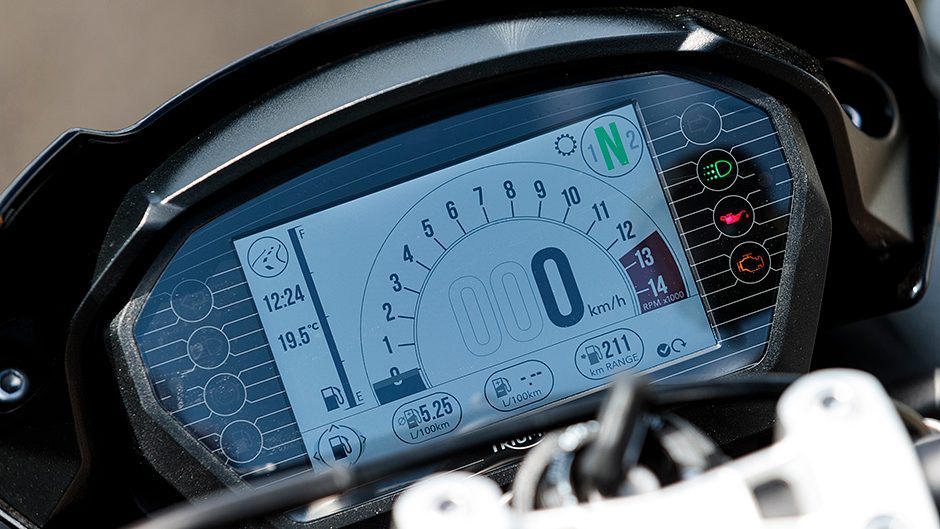 A button for the riding modes allows you to switch on the fly but messing with TC and ABS demands you pull to a stop. So spontaneous wheelies that used to be the stock in trade of the Street Triple are a goneburger.
Shame that, but then this bike doesn't really like doing second-gear monos anyway. It doesn't have quite the snot of the bigger middleweight standards which raise the flag on a whiff of gas.
Still, it's even more of a speed demon than it used to be. And that's because it gets a decent power hike while only weighing 7kg more than the original.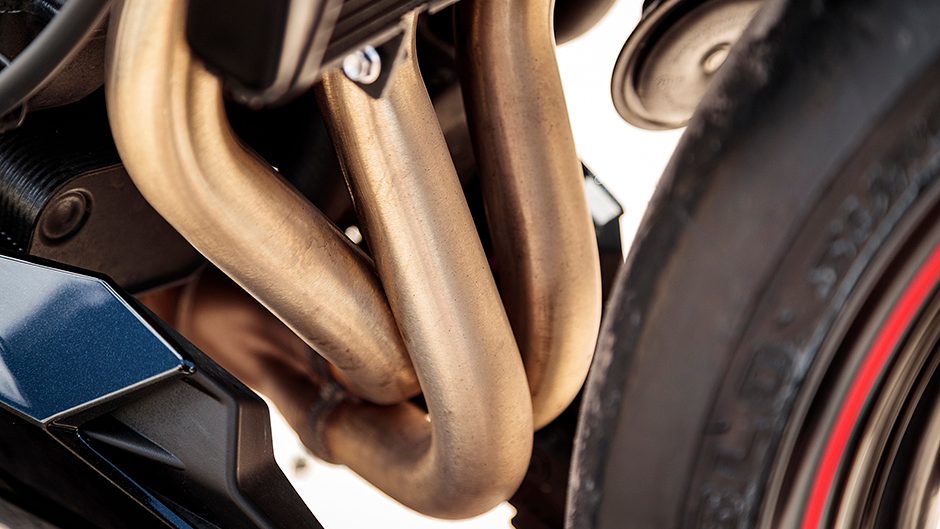 For the top RS, there's 16 per cent more power (90kW) and 13 per cent more torque (77Nm at 10,800rpm). Don't read too much into the latter, as this will slope around city streets at 50km/h in sixth with not a care in the world.
As to acceleration, the extra output and lower gearing make quite a difference, the overtaking time dropping from 1.9sec (675) to 1.5sec (765). With such a short first gear it's a mission keeping the front wheel grounded, but eventually we managed a quickest 0-100 of 3.29sec, down from the original's 3.65sec.
On that run, 100 clicked off with the front wheel a metre off the ground.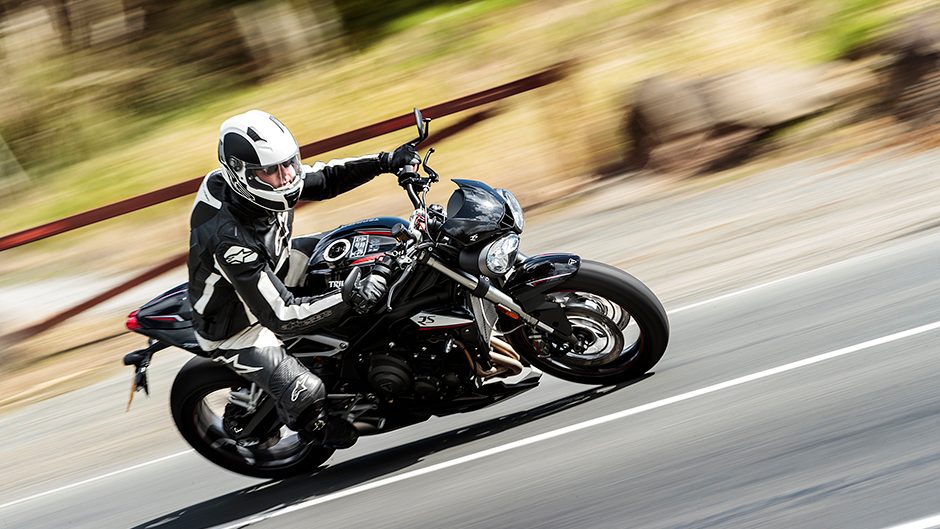 So it's powerful quick, and that much we discovered when a CBR1000RR came ranging up behind us at Kawakawa Bay. I let him by because I wanted to see whether a three-quarter litre using only top gear could keep pace with a superbike using all cogs. It did; we arrived in Clevedon at the same time.
The Honda powered ahead slightly on the straights but the Street reined him in on the corners.
Cornering king
The aluminium twin-spar chassis is truly a wondrous thing. Previously it favoured agility over stability, but not any longer. That's partly because of the new 'gullwing' swingarm design and also a slightly relaxed steering geometry. It's now arrow-like at speed but retains that ability to dive into corners like a ferret down a rabbit hole. Talk about turn and burn. It holds a line better than ever now too.
This holds such high corner speeds you can simply back off the gas going in, and engine braking washes off the excess pace. Or you can brush the Brembos but the result is predictable; you could have gotten through the corner much quicker.
It remains one of the ultimate cornering devices the Street Triple. The oh-so-adjustable RS has giant killing potential for track days.
The suspension seemed stiff out of the crate but after a few faffing stops it felt much more compliant, almost civilised. At 182cm I'm at the top end of tall for this middleweight but its peg position doesn't fold your hips too much, and there's only a slight lean to the wide-set nearly flat bars; it's a position that's ideal for open road work, and is acceptable for commuting.
The bar-end mirrors give a slightly blurred view at 100km/h where the engine's pulling exactly 5000rpm. But there are no tingles to the rider at most engine and road speeds.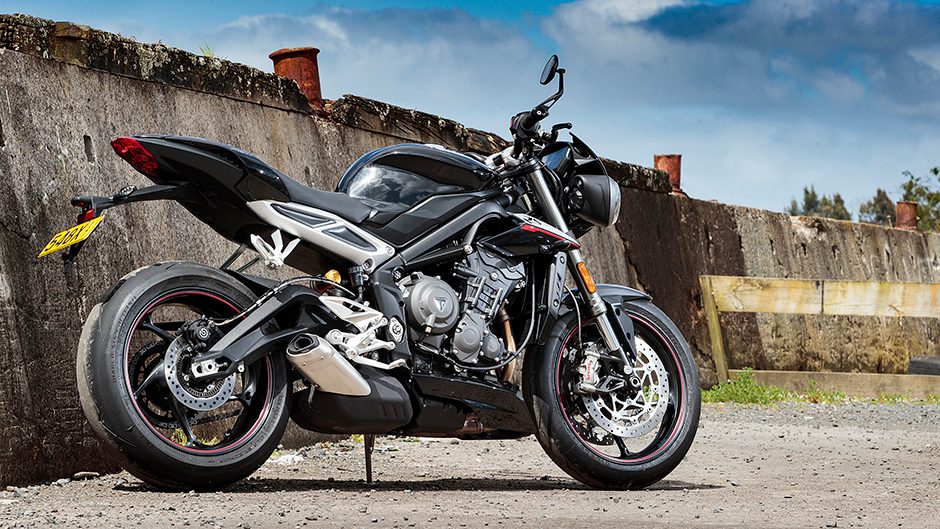 Powertrain primed for WSS
The flexibility of the new 756 is stunning, pulling down as low as 40km per hour in top gear, below 2000rpm and hauling away smoothly. At the top end, it's good for over 12,000rpm, in theory. A message on the tank forebade engine speeds above 7000rpm, so we largely complied with that. And we did not feel in the least bit hard done by.
It aced our coastal torque test in top gear, the light weight and bulk grunt a winning combo. The benefit is fuel consumption; we managed low fives despite the paucity of kays. From 4000rpm it gets frisky and from 5000 it goes to town, the intake growl a stirring accompaniment. That's why middling revs suffice the majority of the time.
This engine is the basis for the World Supersport series, starting 2019. Can't wait for that.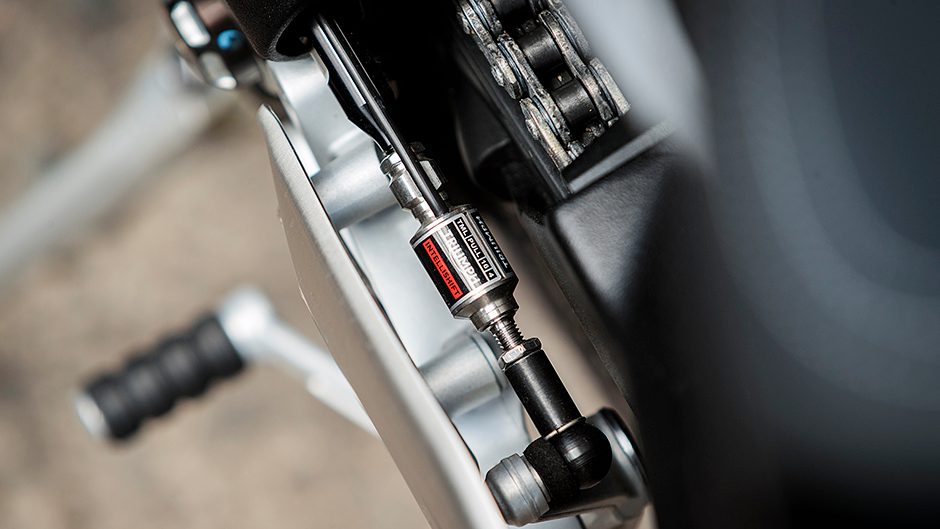 Not cheap but…
So there's little detracting from the Street. And the good bits it does brilliantly. The Street Triple has always been one of our favourite bikes. The nice thing is that there's now a better definition of models, beginning with the LAMS bike at $13,990 (the ultimate learner bike), progressing through the S at $16,990, the slightly stronger R at $18,990 and the best dressed RS.
Given the latter vies with a lot of larger capacity desirables (Monster 1200, Yamaha MT-10,) it's the R we see as the best buy. For this gets most of the RS sweet stuff, including the Showa forks, and TFT readout, the switchable TC and ABS but with only four riding modes instead of five (no track mode).
Gone is the Öhlins rear shock, and the Quickshifter, along with the M50 monoblocs, flyscreen, belly pan and lap timer. But suspension is still fully adjustable both ends, brakes are still radial. Okay, so it's missing 3bhp at the top end, but the 77Nm is still there, only it arrives at 9400rpm instead of 10,800.
The new Street's another strong contender for our Bike of the Year, deliberations for which start soon so watch this space.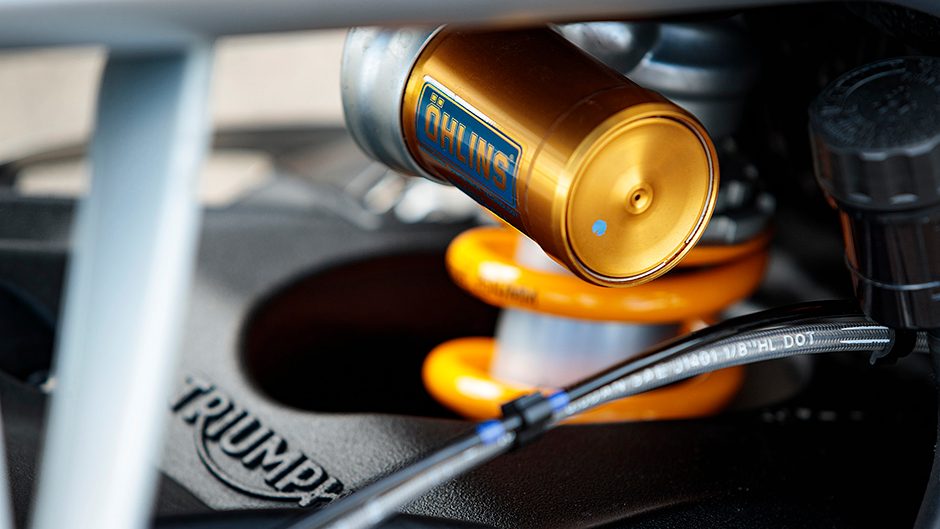 | | | | |
| --- | --- | --- | --- |
| Model | Triumph Street Triple RS | Price | $21,990 |
| Engine | 765cc, liquid-cooled, fuel injected, IL3, 90kW/77Nm | Drivetrain | 6-speed, chain final drive |
| 0-100km/h | 3.29sec | 100-0km/h | 41.96m |
| 80-120km/h | 1.56sec (45m) | Weight | 190kg |